Whether you're battling excess sebum, acne, or blackheads, salicylic acid is one power-packed ingredient that can be the solution you didn't know you needed. Well known for its exfoliating, pore unclogging, and bacteria-fighting properties, salicylic acid is an excellent addition to your skincare regimen if you've got an oily or acne-prone skin type.
Without further ado, here's everything you need to know about salicylic acid and why you need to slot this multi-purpose ingredient into your skincare routine. That's if you haven't already.
What is salicylic acid?
Salicylic acid is a beta-hydroxy acid (BHA) that belongs to the class of compounds called salicylates and can be produced synthetically or naturally derived from the bark of white willow and wintergreen leaves. Its small molecular weight makes salicylic acid oil-soluble, meaning it can penetrate deep into the pores and unclog them. Once it enters the skin, salicylic acid dissolves the pore-clogging debris, and thanks to its anti-inflammatory benefits, it also aids in healing red, inflamed pimples faster.
Salicylic acid skin benefits
Salicylic acid has been long heralded for its game-changing ability to reduce acne and control oil production, but there's actually more this acid can do. Now here's how salicylic acid can improve your skin.
Balances sebum and fights acne
Salicylic acid works wonder for breakouts since it regulates sebum production and reduces the growth of acne-causing bacteria thanks to its antibacterial benefits. Studies have shown that salicylic acid can effectively prevent acne from forming by limiting the proliferation of the P. acnes bacteria. That's why salicylic acid is often the first ingredient praised by derms for tackling pimples and blackheads. In a nutshell, salicylic acid dries up pimples as well as eliminates bacteria, and removes dead cells, dirt, and oil trapped in the pores, targeting the root causes of acne.
Exfoliates and improves skin texture
A smooth texture is one of the most sought-after traits, and salicylic acid is here to give you just that. Since salicylic acid works as an exfoliant too, it helps slough off the dead cells from the skin's outer layer, leaving it smoother and softer. Plus, salicylic acid's exfoliating power also helps diminish post-acne marks.
Clears blackheads and whiteheads
Blackheads and whiteheads are often stubborn and difficult to get rid of. Thankfully, salicylic acid is great at removing them. It does that by helping dissolve debris and oil that clog pores and cause pimples. Additionally, by working as an antibacterial, salicylic acid helps kill the bacteria that lead to pimples, preventing their apparition.
Brightens and evens the skin
Need your skin tone brightened and even? Salicylic acid can do that since it removes the pigmented skin cells and clears blemishes. It can also clear up skin discoloration caused by sun exposure.
Salicylic acid side effects
Unfortunately salicylic acid is not free of side effects. Some people may experience dryness, peeling, and cracking not long after applying salicylic acid products, especially if the strength is particularly high. This is typical among people with easily reactive skin. For dry and mature skin types, better avoid salicylic acid since you don't need to minimize your sebum production (AHAs work better for you).
For the record, the maximum concentration of salicylic acid allowed in OTCs is 2%.
Summary
Salicylic acid is extraordinary and can help reduce your acne while promoting skin overall tone and texture. It's a power-packed ingredient, and its benefits go from clearing acne and blackheads to promoting new cell growth down to exfoliating. Oily and acne-prone skin types should always keep salicylic acid-infused products on their radar. Like these:
---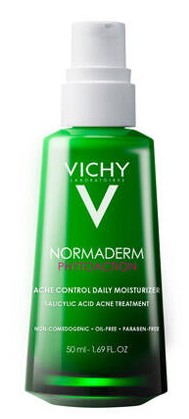 Vichy Normaderm Phytosolution
Vichy created a hydrating serum-like moisturizer that targets blemish-prone skin. It is lightweight, easily absorbed, enriched with salicylic acid to exfoliate, hyaluronic acid to enhance hydration, plus Vichy's in-house thermal water, rich in 15 minerals to boost antioxidant defense. Its goal is to leave skin acne-free by fighting breakouts and controlling excess oil.
---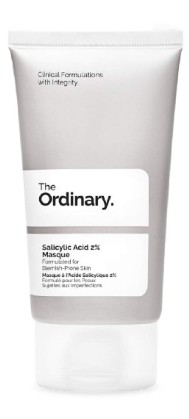 The Ordinary Salicylic Acid 2% Masque
Twice weekly, remove impurities and unclog pores with The Ordinary's mask, formulated with 2% salicylic acid, vegetable charcoal, Amazonian clays, and squalane. This product targets lackluster tone, textural irregularities, and pimples aiming to smoothen and clarify the skin. 
---

Paulas Choice Facial Exfoliant
Salicylic acid as an exfoliator and green tea as an antioxidant do a great job in this leave-in facial exfoliant. It unclogs pores, smooths wrinkles, brightens, and evens out skin tone. The fluid, lightweight texture absorbs quickly and is gentle enough to be applied twice daily on all skin types.
---