Exfoliation and moisturization are arguably the most straightforward routes to healthy, radiant skin. And hear this: Glycolic acid creams deliver the perfect combination of both in one step.
As an alpha-hydroxy acid (AHA) with low molecular weight, glycolic acid can penetrate the epidermis and exfoliate the top layer of the skin to eliminate old, dull cells. It even pulls double duty by stimulating collagen production. This dual action is like an antidote for almost every skin concern, addressing a range of issues like aging signs, large pores, textural irregularities, and blemishes.
When it comes to moisturization, glycolic acid takes a different approach. It acts as a moisture magnet, sucking up water molecules from the air and drenching skin in hydration. So yes, you can use glycolic acid even if your skin is dry—it actually eliminates rough, flaky patches.
Don't know which glycolic acid cream is right for you? We've put together a list of some of the best creams infused with glycolic acid. They're packed with ingredients that brighten and smooth rather than irritate and will help restore hydration to your skin. Whether you're looking for a mild formula for your sensitive skin, a lightweight option for oily skin, or a potent peel for a bolder transformation, there are options galore.
The best glycolic acid creams
Before we go to the good bit, there's one more thing you should know: These creams are intended for nighttime use since glycolic acid has a track record of making the skin sensitive to the sun. That's one of the reasons to wear SPF during the day. Not doing so and exposing your newly exfoliated skin to the sun without protection can actually cause dark spots.
---
Best overall
SkinCeuticals Glycolic 10 Renew Overnight Cream
SkinCeuticals is stealing the show with this high-end night cream made with 10% glycolic acid in a low-pH formula—ideal for dealing with uneven tone and rough texture. A lower pH means glycolic acid maintains its acidic form so that it can penetrate the skin and exfoliate more effectively. The benefits are further supported by phytic acid, an antioxidant-rich exfoliant that works to impart a healthy glow.
Although the formula contains a soothing complex made of jojoba and sunflower wax, you want to take it easy when incorporating it into your routine. Limit use to once every other evening and go from there as your skin adjusts.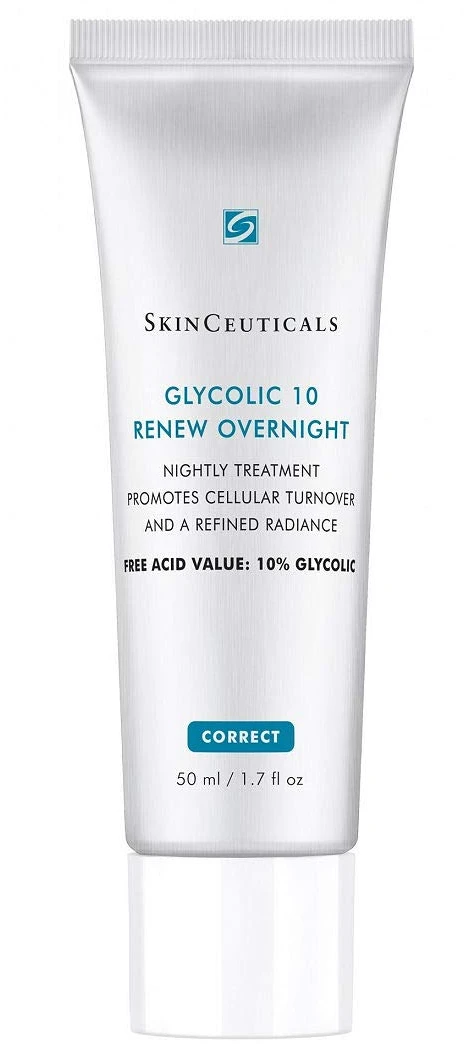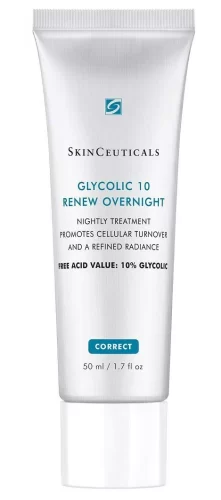 ---
Best for dark spots
Caudalie Vinoperfect Brightening Glycolic Night Cream
This glycolic acid cream works best to correct dark spots thanks to the addition of papaya enzymes that provide surface-level exfoliation to slough off pigmented cells. The grape extract amps up the brightening effects by inhibiting the action of pigment-producing cells. And with emollients like squalane and shea butter, you can count on this nighttime cream to provide the moisturizing and softening benefits you'd expect.
While the concentration of glycolic acid in this product is lower compared to other options on this list, don't let that fool you. It still delivers impressive results with a gentle formula that won't freak your skin out. As a bonus, this product is not only friendly on the skin but also on the planet, thanks to its fully recyclable packaging.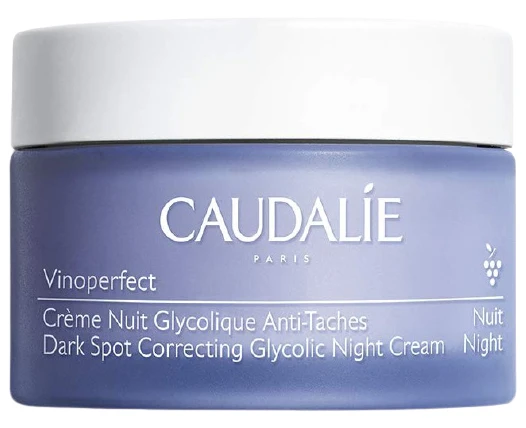 ---
Best for acne
A'Pieu Glycolic Acid Cream
If you're struggling with excess sebum and clogged pores, this formula should be front and center on your vanity. It combines glycolic acid with salicylic acid, the latter being the go-to exfoliating acid for acne-prone skin that dissolves oil and dead skin from within the pores. Interestingly, this cream is made in a birch juice base, a rich source of minerals and amino acids that hydrates and purifies the skin. The cream has a thick texture and may leave a temporary sticky feeling, but it quickly disappears as it absorbs into the skin.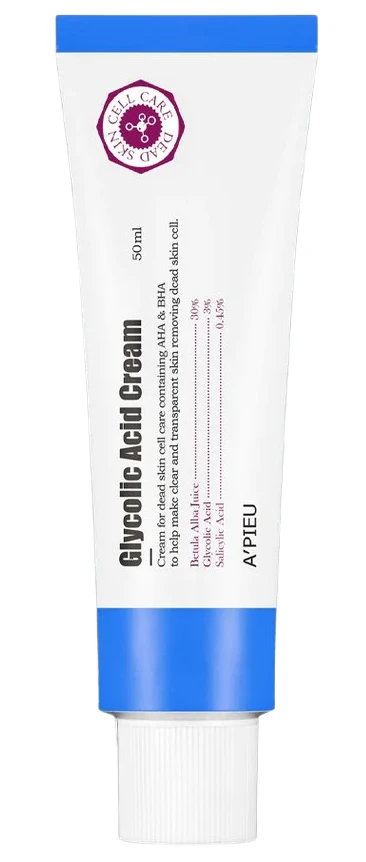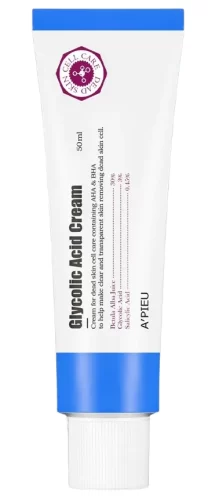 ---
Best for dry skin
Isdin Glicoisdin 8 Soft Exfoliant Cream
This expertly formulated cream pairs the exfoliating power of 3.2% glycolic acid with the moisturizing properties of borage oil. So, while it stimulates the skin's renewing process, it alleviates dryness and minimizes the look of fine lines. To mitigate potential side effects, we recommend initiating the use of this exfoliant cream by applying it every other night before transitioning to nightly usage. This gradual approach will allow your skin to acclimate and minimize the risk of irritation.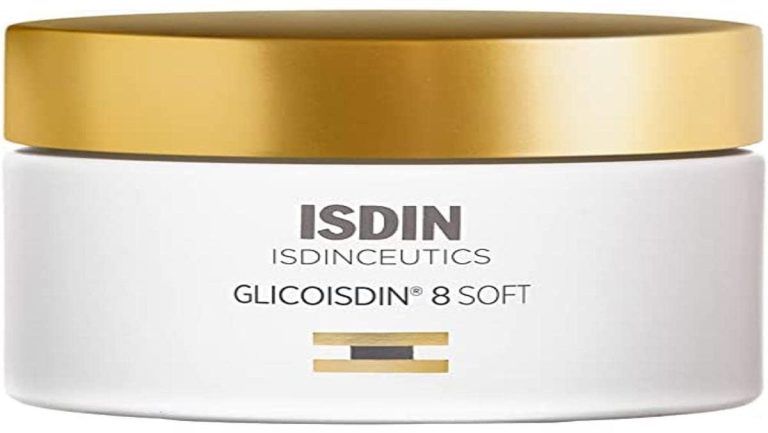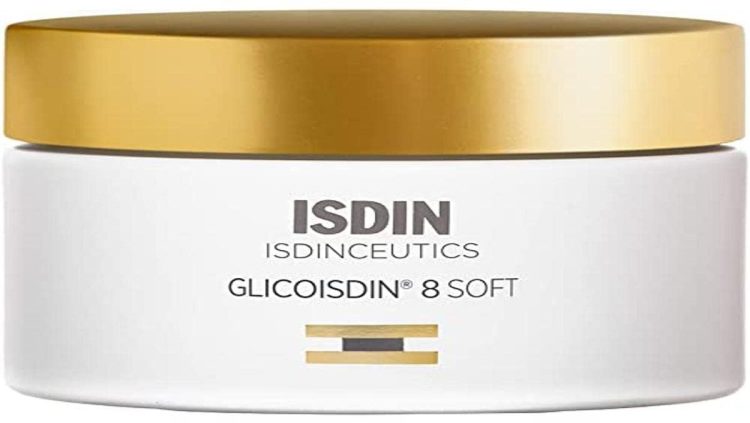 ---
Best for dry skin
Ole Henriksen Dewtopia Firming Night Crème
A complex of 5% AHAs (glycolic and lactic acids) and bakuchiol (a retinol natural alternative) team up in this night cream to gently resurface the skin texture and encourage dead cells to sloop off while you catch some Zzz. This trio not only puts cell turnover on steroids but promotes skin-firming proteins for a more youthful appearance.
Another key ingredient, Edelweiss stem cell, is added to provide antioxidant protection and facilitate cell regeneration. That's why we recommend Ole Henriksen Dewtopia for anyone looking to boost their anti-aging routine.
Although the cream has a generous amount of shea butter, which gives it a rich texture and a ton of softening benefits, it effortlessly absorbs into the skin and leaves behind no greasy residues. We should mention that it has a strong fragrance and might be too potent for sensitive skin.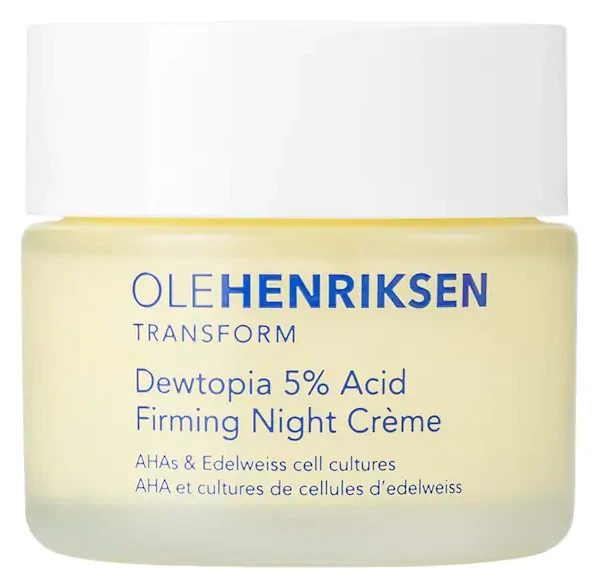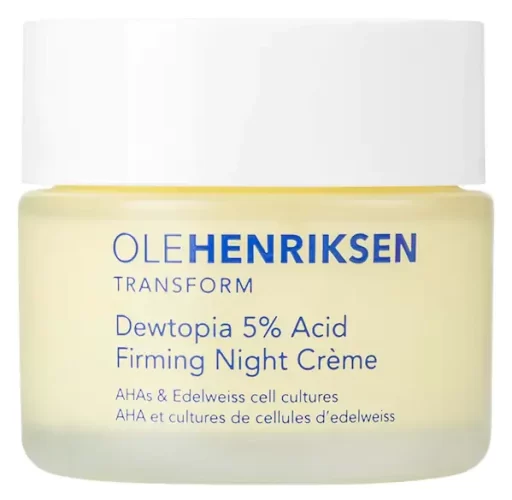 ---
Best on Amazon
Replenix Resurfacing Glycolic Acid Cream
This cream comes in two strengths: one with 10% glycolic acid and another with an even more enticing 20% concentration. Now, we know the allure of quick results can be hard to resist, but trust us, starting with the lower strength is the secret to giving your skin a chance to adapt.
In addition to exfoliating glycolic acid, the formula is laced with moisturizing squalane and algae and a mix of antioxidants, including green tea, vitamin C, and coenzyme Q10. We like that it's void of unforgiving ingredients, like fragrances, drying alcohol, and parabens.
Like most creams with glycolic acid, it gives a brief tingle sensation upon application that fades away within a few minutes.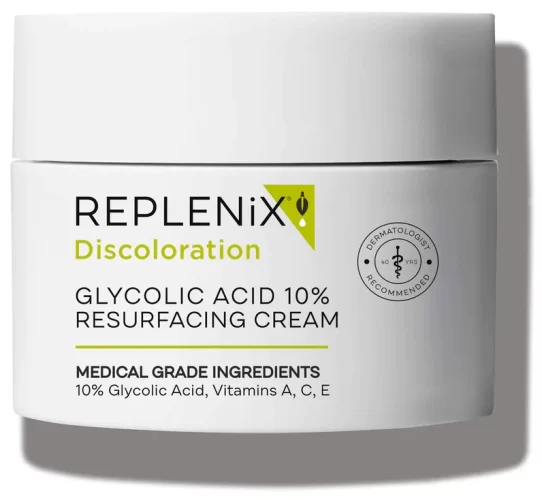 ---
Best for body and strawberry legs
Alpha Revitalizing Lotion
A Redditor's favorite, this glycolic acid lotion is a great pick if you're struggling with keratosis pilaris or strawberry legs. These conditions cause changes in texture and skin appearance and respond well to exfoliating acids that encourage the old cells to peel off. 
The body lotion is crafted with 12% glycolic acid and optimized at a low pH to ensure proper penetration and maximum effectiveness. It doesn't skip on moisture, either. It contains some of the best moisturizers like glycerin and urea and moisture-sealers like dimethicone. 
You will definitely feel the tingling when you first apply the cream, but it's just a reminder that glycolic acid work to retexturize your skin. And despite the concentrated formula, it does not cause irritation. No wonder it received close to 11,000 five-star reviews on Amazon.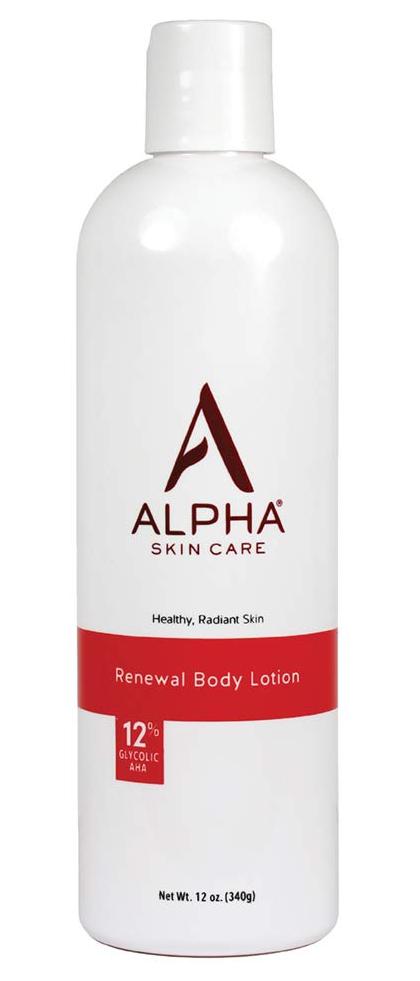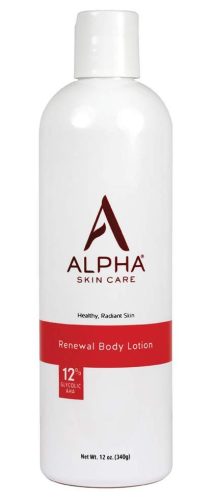 ---
Best for sun damage
Neostrata Cellular Restoration Face Cream
Neostrata has certainly earned its place on this list, and the Cellular Restoration Face Cream is a bestselling product for all the right reasons. Combining the power of glycolic acid with gentle polyhydroxy acids (maltobionic acid and gluconolactone), it goes beyond lifting away dead skin cells; it actively supports cell renewal to make your skin smooth.
The cream goes the extra mile by incorporating two peptides to stimulate collagen synthesis and repair sun-damaged skin. In a nutshell, it takes on dark spots and loss of firmness from every angle.
This product deserves an extra round of applause for its pump applicator. Not only does it flawlessly dispense the ideal amount of cream, but it also maintains a hygienic environment by keeping bacteria out of the formula.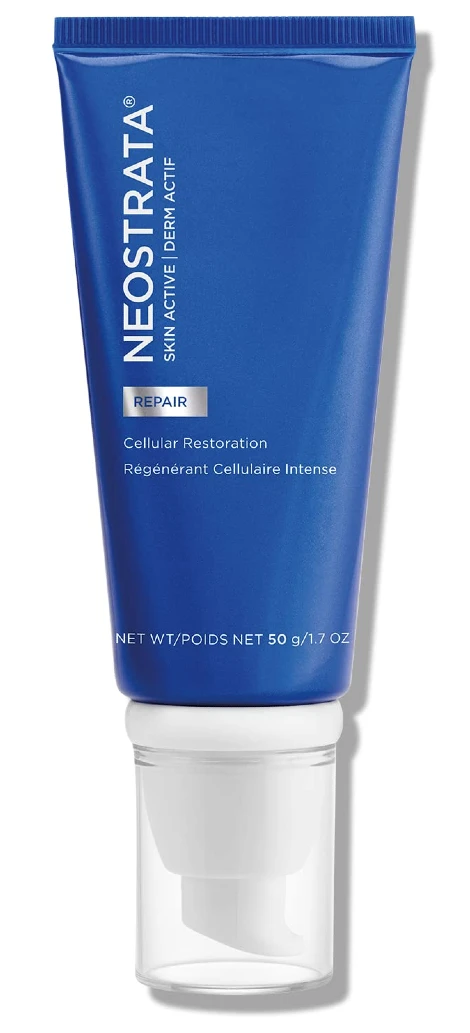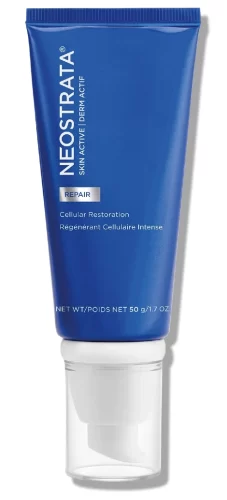 ---
Best for eyes
Mario Badescu Glycolic Eye Cream
We know what you're thinking, applying glycolic acid on the thin skin around the eyes sounds risky, but not with this cream. It's professionally formulated with a moderate concentration of glycolic acid to address common eye concerns like puffiness and dark circles without giving your skin a hard time. The addition of cholesterol, vitamin E, and cocoa butter, all emollients with nourishing and softening properties, is what makes this eye cream so moisturizing and gentle.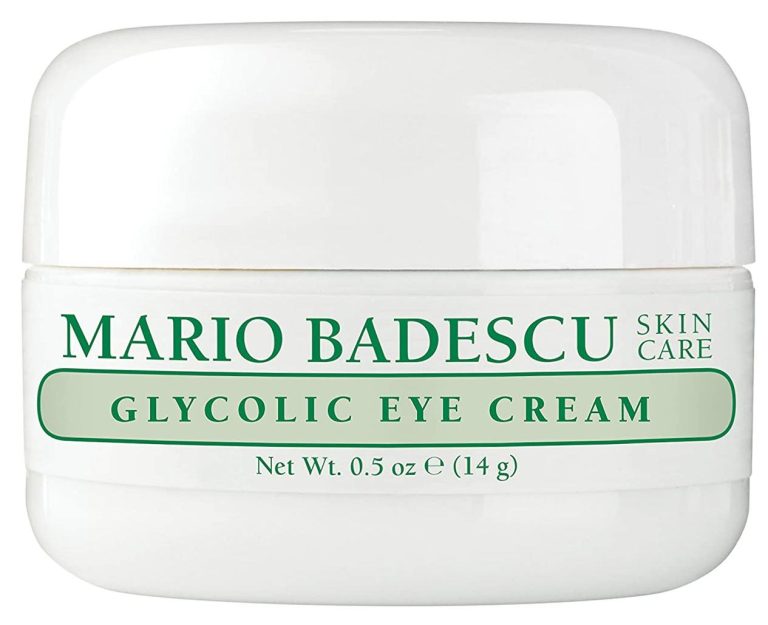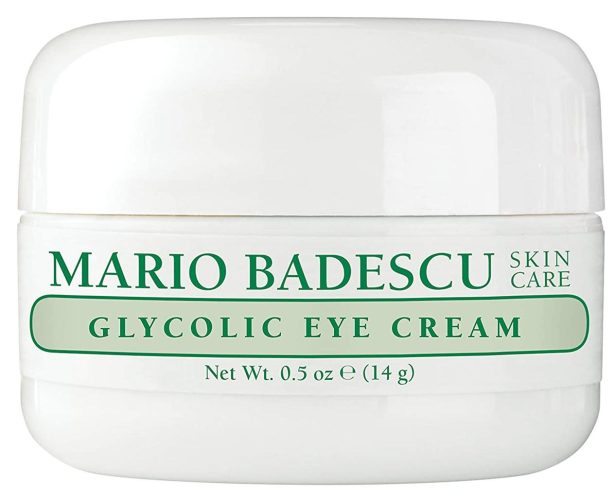 ---
Best for uneven texture
Lancer Retexturizing Treatment Cream
Although this option comes with a higher price tag, it's an all-around solution that addresses textural irregularities. You may know the struggle to deal with flaky patches, bumps, and large pores, but this cream leaves them no chance. It's made with a potent dose of 10% glycolic acid to promote baby-soft skin. The cream also supports moisture thanks to a phospholipids complex (fats) and squalane (sebum-like substance). Moreover, green tea, coenzyme Q10, and vitamins C and E work to tame redness and soothe sensitivities. A winning product in our book.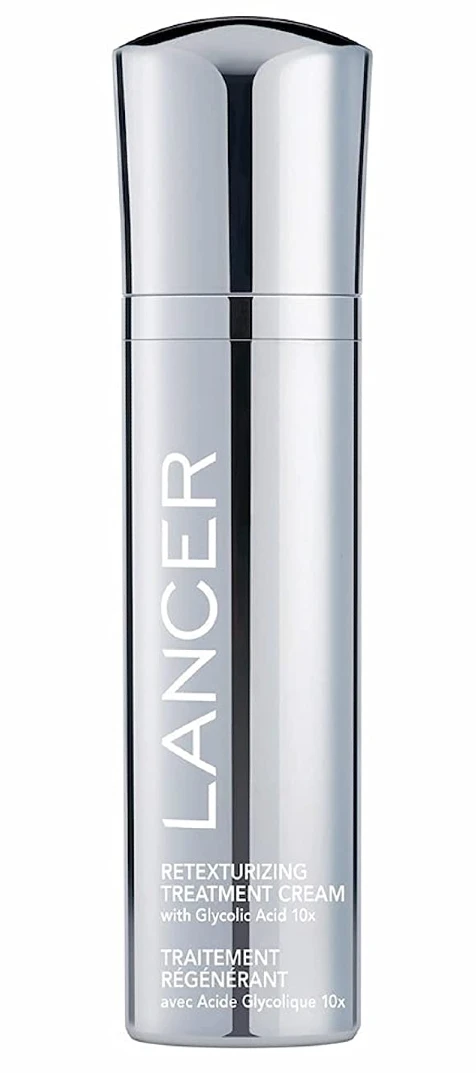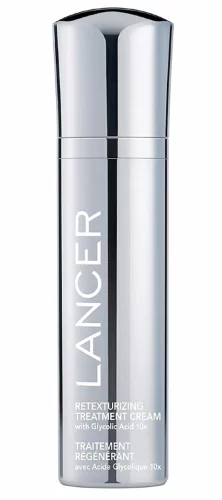 ---
Best for sensitive skin
Paula's Choice 8% AHA Gel Exfoliant
If you've got sensitive skin, don't think twice about snagging this glycolic acid gel. Sensitive-skinned people often feel they can't dive into the world of potent exfoliants. However, Paula's Choice defies this misconception by formulating this gel with a meaningful concentration of AHA in a blend of soothing and hydrating ingredients.
We're talking about a solid 8% glycolic acid that delicately promotes skin exfoliation and fades blemishes, while the calming duo of chamomile and green tea takes care of those sensitivities. There's also hyaluronic acid with the role of plumping fine lines and reducing dryness.
Even if most reviewers with sensitive skin haven't had a reaction to this product, we should emphasize that the high concentration of AHA might still cause some redness.


---
Do's and don'ts of glycolic acid creams
DO use the cream at night only
DO a patch test on a small area of your skin before going all-in.
DO follow up with sunscreen the next morning and every day after
DON'T use glycolic acid with retinoids or other exfoliating products
DON'T use harsh cleansers
DO use a home humidifier
DON'T use glycolic acid on damaged skin, like after microneedling.
DON'T use the cream during pregnancy or breastfeeding
DON'T apply on sensitive areas like around the eyes
Factors to consider when choosing a glycolic acid cream
Your skin
There's no such thing as a universal product that works for everyone. A cream can yield results for your friend but not for you. So first and most important, pick a product according to your type of skin and its tolerance level. If you have sensitive skin, go for a formula with a mild concentration of glycolic acid that also has soothing and calming ingredients. Oily skin should look for non-comedogenic and oil-free formulas.
Glycolic acid concentration
Check the concentration of glycolic acid in the cream. Lower concentrations (e.g., 5-8%) are generally suitable for beginners or those with easily reactive skin, while higher concentrations (e.g., 10-20%) are typically used to address concerns like uneven texture and dark spots. To play safe, start with a lower concentration and gradually increase if your skin tolerates it well.
The pH of the formula
Glycolic acid is most effective at lower pH levels (typically between 3-4). If you're after results, pick a cream formulated at a low pH that allows the acid to penetrate the skin effectively. On the other hand, creams with a neutral pH are less potent but more gentle, which can be more suitable for sensitive skin. Sadly, very few brands disclose the pH of the formula, but you can contact them and ask for this information.
Other ingredients
Pay attention to the other ingredients. Look for additional moisturizing agents like ceramides, shea butter, and hyaluronic acid, which can help counteract potential irritation caused by glycolic acid.
---
The verdict
Our expert team selected the best glycolic acid creams, taking expert recommendations, consumer reviews, and ingredients list into account. While our favorite pick goes to SkinCeuticals Glycolic 10 Renew Overnight Cream—because it has a potent and pH-optimized formula—it got strong contenders, whether you're buying on a budget or feeling you need something more gentle for your delicate skin.