People have been raving about the health benefits of green tea for years, but now, its popularity seems to be at an all-time high. A rich source of antioxidants and nutrients, green tea it's always welcome for your brain, memory, and body condition, whether it's about drinking it or taking supplements. But this antioxidant-rich beverage can do more than give you a boost of energy or help keep your brain sharp: it can serve in skincare as well, and very well indeed.
Green tea is simply a one-in-all skincare solution that protects, hydrates, and soothes while targeting most common skin concerns such as wrinkles, dehydration, dark spots, and even acne. However, to reap all the benefits of green tea for the skin, you have to apply it topically since it works more effectively than oral intake, as research suggests. Here's where the best green tea moisturizers come in handy. But first, it's important to arm yourself with some facts about green tea and how to use it.
What is green tea?
Green tea is mainly produced from a single plant species that originated in Southeast Asia, Camellia Sinensis.
Most of the green tea benefits are thanks to its active compounds, polyphenols, more precisely, catechins, a group of flavonoids that represent 60–80% of all polyphenols in green tea. Polyphenols are known to possess anti-inflammatory and antioxidant activities and prevent DNA damage caused by sun exposure. Among the polyphenols found in green tea, epigallocatechin gallate (EGCG) is the most researched one, and its skin benefits have been confirmed so many times.
Benefits of using a green tea moisturizer
Not only a green tea moisturizer has endless benefits for multiple skin concerns, but it's great for all skin types. When it comes to skincare, research found that applying green tea topically helps reduce UV-induced damage, prevents photoaging, increases skin hydration, prevents hyaluronic acid degradation, fades hyperpigmentation and dark spots, and even controls sebum production and breakouts. All this is mainly done by EGCG — the new skincare hero — as I like to call it.
Because green tea does a lot in skincare everyone has something to gain from using a green tea moisturizer:
People with dry skin can use a green tea moisturizer as it's super hydrating and helps retain moisture.
For oily skin types, green tea can reduce sebum production and the chances of breakouts. The antibacterial and anti-inflammatory properties of green tea also make it a great candidate for those with acne or rosacea.
Green tea moisturizers may as well reduce wrinkles and prevent premature skin aging, as they can suppress collagen degradation and boost cell renewal, helping the skin maintain its elasticity and firmness.
Green tea can also regulate melanin production, suggesting it can be used by people looking to lighten their skin or treat hyperpigmentation.
The best green tea moisturizers
If you weren't convinced yet whether you should use a moisturizer infused with green tea, I bet you are by now. Ahead you'll find the best green tea moisturizers you can start with!
---


BOSCIA Green Tea Oil-Free Moisturizer
Boscia made one of the best green tea moisturizers with a lightweight and oil-free formula that aids in reducing sebum production and keeping shine at bay. As you already figured it out, this moisturizer is formulated for oily skin and to prevent breakouts, but it also helps maintain skin elasticity and reduce wrinkles with a complex of algae extracts, hyaluronic acid, and vitamin E. And no, it won't make your skin feel greasy at all.
---


100% Pure Green Tea EGCG Concentrate Cream
100% Pure Concentrate Cream is definitely the richest moisturizer in green tea out there, containing two sources of green tea and EGCG. We absolutely love this moisturizer's formula as it got green tea oil on the top of the ingredients list, followed by Japanese honeysuckle flower extract, olive-derived squalane, EGCG, green tea concentrate, and hyaluronic acid. Not to mention it's natural, lightweight, fast-absorbing, and super hydrating, working on most skin types. So whether you have acne, oily, dry, or sensitive skin, this 100% Pure best-selling green tea moisturizer will take care of everything.
---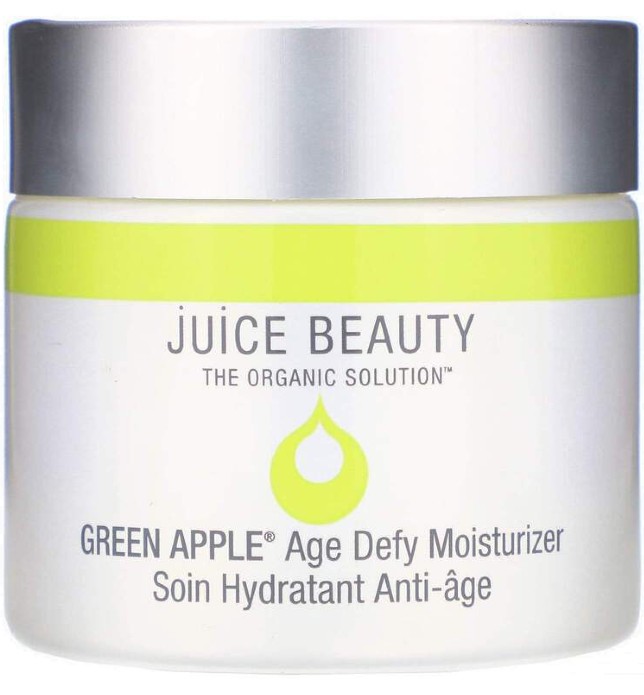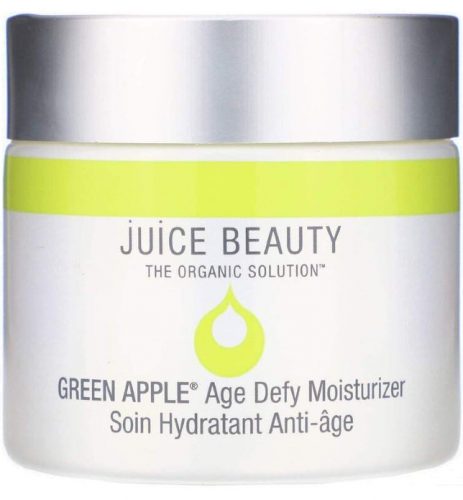 Juice Beauty Age Defy Moisturizer
If your skin craves organic formulas, pick this Juice Beauty product. It's really good for evening skin tone since it contains malic acid, an AHA that stimulates skin exfoliation, and vitamin C. Besides these two powerhouses, Juice Beauty Age Defy Moisturizer is enriched with other antioxidant-rich ingredients such as green tea extract, alpha-lipoic acid, coenzyme Q10, and vitamin E to support skin firmness. On top of that, shea butter, aloe leaf juice, squalane, and hyaluronic acid deeply moisturize, soothe and soften the skin. 
---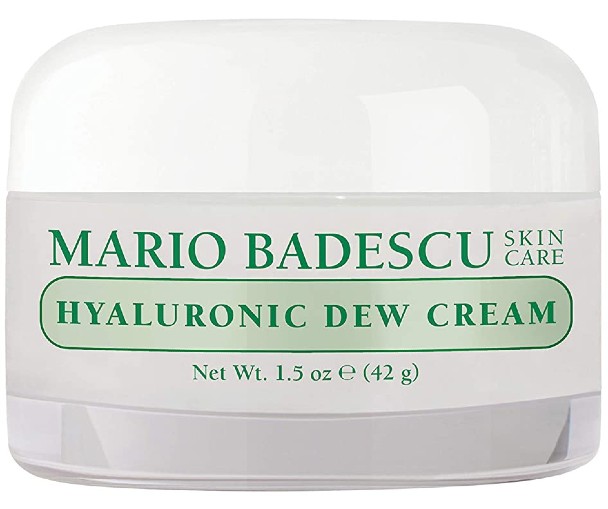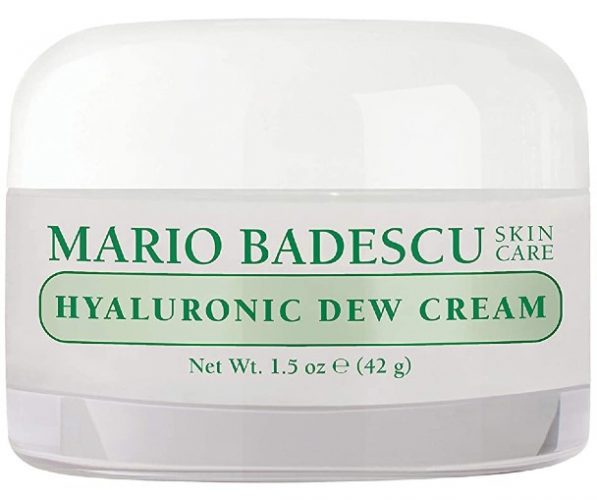 Mario Badescu Hyaluronic Dew Cream
Mario Badescu products never let anyone down, and this moisturizer is a cult favorite. Hyaluronic Dew Cream is the first go-to choice for people with dry skin, as it's ultra-hydrating, thanks to sodium hyaluronate, which can attract and bind water into the skin, squalane, and mineral-rich cucumber, while green tea extract soothes and renews. And since it's oil-free and weightless, it'll leave your skin fresh without a greasy look, being one of the best green tea moisturizers out there.
---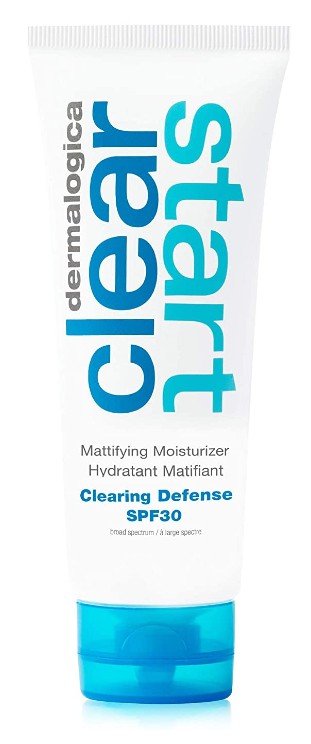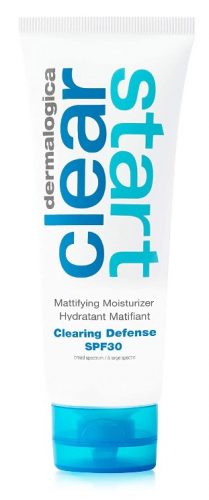 Dermalogica Clearing Defense Moisturizer
Anyone with oily or acne-prone skin should aim for a balanced moisturizer that's lightweight but still hydrating enough. This is exactly what Dermalogica Clearing Defense is. More than that, this moisturizer is working to reduce skin shine without clogging pores by providing a long-lasting matte finish. It'll keep your skin hydrated and protected all day long with SPF 30 and antioxidants from green tea extract and vitamin C.
---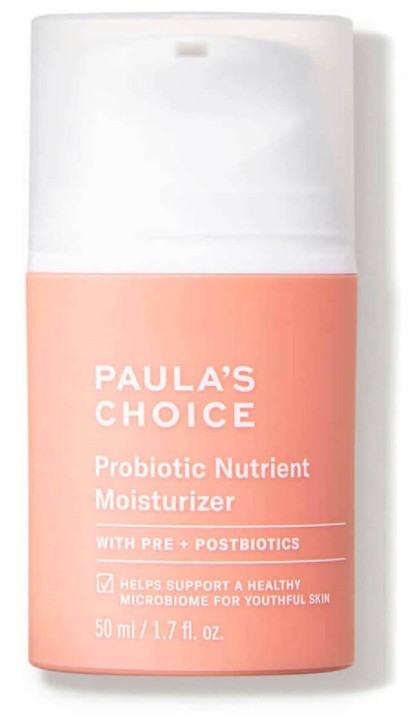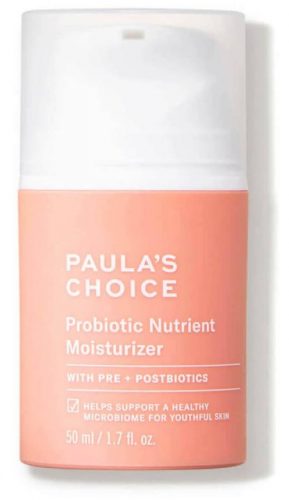 Paula's Choice Probiotic Nutrient Moisturizer
Paula's Choice's moisturizer targets dryness, dullness, and aging signs with a gentle formula that absorbs super fast, leaving the skin with a smooth, non-greasy feeling. It strengthens the antioxidant defense with green tea, while niacinamide helps improve skin hydration and reduce wrinkles, and finally, peptides, amino acids, and ceramides are added to consolidate the skin's moisture barrier. You'll also love to hear that this green tea moisturizer is fragrance- and paraben-free and suitable for most skin types, sensitive and acne-prone ones included. 
---


Obagi Clinical Retexturizing Cream
Are you a retinol-lover? Then you'll be thrilled to find out that Obagi Retexturizing Cream combines your favorite ingredient, retinol, with green tea and vitamin C into an antioxidant-rich moisturizer that all skin types can use. This powerful combo, along with chamomile and white tea extracts, targets skin texture while softening fine lines, wrinkles, and dark spot appearance. Don't worry, as this moisturizer is also formulated with glycerin and hyaluronic acid, so it won't leave your skin to dry out.
---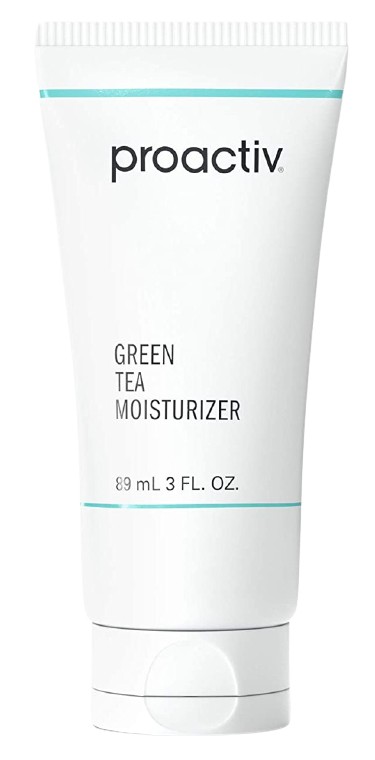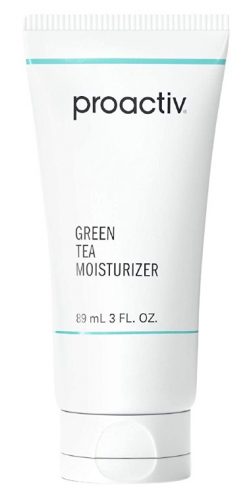 Proactiv Green Tea Moisturizer
Proactiv stands on the top of the best green tea moisturizers because it contains EGCG and the two essential ingredients for skin hydration: hyaluronic acid and sodium hyaluronate. But this moisturizer has much more to offer, like squalane, glycerin, and retinyl palmitate, a gentle form of vitamin A which helps thicken the skin and improve its texture. Because it's lightweight, oil-free, non-greasy, and non-comedogenic, Proactiv's moisturizer is popular among people with oily and acne-prone skin types, but anyone can use it.
---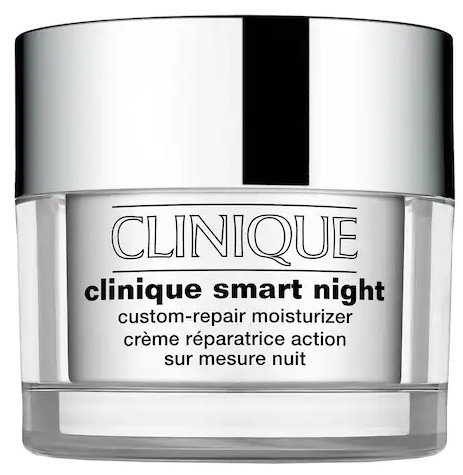 Clinique Smart Night Custom-Repair Moisturizer
Once you try Clinique products, you can't go back. And this repairing moisturizer is no exception. Not only it instantly makes skin feel healthy and hydrated, but it's working at night to retain moisture and smooth fine lines and wrinkles, so you wake up with glowing and plump skin. Clinique's moisturizer works amazingly thanks to its protein-rich formula infused with peptides, caffeine, amino acids, hyaluronic acid, and natural extracts from algae and Camellia sinensis leaf.
---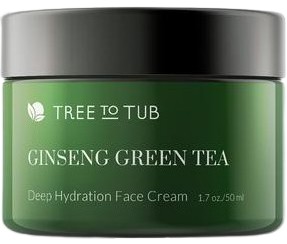 Tree to Tub Green Tea Moisturizer
Although this moisturizer has green tea at the end of the list, it has a formula rich in skin-loving ingredients that we simply cannot overlook. Literally, it has something of everything: from soothing and hydrating ingredients such as aloe vera, coconut, hyaluronic acid, and cocoa butter to antioxidants green tea, niacinamide, vitamin C, and finally, anti-inflammatory agents like tea tree. Whenever you want to keep your skin hydrated, protect it from environmental aggressors, stop excess oils, or minimize wrinkles, Tree to Tub Green Tea Moisturizer will do just that!