How to fix uneven skin tone, and why is my skin tone so uneven in the first place? These are likely questions most skincare loyalists have turned over in their heads at some point, given that even tone is a sign of healthy, cared-for skin. But with endless culprits that lead to dark patches and discoloration, no wonder we often struggle with a tone that's far away from even. Rest assured, we've got you covered; here is everything you need to know to even your skin tone, from what causes it to the best habits and products to control and correct uneven tone.
What is uneven skin tone?
Uneven skin tone is an umbrella term for hyperpigmentation and discoloration characterized by irregular color, either darker or lighter than the rest of the skin.
What causes uneven skin tone?
Uneven skin tone is caused as the result of an excess of melanin — the pigment that gives skin its color. The main culprit that speeds up melanin production is, you guessed it, UV light. When you spend a lot of time in the sun, the skin tries to defend itself against damage, and that's how dark patches appear. Acne, hormonal imbalance, skin inflammation, and free radicals can also cause uneven tone in the form of dark spots and blemishes. So how do you tell if your skin tone is indeed uneven?
Signs of uneven skin tone
It's not difficult to recognize uneven skin tone. But in case you're not sure yet if uneven tone is what you're dealing with, here is how you identify it:
Irregular color
Hyperpigmentation
Redness
Discoloration
Blemishes
Dark patches
Post-acne marks
How to prevent uneven skin tone?
Now, what you came for — how to fix uneven tone. As it's the case with most things in life, prevention is better than treatment. This goes for uneven skin tone too. As such, the best way to keep your skin even and dark patches at bay is to wear SPF daily, whatever the season or weather, with UVA and UVB protection. Also, antioxidants are another must-have in your skincare arsenal that you should apply day by day to hinder free radicals wreaking havoc on your skin. We recommend you use vitamin C serum, which not only scavenges free radicals but lightens dark patches, too, revealing luminous skin. And if used along with vitamin E and ferulic acid, you can be sure you've doubled your protection against free radical damage and minimized chances of hyperpigmentation.[1]
How to fix uneven skin tone?
Already struggling with blotchy skin and wondering how to even skin tone? Get comfy; we reveal everything there is to know here.
Retinol
If you want to fix uneven skin tone, retinol is the MVP. With its power to encourage cell turnover, retinol eliminates dead cell buildup, allowing new, healthy cells to replace them, revealing an evener tone with each use. So, use retinol serum in your PM routine, and if your skin can't tolerate it, you can always appeal to retinol alternatives.
Vitamin C
Vitamin C is not only great for preventing uneven skin tone but for reducing discoloration too. This is because it interferes with pigment production by inhibiting tyrosinase — the main enzyme responsible for synthesizing melanin. Coupled with its free radical scavenging power results in one of the best treatments for uneven skin tone — that's vitamin C for you.
Niacinamide
Another great way to recoup your even skin tone is diligently using niacinamide. But can niacinamide lighten skin? Yes, it can, and even very well. Niacinamide not only prevents dark spot formation as it's an antioxidant, but it prevents the transfer of pigment within the skin, helping reduce dark patches.[2] The good news is that niacinamide is a gentle ingredient that can be used AM and PM every day. For best-in-class results, we suggest you use a niacinamide-infused serum.
Tranexamic acid
Have you ever heard about tranexamic acid? No judge, I didn't either before working in beauty. So, tranexamic acid is a skincare hero often used in products that address hyperpigmentation due to its ability to hinder the transfer of dark pigment to the skin's surface, lightening dark spots. Hence, adding a tranexamic acid serum to your routine will bring you closer to an even, bright tone.
Chemical exfoliators
You may use a cleanser for hyperpigmentation, plus serums and moisturizers that address uneven tone, but without the weekly exfoliation, everything is in vain. Yep, exfoliation lightens skin. Even if the results are not dramatic but cumulative, the regular use of exfoliants is non-negotiable if your goal is to fix uneven skin tone.
So, do yourself (and skin) a favor and slough off pigmented cells to make room for evener, brightener cells to take their place. Once or twice weekly, you should use chemical peels to nix unwanted dark patches and take back what is yours: even, glowy skin. Indeed, AHAs, like glycolic acid and lactic acid, are the ones we can rely on to even skin tone.[3]
Pycnogenol
While most skin brighteners work best when applied topically to reduce discoloration on the surface, pycnogenol does its magic when taken orally as supplements, working on a cellular level to support brightening. If you're not familiar with it, pycnogenol is the new buzz in skincare — a thoroughly researched antioxidant with promising depigmenting benefits. Studies found that pycnogenol supplements can reduce pigment production by up to 65%, being well tolerated by most people.[4] So if you're planning to fix your uneven skin tone, you should consider pycnogenol.
Skincare for uneven skin tone
Regardless of your (serum) preferences, trapping all the goodness with a brightening moisturizer that aims to even tone will work in tandem with the serum, giving you more chances to wave goodbye to dark spots. Hence, a skincare routine for uneven skin tone looks like this:
Start with a gentle cleanser
Follow up with a hydrating toner
Apply your targeted treatment
Trap everything in with a brightening moisturizer
Once a week exfoliate your skin with glycolic or lactic acids
Use SPF every day
So, having a skincare regimen tailored to your need is definitely the way to achieve an even tone and flawless skin. However, if dramatic results are what you crave, you can always appeal to in-office treatments, like deeper chemical peels, dermabrasion, and laser peels. These might leave you with clearer maybe-they're-born-with-it skin from one day to another. Check what option might fit you best with your dermatologist.
The best products for uneven skin tone
To even your skin tone just abide by all the above tips and make sure you're using targeted products that address discoloration, like the ones I'm about to share. These are the best products to fix your uneven skin tone:
---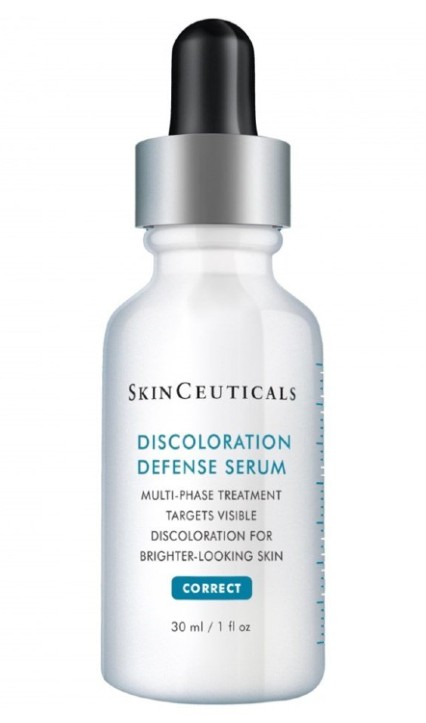 SkinCeuticals Discoloration Defense Serum
SkinCeuticals Discoloration Defense Serum boasts 5% niacinamide, 1% kojic acid, 3% tranexamic acid, plus 5% a mix of enzymes that aim to exfoliate and brighten the skin. This powerful cocktail of brighteners says more than enough about this serum's ability to even tone and bring to light the best version of your skin.
---


SkinMedica Lytera 2.0 Pigment Correcting Serum
If your dream currently revolves around having a perfectly even tone, SkinMedica Lytera 2.0 Pigment Correcting Serum will help you a lot. As per the brand claims, it helps fade hyperpigmentation and improve skin tone in as little as two weeks. No surprise since the potent formula includes a blend of niacinamide, phenylethyl resorcinol, and tranexamic acid. And no worries about potential dryness as it's also spiked with peptides and ferment extracts to soothe.
---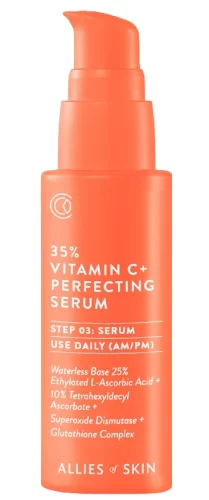 Allies of Skin 35% Vitamin C Perfecting Serum
Are you craving a powerful formula? This one is one of the best products for uneven skin tone with vitamin C. It boasts 25% L-ascorbic acid, 10% oil-soluble vitamin C that penetrates deeper into the skin, plus glutathione, a tripeptide known to whiten skin, and superoxide dismutase for antioxidant benefits. A winner!
---
Ole Henriksen C-Rush Brightening Crème
Moisturizers work more gently as they don't sink into the skin. So, if that's what you want, Ole Henriksen C-Rush Brightening Crème should be on your radar. With three sources of vitamin C, a slew of antioxidants, and hydrators, it vows to brighten and increase hydration, revealing the best version of your skin.
---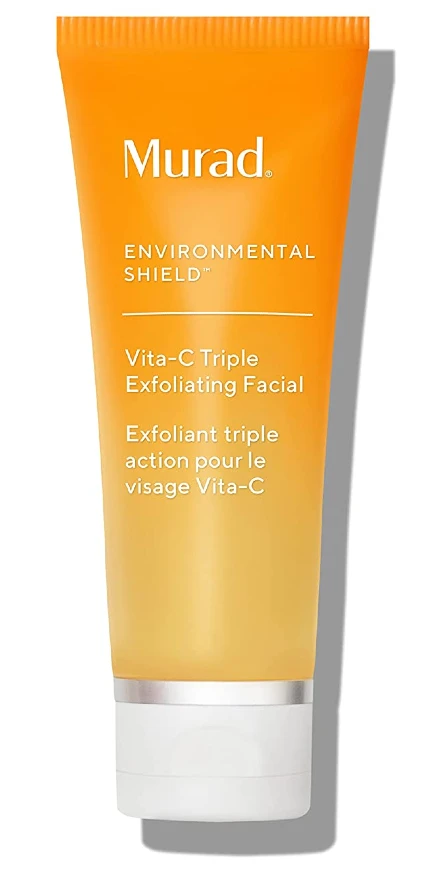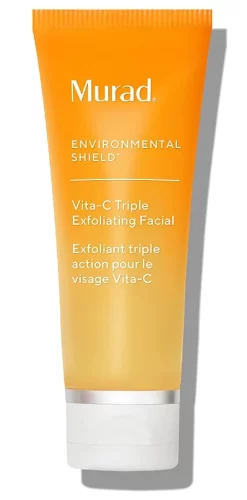 Murad Vita-C Triple Exfoliating Facial
As the name suggests, this product includes three sources of exfoliants (physical, chemical, and enzymatic) to slough off pigmented cells and reveal bright, smooth skin. Glycolic acid, lactic acid, salicylic acid, vitamin C, and micro-mineral exfoliants make out of this one of the best products for uneven skin tone.
---
References