After a decade of struggling with acne and at the beginning of experiencing fine lines, no wonder I've become obsessed with LED masks, radiofrequency devices, and, lately, high frequency wands. These beauty tools have one thing in common: They merge technology with skincare to tackle multiple skin concerns in one go. Do you want to smooth wrinkles? Or perhaps get rid of blemishes and minimize the pores' look? Or do you want to boost the results of your skincare products? Then adding the best high-frequency facial wands to your beauty arsenal will get you one step ahead in reaching your skin goals. Here's a quick overview of what these devices can do and our top picks.
How do high-frequency wands work?
High-frequency wands work by producing a high-frequency alternating current conducted through a glass electrode filled with neon or argon gas. Once the electrode touches your skin, it delivers a mild electrical current that you'll typically feel as a soft warming or tingling sensation. This electrical stimulation is basically like a mini-workout for your skin, being proven to increase oxygen levels, improve circulation, promote collagen production, and stimulate healing.[1] More than that, high-frequency devices have been found to produce a small amount of ozone, which has antibacterial and anti-inflammatory properties that can help kill bacteria and reduce inflammation and swelling.[2]
The type of inert gas used in these devices plays a decisive role in targeting specific concerns. Neon gas, for example, emits a red/orange light and works wonders for normal, dry, and aging skin, while argon gas produces a blue/violet light that is more effective in addressing excess sebum and acne.
And here's the kicker—after a high-frequency treatment, your skin will soak up all the goodness from your skincare products, a fact that is due to increased blood circulation.
Our top picks
Now that you're convinced such a wand lives up to the hype, check out the best high-frequency wands that my team and I have picked for you.
---
Pure Daily Care NuDerma Professional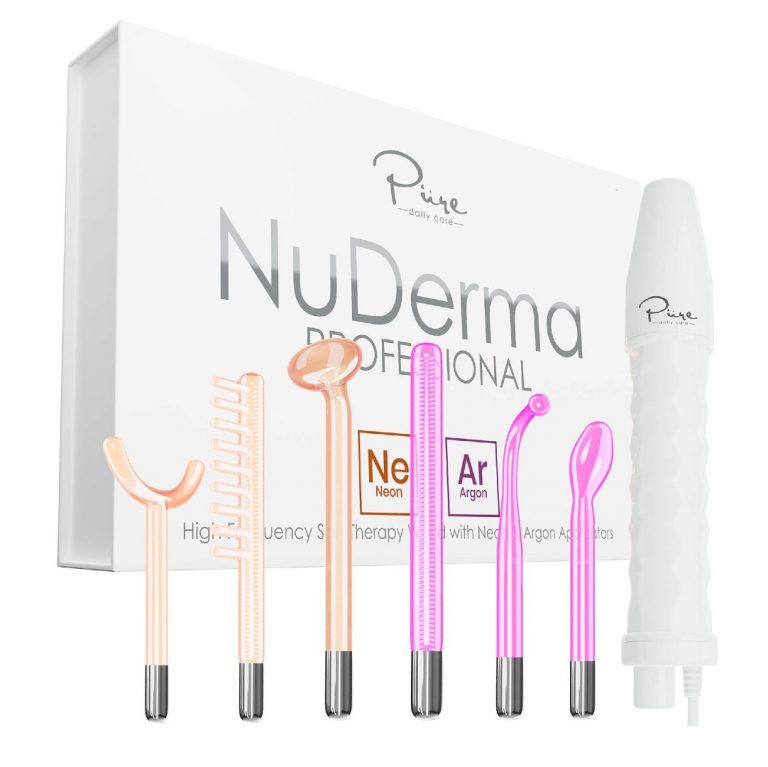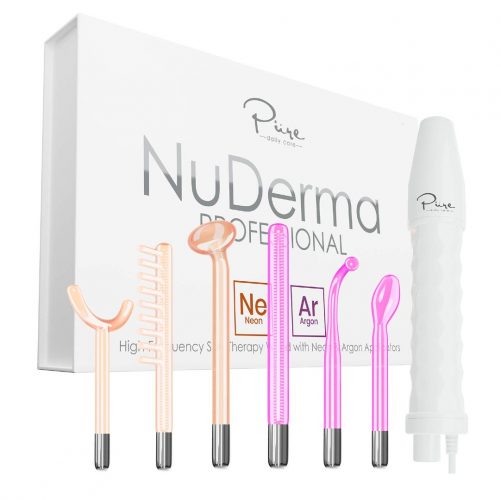 Pure Daily Care tops the list with this best-selling high-frequency device. The kit includes six wands, three filled with argon, while the other three are neon-powered, each coming in different shapes for different body parts. It's the best pick if you have multiple skin foes to fight. The comb and the rod (for the body and forehead) are also supercharged with Tungsten, a metal that facilitates electrical conductivity for more benefits. Whether you're using it on active breakouts to fight bacteria, on your cheeks to tighten your skin, or together with your serum or cream to increase their effectiveness, this device is a real multitasker you can count on to reach each and every of your skin challenges.
---
Pure Daily Care NuDerma Clinical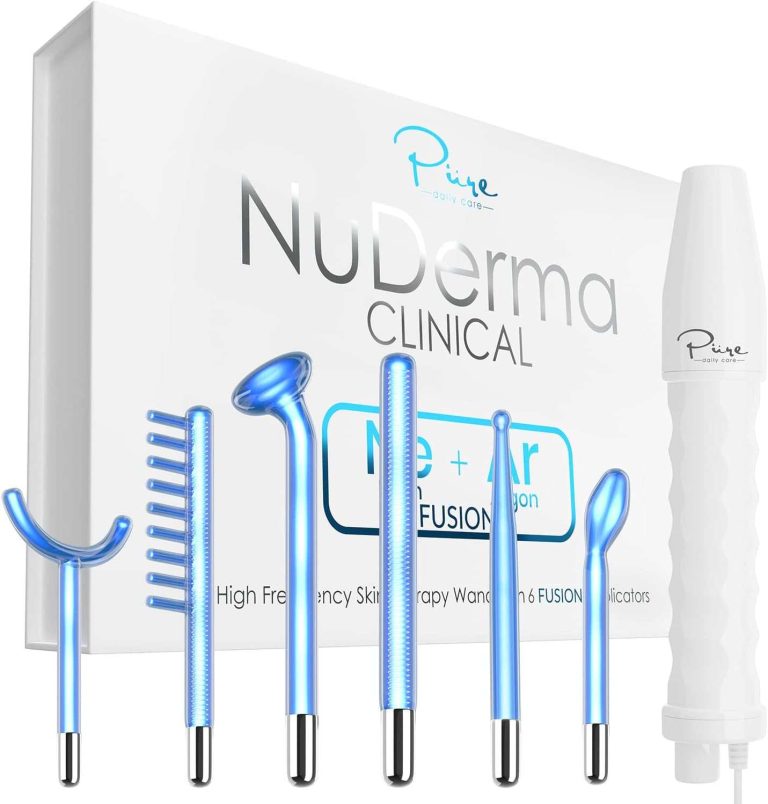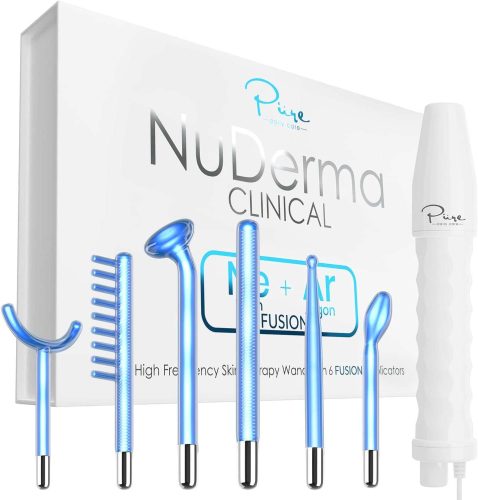 Unlike other devices, NuDerma Clinical fusions neon and argon in a single electrode (hence, the blue color) to get you a multifaceted approach to your skincare routine. It's actually the first of its kind that combines both gases, which is more effective for targeting skin pigmentation and acne breakouts. "Helps immediately with acne, overly oily skin, redness, and that aged look," says one happy reviewer.
---
Tumakou High-Frequency Machine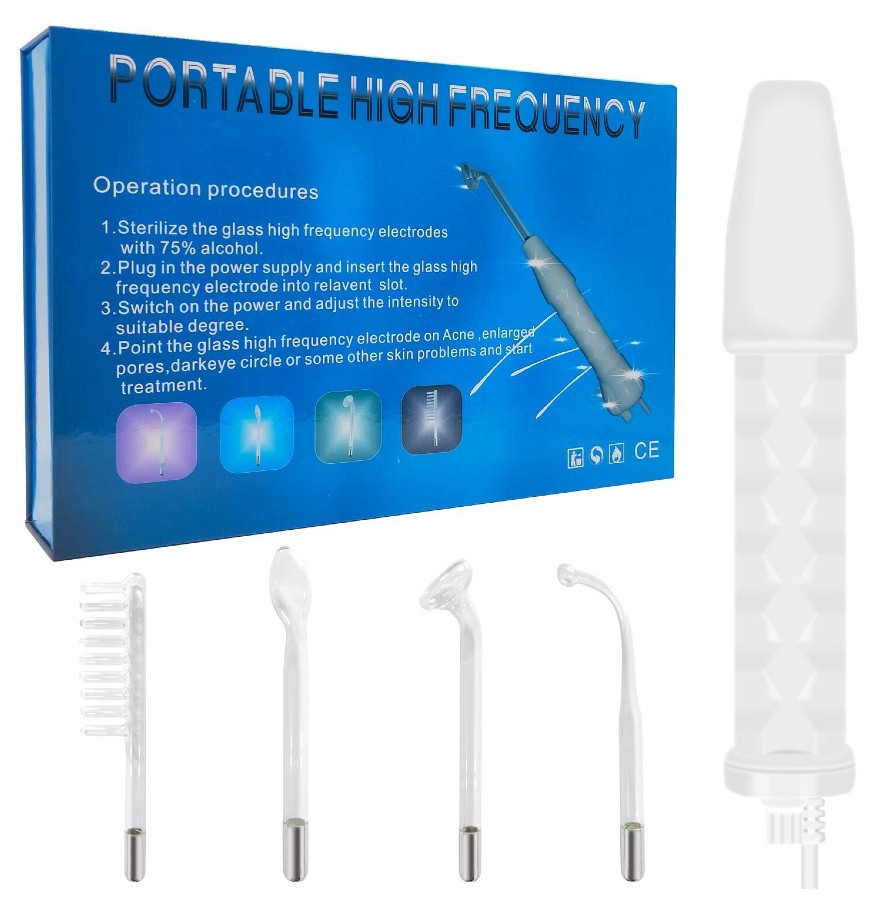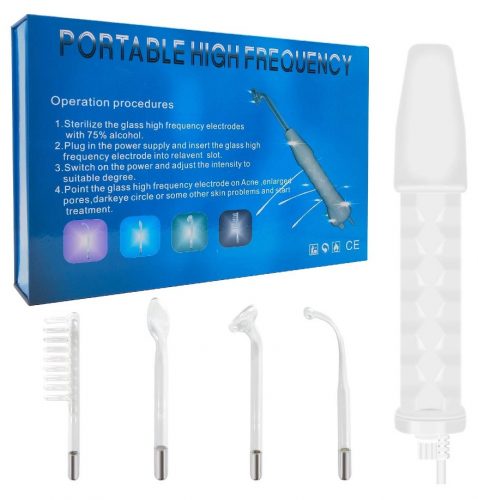 If you have no pimples to clear, you don't really need a device with both argon and neon, which are usually more expensive. This is where this facial high frequency device comes in. It boasts only neon-powered wands to target aging signs and provide a much-needed energy boost to the skin. This kit is not only effective but also incredibly affordable.
---
Project E Beauty High Frequency Device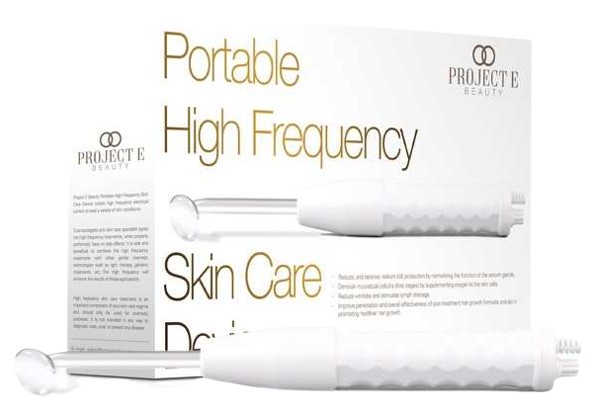 This one has four probes filled with neon to target loss of firmness and dullness, while the other two aim to treat blemishes and kill bacteria. We're particularly fond of this brand's range of options, with choices ranging from a single wand to two or three. This allows you to pick and choose only what you need at a price that works for you.
---
Apreuty High Frequency Machine 7-in-1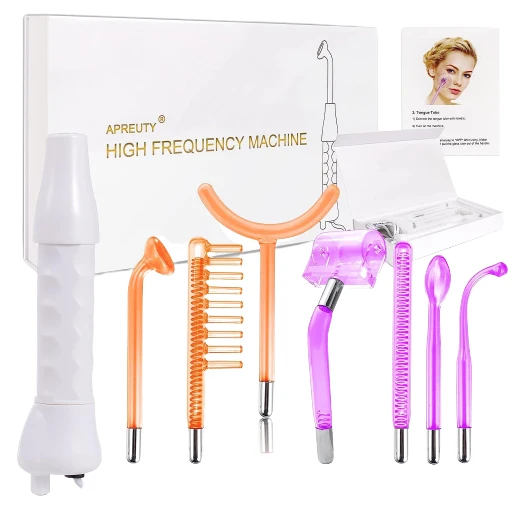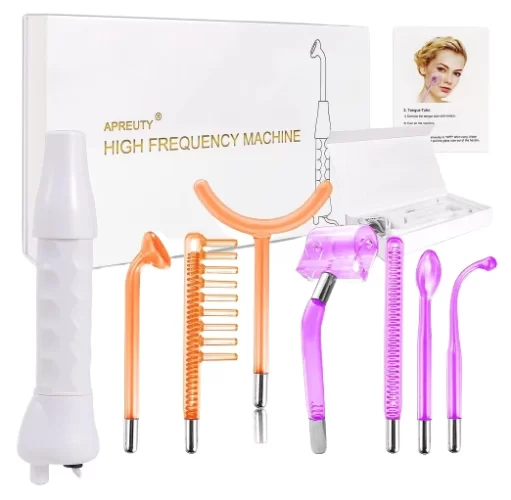 This is another all-in-one solution for your skincare needs. It comes equipped with seven expertly crafted glass wands filled with neon and argon gases to target dullness, blemishes, and signs of aging. The ribbed handle provides a precise grip, allowing you to easily navigate across your face and neck and giving you complete control over your treatment.
What sets this kit apart from the rest is its inclusion of a Y-shaped tube, specially designed for treating areas such as the neck, arms, and knees. Additionally, the rod tube is perfect for rolling across the face to stimulate collagen production and detoxify the skin, while the tungsten-filled tube is ideal for smoothing out pesky forehead lines.
---
How to use my high-frequency wand?
I already made a post about how to do a high-frequency facial at home, but in case you missed it, here is a brief summary.
First, make sure to cleanse your face and pat it dry before the treatment. Apply a thin layer of water-based serum or moisturizer to help the wand glide smoothly over your skin. Insert the electrode into the wand and turn it on, and you should hear a buzzing sound and see a soft glow around the electrode. Glide the electrode gently over your skin in circular or back-and-forth motions, avoiding staying in one spot for more than three seconds. Use the device for 3-4 minutes with the electrode in light contact with your face. Start with the forehead, then go to the nose, cheeks, and chin.
You may feel a slight tingling or warming sensation, which is normal, but if you experience discomfort, reduce the intensity or stop using the device altogether. After the treatment, continue with your usual skincare products. I recommend using a hyaluronic acid serum or a peptide one to speed up skin recovery. Remember to clean the electrode with alcohol or a disinfectant wipe before storing it.
Side effects and other concerns
While high-frequency wands are generally safe to use, there are a few potential side effects and precautions you should be aware of. If you have sensitive skin, you may experience tingling, redness, or swelling more intensely than other people, but they should be gone within a few days. Never use the device on severe sunburns, eczema, psoriasis, rosacea, during pregnancy, or if you have a history of heart disease.
Read next: Should You Pinch Your Skin To Stimulate Collagen?