Who loves futuristic tools for skincare? Well, I do; merge technology with skincare, and you've got my attention. After 11 years of struggling with acne and at the beginning of experiencing fine lines, no wonder I'm into facials, LED masks, radiofrequency, and, lately, high frequency (HF).
The story sounds familiar, doesn't it? When fine lines and wrinkles go into a fast-and-furious mode, you're seeking ways to put a brake on them. The same goes for acne, dark spots, and so on. And if you thought one of the best high-frequency facial wands could help, you were just right; a high-frequency machine can indeed restore and boost your skin by increasing oxygen to the skin, helping induce collagen and elastin production, clearing acne, and enhancing radiance, firmness, and elasticity.
How does a high-frequency device work?
A high-frequency device uses targeted thermal energy known for stimulating cell renewal. These wands use a high-frequency glass electrode filled with neon or argon gas — the former produces a red/orange light, the one known to have benefits for normal, dry, and dehydrated skin, while the latter is blue/violet and works for excess sebum and acne.

When applied to the skin, a mild electrical current passes to the gas-filled electrode, emitting a subtle glow and buzzing noise. The oscillating action of HF encourages lymphatic drainage, increases oxygen in the skin, and boosts blood flow, nourishing the skin and helping it regenerate. It also generates an enriched form of oxygen, providing the skin with a firm, vibrant glow. Furthermore, a high-frequency device improves overall texture and tone by boosting collagen and elastin fibroblast production. In plus, after a high-frequency treatment, product absorption increases, meaning your skin will uptake more active ingredients.
The best high-frequency facial wands
Now that you're convinced such a wand lives up to the hype, check out the best high-frequency machines we've picked for you.
---
Pure Daily Care High-Frequency Machine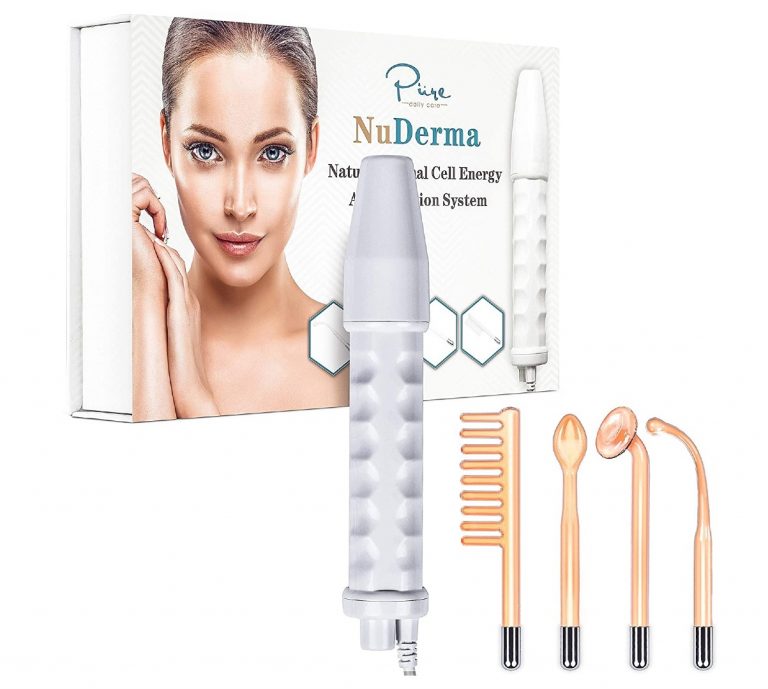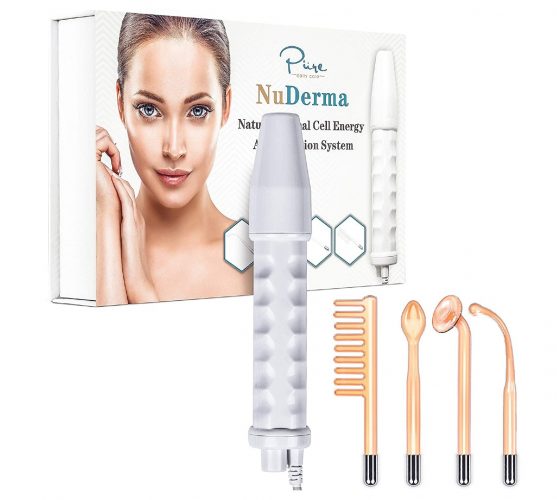 Using this high-frequency device can turn things in your way by reinforcing your skin and bring back its supleness. It was created to help reduce wrinkles' appearance, diminish puffiness around the eye area, smooth, and energize the complexion, supported by four neon-powered probes. The wand produces 10 watts of power at 50-60Hz waves, which means it's utterly painless in boosting blood flow and collagen production, plumping your skin safely and effectively.
---
Pure Daily Care Professional Facial Wand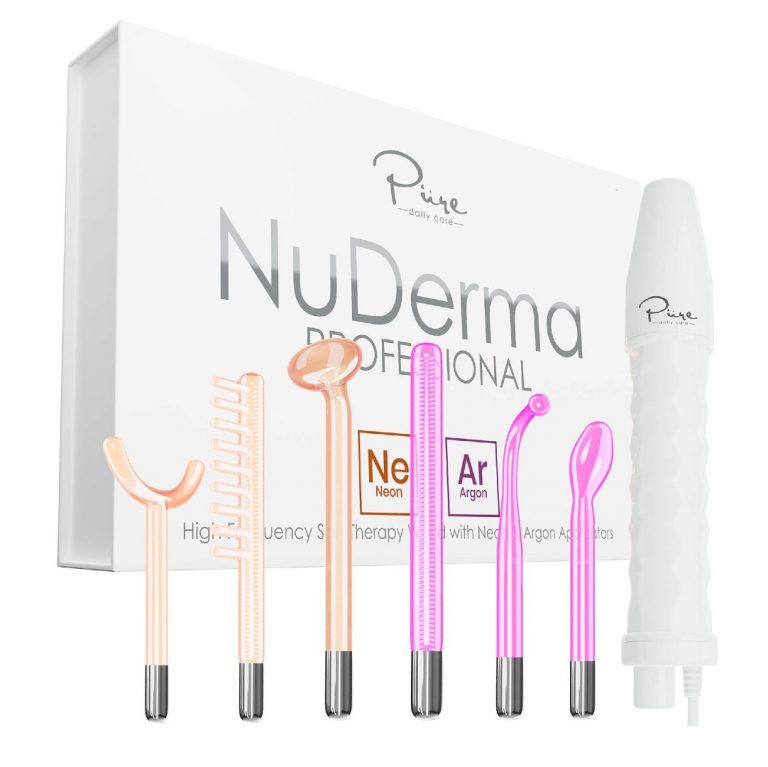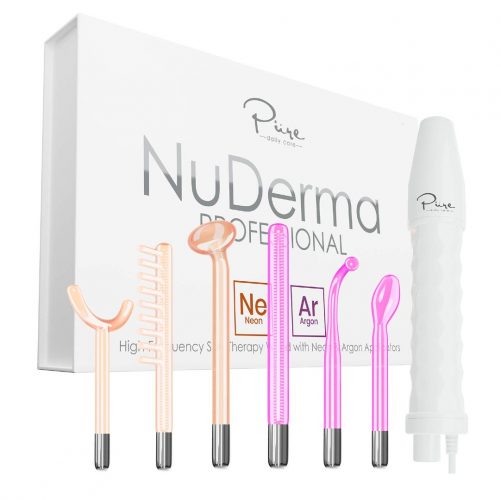 This time, Pure Daily Care's kit includes six probes, three filled with argon, while the other three are neon-powered, definitely one of the best high-frequency facial machines. The comb and the rod (for the body and forehead) are also supercharged with Tungsten for improved effectiveness. Use this high frequency wand in conjunction with your favorite anti-aging serums and creams to drastically improve their absorption into the skin so you can get the most out of their benefits.
---
Project E Beauty High Frequency Device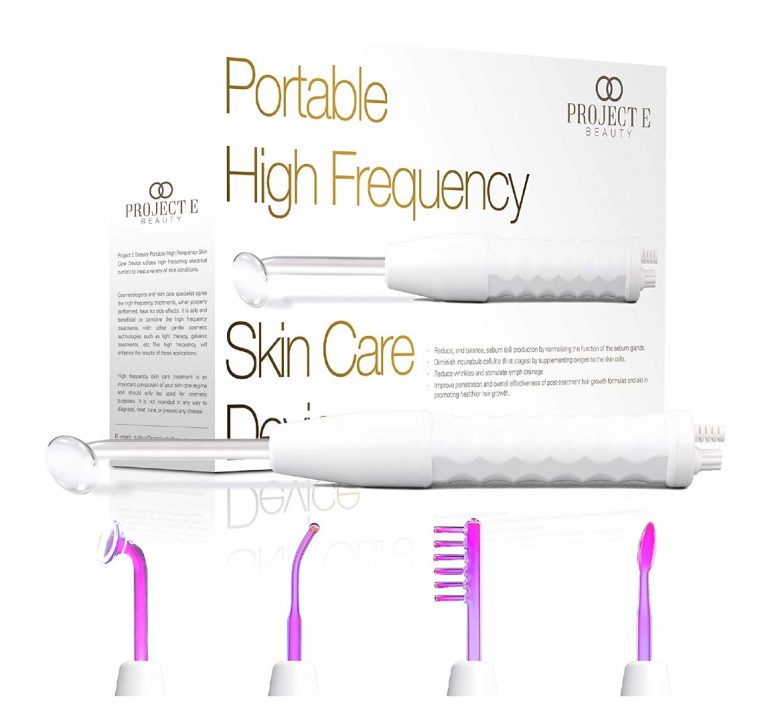 As one of the best high-frequency machines, Project E Beauty's product has four probes filled with neon to target lack of moisture and dullness, while the other two aim to treat blemishes and kill bacteria. We also like that the electrodes come in various convenient shapes and sizes to facilitate treating different areas of the face. Using this device ten minutes, three times a week, you can enhance skin's health, from occasional pimples to fine lines and dullness. In a nutshell, it's an all-in-one package and a great addition to your beauty routine.
---
Tumakou High-Frequency Machine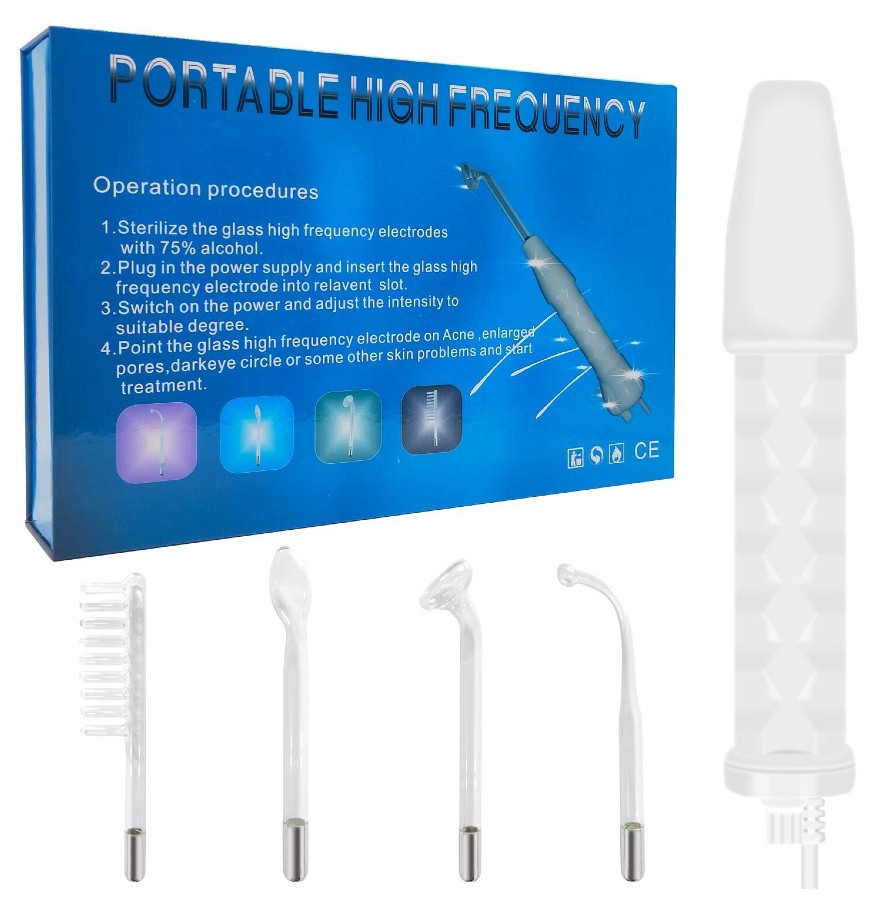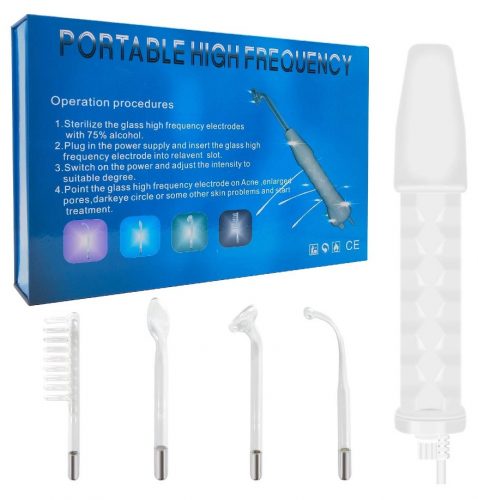 Tumakou's kit comes with four tubes for all your needs to treat different areas, cheeks, forehead, jawline, eye, lips, and nose. The high-frequency kit helps provide an energy boost to the skin, reducing the fine lines look, thanks to the neon gas, which has a toning effect and stimulates blood vessels. Bonus points because it's super affordable!
---
Apreuty High Frequency Facial Wand Device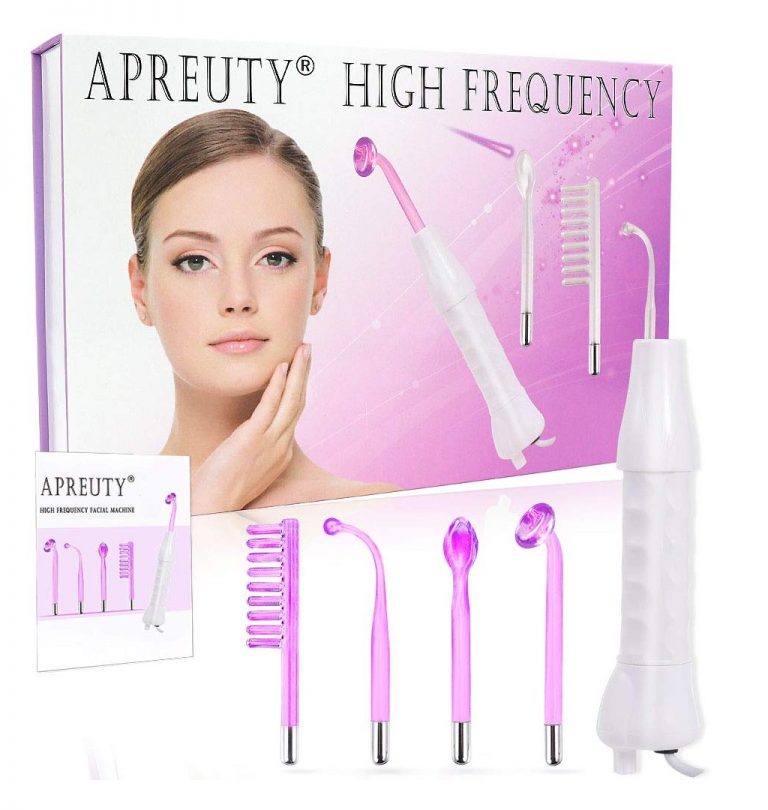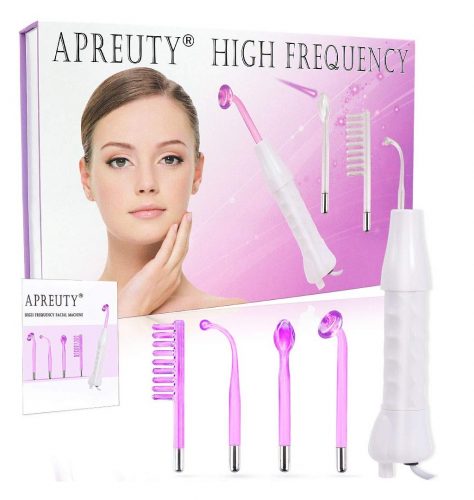 Here's another of the best high-frequency facial machines that use neon and argon gas, aiding in minimizing fine lines and purify skin by destroying bacteria. Some of the applicators are also supercharged with Tungsten which enhances the effectiveness. For the price, you can't go wrong with all seven attachments included, IMO.
---
Frequently asked questions about high-frequency facial machines
How to prep my skin for a high-frequency facial?

Always have your skin cleansed and dry before you start the high-frequency treatment. Important: stop using any retinoids for 5-7 days before performing the therapy and avoid harsh exfoliants, such as glycolic acid, for a week prior. After the treatment, apply hyaluronic acid serum to speed up the skin improvement process.

How to use my high-frequency wand?

When you use the device, move it slowly in circular motions for 3-4 minutes, with the electrode in light contact with your face. Start with the forehead, then go to the nose, cheeks, and chin. For those who want to know more, I covered each step of how to use a high-frequency wand at home.

Is it safe to use high-frequency facial machines?

High-frequency wands are considered a safe, gentle, and therapeutic approach to skin enhancement, healing, and energizing. If your skin is sensitive, you might experience tingling, redness, or swelling that usually disappear in a few days. To prevent that, stick to a maximum of 2-3 minutes for each area, once every two-three days. Finally, you shouldn't use the device on severe sunburns, eczema, psoriasis, rosacea, during pregnancy, or if you have a history of heart disease.