It got me teary-eyed watching a YTB video, Meet Kate Somerville. A few seconds and I knew she was an emotional, friendly woman who didn't have much luck, so she put a lot of effort into her success. Kate's childhood wasn't the most joyful, yet she defied the impossible. Even her love for skincare came up from a negative experience.
Growing up with eczema, Kate felt embarrassed, so she knows how it feels to be uncomfortable in your own skin. Following up on her dreams, as she claims "to heal people" and make them feel confident with their skin, she enrolled in an esthetician's school. From that to opening her clinic in Cali, it was a lot of work, yet she made it, and many celebs pamper their skin there for two decades now. If you're nowhere near California and still want to get Kate's treatments, you can do it by trying her clinic-born skincare line through the best Kate Somerville products. 
How are Kate Somerville products different?
Kate Somerville products are inspired by science and nature. All formulas target different concerns, from acne to aging signs and a broken skin barrier. They are made with highly active ingredients that deliver transformative results without irritations, being effective and gentle at the same time. Kate Somerville's products offer some of the best high-end skincare solutions, from cleansers, toners, and serums to moisturizers, masks, and SPF — all you need to build your skincare routine, either you're a 9-step enthusiast or the moisturize and go type.
The best Kate Somerville products focus on hydration, moisturization, and exfoliation. For this reason, you'll see ingredients like hydrolyzed hyaluronic acid, sodium hyaluronate, adenosine, papaya, pineapple, and pumpkin enzymes in most formulas
More than that, the company is certified Cruelty Free by PETA and has a partnership with Oceans, stating that by 2025, all of its packagings will be 100% recyclable.
The best Kate Somerville products
Without further ado, here are the best Kate Somerville products to add to your forever expanding skincare regimen ASAP.
---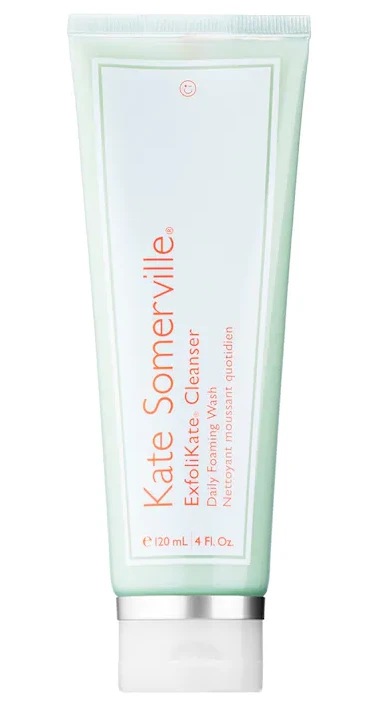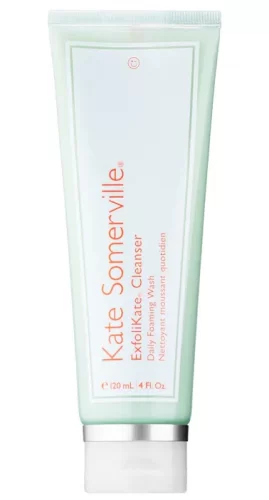 You can start your skincare routine by washing away makeup and pollution with this foaming wash. The main ingredients are lactic and glycolic acids, papaya, pineapple, and pumpkin enzymes. They work to draw out dirt, kill bacteria, and keep excess sebum under control, while gently exfoliating the skin. We like that the cleanser never dries the skin as it's infused with a mix of botanical oils that nourish and moisturize. It's a great all-rounder cleanser that helps prevent dead cells buildup, making it one of the best Kate Somerville products.
---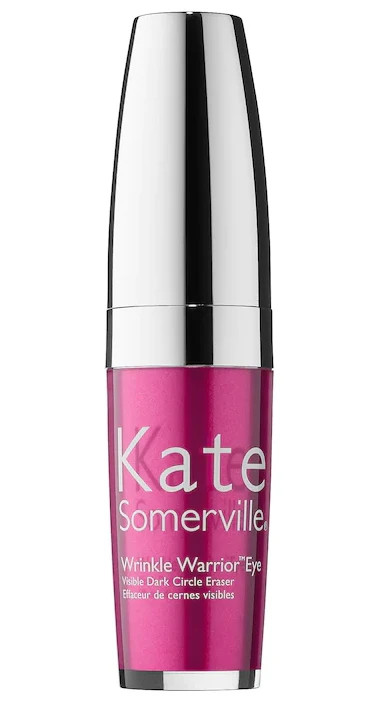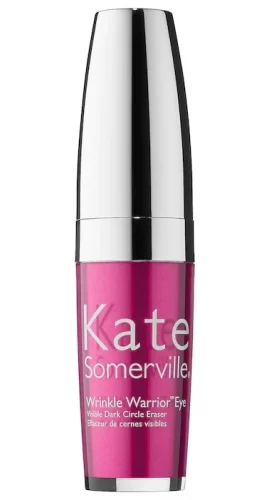 If you're looking to brighten, hydrate, and reduce dark circles look, Wrinkle Warrior Eye is what you want. The star ingredients are yeast and plankton extracts, small and large molecular weight hyaluronic acid, and a botanical blend of white lupine and alfalfa. Everything is in a lightweight reinvigorating gel-like formula that reduces dark circles, lines, and puffy eyes for a plumped and nourished eye area.
---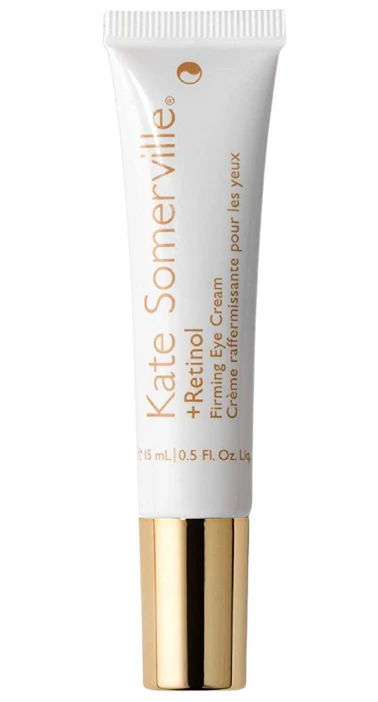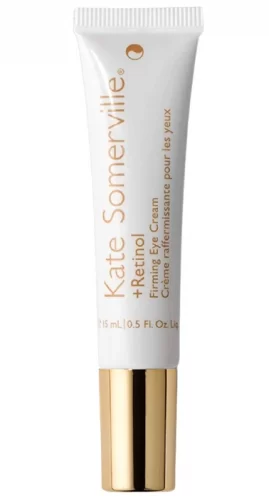 As you may have guessed, this eye cream is powered by two sources of retinol, the gold standard anti-aging ingredient. More than that, it also packs bakuchiol, a natural alternative to retinol. A great wrinkle-fighter, this eye cream targets loss of elasticity and firmness, helping plump crows' feet and wrinkles. Hyaluronic acid, rice extract, and adenosine are other ingredients that make this product a cult favorite and one of the best Kate Somerville products.
---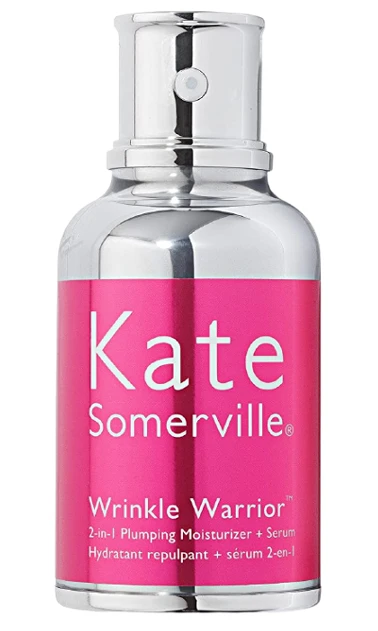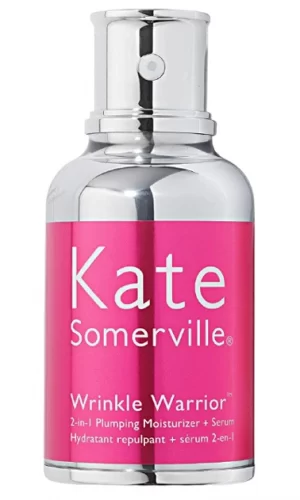 For those of you who are into multitaskers, this serum will leave you speechless. Formulated with hyaluronic acid, as well as amino acids and sugar copper, it's a powerful anti-wrinkle product that works for all skin types. The texture is light, somewhere between a nourishing serum and a lightweight moisturizer that instantly gives a hydrating and plumping feeling. One product and you get a serum, a moisturizer, and a makeup primer — your skin will love you for applying it daily.
---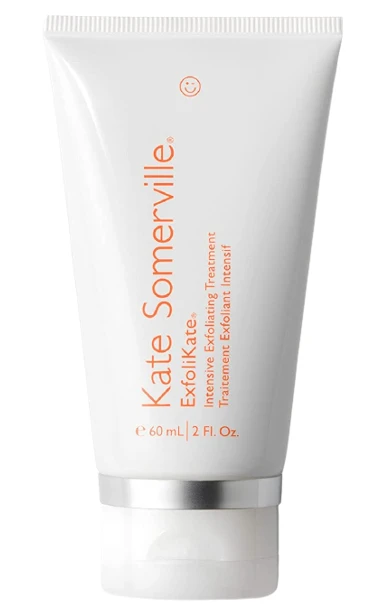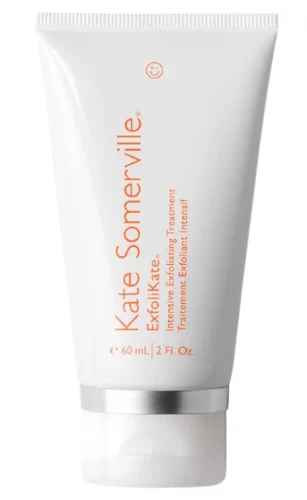 We couldn't make a list of the best Kate Somerville products without mentioning this exfoliating treatment, launched in 2005. Rich in lactic acid, it works to shed away dead cells and impurities, leaving behind smoother texture and pores, ready for the next skincare steps. Not only that, but it uses salicylic acid to unclog pores and eliminate excess oil. Additionally, the enzymes from papaya, pineapple, and pumpkin slough away dead cells delicately, revealing smoother skin. For the best, use it at most twice weekly. 
---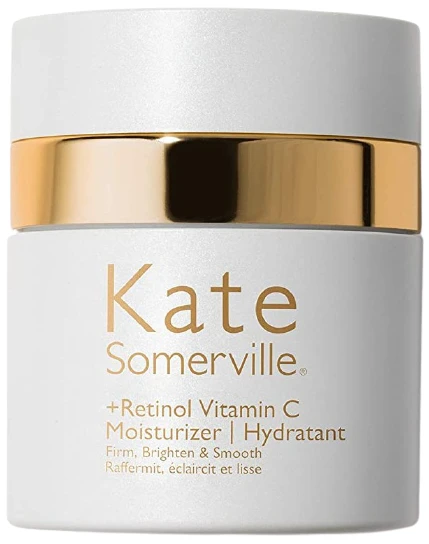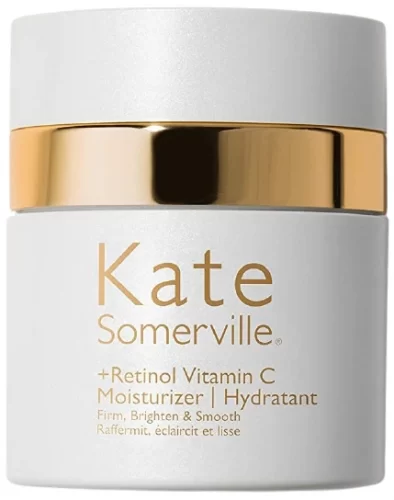 Want a transformative moisturizer to firm, bright and smooth while you sleep? This is it. The superstars in this formula are retinol and ascorbic acid, (the active form of vitamin C) that boost collagen and strengthen the skin's antioxidant defense system. Plus, hyaluronic acid, vitamin B5, and adenosine hydrate and moisturize the skin, protecting it from potential irritations. Since it's a potent formula, don't apply this moisturizer more than four times per week.
---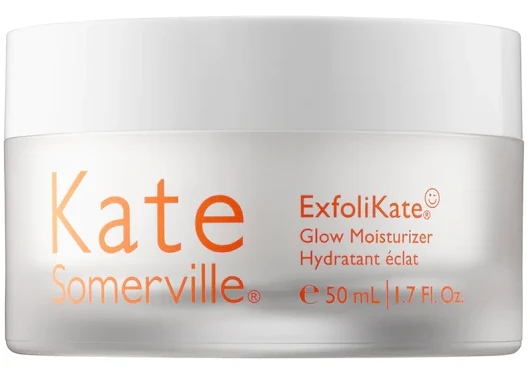 Whether you struggle with dark spots or acne scars, this exfoliating moisturizer aims to remove dead surface cells while it goes deep into the skin to hydrate and nourish. The happy reviewers testify that it has what it takes to be one of the best Kate Somerville products. It uses a mix of AHAs and fruit enzymes to target dead cells buildup that may hinder product absorption. Squalane, hyaluronic acid, bergamot, orange peel, and geranium oils aim to add hydration while creating a protective veil that doesn't allow external aggressors to wreak havoc on the skin.
---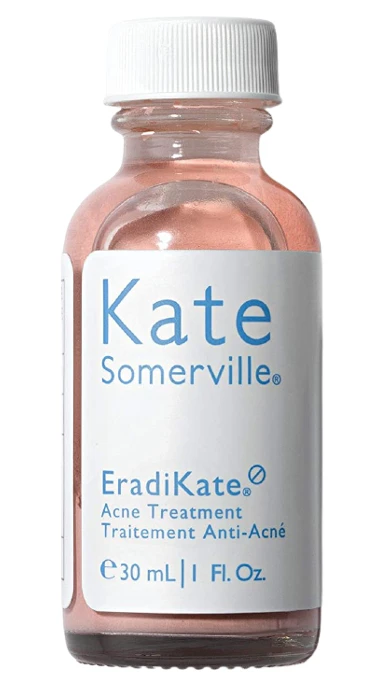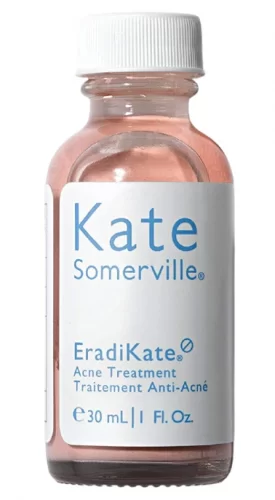 Hey acne sufferers, this one is the best Kate Somerville product for you. It's a spot treatment that helps clear pimples, speeding up the healing process. It uses 10% sulfur, which dries dead cells that clog pores while absorbing excess sebum. The formula is also boosted with zinc and salicylic acid to uncongest pores and accelerate breakouts healing. Also, it contains magnesium to help skin repair and regenerate.
---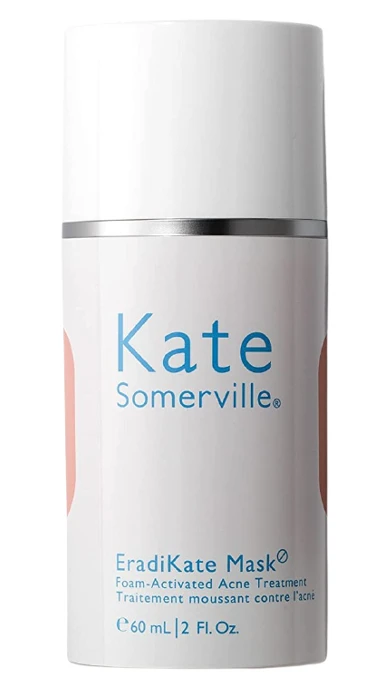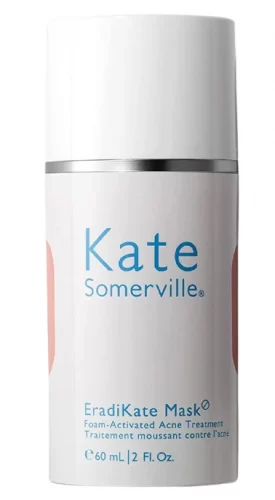 This is another product that works to prevent pimples apparition and speed up the healing process of existing ones. It's a foam-activated acne face mask spiked with sulfur to help diminish pimples and oligopeptide to moisturize and brighten. Moreover, the formula relies on honey and rice to soothe inflammations and increase moisture. Just 10 minutes twice weekly, and your skin stays defended against new blemishes.
---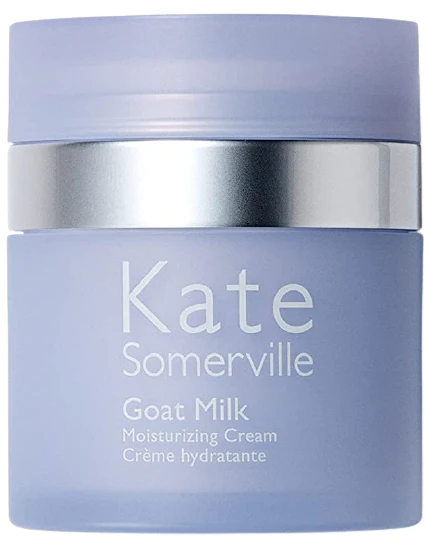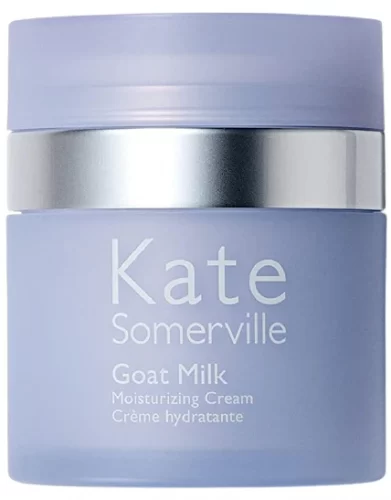 For another lightweight, effective, all-in-one moisturizer, try this. It's made to hydrate in-depth, exfoliate gently, and support a strong protective barrier. It does this helped by milk powder and milk proteins, aloe extract, and vitamin E, to name a few. Kate Somerville Goat Milk Moisturizing Cream is ideal for soothing dry, tight, or chapped skin, revealing a gorgeous, healthy-looking complexion.
---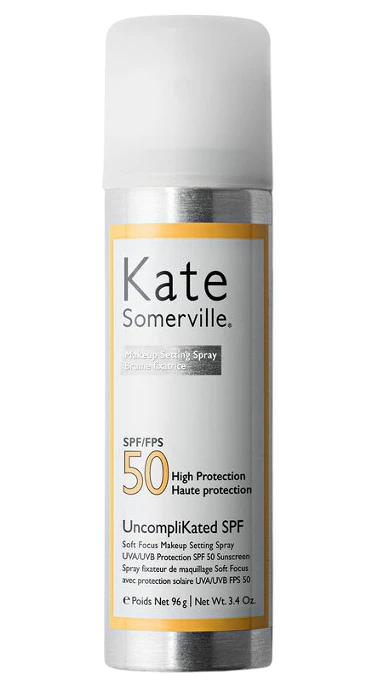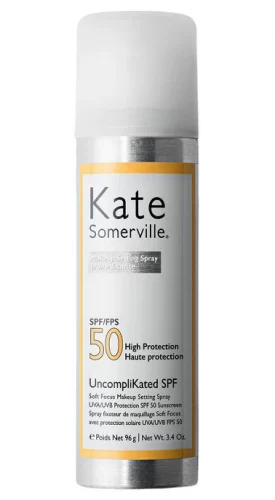 Last but not least, protect your skin against sun beams and keep makeup in place with this setting spray that gives SPF 50. Besides, it reduces shine, leaving a matte finish for a soft-focus effect that stays. Not only does it set makeup and shield against UV damage, but it infuses skin with hyaluronic acid, Rhodiola Rosea, and lavender, known to alleviate stressed skin. Apply 15 minutes before sun exposure and reapply every two hours for the best outcomes.