Ah, retinol. The golden child of skincare. From stalling the hands of time to clearing out clogged pores, it does it all. Retinol is unparalleled in its ability to even out the skin's texture, fade hyperpigmentation, reduce the appearance of wrinkles, and even plump the skin – what's not to love?
But unfortunately, this powerhouse ingredient doesn't always love you back, so you're seeking retinol alternatives. The dark side to being such a potent ingredient is that, for some, retinol can be too powerful. And as the popularity of retinol in skincare products grows, so too does the number of us who have adverse reactions to it.
If you think you can't tolerate retinol, don't worry, you're not alone. Luckily for those of us who may be feeling left out, there's no shortage of ingredients that can achieve the same effect without irritation.
Who should avoid retinol?
With retinol being the focus of so many skincare products on the market today, it's hard to believe it's not for everyone. The truth is, there are quite a few of us who shouldn't be using it. You should avoid retinol if you:
Are pregnant
Have rosacea
Have sensitive skin that has reacted to other ingredients such as AHAs and BHAs
Have any untreated skin conditions
Spend a lot of time outdoors without sunscreen
Use a tanning bed
Regularly undergo any facial treatments such as waxing or laser hair removal. Always let your esthetician know that you use retinol before facial treatments.
Do retinol alternatives work?
In a word: yes, retinol alternatives work but not quite in the same way that retinol does. Retinol is a derivative of vitamin A, something that's usually ingested from food sources. When used topically, it works by penetrating deep within the skin, where it stimulates the natural cell turnover process, which in turn boosts collagen production, one of the major building blocks of bouncy, healthy skin. But while it's one of the few skincare ingredients that's proven to fight aging signs, it's also been proven to cause irritation.
Fortunately, there are plenty of other ingredients that fight signs of aging and leave you looking plump and smooth. While they may not work the same way that retinol does, that doesn't mean they aren't just as, if not more, effective for your individual skin.
So how do you know when it's time to try a retinol alternative? If you've gotten past the acclimation period with retinol and your skin is still red and irritated, then retinol probably isn't for you. And if you're tempted to try to push through it, remember this: if retinol is causing damage to your skin, then you're negating any of the benefits that would come with it.
Gentle ingredients that mimic the effects of retinol
If you can't tolerate retinol there's a good chance you'll find your hero ingredient here. These are gentle retinol alternatives that have more or less the same effects as retinol.
Bakuchiol
Probably the first which comes to mind when thinking about a retinol alternative is bakuchiol. Rightly so. Bakuchiol is touted as the natural and gentle alternative of retinol that mimics its effects without irritations.
Bakuchiol, like retinol, works by increasing cell turnover, stimulating collagen production, reducing wrinkles, and thickening the skin. Bakuchiol also possesses antioxidant properties and can enhance skin brightness, fade dullness, and sort up plumpness. Studies have confirmed that bakuchiol is more tolerable than retinol while sharing the same benefits for anti-aging.
Glycolic Acid
If you have sensitive skin that gets irritated easily, a chemical exfoliant such as glycolic acid makes the perfect retinol alternative to trying when you've given up on retinol. Glycolic acid is one of the most well-known and widely used alpha hydroxy acids (AHAs), which are made up of tiny water-soluble molecules derived from sugarcane.
Due to their size, they can only penetrate the skin's outermost layer, but don't let that fool you – glycolic acid causes less irritation while still exfoliating the skin. It increases cell turnover by breaking up the dead cells on the outer layer of the skin, including dirt and buildup. This gunk comes off, creating the same shedding effect you see with retinol to reveal smoother, more even skin.
Glycolic acid comes in all types of skincare products, from face wash to toners to serums. It can vary in concentration and can be combined with other AHAs and even BHAs. For those who want an alternative to retinol, however, a serum will be your best bet.
Glycolic acid serums have higher concentrations of active ingredients at specific pH levels to optimally penetrate the skin.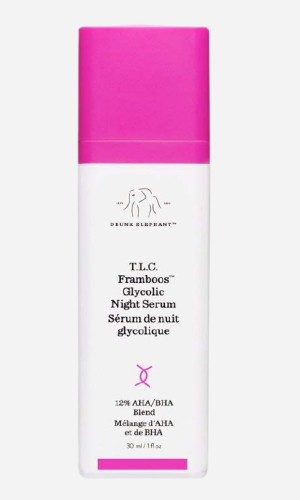 Drunk Elephant Framboos Glycolic Resurfacing Serum
This serum by Drunk Elephant is the quintessential alternative to retinol for those with sensitive skin. Its primary ingredient is glycolic acid blended with other AHAs and BHAs to exfoliate the skin without leaving it as dry and sensitive as retinol does.
Rosehip oil
There's no shortage of oils in skin care, and one of the most popular right now is rosehip. It's lightweight, easily absorbed, and doesn't leave that greasy feeling that most oils do. Rosehip oil is derived from a cold-pressing process that removes the oil from rosehips, the plant just below the rose flower, and if you're wondering, yes – it smells like fresh roses.
Rosehip oil contains vitamin C, linoleum acid, oleum acid, lycopene, and last but not least – a small amount of vitamin A, or retinol. It has topical anti-inflammatory properties, meaning it reduces the redness and irritation associated with acne, and it's been shown to fade dark marks and sunspots. Rosehip oil helps alleviate inflammation and dryness. It contains high levels of hydrating fatty acids, making it a useful ingredient in treating skin conditions like eczema and psoriasis.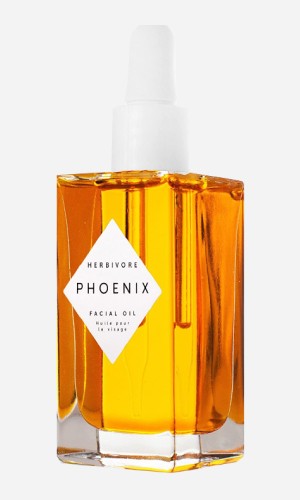 Herbivore Natural Phoenix Facial Oil
Rosehip oil mimics retinol because it contains natural vitamin A. So if you can't tolerate skincare products formulated with a higher concentration of retinol, this natural alternative may be for you. Herbivore's Phoenix Rosehip Anti-Aging Face Oil is known among skincare enthusiasts for its ability to smooth aging skin, reduce scarring, and hydrate.
Niacinamide
Niacinamide is a form of vitamin B3 and one of the most versatile ingredients in skincare. It's often found in products such as lotions and serums and is safe for just about every skin type and concern. Niacinamide can minimize and tighten pores, even out skin tone, soften fine lines, and clear congested skin. Research also confirms that niacinamide helps repair weak, sensitive skin by strengthening the skin's natural barrier.
In addition to being safe for almost all skin types, it plays well with others, too. Niacinamide can boost the moisture retention of other ingredients that hydrate the skin. In higher concentrations, niacinamide can help break up dark spots and uneven skin tone while preventing the formation of these concerns in the future.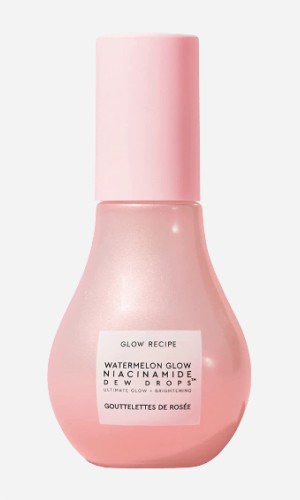 Glow Recipe Watermelon Glow Niacinamide Dew Drops
Serums like this are an easy addition to your skincare routine when you can't count on retinol. Niacinamide can be used alone as a serum or mixed with your moisturizer. It can even be used as a primer for makeup to control oil.
Vitamin C
Incorporating vitamin C into your skincare is a no-brainer, and chances are you're probably already using it. You can find vitamin C in everything from cleansers to lotions to toners, though it's most commonly used as a serum. Vitamin C comes in many different formulations, too, with some of them being stronger and more irritating than others.
Vitamin C is a powerful antioxidant that protects the skin from environmental stressors such as free radicals and UV exposure. Unlike retinol which chemically exfoliates the skin and promotes new cell growth, vitamin C delivers its anti-aging benefits by being one of the key components to collagen production in the first place.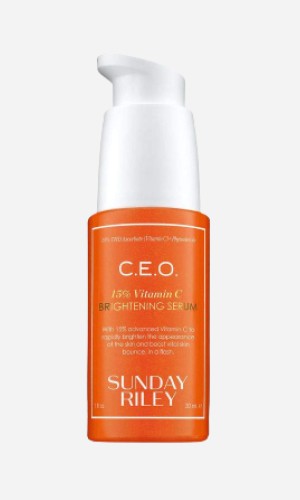 Sunday Riley C.E.O. 15% Vitamin C Brightening Serum
It's important to choose a vitamin C serum that's been properly formulated to penetrate the skin without causing any irritation. The right vitamin C can encourage new collagen growth, even out skin tone, and lighten hyperpigmentation. Sunday Riley's product makes a great alternative to retinol when you want results without a reaction.
Resveratrol
While you've probably heard of the previous ingredients, this one may be new. Resveratrol is an antioxidant found in the skin of grapes, peanuts, berries, and even chocolate. They're a type of polyphenol – a group of compounds known to offer antioxidant benefits and protection against external aggressors and UV damage.
Like all antioxidants, resveratrol protects the skin's natural barrier to prevent dehydration, congestion and improve its overall tone and texture. It's often combined with ferulic acid in skincare products for the ultimate antioxidant duo in the fight against free radicals. For this reason, The Ordinary's Resveratrol and Ferulic Acid Serum is one of my favorite products. It can be used alone or mixed with other products to even out hyperpigmentation and leave the skin soft and smooth.
EGF
Last but not least, there is EGF or epidermal growth factor. EGF is a polypeptide that was developed to speed up wound recovery by jumpstarting cell division to quickly produce new cells. When applied topically, it's been found to encourage new skin cell growth, reduce the appearance of fine lines and wrinkles, restore hydration, and prevent further hyperpigmentation.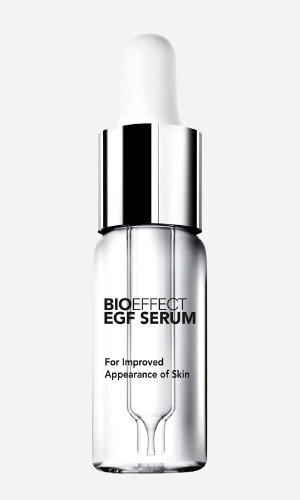 Bioeffect's EGF Serum
Bioeffect's EGF Serum is one of the first EGF serums on the market that delivers all of these benefits and then some. And while it comes with a hefty price tag, it's for a good reason – it was developed with Nobel Prize-winning science and was named by the late Karl Lagerfeld of Chanel as one of his top 10 essentials in French Vogue. 
Gentler forms of retinol
If your skin can't tolerate retinol but still want to keep up with retinoids the best thing you can do is try gentler forms of retinoids, such as retinyl palmitate. Retinyl palmitate is the least irritating of all four retinoids because it has to undergo the most conversion steps until it gets into the active form of vitamin A. This process reduces its efficacy but also makes it act more gently on the skin with minimal side effects.
Or you can go for granactive retinoid. Granactive retinoid is a newer generation on the vitamin A family that showed both increased effectiveness and tolerance in clinical studies compared to retinol.
Encapsulated retinol is another version of retinol thought to be less aggressive. It is basically a technology that encapsulates retinol molecules to control their release in skin tissues to reduce the chances of irritations. For this reason, encapsulated retinol is considered one of the gentlest, yet effective retinol alternatives that mimic the same long-term benefits.