No doubt, the eye area is the most problematic one, and it's usually the first that loses elasticity and gets wrinkled. Not to mention dark circles and puffiness that make you look tired all the time. You can still hold on to that concealer to fake a good night's sleep, but that won't help you in the long run. Luckily, with a targeted eye cream is easy to manage those aging signs — this is where the best peptide eye creams come in handy.
Whether you want to increase firmness and elasticity around the eyes, delay the apparition of first fine lines and crow's feet, brighten dark circles or diminish the look of existing aging signs, peptides can do the job. Now let's see why peptides are so hailed for the eye area.
What are peptides?
Peptides are short chains of amino acids naturally found in the skin that act like building blocks for proteins like collagen, elastin, and keratin. Without peptides, the skin lacks firmness and appears thin and dull. There are many types of peptides, each having its role, depending on the structure, aka how many amino acids are linked in a chain.
To better understand the types of peptides and what they can do to the skin, read our complete guide of peptides.
Why use an eye cream with peptides?
Peptides are one of those must-have ingredients in an eye cream. They are gentle, safe, and can penetrate the skin, which triggers cells to produce collagen, elastin, and hyaluronic acid. In turn, this leads to firmer, more resilient, and plumper skin.
Diligently using one of the best peptide eye creams listed here helps stimulate collagen production in the skin, smoothing, plumping, and strengthening the eye area. Plus, they're filled with other skin-loving ingredients, such as antioxidants, hyaluronic acid, nourishing oils, retinol, ceramides, and plant extracts to bring dull skin back to life.
The best peptide eye creams
There's a formula out there for everyone, even sensitive skin types for whom eye creams are hard to find. So to make things easy for you, we rounded up our favorites. Read on for the best peptide eye creams to help you fade dark circles and soften crow's feet.
---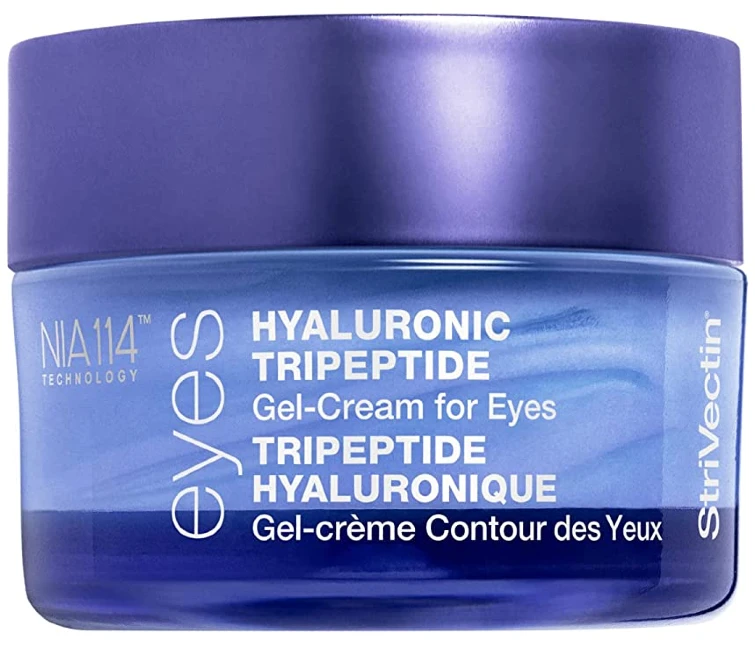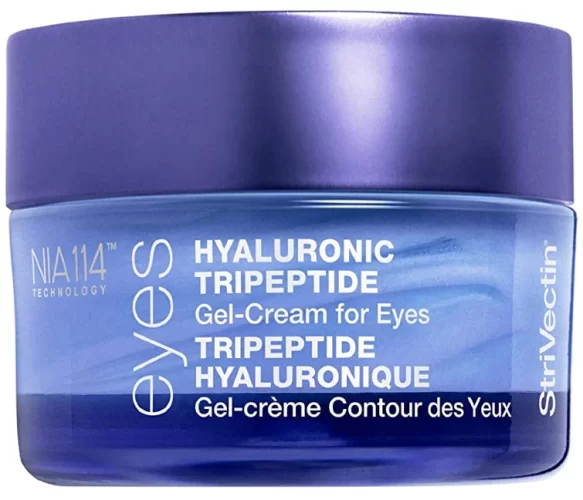 StriVectin Advanced Acids Hyaluronic Tripeptide Gel-Cream for Eyes
The powerful formula does the job of hydrating, fortifying, and smoothening the eye area while leaving a cooling feeling due to the gel-like texture. It combines hyaluronic acid, tripeptides, and an in-house niacinamide complex to shield skin from environmental damage. Use it day and night and get ready to wave goodbye to fine lines, dark circles, and puffiness around the eyes.
---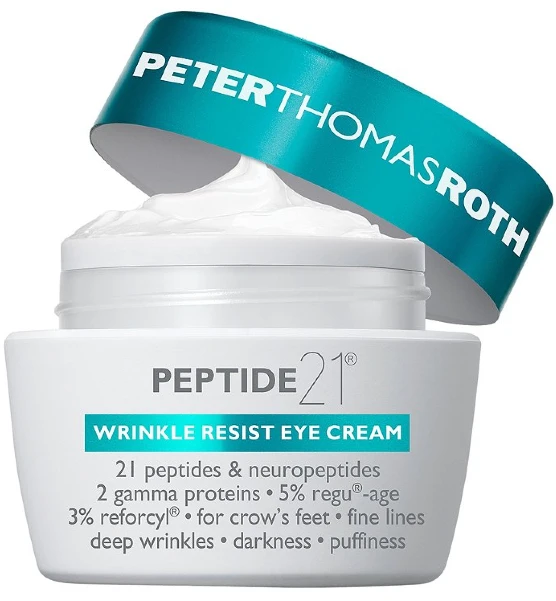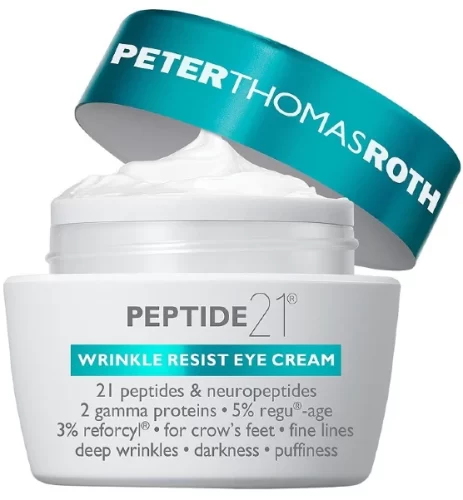 Peter Thomas Roth Peptide 21 Wrinkle Resist Eye Cream
Peter Thomas Roth made one of the best peptide eye creams and is chocked-full with a mix of twenty-one peptides and neuropeptides, known to trigger collagen production, increasing firmness and elasticity. Additionally, the cream is packed with shea butter to instantly soften fine lines and 5% Regu-Age (hydrolyzed rice protein, soybean protein, superoxide dismutase), ideal for reducing under-eye dark circles and puffiness. Briefly, your new favorite eye cream!
---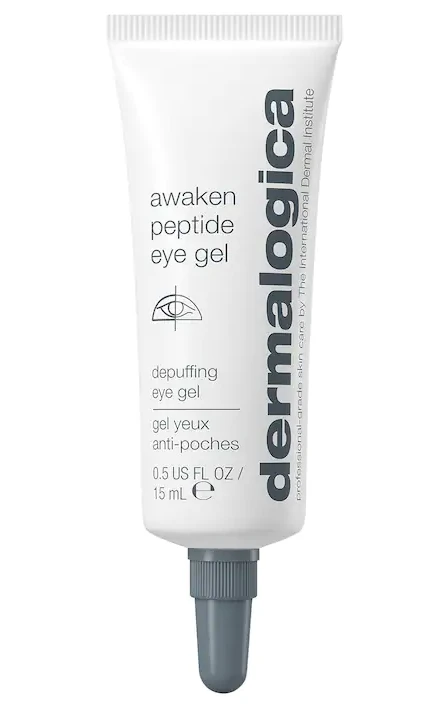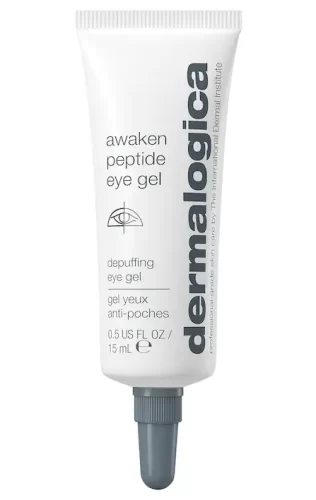 Dermalogica Awaken Peptide Eye Gel
This refreshing eye gel performs excellent at reducing the appearance of fine lines, dark circles, and puffiness using a mix of tetrapeptides and caffeine, which also works as an antioxidant. The lactic acid in the formula aims to brighten, diminishing the appearance of dark circles and pulling in hydration. It's the perfect addition to your skincare routine that helps soften fine lines, lessen dark circles, and make skin appear soft and smooth in an instant.
---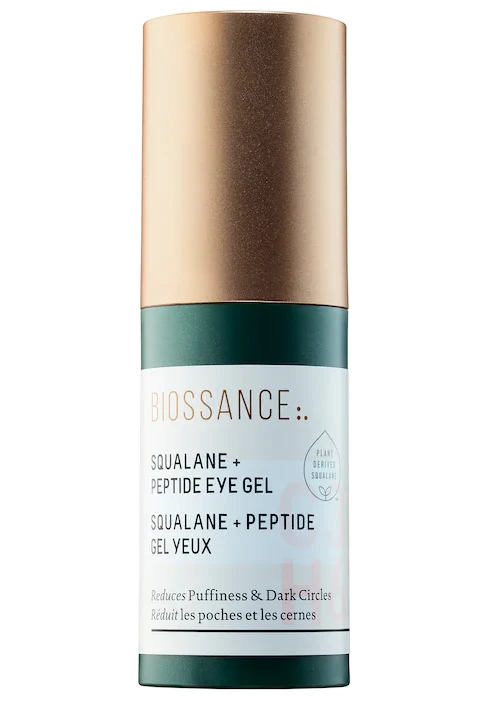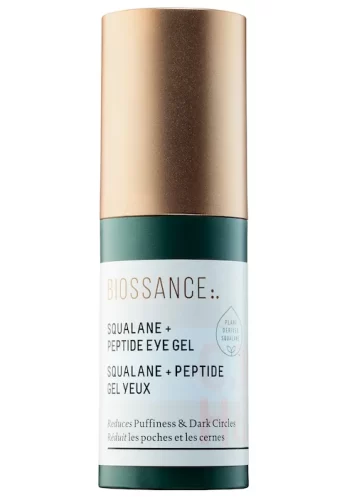 Biossance Squalane + Peptide Eye Gel
Organic skincare lovers, Biossance Squalane and Peptides Eye Gel was made for you. With an organic, natural formula, it takes the spot on the best peptide eye creams for a good reason. Besides peptides, this eye gel contains squalane to trap moisture in, preventing water evaporation and keeping the creepy look a bay. Other ingredients worth mentioning are niacinamide, antioxidants, and sodium hyaluronate.
---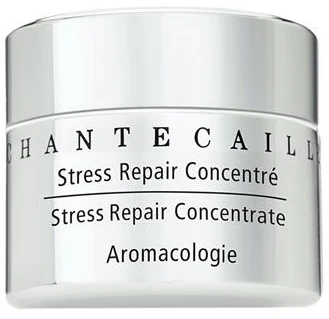 Chantecaille Stress Repair Concentrate+ Eye Cream
For those who want to splurge on the best peptide eye cream, this is for you and your generous budget. It's got a natural formula filled with skin-loving ingredients, among which shea butter, caffeine, and flower waxes, all working hard to restore smooth, brighten, plump skin. Now, the best part: this luxurious eye cream fusions three types of peptides, hexapeptides, bionymph peptides, and lipopeptides, to reduce the appearance of wrinkles and dullness on the eye area.
---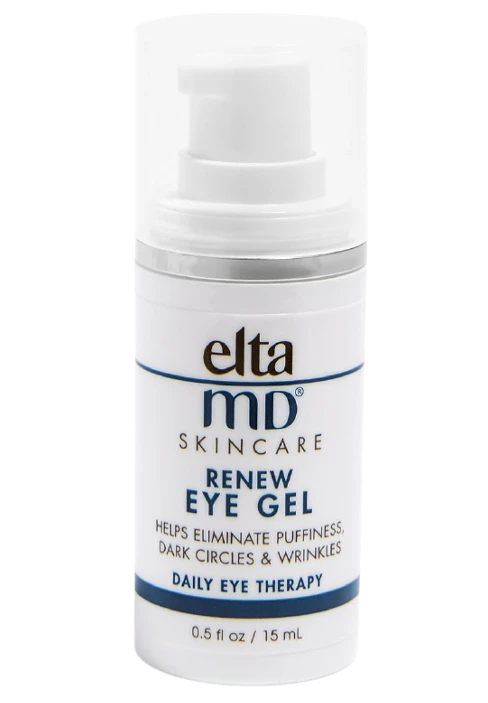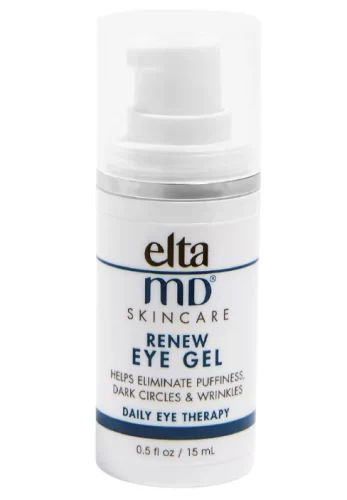 Elta MD Renew Eye Gel with Peptides
Layering this eye gel over the eye area morning and night brings you closer to firmer, brightener skin and a rested look. The smart formula, boosted with hexapeptide and tripeptide, helps diminish the look of crow's feet while supporting robust skin. The addition of niacinamide, hyaluronic acid, and vitamin B5 aid in replenishing hydration and fighting aging signs for a rested skin appearance. It sounds like the perfect recipe for the best peptide-infused eye cream, doesn't it?
---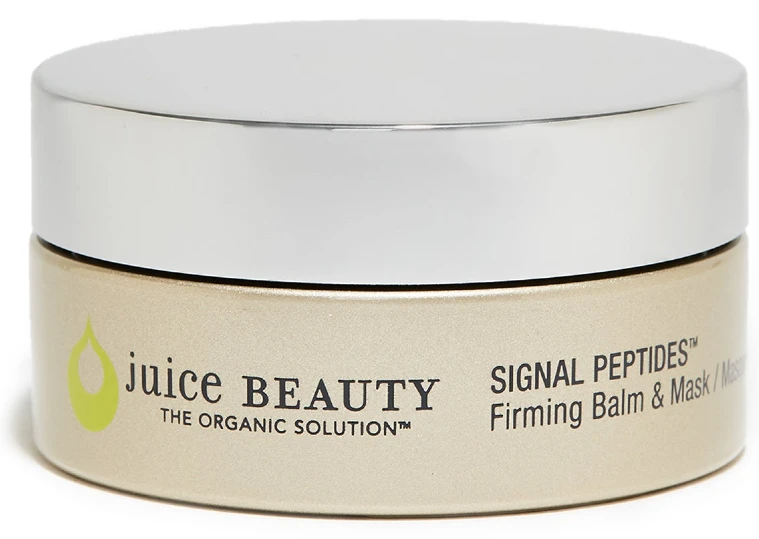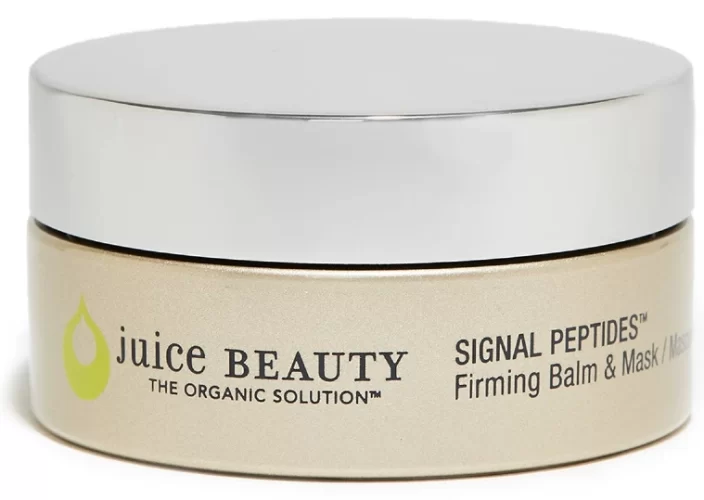 Juice Beauty Signal Peptides Firming Eye Balm
Look no further if you're searching for the best peptide eye cream with an organic formula. Juice Beauty created a nourishing balm boosted with rice peptides to improve the look of firmer skin, organic botanical oils to lock moisture in, preventing dehydration, and shea butter to soften crow's feet look. It is very gentle, great for sensitive skin folks that struggle with irritations, and hardly can find an eye cream that's natural and effective at the same time.
---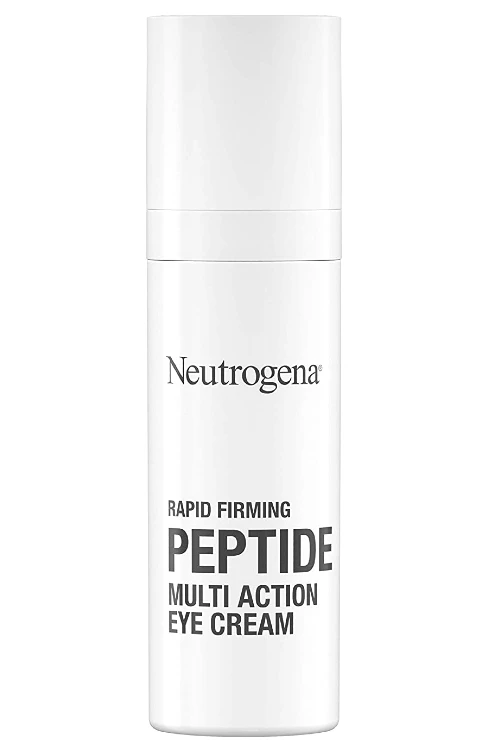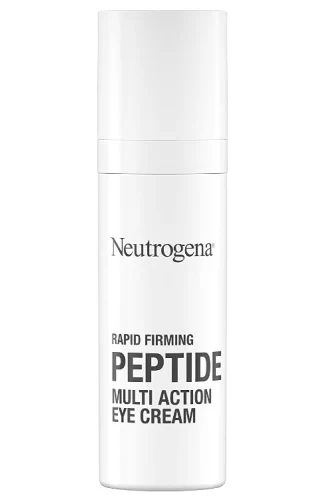 Neutrogena Rapid Firming Peptide Multi-Action
This peptide eye cream was made to relieve dryness and revitalize tired-looking eyes in the blink of an eye. It's formulated with a blend of peptides to smoothen the look of fine lines, while hydrating ingredients like cucumber, green tea extract, and sodium hyaluronate plump the skin, making it appear rested. Bonus: is fragrance-free, absorbs really fast, and doesn't leave a sticky feeling, making a great primer too!
---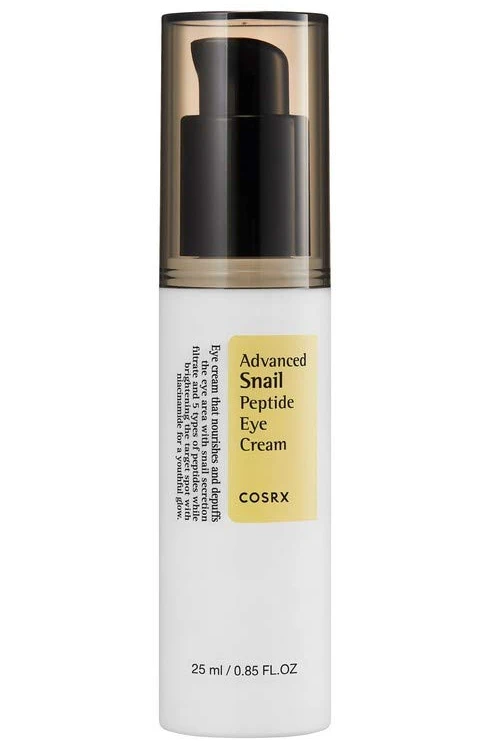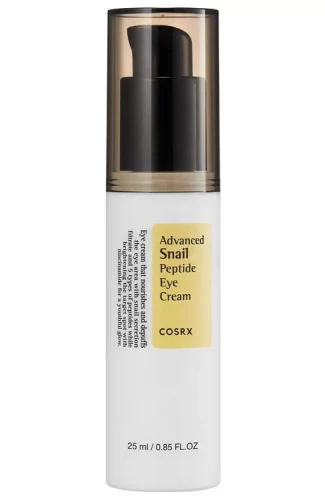 COSRX Advanced Snail Peptide Eye Cream
Coming from a K-beauty brand, you can be sure this peptide-infused eye cream performs very well while being clean and fast-absorbing. First of all, it features a base of snail mucin, a great moisturizer that promotes collagen and aids in skin regeneration. Secondly, the formula packs five types of peptides, plus niacinamide, vitamin B5, sodium hyaluronate, and adenosine, all working hard to boost hydration on the eye area, plumping and reviving it.