If you're looking for the best peptide-infused moisturizers to target wrinkles, dry, dull skin, the ones I'm about to share will truly make a difference. Everyone can benefit from peptides as they're a natural part of the skin's structure that act as messengers between cells, promoting better communication. When used in a moisturizer, peptides boost amino acids, that act like building blocks for collagen, increasing firmness and elasticity and preserving moisture. We consciously picked eleven potent formulas to deliver reparative and strengthening benefits for each skin type.
Why do you need a peptide-infused moisturizer?
Welp, peptide moisturizers are an ally everyone can use to strengthen skin, restore the protective barrier, and bring back softness and smoothness by enhancing collagen production. The good news is that peptides are a gentle and safe-for-all ingredient that can be easily incorporated into any skincare routine and used twice daily.
Want more good news? Peptides are versatile and can be paired with all other skincare actives, retinol, vitamin C and AHAs included. Hooray!
The best peptide moisturizers
Read on to discover the best peptide moisturizers that address aging signs, dryness, dullness, and rough skin.
---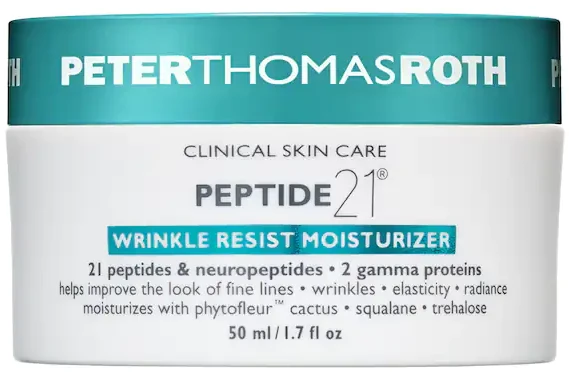 Peter Thomas Roth Peptide 21® Wrinkle Resist Moisturizer
Peter Thomas Roth made the best and richest peptide moisturizer, boosted with 21 peptides and neuropeptides to reduce fine lines and wrinkles look. Additionally, the formula fuses squalane, sodium hyaluronate, and vitamin E, all of which prevent moisture loss, softening, and smoothing skin. All that, whilst being lightweight and non-greasy.
---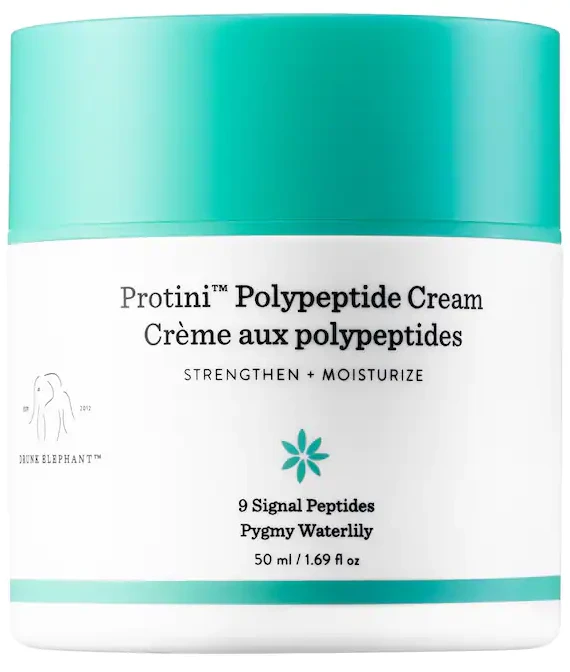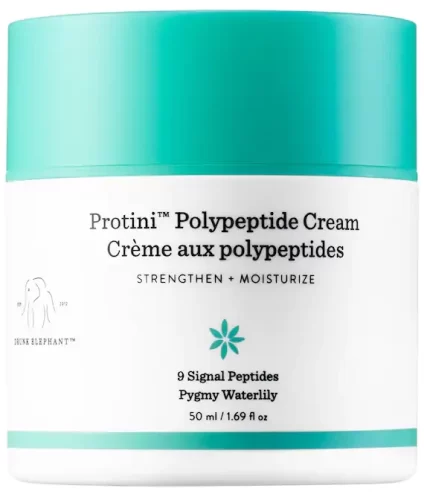 Drunk Elephant Protini Polypeptide Moisturizer
This moisturizer is ideal for daily use by whoever struggles with dryness, aging signs, and dullness. Besides nine signal peptides, the formula packs a blend of antioxidants to hinder free radical damage and vitamin B to keep skin elastic and bouncy. And if it wasn't enough, Drunk Elephant Protini Polypeptide Moisturizer is infused with a mix of amino acids that encourage collagen production some more, revealing supple, smooth skin. In the end, it's so popular for a reason.
---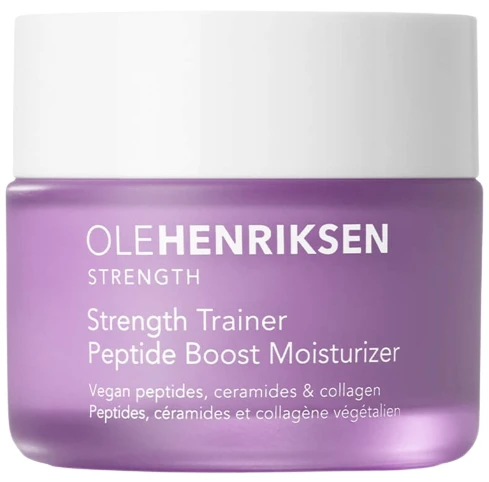 Ole Henriksen Strength Trainer Peptide Boost Moisturizer
This cream puts your skin to work on repair, helped by eight peptides, three ceramides, eight amino acids, essential fatty acids, and hyaluronic acid; basically, all you need for resilient skin and a robust barrier. It doubles hydration, boosts elasticity, and softens wrinkles look in a lightweight gel-like formula that gives skin an instant dewy and healthy look. Plus, it's vegan, non-comedogenic, and comes in a recyclable glass jar.
---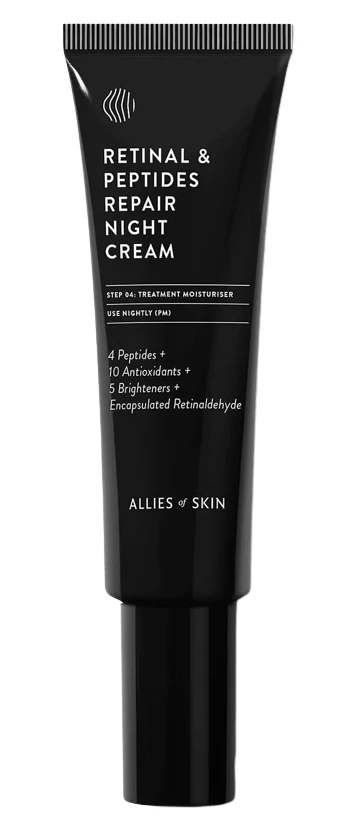 Allies of Skin Retinal & Peptides Repair Night Cream
Looking for the best peptide moisturizer to work the night shift, so you wake up to great skin? You just found it. Made with a slew of collagen-making peptides that improve elasticity, plus retinaldehyde, this moisturizer promotes firmer skin while working to brighten and improve moisture retention. If you're a fan of rejuvenating benefits, this potent formula should be front and center of your vanity.
---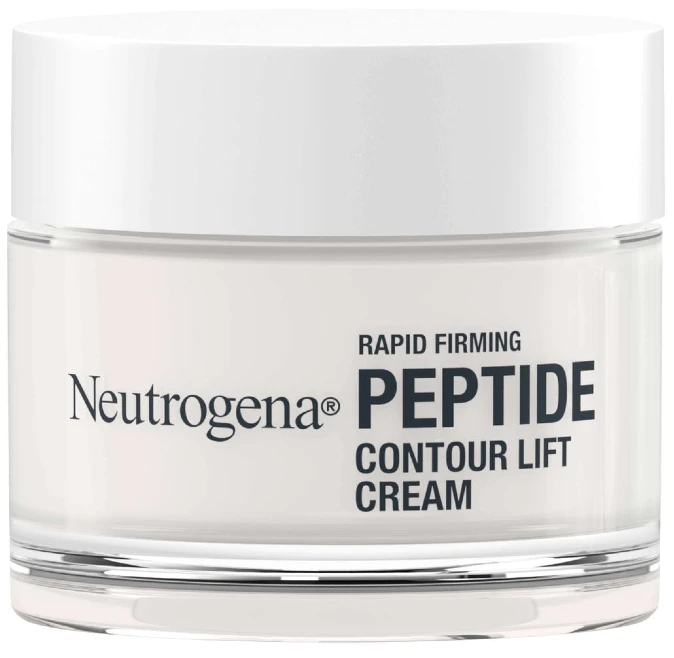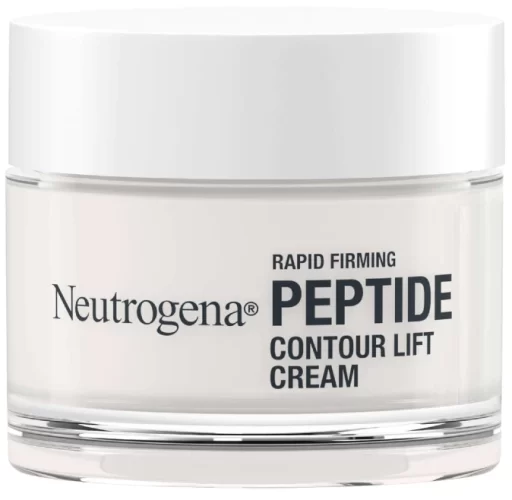 Neutrogena Rapid Firming Peptide Contour Lift Face Cream
Dull skin may be hard to tackle, but this formula handles it even very well. It's spiked with micro-peptides to smooth, glycolic acid to resurface, shea butter, and vitamin E to soften, while squalane prevents water evaporation. A dollop of this massaged into your complexion leaves it feeling intensely soft and smooth. Apply it twice daily, and observe how elasticity, tone, and firmness are improved.
---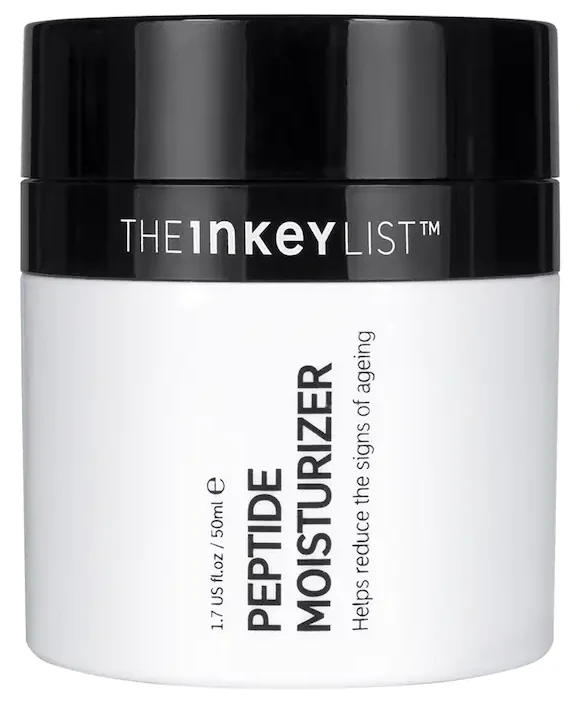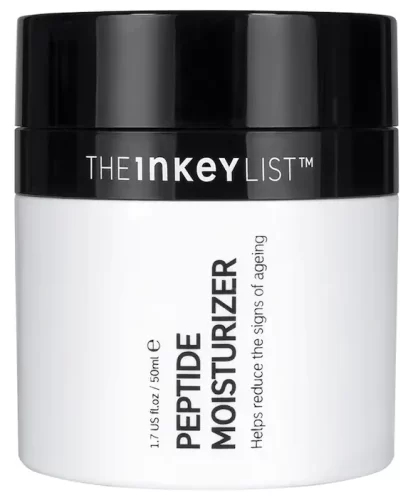 The Inkey List Peptide Moisturizer
If you're searching for the best affordable peptide moisturizer, look no further. The Inkey List Peptide Moisturizer is enhanced with 1% peptides to support natural collagen and hydrate in-depth, plus 2% Royal Epigen P5™ (a biologically-active peptide that supports skin regeneration), decreasing the appearance of fine lines and wrinkles. The gel-like texture and lightweight feeling make it absorb in the blink of an eye, leaving skin dewy and plump.
---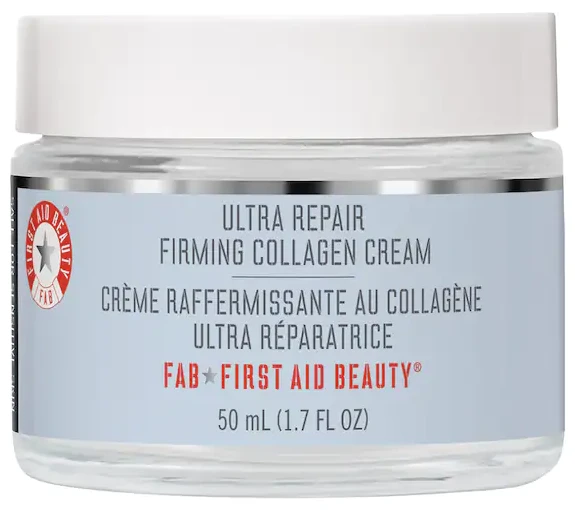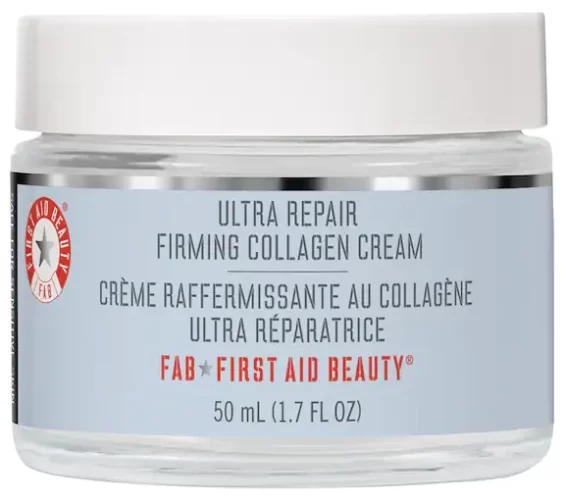 First Aid Beauty Ultra Repair Firming Collagen Cream
First Aid Beauty Ultra Repair Firming Collagen Cream has been made to repair and firm skin. Make it your daily moisturizer and will minimize the look of fine lines and wrinkles while being a great makeup base. Whilst it's ideal for instant results, the formula isn't just a quick win. It also delivers long-term benefits thanks to niacinamide, colloidal oatmeal, squalane, and vitamin B5 — all great at leaving skin moist.
---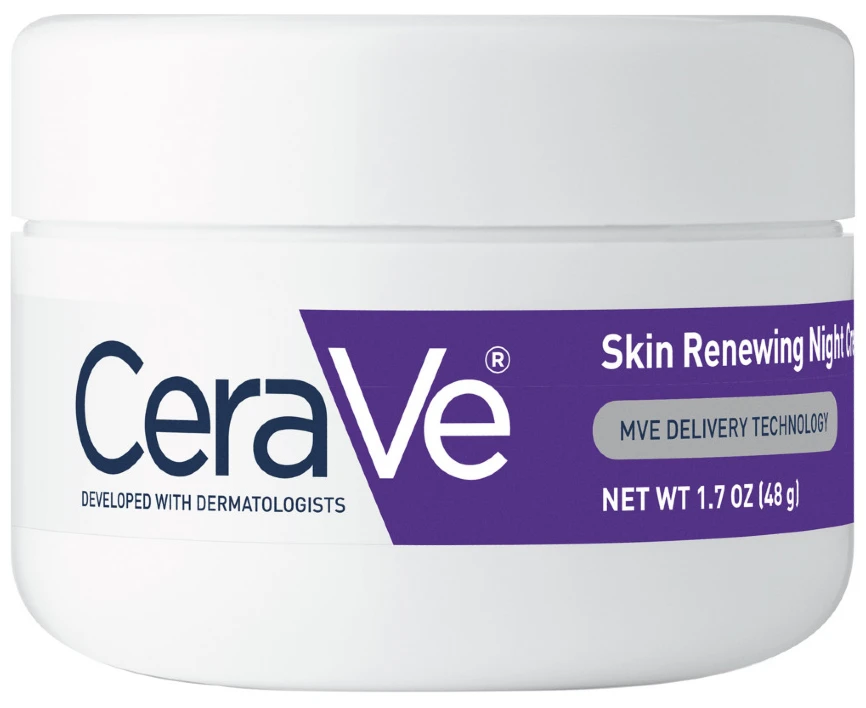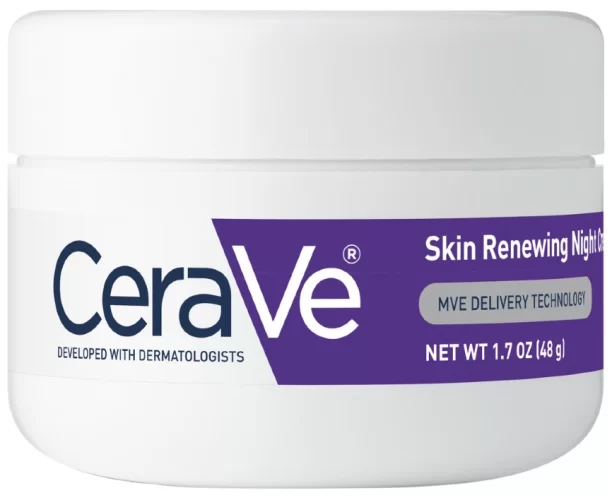 CeraVe Skin Renewing Night Cream
Extremely moisturizing, CeraVe's Skin Renewing Night Cream is a cream you should smear on before you hit the hay to wake up to better skin. A mix of niacinamide, ceramides, and peptides work to boost repair while you sleep whilst sodium hyaluronate and vitamin E hydrate and soften. Fragrance-free and non-comedogenic, acne-prone skin folks can use it too!
---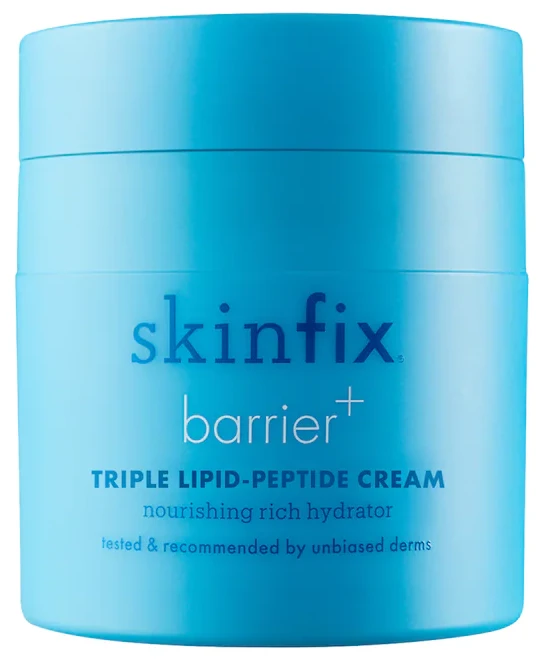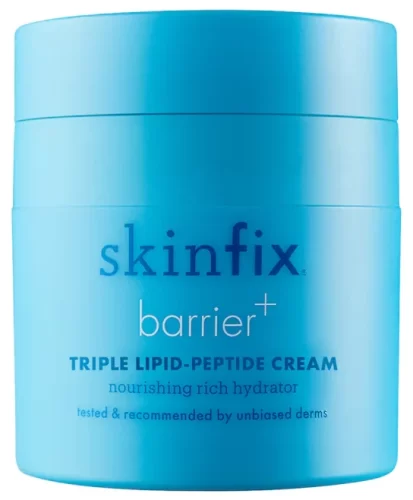 SkinFix Barrier+ Triple Lipid-Peptide Lotion Moisturizer
Are you struggling with a broken skin barrier? Then this moisturizer might be your best bet. In addition to a blend of peptides that minimize redness and sensitivity, it packs naturally sourced proteins to strengthen the barrier plus sodium hyaluronate to leave skin looking dewy and glowy. Vegan and fragrance-free, it's the best peptide moisturizer all skin types can use.
---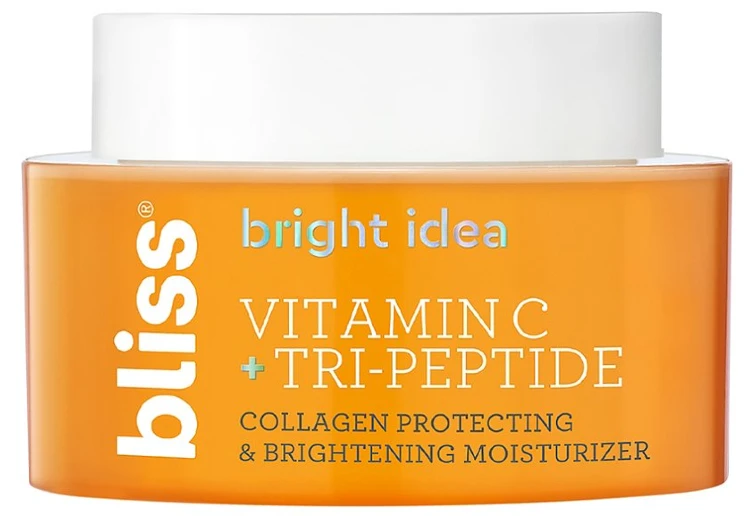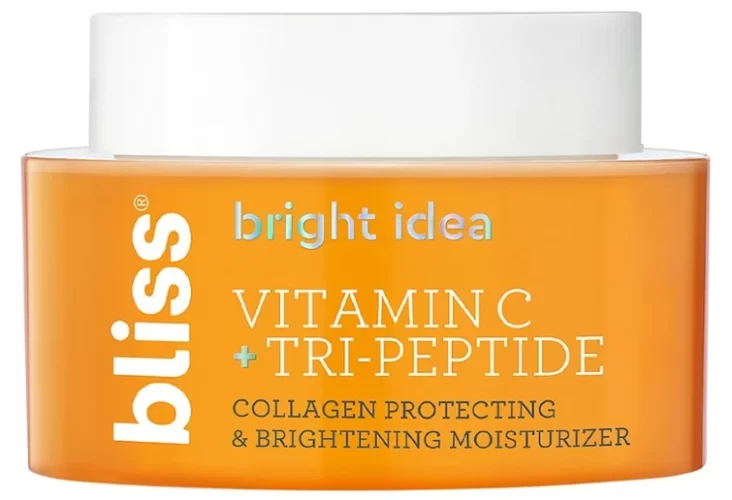 Bliss Bright Idea Vitamin C + Tri-Peptide Collagen Moisturizer
So far, this is the ideal peptide moisturizer for those who want to brighten their skin. Besides tripeptides, the formula features vitamin C, a potent antioxidant that brightens dark patches, while preventing further ones. Moreover, it boasts multiple skin repair ingredients, such as shea butter, ceramides, niacinamide, and green tea extract. P.S.: It's non-comedogenic, so it shouldn't trigger any breakouts.
---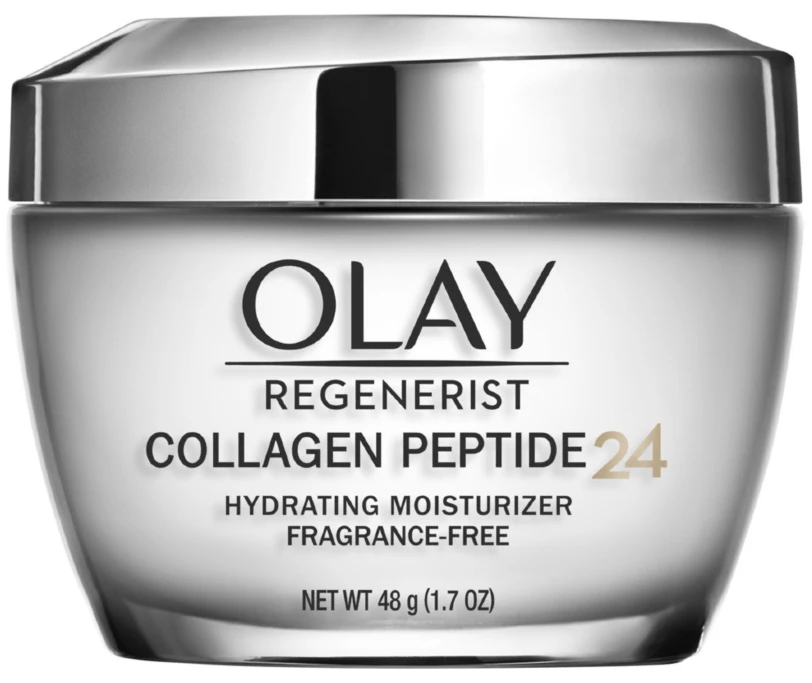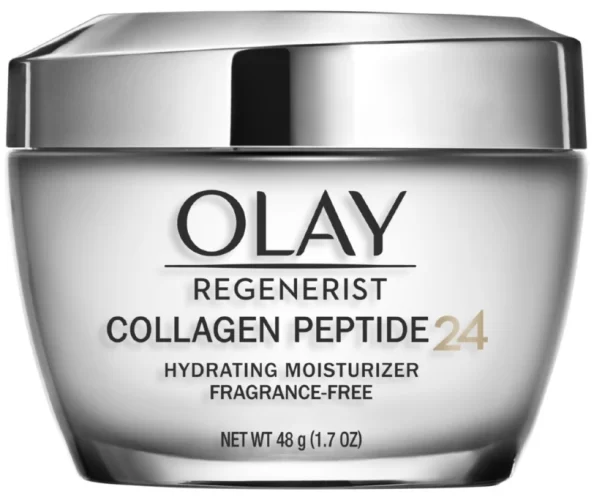 Olay Regenerist Collagen Peptide 24
Olay made the best drugstore peptide moisturizer that leaves skin feeling and looking its best. Not only it's spiked with peptides to increase firmness but also with niacinamide and vitamin B, both excellent at increasing hydration for skin that appears plump and bouncy. Fragrance- and oil-free, Olay Regenerist Collagen Peptide 24 gives powerful hydration and repair without leaving a greasy feeling.