Gone are the days when we relied on sticky nose strips, hoping to remove blackheads and shrink pores miraculously. Those strips can irritate your skin, and as hard as you try, pores don't actually disappear. But have no worries. The best pore-minimizing serums offer much more realistic promises to decrease the appearance of large pores and improve skin structure for better texture. By fighting the factors that make pores look more prominent, these serums help shrink pores look and prevent their congestion in the first place.
What to look for in pore-minimizing serums?
Keep in mind the difference between a tiny pore and a wider one. Enlarged pores have more to do with a buildup of sebum and bacteria, and they actually look larger because they're clogged. On the other hand, cleansed pores appear smaller. As such, your best picks are serums that gently exfoliate the skin and clear pores, as well as reduce excess sebum.
While pores help keep the body cool and skin protected by secreting oils and releasing sweat, they can get clogged and appear larger when accumulating an excess of sebum and dead cells. Hence, serums infused with chemical exfoliants like AHAs (glycolic and lactic acids) and BHAs (like salicylic acid) work best to minimize the look of large pores. Ideally, you should use a formula that contains both, as AHAs work on the surface while BHAs go deeper into the skin layers to unclog the pores.
Also, serums containing retinol and niacinamide should be on your radar too. Retinol helps by stimulating cell turnover and collagen production, while niacinamide replenishes the epidermal proteins and lipids, both of which tighten the skin around pores to make them appear smaller.
The best serums for large pores
Without further ado, these are the best pore-minimizing serums that work like a charm to shrink and minimize the appearance of large pores.
---
Dr. Dennis Gross Pore Refining Serum
There is no shortage of potent actives in this serum. It's chocked full of AHA and BHA for improved cellular turnover, plus antioxidant adipic acid to fill in fine lines and pores. Besides, Dennis Gross uses an ingredient unique from all the other pore-minimizing serums on the list—Agarikon mushroom extract, known to firm the skin and diminish the appearance of pores. Another little-known addition to this formula, farnesol, is a fatty alcohol and antimicrobial with skin-tightening properties. These skin-firming ingredients will do more than shrink your pores look; they provide anti-aging benefits too!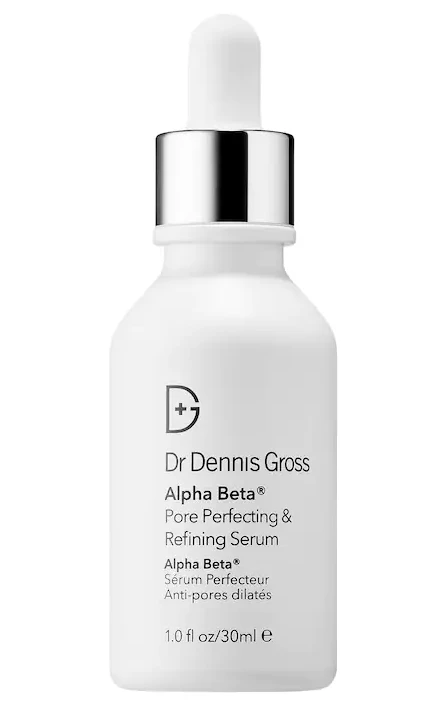 ---
Caudalie Vinopure Pore Minimizing Serum
Caudalie maintains a strong cult status amongst the French-pharmacy devotees for a good reason: they wield no-nonsense clean ingredients to the best effect. This vegan serum targets breakout-prone and greasy skin with tried and true salicylic acid to clean out pores and niacinamide to regulate oil production and improve elasticity. Even more, the added benefit of the brand's signature grape seed extract and vitamin E strengthens the skin's defense against sun damage (a culprit that often causes large pores), while sodium hyaluronate provides a burst of hydration.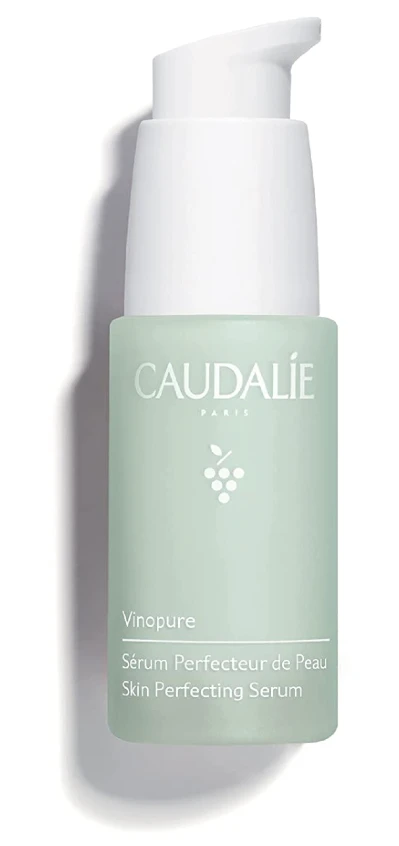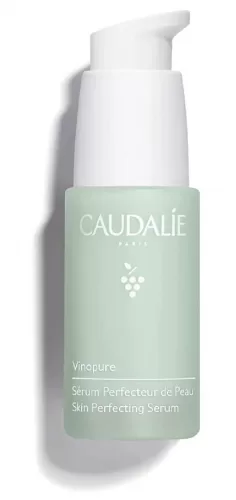 ---
Peter Thomas Roth Resurfacing Serum
Using a killer fusion of resurfacing ingredients, including 15% glycolic acid and 1.5% retinol, this serum promises to shrink even the most stubborn large pores while improving skin texture. Whilst glycolic acid sloughs off surface buildup, retinol does its magic at a cellular level to promote skin renewal, both leading to tight, clear pores. This hot list of actives also has niacinamide to restore skin's proteins and help control excess oil to top off an already great formula.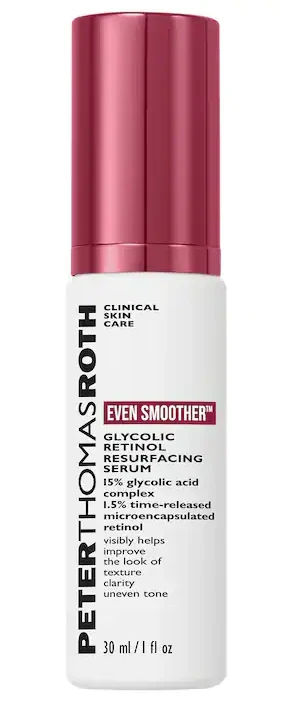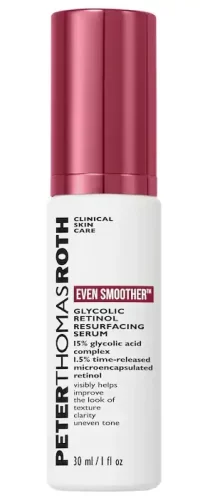 ---
DERMAdoctor Picture Porefect Pore Minimizer
DERMAdoctor Picture Porefect is one of the best serums for large pores because it packs a whole host of oil-controlling and pore-clearing ingredients to purge, mattify and purify congested skin. Specifically, a cocktail of acids (glycolic, lactic, and citric acids) slough off the buildup of dead cells, retinol tightens pores, and willow bark shrinks their appearance. Everything is packed in a non-irritating lightweight formula that absorbs quickly for a non-heavy feel, leaving your complexion bouncy and mattified.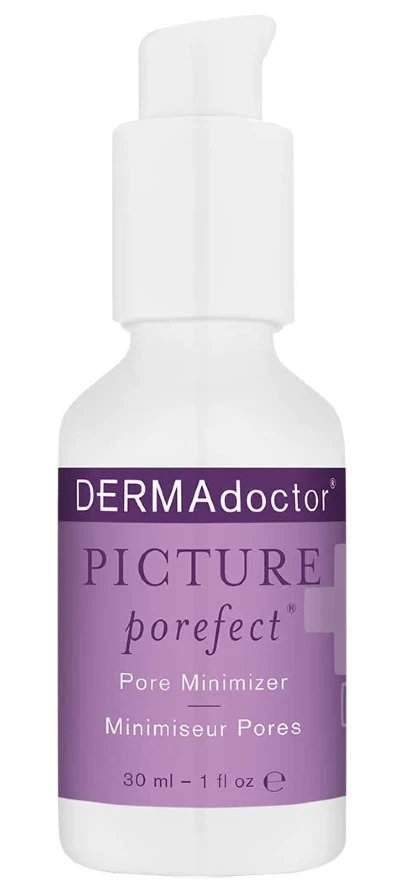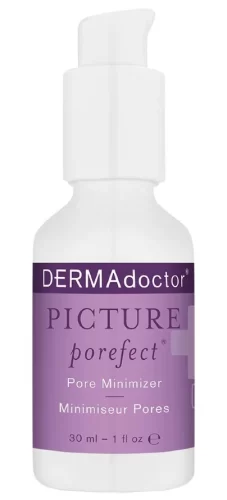 ---
Juice Beauty Blemish Clearing Serum
Juice Beauty offers an organic and natural solution for a pore-minimizing serum. It combines natural salicylic acid from willow bark plus lemon and apple fruit acids to combat acne and decongest pores. It also contains a plethora of vitamins B5, C, E, and CoQ10 with antioxidant powers to help renew skin while protecting against environmental aggressors. And finally, the plumping action of organic aloe, green tea, and white tea soothes the skin and further lessens the appearance of the already smaller-looking cleansed pores. This product goes on sticky but quickly dries to a soft touch and is less irritating than other stripping acne products.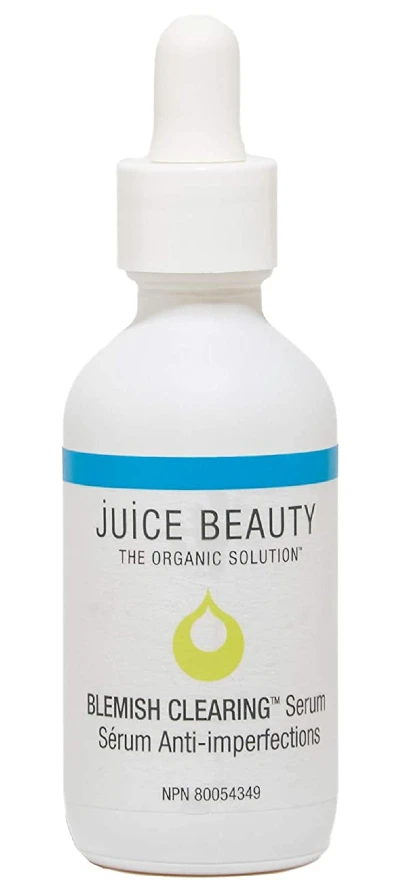 ---
Dr. Jart+ Pore Remedy PHA Exfoliating Serum
This pore-minimizing serum is ideal for sensitive skin (but anyone can use it, really) because it loads a new generation of exfoliating acids that work more gently compared with AHAs or BHAs. More exactly, Dr. Jart+ Pore Remedy Serum uses 7% polyhydroxy acids (PHAs) to deliver delicate exfoliation that'll decongest pores and eliminate dead cells without troubling the skin. More than that, this decongesting exfoliant softens its impact with soothing anti-inflammatory panthenol and macadamia seed oil. With a lovely minty scent and a thin watery texture, it's light and gentle enough for daily use.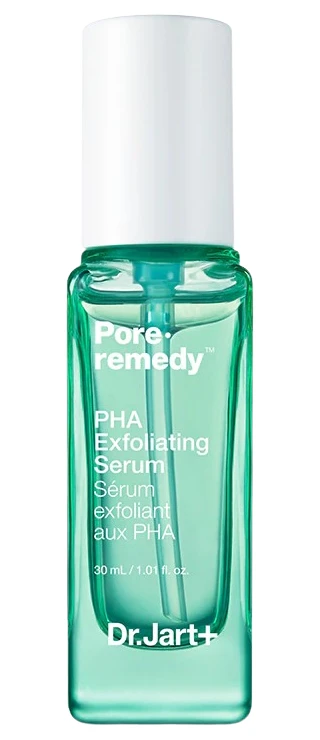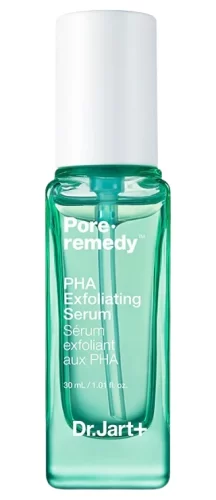 ---
Drunk Elephant T.L.C. Framboos Glycolic Night Serum
This ever-so-popular serum offers a meaningful concentration of AHA and BHA to retexturize the skin and unclog pores so they appear smaller. Combining a blend of glycolic, tartaric, citric, and salicylic acids, it's perfect for improving texture and intensely resurfacing troubled skin—no doubt. You'll feel the tingle as the actives get to work: the patented blend of AHAs exfoliates rough old cells for a smoother complexion while oil-soluble salicylic acid dissolves clogged sebum from pores, working to shrink their appearance. Besides, to offset possible irritation, the formula packs hydrating sodium hyaluronate and soothing allantoin.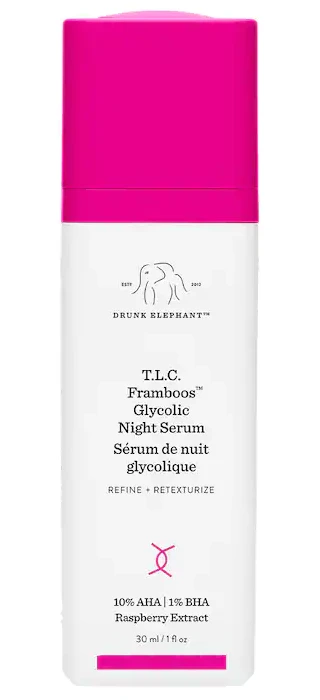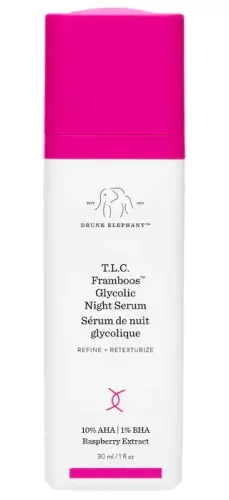 ---
The Ordinary Niacinamide + Zinc Serum
The Ordinary brings you a potent congestion-fighting serum at a very reasonable price point. Containing a very generous amount of 10% niacinamide, more than most other products, it effectively targets enlarged pores and excess sebum while reinforcing the skin's barrier. Some appreciate it for the purging effect, and others love the acne-fighting impact of the included 1% zinc, which helps prevent pore clogging by normalizing sebum production and eliminating acne-causing bacteria.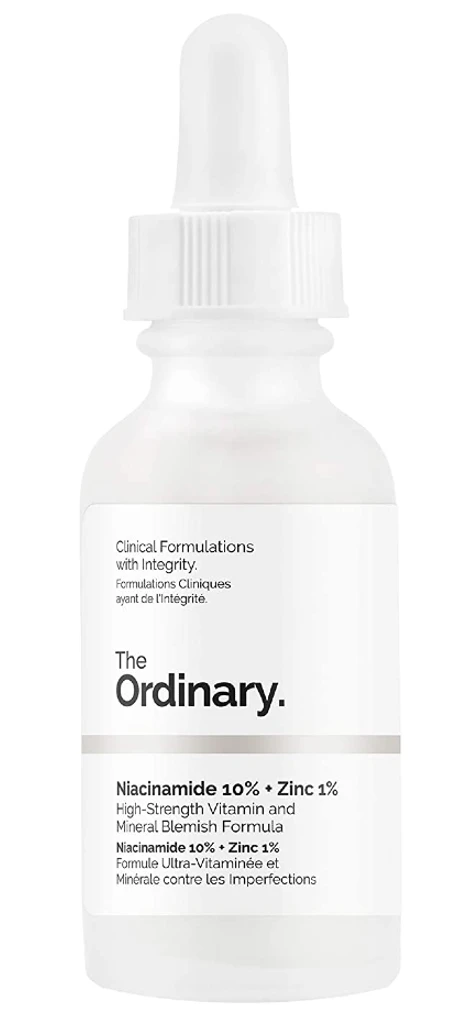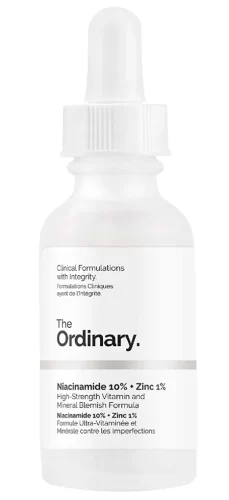 ---
Estée Lauder Idealist Pore Minimizing Serum
For silkier skin that boasts a more even tone and texture, reach for Estée Lauder Idealist Pore Minimizing Serum. This serum uses a creamy base to deliver nordihydroguaiaretic acid (a natural antioxidant that prevents the oxidation of oil and reduces the appearance of blackheads) along with several plants and humectants to control sebum production and remove buildup from pores. It effectively cleans out pores, and its hydrating formula fills them back in for a rapidly smoother complexion.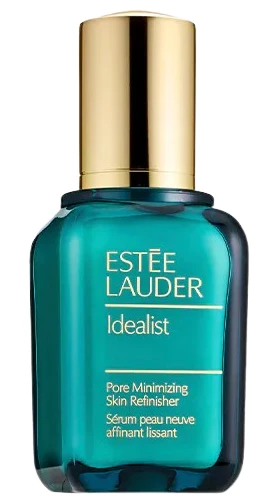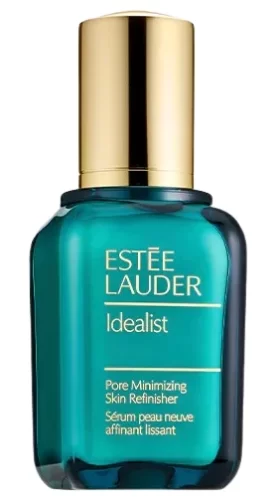 ---
Dr. Brandt Skincare Pores No More Mattifying Hydrator
If you have oily skin, you know very well that feeling about halfway through the day when the skin gets super shiny and highlights every pore. But with this lightweight mattifying gel, your complexion gets all the benefits of sebum-controlling and pore-minimizing ingredients while enjoying a mattified and non-greasy appearance. The serum actively combats large pores with astringents, using blue iris and willow bark to tighten skin, and also includes silica sponge to reinforce pores structure, making this a daily rider for any skincare enthusiast.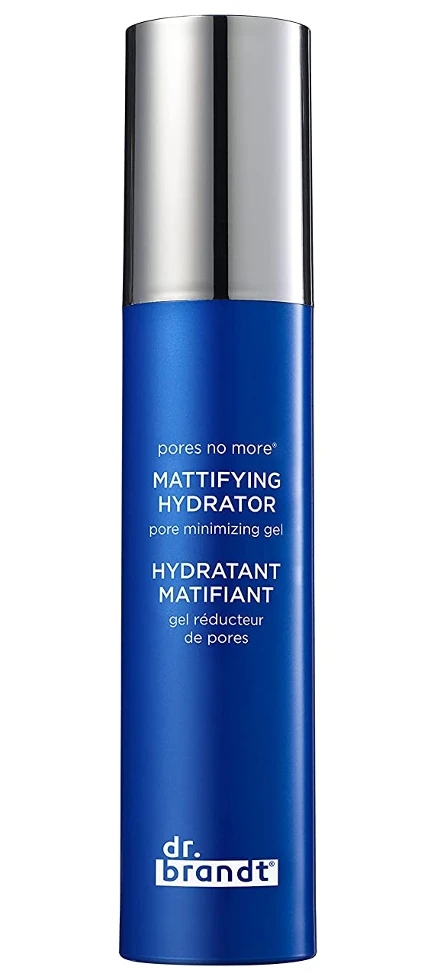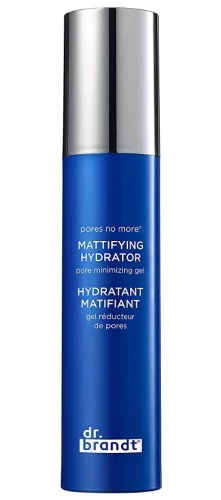 ---
The verdict
Our top pick is Dr. Dennis Gross Pore Refining Serum because it packs all the good stuff to minimize large pores by clearing them and tightening the skin. You literally can't go wrong with it: the formula is suitable for everyone and dermatologist-tested and the serum is easily accessible all over the globe as it's found in most stores. If you're looking for something more gentle for sensitive skin, we recommend Dr. Jart+ Pore Remedy PHA Exfoliating Serum. Or if you want to save some cash and don't want to spend a fortune on the best pore-minimizing serum, The Ordinary Niacinamide + Zinc Serum is really good.