The best glycolic acid serums are skin saviors that can tackle a wide array of concerns, from fine lines and wrinkles to dullness, uneven tone, and breakouts. And that's why everyone is crazy about them.
About four years ago, if anyone had told me I would have any acid serums as part of my skincare routine, I wouldn't believe it. Unknown to me, all my fears were unfounded and rooted in a lack of information. It wasn't until I met my hero aesthetician who told me all the fantastic benefits of glycolic acid serums and what my skin was missing from not using one. So I decided to give it a try, and guess what? It didn't take more than two products to convert me into a glycolic acid addict. The results were amazing, which is why today I want to share with you the best glycolic acid serums you can use to tackle all your skin concerns. But before we go to the good bit, here is a bit of theory for the uninitiated.
What is glycolic acid?
Glycolic acid is the most potent member of the alpha-hydroxy acids (AHAs) family with keratolytic properties, meaning it breaks down the outer layers of the skin, dissolving dead cell buildup and debris.
How glycolic acid works
A powerful exfoliant, glycolic acid speeds up cell turnover and brings the fresher healthier cells to the surface. More than that, due to its small molecule, glycolic acid can sink into the deeper skin layers, where it stimulates fibroblasts to produce collagen, helping increase elasticity and firmness. It also acts as a humectant, meaning it attracts water molecules from the environment into the skin, enhancing hydration and plumping the look of fine lines. For all these reasons, glycolic acid serums are an all-time favorite for most derms when it comes to fighting breakouts, uneven tone and texture, dullness, and wrinkles.
How to use glycolic acid serum
Because glycolic acid is a compound that makes the skin photosensitive, it's best to apply your glycolic acid serum in your nighttime routine. After cleansing and toning, layer glycolic acid serum and trap it with an occlusive moisturizer to seal all its benefits in and preserve its humectant activity. Also, applying occlusives after glycolic acid help prevent dehydration, especially if you live in a low humidity area.
The best glycolic acid serums
While a glycolic acid cream indeed possesses a plethora of benefits, when used in a serum, glycolic acid is able to sink deeper into the skin layers to trigger transformative changes. So, whether you want plump fine lines and wrinkles, get rid of dark spots, or fight dullness, the best glycolic acid serums here will get the job done.
---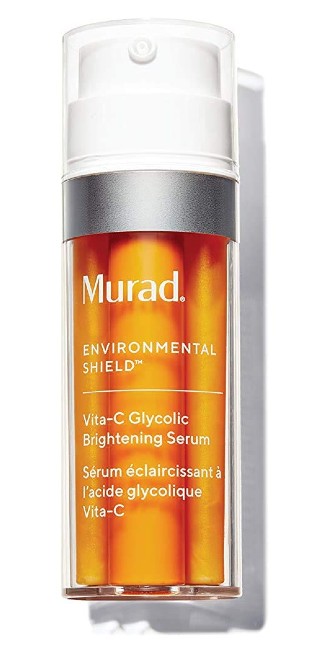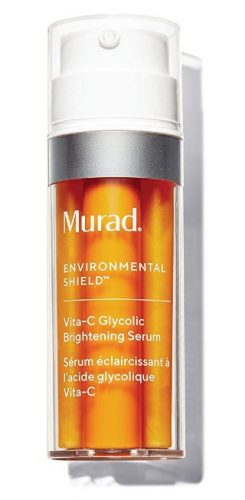 1. Murad Vitamin C Glycolic Brightening Serum
Murad made a top-performing serum that fusions glycolic acid and vitamin C, a winning duo for addressing uneven tone. These two actives work on different fronts to give you luminous skin: while glycolic acid eliminates pigmented cells, vitamin C hinders further pigment production. Additionally, the formula is loaded with lactic acid and glutathione, two other powerful skin brighteners to diminish dark patches and reveal brighter skin. Bonus points because this product is void of fragrance, drying alcohol, and parabens, and has a smooth texture that absorbs immediately without any sticky residue.
---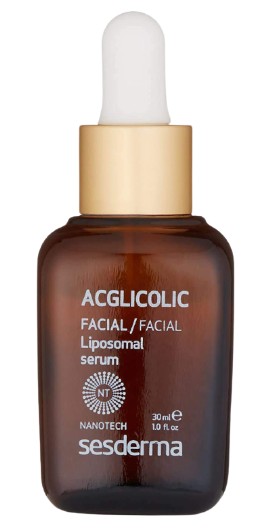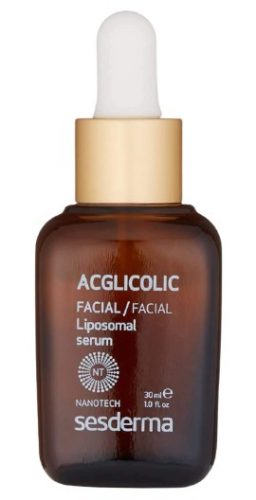 2. Sesderma Aglicolic Serum
This serum is an all-rounder packed with 6% glycolic acid to boost cell renewal, smoothing the look of fine lines and wrinkles and firming the skin when used consistently. There are also ceramides and cholesterol, which have a key role in reinforcing skin integrity and helping retain moisture, while vitamin C supports collagen and diminishes dark spots. Its gel-like texture layers nicely with other serums and moisturizers, a special boon for those who like to mix and match.
---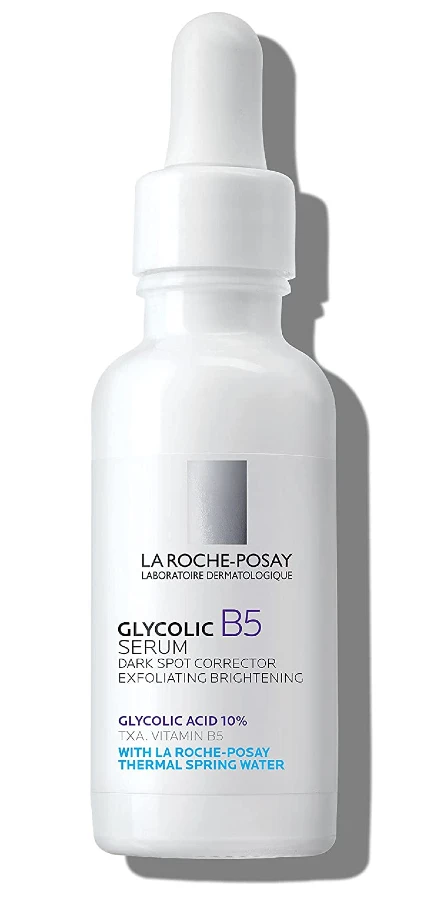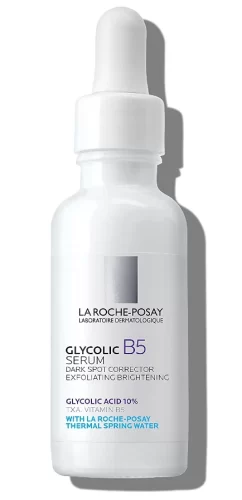 3. La Roche-Posay Glycolic B5 Serum
La Roche-Posay Glycolic B5 is one of the best glycolic acid serums for hyperpigmented skin or whoever wants to maintain a luminous and hydrated complexion. That's because it's made with a 10% mix of glycolic acid, tranexamic acid, lipohydroxy acid, and vitamin B5 to help reduce dark spots and discoloration look and reveal an evener tone. I'm also pointing out that this glycolic acid serum is gentle enough for sensitive skin, and the non-comedogenic formula can be safely used on oily and breakout-prone skin.
---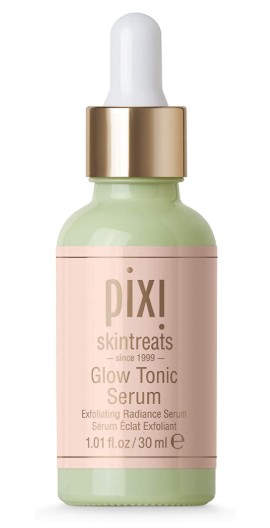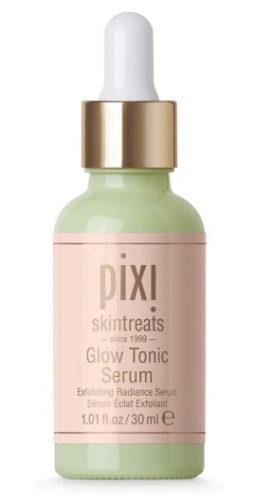 4. Pixi Beauty Glow Tonic Serum
Pixi created a delicate daily defoliant with glycolic acid and retinyl palmitate, thanks to which speeds up cell renewal and helps produce collagen for radiant skin. All while two types of vitamin C brighten sun spots and post-acne marks and cucumber and aloe leaf extracts replenish hydration and ensures that your skin feels smooth and plump post-application.
---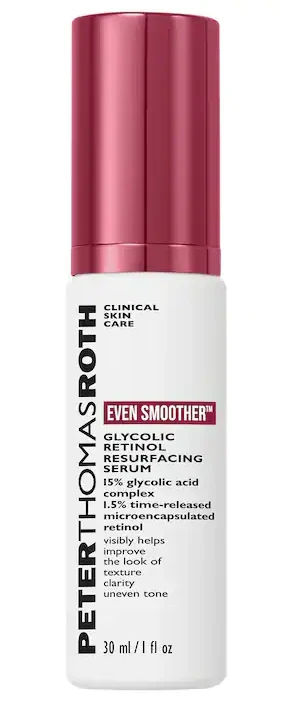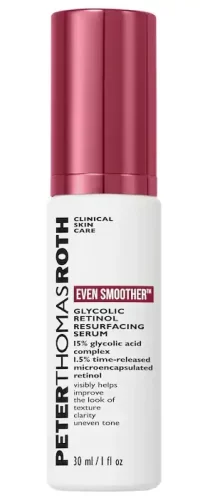 5. Peter Thomas Roth Resurfacing Serum
Combining a generous amount of 15% glycolic acid with 1.5% encapsulated retinol, this milky serum is your one-way ticket to smooth, radiant, and clear skin. While the formula might sound a little intimidating, it actually suits reactive skin, too — a lot of reviewers with sensitive skin attest to it, claiming they didn't get irritated from using this product. To counteract the possible drying effects, the formula boasts niacinamide, vitamin E, squalane, and ceramides, all of which soothe and balance the complexion.
---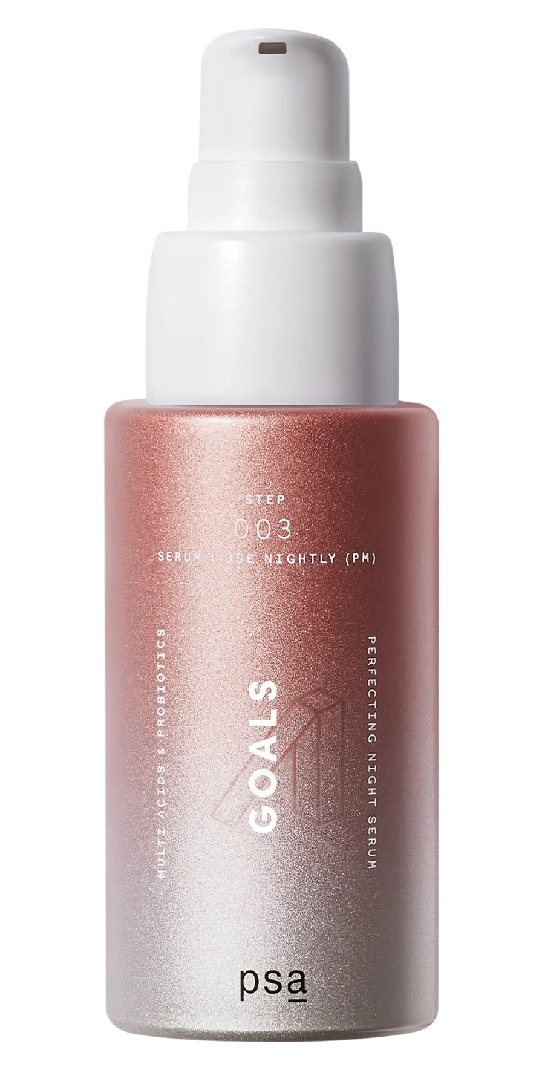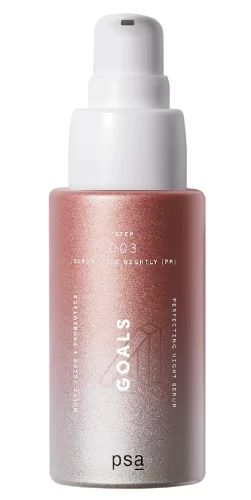 6. Allies Of Skin Goals Multi Acids & Probiotics Perfecting Serum
Here's a do-it-all serum for all skin types that works the night shift to help reduce hyperpigmentation, unclog pores, strengthen the skin, and hydrate it. Due to a generous blend of acids, including glycolic acid, pyruvic acid, salicylic acid, and polyhydroxy acid (PHA), the serum exfoliates dead cell buildup and helps decongest pores, while speeding up cell renewal. In the long run, this leads to refined pores, improved tone and texture, and glowy, radiant skin — briefly, the #goals.
---
7. Glo Skin Beauty Renew Serum
As one of the best glycolic acid serums, this one vows to stimulate gentle exfoliation, in order to renew the skin and leave it brighter and clearer in the long run. This is possible thanks to a blend of glycolic acid and salicylic acid, but also due to the addition of retinol and retinyl propionate with the goal of spurring collagen growth and speeding up cell turnover. And because the witch hazel water base has soothing, anti-inflammatory, and pore-refining properties, this trifecta of perks adds up to a more balanced, luminous skin. Must mention that this product does not address extremely sensitive skin.
---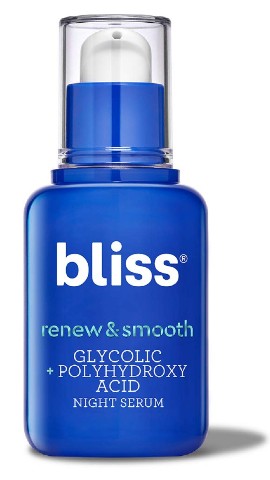 8. Bliss Renew and Smooth Night Serum
This resurfacing serum infused with glycolic acid is serious business when it comes to smoothing and refining the skin due to a slew of acids, among which glycolic acid, PHA, and other four naturally occurring AHAs. It works while you sleep to gradually dissolve dead cells and encourage the skin to renew, visibly transforming dull skin to brighter, evener and softer. There's also squalane to hinder moisture loss, plus aloe leaf juice and glycerin, two potent humectants that add water to the skin for a plumper look.
---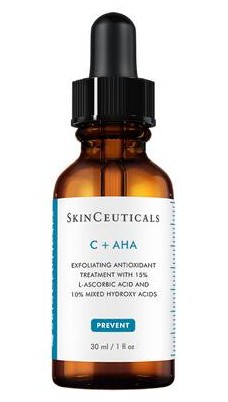 9. SkinCeuticals C + AHA
When a serum contains 15% L-ascorbic acid (pure form of vitamin C) and 10% glycolic and lactic acids, you know you've got a potent skin brightener that improves texture and minimizes dark spots. Due to glycerin and sodium hyaluronate, the serum doesn't let the skin get dehydrated, checking all the boxes to be a favorite in your routine. This serum was made with aging signs and acne-prone skin in mind, but anyone can use it, really.
---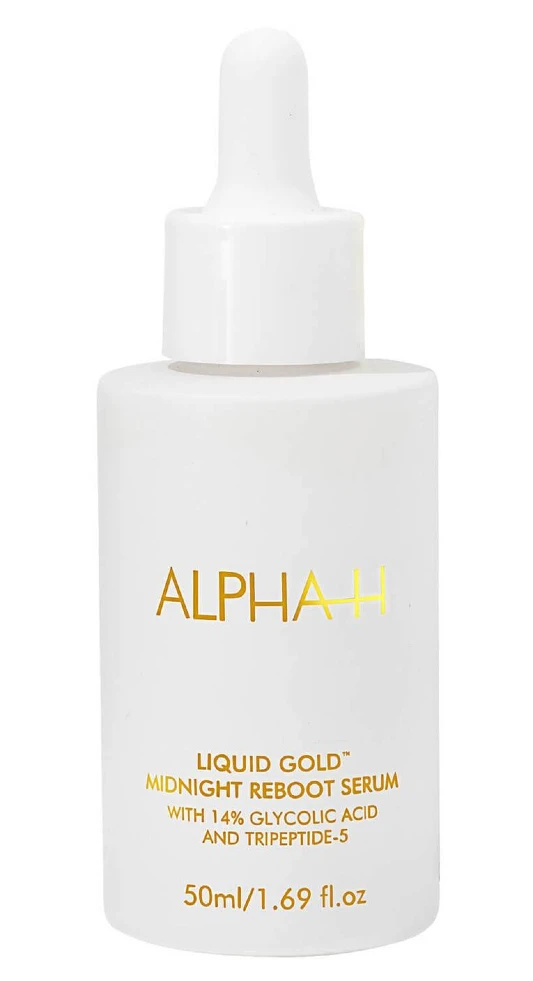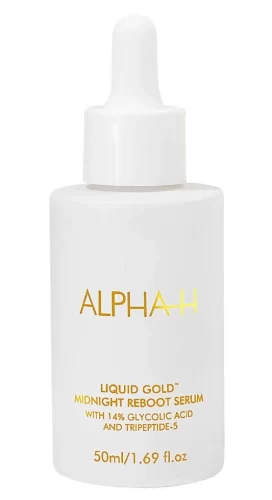 10. Alpha-H Liquid Gold Midnight Reboot Serum
This is the best serum with glycolic acid for those who want to fight aging signs. In addition to 14% glycolic acid, the formula boasts 1% granactive retinoid and tripeptide to soften fine lines and wrinkles while helping induce collagen production for a bouncy look. A pea-sized amount goes a long way since the consistency is rich yet lightweight enough to get absorbed in an instant without ever feeling sticky.
---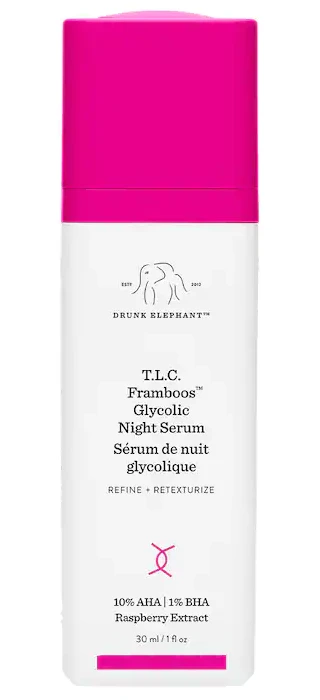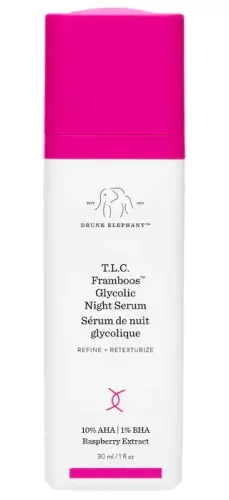 11. Drunk Elephant T.L.C. Framboos Glycolic Night Serum
This cult-favorite serum combines 10% glycolic, lactic, and citric acids with 1% salicylic acid, vowing to exfoliate dead cells and resurface the skin for brighter and smoother skin with less visible pores. Moreover, thanks to a mix of natural plant and oil extracts, the serum also nourishes and preserves moisture, while sodium hyaluronate promotes firmness. Since this is a pretty potent formula, it's advised you start slowly by using it every other night and increase frequency as tolerated.
---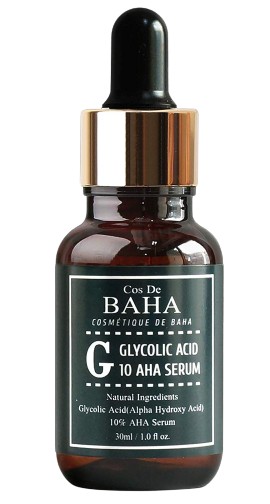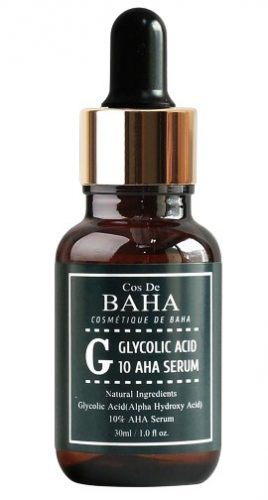 12. Cos De Baha Glycolic Acid 10% Peel Serum
Hands down, this is the best glycolic acid serum under $10. What I love most about it is the aloe vera extract base followed by 10% naturally-derived glycolic acid, which translates into both exfoliation and hydration. Besides, the serum is formulated at a pH of 3 to 3.4, which is the value where glycolic acid is most acidic and has the best skin-penetration power. The fact that it skips alcohol and fragrance makes it gentle enough even for the most problematic complexions.
---
Frequently asked questions about glycolic acid serums
Can I use glycolic acid serum every day?

Serums containing 5-10% glycolic acid can be used nightly if your skin tolerates it. For starters, however, it's best to start with the twice weekly application and increase frequency as tolerated.

What shouldn't you mix with glycolic acid?

It's best not to mix glycolic acid with other potent actives such as retinol, vitamin C, or salicylic acid, only if they are in the same formula. When used together, they can over-exfoliate and damage the skin. On the bright side, it's great to use hydrating agents, such as hyaluronic acid together with glycolic acid.

What percentage of glycolic acid is safe?

Usually, glycolic acid in 5-10% concentrations is ideal for most skin types and should not cause irritations. However, if it's your first time with glycolic acid, start slowly with low-concentrated products.

Can you leave glycolic acid overnight?

If we're talking about a peeling product, by no means you should leave glycolic acid overnight. But as long as you use glycolic acid in a serum or cream, it definitely can be worn all night to do its magic.