About four years ago, if anyone had told me I would have any acid serums as part of my skincare routine, I wouldn't believe it. Me! Mess with acids? No, thank you. I still love to have my face all in one piece! Even the names were scary (I mean, doesn't the word glycolic acid sound a little intimidating?) Unknown to me, all my fears were unfounded and rooted in a lack of information. It wasn't until I met a hero aesthetician who told me all the fantastic benefits of glycolic acid serums and what my skin was missing because of my unfounded fears that I decided to give it a try.
Today, I am happy to say that I'm a glycolic acid convert, and I want to share with you the best glycolic acid serums. They'll help diminish those annoying scars, acne, wrinkles and give you that extra glow, plus a great canvas for makeup. But first, if you're a starter, let's take a look at what glycolic acid is and why you should add it to your skincare regimen.
What is glycolic acid and how does it work?
Glycolic acid is one of the most potent skincare actives, known for its exfoliating effects. It's a type of alpha-hydroxy acid (AHA) derived from sugarcane, and it's an all-time favorite for most derms when it comes to fighting breakouts, uneven tone, and wrinkles. A powerful exfoliant, glycolic acid contains specific properties that, according to the board-certified dermatologist of Laser and Skin Surgery Center of New York, Dr. Jessica Krant, help to "separate the connection between skin cells in the outer layers of the skin and promotes exfoliation. In this way, it can speed up cell turnover and bring the fresher younger cells to the surface."
Glycolic acid penetrates deeply into the skin to remove dead cells, helps make the skin firmer, and restores evener tone by boosting collagen production. In fact, "Glycolic acid stimulates fibroblasts in the dermis to produce increased amounts of collagen," says Kenneth Howe, MD, a dermatologist at Wexter Dermatology in New York City. One ingredient that does so much! If I'd only known it before.
Are glycolic acid serums safe for skin?
Your skin type plays a considerable role in this matter. Sensitive skin or a dry one might get easily irritated. Hence, if this is your case, you should do a spot test on a small area of your skin before using it on your face. And start using your glycolic acid serum on sparing days to help your skin adjust to it.
Also, due to its exfoliating effects, glycolic acid can make the skin photosensitive, so always apply sunscreen while using a glycolic acid serum to prevent sun damage. If your skin is not protected against sun rays, you might get the opposite effect and develop sunspots, premature skin aging, and hyperpigmentation — nope, thx.
P.S.: Most of these serums are for nighttime use because they are rich in glycolic acid, which makes the skin photosensitive.
The best glycolic acid serums
So, whether you want to get rid of scars, fight acne or reduce wrinkles, we've prepped the best glycolic acid serums that get the job done!
---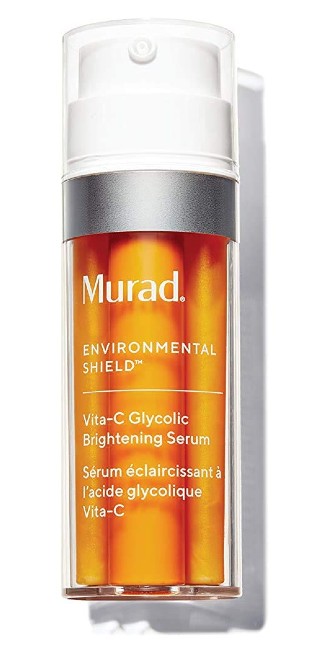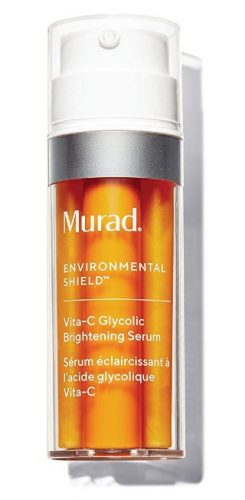 1. Murad Vitamin C Glycolic Brightening Serum
Murad made one of the best glycolic acid serums that also fusions vitamin C. It's true that most glycolic acid serums brighten to some degree, but this particular one is in a class of its own when it comes to giving your skin that revitalizing glow. The serum not only eliminates the buildup of dead cells but also hydrates and softens wrinkles thanks to the rice and yeast amino acids, peptides, and castor oil addition. Plus, the patented resorcinol technology and tranexamic acid work together to soothe, even out tone, and brighten even more!
---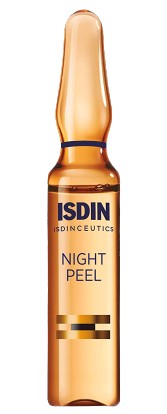 2. Isdinceutics Night Peel Glycolic Acid
If you are in search of a powerful serum infused with glycolic acid that improves the skin's barrier function while stimulating exfoliation, these ampoules are for you. Isdinceutics Night Peel Glycolic Acid has a proven track record of reducing the look of fine lines and wrinkles revealing a softer and more radiant complexion. Here, the glycolic, malic and tartaric acids help remove dead cell buildup, revealing luminous and firmer skin. It's that quick booster your complexion needs while you're sleeping so you wake up to renewed, glowy visage.
---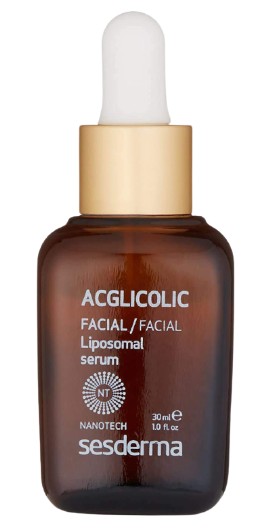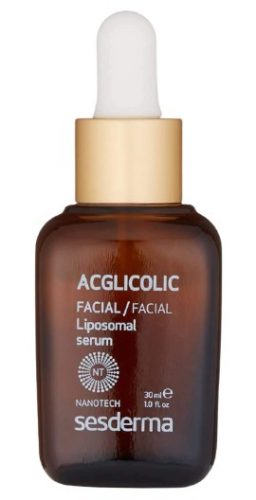 3. Sesderma Aglicolic Serum
Sesderma Aglicolic Serum is a versatile, all-rounder anti-aging product that hydrates, moisturizes, boosts cell renewal, and banishes fine lines and wrinkles. It does that with multiple types of ceramides, glycolic acid, and hyaluronic acid. The serum also includes antioxidants — vitamin C and soybean seed extract — that have regenerating and protective roles. So if you have been fighting a losing battle with hyperpigmentation and other skin woes caused by free radicals, it's time to add this serum to your skincare routine. Thank me later.
---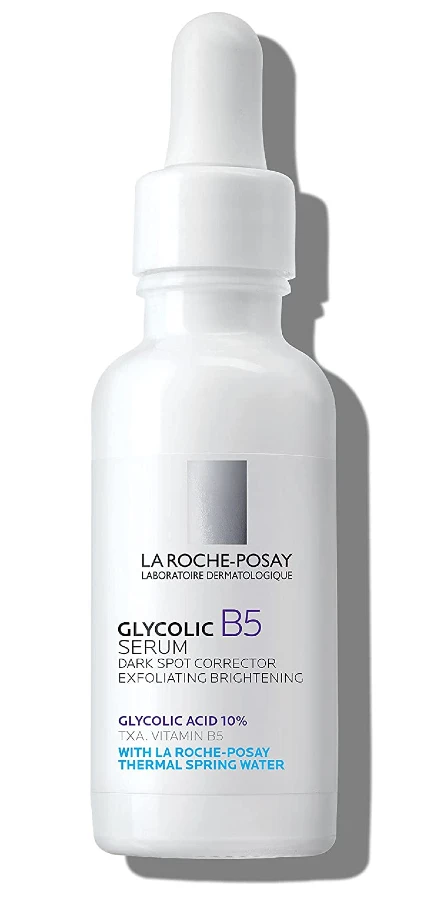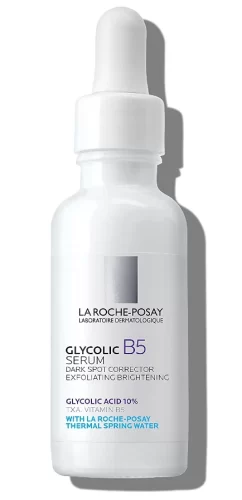 4. La Roche-Posay Glycolic and B5 Serum
La Roche-Posay Glycolic and B5 Serum goes just perfect for aging and hyperpigmented skin. It combines 10% pure glycolic with tranexamic and kojic acids to reveal brighter and even skin while reducing dark spots appearance. The addition of vitamin B5 helps offset the drying effects of glycolic acid while infusing skin with hydration. It gets quickly absorbed in the skin, leaving a perfect canvas for moisturizer application in your PM skincare routine.
---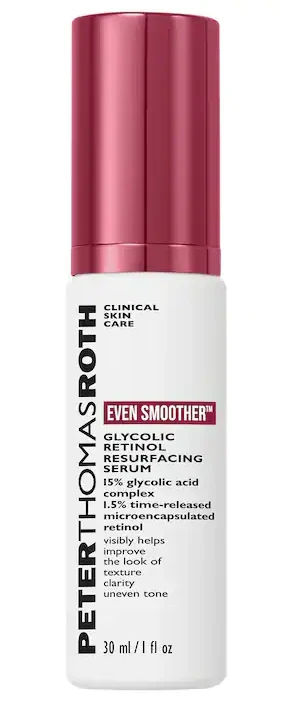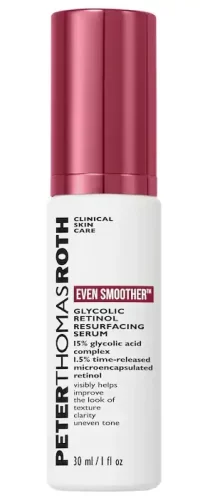 5. Peter Thomas Roth
Even Smoother Glycolic Retinol Resurfacing Serum
This Peter Thomas Roth's serum is where glycolic acid meets the most celebrated active, retinol. Combining 15% glycolic acid with 1.5% encapsulated retinol, the serum not only improves the skin's appearance on all fronts, but it leaves you with a brand new complexion in the long run. Don't worry about irritations, as there's an army of skin-loving ingredients, including niacinamide, ceramide, collagen, squalane, adenosine, and sodium hyaluronate, ready to plump, hydrate, and soften.
---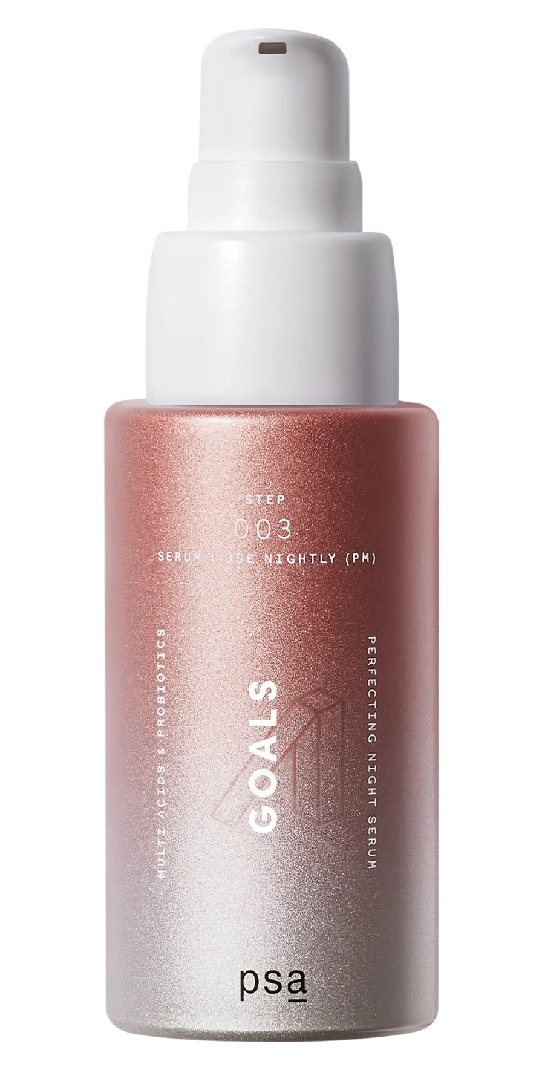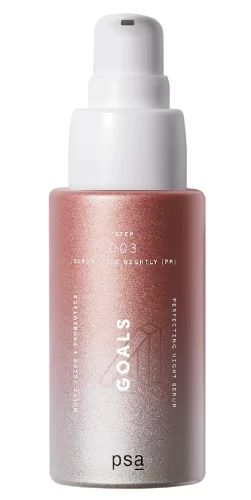 6. Allies Of Skin Goals Multi Acids & Probiotics Perfecting Serum
Here's a do-it-all serum for all skin types that does wonders. Allies Of Skin Goals Multi Acids & Probiotics Perfecting Serum is a great pick for everyone, but especially for skin prone to premature aging and discoloration because it's filled with 12% glycolic, lactic, pyruvic, and salicylic acids. The blend works synergistically to reduce dark spots, soften wrinkles and refine pores with a luxuriously-feeling texture that'll make you look further to doing your PM skincare routine.
---
7. Glo Skin Beauty Renew Serum
As one of the best serums with glycolic acid, this one packs a generous amount of it, plus salicylic acid, retinol, and retinyl propionate, encouraging cell turnover for smoother, firmer, and brighter skin. Made on a witch hazel water base and spiked with vitamin B5 and niacinamide, you can rest assured it won't irritate your skin but leave it moist and plump-looking. However, say pas if your skin is extremely sensitive and only use it at night.
---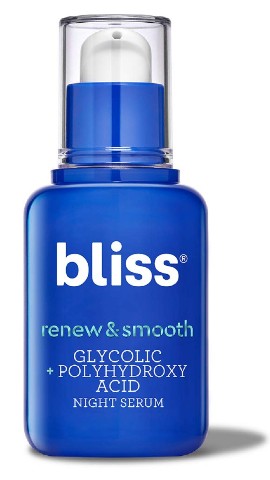 8. Bliss Renew and Smooth Night Serum
This gentle yet effective resurfacing night serum is a superhero product that visibly transforms dull and wrinkled skin into brighter and smoother. It contains a blend of glycolic acid, fruit acids, and polyhydroxy acids to gently exfoliate dead cells and retain sufficient moisture without causing any irritation. At the same time, squalane and vitamin C leaves your skin protected and hydrated at once. In other words, it's great at treating large pores, fading acne scars, and improving the overall texture. Plus, you'll love the gel-like texture and floral jasmine scent!
---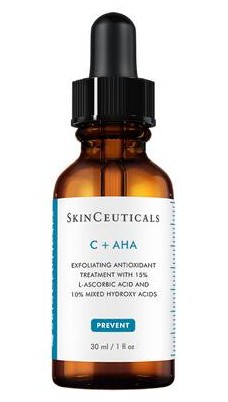 9. SkinCeuticals C + AHA
So far one of the best glycolic acid serums comes from SkinCeuticals. This serum got 15% L-ascorbic acid (an active form of vitamin C) to neutralize free radicals, 10% AHAs (glycolic and lactic acids) to improve skin texture, plus glycerin and hyaluronic acid to hydrate. It checks all the boxes for skin protection and renewal, making a great addition to all skin types' routines.
---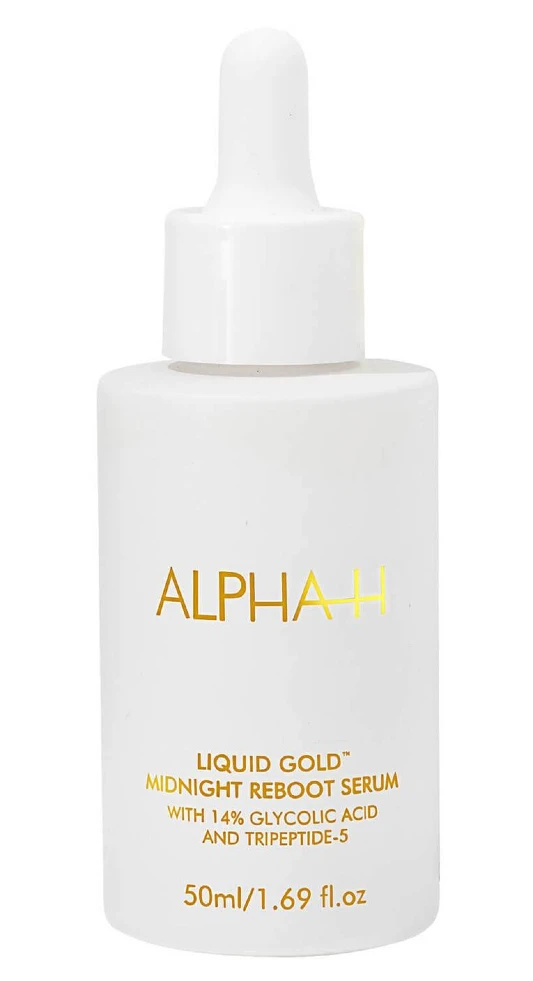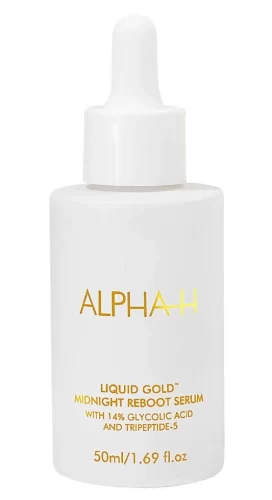 10. Alpha-H Liquid Gold Midnight Reboot Serum
This is the best serum with glycolic acid for those who want to fight aging signs. In addition to 14% glycolic acid, the formula boasts 1% granactive retinoid and tripeptide to soften fine lines and wrinkles and speed up cell turnover for softer, brighter skin. A pea-size amount goes a long way since the consistency is rich yet is lightweight enough to get absorbed in the blink of an eye without ever feeling sticky. The serum leaves you with luminous glass-like skin.
---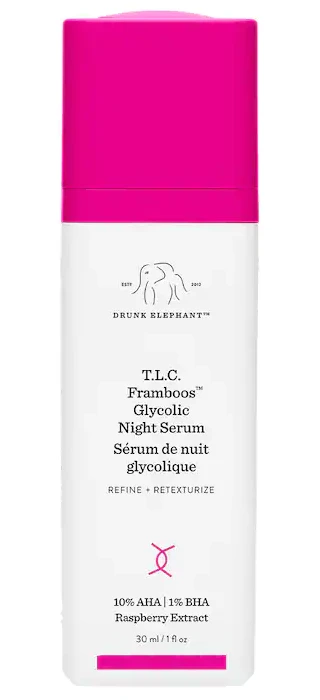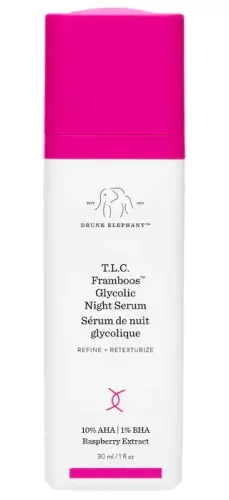 11. Drunk Elephant T.L.C. Framboos Glycolic Night Serum
For a combination of AHAs and BHAs, Drunk Elephant Resurfacing Night Serum stands out. It aims to resurface and retexturize with a blend of glycolic, lactic, and tartaric acids, lifting away dead cells buildup. Pores appear shrunk, fine lines less visible, while tone and texture are improved. Additionally, the formula includes salicylic acid to balance sebum levels and unclog pores, preventing new breakouts from appearing. Now you know why this is among the best glycolic acid serums.
---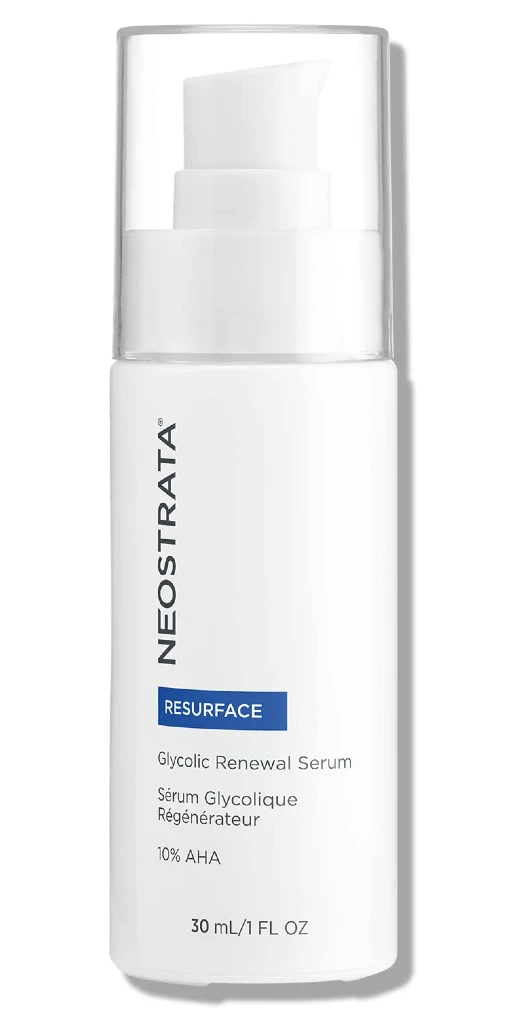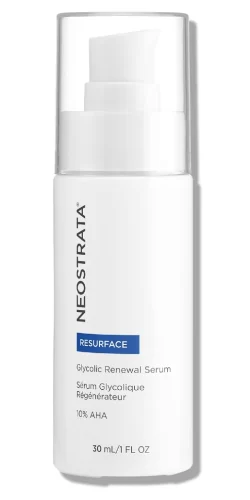 12. Neostrata Glycolic Renewal Serum
Fade dark spots and renew skin with Neostrata Glycolic Renewal Serum, formulated with 10% glycolic acid plus lactobionic acid — a gentle exfoliator that also hydrates. And don't worry about dryness, as the serum is made with a generous amount of hydrolyzed vegetable protein, aka amino acids that, when applied to the skin, form a protein-lipid mixture that attracts water, hydrating and plumping. It has a delightful rich gel-like texture that feels like heaven when applied, leaving skin radiant and glowy.
---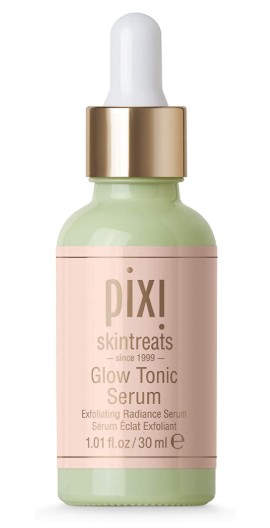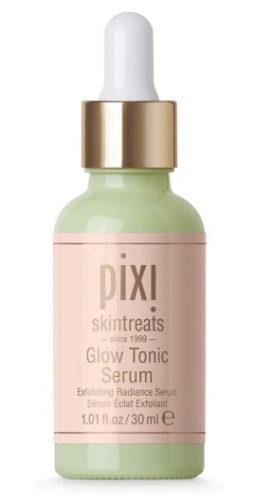 13. Pixi Beauty Glow Tonic Serum
Pixi created a delicate daily defoliant that plumps and evens out tone while gently soothing inflammations and breakouts. In addition to glycolic acid, the serum also packs beneficial nutrients, such as cucumber fruit extract, aloe leaf, vitamin C, and arginine to soften your skin and restore its radiance. Armed with the Pixi Glow Tonic Serum, you can finally say goodbye to hyperpigmentation, blackheads, fine lines, and wrinkles!
---
FAQ about glycolic acid serums
Can I use glycolic acid every day?

Serums containing 5-10% glycolic acid may be used daily if your skin tolerates it. But, to stay on the safe side, three times a week will do.

Am I too young for glycolic acid?

Youngers should aim for soft cleansers or toners with glycolic acid and avoid chemical peels or high concentrated serums — they don't need it anyway. However, if you are in doubt, consult a derm.

What shouldn't you mix with glycolic acid?

It's best not to mix glycolic acid with other heavy ingredients such as retinol, vitamin C, or salicylic acid, only if they are in the same formula. When used together, they can over-exfoliate and damage the skin. On the bright side, it's great to use hydrating agents, such as hyaluronic acid together with glycolic acid.

What percentage of glycolic acid is safe but also effective?

Usually, glycolic acid in 5-10% concentrations is ideal for most skin types and should not cause irritations. However, if it's your first time with glycolic acid, don't rush and start slowly with low concentrations. Once your skin feels used to it, you can go for more concentrated products.

Can you leave glycolic acid overnight?

If we're talking about a peeling product, by no means you should leave it overnight. But as long as you use glycolic acid in a serum or cream, it definitely can be worn all night. These products usually contain ingredients to counteract the possible drying or irritating effects of glycolic acid.