Does liquid gold sound familiar to you? That's how most people refer to argan oil, and honestly, I couldn't think of a better name. Once you get to know it, I bet you'll agree on it too. Argan oil is for way more than just for cooking. It represents a pillar in personal care routines for centuries and is mainly used to hydrate and beautify.
While argan oil can protect, add moisture, and improve your hair and skin, you can use it to reduce hair loss too. Although it's more like an age-old remedy without scientific evidence to back up its efficiency, argan oil is still widely used to fight hair breakage. And rightly so. I couldn't be the only one noticing a dramatic improvement in hair quality after argan oil, right? That's because it really makes your hair appear more healthy. After having read this article, you'll get why.
What is argan oil?
Argan oil is prepared from the fresh kernels of the argan tree (Argania spinosa), native to southwest Morocco. It's composed of unsaturated (80%) and saturated (20%) fatty acids, and it contains polyphenols, tocopherols (antioxidant), sterols, squalene, and triterpene alcohols. Due to its high levels of fatty acids and antioxidants, argan oil makes a great ally to smooth, nourish, soften and hydrate the hair and scalp.
Argan oil changed from a regular ingredient to one of the most praised oils in the cosmetics industry and now is referred to as "the world's most expensive vegetable oil." How crazy's that?
Benefits of argan oil for hair growth
Hair may be thin for many reasons, but one thing is for sure: if it has to be strong and less prone to breakage, your hair needs nourishment, protection, hydration. And yes, argan oil provides all of that.
Moisturizes
You have nothing to win with dry hair — that's something we all agree on. Besides not looking healthy and being tough to style, it may even break more often. After all, you should always keep your hair moisturized, and argan oil is really good at that. Because about 29–36% of the fatty acid content of argan oil comes from linoleic acid and 43–49% from oleic acid, both known to lubricate the hair shaft and help hair maintain moisture, argan oil is often applied as a moisturizing agent.
Fight free radicals
Argan oil is also very rich in tocopherols, powerful antioxidants from vitamin E that help reduce the free radical damaging effects. Antioxidants are well known to neutralize free radicals — highly reactive molecules that can cause oxidative stress. Studies found that oxidative stress can lead to premature hair aging and often manifests as decreased hair production or alopecia. You probably are exposed to free radicals every day: sun exposure, smoking, pollution are just a few to name. All these can have a negative impact on your hair if you don't keep up with antioxidants.
With its high sources of antioxidants and essential fatty acids, argan oil can help enhance the hair's moisture and elasticity, combat frizz, and defend the strands from damage that causes split ends and breakage, making it an incredibly potent ingredient in haircare products.
Has anti-inflammatory properties
Tocopherol has recently been shown to possess strong anti-inflammatory properties. When used on the scalp, it can help prevent conditions like dandruff, psoriasis, and seborrheic dermatitis. Its restorative properties make argan oil suitable for all hair types, helping smooth, soften, and hydrate so that the hair appears healthier.
It's nourishing & protects against hair breakage
Argan oil is a rich source of nutrients, vitamins, and fatty acids, the ones your hair needs to grow. Linoleic acid, oleic acid, and vitamin E add a protective layer to the hair to protect it from breakage and reduce split ends, resulting in thicker-looking hair.
How to use argan oil for hair
If you want your hair to benefit from argan oil properties, you can apply it directly to your scalp or add it to your shampoo or conditioner.
Apply 8 to 10 drops of argan oil to damp or dry hair and massage your scalp for about 10 minutes
Make sure your hair is covered from roots to ends
Wrap your hair and leave it on for the night
Wash your hair in the morning
You can also include argan oil in your shampoo or conditioner. Pour shampoo into your palm, add 1-2 drops of argan oil and rub your hands until they get mixed. Apply it to your hair, wash and rinse as usual. If it's your first time using argan oil, start with a small amount and do a test patch to see how your hair reacts.
What you need to know before buying argan oil
People generally ask two questions when they have to buy argan oil: Is the oil 100% pure, or is it adulterated with poor oils? And am I purchasing high-quality argan oil? As all these may affect the effects of argan oil, it's really important to know what you're buying. So here you go:
Argan oil purity
Obviously, argan oil keeps its most benefits when it's 100% pure; anything mixed with argan oil may impact argan oil's effects. Pure argan oil must have a light to golden yellow color. If you notice it's too light, the product might be mixed with other oils. Besides purity level, make sure the product you pick is chemical-free, without artificial ingredients, chemicals, and unnecessary fillers that may impact oil's quality.
Quality of argan oil
Besides purity, the extraction method is another factor that can decrease the argan oil quality. Pick cold-pressed oil because it ensures all of its attributes — those fatty acids, minerals, and vitamins stay in their purest and most effective form to bring hair the best benefits. Also, because the light can penetrate the bottle and affect its quality, pick products in dark glass bottles. That should do it!
Do I have to dilute argan oil with a carrier oil for hair?
Not necessarily. Pure argan oil works excellent when applied alone on the scalp, but it can also be mixed with other carrier oils to enhance the effects. You can use castor oil, coconut oil, almond oil, or jojoba oil for even better hair growth!
Argan oil side effects
Because it's a natural compound, argan oil is believed to be free of side effects. However, in rare cases, it may cause a form of allergy known as contact dermatitis, identified by itchiness and redness of the scalp.
Argan oil products for hair growth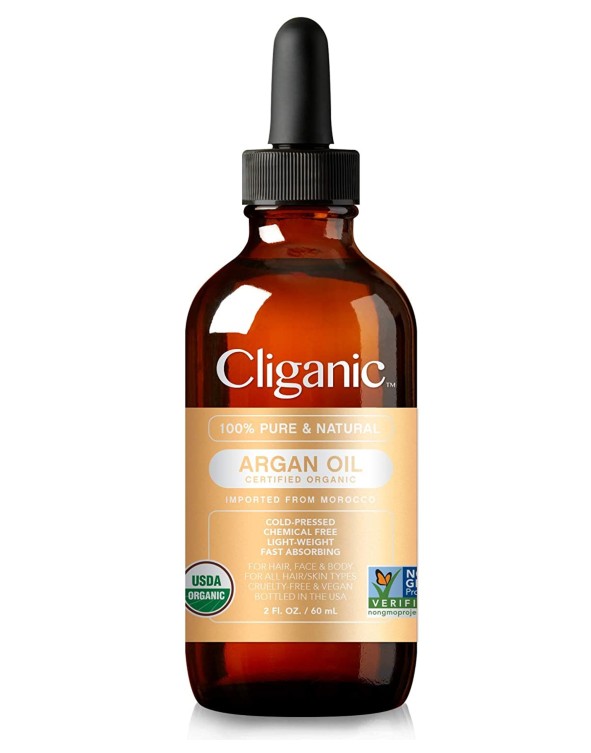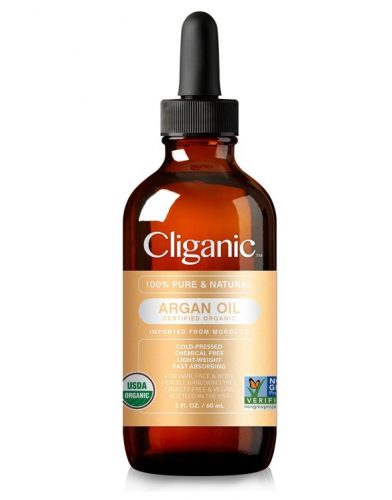 Cliganic Argan Oil
There are many reasons why Cliganic argan oil sells so much. It's USDA certified, 100% pure, cold-pressed, chemical-free, and comes in a premium bottle that'll keep oil proprieties to their highest levels. You can't ask for a better quality argan oil, TBH.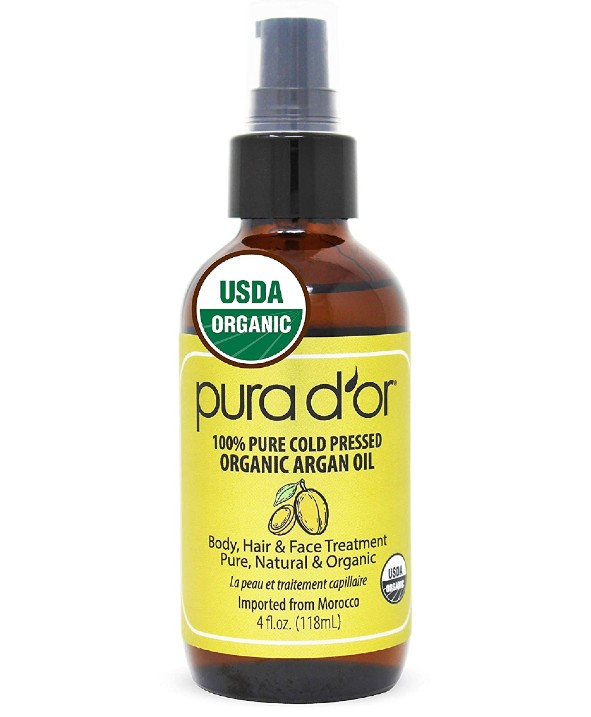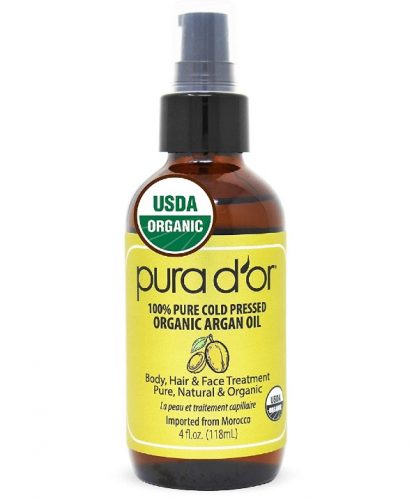 PURA D'OR Organic Moroccan Argan Oil
Add an extra layer of protection against environmental factors with Pura D'Or argan oil, directly imported from Moroccan. Cold-pressed, 100% pure, and certified, it's something you can't go wrong with.
VoilaVe Pure Organic Moroccan Argan Oil
VoilaVe Argan oil can be added to your shampoo or conditioner to make your hair soft, thicker, and denser. Enjoy a well-conditioned scalp with this 100% pure and cold-pressed argan oil.