As an oily skin type, I know how frustrating it gets when all the hard work disappears in vain just because the makeup wasn't set up with a powder. Even worse in the summer, when humidity and heat make it run off by brunch. With so much effort and time put into doing makeup, it's clear you need something to hold everything together, to bake that foundation and concealer, prolonging their staying power. And what will do better than organic setting powders? They skip chemicals and harsh fragrances without compromising on delivering outstanding results. In other words, the best organic setting powders listed here will never let you down and they cover all of your needs, fixing that makeup all day. Or night.
How do I pick the right setting powder for my skin?
Choose the best organic setting powder according to your skin type and tone. For instance, a mattifying powder does amazingly for oily skin folks as it soaks up excess sebum, making skin appear less slick. For dry and mature skins, a translucent setting powder is better as it doesn't settle into fine lines and isn't going to dry your complexion out.
Why organic powder over conventional?
Fragrances, parabens, and synthetic dyes are often added to conventional setting powders even if they can cause irritations, especially to sensitive and breakout-prone skin types. While conventional setting powders may include questionable ingredients, the organic ones use natural minerals, herbs, rice, cornstarch, clay, and fruit extracts to give their properties and hues. Besides doing an excellent job at fixing makeup, organic settings powders also may have anti-microbial and anti-inflammatory effects, benefiting everyone.
The best organic setting powders
For the sake of your skin to stay radiant and healthy, we've gathered the best organic setting powders made by brands we trust. Cleanly formulated and highly rated, I know you'll find the one.
---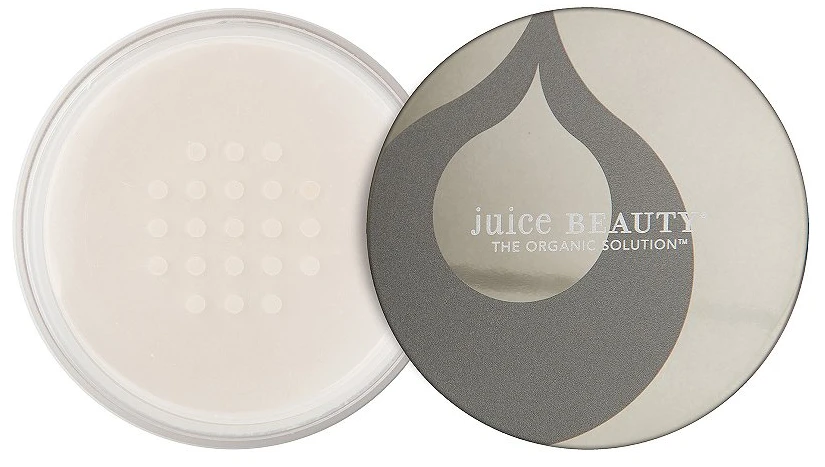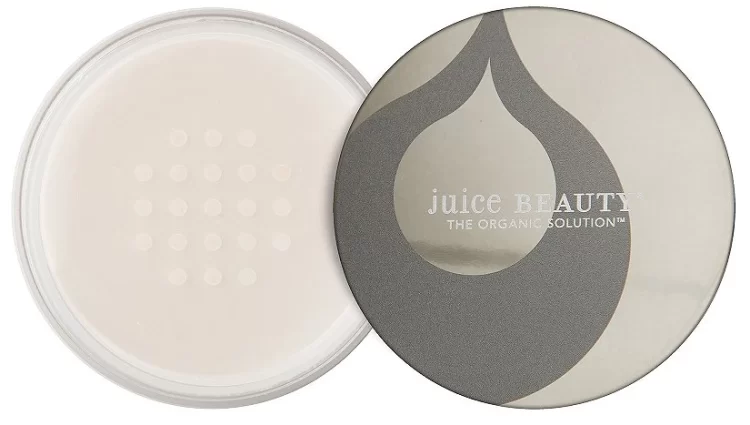 Juice Beauty Natural Finishing Powder
Keep shine at bay and makeup in place with Juice Beauty Natural Finishing Powder. Made with rice and argan powders, vitamins C and E, grape seed oil, hyaluronic acid to name a few, it aims not only to set makeup throughout the day but keep skin healthy too. It works great for all skin types as the gentle, light-reflecting formula leaves a silky finish while reducing shine and hydrating skin. Now you know why it takes the first spot on the best natural setting powders.
---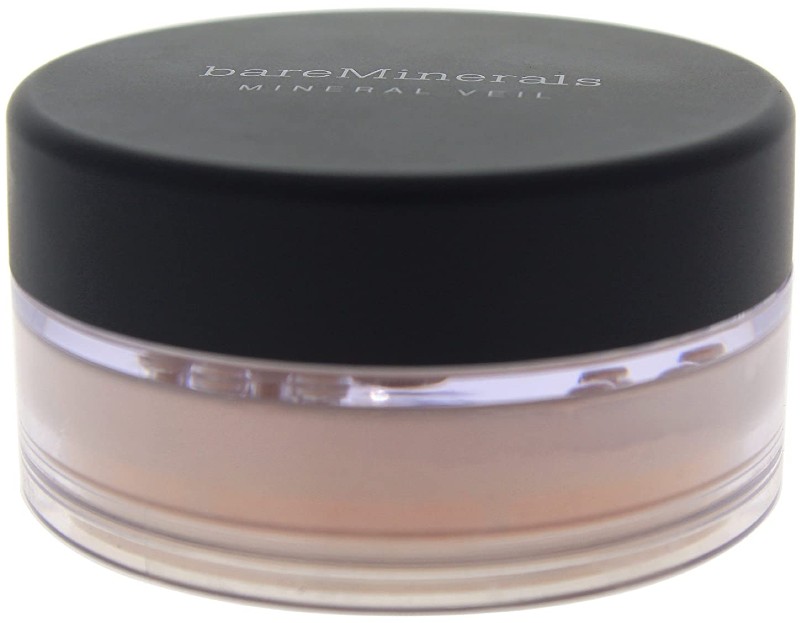 bareMinerals Mineral Veil Setting Powder
Bareminerals used corn starch powder, zinc, magnesium, and iron oxides to create a finishing translucent powder suitable for all skin types and tones. If you aim to minimize the look of pores and fine lines and achieve a flawless finish, then you might want it asap. Utterly weightless, this double-duty organic powder gives you that airbrushed perfection while assuring SPF 25. You still need that sunscreen, tho.
---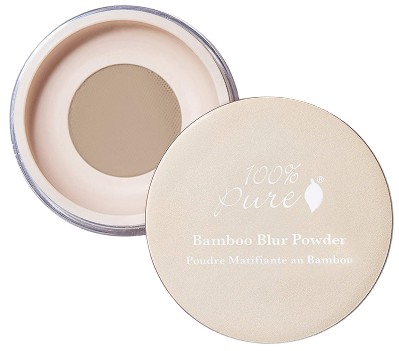 100% Pure Bamboo Blur Powder
Look at this translucent powder with bamboo silica, peach, apricot, cocoa, papaya, turmeric, and green tea that mattifies skin and absorbs excess oil for a soft finish. It's so clean! And if it sounds too good to be true, here's the downside: it goes ghosty when taking pictures with the flash on. Hopefully, 100% Pure will improve its formula; it's such a great product otherwise.
---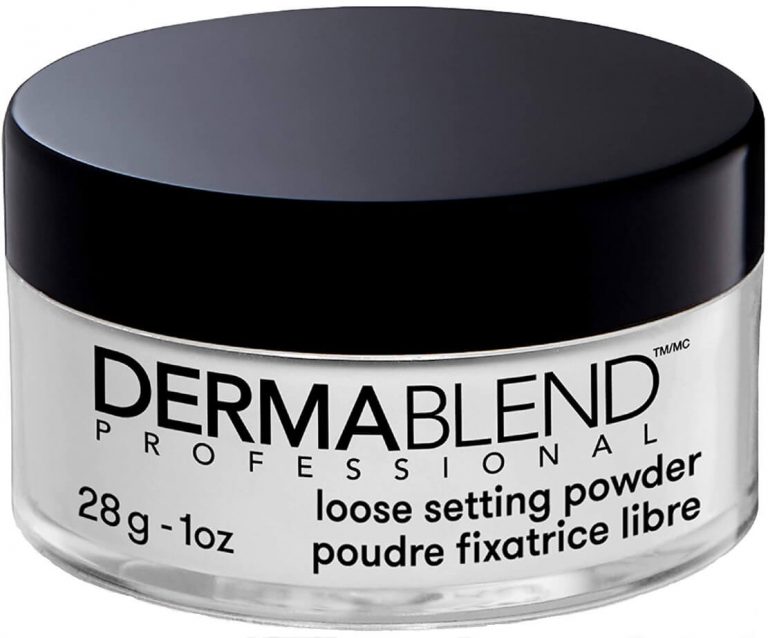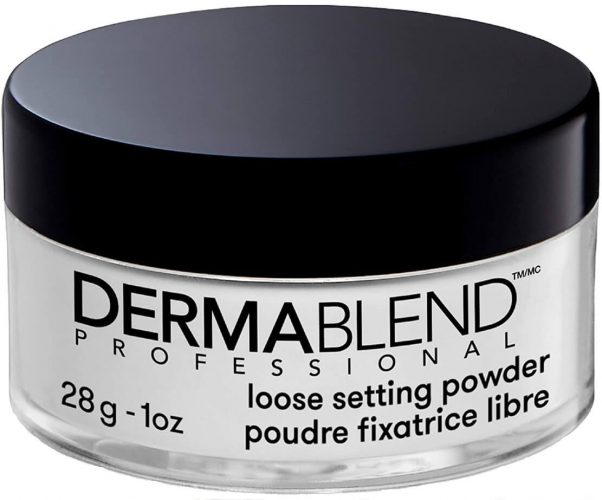 Dermablend Loose Setting Powder
This one is perfect for flash photography and baking! Dermablend loose setting powder mattifies the complexion and sets the foundation for up to 16 hours, is non-comedogenic, allergy-tested, and non-acnegenic. Imagine you have to go outside on a 90°F day with high humidity. You wouldn't expect your makeup to stay put the whole day, would you? Well, you'll be surprised how well Dermablend resists melting in a dry and humid environment.
---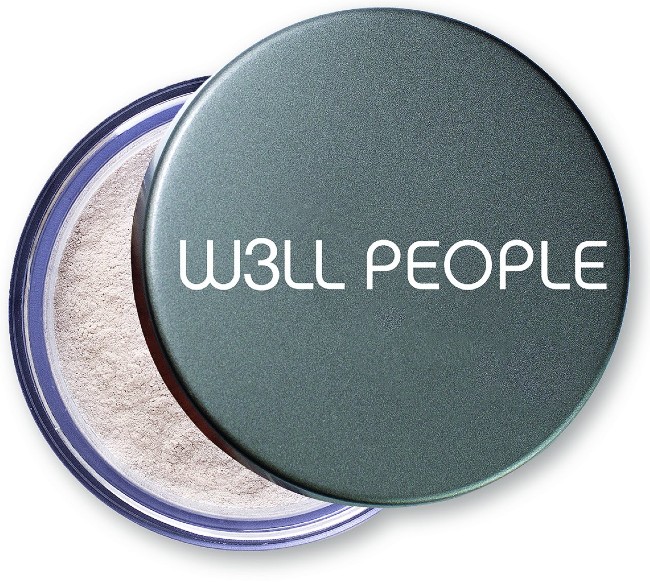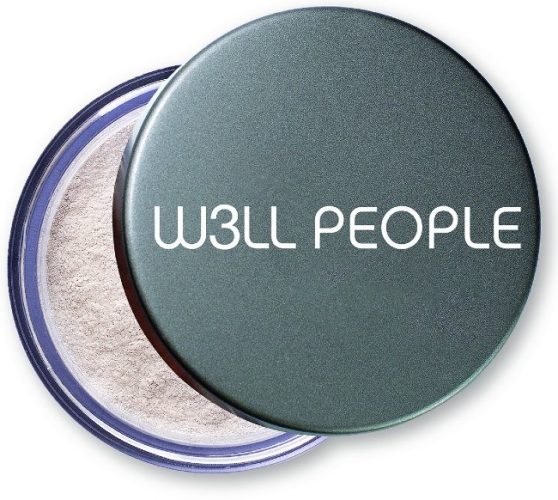 Well People Natural Powder
Lock your makeup in with this plant-powered, EWG-verified translucent setting powder by Well People. Made from mineral, organic pearl powder, and aloe leaf extract, while free of any toxic ingredients, it blurs imperfections and fine lines with sheer, soft-focus coverage. And don't get alarmed by its shade — it goes on completely invisible, adapting to all skin tones.
---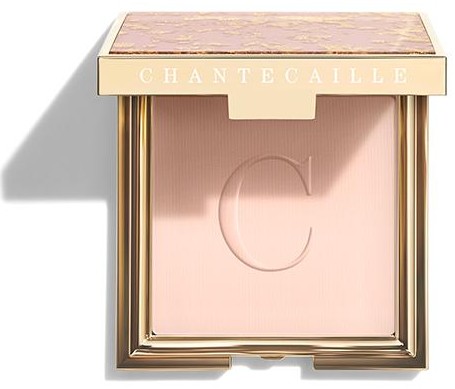 Chantecaille Éclat Doux
I'm going to guess no one is into setting powders that weigh on the skin. Welp, as one of the best organic setting powders, this mineral formula is super lightweight, with a powder-balm finishing touch, and a soft texture that invisibly perfects and mattifies while giving that subtle glow you want. Once you swipe it on, you won't know it's there, but your makeup will stay in place forever. And the cute packaging it's housed in makes it even a better experience.
---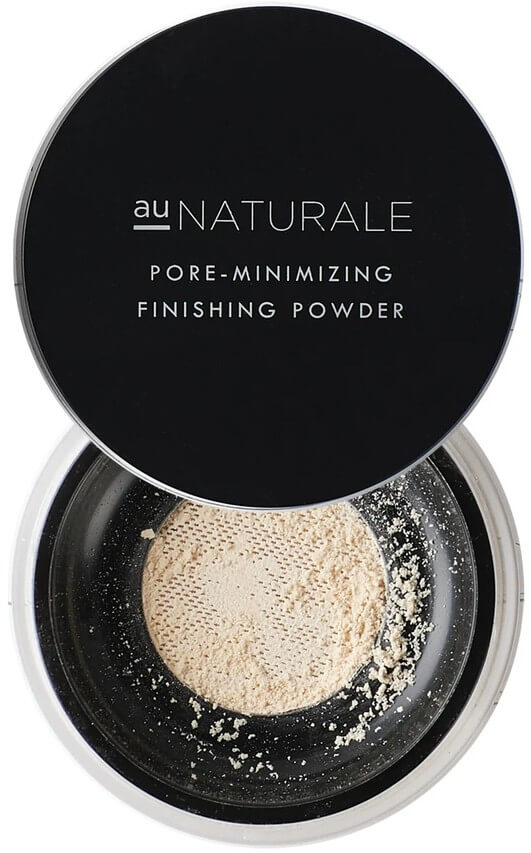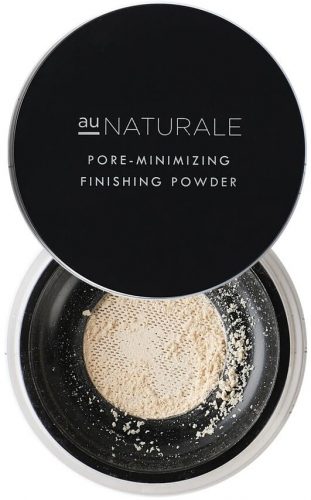 Au Naturale Organic Makeup Finishing Powder
Au Naturale finishing powder delivers creaseless coverage and diminishes shine so that makeup stays, not strays. Its formula feels like air on the skin, smoothing and blurring fine lines without looking cakey. It's a great product, created with good-for-skin ingredients, including Arrowroot powder and natural minerals, plus is vegan, and cruelty-free.
---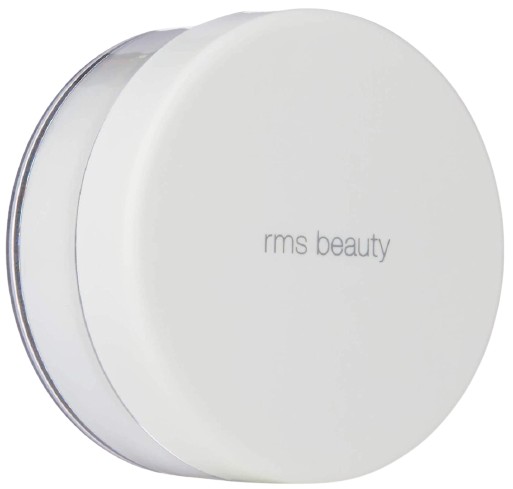 RMS Beauty Un Powder
The oil-absorbing, weightless and clean formula creates a smooth, natural matte finish. It reflects light while minimizing pores' appearance and softens skin without a trace of residue. With an ultra-fine texture, the RMS Beauty light-reflective powder it's the ultimate product to absorb excess oil and create a perfect-looking makeup. It's a go-to for those who struggle with excess sebum.
---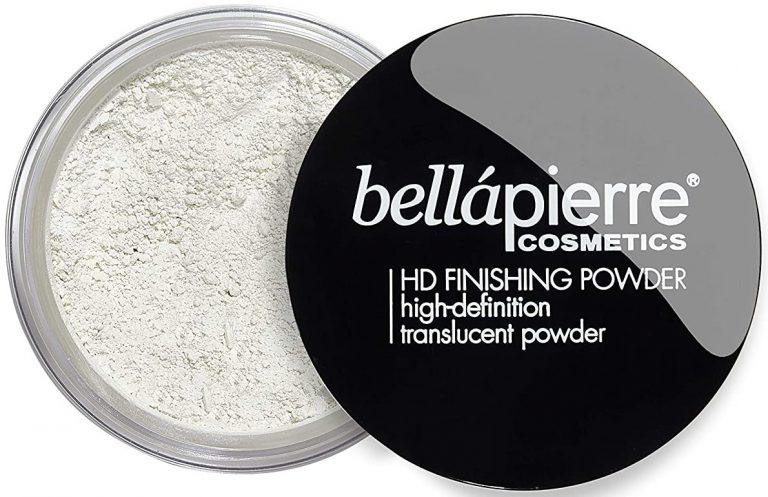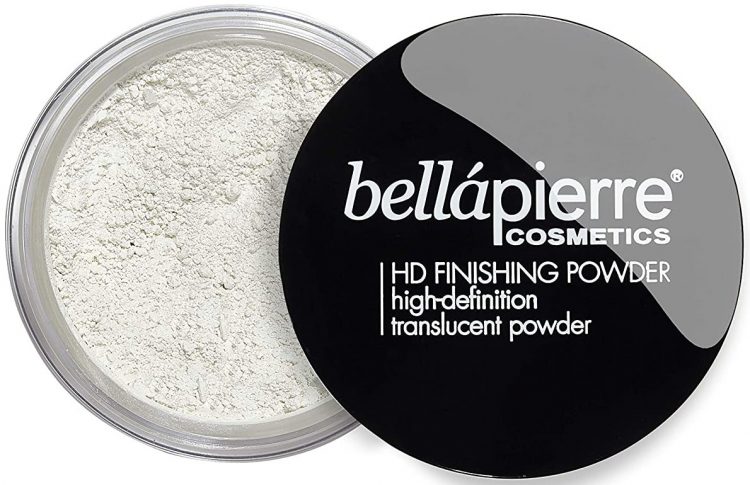 Bellapierre HD Finishing Powder
Or you can pick to perfect your look with Bellapierre HD translucent powder. With a corn starch base, this organic-sourced setting powder banishes the look of imperfections, smooths out the skin, and bakes makeup all day long leaving a matte finish. To use it for baking, dust powder all over your makeup and let it sit for 5 mins to soak up excess oil. When time's up, dust off the excess for a flawless finish, and voilà!
---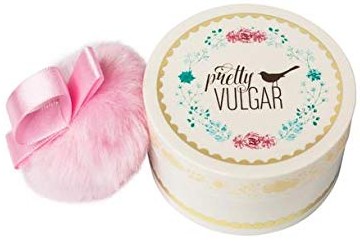 Pretty Vulgar Organic Setting Powder
This is a weightless, skin smoothing silky translucent setting powder to lock makeup on place all day with a matte finish. Formulated with minerals and lacking fragrance, gluten, sulfates, or parabens, it protects makeup and the skin at the same time. The Powder Room enhances your foundation and concealer's look by blurring and filling fine lines without any trace of color, it's all vegan and cruelty-free.