It's been a few years since at-home LED light therapy became a thing — these foreign-looking tools are getting a great deal of attention and for good reason. LED masks are multi-taskers that tackle multiple skin concerns, including loss of firmness, dark spots, and acne. Despite the evidence through multiple scientific studies and research, many people are still left with an important question: Can LED therapy treat acne? Surely, something about that is true; the best LED masks for acne help prevent the apparition of breakouts, speed up the healing of existing ones, help balance sebum and fade post-acne marks. It's true that at-home LED therapy doesn't give dramatic results as you may get from in-office procedures, but they're the perfect addition to complement your acne-fighting skincare routine if you don't have the time for appointments.
led light therapy for acne
How does LED therapy reduce acne
Briefly, LED masks emit varying wavelengths of light that go into the skin to help reduce inflammation and breakouts over time. Unlike topical products that work on the skin's surface, light therapy eliminates the acne-causing bacteria before it starts to feed on the sebaceous glands, helping prevent the apparition of pimples in the first place.
While LED devices can have up to 8 different color spectrums, blue and red lights are the best for acne. Blue light works by reducing sebaceous glands' activity, so they produce less sebum that can clog the pores. Studies also found that blue light can help kill acne-causing bacteria, purify the skin and soothe inflammation. "LED light is essentially acting as the sun to a plant," says dermatologist Marnie Nussbaum, MD, for Vogue. "It is penetrating the skin to a cellular level and subsequently causing different intra- and intercellular reactions." On the other hand, red light penetrates deeper into the skin, where it may directly target sebaceous glands and exert anti-inflammatory properties. Also, red light is known to trigger collagen production, which, in turn, promotes pimple healing and decreases scarring caused by breakouts.
The best LED masks for acne
We have scoured the internet, and it turns out these are the best LED masks for acne and scarring anyone can use.
---
1. Dennis Gross FaceWare Pro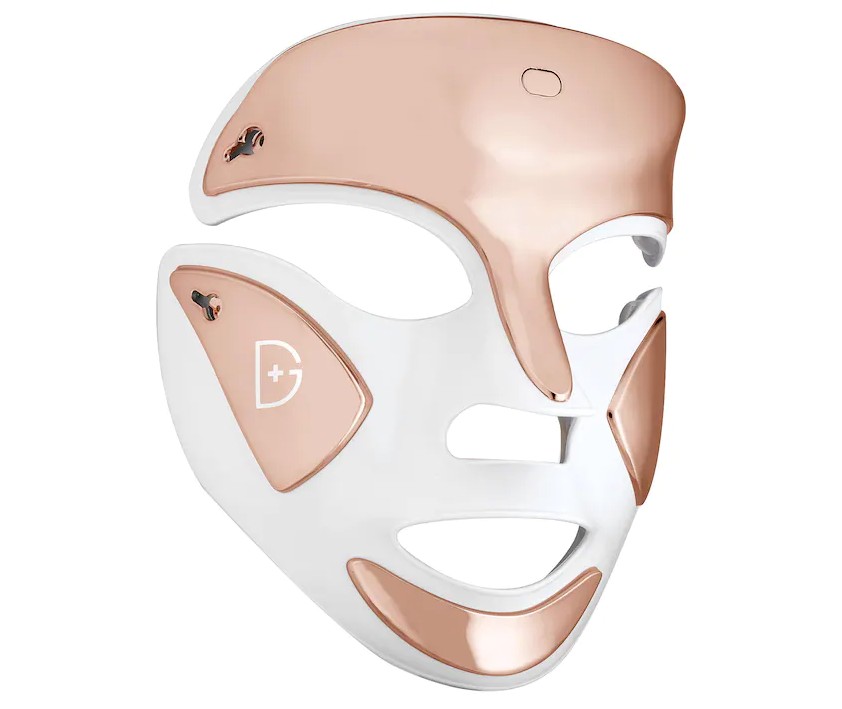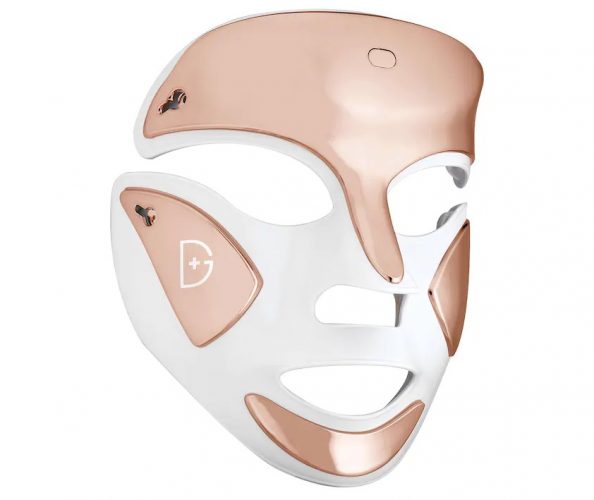 This one is an ideal LED mask for acne because it features two therapy modes (blue light and blue + red light) meant to help you get rid of breakouts due to their antibacterial traits. Additionally, Dr. Dennis Gross's LED mask includes a program that addresses fine lines and wrinkles, so you get the best of both worlds with it. It does it all in just three minutes a day, helped by one hundred sixty-two LEDs. Bonus points because the device is FDA-cleared.
---
2. Project E Beauty Face and Neck Mask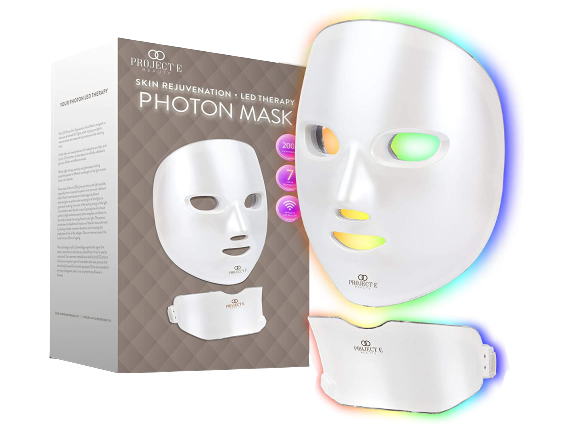 The new, improved version of Project E Beauty Face and Neck Mask features seven programs. They have antibacterial, anti-inflammatory, and firming benefits, stimulate collagen production, improve blood flow and relax your skin with 5 intensity levels. You just need 10 minutes to give your skin that healthy boost it needs. The most exciting part is about to come: 102 LEDs work to improve your complexion, while 40 are dedicated to the neck area — two birds one stone.
---
3. HyperGlo Luxury LED Mask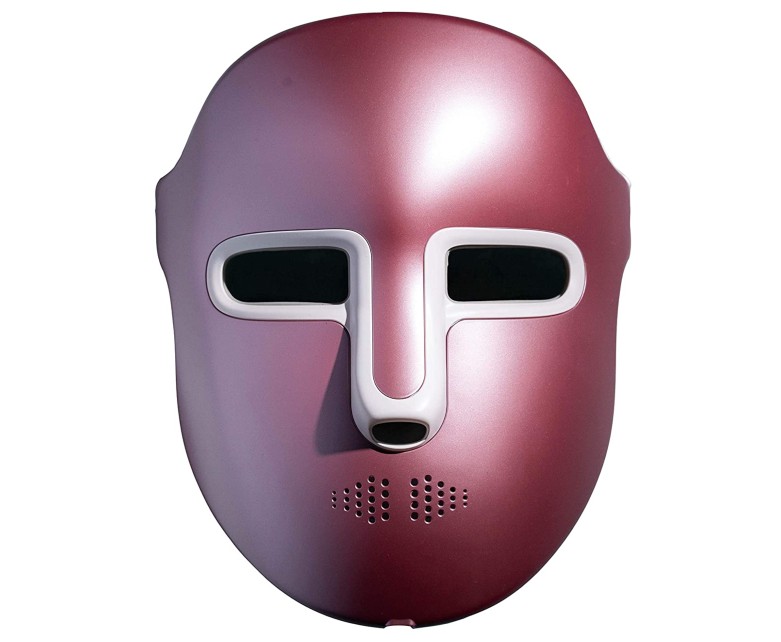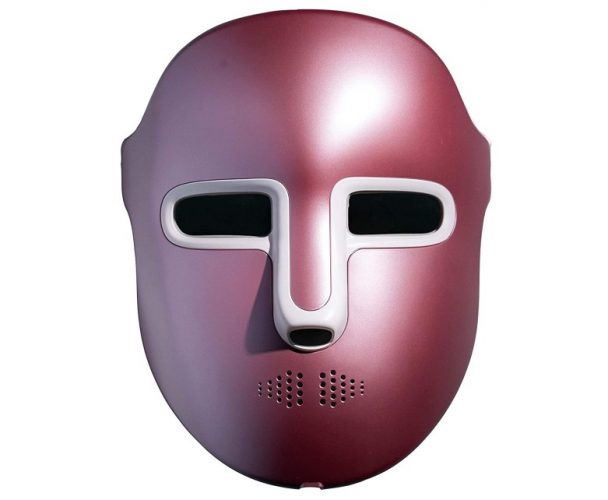 For some reason, this mask gives me a Freddy VS Jason feeling, but as long as you don't go out wearing it, you're fine. With only 20 minutes every other day, it promises to give your skin the reboot it needs. It boasts a combo of 119 medical-grade LEDs with 3-color wavelengths (blue, red, and yellow) to fight acne, inflammation, and post-breakout marks. A genuine multi-tasker, the HyperGlo mask is comfortable and weightless, and we like that it has silicone padding for extra eye protection and mouth ventilation for increased airflow and breathability.
---
4. Silk'n Titan Blue Acne Eliminator Device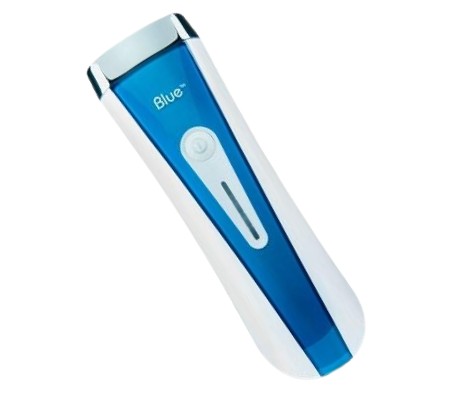 Sure, this is not a mask and does not feature a multitude of colors and programs. It does one thing, and it does it well! Designed for acne-prone skin, it uses blue light energy and deep thermal heating to penetrate the skin's surface and balance sebum, helping decrease the chances of pimples and blackheads. Worth mentioning, that this FDA-cleared device was actually tested in clinical trials for acne treatment. Michael H. Gold and two other researchers reported a significant decrease in mild to moderate inflammatory acne in 17 people after 1 to 3 months with home use of Silk'n Blue LED device (405–460 nm).
---
5. YOOVE LED Face Mask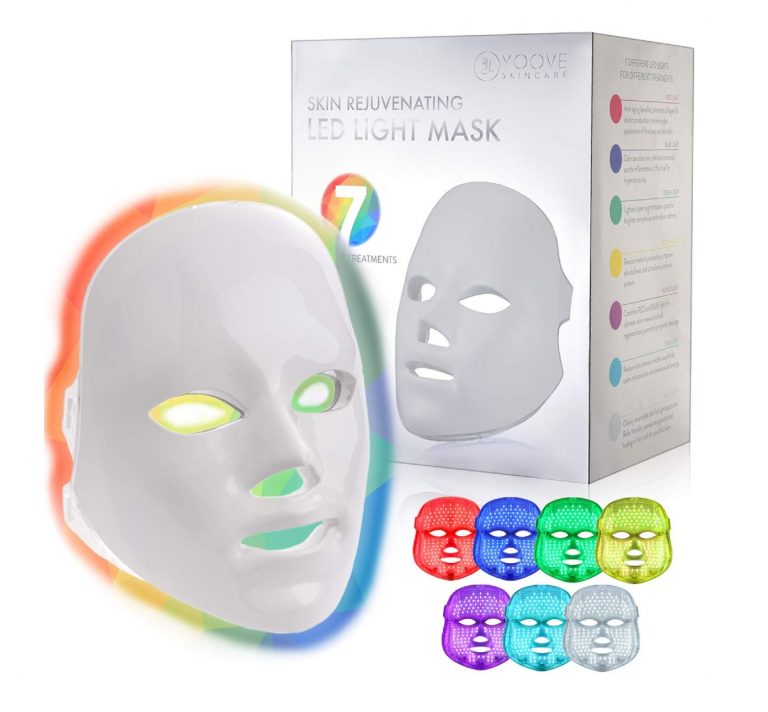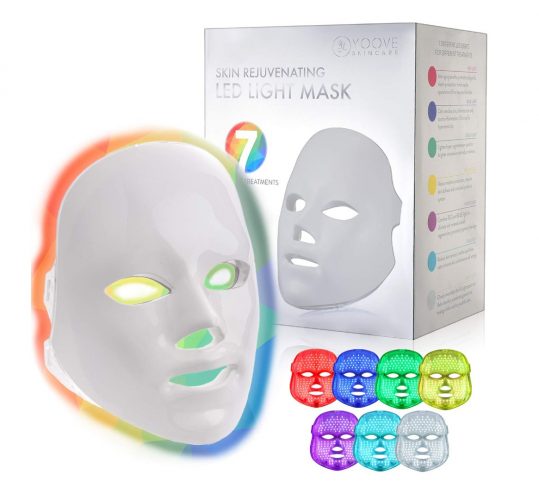 If you want a LED mask for acne without breaking the bank, this device is for you. Apart from providing seven types of treatment, including destroying acne-causing bacteria, minimizing hyperpigmentation, and increasing firmness, it works hands-free, featuring 100 LEDs to pamper your skin. The result? Fewer breakouts and blackheads, regulated sebum, and faded dark spots. Three times a week, 20 minutes per session is just enough to achieve glowing skin.
---
6. Foreo UFO LED Thermo Mask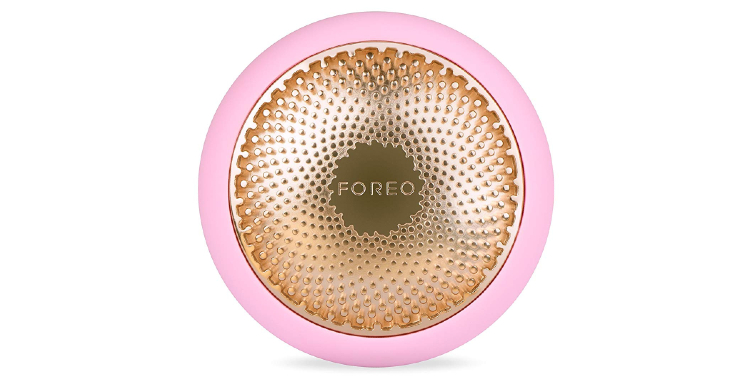 Ok, IK, this is not a mask, but I couldn't skip it — it's that good. Technology meets beauty in this handy gadget that's pretty clever. It not only features LED lights (blue, red, green) but a warming mode to prep your skin, opening up pores to stimulate products absorption, cooling, which is great at reducing large pores' look, and T-sonic pulsations to boost blood flow and spoil you with a calming massage. In plus, it's app-driven for a customized facial treatment. Want an insight into models backstage at @victoriabeckham? Because they love this device!
---
8. Hime Sama LED Skin Mask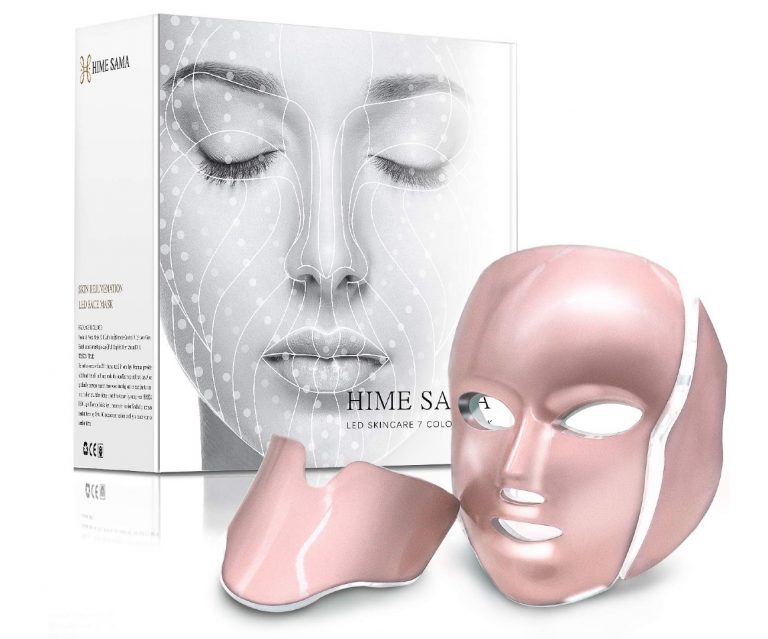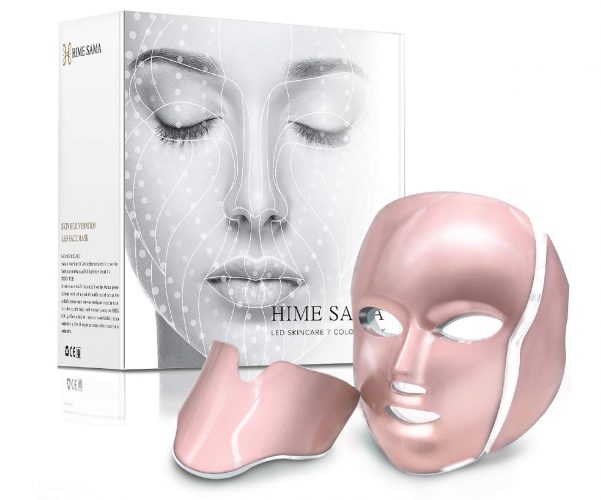 A do-it-all mask, one of the best LED masks for acne, actually helps with an array of concerns, including pimples, dullness, fine lines, discoloration, or scarring. Look no further: seven light therapies within 192 lamp beads, five levels of intensity, neck coverage, and FDA-approved. Just strap this around your head, turn it on and let your skin get all the goodness Hime Sama LED Skin Mask has to offer. Must mention: the comfort may be reduced with this mask — given the high number of LEDs, it's heavier.
---
9. Aphrona LED Therapy Device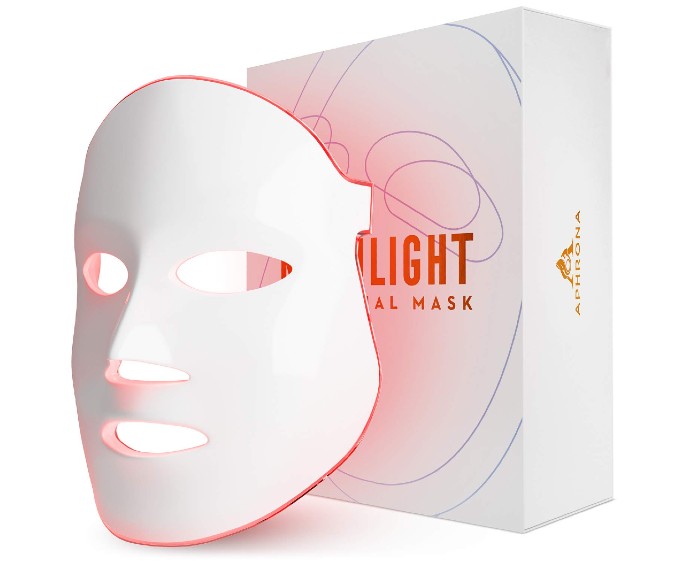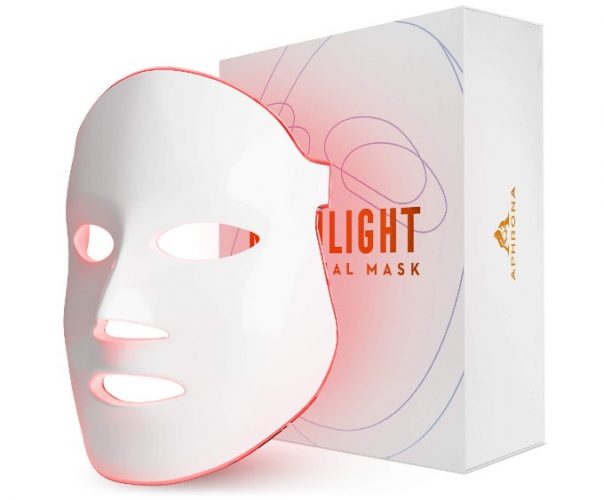 Another LED mask for acne that uses the holy grail of colors to give you better skin — blue, red, and green. So it does it all, from fighting acne bacteria to reducing sebum, softening fine lines, and improving skin texture. Lay down, relax, and let the 150 LEDs do the hard work.
What else
Light therapy is a research-backed treatment for acne.
Blue and red light are most effective in reducing inflammatory acne; they work less effectively on noninflammatory lesions.
Most studies found blue light effective in the range of 405–420nm, while red light can go up to 660nm.
Sebaceous follicles absorb light wavelengths between 400 and 700 nm, with 415 nm wavelength within the most effectively absorbed blue light spectrum.
LED therapy is generally considered safe with minimal side effects.
Most self-use LED devices are cleared by the FDA and are considered effective and safe for home use.
Frequently asked questions
Does blue light really reduce acne?

One research found that blue light, particularly in the wavelength range of 405–470 nm, can reduce acne-causing bacteria in 77% of cases after five weeks of diligent use. "Phototherapy using blue light source was effective and well-tolerated in acne patients and had an ability to decrease numbers of P. acnes by 64%," suggests research. Similarly, a combination of blue-red lights has been reported to reduce inflammatory lesions from 69% up to 77%.

Are LED masks safe for acne?

LED devices are unlikely to burn your skin. However, "it's essential to shield your eyes from the light while using them," says Dr. Elizabeth Buzney, assistant professor of dermatology at Harvard Medical School.

Is LED treatment for everyone?

No. Dermatologists warn that LED devices aren't for everyone, such as those suffering from rosacea, severe hyperpigmentation, melasma, or easily reactive skin. If you check one of these, it's advised you visit a dermatologist before making a light therapy home-treatment plan.

Can you use other products while you follow an LED treatment?

"An LED device is never going to replace your moisturizer or sunscreen, but you get maximum benefit by using LEDs and topical ingredients in conjunction," says Dr. Dennis Gross, a board-certified dermatologist and dermatologic surgeon. The treatment is not supposed to replace topical products but to work in synergy with those. Actually, many brands developed their signature serums to be used with their devices, but you can use any serum or oil you like. In fact, more effective treatment of acne may be achieved if light therapy is combined with agents with anti-comedogenic and comedolytic properties such as topical retinoids.