Whether you've been combating acne since you were a teenager or only started breaking out as an adult, finding the right treatment to clear your skin is daunting. The good news is that the modern skincare world offers an amalgam of options to address pimples at home. One of these notorious acne treatments that have been in high demand in recent years is LED light therapy. First used by NASA to improve the healing of wounds and injuries in astronauts in the early 90s, now everybody wants to get their hands on it to address their breakouts. And with these high-tech devices—LED masks—it's so convenient to do light therapy without having to make appointments for in-office procedures.
So how effective are these devices for treating acne? What forms of acne do they target? And, most importantly, are they even safe? These are all questions we're excited to answer for you in this article. Keep reading to learn all you need to know about treating your skin with LED light therapy and find the best LED masks for acne to try right now.
What is LED light therapy?
LED stands for light-emitting diode. It's a non-invasive, painless treatment that uses different wavelengths of light to penetrate the skin's layers and address concerns like wrinkles, scarring, sun damage, and acne. The various wavelengths and colors play a crucial role as they penetrate the skin at different depths and target specific conditions:[1]
Blue light acts on the uppermost skin layer, and it's proven to destroy acne-causing bacteria and reduce inflammations.
Yellow light penetrates deeper and improves hyperpigmentation.
Red light induces collagen and elastin production.
As you can see, the best one for relieving acne is blue. It has been clinically proven time and time again to manage acne by killing the bacteria that cause it, reducing inflammation, and diminishing redness. Unlike topical products that only work on the skin's surface, the light energy penetrates deeper to eliminate bacteria before it can feed on the sebaceous glands.
How does blue light therapy treat acne?
Blue light therapy addresses acne by targeting the bacteria on the skin and reducing inflammation. The main culprit behind acne, P. acnes, is sensitive to blue light, and it can be quickly eliminated when exposed to it for over 10 minutes. However, it's worth noting that this isn't a complete solution for all types of acne and can only improve specific conditions.
According to studies, blue light therapy is best for mild to moderate acne and works on inflammatory lesions like papules, pustules, and nodules, but has limited impact on noninflammatory acne.[2]
How effective is it?
You'll be happy to find out LED therapy has strong scientific evidence backing it up as an effective solution for acne. In a study of 30 people with mild-to-moderate acne, almost 80% reported a significant improvement in their skin after just five weeks of treatment. The number of comedones, papules, and pustules was reduced by nearly 60%.[3]
Interestingly, combining red and blue lights can improve the results. Although red light doesn't have antibacterial properties, it promotes healing and reduces scarring by increasing collagen production.[4]
An LED device that combines both red and blue lights can be more effective than one with only blue. However, it's still not a magic bullet. The truth is, how severe your acne is, the exact wavelength of light the device use, the intensity of the LEDs, your skincare routine, and how consistently you use it all play a role in how well it works.
What to expect
To give you a better idea of the results you can expect from using a LED mask for acne, take a look at this image that shows the improvement achieved with a LED device before and after the treatment.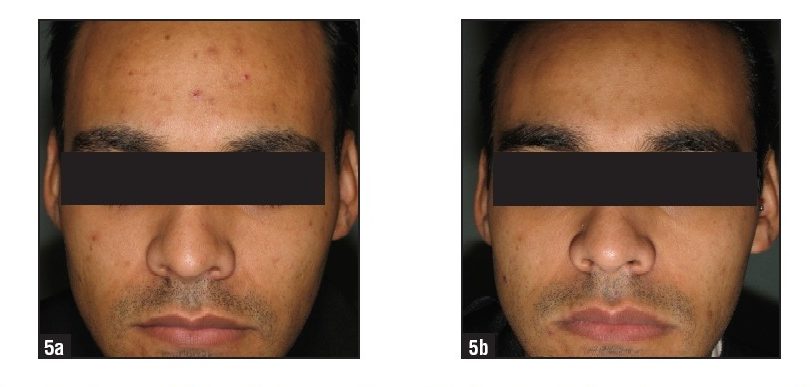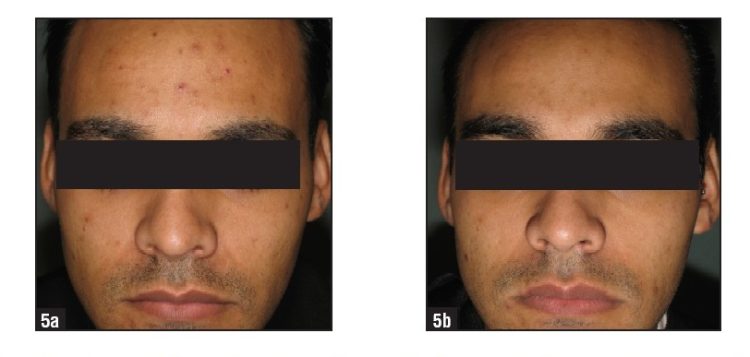 In two months, the device reduced the total lesions by 94%. The open and closed comedones were reduced by 100%, and papules by 84%.
Are LED masks safe?
Yes, according to The American Academy of Dermatology, LED devices are safe for acne management. Although rare, mild side effects like redness and swelling may occur but typically disappear within a few hours or by the following day.[5][6] Moreover, the masks don't cause pain or require recovery time. Since the LEDs don't use UV lights, they're completely harmless and do not cause skin damage.
Dr. Glynis Ablon, an expert at the Ablon Skin Institute in Manhattan, explains, "one of the most important aspects of LED phototherapy devices is their safety. LEDs are nonablative and nonthermal and do not cause damage to the epidermis or dermal tissue. When LED phototherapy is used alone, patients do not experience redness, peeling, blistering, swelling, or pain."[7]
When you should avoid LED light therapy
When applying topical products that cause sensitivity to light
When you have an active rash or psoriasis
When your skin is easily reactive or severely damaged
If you take certain medications, such as Accutane
If you have a history of certain conditions, including skin cancer
If you're pregnant
If you have rosacea, severe hyperpigmentation, or melasma
In these cases, you should talk to your doctor before starting LED treatment to confirm whether you're a good candidate for it.
How to use LED therapy at home
Typically, most at-home LED devices use a combination of lights to treat various skin issues. They're super easy to use and do not require medical attention. Just place the mask on your clean and dry face, and sit back for about 10-15 minutes. Once the session is done, remove the device and follow up with your usual skincare routine.
Generally, most devices require to be used anywhere from 5 to 15 minutes; read the instructions of your LED mask and follow them accordingly. Also, don't forget to protect your eyes from the lights. Most devices come with protection goggles, but if the one you purchase doesn't include a pair, you must buy eye protection separately.
How to prepare the skin for LED masks
Right before using the LED mask, cleanse your face with a gentle cleanser—starting with a fresh canvas is essential to allow the light to penetrate the skin without any hindrance. Also, ideally, consider exfoliating your skin one or two days before LED therapy to eliminate dead cell buildup and gunk. Personally, I do it every time, and I found that lights work more effectively on freshly exfoliated skin. Once you have your skin cleansed, you're ready.
What to do after
After LED masks, you want to apply a serum that targets your concerns. For instance, a serum with salicylic acid is excellent for targeting clogged pores, inflammation, and excess oil and works well in combination with blue light. A vitamin C serum or one with hyaluronic acid can also help when layered after the treatment. If your skin is sensitive, you can try a product with niacinamide and zinc, like The Ordinary Niacinamide 10% + Zinc 1%, which goes gently on the blemish-prone skin to control excess sebum.
After the serum, you should always follow up with a lightweight, non-comedogenic moisturizer to keep your skin hydrated and protected. Sunscreen with broad spectrum SPF 30 is also essential, so apply it daily as the last step of your morning skincare routine.
The best LED masks for acne
We have scoured the internet, and it turns out these are the best LED masks for acne to help you manage breakouts safely and effectively.
---
1
Dr. Dennis Gross FaceWare Pro
You might have seen this mask on your Instagram or other socials, and it's so popular for a good reason. This LED mask (created by a dermatologist) addresses multiple skin concerns like acne, dullness, and fine lines with red and blue light therapy in three different modes. Actually, the combination of lights this device uses was clinically proven to reduce inflammatory lesions by 76%, more than benzoyl peroxide or blue light alone.[4] All you have to do is strap the mask on, let it do its thing for three minutes, and voila! The device even has an automatic shut-off feature for safety and peace of mind. Plus, it's FDA-cleared, so you can trust it's safe and effective.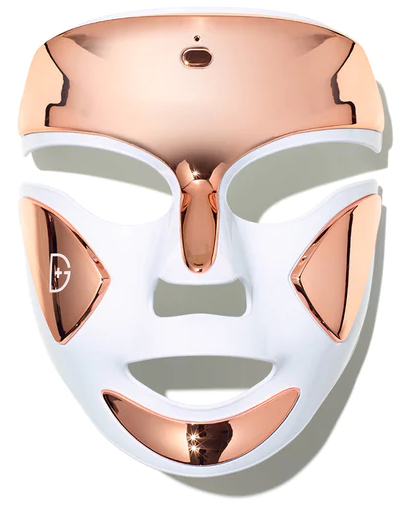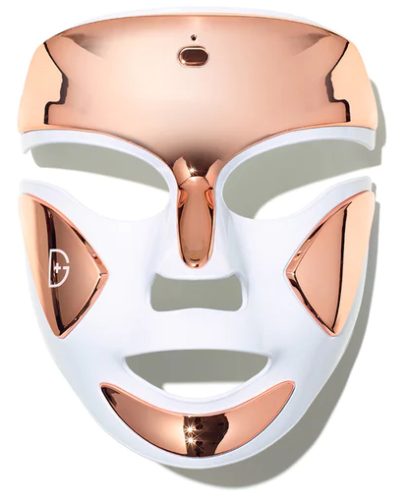 ---
2
Foreo Espada Acne Treatment Device
This little gadget features two technologies to give you the perfect facial treatment. While blue light destroys acne-causing bacteria, T-sonic pulsations provide a relaxing facial massage and blood flow to your skin. The device is more like a spot treatment, so you need to place it on every blemish—the built-in timer indicates when to move to the next spot. It features a smart skin sensor that turns blue light on only when in contact with your skin. It's even app-driven for personalized sessions.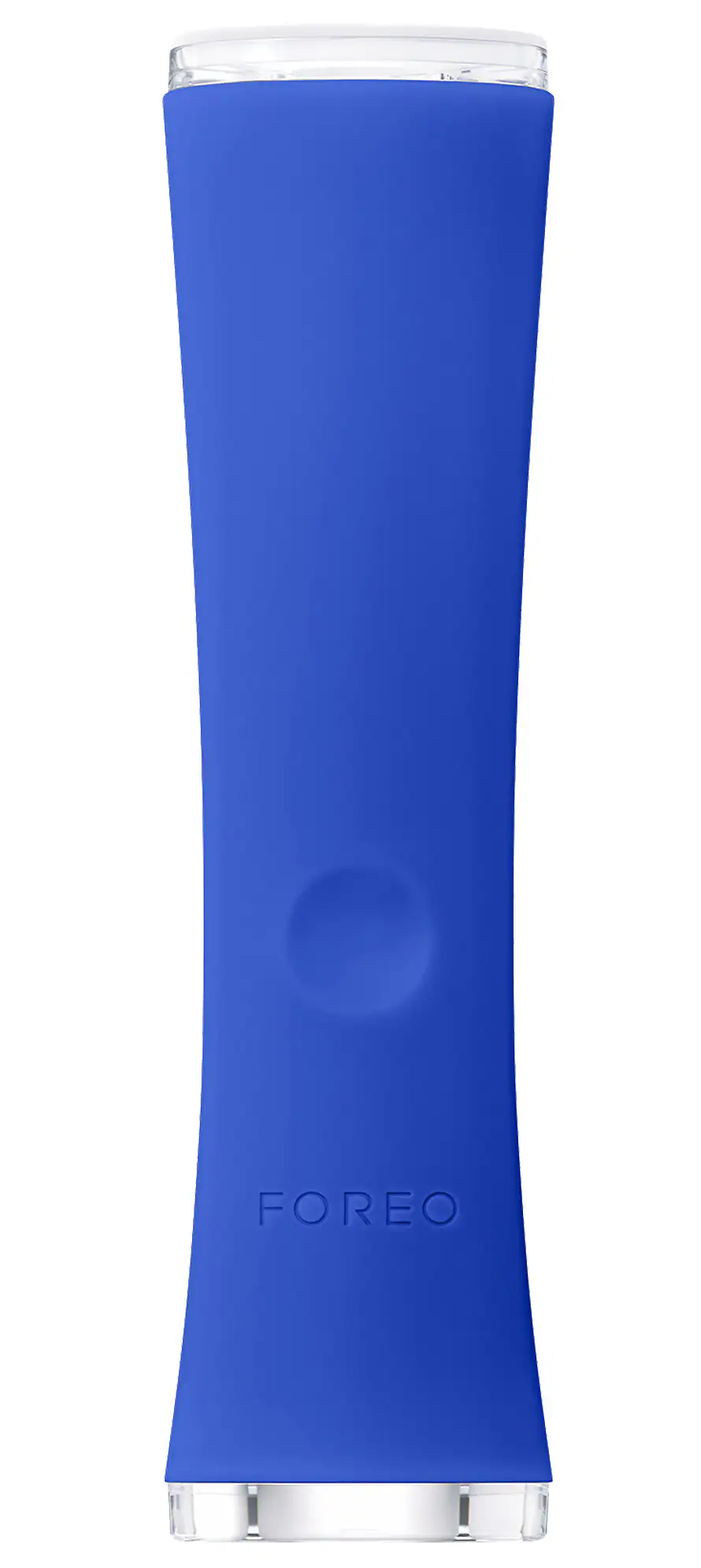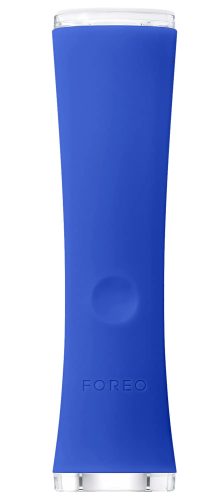 ---
3
Newkey LED Face Mask
The most popular LED mask on Amazon, this one promises to give your skin the reboot it needs with only 20 minutes every other day. It has seven different color settings to help address a wide array of skin issues, including blue to kill acne-causing bacteria and ease swelling, red to help with collagen production and give a smoother appearance, and green to target post-acne blemishes. According to clinical studies performed by the brand, the mask reduced acne breakouts by 73% in two weeks.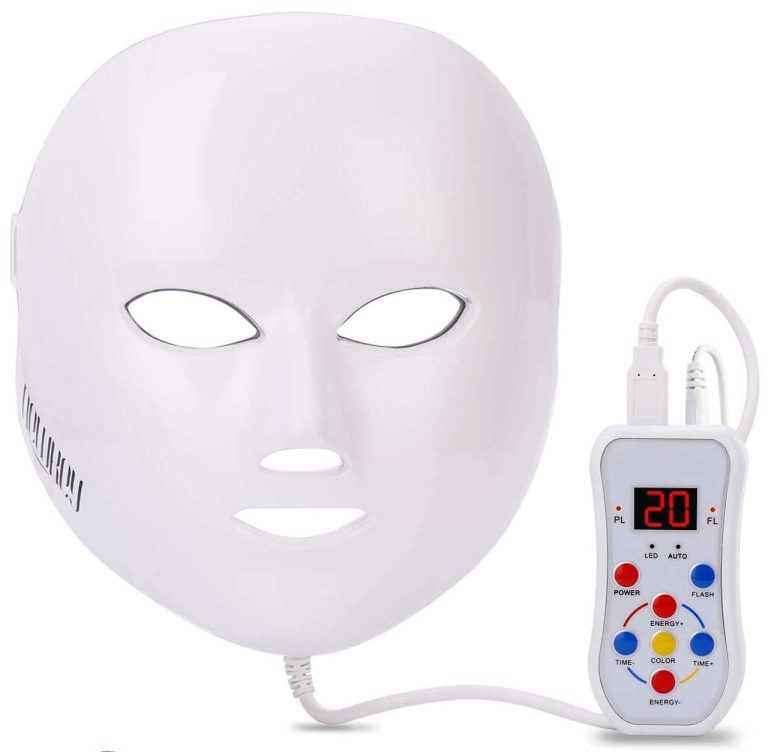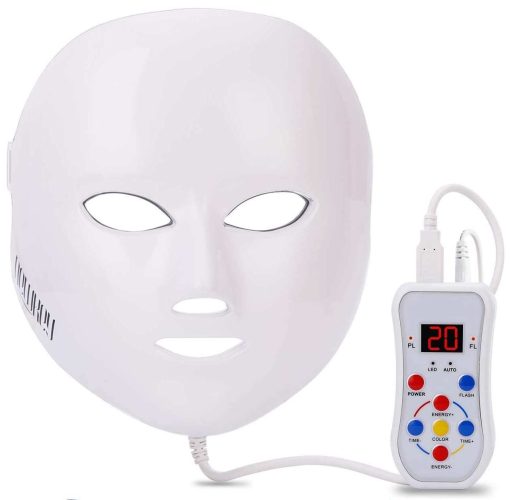 ---
4
Revive Light Therapy Clinical Acne Treatment
This one is a master of one thing and one thing only: putting a stop to breakouts with 3-minute treatments. With an arsenal of 40 diodes emitting blue light waves, this device reduces blemishes while calming redness, balancing oil production, and promoting clearer skin overall. Plus, it's portable, making it a must-have if you're constantly on the move.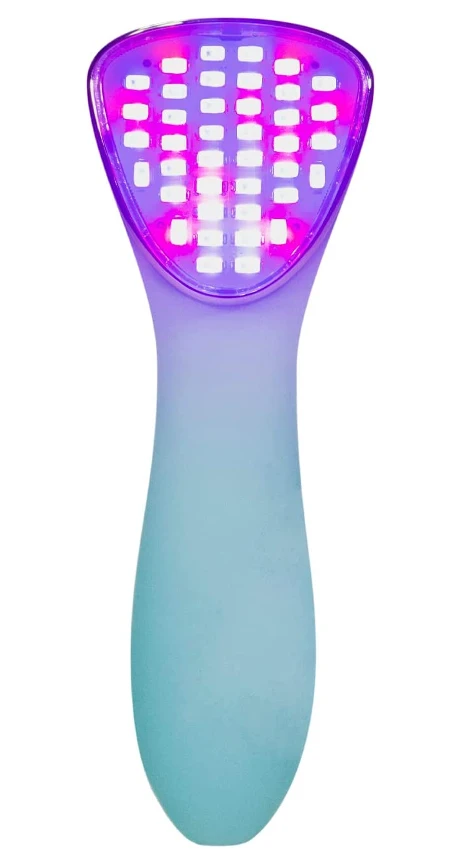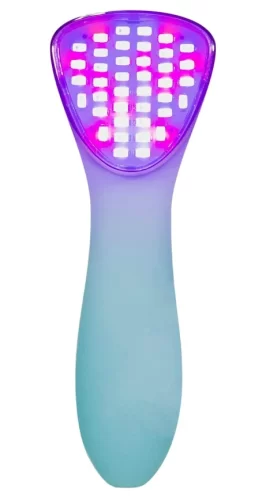 ---
5
Project E Beauty Photon Skin Rejuvenation Mask
This mask has five intensity levels and seven different color settings to help address various skin issues. According to 95% of people who've tried the device, you should start to see a difference in your complexion in as little as one week. Project E Beauty boasts 102 LEDs that improve your skin, with 40 dedicated for neck use, so you can tackle two areas at once. P.S.: Although it's 50% lighter than the previous version, a few users still report it feeling heavy on the nose bridge.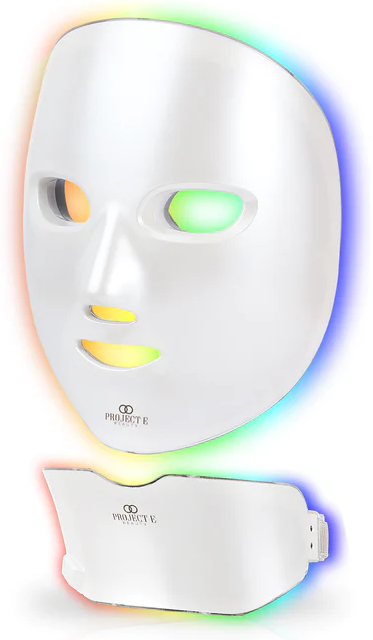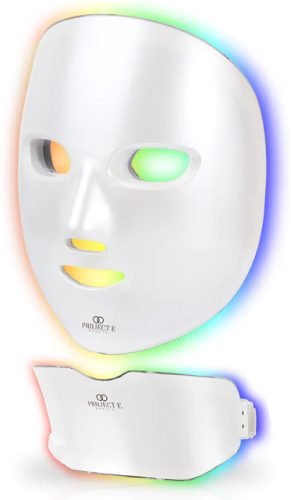 Read full review: Project E Beauty Photon Mask
---
6
Aphrona LED Facial Mask
Aphrona LED Facial Mask uses the holy grail of colors to give you better skin—blue, red, and green. So it does it all, from fighting acne bacteria to reducing sebum, softening fine lines, and improving skin texture. Lay down, relax, and let the 150 LEDs do the hard work.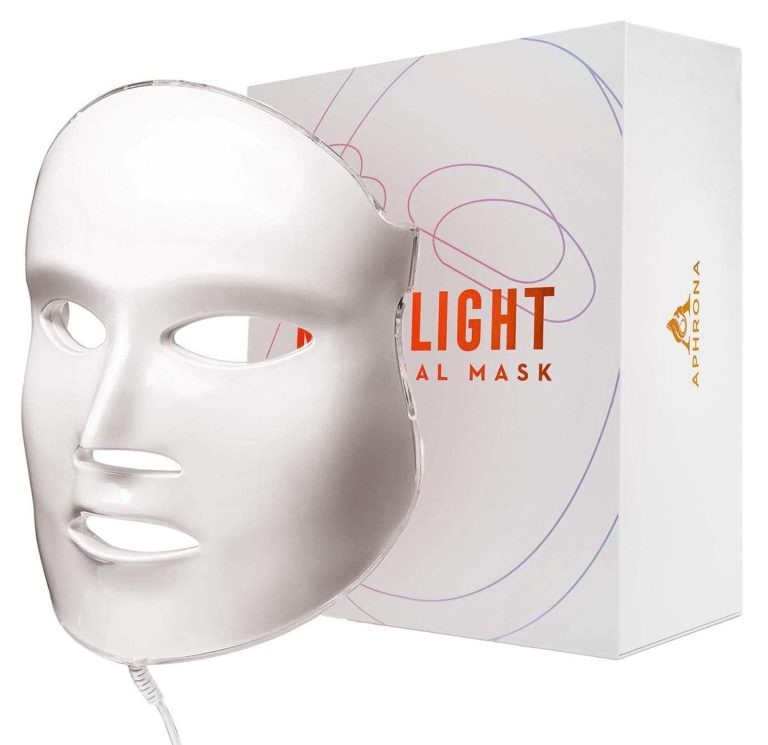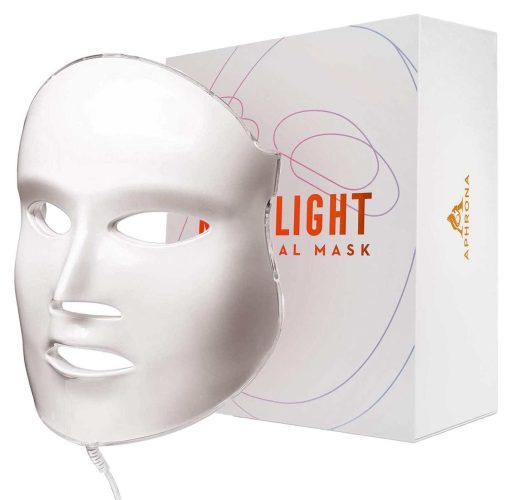 ---
The bottom line
We stand behind every device we recommend and are confident in saying they're the best LED masks for treating acne. All of them use blue light therapy, which is known to effectively eliminate acne-causing bacteria without any negative side effects. However, LED treatment is not a substitute for your usual skincare regimen and actually provides better results when used in tandem with a targeted anti-acne routine.
Read next: 11 Best Acne Treatments for Sensitive Skin
---
Footnotes
At Women's Concepts, we're committed to bringing you the best advice for your skincare needs. Our team spends quality time vetting products, from bestsellers to up-and-comers, to find the most effective solutions. And while we may receive a commission on some products, we want to be clear that our product selections are independent, and not influenced by any marketing claims or commissions. We rely on reliable sources such as dermatologists' insights, clinical trials, and scientific journals to ensure that our recommendations are based on facts, not hype. Our editorial policy ensures that all statements and claims have clear and legitimate references. Read our editorial policy to learn more about our sources of information, our process of researching and fact-checking the content, and how our team strives to keep all articles updated, completed, and trustworthy.