If you're looking for the best salicylic acid serums, you're most likely struggling with excess sebum, blackheads, and pimples. The good news is that this beta-hydroxy acid (BHA) tackles all of the above and then some more. Due to its oil-soluble nature, salicylic acid is able to penetrate the outer layer of the skin, where it dissolves the debris that clogs pores, sloughs off dead cells from the skin's surface, and has antibacterial and anti-inflammatory benefits. Over time, all these lead to fewer breakouts and smoother, evener skin, so a serum infused with salicylic acid is the best ally to keep foes in control and achieve what is yours: radiant, pimple-free skin.
How to find the best salicylic acid serum
Salicylic acid is the most wanted for addressing breakout-prone skin; there's no denying it. However, because salicylic acid works by sopping up oil, it can dry the skin, which ironically, can lead to even more sebum — when the skin gets parched, the sebaceous glands go into overdrive and secrete more sebum to make up for the loss. The idea is that balance is key. In the best salicylic acid serum, you should also find hydrating ingredients like hyaluronic acid and moisture trappers, such as squalane and peptides, to counteract the possible drying effects of this BHA. And if it packs antioxidants to defend your skin against free radical damage (which can often be a cause of pimples), you hit it big. More important, still, your salicylic acid serum shouldn't clog pores.
The best salicylic acid serums
Below, find the best salicylic acid serums that your skin will thank you for.
---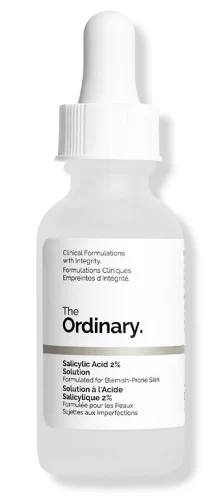 The Ordinary Salicylic Acid 2% Solution
Hear me out; people don't rave about this product for no reason. The new formula is made with 2% salicylic acid (maximum allowed in OTCs) and lacks drying fragrances and alcohol. Instead, it's spiked with saccharide isomerate, which is a plant-derived humectant that aims to offset dryness and balance sebum and witch hazel water, known for its pore-shrinking and antibacterial benefits. This formula has a pH ranging between 3.20 to 4.00, so if your skin is sensitive or compromised, you should consider a gentler alternative.
---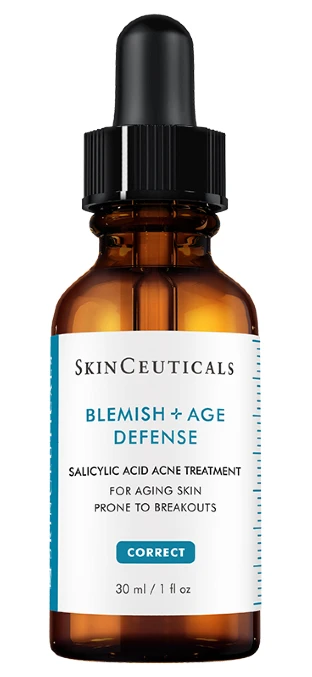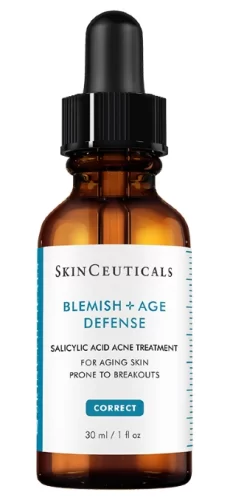 SkinCeuticals Blemish + Age Defense
Elevate your skincare routine with SkinCeuticals Blemish + Age Defense Serum if you're struggling with adult acne. It fusions 1.5% salicylic acid, 0.3% lipohydroxy acid, and 2% dioic acid, all working synergistically to reduce oil, decongest pores and refine skin texture. At the same time, the 3.5% glycolic acid minimizes the appearance of fine lines, wrinkles, and dark spots, smoothing and evening skin. The product also works super fast; most reviewers noticed an improvement in their skin texture, tone, and pimples after the first week.
---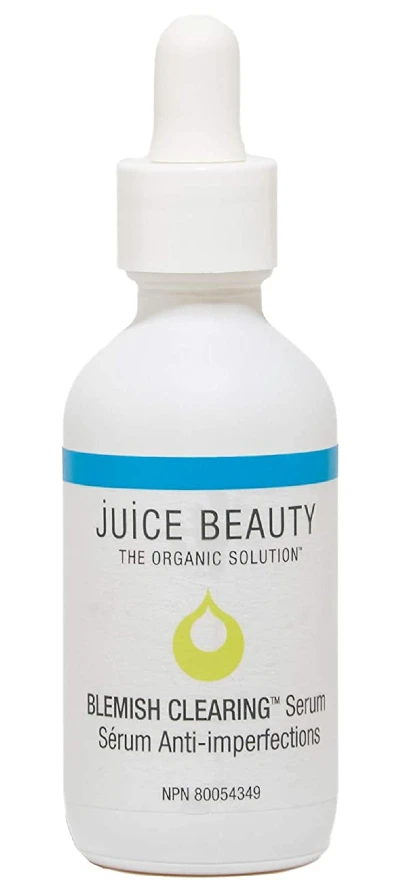 Juice Beauty Blemish Clearing Serum
Want the best natural salicylic acid serum? Juice Beauty has a remarkable formula that includes willow bark-derived 1.75% salicylic acid along with willow bark extract — a boon for balancing oil, unclogging pores, and reducing breakouts. The crystal clear liquid has a hydrating-feeling texture without the stickiness, and the opaque glass bottle shields the antioxidants in the formula, ensuring you get most of their protecting benefits. Definitely, the way to nix unwanted blemishes!
---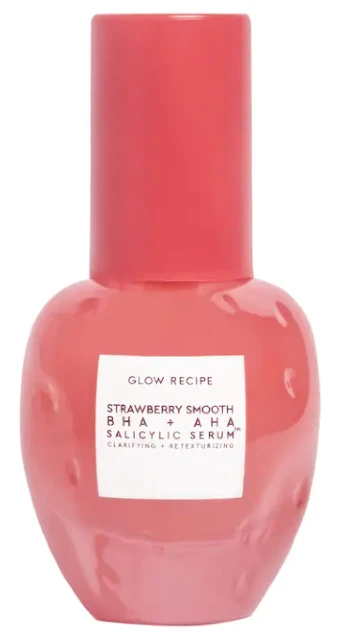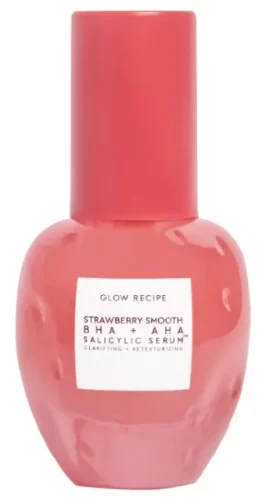 The Glow Recipe Strawberry Smooth Salicylic Acid Serum
The Glow Recipe Smooth Serum takes the stage due to a 2% concentration of encapsulated salicylic acid, which works hard (yet gently) to decongest pores and minimize blemishes. Over time, the serum will improve the appearance of uneven tone and texture, too, due to a blend of alpha-hydroxy acids. We love it because it's got bisabolol and allantoin to calm the skin, while sodium hyaluronate and niacinamide add hydration to prevent dryness and further excess sebum. The rich water-gel texture absorbs in the blink of an eye, leaving no sticky feeling behind. Plus, you'll adore the fresh-cut strawberry scent.
---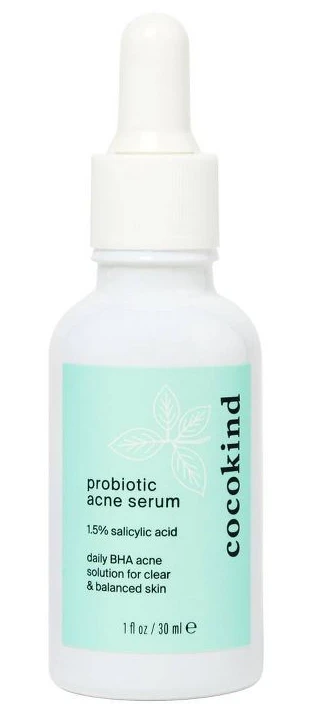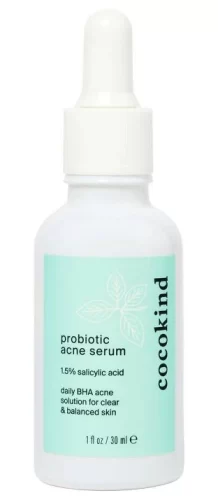 Cocokind Probiotic Acne Serum
Minimize acne and help blackheads disappear effectively yet gently with Cocokind Probiotic Acne Serum, made with 1.5% salicylic acid. The serum vows to slough off dead cells and balance oil while reducing inflammation. Besides, thanks to the aloe leaf juice base, probiotics, and beta-glucan, it ensures your skin won't irritate or dry. Bonus: the formula is free of fragrance, preservatives, parabens, or phthalates — in case this is more in line with your preference.
---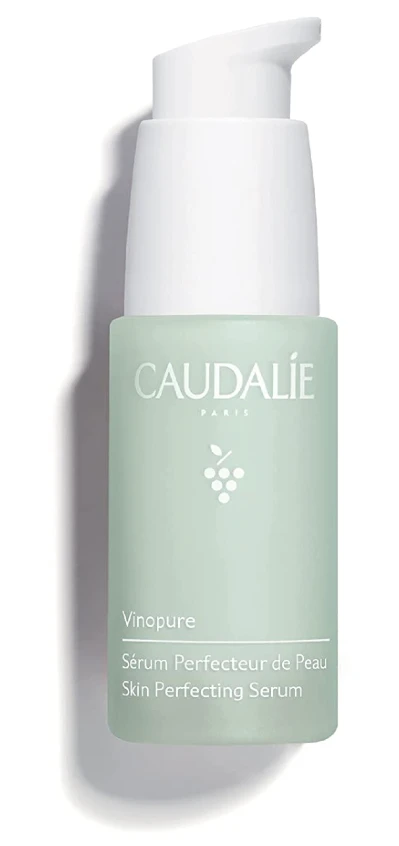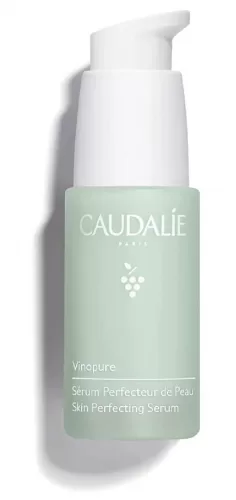 Caudalie Vinopure Natural Salicylic Acid Pore Minimizing Serum
This serum is made with naturally-derived salicylic acid to exfoliate and prevent blemishes, while grapeseed polyphenols limit sebum oxidation, reducing blackheads. The non-comedogenic formula is also spiked with a mingle of lightweight oils that don't block pores but soften skin and ensure no moisture is lost. That'd be good enough for us, but the benefits don't stop there. It combines rose water, niacinamide, and low molecular hyaluronic acid to soothe, minimize redness and reduce discomfort.
---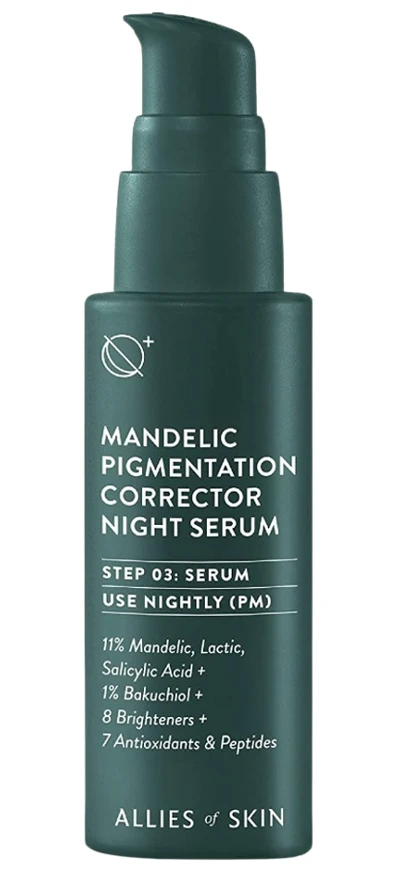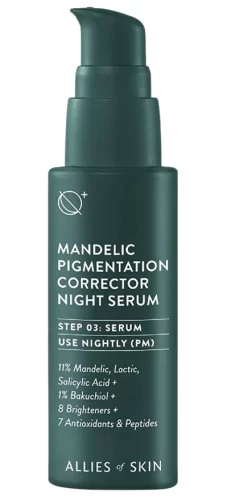 Allies Of Skin Pigmentation Corrector Night Serum
Consider Allies Of Skin Pigmentation Corrector Night Serum the solution to achieving your smoothest, flawless skin yet. With each application, the serum helps decongest pores and slough off dead cell buildup that leads to pimples (thanks to salicylic acid and mandelic, lactic acids) while reinforcing the antioxidant defense system with 1% superoxide dismutase and 1% bakuchiol. Plus, the serum packs a punch of peptides, niacinamide, and hyaluronic acid to guarantee your skin won't get too thirsty. This one is especially ideal if you struggle with post-acne marks — the greatest ally in your PM routine.
---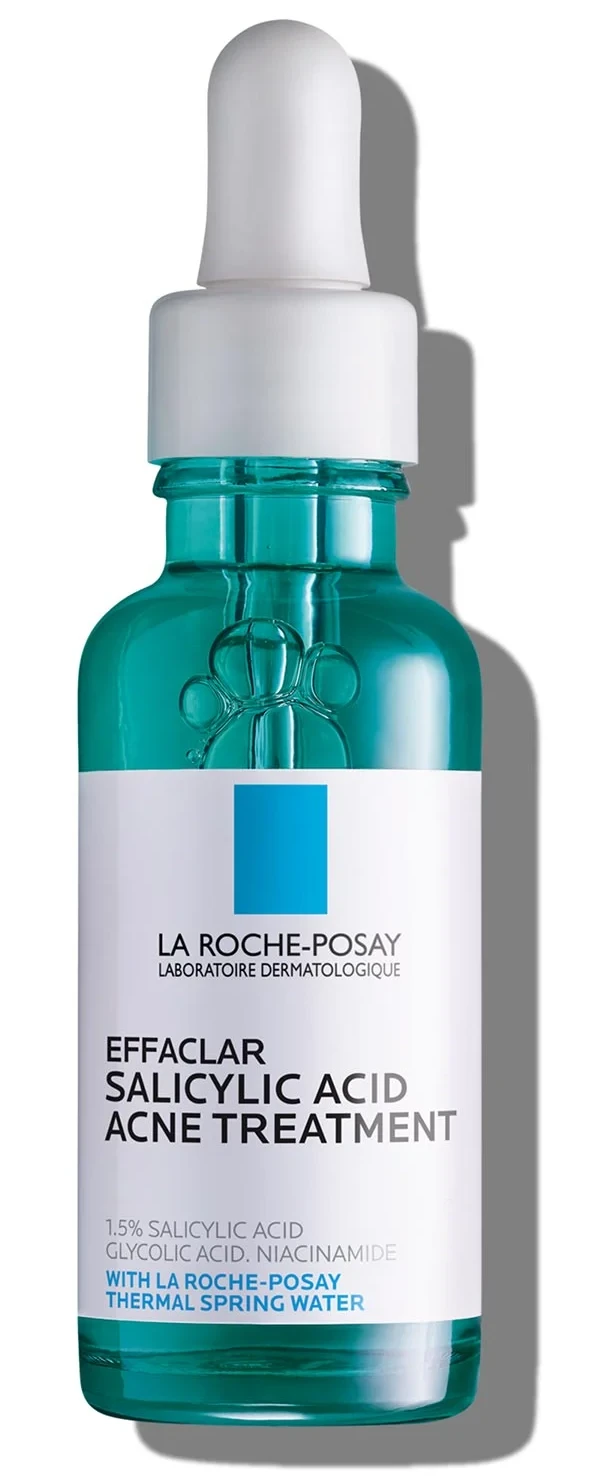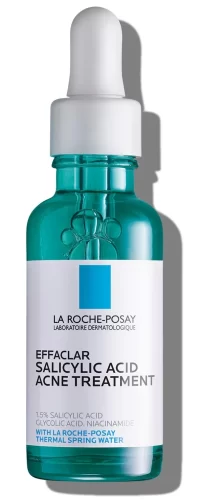 La Roche-Posay Effaclar Salicylic Acid Acne Treatment Serum
Not only does this serum removes dead skin and reduces sebum preventing new breakouts from forming thanks to 1.5% salicylic acid, but it improves texture and evens tone with glycolic acid. Additionally, the LHA (salicylic acid derivative) gently exfoliates the skin's surface to reveal a luminous, soft complexion. Rest assured, the serum also contains niacinamide and castor oil to keep dryness at bay and is non-comedogenic
---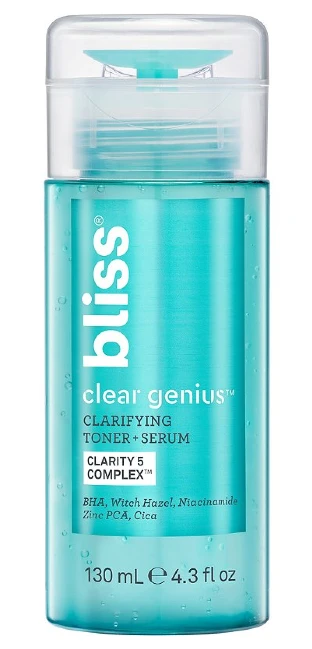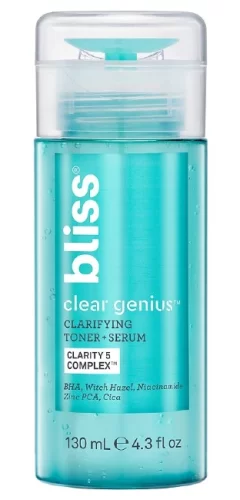 Bliss Clear Genius Toner + Serum
If you're a fan of double-duty products, you should know that Bliss Clear Genius fusions a toner and serum in one game-changing product. The formula works to purify pores while delivering ingredients for ultimate clear and calm skin without irritations. In addition to salicylic acid, the serum has witch hazel water, niacinamide, zinc, and cica, all great at soothing skin and calming inflamed pimples. P.S.: the scent is given by tea tree oil and has a fresh and energizing feeling that everyone raves about.
---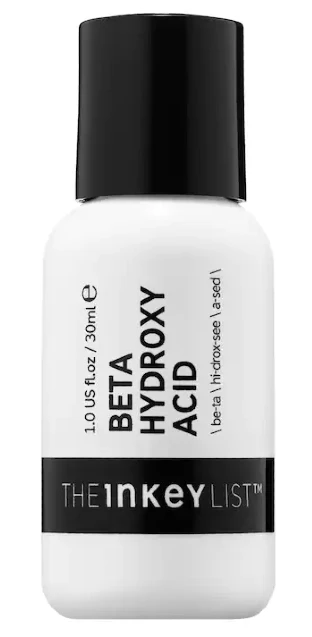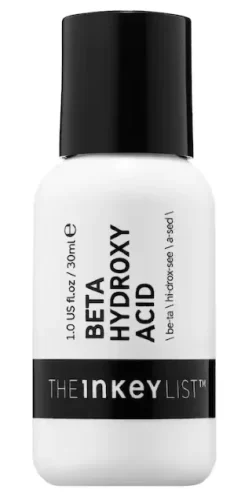 The Inkey List Beta Hydroxy Acid
A potent duo of 2% salicylic acid and zinc in The Inkey List Beta Hydroxy Acid clears junk from deep within the pores to keep pimples from coming to a head. It's a minimalist albeit potent formula that fights breakouts, balances oil, and reduces pores' appearance by unclogging them without ever parching the skin, thanks to 1% small molecular hyaluronic acid that goes straight into the skin to offset dryness and regulate sebum production.
---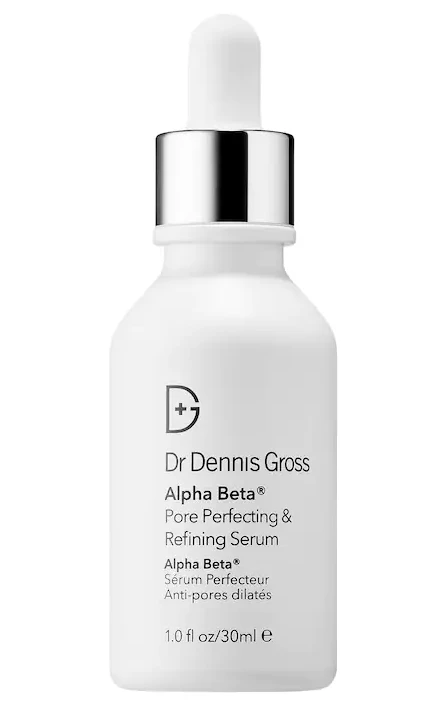 Dr. Dennis Gross Alpha Beta® Pore Perfecting & Refining Serum
As one of the best salicylic acid serums, this one works hard to help you recoup your breakout-free skin. The potent formula boasts salicylic acid and a slew of AHAs to resurface the skin, cleanse pores, and speed up pimple healing. At the same time, it prevents new blemishes from forming by dissolving sebum and junk from the pores and encourages natural cell turnover (thanks, retinol). Its lightweight texture gets absorbed in a second, leaving no sticky feeling behind, making the perfect canvas to follow up with your moisturizer after salicylic acid.
---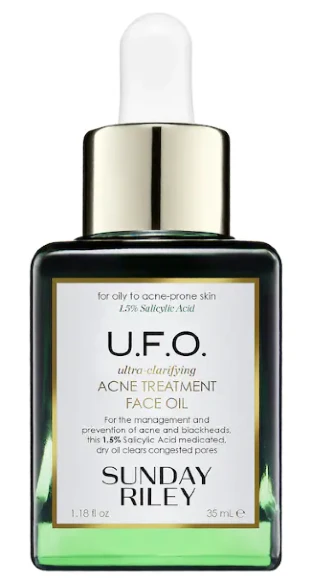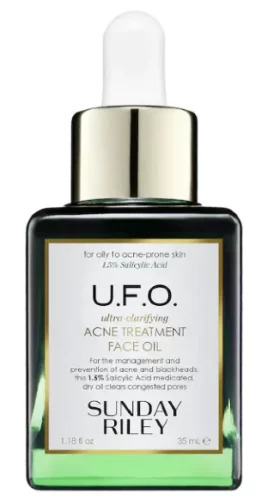 Sunday Riley Ultra-Clarifying Acne Treatment Face Oil
Ok, this is not technically a serum but oil, but it couldn't miss from our round-up. You already know salicylic acid and tea tree oil is a winning duo for addressing acne. Well, this non-comedogenic face oil packs them both, plus a slew of botanical extracts to nourish and soften fine lines on a base of milk thistle, which is great for improving inflamed pimples. So what could go better? The oil is made with licorice root and hexylresorcinol to help brighten post-acne marks too.
---
FAQ about salicylic acid serums
Can I use a salicylic acid serum every day?

While for some it's okay to use a salicylic acid serum every day, other people may experience dryness or, in rare cases, irritation. Thus, start by applying your salicylic acid-infused serum three times a week and work up from there, allowing your skin to adjust to it and build tolerance.

Should I moisturize after salicylic acid serum?

Yes, moisturizing after using salicylic acid serum is a great way to trap the benefits into the skin and also hinder the potential drying effects of the acid.

Should I use a salicylic acid serum in the morning or night?

You can layer your salicylic acid serum either morning or night, or both.