Fact-checked by Ana Vasilescu, certified skincare specialist.
When it comes to finding an acne treatment for sensitive skin, it can feel like trying to find a needle in a haystack. That's because almost every potent acne-fighting ingredient available can be a double-edged sword, providing relief for blemishes while simultaneously drying out and irritating delicate skin. From exfoliating washes that promise to keep your pimples in check to spot treatments that claim to zap a zit overnight, there's no shortage of treatments to choose from. But unfortunately, a lot of these popular products come with a price.
If you're like me, you may fall into the trap of thinking if your acne treatment is burning, it's working, but this only inflames sensitive skin further. When you use products that are too harsh for your skin, you can end up with more redness and irritation than you had to begin with, leading to a never-ending cycle of inflammation and breakouts. But don't worry, I've compiled a list of the best products for sensitive skin with acne that'll clear, purify and treat your complexion without bothering it.
How to treat acne when you have sensitive skin
Use gentle treatments
When you have sensitive, acne-prone skin, your top priority is to pay attention to the product's ingredient list and avoid high concentrations of ingredients such as retinoids, tea tree oil, salicylic acid, and benzoyl peroxide. While these are effective actives for clearing pimples, they can be too powerful and drying for those with problematic skin. Instead, focus on gentle products that still contain pimple-fighters but in a balanced formula. Head towards formulas that pack in soothing and calming agents, such as green tea, sulfur, and aloe vera, as well as mild concentrations of AHAs, such as glycolic and lactic acid.
Also, products with niacinamide and zinc are your BFFs if you have sensitive skin prone to blackheads and whiteheads. Both have oil-regulating and anti-inflammatory properties that can reduce breakouts and work gently on the skin without upsetting it—exactly what you need.
Avoid comedogenic products
It goes without saying: When dealing with acne, avoiding comedogenic products is key to keeping breakouts away. These products clog the pores and trigger inflammation, which ultimately leads to more pimples. Here's a list of comedogenic ingredients to steer clear of.
Start low and slow
Another factor that goes into treating acne when you have sensitive skin is the frequency with which you use your products. Even if you're using the gentlest acne treatment, it's essential to start out slow and steady to gauge how your skin reacts. Once your skin has acclimated and you see there is no irritation, you can increase how often you use it.
Keep your skin barrier strong
Your skin needs a strong lipid barrier to resist potent acne treatments. This barrier has the role of keeping hydration in and irritants out, and when it's damaged, your skin is more likely to react to other products. Avoid over-washing your face because it can deplete the moisture barrier and exfoliate no more than two times a week. Moreover, applying a night cream with fatty acids and ceramides in your nighttime routine is a good way to restore the barrier and increase your skin tolerance to acne treatments.
Do a patch test
When trying out new treatments, it's essential to patch test the product on a small area of your skin first to see if you have any adverse reactions. Sensitive skin is more prone to redness, so patch testing can help you avoid potential allergic reactions or irritation.
Wear SPF
Sun damage has been shown to exacerbate acne and skin sensitivity, so wear SPF every time you go out. We know applying sunscreen every day can be a hustle for some of you, so you can try using an SPF moisturizer for acne-prone skin to get the best of both worlds in one product: intensive moisture and sun protection.
Use a gentle moisturizer after the treatment
Using a gentle and lightweight moisturizer right after applying acne treatments can help to soothe and protect your sensitive skin.
The best acne treatments for sensitive skin prone to pimples
Now that you know the theory, take a peep below to see our top picks for the best acne treatment for sensitive skin. We reviewed each product independently based on the amount of antibacterial, purifying, and soothing ingredients it packs. They're all recommended by dermatologists and deliver results without worsening breakouts.
---
La Roche-Posay Effaclar Duo Acne Spot Treatment
It's always a good idea to keep a spot treatment on hand, especially for the days when you wake up with a huge pimple out of nowhere. Well, La Roche-Posay has one of the best acne spot treatments for sensitive skin that can be used up to three times a day. Since it's formulated with 5.5% benzoyl peroxide, lipo-hydroxy acid, and glycerin, the product has the ability to penetrate deep within the pores to fight acne-causing bacteria while maintaining hydration within the skin to prevent moisture loss. It's perfect whether your skin is dry or problematic.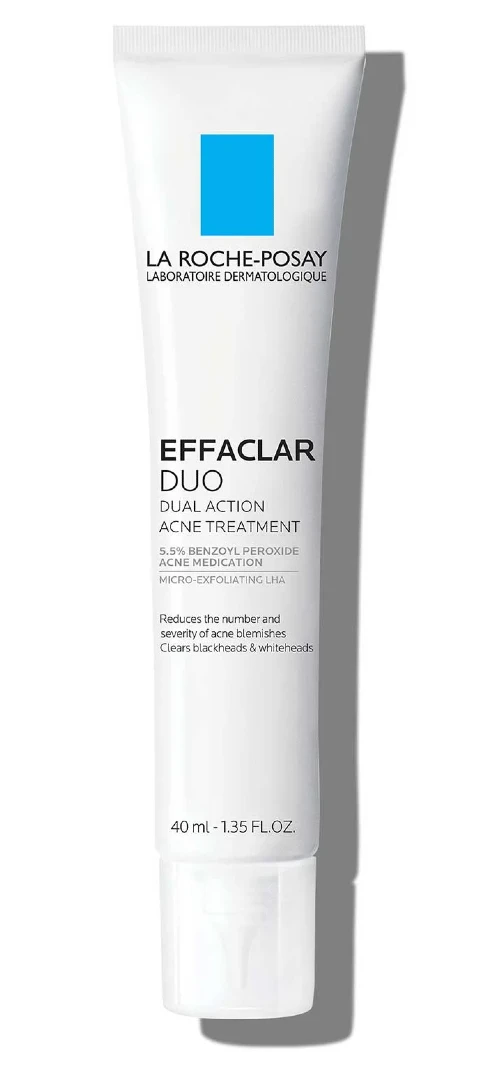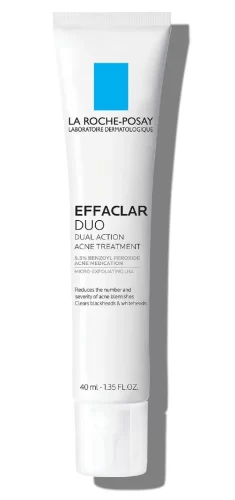 ---
Avène Cleanance Concentrate Blemish Control Serum
With over 50 years in skincare, Avène's entire line is dedicated to caring for sensitive skin with products formulated with its signature Thermal Spring Water that soothes and calms inflammation. The Avène Cleanance Concentrate Blemish Control Serum tackles blemishes without bothering the skin, thanks to its simple formula containing milk thistle extract, silica, and thermal spring water. It's gentle enough to be used twice daily as an all-over serum to control oil production and reduce breakouts. It's especially effective if you deal with chronic acne.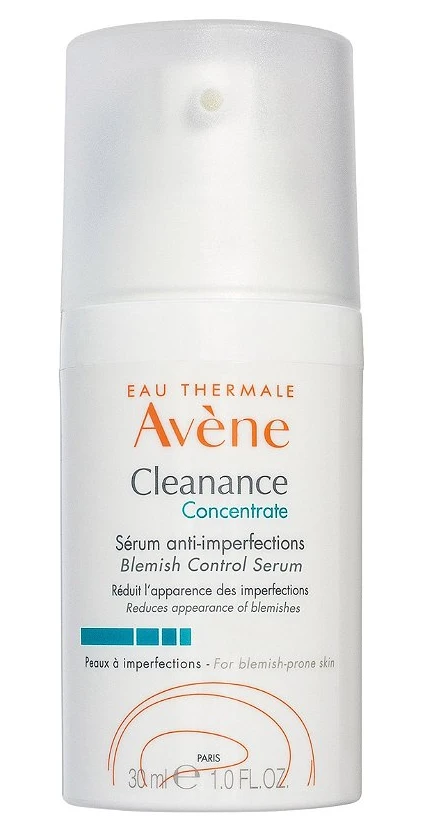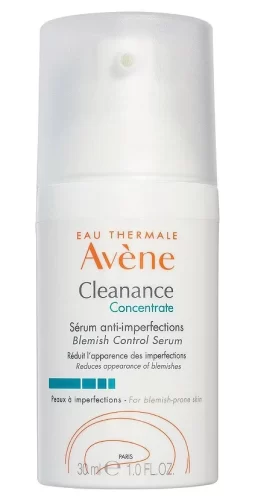 ---
Vichy Normaderm S.O.S Acne Rescue Spot Corrector
Unlike most acne spot treatments that rely on benzoyl peroxide or salicylic acid, the Vichy Normaderm S.O.S Acne Rescue Spot Corrector is packed with 10% sulfur to help reduce current blackheads, prevent future ones, and ease inflammation. Treatments containing sulfur are some of the best products for sensitive skin prone to acne, thanks to their ability to absorb excess oil and dry up blemishes without drying the rest of the skin out. In addition to sulfur, this one is also made with glycolic acid to slough off dead cells and niacinamide to strengthen the protective barrier. This is what we call a winning product.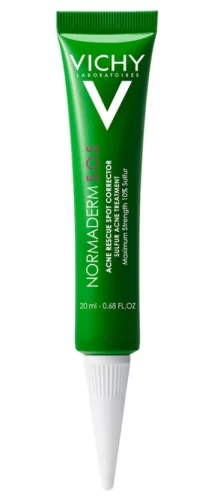 ---
Paula's Choice Skin Perfecting 2% BHA Liquid Exfoliant
A cult favorite and winner of several skincare awards, the Paula's Choice Skin Perfecting 2% BHA Liquid Exfoliant has long been hailed as a staple for acne sufferers. It can be used up to twice daily after cleansing as a leave-on exfoliant that gently sheds dead cells and oil buildup while brightening uneven skin tone and minimizing the appearance of pores. While most products with salicylic acid are too harsh for sensitive skin, this one strikes the perfect balance at a concentration of 2% combined with the soothing antioxidant power of green tea.

---
SkinCeuticals Clarifying Clay Mask
Clay masks often get a bad rap as being overly drying and causing irritation, but with the right formula for reactive skin, they can minimize breakouts sans irritation. The SkinCeuticals Clarifying Clay Mask fits the bill by combining kaolin and bentonite, two of the highest quality earth clays available, with aloe and chamomile to offset irritation to dry up pimples without drying out the skin. It's also made with 2% mixed fruit extracts rich in AHAs to gently exfoliate buildup from acne and excess sebum.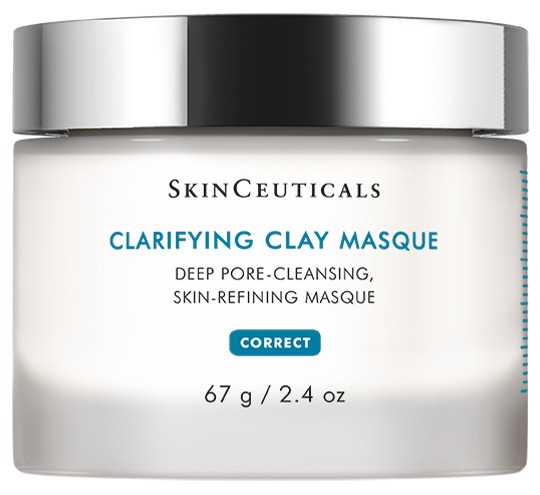 ---
Newkey Led Face Mask Light Therapy
If you're looking for a powerful weapon to fight acne, you might want to try out this LED mask that uses blue light therapy. This technology has been proven to be a real game-changer in eliminating acne-causing bacteria. See, P. acnes bacteria create a pigment called porphyrin, which is like a magnet for blue light. When porphyrin absorbs blue light, it generates free radicals that kill the bacteria. Plus, blue light also reduces inflammation and accelerates skin healing. This device also has got you covered with seven different treatments, including green light to fade blemishes and red light to boost collagen production and help your skin absorb your skincare products better. And the best part? All it takes is 15 minutes, four times a week, and you're on your way to clearer skin. No pain, no recovery time needed.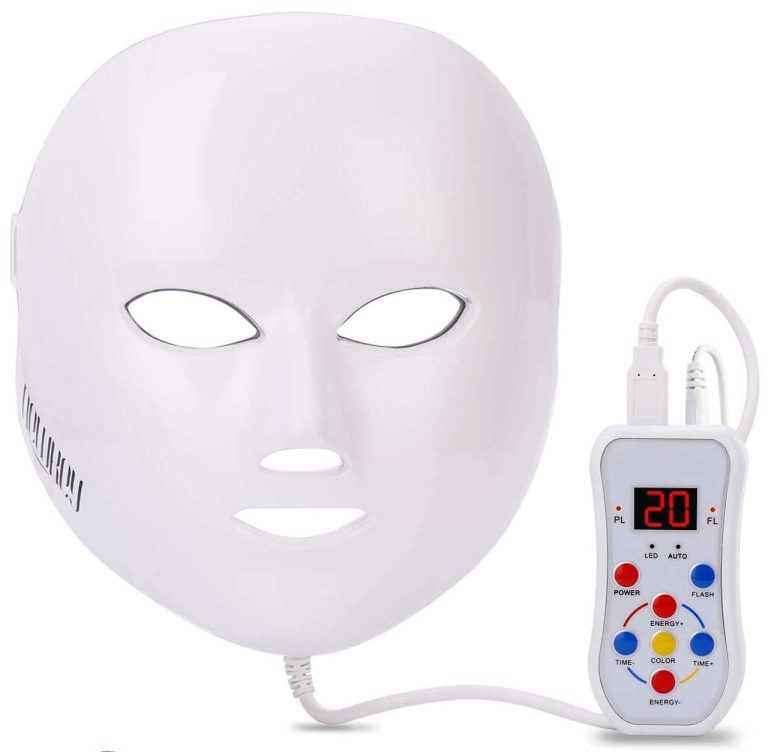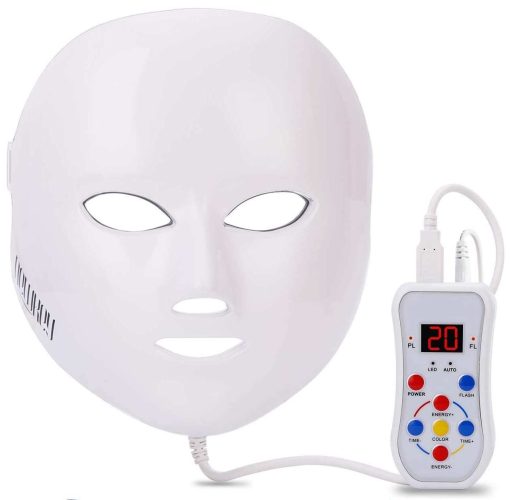 ---
The Ordinary Niacinamide 10% + Zinc 1%
The Ordinary made one of the gentlest products for sensitive skin with acne that won't break the bank. Fusing a combination of niacinamide and zinc, this acne treatment relies on anti-inflammatory antioxidants and vitamins to soothe irritation and inflammation, protect the skin from external stressors, and strengthen the skin barrier overall. This results in smoother skin with fewer breakouts. Yet, the benefits don't stop there, either—the serum also helps fade hyperpigmentation, minimize pores' appearance, and reduce fine lines.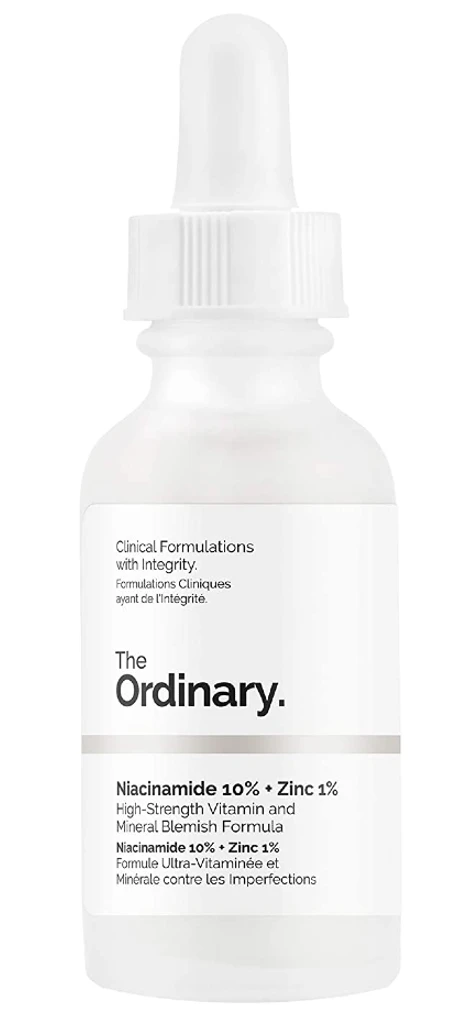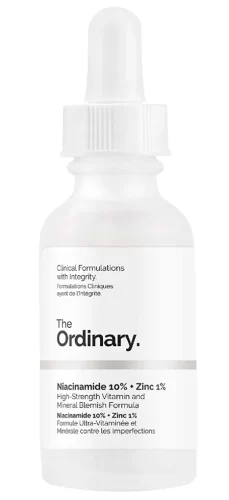 ---
Murad Acne Control Clarifying Cleanser
While most clarifying cleansers are meant for normal to oily skin types, the Acne Control Cleanser from Murad is incredibly great for sensitive skin since it can treat breakouts without irritating or drying. This clarifying cleanser is formulated with two types of salicylic acid to break up oil and buildup that contribute to acne. One is a free form of salicylic acid that starts treating breakouts immediately, while the other is an encapsulated form that's more gentle and continues treating after rinsing.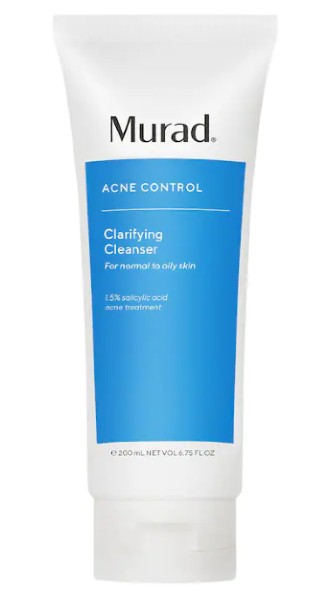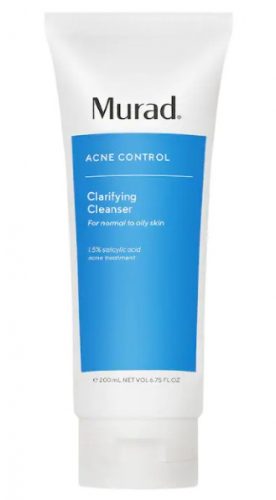 ---
Juice Beauty Blemish Clearing Serum
If you're looking for organic and vegan products, reach for Juice Beauty Blemish Clearing Serum. It reduces breakouts and unclogs pores with willow bark extract and salicylic acid, purifying blemishes-prone skin by removing bacteria that cause acne in the first place. Your sensitive skin is safe with this blemish-clearing serum as it boasts a whole host of antioxidants, including vitamin C, green tea, and coenzyme Q10, to add an extra layer of protection and keep irritations away.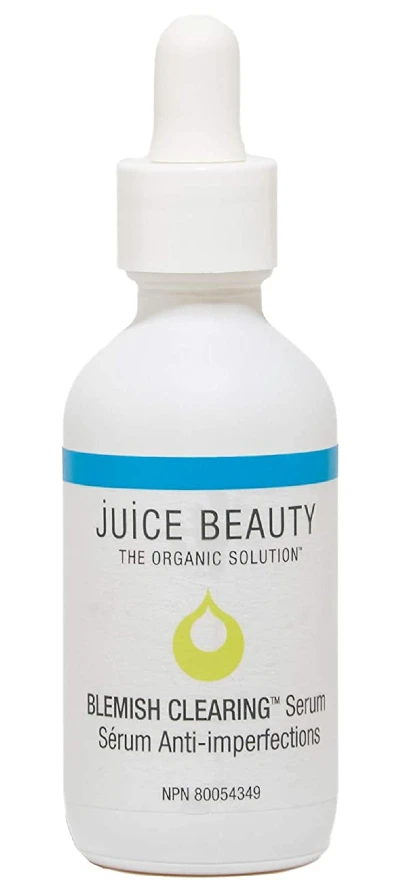 ---
Biossance Squalane + Probiotic Gel Moisturizer
There's literally nothing in this moisturizer that can mess up your complexion but calms, balances, and hydrates it. Biossance Squalane + Probiotic Gel Moisturizer provides the perfect amount of moisture for sensitive, breakout-prone skin while battling acne with probiotics, squalane, and lactic acid. Most reviewers noticed fewer pimples and more hydration after incorporating this moisturizer into their beauty ritual, so we really believe it's worth a shot (or more). Plus, it's lightweight, non-comedogenic, and doesn't feel greasy at all, leaving skin soft, supple, and plumped all day long.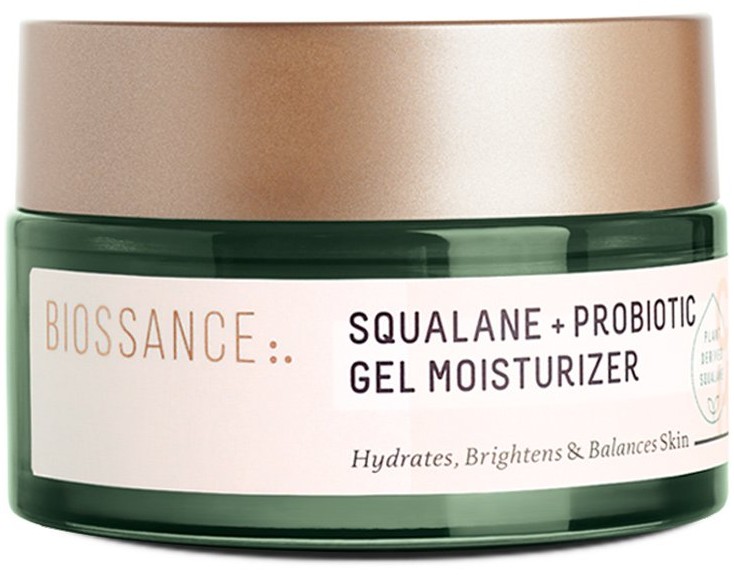 ---
Peter Thomas Roth Pro Strength 10% PHA Exfoliating Clarifying Liquid
Any skin needs exfoliation, especially if prone to acne, to remove the buildup of dead cells and bacteria that can clog pores and cause more breakouts. That's why Peter Thomas Roth Pro Strength 10% Pha Exfoliating Clarifying Liquid is one of the best acne treatments for sensitive skin—it loads a delicate cocktail of chemical exfoliants to target blemishes and uneven skin texture. And I mean delicate because the product uses 10% gluconolactone which is one of the gentlest exfoliators out there. And to be super effective, it also packs glycolic and salicylic acids, which you already know how good they are.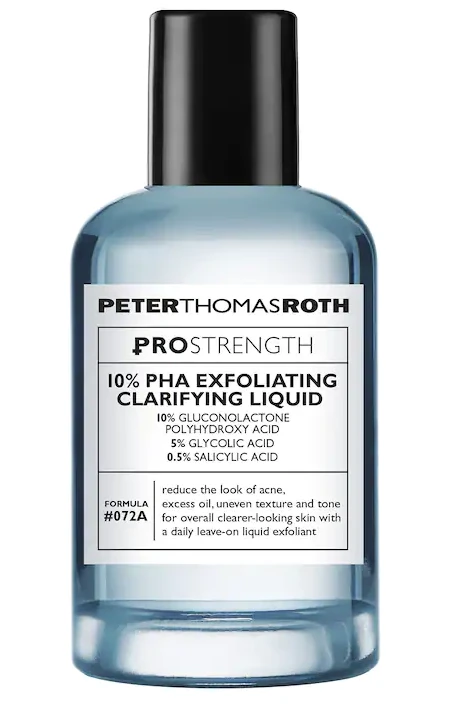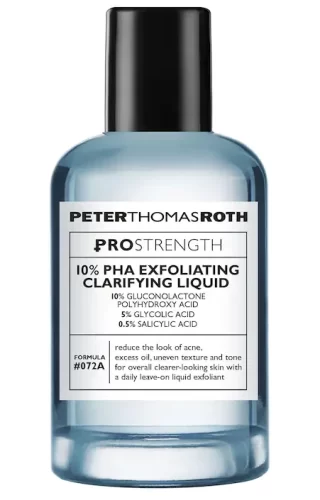 ---
The takeaway
When you have sensitive skin prone to acne, it's easy to feel discouraged and hopeless. There's nothing worse than having a dry, tight face with breakouts adding to the mix. But with a little patience and by replacing some of your current acne treatments with ones designed for sensitive skin, you'll start seeing improvement in no time. Our top picks go to La Roche-Posay Effaclar Duo Acne Spot Treatment and Avène Cleanance Concentrate Blemish Control Serum. Both products have a gentle formula that effectively clears blackheads and have received a lot of positive feedback from people with acneic and sensitive skin. For affordable acne treatment, you can't go wrong with The Ordinary Niacinamide 10% + Zinc 1%.
Read next: 7 Cleansing Oils That Work Great On Acne-Prone Skin