Are you at a stage in life where achieving a tighter complexion and getting rid of sagging skin is your beauty priority? Facelifts and body contouring will surely solve the problem. However, if you're after something more convenient, skin tightening creams can help. Although creams will not produce the same level of transformation as surgical procedures, they offer a non-invasive approach to restoring firmness and elasticity to your skin without going under the knife.
Creams that tighten loose skin address the problem at the source: the degradation of elastin and collagen. These are two of the most abundant proteins in your skin and are responsible for giving it structure and strength. Once their production depletes as a by-product of aging and external damage, fine lines and wrinkles become more noticeable and the skin loses suppleness and no longer bounces back as it once did.
So, in addition to living a healthy lifestyle and wearing sunscreen daily, incorporate a skin tightening cream into your routine. These creams contain ingredients that stimulate the production of skin firming proteins and reduce their breakdown, and in the long run can slightly improve the overall texture of your skin. Read on to see our top recommendations and learn how to use these creams to max out the results.
Do skin tightening creams really work?
In short, nothing topical is going to solve skin laxity completely.
Because loose skin is internal, using topical products will provide a very subtle effect. That said, don't expect a miracle in a jar when it comes to skin tightening creams. Sure, they can help to give your skin a little lift and enhance firmness, but keep your expectations in check. The results may vary depending on your condition and creams can only do so much. 
Moreover, skin tightening creams are more effective in addressing loose skin caused by aging and sun damage, as this condition is primarily attributed to the depletion of collagen, which can be partially restored.
However, skin stretching during pregnancy or after weight loss is a different story. In these cases, your skin may not fully regain its previous tightness and tone. While creams can provide some hydration and temporary plumping effects, they are not designed to reverse the structural changes that occur within the skin. Interventions like tummy tucks or body contouring procedures are often more effective here.
What ingredients to look for
Collagen-boosting ingredients are key in the best skin tightening creams, as collagen is the protein responsible for maintaining tight and elastic skin. So head towards creams loaded with vitamin C, retinol, peptides, and glycolic acid—they're the heavy hitters that stimulate the production of essential proteins. Hydration is also crucial, as well-hydrated skin appears plumper. Hence look out for hyaluronic acid, shea butter, vitamin E, and ceramides. They'll instantly soften your skin and provide a firming appearance.
Our top recommendations
Now the good part. Below we discuss the best skin tightening creams. Apply them after cleansing and toning and massage them gently into the skin using upward motions to enhance the lifting effect.
---
Le Mieux 24 Hr. Age Defying Cream
True to its name, this cream combats all forms of aging signs, helped by whopping six types of peptides. These peptides stimulate collagen and elastin production, resulting in a complexion that defies gravity and shows youthful firmness. Le Mieux Age Defying Cream also boasts a juicy cocktail of hyaluronic acid to create a moisturizing masterpiece. These hyaluronic acid molecules become magnets for moisture to increse hydration in multiple layers of your skin. And to seal this hydration in, ceramides and a mingle of butters join forces to form a protective film on your skin's surface and block moisture evaporation.
One more thing that has us head over heels for this formula is its water-free nature (yes, you heard that right!). Crafted in a hyaluronic acid base, it boasts a posh rich and deeply hydrating texture that will leave you feeling absolutely pampered as it melts into the skin. Because it's filled to the brim with restorative ingredients, our advice is to use this cream at night to work hand in hand with your skin's natural restoration process.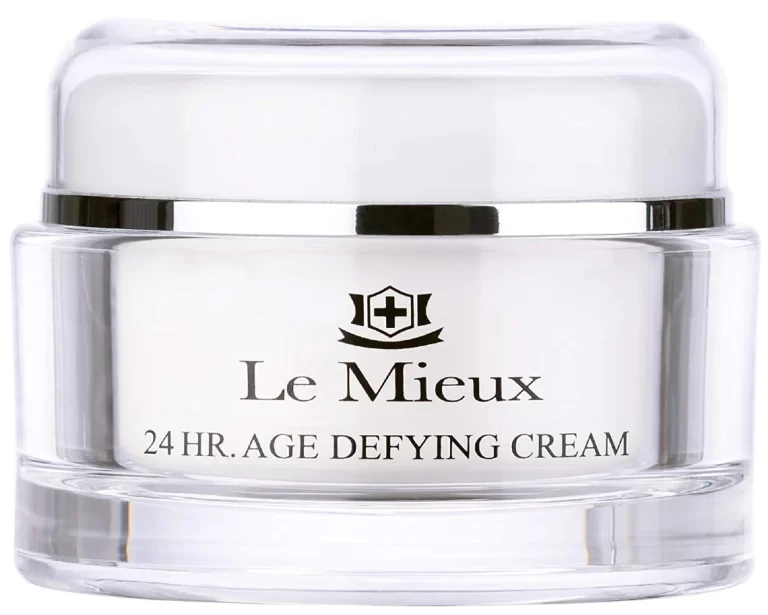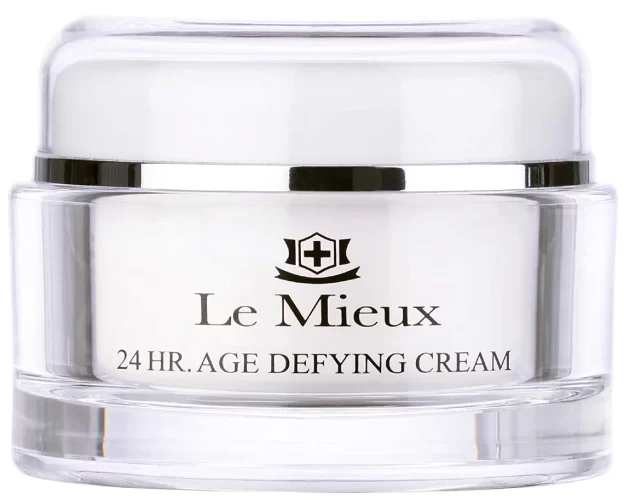 ---
Murad Youth Renewal Night Cream
When it comes to renewing skin and boosting collagen production, nothing surpasses the power of retinol. And in the realm of retinol-infused wonders, Murad Youth Renewal Night Cream reigns supreme. Packed to the brim with this powerhouse, it includes a trifecta of retinol goodness: a fast-acting retinoid, a time-released retinol, and a retinol booster. This dynamic trio works to accelerate cell turnover so skin can renew itself. But don't just take our word for it. According to the brand's own 4-week clinical study, a staggering 86% of participants noticed firmer skin. And the praise doesn't stop there—the overwhelmingly positive reviews and high ratings attest to its effectiveness. As a reminder, you should only use this cream at night and wear SPF during the day.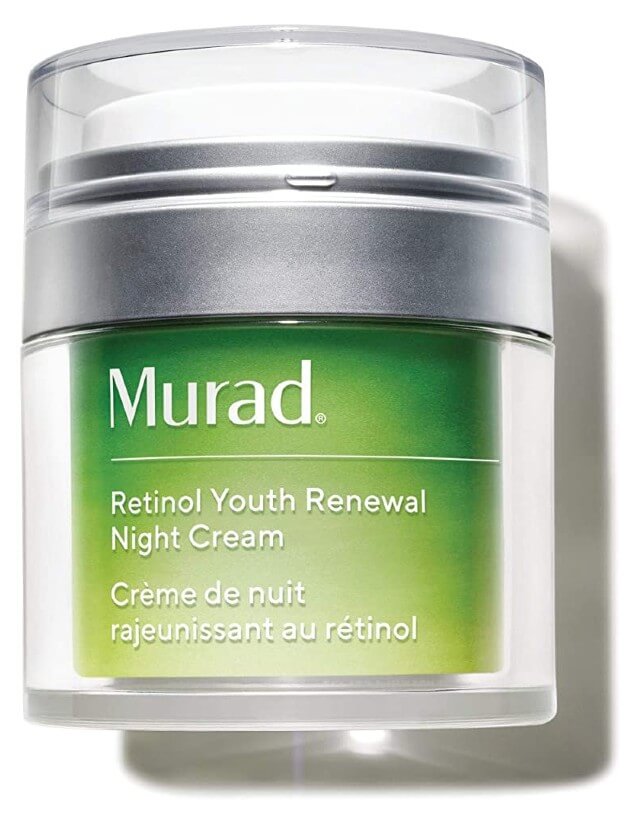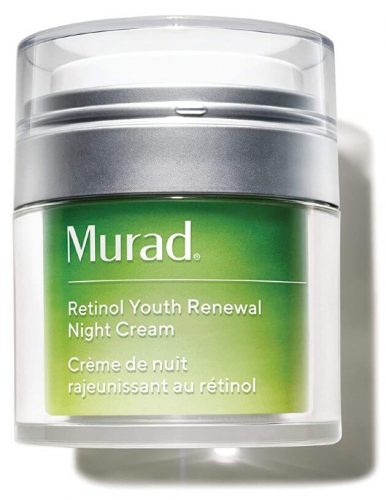 ---
Peach And Lily Peptide Pro Firming Moisturizer
This moisturizer blends twelve peptides with four amino acids to build the proteins your skin needs to stay elastic and firm. The addition of skin-reinforcing ingredients, including hyaluronic acid, squalane, and collagen, help tighten and lift sagging skin while smoothing fine lines. With a refreshing gel-like texture that effortlessly glides across your face, it's a coveted favorite for all skin types, from the oiliest to the driest.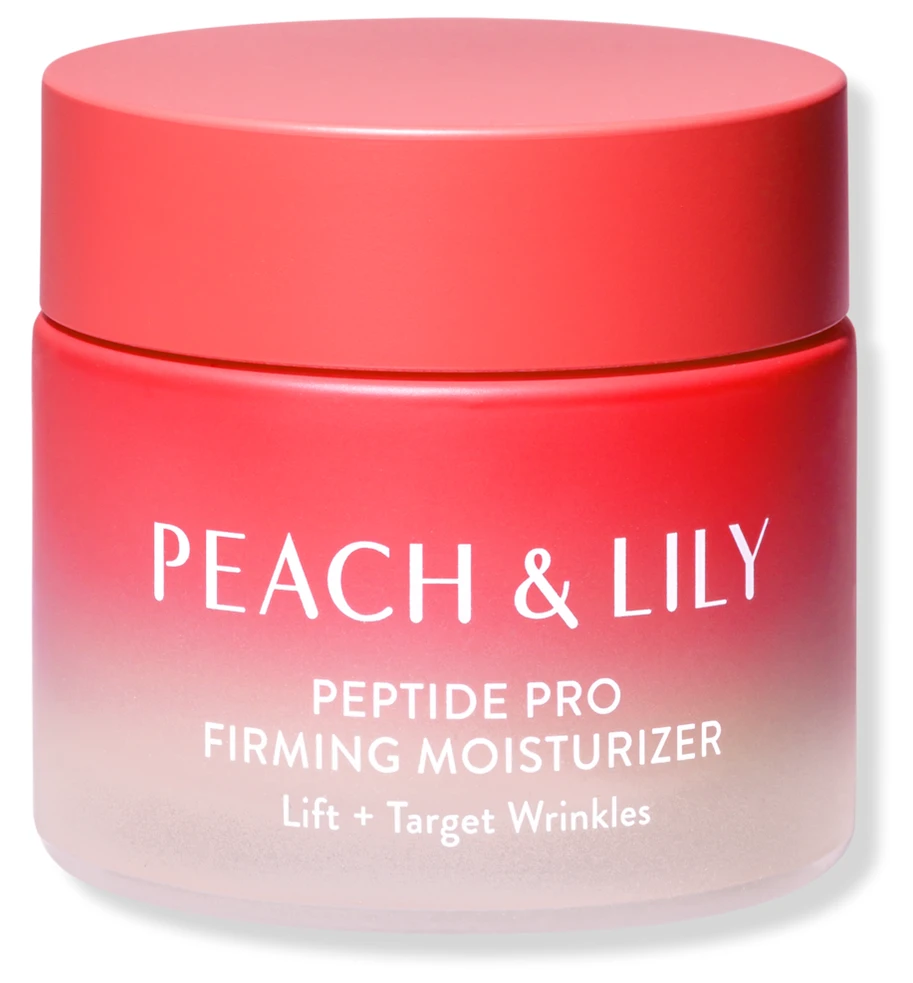 ---
Olay Regenerist Cream
Hands down, Olay is the best drugstore skin-tightening cream and a favorite of beauty enthusiasts worldwide. Rich in one of the most potent peptides—palmitoyl pentapeptide-4—it provides the skin with much-needed structural support and resilience. Niacinamide is another ingredient we love, which is abundant in Olay Regenerist Cream. This vitamin B3 is great for hydrating and encouraging the skin to repair itself, which in turn makes wrinkles less noticeable and the complexion appear more taut. As if that weren't enough, the trifecta of hydrating wonders (glycerin, hyaluronic acid, and vitamin B5) imbues this cream with a sensation that feels like a refreshing glass of water for your parched skin.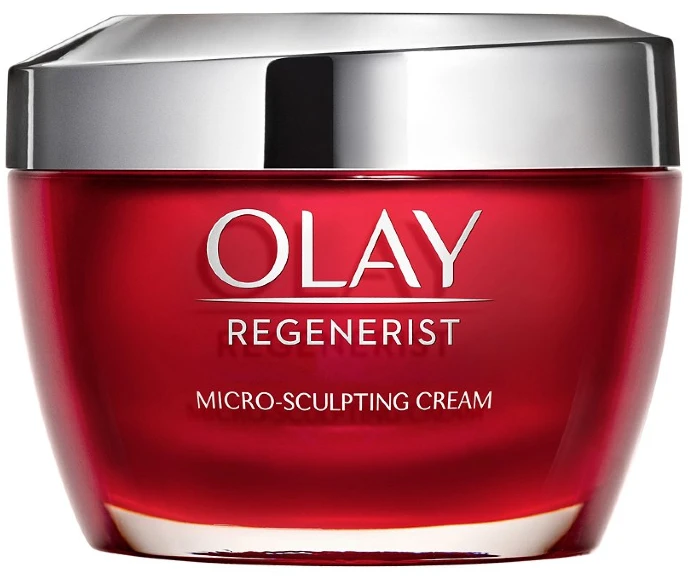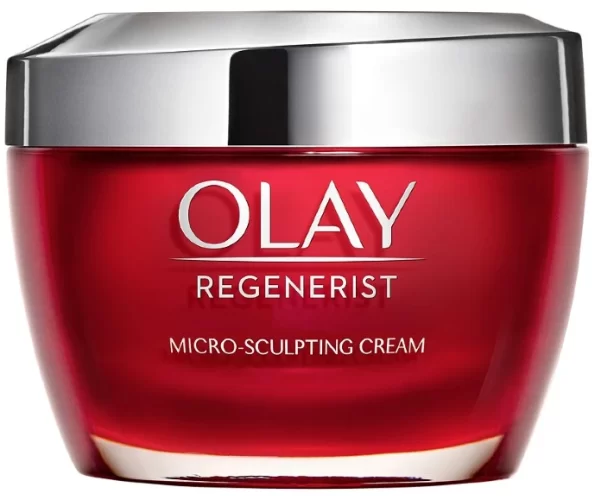 ---
StriVectin Tightening & Sculpting Face Cream
This cream stands out for mature skin that needs contour and more suppleness. Above everything, the formula is made with dipeptide, a lipid connected to a peptide that stimulates elastin production and corrects skin sagging by resisting gravity. Moreover, it packs glycolipids and phospholipids known to restore damaged cells caused by aging and give a youthful-looking bounce. According to the brand's testing, the cream can improve sagging skin along the jawline in as little as four weeks and plump the cheek folds in eight weeks.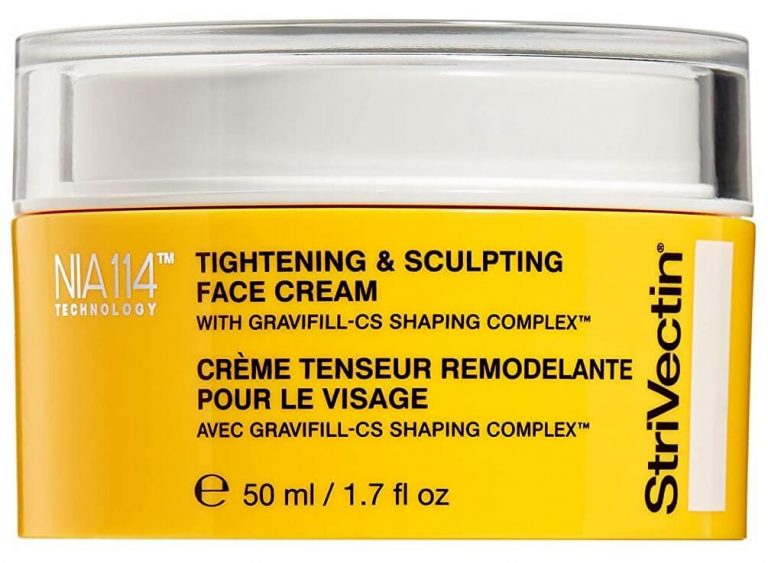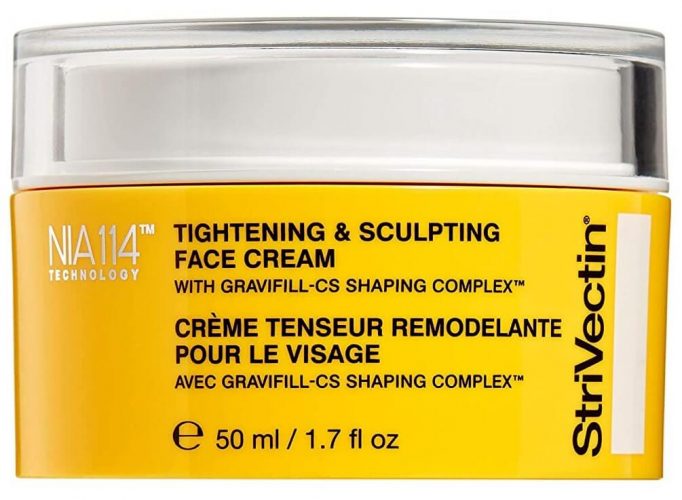 ---
Drunk Elephant Protini Polypeptide Cream
The role of signal peptides is to build collagen, elastin, and other structural proteins that make the skin appear fuller, and Drunk Elephant Protini packs nine of them. Combined with a plethora of amino acids that also build proteins to support cell repair and increase moisture, the cream works wonders in firming and tightening the skin. We also love the airtight container that blocks bacteria from entering the mix and preserves the active ingredients from degradation.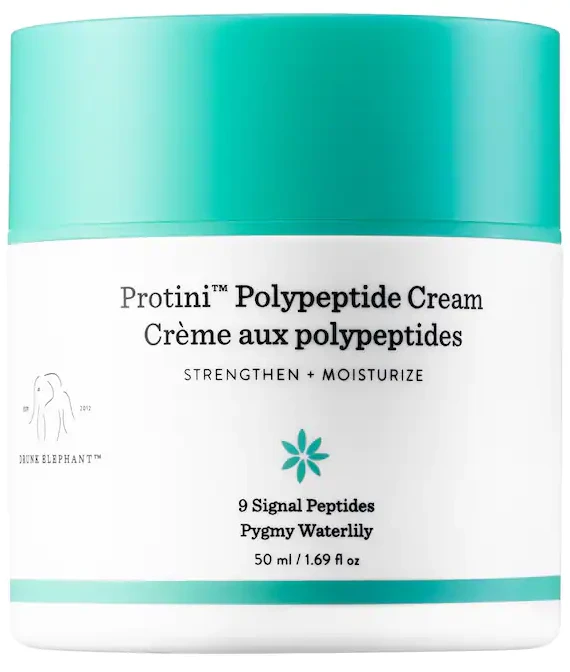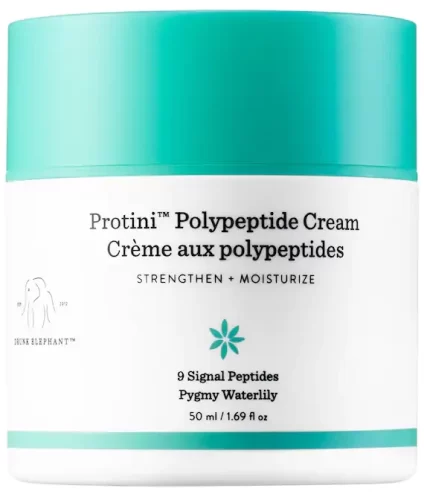 ---
Peter Thomas Roth Instant FIRMx Eye Tightener
Peter Thomas Roth Instant FIRMx Eye Tightener is the best option for a quick fix for the eye area. Even though the tightening effects are only temporary, the formula is potent enough to provide long-term benefits thanks to a mix of anti-agers, including peptides, proteins, and vitamin C. As per the instant results, expect taut and firm-looking skin, erased eye bags, and zero puffiness. Yes, it's that good. Better still, PTR created a similar product that you can use all over the face—you can find it here.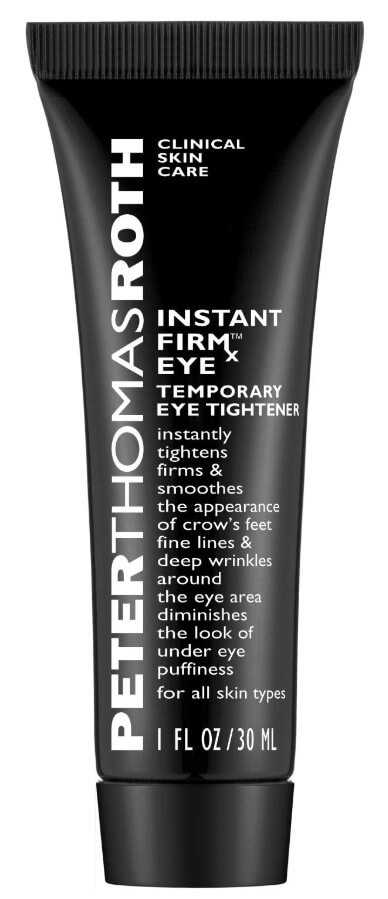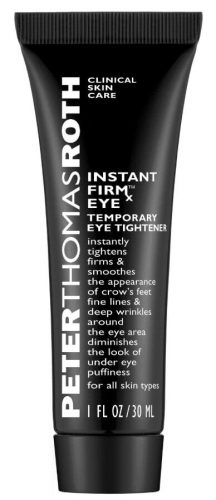 ---
Neocutis Neo Firm Neck & Décolleté Tightening Cream
Neocutis Neo Firm targets the neck and décolleté area and aid in firming and lifting the skin by supporting lost collagen restoration. The formula leans on glycolic acid, an exfoliating acid that encourages cell renewal and spurs collagen growth, improving the look of creepiness. Plus, the addition of collagen-boosting peptides and vitamin C makes this formula ideal for smoothing your neck and décolleté and making it appear less saggy. Bonus: The airtight package doesn't allow light, air, or bacteria to get into the formula, preserving ingredients at their peak potency.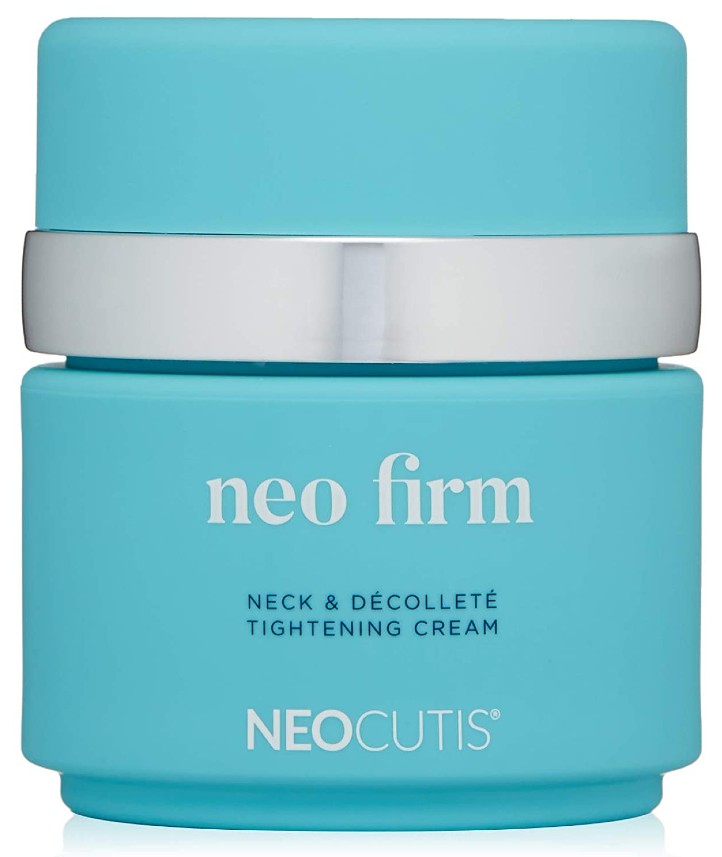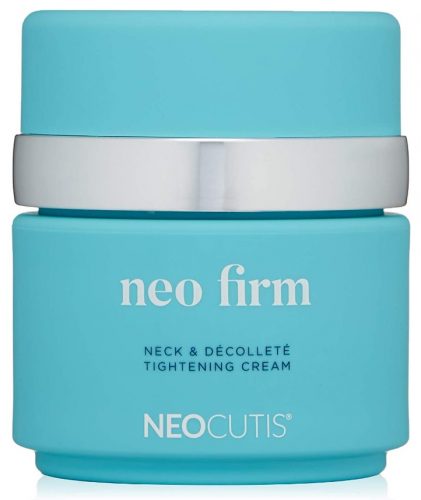 ---
Sol De Janeiro Brazilian Bum Bum Cream
Now a special boon for your body. The iconic Brazilian Bum Bum Cream is a coveted cult favorite and a must-have for smooth, moisturized, and delicious skin. Credit Sol de Janeiro for this blend of moisturizing and protective ingredients, including caffeine-rich Guaraná extract known to stimulate blood circulation and energize skin. There are also cupuaçu butter, açaí oil, and coconut oil that give that intense hydration and leave the skin velvety smooth. The cherry on top: It has a scent that'll make you feel on a permanent vacay.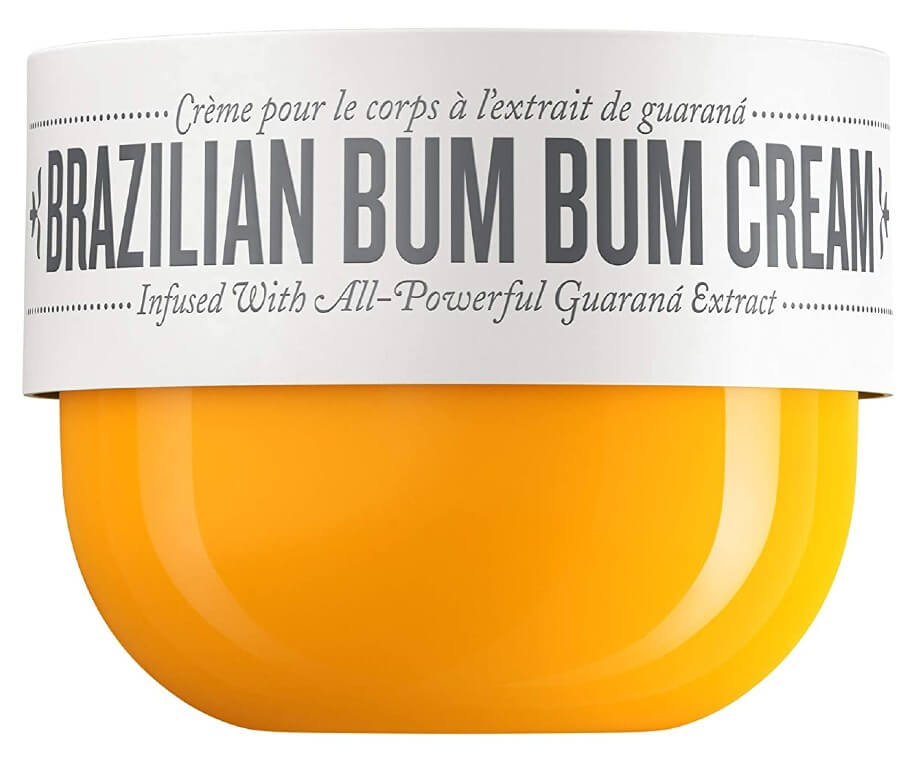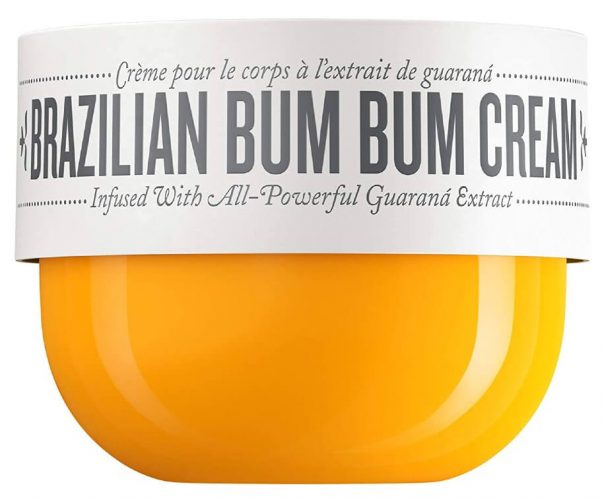 ---
Palmer's Firming Butter Body Lotion
If you're worried about stretch marks after pregnancy or weight loss, this lotion can help. Although there's no magic cure for postpartum loose skin, the lotion does the job of hydrating and plumping, which will make your skin instantly feel supple. Responsible for this are vitamin E, shea and cocoa butter, and coenzyme Q10, all emollients with softening properties. The lotion is intensively hydrating, feels lightweight, and smells great.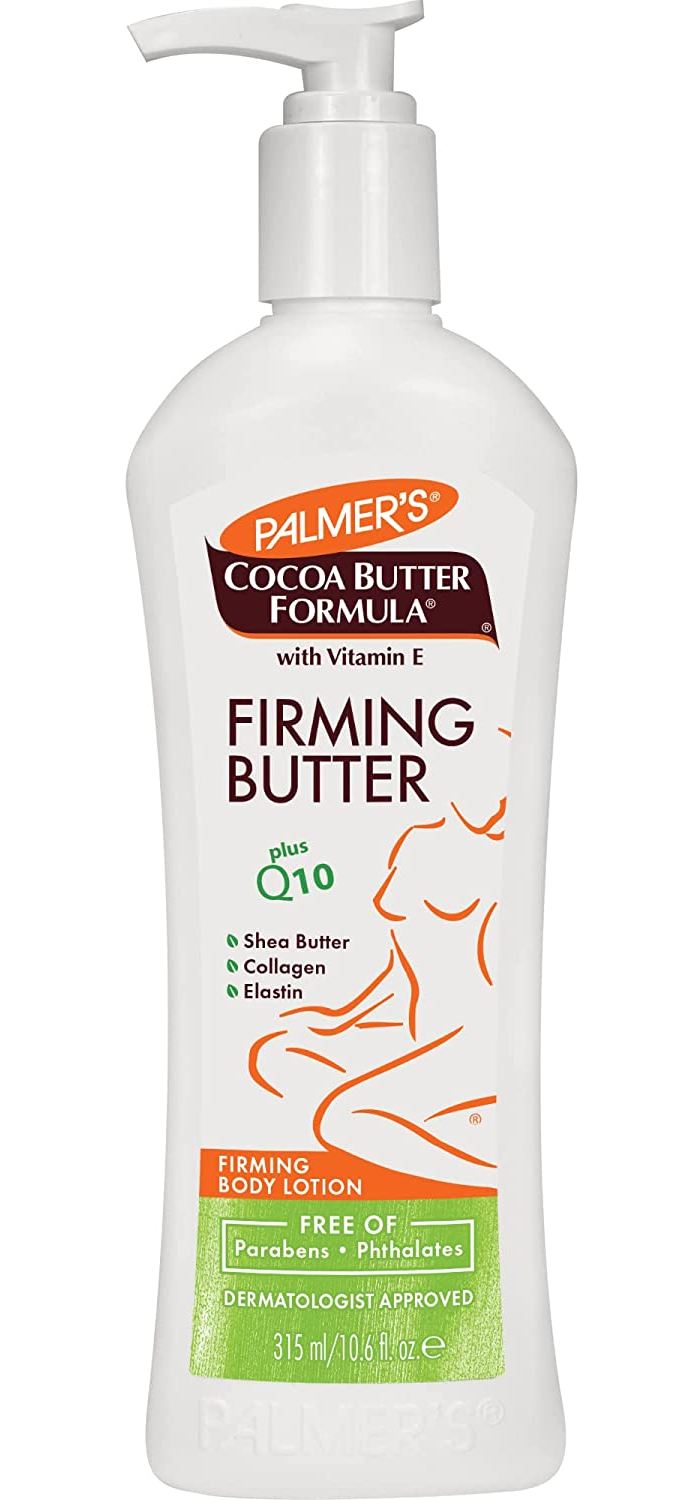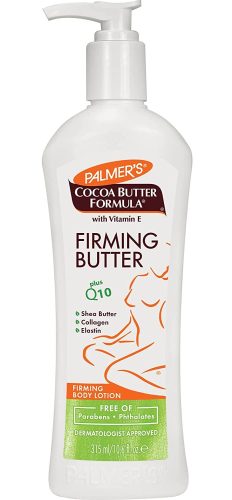 ---
Medix 5.5 Retinol Body Lotion
This cream addresses creepy skin, stretch marks, and sagging with a powerful dose of retinol, which you already know is the MVP for skin tightening. Shea butter and beeswax are also great additions to the formula, giving the product a creamy texture and working to provide skin a bouncy look, while ferulic acid eliminates dark patches. The cream doesn't feel greasy and can be used from head to toe. However, it has a strong fragrance, so avoid it if your skin is hypersensitive.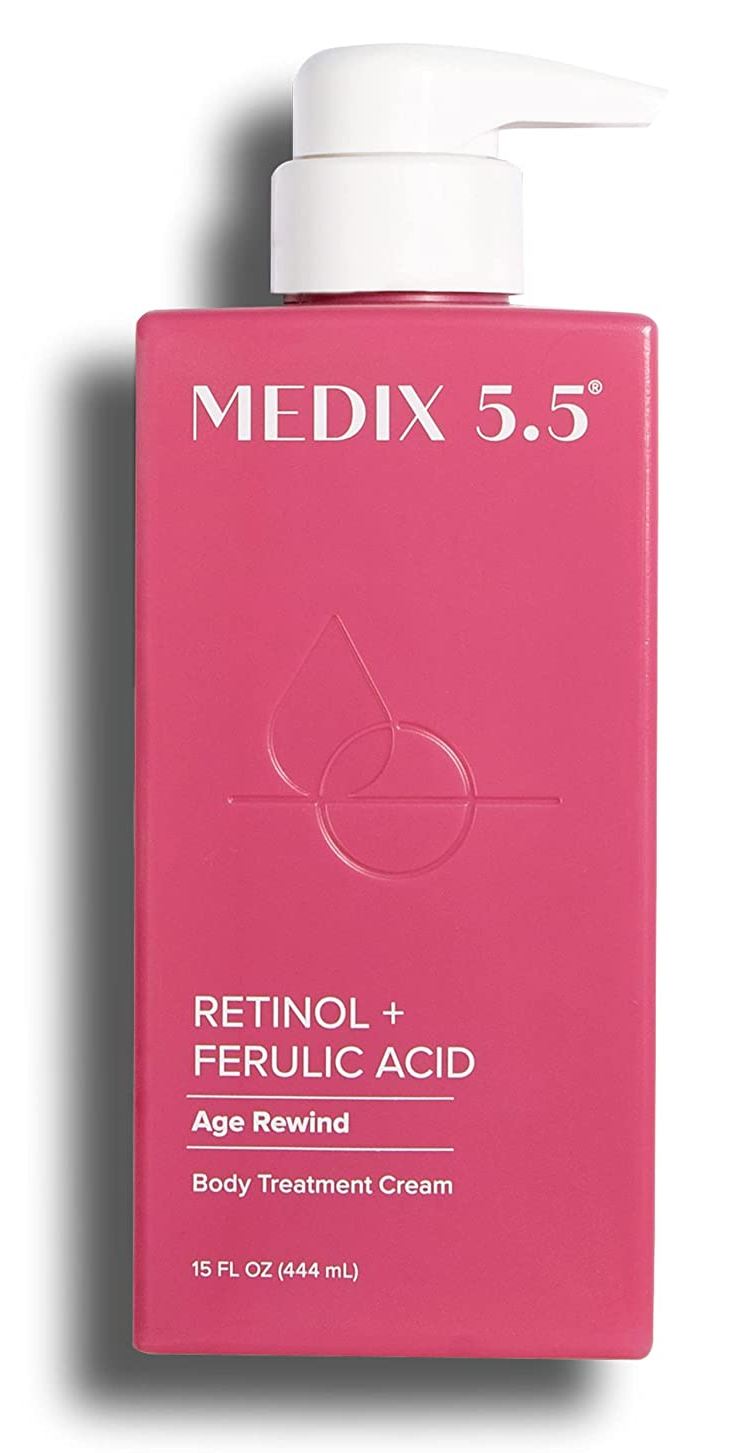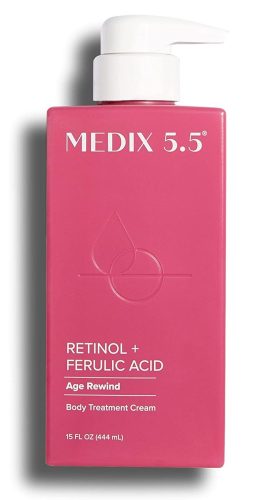 ---
The bottom line
While skin tightening creams are a popular choice, there are also non-invasive alternatives available, such as facial exercises, facial massage techniques, or radiofrequency treatments, which can complement the effects of creams. For instance, radiofrequency devices deliver controlled heat deep into your skin to produce more collagen and tighten the skin. Pitching your skin can also stimulate collagen production.