Your 50s bring wisdom and a new level of confidence, along with the need to make some changes to your beauty routine. The skin changes with each birthday, and by the time you hit the big 5-0, the collagen and elastin levels have depleted, your complexion is likely to lose moisture at an accelerated rate, and those dark spots you've been dreading are even more visible. So when you're on the lookout for an anti-aging serum to use in your 50s, you should consider that your skin has different needs now. It's more demanding, craving deep hydration, intense repair, brightening, retexturizing, and, last but not least, adequate protection.
Along with sunscreen, applying a targeted serum is key to helping your mature skin age healthier. Serums are designed to deliver powerful active ingredients deep into your skin, providing more impactful results compared to other products. With the right formula, they can put a stop to fine lines, wrinkles, and dark spots and keep your complexion supple and radiant. Continue reading as we've got the scoop on the best serums to use in your 50s (and beyond) to boost your anti-aging routine.
What to look for in a serum in your 50s?
To keep your skin looking young in your 50s, you'll want to use a serum with ingredients that restore and rejuvenate, like retinol, peptides, vitamin C, and exfoliating acids. If you're really serious about seeing results, go for the clinical-grade formulas with high concentrations of these actives. 
We recommend having two different serums, one for the day and one for the night. At night, use a retinol serum to promote cell turnover and boost collagen production. If retinol isn't your thing, try a peptide serum instead to help firm and lift sagging skin. For the daytime, we recommend an antioxidant serum with vitamin C and other free-radical scavengers. This will help protect your skin from damage caused by pollution and UV. Plus, who doesn't love a little extra natural glow?
And finally, don't forget to exfoliate! Swap out your retinol or peptide serum for a chemical exfoliator with acids once every three days to slough off dead skin and smooth out the surface texture.
Below are our recommendations for the best anti-aging serums for women over 50s. To compile this list, our team spent hours going through over 300 serums, evaluating key features, such as ingredients, concentration, and feedback from customers with aging skin.
The best serums to use in your 50s with anti-aging and restorative benefits
---
Best overall
Estée Lauder Advanced Night Repair Serum
The iconic serum does a little bit of everything to make your 50s much easier. It relies on probiotics to repair the skin and make it more resilient against external damage, peptides to encourage collagen growth, and hyaluronic acid to deliver a rich dose of hydration. While the serum is meant to be used at night and work in harmony with the skin's restoration process that happens when you sleep, it's a good choice for day wear, too. That's because it's filled to the brim with potent antioxidants, including baobab, yeast extract, and caffeine, that neutralize free radicals. At the end of the day, there's a reason it keeps being a staple in beauty enthusiasts' routines for over four decades.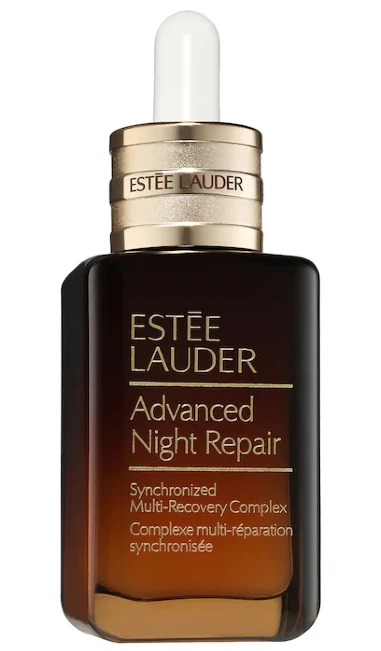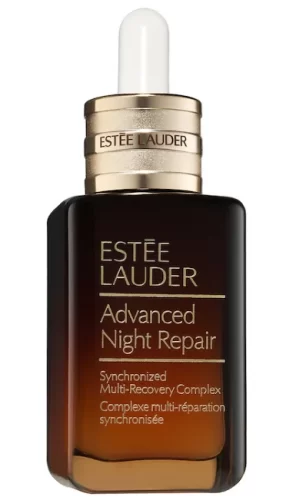 ---
Best with retinol
Murad Retinol Youth Renewal Serum
Retinol is hands down the best ingredient to address aging signs, whether you're in your 30s, 50s, or beyond, and this serum is our favorite of them all. In addition to a fast-acting retinoid, the formula is made with a time-released retinol, which sinks slowly into your skin to sidestep irritation, plus a retinol booster for maximized anti-aging results. The trio of retinol amps up cell turnover to smooth wrinkles and fade dark spots in just four short weeks, according to Murad's clinical results. With a rich, silky texture, it feels as moisturizing as a cream and absorbs lightning fast, sans greasy residues.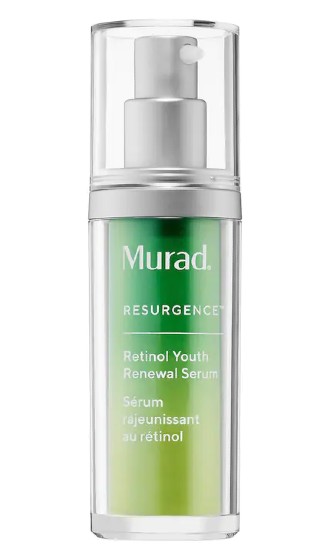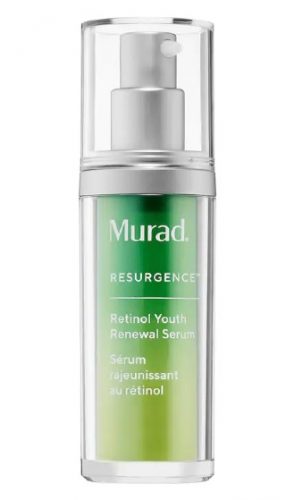 ---
Best for damaged barrier
Glow Recipe Avocado Ceramide Recovery Serum
One of the main reasons for hydration loss is a weakened barrier, which is more likely to happen at maturity when the skin is more prone to damage. And what can better reinforce the protective barrier if not components naturally found in it, like ceramides?[1] This serum is laced with five types of ceramides to help the skin retain more moisture and strengthen the barrier by filling in the gaps between skin cells. It also effectively moisturizes dry skin, making it appear more supple and plump, thanks to avocado extracts and rice milk. Reach for this serum whenever your complexion needs a pick-me-up to eliminate redness, flakiness, and itchiness.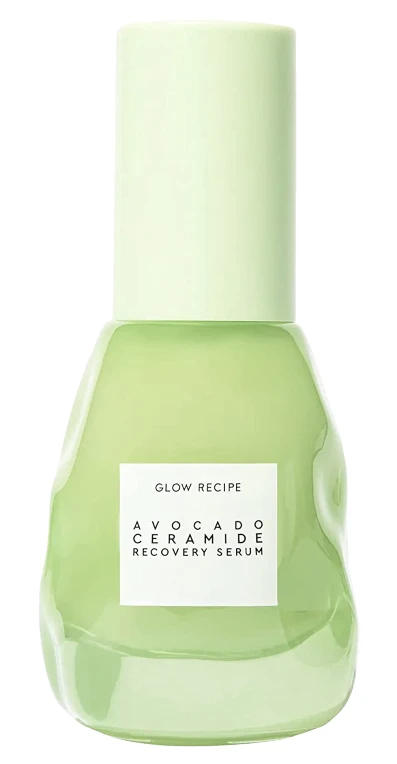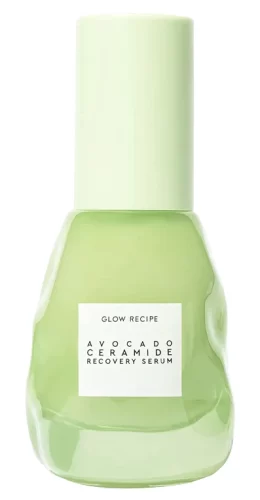 ---
Best medical-grade formula
SkinMedica TNS Advanced+ Serum
If you're going to spend top dollar on an anti-aging serum, it better be good. SkinMedica TNS Advanced+ Serum isn't just good (it's incredibly great), and there isn't anything else on the market quite like it. The dual-chamber bottle releases two powerful serums to speed up the skin repair and renewal process as well as boost collagen and elastin levels for good. The MVP of the formula is a blend of epidermal growth factors that work as signaling molecules to stimulate cell growth, proliferation, and healing.[2] Plainly put, it tricks the skin into acting younger. To make the formula even better, SkinMedica also added youth-boosting probiotics, proteins, and peptides into the mix. We also love that it skips fragrances and alcohol.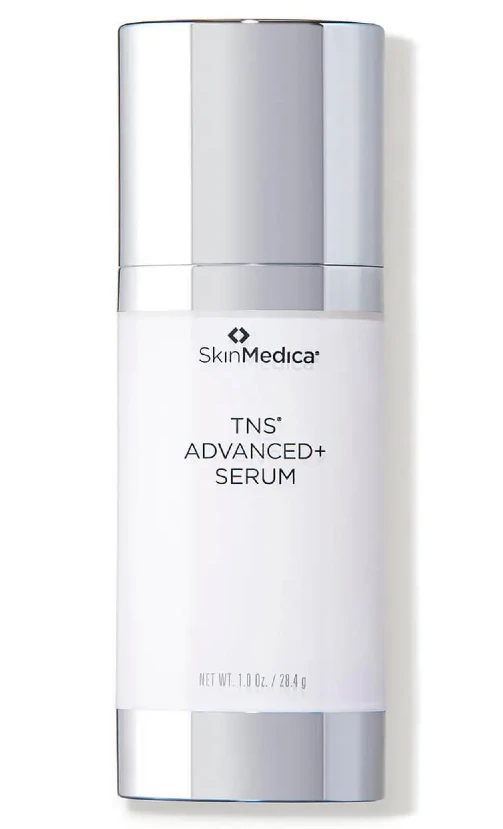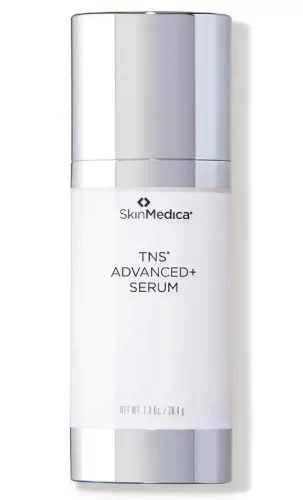 ---
Best for brightening
StriVectin Super-C Retinol Brighten & Correct Vitamin C Serum
This serum boasts the trifecta of anti-agers—vitamin C, retinol, and hyaluronic acid—so you can expect brighter skin, a more even tone, and less noticeable wrinkles over time. Nonetheless, the key ingredient in this formula is StriVectin's patented form of niacinamide, NIA-114™, which restores skin's suppleness and fortifies the epidermal barrier. Online reviewers battling aging signs praise this serum for its ability to make the complexion appear more luminous and plump in a short amount of time, calling it "the holy grail for aging skin."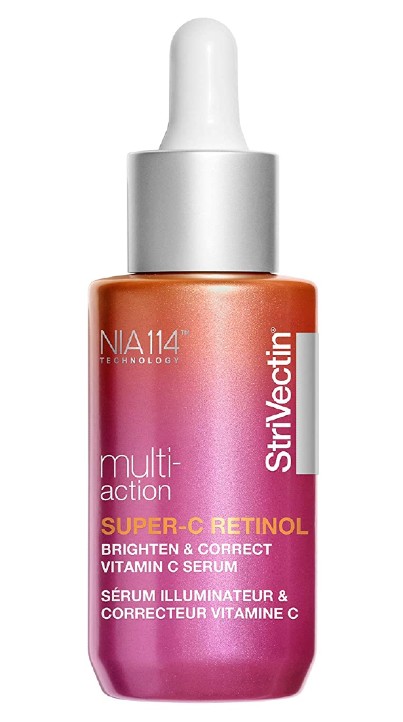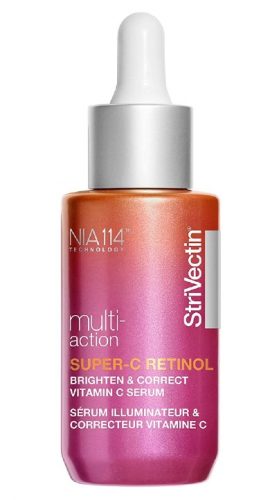 ---
Best after cosmetic procedures
Clinical Skin Polypeptide Firming Serum
Your 50s is the perfect time to undergo cosmetic procedures, be it laser resurfacing, microneedling, or chemical peels. While these are great for minimizing aging signs, they're likely to leave the skin vulnerable. That's where this serum comes in. It offers the best of both worlds: Faster regeneration and anti-aging benefits. That's because it's loaded with a potent mix of peptides, ceramides, cholesterol, and vitamin C, all of which play a key role in firming and repairing the skin. Clinical studies have shown that this serum strengthens and supports the skin, and it's especially effective when used after microneedling, as it can penetrate more deeply and allow the peptides to work their magic.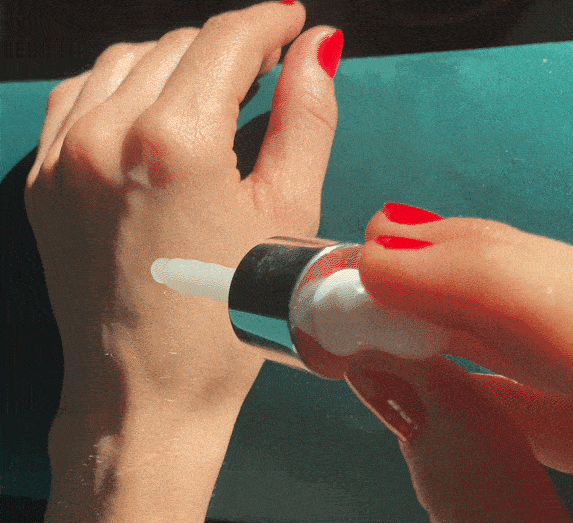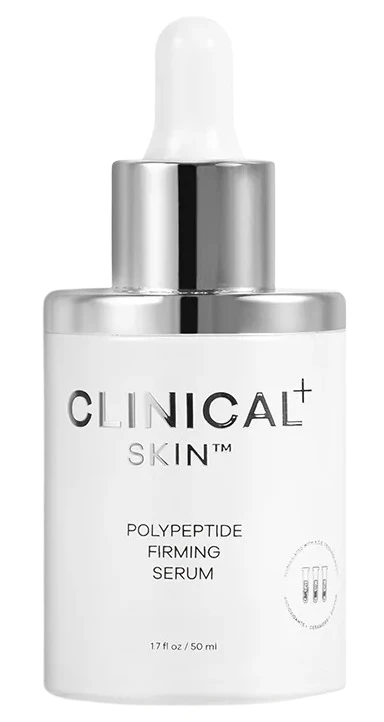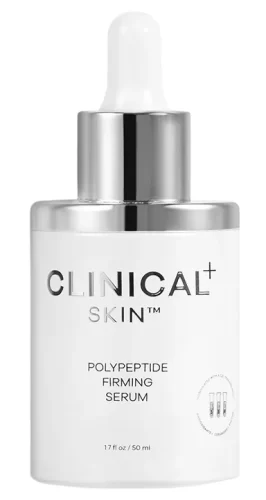 Read review:  Clinical Skin PolyPeptide Firming Serum Review
---
Best for exfoliation
Drunk Elephant T.L.C. Framboos Glycolic Resurfacing Night Serum
Exfoliation is deadly important for buffering wrinkles and fading dark patches, especially once you hit your 50s when the natural cell turnover slows down. That's exactly why you should consider Drunk Elephant Resurfacing Serum. It's crafted with an impressive 10% alpha-hydroxy acids, so it's incredibly effective at speeding up cell turnover, encouraging the skin to renew itself and support collagen production. And to counteract the possible drying effects associated with acid use, the serum includes soothing nature-derived ingredients, such as aloe, prickly pear, and green tea. Just keep in mind that you should always use it at night as the chemical acids can make the skin photosensitive, and always use sunscreen the following day.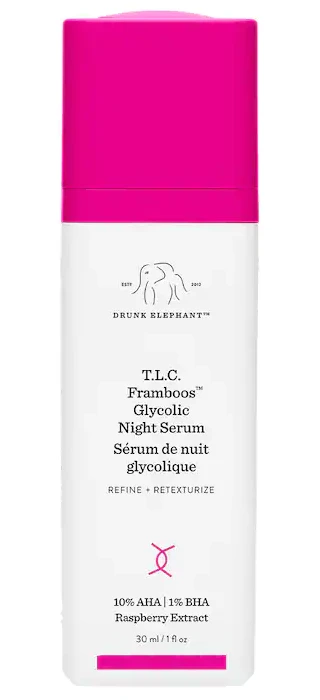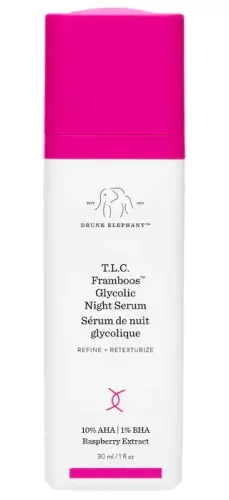 ---
Best if you're on budget
The Ordinary 1% Retinol In Squalane
This is the best anti-aging serum for your 50s that won't break the bank while still delivering outstanding results in terms of increased firmness, elasticity, and moisture. The formula pulls out all the stops with 1% retinol, proving it's a powerhouse when it comes to enhancing cell renewal and spurring collagen growth. Interestingly, the serum is not watered-down, having a base of squalane, which promises to alleviate dryness that usually comes with retinol use and give skin a healthy dose of moisture.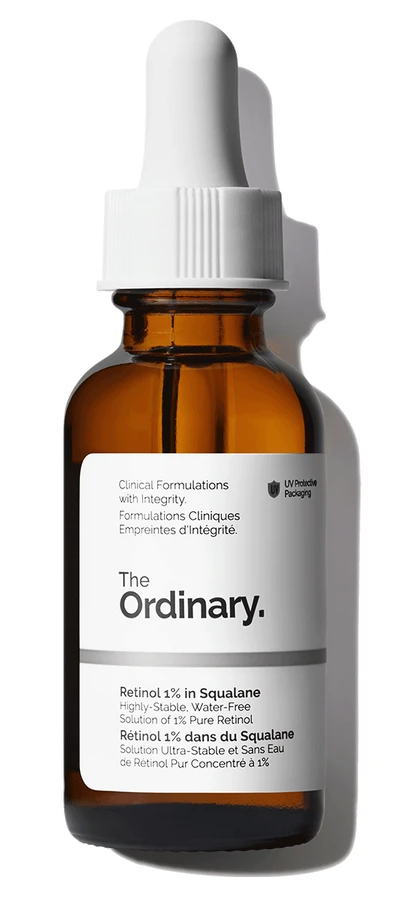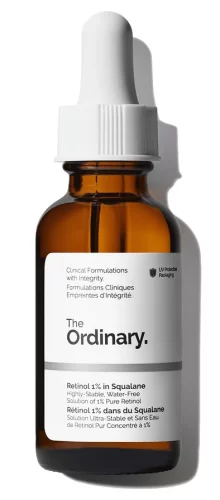 ---
Best for protection
SkinCeuticals CE Ferulic Serum
A dermatologist staple, this elixir is excellent for protection as well as it is for correction. It's an effective serum that uses optimal concentrations of the most powerful antioxidants to minimize the damage caused by free radicals—those harmful molecules that deplete collagen and moisture in the skin and cause dark patches. In addition to 15% of the active form of vitamin C, and 1% vitamin E, you'll find ferulic acid, which is known to double the photoprotection of the aforementioned antioxidants.[3] Pair it with sunscreen every morning and enjoy healthier skin.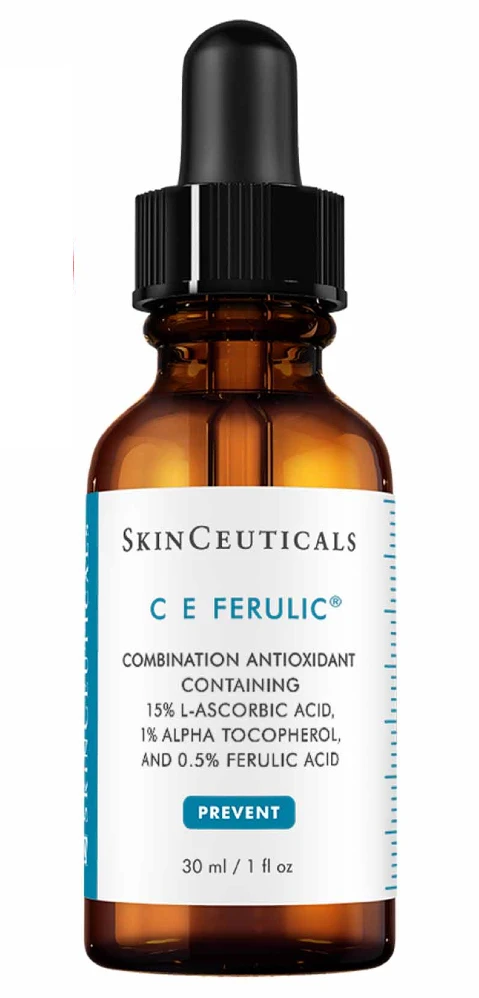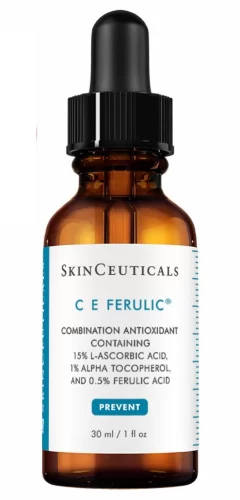 ---
Best natural formula
Tata Harper Skincare Rejuvenating Serum
If you're on the lookout for an all-natural formula to tackle your signs of aging, look no further than Tata Harper Skincare Rejuvenating Serum, with a genuinely mild yet not less potent formula. The Ecocert-approved serum promises to turn back the clock by combining some of the best natural ingredients to replenish the loss of firmness and relieve dryness and tightness. It's got mango butter, marine botanicals, and hyaluronic acid along with safflower oleosomes, which are tiny spheres that store safflower oil and vitamin E to deliver long-lasting hydration.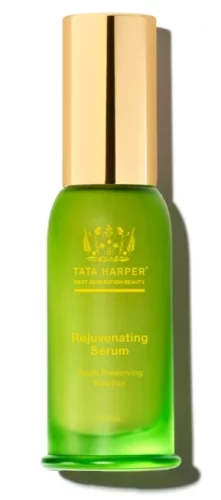 ---
Best for sensitive skin
Biossance Squalane + Phyto-Retinol Serum
At maturity, skin can often be easily reactive. As such, you may need a mild formula that keeps sensitivities at bay while still fighting aging signs and that's what Biossance Squalane + Phyto-Retinol Serum is for. It uses a natural alternative to retinol (bakuchiol) that delivers the same anti-aging effects of retinol but without irritation.[4] And to top it off, you'll get a rich dose of squalane, an oil-like substance that mimics the sebum our skin naturally produces to lubricate and protect but whose production slows down with age. The milky serum has a minimalist formula, meaning it's more concentrated in the good stuff, it's EWG-verified, and it skips unforgiving chemicals, fragrances, and parabens.