Whether you're looking to revamp dull skin, minimize fine lines look, enhance radiance, or lighten dark patches, the best lactic acid serums can help you out. Because lactic acid is the gentlest alpha-hydroxy acid (AHA), it can be used by everyone, sensitive skin included, as it provides mild exfoliation that, over time, reveals luminous skin, an evener tone, and a smoother complexion.
Before we go to the good bit, here's some theory about what lactic acid actually does for the uninitiated.
What is lactic acid?
Like other AHAs, lactic acid's main role is to increase cell turnover and slough off dead cells from the outer skin layer, making room for new cells. As healthy cells replace old ones, skin becomes thicker, firmer, and brighter. But what makes lactic acid stand out from the crew is its low molecular size, which doesn't allow it to penetrate the outermost skin layer, meaning it works gentler. Besides lactic acid also acts as a humectant, so it draws moisture into the skin and helps consolidate the protective barrier by increasing levels of ceramides.[1]
Lactic acid serum benefits
There's no denying lactic acid has myriad benefits for your skin. Generally, lactic acid serums offer mild exfoliation and stimulate cell renewal, which is why they're used to improve texture, minimize fine lines appearance, fade hyperpigmentation, and keep skin plump and radiant.
Are lactic acid serums safe?
Overall, lactic acid serums are suitable for all skin types and are considered safe when applied in the right concentration. According to the Cosmetic Ingredient Review (CIR) Expert Panel, lactic acid is safe in OTCs when used at a concentration of a maximum 10%.[2]
Because it's gentle and hydrating, lactic acid is beginner-friendly and easily tolerable.[3] But like any other AHA, lactic acid can still cause irritation, rash, and itchiness, so you should start low and slow to help your skin build tolerance, especially if it's easily reactive.
How to use lactic acid serums?
To be on the risk-free side, start using your lactic acid serum once every two or three days and observe how your skin reacts. If you notice your skin is not drying or irritating, go for daily use. Also, it's essential to apply a moisturizer after your lactic acid-infused serum to counteract the possible drying effects caused by exfoliation. Preferably, use an occlusive moisturizer to seal the moisture pulled by lactic acid into your skin.
Usually, AHAs, including lactic acid, increase skin sensitivity to the sun, so it's better if you apply them in your nighttime routine and always wear sunscreen during the day.
The best serums with lactic acid
Whatever your skin issue, we've found and reviewed 12 of the very best lactic acid serums to fight dullness, lack of firmness, and sun damage.
---


1
Sunday Riley Good Genes All-in-One Lactic Acid Treatment
It turns out Sunday Riley Good Genes is one of the best lactic acid serums for uneven tone because it contains lactic acid to accelerate skin renewal, plus licorice and lemongrass to brighten dark spots and improve tone. At the same time, the serum maintains skin hydrated and soft with aloe vera, cactus extract, and squalane, which also help alleviate dehydration. Better still, it's great for all skin types and free of parabens, alcohol, and synthetic fragrance.
---


2
Biossance Lactic Acid Night Serum
For a clean lactic acid serum that works the night shift to hydrate and plump your complexion, reach for Biossance Resurfacing Serum. It has a minimalist yet effective formula everyone can use, and it does wonder at resurfacing and softening fine lines and wrinkles look. This is possible because the serum is loaded with 10% lactic acid and clover, which enhances the exfoliating benefits by revving up cell turnover. Plus, it has squalane, a sebum-like compound that softens and strengthens the moisture barrier.
---


3
Tata Harper Resurfacing AHA + BHA Serum
If you're hunting for a natural serum with lactic acid you should try Tata Harper Resurfacing Serum. It's made with 22 botanical ingredients, including antioxidants, skin soothers, lactic acid, salicylic acid, and willow bark extract. It literally has everything your skin needs to maintain its glow and radiance. Lactic and salicylic acids exfoliate and promote thickness, antioxidants keep skin protected, while squalane, glycerin, and Calendula extract boost hydration. Plus, you'll love the creamy, rich texture as it melts into the skin.
---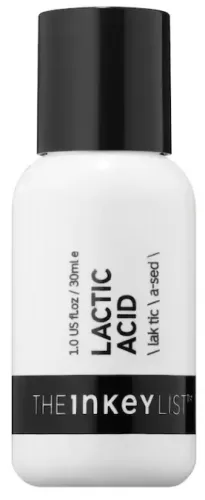 4
The Inkey List Lactic Acid Serum
The Inkey List Lactic Acid is your best bet if you're looking for a budget-friendly serum. Here, the 10% lactic acid encourages cell turnover to reveal smoother and evener skin while fighting dullness, and 1% hyaluronic acid, glycerin, and castor oil calm and nourish. Apply it on cleansed skin in your nighttime routine and follow up with a moisturizer to wake up to a glowy, revitalized complexion.
---


5
SkinCeuticals C+AHA Exfoliating Treatment
Combining 15% pure vitamin C with 10% mixed AHAs, this serum vows to fight wrinkles, clear up the skin of dead cells, and fade stubborn dark spots. Vitamin C increases the defense against sun damage, preventing photoaging and further skin discolorations, and helps induce collagen production. In the meantime, glycolic and lactic acids exfoliate, speed up cell turnover, and boost collagen for evener, plumper skin. Bonus points for the lightweight texture that never leaves the skin sticky.
---


6
Paula's Choice Resist AHA Serum
This serum is where a mix of 10% glycolic, lactic, malic, tartaric, and salicylic acids meet to get your skin to its best version ever. This high-concentrated acids cocktail tackles everything from wrinkles, dark spots, and sun damage to breakouts and excess sebum. And it's unlikely to dehydrate skin since the serum also packs plenty of skin-replenishers, including peptides, ceramide, green tea, and allantoin.
---


7
Dermalogica Biolumin-C Serum
Loaded with lactic acid and two sources of vitamin C, Dermalogica Biolumin-C Serum works like a charm at fighting dullness, uneven tone and texture, fine lines, and loss of elasticity. And since it has a bunch of peptides, vitamin E, and hyaluronic acid, the serum actually softens and plumps the skin, not messing with it.
---

8
Drunk Elephant Protini Powerpeptide Resurf Serum
This serum boasts a fan-favorite status among consumers, beauty editors, and skincare experts alike. Credit is due to the synergistic combo and a special ratio of 11 peptides that trigger the body to produce more collagen, plumping and reducing wrinkles look. Add that to 10% lactic acid, and you've got yourself an ideal serum to banish sun damage and improve aging signs. Even better, unlike most serums, this one has a creamy texture that relieves skin instantly, as it feels intensely moisturizing and rich.
---


9
Perricone MD Deep Crease Serum
Mark my words: Perricone MD Deep Crease Serum is the best lactic acid-infused serum to address the loss of firmness and elasticity and uneven tone. While lactic acid aids in mild exfoliation to renew the skin, a slew of peptides help induce collagen production, also supported by an oil-soluble type of vitamin C, all working hard to minimize fine lines and wrinkles appearance. We're in love with the lightweight texture that feels dense yet not heavy and sits amazingly under your favorite moisturizer.
---
10
Osmosis Skincare Antioxidant Infusion Serum
Thanks to a serious amount of lactic acid and niacinamide, this serum does an incredibly great job at increasing hydration and minimizing dark patches look. These two skincare powerhouses are supported by seven antioxidants, including green tea and vitamin E, to increase protection against free radicals and stop these bad molecules from wreaking havoc on your skin. Soothing ingredients like honeysuckle extract, peptides, and glycerin are also added to calm skin and relieve tightness.
---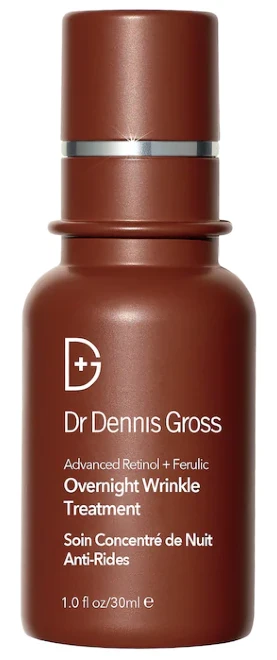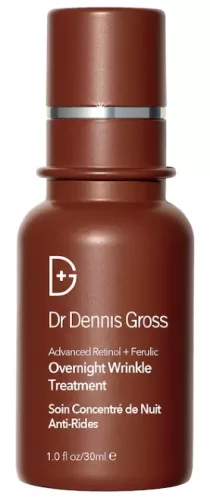 11
Dr. Dennis Gross Overnight Wrinkle Treatment
If a multi-tasking serum that addresses all aging signs sounds like something you'd buy, then Dr. Dennis Gross Overnight Wrinkle Treatment will definitely be on your liking. In addition to lactic acid, the formula packs glycolic and mandelic acids to support the skin's renewal process and enhance firmness. More than that, the serum is made with two forms of retinol and bakuchiol (retinol alternative) to encourage cell turnover and reduce the look of wrinkles. Thanks to the rich, buttery texture, the serum moisturizes instantly for hydration that lasts, and it never feels heavy or tacky. Let this one work the night shift so you wake up to a smoother, brighter, and plump complexion.
---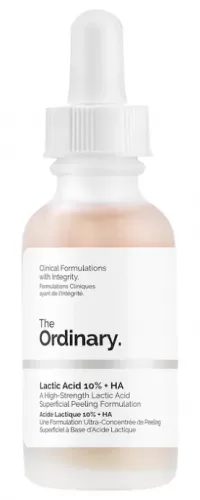 12
The Ordinary Lactic Acid + HA
The Ordinary is up for grabs as one of the best lactic acid serums under $10 that works amazingly at reducing the look of wrinkles and dark spots. Besides 10% lactic acid, it touts Tasmanian pepper berry to reduce sensitivity associated with exfoliation. There are also two humectants (actives that attract moisture into the skin), sodium hyaluronate and glycerin, that help keep the complexion hydrated, plump, and supple. Bonus points because the formula lacks alcohol, oil, and fragrance.
---
References
Women's Concepts uses reliable sources, including dermatologists' insights, clinical trials, and scientific journals, to find accurate information and support all the facts shared in our articles. All statements and claims have clear and legit references. Read our editorial policy to learn more about our sources of information, our process of researching and fact-checking the content, and how our team strives to keep all articles updated, completed, and trustworthy.
Rawlings AV, Davies A, Carlomusto M, Pillai S, Zhang K, Kosturko R, Verdejo P, Feinberg C, Nguyen L, Chandar P. Effect of lactic acid isomers on keratinocyte ceramide synthesis, stratum corneum lipid levels and stratum corneum barrier function. Arch Dermatol Res. 1996 Jun, https://pubmed.ncbi.nlm.nih.gov/8818186/
U.S. Food and Drug Administration, Guidance for Industry: Labeling for Cosmetics Containing Alpha Hydroxy Acids
Smith WP. Comparative effectiveness of alpha-hydroxy acids on skin properties. Int J Cosmet Sci. 1996 Apr, https://pubmed.ncbi.nlm.nih.gov/19245467/