Whether you're looking to revamp dull skin, plump wrinkles, enhance radiance, or lighten skin discolorations, the best lactic acid serums can really help you out. They're taking the first spot in most routines since lactic acid delivers not only a gentle exfoliation but a dose of hydration as well. For this reason, those with dry or sensitive skin often prefer a lactic acid serum over a glycolic acid one.
Now, if you're in search of the best lactic acid serums to keep your skin flawless and healthy you are in the right spot. But first, here's what you need to know about lactic acid to get the most from your serum.
What is lactic acid?
Lactic acid is part of the alpha-hydroxy acids (AHAs) family. Like other AHAs, lactic acid's main role is to increase cell turnover and slough off dead cells from the outer skin layer, which comes with endless perks. As new healthy cells replace old ones, skin becomes thicker, firmer, and brighter. Besides exfoliating, lactic acid also acts as a humectant — it draws moisture into the skin — and helps consolidate the protective barrier by increasing levels of ceramides. Compared with other acids, lactic acid is more gentle as it has the largest molecular size, meaning it can't penetrate the skin deep enough to trigger irritations.
Lactic acid serums benefits
There's no denying that lactic acid has myriad benefits for your skin. Plus, it's so gentle that almost anyone can use it, which makes a lactic acid serum even more appealing. Generally speaking, the best lactic acid serums aim to exfoliate the skin and stimulate cell renewal, the reason they are used to improve texture, reduce aging signs, fade hyperpigmentation, and keep skin plump and youthful.
Besides, since lactic acid is skin-friendly, is compatible with powerful actives such as other AHAs, retinol, niacinamide, or vitamin C. In fact, a lactic acid serum usually contains supporting ingredients like the aforementioned to deliver even more benefits. For sensitive or dry skin, lactic acid may as well be used with skin-identical ingredients like squalane, hyaluronic acid, or ceramides for a softer exfoliation that still delivers.
Are lactic acid serums safe?
Overall, lactic acid serums are suitable for all skin types and considered safe for daily use when applied in the right concentration (less than <10%). Besides, because it's gentle and hydrating, lactic acid is beginner-friendly and easily tolerable. But like any other AHAs, lactic acid can cause irritations too. That's why you should start low and slow, especially if your skin is easily reactive, helping it adjust to lactic acid serum.
How to use lactic acid serums?
To be on the risk-free side, start using your lactic acid serum once every two or three days. If you feel your skin is not drying or irritating, go for daily use. Always use a moisturizer after your serum with lactic acid to reduce the possible dryness caused by exfoliation.
On top of everything, AHAs, including lactic acid, increase skin sensitivity to the sun, so make sure you use sunscreen every day.
The best lactic acid serums
Below, the best lactic acid serums to fight lack of radiance, fine lines, and dark spots. Plus, they'll soften, brighten, and revitalize your skin!
---


Sunday Riley Good Genes All-in-One Lactic Acid Treatment
It turns out Sunday Riley Good Genes is one of the best lactic acid serums out there. It contains purified-grade lactic acid to accelerate skin renewal, while licorice and lemongrass brighten dark spots, improving skin texture. At the same time, the serum maintains skin hydrated and soft with a botanical blend of plant extracts and squalane, which also helps prevent and alleviate dryness. Not to mention, it's great for all skin types and free of parabens, alcohol, and synthetic fragrance.
---


Biossance Lactic Acid Night Serum
For a clean serum with lactic acid that works the night shift, reach for Biossance Resurfacing Serum. It has a simple, yet effective formula that all skin types can use, and it does wonders at evening skin and diminishing wrinkles. Not only does it contain 10% lactic acid for a deep exfoliation, but it also has squalane and red clover, both known to improve skin hydration, increase thickness, and reduce irritations. Since nothing in this serum can dry out the skin, it's perfect for anyone lacking moisture or with problematic complexion.
---


StriVectin Advanced Retinol Smoothing Face Serum
An all-in-one solution, this is the best serum with lactic acid to soften fine lines and wrinkles, even out skin tone, and reduce pores look. This is because it's powered by retinol, the gold standard for anti-aging, and lactic acid, both working to exfoliate and resurface the skin. The formula is also enriched with soothing ingredients like ceramide, glycerin, and hyaluronic acid, so you don't have to worry about irritations. In other words, the serum speeds up cell turnover and enhances skin firmness while keeping the skin moist and plumped. Although it's a bit pricey, it's worth every penny. After all, StriVectin products never disappoint.
---


Tata Harper Resurfacing AHA + BHA Serum
Everyone looking for a natural serum with lactic acid should try this one. Tata Harper Resurfacing Serum is made with 22 botanical ingredients, from which nine are antioxidants, five are soothing, plus lactic acid, salicylic acid, and willow bark extract. This serum literally has everything your skin needs to keep its glow and radiance. Lactic and salicylic acids exfoliate and promote thickness, antioxidants keep skin protected, and squalane, glycerin, and Calendula extract boost hydration levels. Plus, you'll love the creamy rich texture as it melts into the skin.
---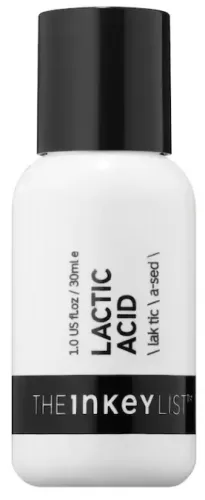 The Inkey List Lactic Acid Serum
Lactic acid is the main star in this budget-friendly serum formulated to help skin appear brighter and more even-looking. It provides mild exfoliation with 10% lactic acid, which is tolerable by most skin types, picking out dullness and uneven texture. Hyaluronic acid, glycerin, and castor oil are added to calm and hydrate the skin. There's not much to say about this serum since its ingredient list is so tiny — meaning it's clean and simple but very effective, definitely one of the very best lactic acid serums.
---


SkinCeuticals C+AHA Exfoliating Treatment
Combining 14% pure vitamin C with 10% mixed AHAs, SkinCeuticals C+AHA Exfoliating Treatment vows to fight wrinkles, clear up the skin of dead cells, and fade even the deepest dark spots. First, its antioxidant-rich formula increases the defense against sun damage, preventing photoaging and skin discolorations. In the meantime, glycolic and lactic acids exfoliate, remove excess oil and unclog pores, leading to a healthier and brighter complexion. Due to its high concentrations of actives, this serum works really great for aging signs, oily skin, and acne yet may feel too harsh on sensitive, dry skins.
---


Paula's Choice RESIST 10% AHA Serum
It's hard to say no to Paula's Choice AHA Serum. It's that product where glycolic, lactic, malic, tartaric, and salicylic acids meet to get your skin to its best version ever. This high-concentrated exfoliating cocktail tackles everything from wrinkles, dark spots, and sun damage to breakouts, and excess sebum. And it's unlikely to dehydrate skin since it also packs plenty of skin-loving ingredients, including ceramide, licorice root, green tea extract, and peptides.
---


Dermalogica Biolumin-C Serum
Loaded with lactic acid and two sources of vitamin C, Dermalogica Biolumin-C Serum works like a charm at preventing dullness, uneven texture, fine lines, and loss of elasticity. And since it has plenty of peptides, vitamin E, and hyaluronic acid, the serum actually softens and plumps the skin, not messing with it.
---

Drunk Elephant Protini Powerpeptide Resurf Serum
Another great lactic acid serum comes from Drunk Elephant. It fortifies and supports skin firmness with a powerful formula that mixes peptides, amino acids, and 10% lactic acid. More precisely, with high-concentrated lactic acid, this serum refines texture and targets dullness, while a blend of 11 peptides, squalane, and green tea extract strengthens the skin barrier and returns that glowing complexion.
---


Perricone MD Deep Crease Serum
The reason Perricone MD Deep Crease Serum is among the best lactic acid serums is its potent formula. First of all, it uses three peptides and squalane to support the moisture barrier, making skin appear smoother while reducing the chances of wrinkle formation. Then, lactic acid offers gentle exfoliation to restore luminosity and smoothness. And finally, flax, chia, and macadamia seed oils, which are rich in vitamin F, help ease irritations and regulate excessive water loss. Give this serum a shot if you want to get rid of those aging signs but can't tolerate harsh products.
---
Osmosis Skincare Antioxidant Infusion Serum
With lactic acid and niacinamide on top of the ingredient list, this serum does a damn well job at replenishing and revitalizing dull, rough skin. These two skincare powerhouses are supported by seven antioxidants, including green tea and vitamin E, to increase protection against free radicals while promoting collagen production. Soothing ingredients like honeysuckle extract, peptides, and glycerin are also added to relieve dryness. As the skin exfoliates, hydrates and collagen levels increase, wrinkles will appear less visible.
---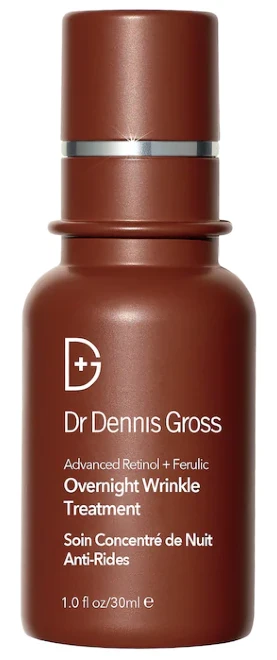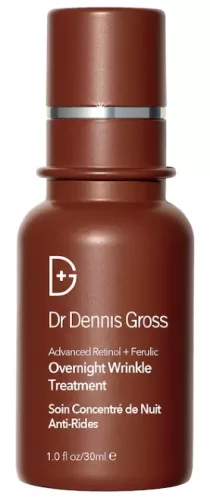 Dr. Dennis Gross Advanced Retinol + Ferulic Treatment
Let this serum work overnight to enjoy a smoother, brighter, and wrinkle-free complexion. It contains anything you'd want from an anti-aging and dark spot treatment. First, it has ferulic acid, an antioxidant booster, which is great since Dr. Dennis Gross' Wrinkle Serum is full of antioxidants like retinol, niacinamide, vitamin E, green tea, and gallic acid. Next, retinol stimulates cell renewal and promotes thicker skin, helped by lactic and glycolic acids. In addition to these anti-agers, the treatment includes bakuchiol, which provides retinol-like effects without irritation, mandelic acid that targets discolorations, and niacinamide to reinforce the barrier.
---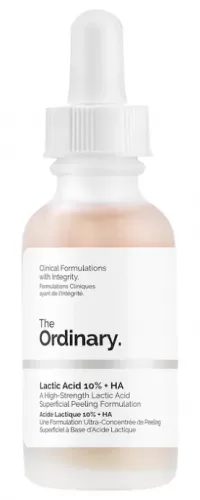 The Ordinary Lactic Acid 10% + HA
The Ordinary is up for grabs as one of the best lactic acid serums under $10 that works amazingly at reducing wrinkles and dark spots. Besides 10% lactic acid, it's enriched with Tasmanian pepper berry to reduce the sensitivity associated with exfoliation. More than that, it contains hyaluronic acid and glycerin that keep skin plumped and hydrated. Be aware that The Ordinary Lactic Acid 10% + HA delivers a high-strength lactic acid formula, which some may feel too harsh for daily use.