A night cream is a key player in your PM routine, and really, you can't go wrong with a natural formula that skips concerning compounds, heavily processed actives, and synthetic fragrances. But with all the misinformation around what makes a moisturizer "natural," it's challenging to know where to start. Hence, we have rounded up the best natural night creams that promise to infuse your skin with healthy nutrients, botanical extracts, and nourishing oils without sacrificing efficacy.
Why night cream is important
The night cream is important because, during sleep, the skin is in a restorative mode, as blood flow is increased and the body works to rebuild collagen and repair damage. And when skin is repairing itself, what you do by using a night cream is help it get more from the process.
If your day moisturizer focuses on protection, the nighttime cream should focus on restoring and repairing the skin. For this reason, your night cream must hydrate and recover your skin while preventing moisture loss.
How do I choose a night cream?
Choose your natural night cream depending on what concern you want to target and pick the one that addresses your skin needs. Since you want to start your day with a glowy and bouncy complexion, the best natural night cream should be infused with hydrating actives, such as honey and aloe vera, softening compounds, like oatmeal and vitamin E, and repairing ingredients, such as retinol and vitamin C.
Remember that night creams are thicker by their nature, so in case your skin is oily, make sure you pick one that's non-comedogenic.
The best natural night creams
We conducted a heavy analysis to find these moisture-rich natural formulas, thoughtfully read thousands of reviews, and considered only brands that are known for creating natural, gentle products. Scroll down to find the best natural creams for night with potent actives that suit every skin type, have different textures for everybody and anybody, and fit all budgets.
---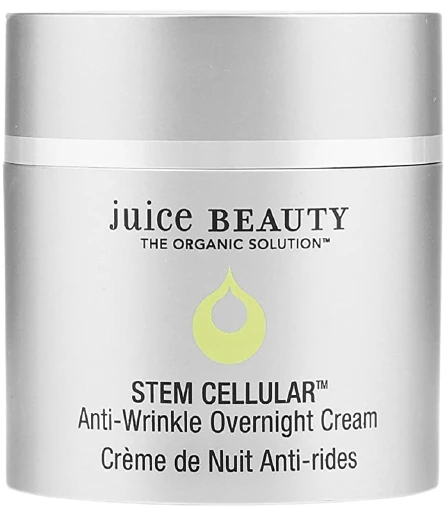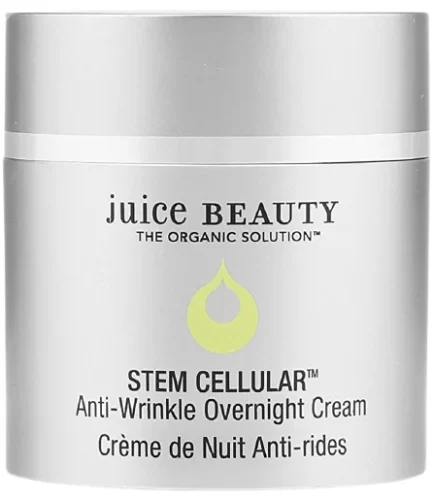 Best Overall: Juice Beauty Anti-Wrinkle Overnight Cream
Juice Beauty products have skyrocketed in the skincare world, and this natural overnight cream is no exception. First, its base consist of a mingle of organic juices (grape, aloe leaf, apple, and lemon) that deliver intense hydration and antioxidant protection. Secondly, the cream works to soften with primrose and sacred lily, while shea butter, olive-derived squalane, and vitamin E act as occlusives to form a protective film over the skin's surface to hinder transepidermal water loss. And this is how you wake up to bouncy plump skin.
---
Best for Dark Spots: Caudalie Vinoperfect Brightening Glycolic Night Cream
Thinking about those who want to fight dark spots, Caudalie made the best natural night cream that acts as a gentle peel. The MVPs of the formula are glycolic acid, papaya enzymes, and vine sap-derived Vinifere (Caudalie's alternative to vitamin C), each with its role to diminish dark spots and acne scars while you rest. And don't worry about drying your skin; this night cream includes shea butter, vitaminB5, squalane, and sodium hyaluronate to increase moisture and smooth the complexion. Plus, it has a lovely citric scent.
---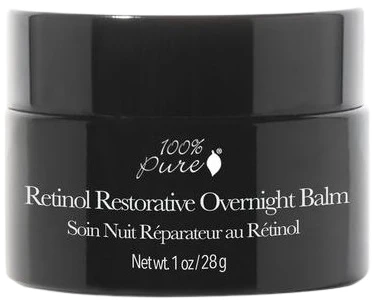 Best with Retinol: 100% Pure Retinol Restorative Overnight Balm
Lightweight in texture and feel, 100% Pure Retinol Restorative Overnight Balm contains the holy grail of anti-aging ingredients, retinol, to encourage cell turnover and support skin repair. In plus, avocado, shea butter, vitamins C and E, and beeswax create a veil on your skin to prevent moisture while offsetting possible retinol irritations. Pretty much these are all the ingredients this moisturizer includes, taking the cake for the best natural night cream infused with retinol.
---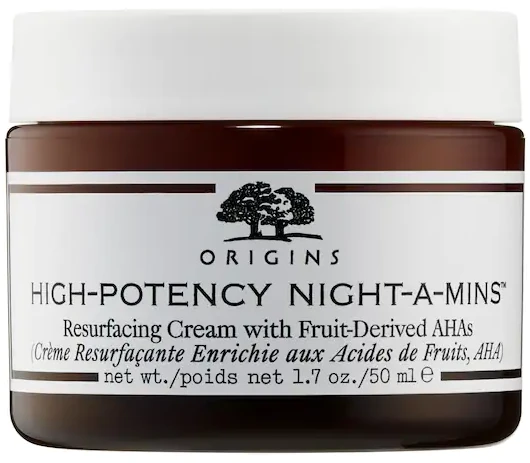 Best for Acne: Origins High-Potency Night-a-Mins Resurfacing Cream
If clogged pores, pimples, and uneven texture are your issues, Origins Night Resurfacing Cream is what you need. It uses fruit-derived AHAs, such as citric, tartaric, and lactic acids, as well as salicylic acid, to renew the skin, balance sebum production, and clear pores for a smoother appearance. At the same time, a blend of vitamins, calcium, and squalane replenishes and fortifies the skin's barrier for a breakout-free complexion that screams health and glow.
---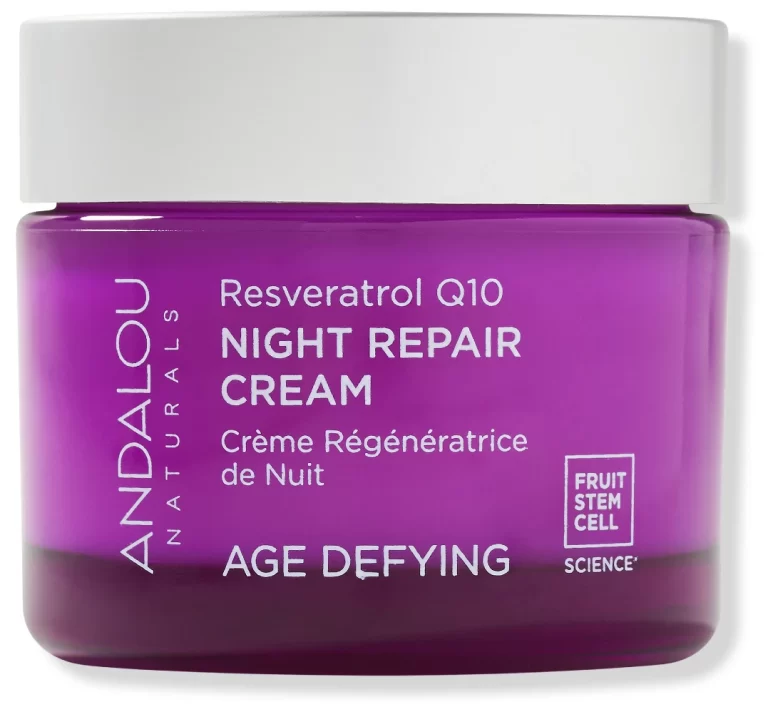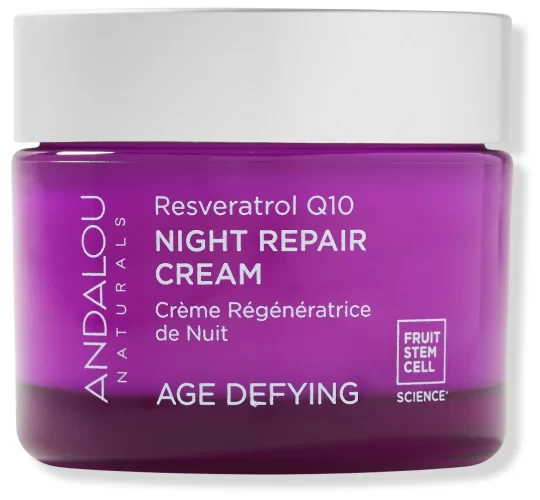 Best for Damaged Skin: Andalou Naturals Night Repair Cream
Fast-absorbing and featherweight, this night cream is your best bet if you want to nourish and repair your damaged skin while sleeping. It's chocked full of botanical extracts and loads resveratrol, coenzyme Q10, squalane, and vitamin C in a formula gentle enough even for the most problematic complexions. All these actives work in tandem to strengthen the skin's antioxidant defense and accelerate cell repair, while the addition of peptides (from the goji fruit) builds proteins to support firmer and smoother skin.
---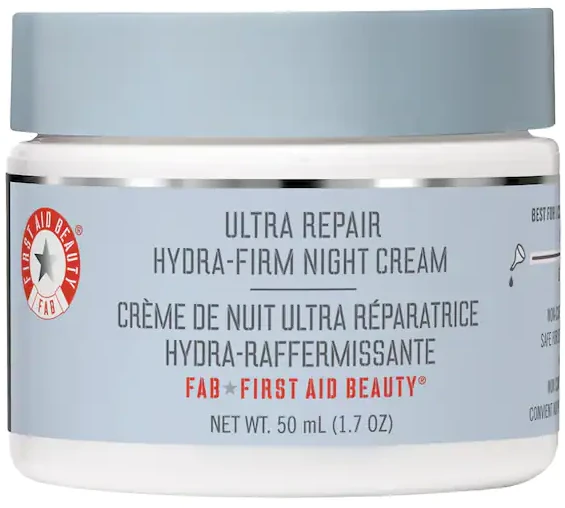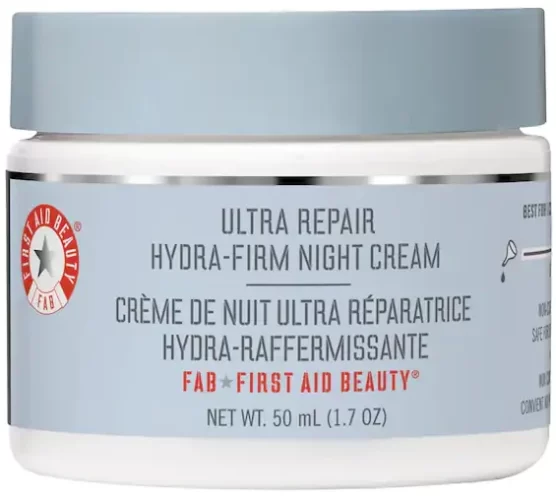 Best for Dry Skin: First Aid Beauty Ultra Repair Hydra-Firm Night Cream
When your skin is dry, you want to bring the heavy moisturization hitters into your nighttime routine. This night cream does just that, helped by colloidal oatmeal, shea butter, and flower waxes, so you'll wake up to soft, smooth skin. More than that, hydration is boosted with glycerin, sodium hyaluronate, and niacinamide for visibly bouncy skin, while the buttery-rich texture instantly relieves tightness.
---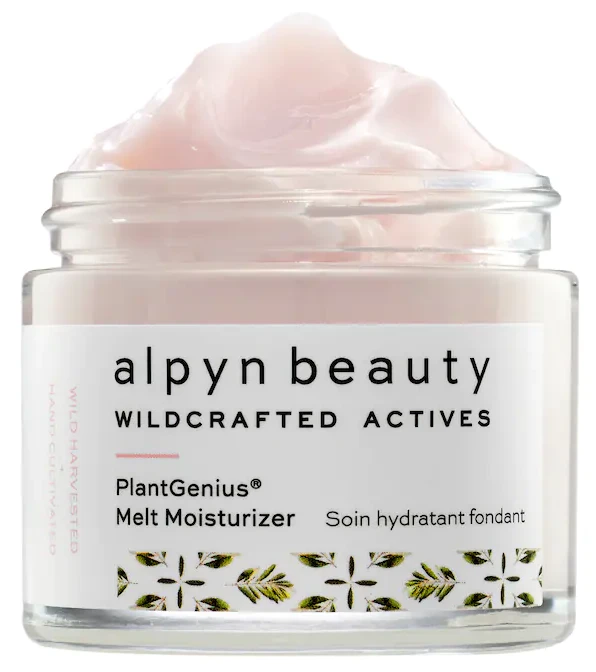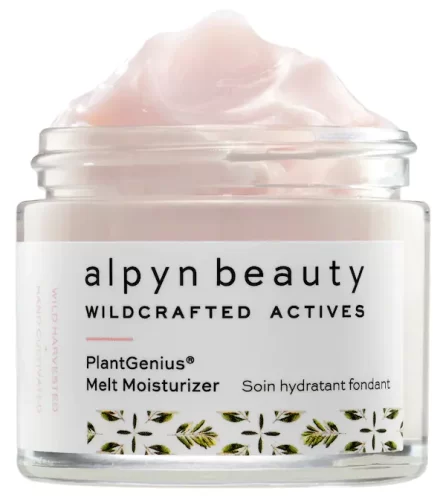 Best for Fine Lines: Alpyn Beauty Melt Moisturizer
If you struggle with fine lines and wrinkles and want to tackle them with a natural night cream, look no further. Alpyn Beauty Melt Moisturizer is powered by bakuchiol (a plant-based retinol alternative) to arrest aging signs by boosting cell turnover and increasing collagen. In the meantime, hyaluronic acid and squalane hydrate and plump, while ceramides and shea butter soften and strengthen the skin's barrier. The weightless (yet rich) formula also packs some of the best skincare actives, including glycolic acid, vitamin C, peptides, fatty acids, and tocopherol, melting into the skin instantly to leave it radiant and velvety soft.
---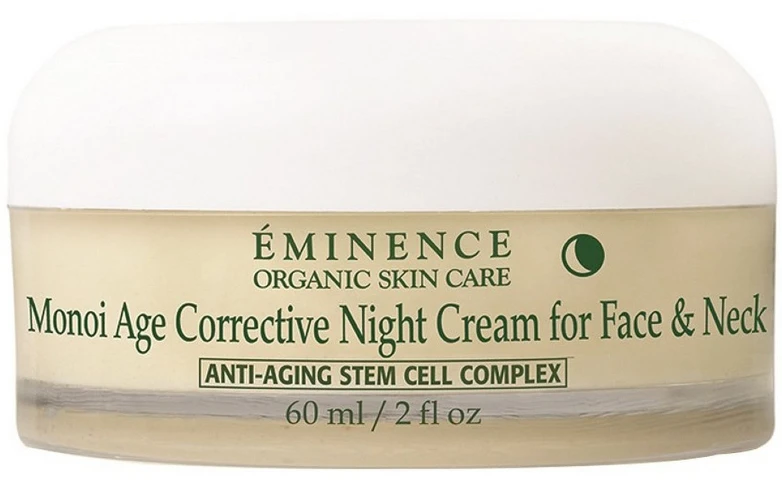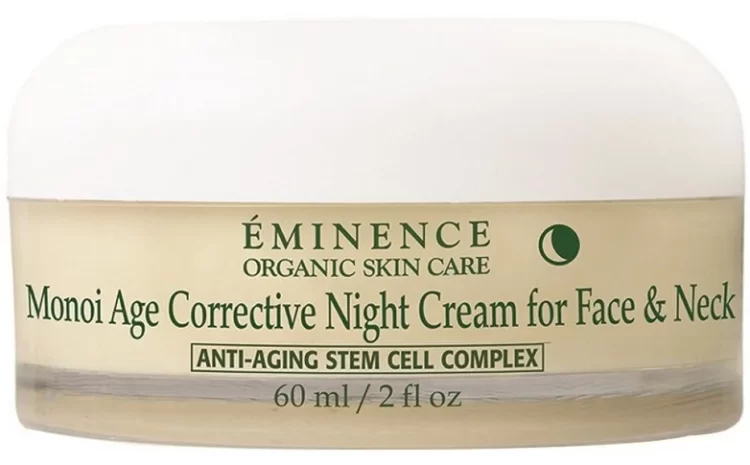 Best for Firming: Eminence Monoi Age Corrective Night Cream
The star ingredients in this moisturizer are argan and jojoba oils, shea butter, grapeseed oil, corn silk extract, and vitamin E, making it the ideal nightcap for everyone. The natural formula works to improve firmness, boost moisture and repair the skin only with nature-derived ingredients. It's so popular and won multiple awards for a reason, and we consider it the best natural night cream that targets loss of firmness and elasticity.
---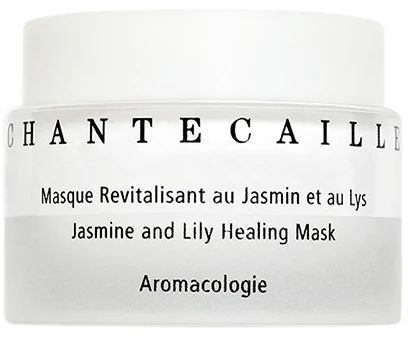 Best Multitasking: Chantecaille Jasmine and Lily Night Cream
This natural cream for night aims to hydrate and soothe skin, reviving a dull complexion thanks to the soothing and clean ingredients. The relaxing rosewater base possesses hydrating and antioxidant benefits, while the mix of botanical oils and plant extracts, such as bisabolol, jasmine flower, and lily bulb, nourishes and conditions the skin. But the best part is about to come: a mix of flower waxes act as emollients that soften the skin, so you never wake up to a dull complexion again.
---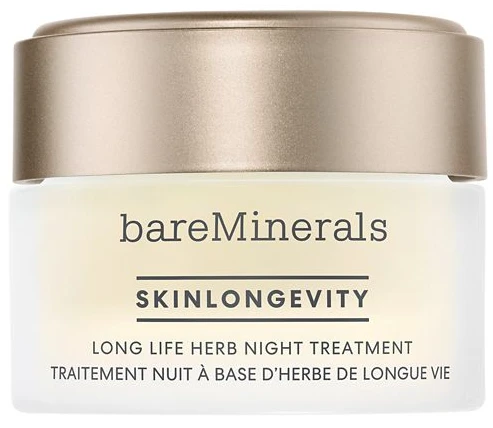 Best for Sensitive Skin: bareMinerals Skinlongevity Night Treatment
This one is gentle enough, even for the most sensitive skin. BareMinerals Night Treatment is lightweight even though it's packed with emollients, such as mango seed butter, Capuaçu seed butter, and vitamin E, having a gel-like texture that feels super refreshing. Niacinamide, glycerin, sodium hyaluronate, and hydrolyzed hyaluronic acid boost hydration, meaning your complexion will look exceedingly dewy and plump the next day.
---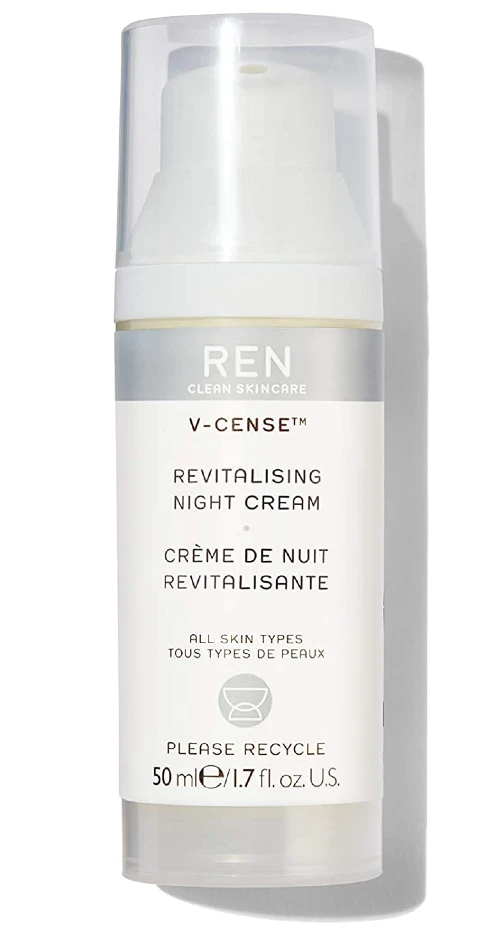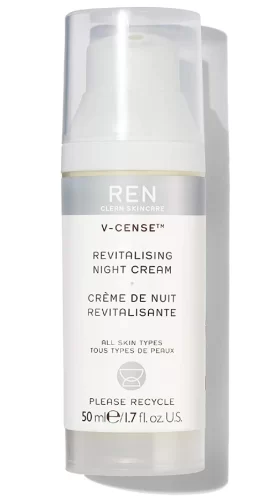 Best at Revitalizing: REN Clean Skincare V-Cense Revitalising Night Cream
REN Clean Skincare V-Cense Revitalising Night Cream targets dryness, dullness, fine lines, and wrinkles with natural, nourishing ingredients in a rich formula. Vitamin C, squalane, shea butter, peptide, and vitamins B5 and E, are all famous for their hydrating and protective benefits. There's also the frankincense oil that relaxes your senses with a spiritual scent that'll make you look further to doing your PM skincare routine.
---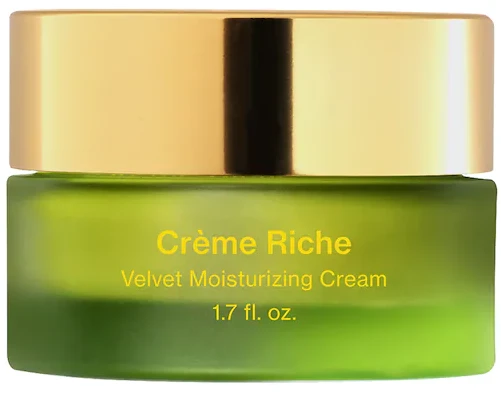 Best Splurge: Tata Harper Crème Riche Anti-Aging Peptide Night Cream
If you can afford to spend $200 on a moisturizer and want the best natural night cream, the hunt is over. Tata Harper made a rich moisturizing cream that addresses aging signs with naturally derived ingredients, certified by Ecocert. Plumping hydration comes from glycerin, sodium hyaluronate, and hyaluronic acid, botanical oils nourish, soothe and keep the skin from losing moisture, while butter, waxes, and vitamin E have an emollient effect and soften the skin. Simply put, you can't go wrong with this one.
---