Not too long ago I discovered Neostrata and since then I've become obsessed with their products, so I decided to share some of the best ones I've found with you. For a bit of context, Neostrata is a dermatologist-born brand that calls itself the pioneer of alpha-hydroxy acids and polyhydroxy acids (PHA), the much-loved exfoliants that revolutionized the skincare world. 
For over four decades, Neostrata has created products that target every concern you can think of, such as sensitivities, aging signs, and acne, focusing on hyperpigmentation, uneven tone, and blemish scarring. Even though most Neostrata products are loaded with exfoliating acids to encourage skin renewal, the formulas are pH-balanced to enhance effectiveness and pack compounds that target skin replenishment.
Neostrata collections
Neostrata tackles all of your concerns through nine collections that make it easy to find your perfect match. These are the main Neostrata collections and what ingredients they focus on to target specific skin concerns:
Active: The range that helps diminish fine lines and wrinkles, improves firmness, and speeds up skin repair. Most products in this collection are made with retinol, Aminofil®, and NeoGlucosamine®.
Active Repair: Features potent products that address visible aging signs using peptides to support the extracellular matrix, glycolic and gluconolactone, and maltobionic acids.
Active Firming: Includes products that address the loss of tone, sagging skin, and creepiness on the face, neck, and décolletage. Here you'll find actives like hyaluronic acid, glucosamine, and natural moisturizing factors to replenish skin smooth and firm.
Correct: A new collection that targets uneven tone and texture, fine lines, and wrinkles using AHAs, retinol, hyaluronic acid, and peptides. 
Enlighten: It uses brighteners, such as vitamin C, niacinamide, and Neoglucosamine, to address clarity and discoloration.
Resurface: A great collection for minimizing fine lines, smoothing texture, refining pores, and strengthening the skin. The products in this collection include gradually-release AHAs to maximize skin tolerability.
Restore: This collection comprises products that address all skin types, but especially reactive skins. The products feature PHAs to provide gentle exfoliation while protecting the moisture barrier and soothing with amino acids, zinc, and botanical extracts.
Clarify: Oily and acne-prone folks, this is for you. The products are based on the power of salicylic acid and alpha-hydroxy acids, along with Neoglucosamine, to smooth skin, reduce blemishes, unclog pores, and balance oil.
Defend: It's a collection of sun protection with broad-spectrum UVA/UVB sunscreens to shield against photoaging. One sunscreen provides mineral sun protection, while the other gives chemical defense.
Neostrata is also cruelty-free, and most of its packaging is recyclable.
The best Neostrata products
Indeed, Neostrata is on the pricier side but considering the potent formulas and thousands of 5-star reviews, you know the brand lives up to the hype. So scroll on the find the best Neostrata products that can give you healthy, strong, and radiant skin.
---
1
Neostrata Tri-Therapy Lifting Serum
This is the ideal Neostrata product for those who want to fight discoloration and wrinkles with one potent product. Enhanced with a high concentration of gluconolactone (mild exfoliant), Aminofil (amino acid), and hydrolyzed sodium hyaluronate (hydrating humectant), this serum has the trifecta for resurfacing, plumping, and hydrating. The result? Evener tone, plumper skin, and less noticeable fine lines and wrinkles over time. The lightweight texture absorbs immediately without leaving any residue behind. It's as good as in a clinical trial, participants noticed 97% reduced fine lines and 90% improved skin clarity and brightness.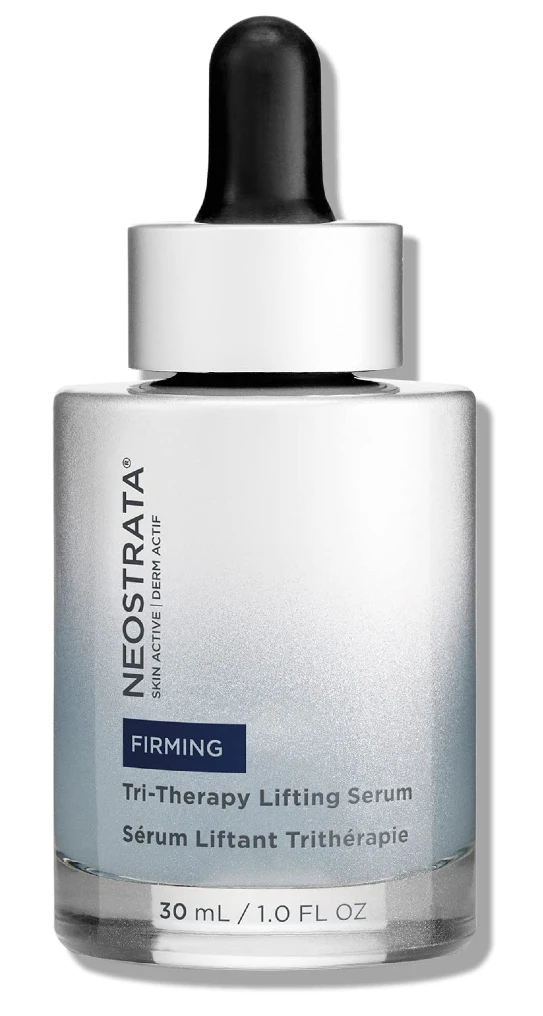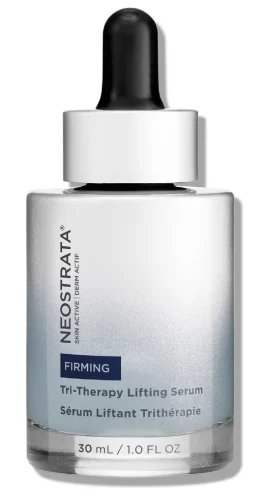 ---
2
Neostrata Triple Firming Neck Cream
Skin experts and enthusiasts alike hail this clinically proven treatment for improving firmness, evening, and diminishing saggy skin on the neck and decolletage. It does this with 8% Neoglucosamine (amino sugar that resurfaces and brightens), and 4% NeoCitriate and Pro-Amino Acid, which target collagen production to support skin matrix and volumize skin. The addition of shea butter and vitamin E gives this cream highly emollient benefits, meaning it softens and wraps skin in a cocoon of deep moisture in an instant.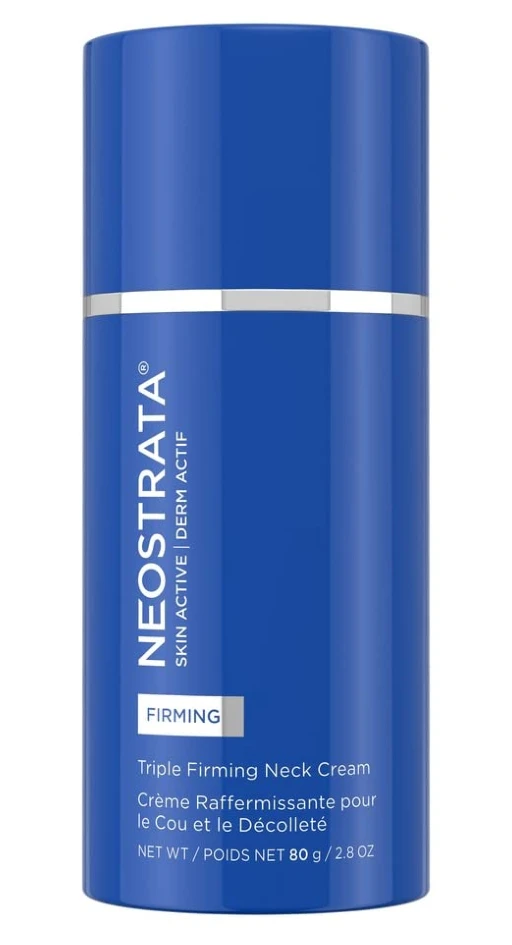 ---
3
Neostrata Exfoliating Wash
There's a reason Neostrata Exfoliating Wash sells like hotcakes, and it's often out of stock. The foaming formula is made sans soap and fragrance, so it won't ever leave your skin stripped, yet it gives a deep cleanse without leaving a trace. It boasts a blend of PHAs for gentle exfoliation, plus soothing actives, such as arginine, aloe, cucumber, and chamomile extracts, to leave skin calm and refreshed. This cleanser is part of the Repair collection and can be used by all skin types, sensitive, and acne-prone included.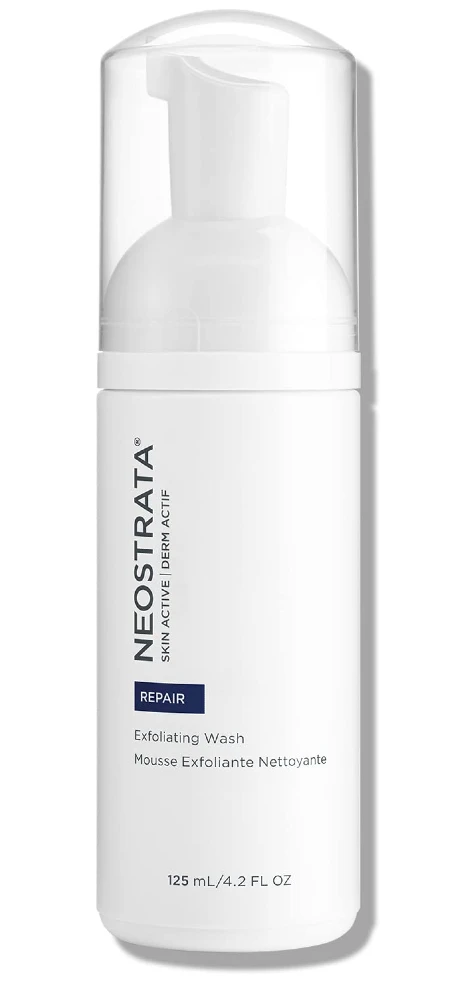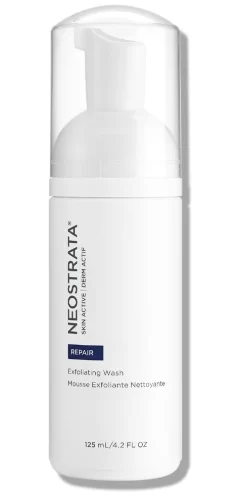 ---
4
Neostrata Intensive Eye Therapy
This is the best Neostrata product for the eye area that targets all concerns—crow's feet, puffiness, and dark circles—at once in a gentle yet effective formula. It's made with Neoglucosamine to encourage cell turnover and resurface, which softens wrinkles. There are also peptides to trigger collagen production and hyaluronic acid to plump and increase moisture. The gel-like lightweight texture feels super pampering, energizing the skin in an instant. Bonus: The formula skips harsh compounds like fragrances, parabens, and alcohol.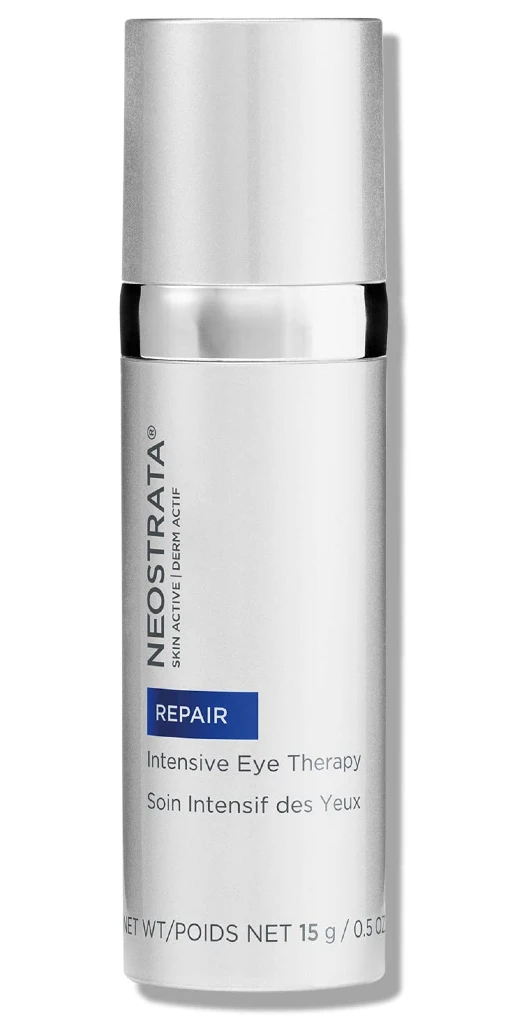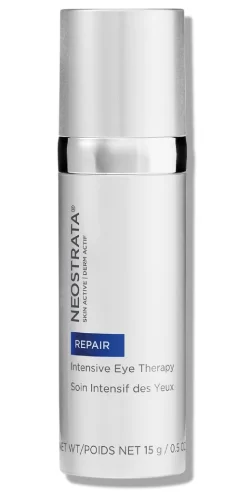 ---
5
Neostrata Matrix Support
Made with 0.1% retinol, peptides, and broad-spectrum SPF30, this multi-tasking Neostrata product is the perfect addition to your anti-aging arsenal. It has a lightweight yet rich texture that feels like a hydrating lotion and leaves skin soft and moist. The purpose of this moisturizer is to repair photodamage while protecting against further damage caused by harmful UV rays. You still need your sunscreen for greater protection, tho.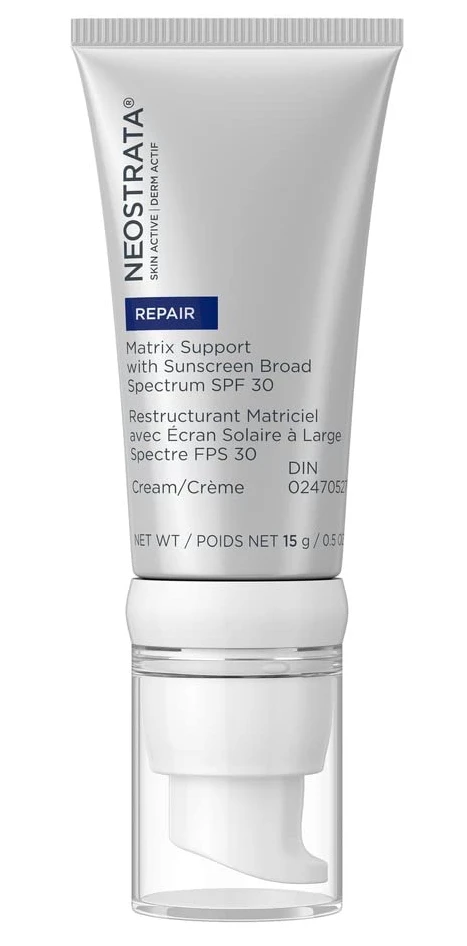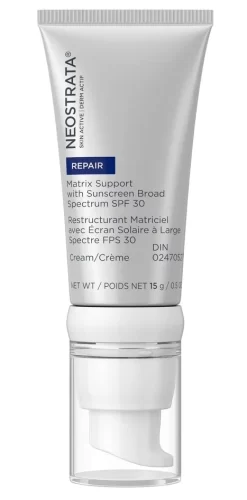 ---
6
Neostrata Illuminating Serum
This is the best Neostrata product from the Enlighten collection to target hyperpigmentation and uneven tone. It boasts 4% niacinamide, B-resorcinol, licorice extract, and an oil-soluble form of vitamin C, all of which work to fade dark patches and brighten skin. Plus, the medley of natural extracts, including orange, apricot, and apple, provide antioxidant benefits, helping prevent further discoloration. The non-sticky formula leaves skin soft and glowy—plus, its touch pump dispenses single servings to keep bacteria out of the mix.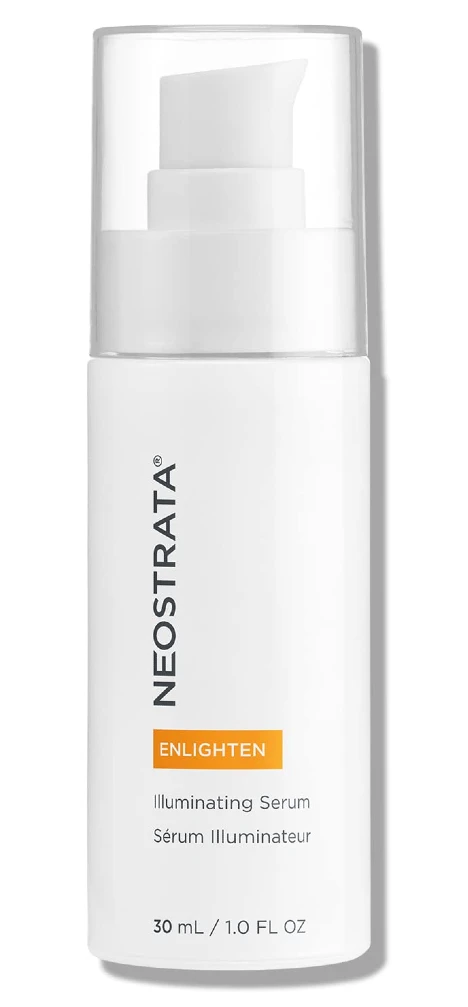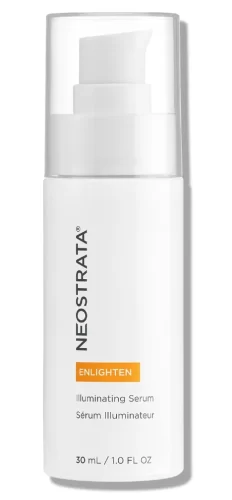 ---
7
Neostrata Oily Skin Solution
This Neostrata toner is ideal for those who struggle with excess oil since it's made with 8% glycolic acid to exfoliate delicately, unclog pores, and balance oil. In turn, pores appear smaller, skin feels smoother, and breakouts are less likely to occur. Due to the high concentration of glycolic acid, you should always follow up with sunscreen in AM when using this toner (as you should be doing anyway).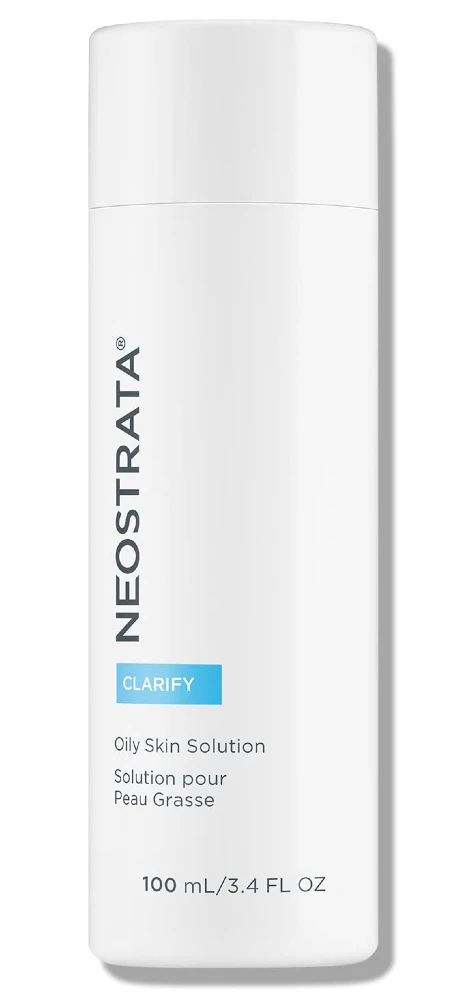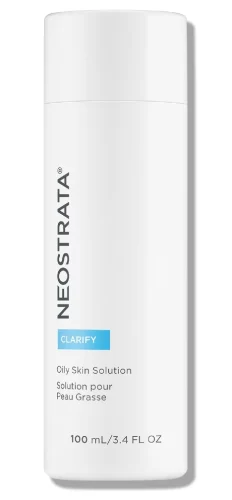 ---
8
Neostrata Glycolic Microdermabrasion Face Polish
This is the best Neostrata product from the Correct collection, ideal for revealing smoother and more radiant skin. The formula blends 10% glycolic acid to slough off dead cell buildup and gunk, while alumina crystals offer gentle manual exfoliation, dissolving debris on the skin's surface. In time, the texture appears smoother, the tone evener, and fine lines less noticeable. Twice or thrice a week, massage it into the skin and let it act for 2 minutes before rinsing. Hello, glowy skin!