Last time updated and fact-checked by Ana Vasilescu.
Have you heard about Philosophy? It's not just another skincare brand. They're all about empowering women to make small changes every day to better themselves. And you can see that philosophy reflected in their products. They're not just about looking good, they're about feeling good too. That's why Philosophy believes that personal care should have a positive impact on your skin, your mind, and the planet. And now, the brand is taking a step further by reinventing its portfolio to offer more eco-responsible and clean products that are multitasking yet gentle and offer a moment of well-being through scent and texture. If this doesn't have you convinced, Oprah herself personally endorses Philosophy—their Hope In A Jar moisturizer is a personal favorite of hers.
Today, we decided to take a look at the best Philosophy skincare products. We've dug deep into the formula for their active ingredients and checked what customers say to ensure each product is a top performer. From cleansers to moisturizers and everything in between, there's something for every step of your routine and every skin concern.
---
Philosophy Purity Made Simple Pore Extractor Mask
This award-winning mask is very effective at reducing blackheads and drawing out impurities. Within this formula, there's kaolin, a clay that reduces excess oil and unclogs pores. Salicylic acid is our blackhead-busting friend, reducing the swelling and redness of any spots hanging around too. Dehydrated skin can also join in on the purifying benefits due to the inclusion of sodium PCA, which draws moisture in from the air to help boost hydration. Simply put, this is one of the best Philosophy products for congested skin, and it's perfect if you want a pore-reducing mask that won't dry you out.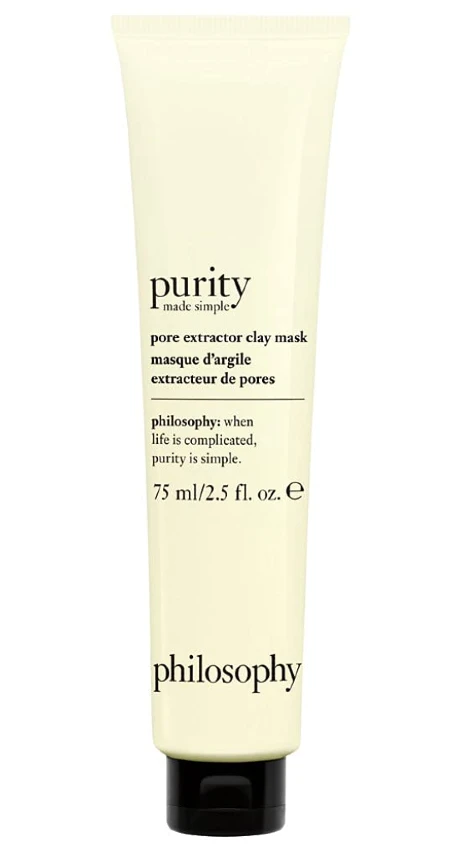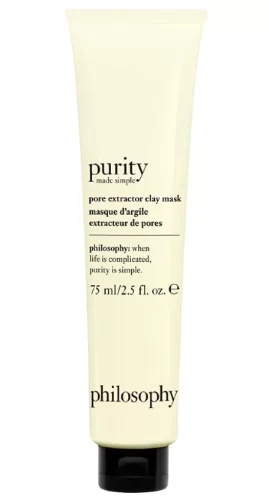 ---
Philosophy Purity Made Simple One Step Facial Cleanser
This is Philosophy's best-selling cleanser and another award winner (can you see the pattern?). If you're looking for something free from nasty parabens and sulfates, this cleanser ticks the boxes. With ten added oils, you've got a product that works super hard to remove daily makeup and grime. Philosophy also made sure that this cleanser would be nourishing and hydrating for your skin, leaving your face feeling soft and well-loved.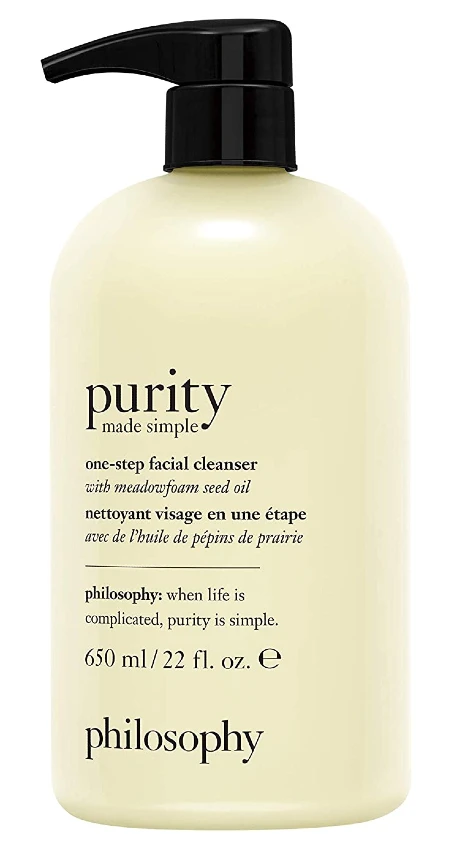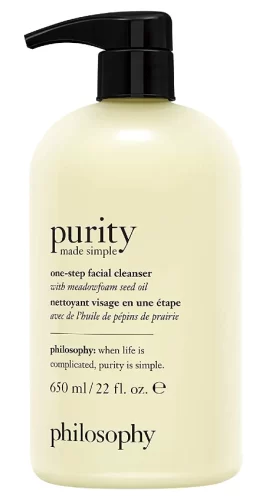 ---
Philosophy Ultimate Miracle Worker Multi-rejuvenating Moisturizer
We had to include this moisturizer in our list because Philosophy truly went all out with this one! It's a perfect multi-tasking moisturizer to add to your morning routine. I say multi-tasking because not only does it hydrate skin thanks to glycerine and beta-glucan, but the glycolic and lactic acids gently exfoliate as you go about your day too. And, to make sure you're getting the anti-aging benefits amped up, Philosophy added some great antioxidants in the form of green tea and vitamin C. Plus, you know your skin is protected from harmful UV thanks to the added SPF 30. Yet, this doesn't mean you should be skipping sunscreen.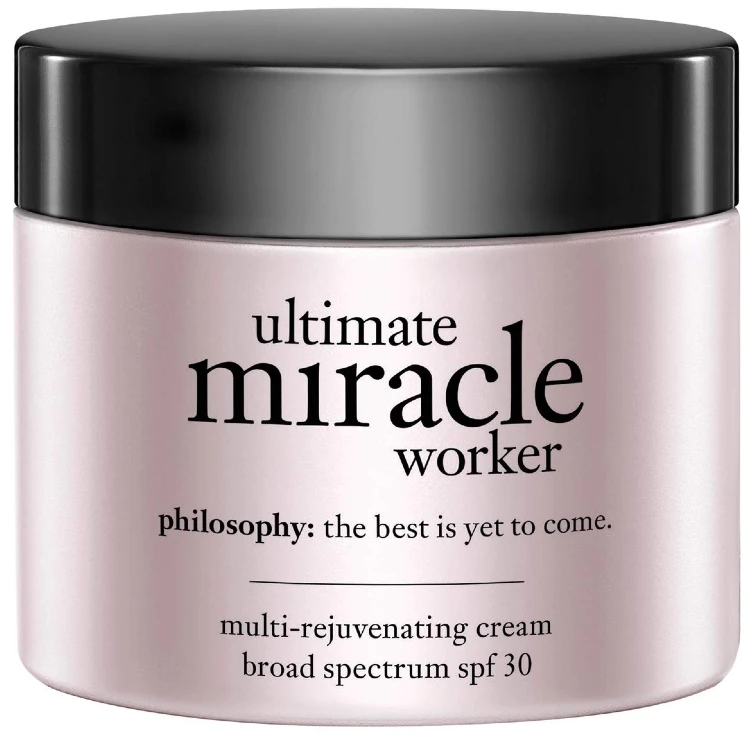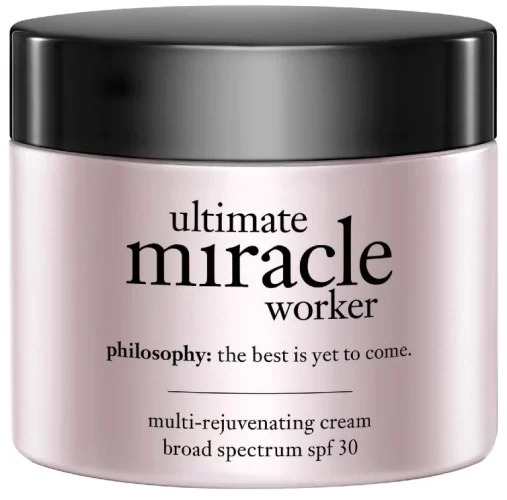 ---
Philosophy Ultimate Miracle Worker Fix Facial Serum Roller
This one got us skincare junkies seriously excited. We love the firming effects that rollers have, not to mention the soothing experience. Philosophy does, too, which is why it has created a serum with a built-in genius roller for quick n' easy application. The roller is effectively complemented by the serum, which contains Philosophy's own high-performance retinol, designed to boost retinol molecules with minimal degrading to stay effective for longer. We say it's the best Philosophy product to fight aging signs and enhance skin firmness.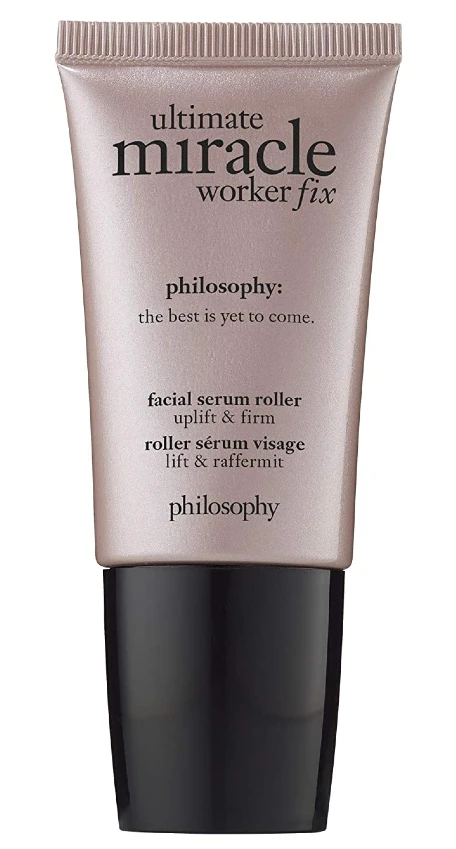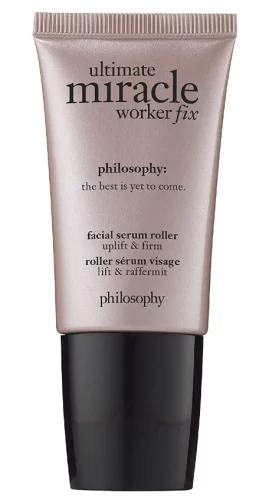 ---
Philosophy Ultimate Miracle Worker Nighttime Serum-in-Cream
Philosophy vows that this moisturizer targets every sign of aging. In just a few nights' sleep, you can wake up to dewy and renewed skin. Interestingly, you have to activate this moisturizer by adding an included sachet of serum pearls. It's got retinol and gentle acids to exfoliate and improve skin texture, and it also has extracts of green tea, coffee, orange peel, and angelica root. This formula works together to boost skin regeneration and natural collagen production for a plump appearance.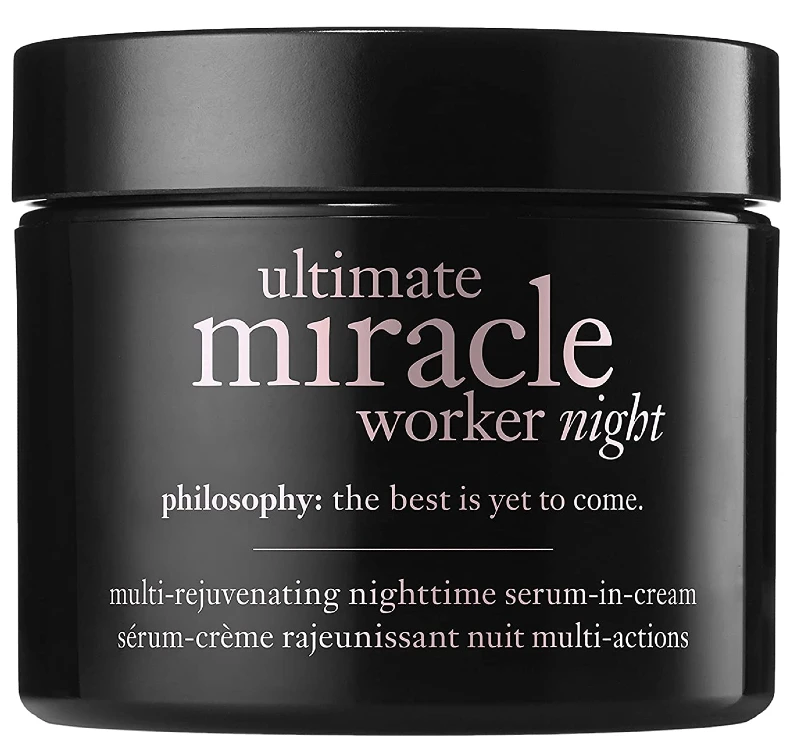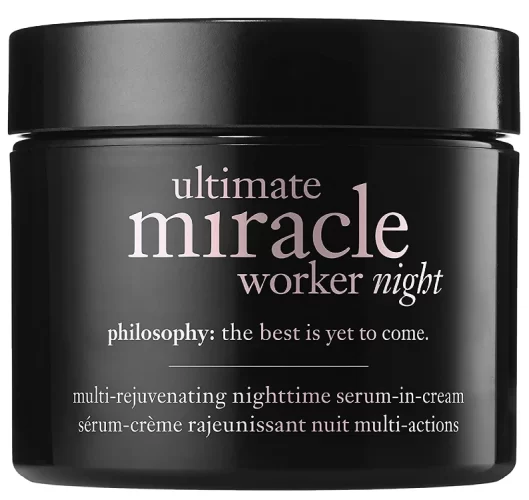 ---
Philosophy Clear Days Ahead Acne Treatment
Most acne treatments are harsh and drying, but not this one. It works hard (and gently) using an antimicrobial formula to eliminate acne-causing bacteria. Oligopeptide-10 is a key ingredient in this treatment, combatting inflammation and bacteria and helping to control and reduce the redness we often get with acne. Sebum production is also reduced to help diminish blackheads. And, of course, the formula has salicylic acid, which helps clear and purify skin on a long-term basis.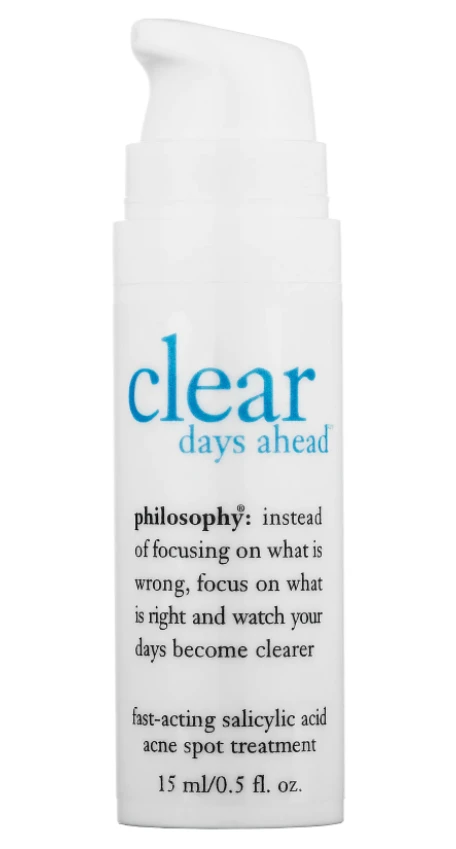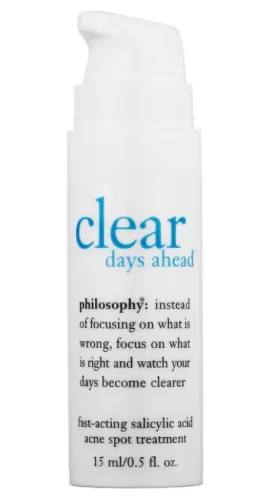 ---
Philosophy Ultimate Miracle Worker Fix Fill & Firm Eye Treatment
This formula is powered by the same high-performance retinol we mentioned previously, which minimizes fine lines and reduces dark circles. Philosophy also added soy extract to help depuff eyes and smooth them further. Finally, sodium hyaluronate penetrates deeply and effectively hydrates in the long run. This product would be an excellent addition to your morning and evening skincare routine.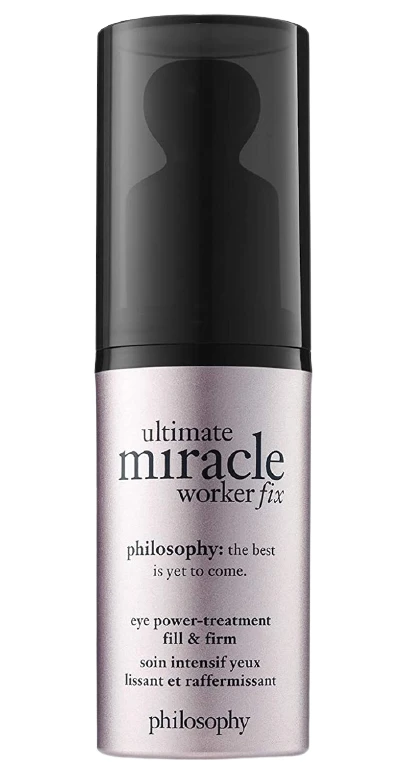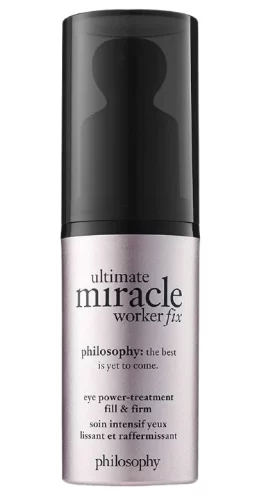 ---
Philosophy Microdelivery Resurfacing Solution
This is a liquid exfoliator you can incorporate into your beauty ritual multiple times a week. Philosophy's aim here is to provide some instant R&R (replenishment and resurfacing) after a single sweep around your face. They aim to give you baby-soft skin without the irritation you can get from harsh exfoliant toners. And this product has an ideal balance of the right ingredients to cause that softness. There are 4% AHAs for gentle exfoliation, plus niacinamide, cica, and vitamin C to help brighten and promote an even tone and hyaluronic acid to hydrate.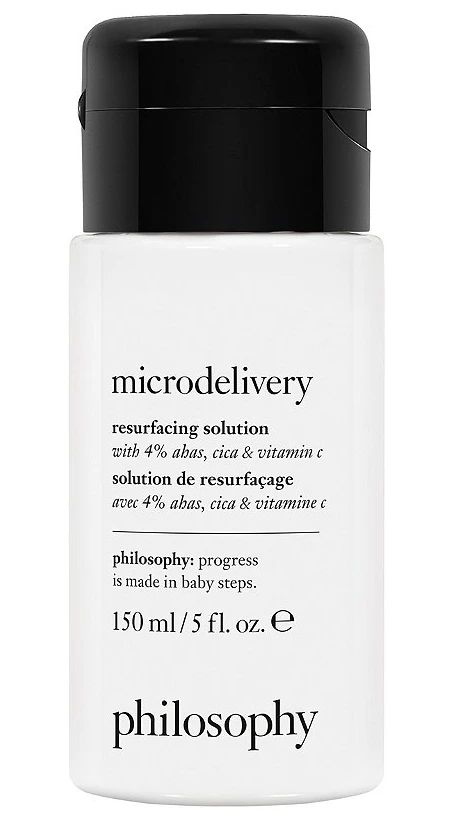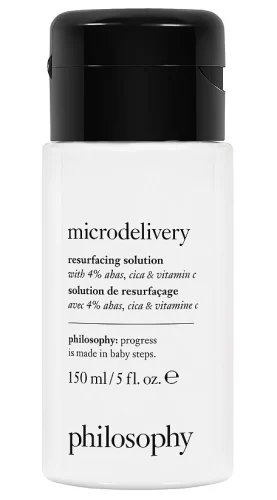 ---
Philosophy When Hope Is Not Enough Facial Firming Serum
We've got yet another award winner here, this time a serum that brightens and firms skin. We love this product because it's got sodium hyaluronate, a water-soluble salt derived from hyaluronic acid, and it's seriously effective at getting deep within the skin to plump it. Plus, it's boosted with a vitamin C + E blend that packs some serious antioxidant power to protect from external threats and stimulate collagen production. You can pop this in your skincare routine morning or night, safe in the knowledge that you're protecting your skin from the first signs of aging.