If you're hunting for the best salicylic acid toners, you're most likely dealing with clogged pores, excess sebum, and probably breakouts. Or perhaps you're a salicylic acid beginner who wants to slowly but safely add this powerful beta-hydroxy acid into your routine. Whatever your reason, starting with these salicylic acid-infused toners is the perfect way to remove the residues your cleanser didn't take away and add some more benefits to your skin. In turn, this can result in fewer breakouts, luminous skin, clear pores, balanced sebum production, and softer texture.
What is salicylic acid?
Salicylic acid is a member of the BHA family naturally derived from the bark of willow trees. As an oil-soluble compound, salicylic acid can penetrate the lipid barrier, where it unplugs clogged pores and breaks down the bonds of dead cells on the skin's surface, speeding up pimples healing and preventing the apparition of new ones.
Who can use salicylic acid toner?
You can use a salicylic acid toner if your skin is oily and prone to breakouts and blackheads. On the flip side, if your skin is dry, dehydrated, sensitive, or eczema-prone, stay away from a salicylic acid toner since it can be too harsh and might strip away essential moisture.
Is toner with salicylic acid good for acne?
Salicylic acid toners work best for superficial acne (whiteheads and blackheads) and aim to prevent future blemishes. This multi-tasker has it all, from exfoliating to revitalizing to restorative and bacteria-fighting benefits. So yes, if your skin is prone to mild acne, the best salicylic acid toners might be that extra step you need in your skincare regimen.
The best salicylic acid toners
Without further ado, below are the best salicylic acid toners that can help you fight acne, clogged pores, and excess sebum.
---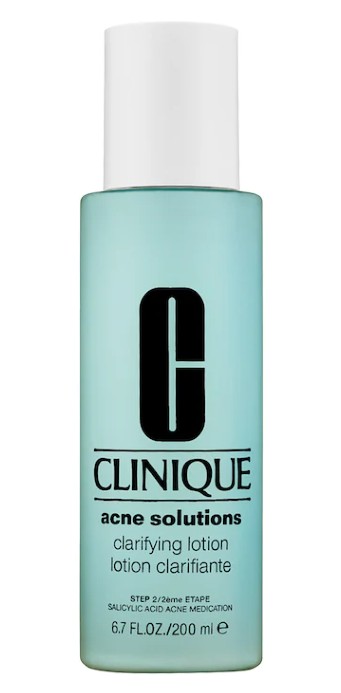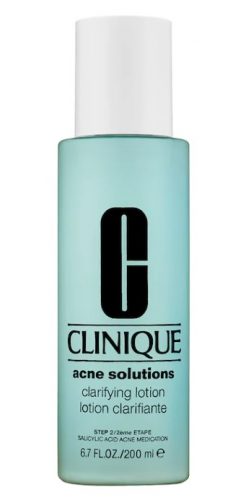 Clinique Acne Solutions Clarifying Lotion
If you want a toner that reduces excess sebum, unclogs pores, and leaves a matte finish, this Clinique product is for you. Because it's infused with 1.5% salicylic acid, it eradicates the impurities that clog pores and minimizes the chances of breakouts appearing. The addition of laminaria saccharina extract — moisturizing brown algae — reduces shine and defends against dryness, while witch hazel water soothes and has astringent effects that balance sebum. It's alcohol-free, so you never have to worry about it being stripping.
---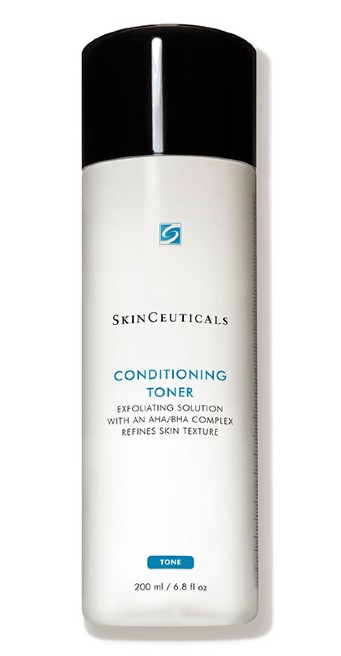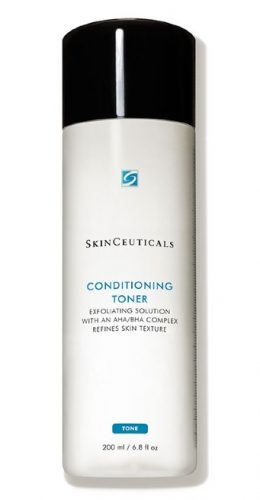 SkinCeuticals Conditioning Toner
This toner does the job of refining the texture while dislodging pore cloggers thanks to a potent blend of salicylic acid and glycolic acid. Consequently, this encourages pimples to heal, skin is left softer and smoother, pores are refined and sebum is balanced. And if that wasn't enough, the formula also loads eucalyptus oil to soothe and refresh the complexion. The reason this salicylic acid toner stands above others is the low pH formula, which maximizes the acids' effectiveness. This is also why you should never skip sunscreen while using it.
---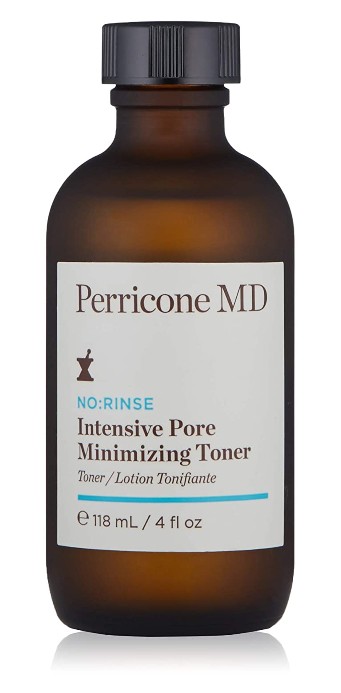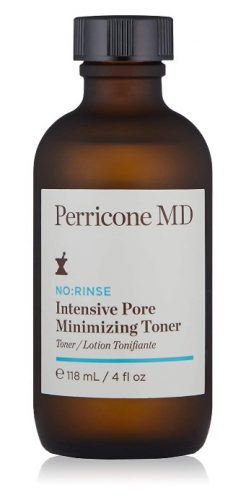 Perricone MD Rinse Intensive Pore Minimizing Toner
While you can't change your pores' size, you can make them look smaller with one of the best salicylic acid toners made by Perricone MD. Pores appear less noticeable when they're cleared out of oil and debris, and this toner perfectly does the job, thanks to salicylic acid. Additionally, the toner is spiked with peptides and minerals (magnesium, zinc, and copper) to strengthen the skin, while sodium hyaluronate adds a burst of hydration.
---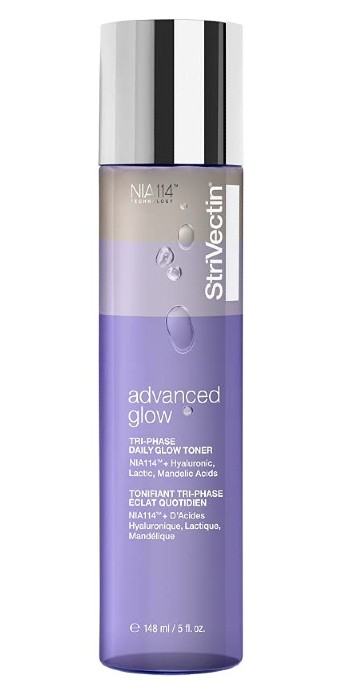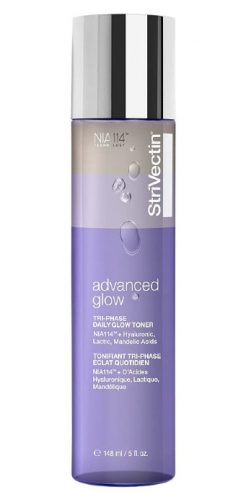 Strivectin Tri-Phase Daily Glow Toner
This is the best toner with salicylic acid for those who prefer a gentle formula that also vows to brighten dark patches without disturbing the skin's pH. Strivectin Tri-Phase Daily Glow Toner packs a mix of alpha-hydroxy acids and salicylic acid to slough off dead cell buildup, oil and dust on the skin's surface, squalane and hyaluronic acid to moisturize, and licorice root extract to fade dark spots. It's the holy grail for exfoliating, brightening, and hydrating!
---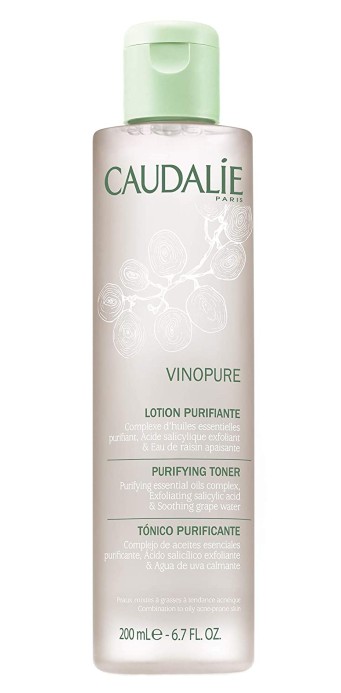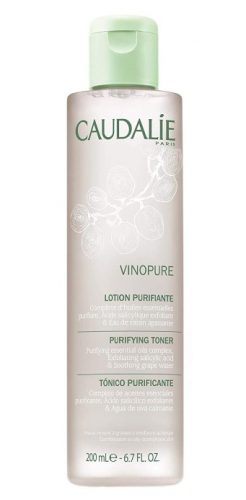 Caudalie Vinopure Natural Salicylic Acid Pore Minimizing Toner
This guy not only cleanses and purifies, but it aids in reducing the apparition of blemishes, preventing congestion, and minimizing pores' look without the dryness. It does all that, helped by salicylic acid, a ton of antioxidants, and a complex of natural oils that never clog pores. More than that, it's free from fragrance, which is often responsible for irritation, and instead contains grape and rose water to soothe and relieve skin.
---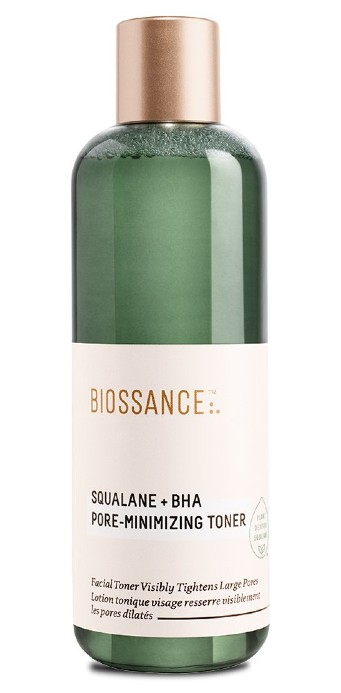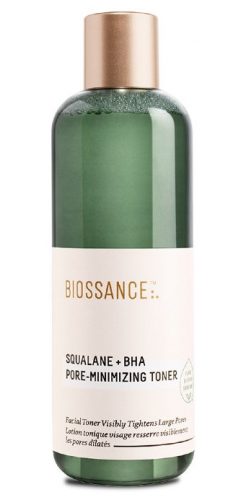 Biossance Squalane + BHA Toner
This toner is made with a derivative of salicylic acid, betaine salicylate, which is both exfoliating and hydrating, and also boasts willow bark extract. It specifically targets large pores, aiding in tightening and shrinking them, but it's just as good at clearing skin of debris and bacteria and enhancing radiance. And as the name suggests, the toner is also powered by squalane, cucumber, and rosemary water, all of which leave skin soothed, calm, and prepped for your favorite serum.
---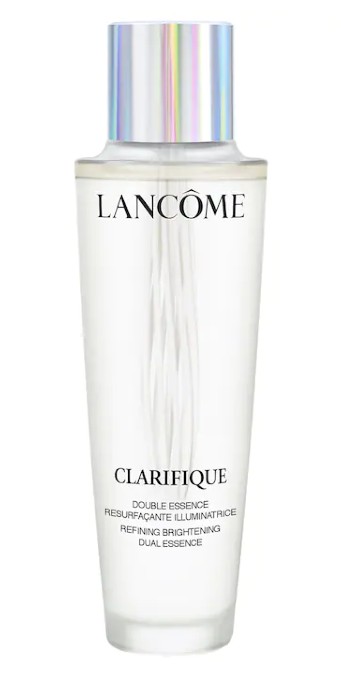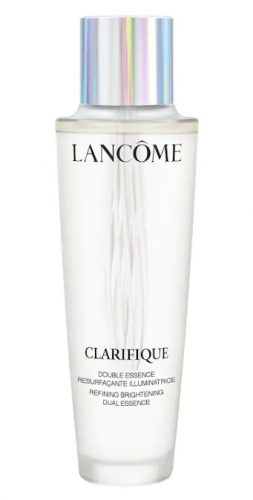 Lancôme Clarifique Face Toner
Lancôme Clarifique Face Toner packs a trifecta of exfoliants, aka salicylic and glycolic acids and papaya enzyme, to give your complexion a serious dose of radiance and reveal softer skin sans clogged pores and breakouts. The vitamins C and E give it antioxidant benefits, keeping your complexion defended against oxidative stress. In a nutshell, it's the perfect toner to improve uneven tone and texture and refine pores. Shake before use to activate the dual-acting formula.
---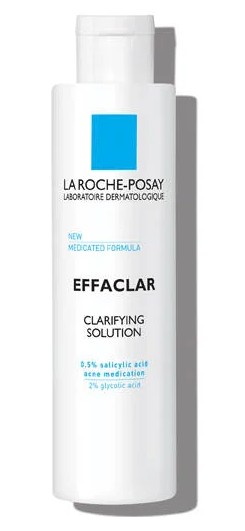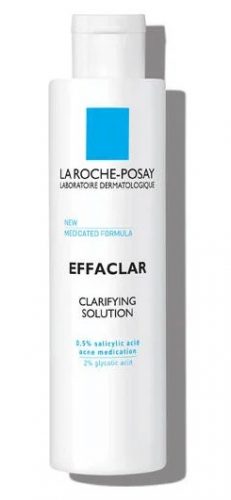 La Roche Posay Effaclar Toner
Having reached cult status, La Roche Posay Effaclar Toner has developed a loyal following for its impressive results. Made with 0.5% salicylic acid and 2% glycolic acid, this toner is king at exfoliating, reducing pores' appearance, and decongesting pores. The addition of castor oil and plant extracts nourishes and soothes, and we like that it's oil-free, non-comedogenic, and formulated sans fragrance.
---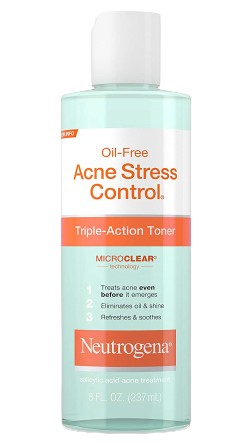 Neutrogena Triple-Action Toner
If you are wondering which is the best drugstore salicylic acid toner, the answer is Neutrogena Triple-Action Toner. It was made with acne-prone skin in mind and contains a generous concentration of 2% salicylic acid (the maximum allowed in OTCs). Not only does it treat acne even before it appears, but it eliminates oil for a shine-free look and prevents future clogs. Plus, it calms skin with cucumber extract, while green tea delivers a relieving feeling.
---
Frequently asked questions about salicylic acid toners
How often should you use salicylic acid toner?

You can use salicylic acid toner twice daily, in both your morning and nighttime skincare routine.

When should you use salicylic acid toner?

Apply salicylic acid toner on cleansed skin, right after the cleanser and before treatments, moisturizer, and sunscreen.

Can you use salicylic acid toner with tretinoin?

It's fine to use salicylic acid toner with tretinoin to boost the exfoliating benefits unless your skin is easily reactive. A toner usually contains small amounts of actives, so it's less likely to irritate you if used with tretinoin. However, it mostly depends on your skin tolerance, so proceed with caution.

Can you use a salicylic acid cleanser and a salicylic acid toner?

Yes, it's ok to use a salicylic acid cleanser and toner. The cleanser doesn't sit on the skin, which makes it a gentle product, and usually, toners have small amounts of salicylic acid, so pairing these two shouldn't cause you any trouble.