I'm fond of sheet masks, and they never miss from my travel bag every time I go places — the pic above attests it. As a prone to pimples skin type, I find it challenging to find a sheet mask that won't make me break out. Since finding the best sheet masks for sensitive skin is not an easy task, I've decided to round them all up here.
Sheet masks are a great way to create a mini spa session (in as little as 20 minutes), pampering the skin and infusing it with countless benefits. Just a single use and skin is not only left moist and glowy but boosted with potent actives and nature-derived elements. The translation? Sheet masks are the way to a fast pick-me-up for the skin, and making it a twice-weekly routine can visibly improve skin. P.S.: to get even more from your sheet mask, spread the leftover on décolleté and hands.
What the best sheet mask for sensitive skin should contain
Sensitive skin is not easy to deal with; a single err can lead to irritations, inflammations, or redness. Thus, to play on the safe side, your sheet mask should be soaked in gentle ingredients that aim to reinforce the protective barrier, strengthen skin, scavenge free radicals, moisturize and prevent transepidermal water loss (TEWL).
The best allies for a resilient skin barrier? Ceramides, peptides, the pillars of antioxidants — vitamins C and E — humectants, like hyaluronic acid, and moisture trapping agents (think squalane).
Best sheet masks for sensitive skin
Whether your sensitive skin is the result of a broken barrier, you've got active acne flare-ups, eczema, or your skin is just the easily-reactive type, here are the best sheet masks for sensitive skin that'll do.
---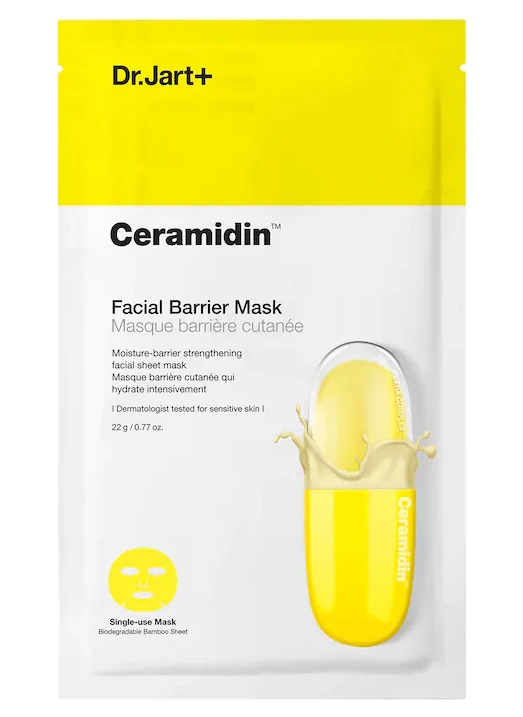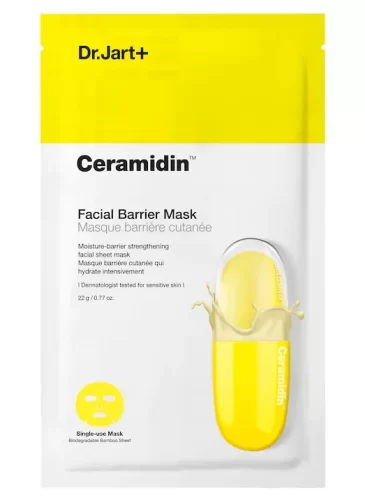 Dr. Jart+ Ceramidin Facial Barrier Mask takes the spotlight on the best sheet mask for sensitive skin because it was made to reinforce a weakened barrier. To do so, the formula packs a blend of ceramides meant to form a film that prevents moisture loss while protecting skin against external foes. The peptides and ectoin boost the barrier and infuse skin with moisture while aloe vera, vitamin B5 and hyaluronic acid burst hydration and leave a dewy look that calls healthy skin.
---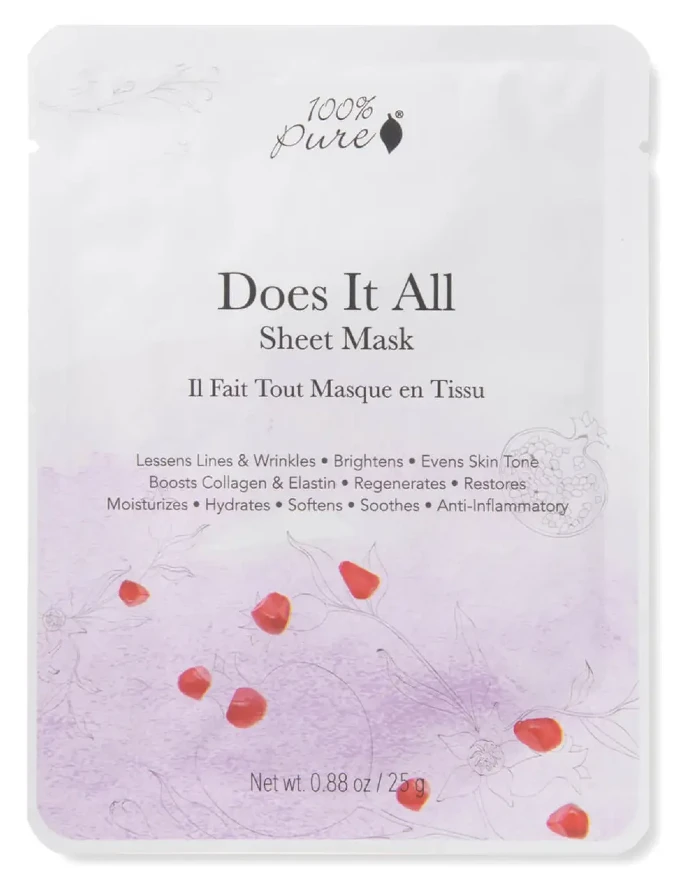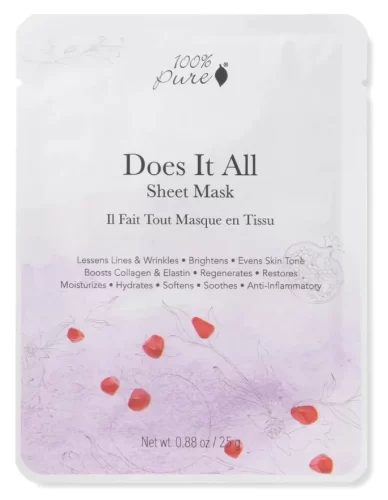 This sheet mask isn't called do it all for nothing. It truly does it all, from restoring damaged skin to boosting the antioxidant defense, increasing hydration, and trapping moisture — in a nutshell, everything sensitive skin needs. Its base of aloe juice, sodium hyaluronate, and rice ferment are the stars of the show, bringing moisture back and soothing the skin. As a natural sheet mask, it's made from sustainable and antibacterial bamboo cloth and lacks any artificial fragrances, chemical preservatives, or harsh detergents. In other words, 100% Pure Does It All is the best sheet mask for sensitive skin folks who are into organic skincare.
---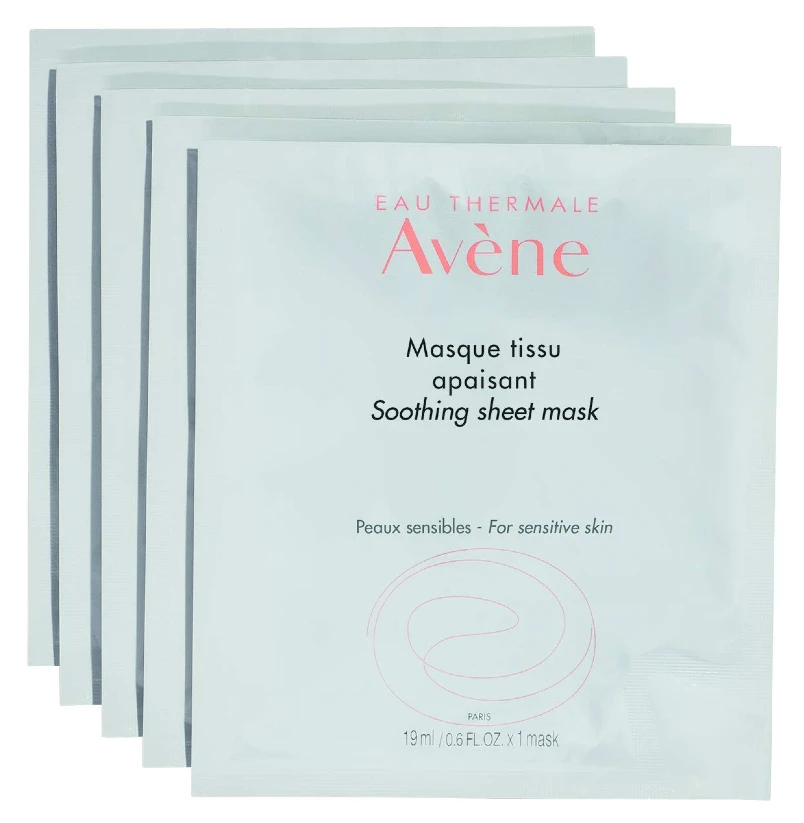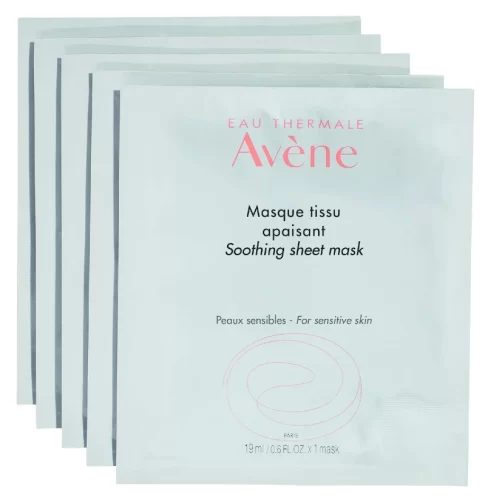 Need a sheet mask that does more than just moisturize? But calm and soothe irritated skin? Avene has got your back with a simple formula filled with sorbitol and hydrogenated starch hydrolysate, which, despite their low rage, are great at tackling lack of moisture and hydration. The Avene thermal water base works hard to soften and calm stressed skin, plus the formula lacks fragrance. P.S.: the ultra-fine cellulose sheet mask is made of shoots ingredients right into the skin for better absorption and boosted efficacy.
---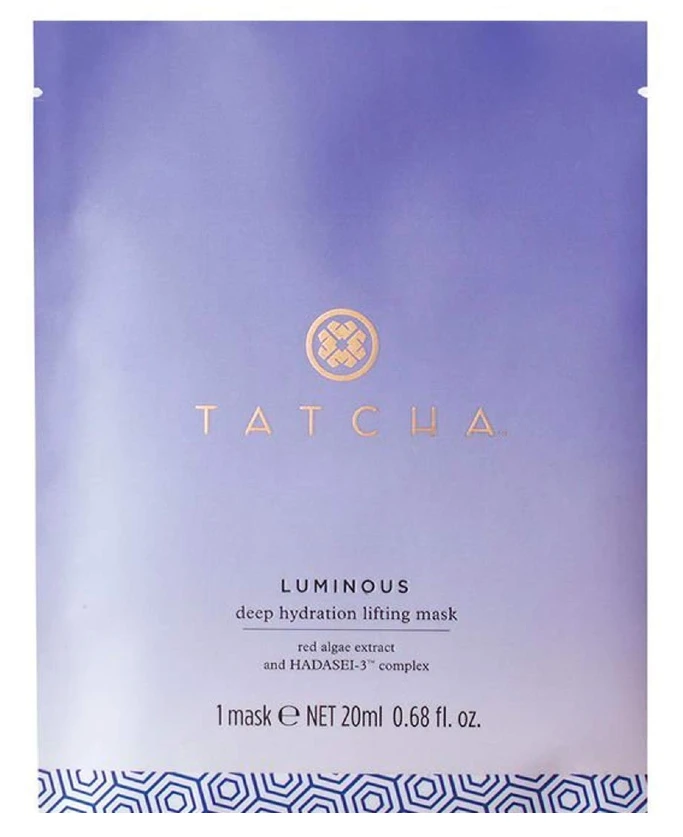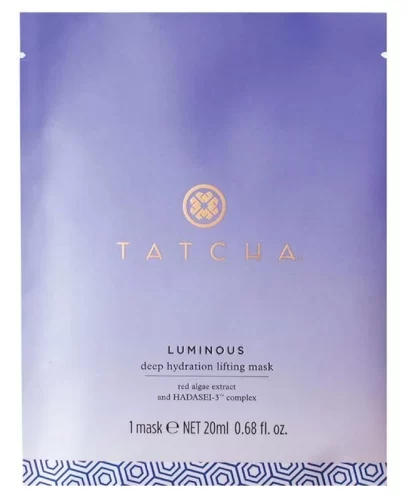 Whenever your sensitive skin needs deep hydration and protection, a sheet mask soaked in the goodness of green tea, rice, algae, royal jelly, and hyaluronic acid does the job. Just 15 minutes and skin is left hydrated and defended as Tatcha Luminous Deep Hydration Lifting Mask creates an invisible film that hinders TEWL. It's the best sheet mask for sensitive skin lacking moisture, firmness, and elasticity.
---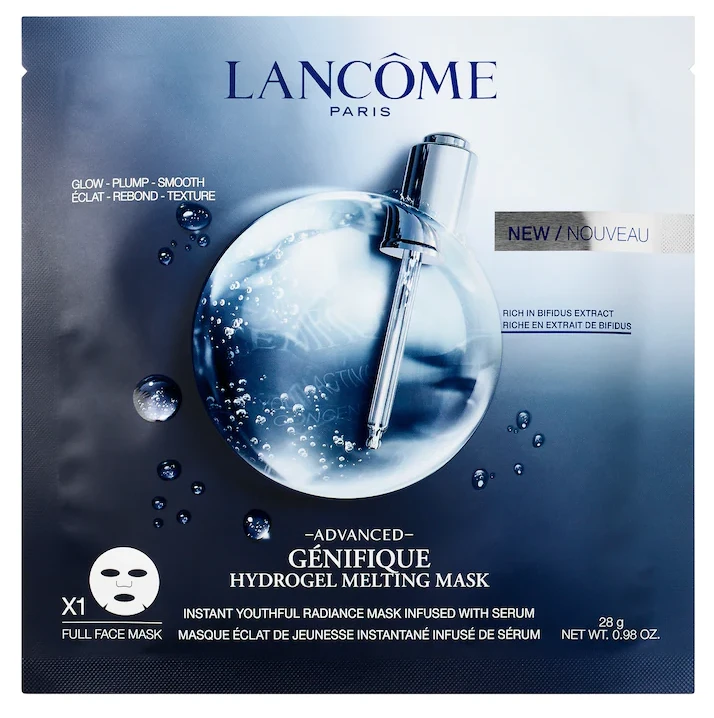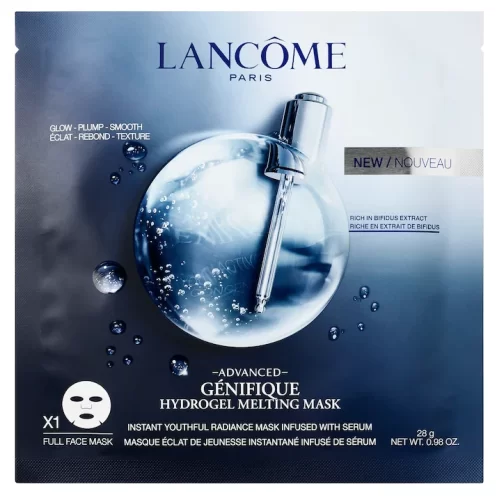 This is your go-to if your barrier is weakened and skin feels tight. Featuring bifidus and lactobacillus ferments among the first ingredients says more than enough about its skin-strengthening power. More than that, this sheet mask packs vitamin E, madecassoside, wheat protein, adenosine, and yeast extract, all known to fight dullness and reinforce the skin, besides moisturizing and softening it. Slap on this sheet mask for 30 minutes, and it will leave you not only with a fresh glow but with damped, stronger skin.
---
Created on a base of stearic acid — an emollient that works by softening and smoothing skin — Charlotte Tilbury Instant Magic Sheet Mask addresses everyone with sensitive, rough skin. The mask is drenched by natural butters, vitamins, botanical oils, niacinamide, and peptides, aiming to restore skin resiliency, ease dryness, and veil the skin in a cocoon of moisture. Bonus: it's a great pick for those who want to temporarily plump fine lines and wrinkles.
---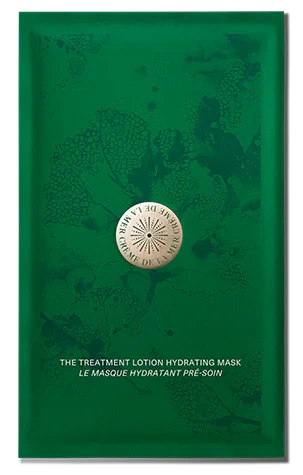 Algae extract is touted for its elasticity boosting power, hydration, and revitalization, and La Mer added plenty of it in this sheet mask. Besides, the mask fuses a blend of naturally-derived gentle ingredients, minerals, and peptides, so that your sensitive skin fortifies without any risk of irritations. Hence, if you're willing to drop some more coin on a product that nurtures, hydrates, and plumps skin in no time, La Mer Treatment Lotion Hydrating Mask is the one to pick.
---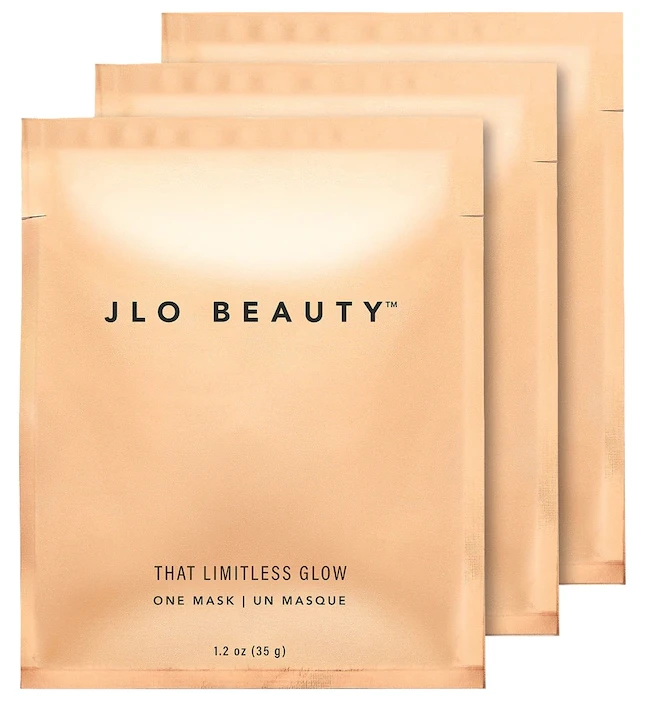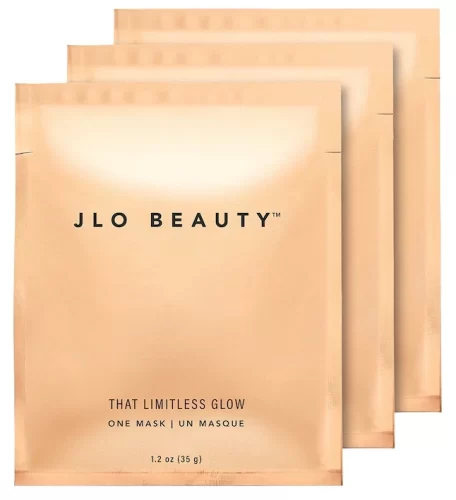 JLo Beauty That Limitless Glow Sheet Mask
Thanks to squalane, niacinamide, natural oils, green tea, and a blend of ferments, this sheet mask — without fail — gives skin the strength it needs while trapping moisture in, preventing further dehydration. As one of the best sheet masks for sensitive skin, JLo Beauty That Limitless Glow Sheet Mask is made without skin foes but only with gentle actives that promise to deliver not only the glow but it hydrates, brightens, and smooths skin in the blink of an eye (ok, 20 mins!).