Although galactomyces might not be as popular as hyaluronic acid and retinol in the skincare scene, it slowly becomes a staple in more and more beauty routines. The reason behind its skyrocketing fame? Galactomyces packs all the good stuff to protect, hydrate, and brighten the skin, being a versatile ingredient that possesses a variety of different benefits applicable across a wide array of skincare concerns. Are you struggling with a dehydrated complexion? Uneven tone? Or perhaps excess sebum and pimples? Then galactomyces might be the answer to your skin problems. Keep reading to learn everything about galactomyces in skincare so you can reap most of its benefits.
What are galactomyces?
Galactomyces (also referred to as Pitera or galactomyces ferment filtrate) is a type of fungus belonging to the yeast family often used as an active ingredient in Korean skincare products. It's basically a byproduct of fermented Japanese sake. As galactomyces undergo the process of fermentation, it breaks down to produce natural compounds such as antioxidants, amino acids, minerals, vitamins, and yeast peptides, which are all necessary to maintain a healthy and resilient complexion.
As far as skincare is concerned, galactomyces ferment filtrate has been found to increase hyaluronic acid production — thereby providing hydration — regulate sebum production, improve skin discoloration, strengthen the protective barrier, and provide antioxidant defense.[1][2][3]
Galactomyces skin benefits
Now here's how galactomyces can improve your skin:
Protects the skin: First of all, galactomyces ferment filtrate is great at protecting the skin against environmental aggressors such as pollution and UV damage.[3] This is because it's a rich source of antioxidants, which help neutralize free radicals and reduce oxidative stress. Furthermore, it was found that galactomyces improve the skin barrier-related proteins as well as moisture retention, which further consolidates the skin's defense.[1]
Moisturizes: Galactomyces ferment filtrate is often used as a moisturizing agent in skincare formulations since it promotes hyaluronic acid production.[2] When topically applied, it resembles the skin's natural moisturizing factor to keep the complexion hydrated, and because it locks in moisture, the hydration it gives is quite long-lasting.
Brightens and evens out skin tone: Galactomyces for skin brightening is a claim you usually see in skincare products featuring galactomyces ferment filtrate as the key ingredient. The reason is that galactomyces is effective at reducing melanin content in cells, the pigment that darkens the skin tone and causes dark patches. For the record, in a 2014 study, the topical use of galactomyces for two weeks could visibly diminish the appearance of dark spots and reduce melanin production by 60%, which can be helpful for those who suffer from melasma and hyperpigmentation.[4]
Improves skin texture and soothes redness: A recent study from 2021 conducted on Japanese women showed that applying galactomyces twice a day for four weeks can drastically soften rough skin and soothe redness.[1]
Regulates sebum production and improves acne: As its nutrients and antioxidants work into the skin, galactomyces can balance sebum production and reduce the number of blackheads by keeping pores clean. For reference, an essence containing 97% of galactomyces ferment filtrate was found to reduce the number of open pores by 15.66%, blackheads by 21.84%, sebum by 64.17%, and acne by 9.59%.
Is it safe?
Galactomyces is generally safe to use. However, just like other skincare ingredients, it may cause an adverse reaction in certain people with a particular sensibility or skin condition.
We mentioned that galactomyces are a type of fungus. Therefore, if you suffer from fungal acne, this ingredient is definitely not for you. One of the galactomyces side effects is that it may potentially aggravate fungal acne by making the bumps more red and itchy. While galactomyces efficiently help heal acne and acne scars, fungal acne is a different case. It's hard to determine whether your acne is fungal or not since they are very much the same in appearance. So if you're not sure, it's ideal to consult your dermatologist first for professional advice.
How to use galactomyces
You'll spot galactomyces as a star ingredient in a variety of skincare products, mostly in brightening, anti-aging, and pore-minimizing toners, creams, and serums. To reap the most benefits of galactomyces, simply incorporate it into your skincare routine and use it twice daily. Galactomyces in serums have higher concentrations, so its potency is maximized to get the full benefits. If you have dry or combination skin, serums of thicker consistencies should work better. On the other hand, if you have oily skin, water-based serums of thinner consistencies will prevent your skin from feeling too heavy.
Who should use galactomyces
The beauty of galactomyces in skincare is that it benefits all types of skin. Unless you suffer from fungal acne, including galactomyces in your skincare regime shouldn't be too complicated. Other than that, galactomyces is especially good if you have dry and dull skin, suffer from whiteheads, blackheads, or enlarged pores, want to mitigate UV damage, or seek to even out your skin tone.
What you can mix with galactomyces
Galactomyces is a gentle and skin-friendly ingredient, so mixing it with other actives shouldn't raise any issues. Even strong ingredients such as retinol, AHAs, BHAs, and vitamin C can work efficiently with galactomyces. Galactomyces also pairs quite well with niacinamide, hyaluronic acid, and snail mucin to target dryness and roughness. For skin discoloration and post-acne blemishes, studies found that mixing galactomyces with tranexamic acid, niacinamide, alpha arbutin, and hydroquinone is more effective at brightening the skin.[5]
The best galactomyces-containing skincare products
Now that you've learned everything about galactomyces in skincare, you're probably eager to try out some new products containing it. Below are some of the best skincare products infused with galactomyces:
---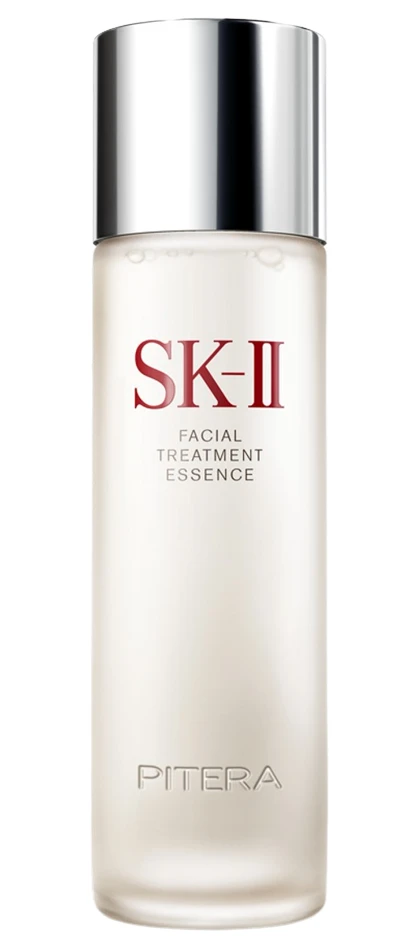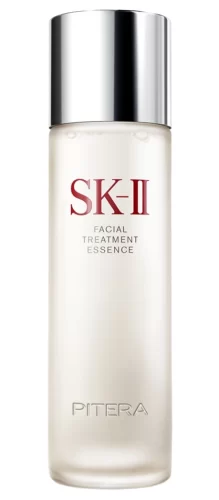 1
SK-II Facial Treatment Essence
This essence makes the perfect introduction to the moisturizing and brightening powers of galactomyces ferment filtrate. It works to soften skin, fade dark spots, hike up moisture levels, balance sebum, and plump fine lines look, being made in a base of galactomyces to provide the best in class results. Although it's a bit pricier, this one is definitely worth saving for.
---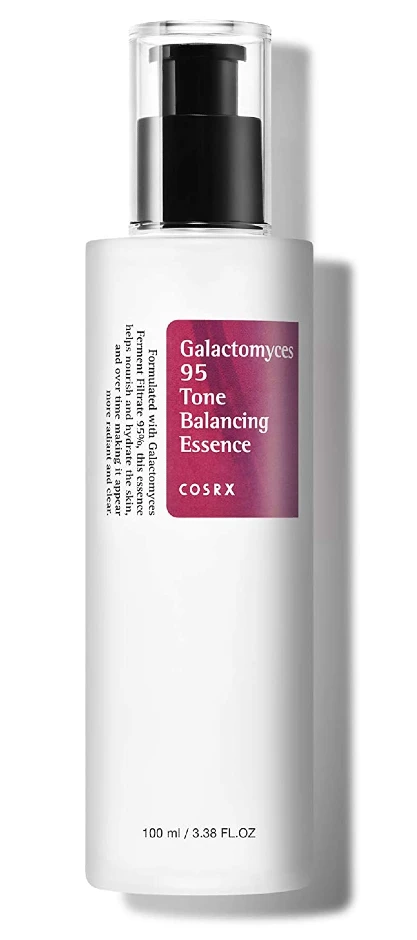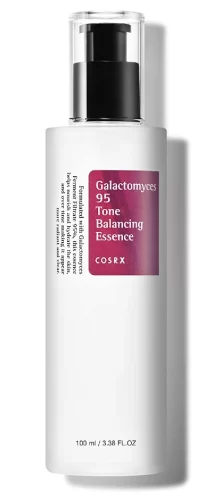 2
Cosrx Galactomyces 95 Tone Balancing Essence
A more affordable alternative to SK-II Facial Treatment Essence comes from Cosrx. This essence won't break your bank and contain no less than 95% galactomyces to fight dullness, dehydration, and uneven skin tone. In addition, the formula also packs humectants like sodium hyaluronate and glycerin, plus niacinamide and adenosine to reinforce the skin's barrier and support hydration. In other words, it has what it takes to be one of the best skincare products with galactomyces.
---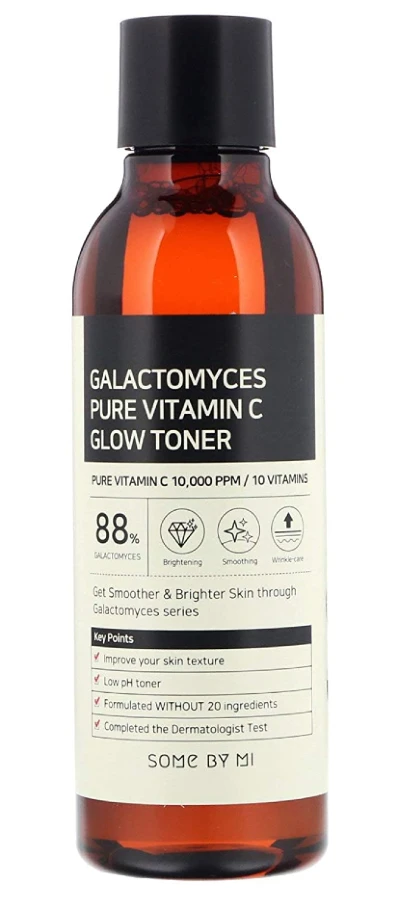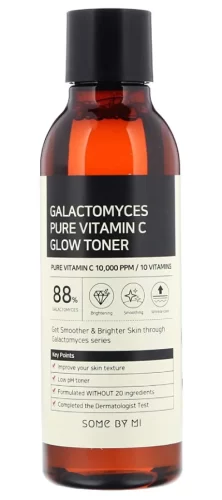 3
Some By Mi Galactomyces Pure Vitamin C Glow Toner
For a serious dose of brightness, pick this toner. It touts 88% galactomyces ferment filtrate coupled with 1% pure vitamin C and niacinamide in a lightweight formula gentle enough not to bother even the most problematic complexions. Say goodbye to blotchy and thirsty skin and enjoy a radiant glow every morning with this toner.
---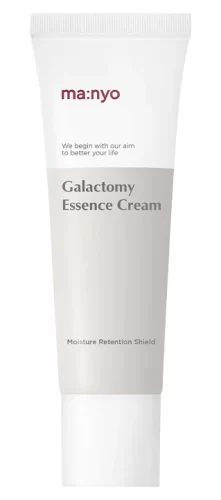 4
Manyo Factory Galactomy Essence Cream
This K-beauty brand dubs itself the "sorceress of nature," reason this cream is made with 99.9% natural organic ingredients. The entire formula is made on a base of galactomyces, featuring a generous amount of 24.8% to keep skin moist while boosting collagen for increased firmness and elasticity. All whilst niacinamide and licorice root extract work to minimize dark spots, so the cream helps even tone, too. Its rich texture moisturizes instantly and absorbs quickly leaving skin baby-soft.
---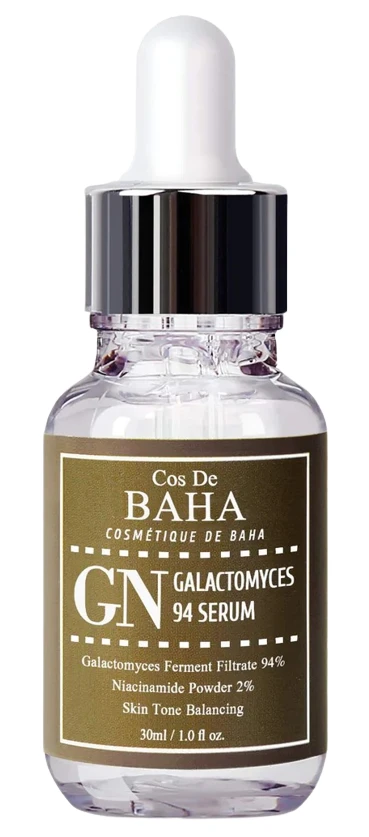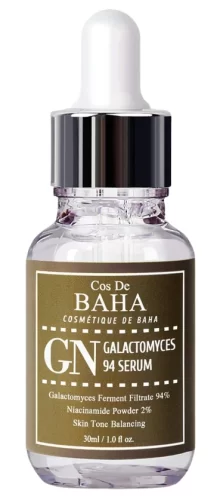 5
Cos De BAHA Galactomyces 94% Treatment Essence Serum
Galactomyces provides its best benefits when used in serum — the reason this product makes such a terrific treatment for enlarged pores, dark spots, and signs of aging. It loads 94% galactomyces ferment filtrate, glycerin, niacinamide, and sodium hyaluronate to improve the skin's appearance on all fronts, delivering not only anti-aging and brightening effects, but a burst of moisture as well.
---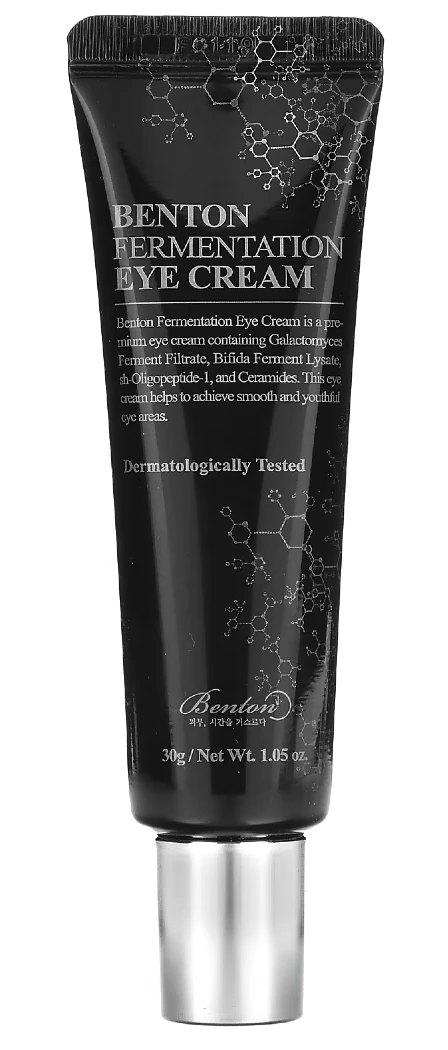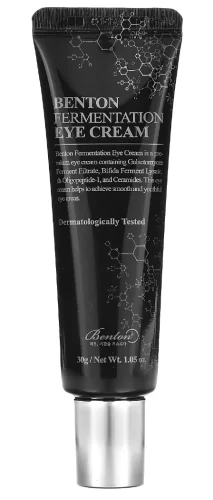 6
Benton Fermentation Eye Cream
Hands down, this is the best galactomyces product for the eye area. As this rich eye cream is created on galactomyces ferment filtrate base, followed by another potent probiotic, it performs amazingly at reinforcing the skin, hydrating, and brightening. In plus, the addition of peptides and ceramides helps lock moisture and boost collagen for the eye area that appears plump, elastic, and firm.
---
7
Drunk Elephant Sweet Biome™ Fermented Sake Spray
There is no shortage of different ways to incorporate galactomyces into your routine, but a mist is arguably the easiest. The spray aims to supply your skin with nutrients in order to restore, soothe, and balance. Other ingredients worth being mentioned are antioxidants, minerals, ceramides, and amino acids.
---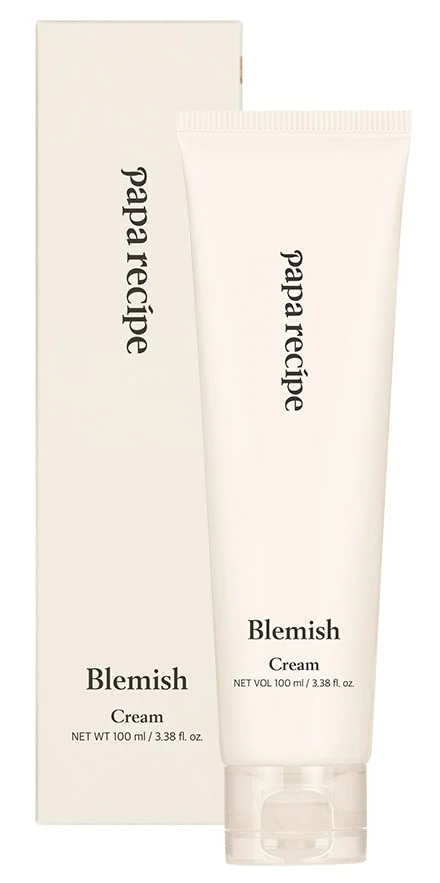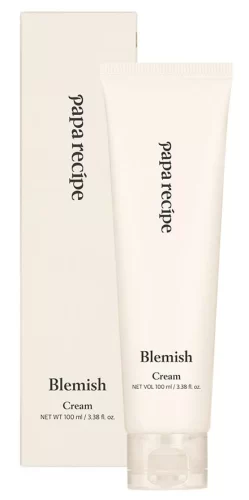 8
Papa Recipe Blemish Cream
This cream is made with 60% galactomyces filtrate, plus other plant-derived ferments, which says more than enough about its hydrating and repairing abilities. Papa Recipe Blemish Cream addresses those who struggle with breakouts and is lauded for its efficacy in reducing blemishes, and blackheads, clearing the skin, and soothing redness. Bonus points as the formula skips fragrances, is vegan, and uses 100% natural ingredients to prevent and reduce acne.
---
Frequently asked questions about galactomyces in skincare
Can galactomyces cause breakouts?

As a type of fungus, galactomyces can make fungal acne worse. As for other types of breakouts, galactomyces was found effective in reducing the number of blackheads and whiteheads by regulating sebum and keeping pores clear.

Does galactomyces lighten skin?

As a melanin inhibitor, galactomyces eliminates the pigment responsible for dark spots and discoloration, therefore, can lighten the skin to some extent.

Can I use galactomyces with AHA?

There's no problem with using both galactomyces and AHAs, such as glycolic and lactic acids, as part of your skincare routine. In fact, pairing them can increase skin tolerance and mitigate the irritating effects of AHAs.

Can I use galactomyces with retinol?

Using galactomyces and retinol in your skincare regimen is perfectly safe and can result in a more potent treatment for aging signs. Retinol can temporarily weaken the protective barrier, resulting in increased sensitivities, and galactomyces can help in this process by strengthening the moisture barrier.

Can I use galactomyces with vitamin C?

Galactomyces and vitamin C are one of the best combos to brighten dark spots and promote an even-looking complexion. As both are antioxidants and melanin inhibitors, the two target the main causes of skin discoloration.

Can I use galactomyces with niacinamide?

Galactomyces can be paired with niacinamide to strengthen the skin's barrier and for an extra burst of hydration.

Can I use galactomyces with salicylic acid?

Galactomyces works perfectly fine with salicylic acid, especially for regulating excess sebum and minimizing breakouts.
The takeaway
This might be a sign that your skincare journey with galactomyces should start here! Now that the reason behind its popularity is clear (backed up with scientific research, of course), it's much easier to convince yourself on whether it's worth trying or not. Galactomyces' rich antioxidants, vitamins, peptides, and amino acids can benefit your skin in a number of different aspects. Whether you're struggling with enlarged pores, dull skin, dark spots, or dry skin, galactomyces, along with the right blend of ingredients, can help kiss your worries goodbye.
---
Sources
Women's Concepts uses reliable sources, including dermatologists' insights, clinical trials, and scientific journals, to find accurate information and support all the facts shared in our articles. All statements and claims have clear and legit references. Read our editorial policy to learn more about our sources of information, our process of researching and fact-checking the content, and how our team strives to keep all articles updated, completed, and trustworthy.