Moisturizing is the unskippable step of every beauty routine, and if it's packed with the holy grail of antioxidants and collagen-boosters—vitamin C—you have the right recipe for healthy and glowing skin.
The reasons for using a moisturizer with vitamin C are plentiful. Not only does it work to strengthen the skin's antioxidant defense—which is lifesaving if you live in a polluted city—but it also evens out skin tone and promotes a brighter appearance by inhibiting the pigment responsible for dark spots. More than that, a vitamin C moisturizer is really good at locking in hydration, softening fine lines, and firming the complexion due to its ability to spur collagen growth.[1][2] And it does all of that while giving a coveted glow after every single application.
Trust me, I've tried my fair share of moisturizers, but the ones with vitamin C have truly been transformative for my skin. It's more than worth adding one to your skincare arsenal, especially if you have dry, aging, sun-damaged, or blotchy skin. With this in mind, I narrowed down the best vitamin C moisturizers that you need to try out.
How to find a vitamin C moisturizer that's just right for your skin
In case your skin is oily or prone to breakouts and congestion, you want to look out for lightweight moisturizers with gel-like textures that are non-comedogenic. However, if your complexion is dehydrated, dry, or sensitized, head towards richer formulas that aim to replenish moisture and load soothing ingredients (think green tea, colloidal oatmeal, Centella asiatica, allantoin) to calm the skin and reduce the risk of irritation.
Moreover, a vitamin C moisturizer could be a great supportive ally in your fight to correct dark spots and wrinkles if used in synergy with your serum. For dark spots, choose a moisturizer made with a blend of skin-whitening agents to boost the brightening effects. To reduce wrinkles, pick a product that blends retinol, niacinamide, and peptides. Use it in tandem with your serum, and you'll see some transformative results in as little as one month—I have done this for the last couple of months, and the results are amazing. Precisely, I use Peter Thomas Roth Potent-C Moisturizer with a potent treatment (Clinical Skin Vitamin C Pro-Collagen Serum) every day, and my complexion has never been glowier and smoother.
Feeling confused about which moisturizer to choose? No need to stress. I've researched and tried the best vitamin C moisturizers that work great to improve various skin concerns. I've made sure all products have stable formulas that are less likely to oxidize and lose potency.
The best vitamin C moisturizers
---
1
Peter Thomas Roth Potent-C Bright & Plump Moisturizer
I swear by this moisturizer by Peter Thomas Roth that provides firming and brightening benefits with 10% THD ascorbate—a stable and more powerful form than traditional vitamin C. In fact, it boasts the highest concentration of vitamin C among all its peers, which is why I'm loyal to it.
Better still, the formula is made with a potent combination of 3% vitamin E and 2% ferulic acid, which double the photoprotective effects of vitamin C. It's the perfect moisturizer for those living in urban areas where pollution and sun damage often wreaks havoc on the skin. As if that weren't enough, there's also a plethora of ingredients, such as turmeric extract, diamond powder, lactic acid, and gluconolactone, that synergize with vitamin C to magnify brightening. Its silky, moisturizing feel is ideal for use during the day or at night.
I must disclose that some reviewers find its clove scent overpowering, but it really dissipates quickly—I never had any problem with it.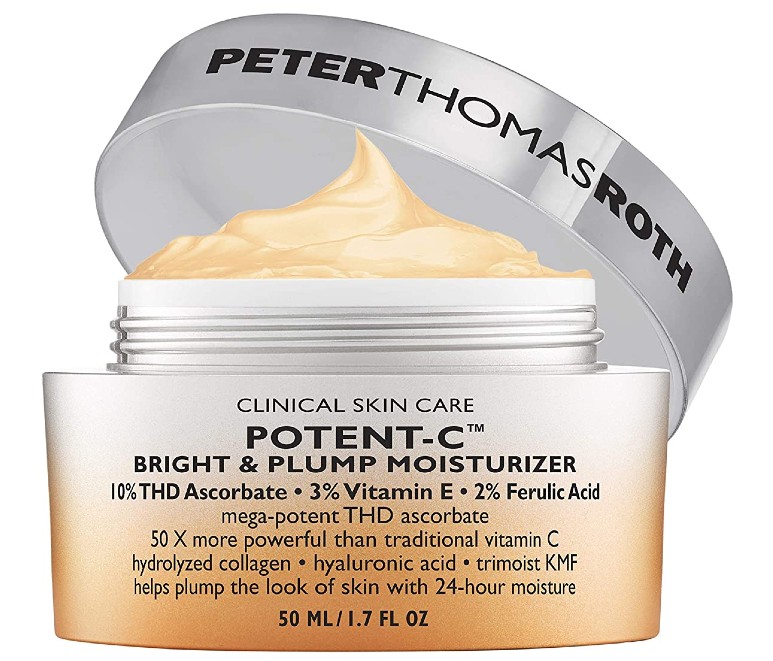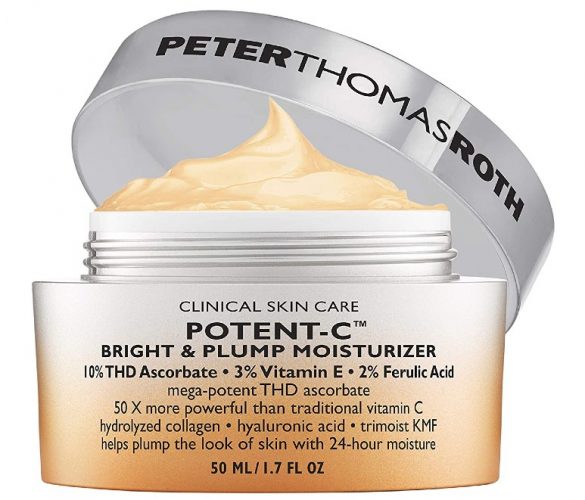 ---
2
Laneige Radian-C Cream
This is another potent moisturizer that loads 8.5% of a stable and oil-soluble form of vitamin C. This means it can go beneath the top skin layer to trigger collagen production and reduce the pigment responsible for dark spots. Laneige Radian-C has a kind-to-skin formula that is gentle enough for irritated complexions and works to brighten blemishes caused by acne, aging, or sun damage. There's also a patented compound, Melasolv™, which has the same brightening benefits as 20% niacinamide, so you can expect more luminous skin in three days, as per the brand's claims. Plus, it has a rich yet lightweight texture that feels super pampering and intensely moisturizing on the skin.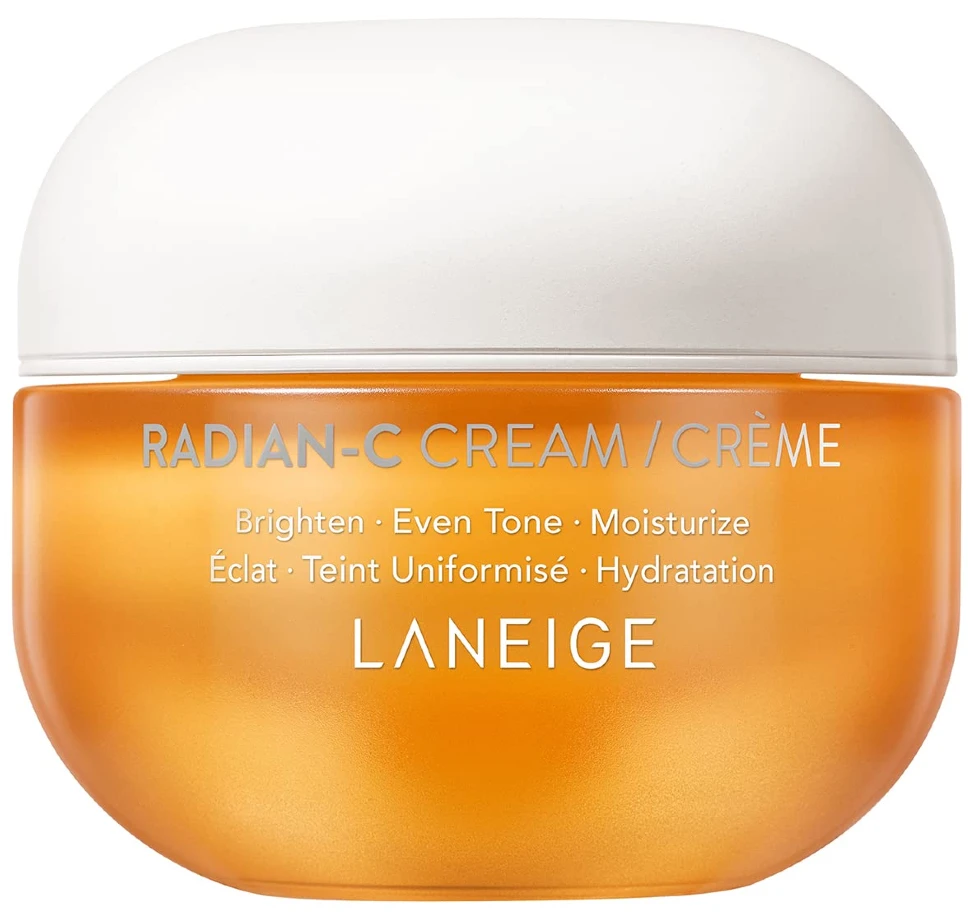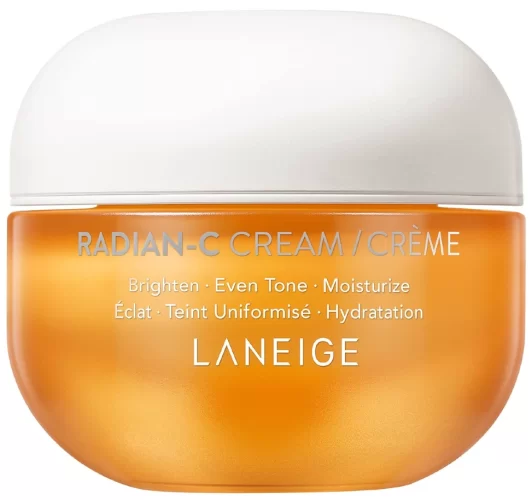 ---
3
Image Skincare Vital C Hydrating Repair Creme
This cream uses two stable versions of vitamin C that work at high pH (meaning they're gentle) to repair skin and support skin firmness.[3] The repairing benefits are also boosted by ceramides—lipids found naturally in the skin—and phospholipids, which are excellent at retaining moisture. The ultra-creamy texture is highly moisturizing and absorbs quickly without leaving a sticky residue. And with its fresh citric scent from orange oil, it's a refreshing way to start your day.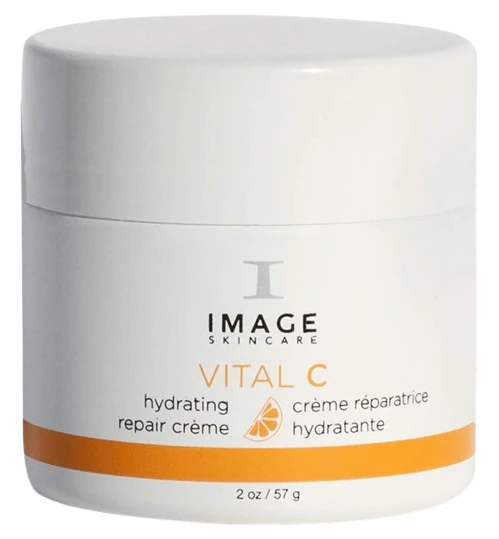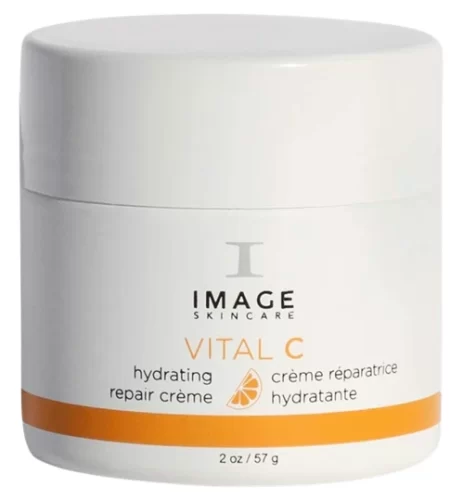 ---
4
Alpyn Beauty Triple Vitamin C Brightening Bounce Cream
This is the best vitamin C moisturizer if you have dehydrated skin because it's made on a 50% aloe leaf juice base. This gives it an incredibly water-binding ability that leaves the skin visibly quenched and bouncy. What's more, it's spiked with three sources of vitamin C for intense brightening and strengthening benefits, while a slew of oils forms a veil to hinder water loss. Bonus: the trampoline-like texture feels refreshing and extra hydrating, and the formula skips fragrance.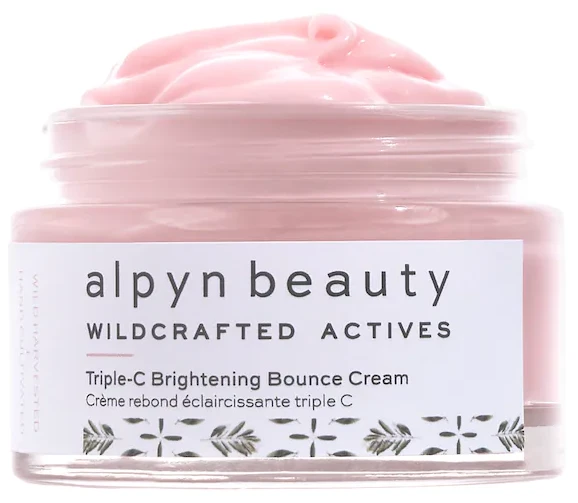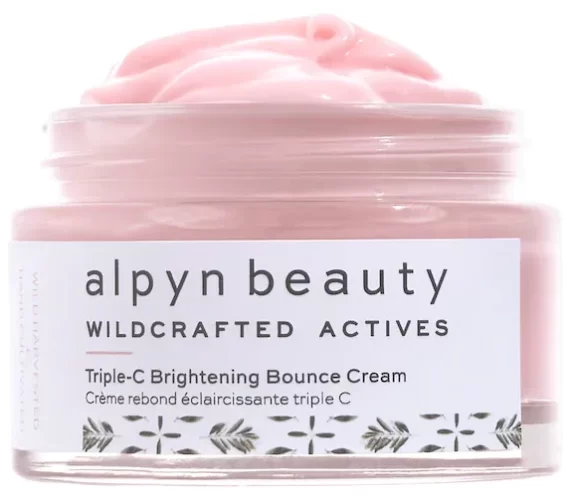 ---
5
Bliss Bright Idea Moisturizer
Although vitamin C is a reliable skin evener on its own, it gets some serious assistance from proven bright-boosting niacinamide and green tea extract in Bliss Bright Idea Moisturizer. Also packed with shea butter, peptides, ceramides, and yeast extract, the formula vows to replenish fine lines and wrinkles while reinforcing the epidermal barrier. As for the instant results, you get hydrated, luminous skin and a great makeup base. Despite how much I love this formula, it contains tocopherol, avocado, and soybean oils which may clog pores, so rethink it if your skin is prone to congestion.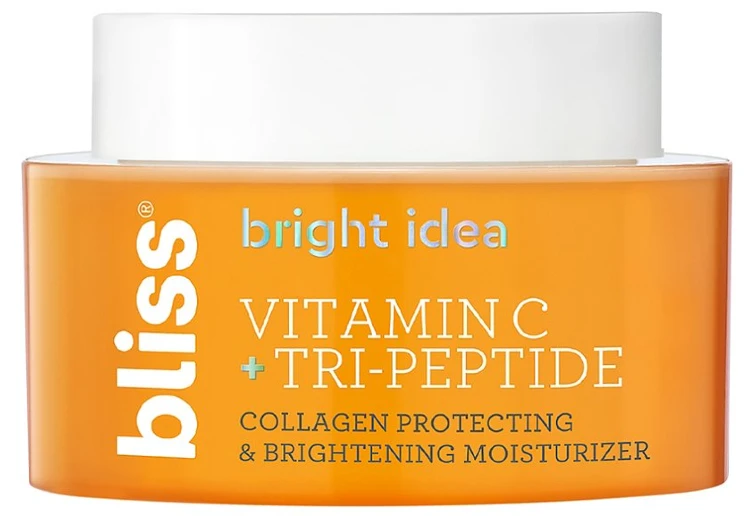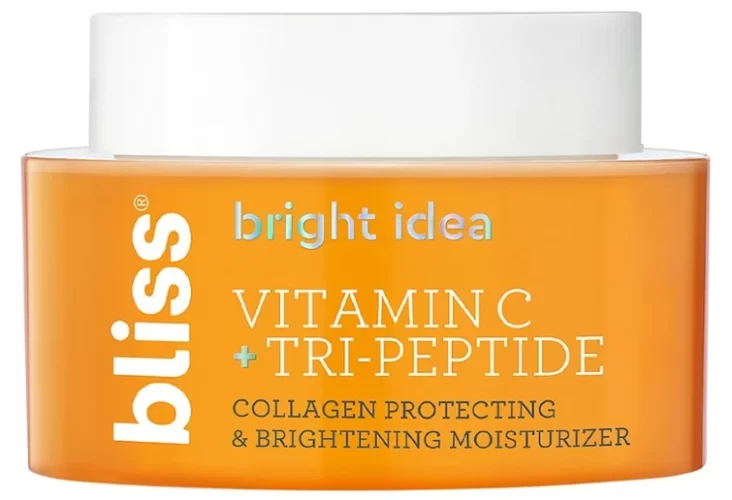 ---
6
Ole Henriksen C-Rush™ Brightening Gel Crème
Ole Henriksen is a leading brand in vitamin C formulations, and C-Rush Brightening Gel Crème is that kind of product that stands out from the crowd. It contains three of the most potent and stable forms of vitamin C that work in the deeper layers to boost collagen and enhance firmness. Also, the lightweight gel cream is chocked-full of humectants that attract water into the skin to increase hydration and plump fine lines look. It literally melts into your face and feels super pampering and softening.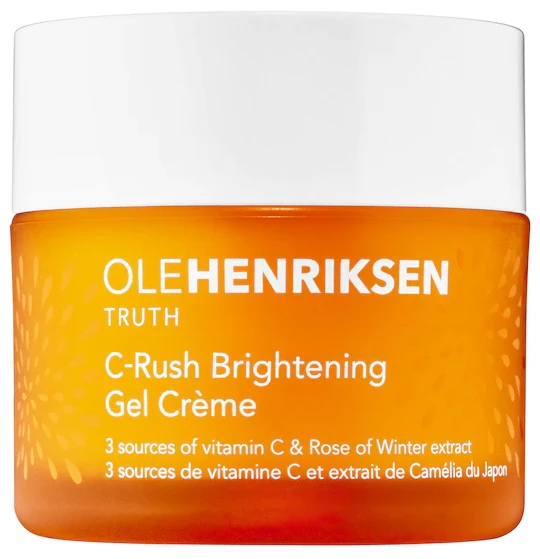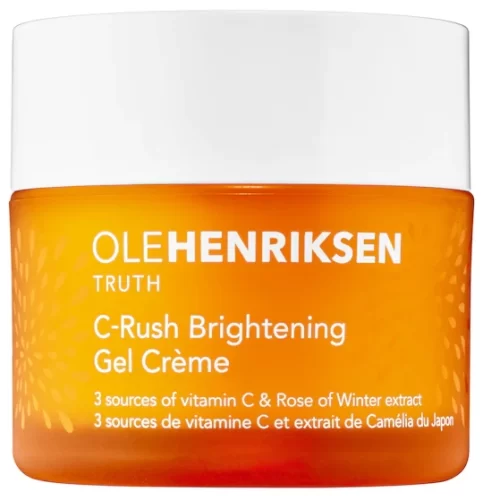 ---
7
Derma-E Vitamin C Intense Night Cream
Sun damage, air pollutants, and blue light are all external nasties that we are exposed to on a daily basis and can stress the skin. That's why everyone should use a night cream chocked of antioxidants to restore the skin's defense system and repair cells while we Zzz—like Derma-E Vitamin C Intense Night Cream. The moisturizer protects with vitamins C and E and green tea, hydrates with hyaluronic acid and panthenol, and restores with vitamin A, all while antioxidant-rich botanical extract keeps your skin guarded 24/7. Plus, the formula is as clean as can be, vegan, cruelty-free, and comes in sustainable, eco-friendly packaging.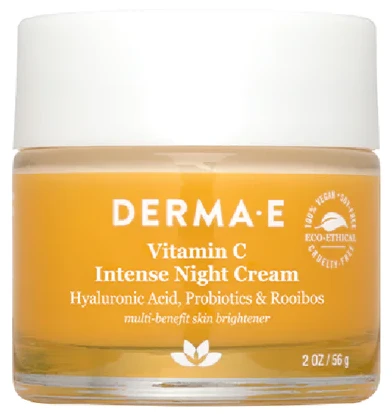 ---
8
Sunday Riley C.E.O. Vitamin C Moisturizer
This moisturizer is infused with a gentle and effective dose of 5% vitamin C, actively working to repair premature signs of skin aging. The formula goes beyond the call of duty with squalane and vitamin E, emollients that ease irritation and soften, and other brightening ingredients such as lime pearls (a natural source of AHA that exfoliates gently), turmeric, and green tea. If you're looking to fix your uneven skin tone and minimize wrinkles appearance without causing irritation or sensitivity, Sunday Riley C.E.O. Vitamin C Moisturizer is the one to go.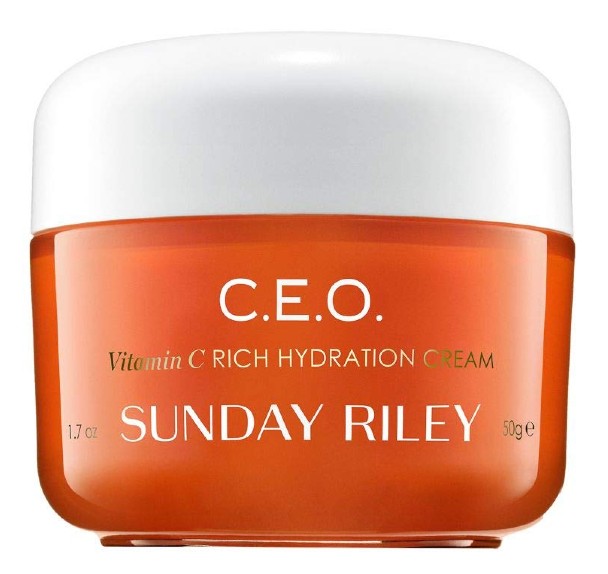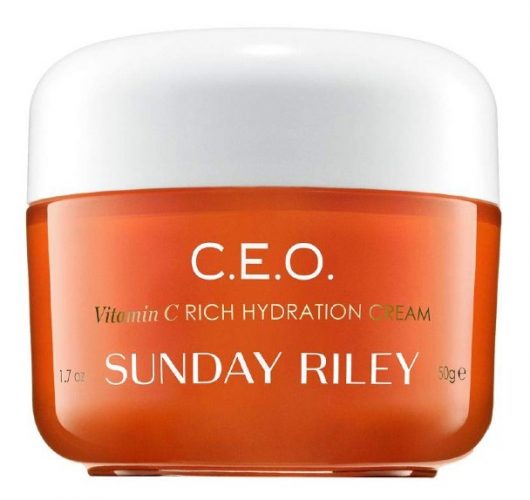 ---
9
Roc Multi Correxion Gel Cream
Roc Multi Correxion Gel Cream focuses on a blend of skin-loving ingredients to enhance hydration, replenish skin and counteract free radical damage. In addition to vitamin C, the moisturizer contains peptides and shea butter, which cushion and make fine lines and wrinkles less noticeable. It goes on without ever feeling greasy and absorbs instantly, leaving skin dewy but not greasy. Used twice daily over the face, this moisturizing formula means business for a more even, plump complexion.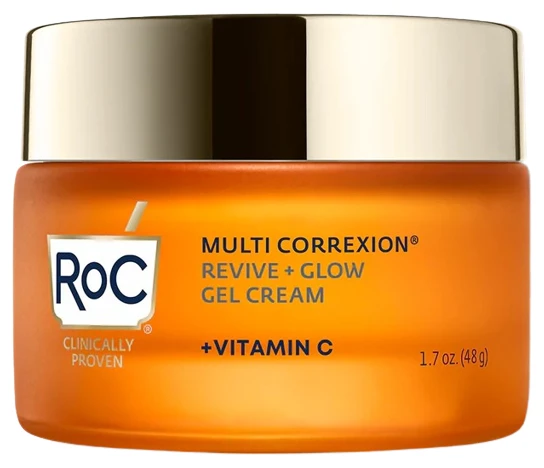 ---
10
Perricone MD Vitamin C Ester Photo Brightening Moisturizer
Perricone MD created the best vitamin C moisturizer with SPF that works fantastic for reactive skin. The formula fusions vitamin C with fatty acids and bisabolol to soften gently, reduce the look of fine lines, and refine pores. More than that, the glycerin and dimethicone in it ensure your skin spends the day getting rehydrated and moisturized. This moisturizer is both protective and corrective, promising to defend against sunbeams and free radical damage while improving overall skin condition in time.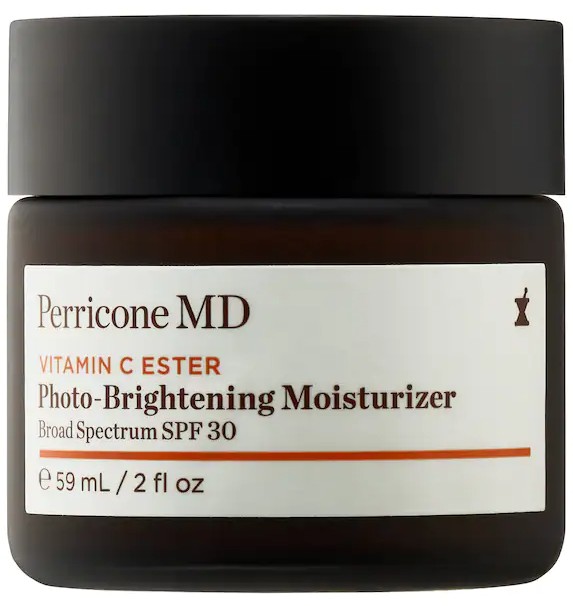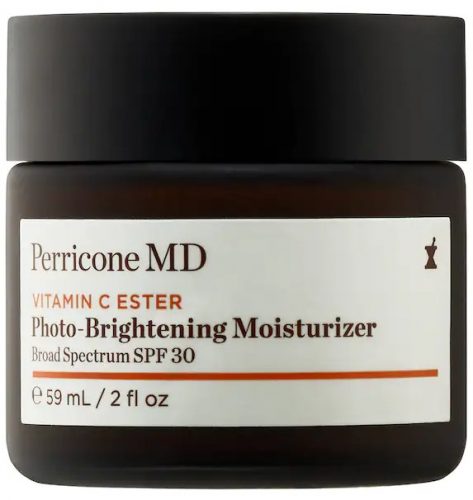 ---
How to use your vitamin C moisturizer for maximum effectiveness
Here are some insightful tips for incorporating a vitamin C moisturizer into your skincare routine to achieve optimal results:
Use it in the morning: Vitamin C is known to boost collagen production and protect the skin from environmental stressors such as pollution and UV. Therefore, using a vitamin C moisturizer in the morning can help protect your skin throughout the day. You can use it before bedtime as well. This will give the product plenty of time to absorb and work its magic overnight.
Apply on clean skin: Make sure your face is thoroughly cleansed before applying a vitamin C moisturizer to ensure maximum product absorption.
Allow time for absorption: Wait a few minutes before applying sunscreen to allow the moisturizer to absorb into your skin.
Store it properly: Vitamin C is unstable and can quickly degrade when exposed to light and air, like most antioxidants. Therefore, store your moisturizer in a cool, dark place to prevent oxidation (like in the fridge).
Use consistently: Consistency is key in skincare. Use your vitamin C moisturizer daily to unlocking great results.
---
Sources
Women's Concepts uses reliable sources, including dermatologists' insights, clinical trials, and scientific journals, to find accurate information and support all the facts shared in our articles. All statements and claims have clear and legit references. Read our editorial policy to learn more about our sources of information, our process of researching and fact-checking the content, and how our team strives to keep all articles updated, completed, and trustworthy.
References
Neera Nathan, MD, MSHS, Payal Patel, MD, Harvard Health Publishing Why is topical vitamin C important for skin health, November 10, 2021
Pullar JM, Carr AC, Vissers MCM. The Roles of Vitamin C in Skin Health. Nutrients. 2017 Aug 12;9(8):866. doi: 10.3390/nu9080866. PMID: 28805671; PMCID: PMC5579659
Leny, Leny & Karsono, & Harahap, Urip. (2020). Comparison of Vitamin C (Magnesium Ascorbyl Phosphate) Formulation in Nanoemulsion Spray and Cream as Anti-aging. International Journal of PharmTech Research.