Moisturizer is the unskippable step in every routine, and if it's packed with the holy grail of antioxidants and collagen-boosters — vitamin C — you have the right recipe for flawless skin.
Want your complexion to look and feel plumper, moister, and brighter than it ever has? It's high time you add the best vitamin C moisturizer into your routine. The benefits of using a moisturizer with vitamin C are manifold; they go from antioxidant defense, firming, and evening tone to increasing moisture retention and plumping the skin. This is because vitamin C shields the cells against oxidative stress, which is the number one culprit for premature skin aging.[1] Also, it boosts collagen and ceramide production, which leads to increased firmness, elasticity, and moisture retention. What's more, vitamin C brightens dark spots while preventing the apparition of new ones.[2] So for those looking for a more hydrating approach to vitamin C, here we narrowed down the best moisturizers containing it.
What's the best vitamin C moisturizer?
When you choose your vitamin C-infused moisturizer, you should consider your skin type and what concerns you want to address. For instance, in case your skin is oily or prone to breakouts, you want to look out for lightweight formulas with gel-like textures which are non-comedogenic so they won't clog pores. On the flip side, consider rich and replenishing formulas if your skin is dehydrated, dry, or sensitized.
Feeling complicated already? Rest assured because we found the best-performing vitamin C moisturizers, and we made sure they have stable formulas that are less likely to oxidize and lose potency.
---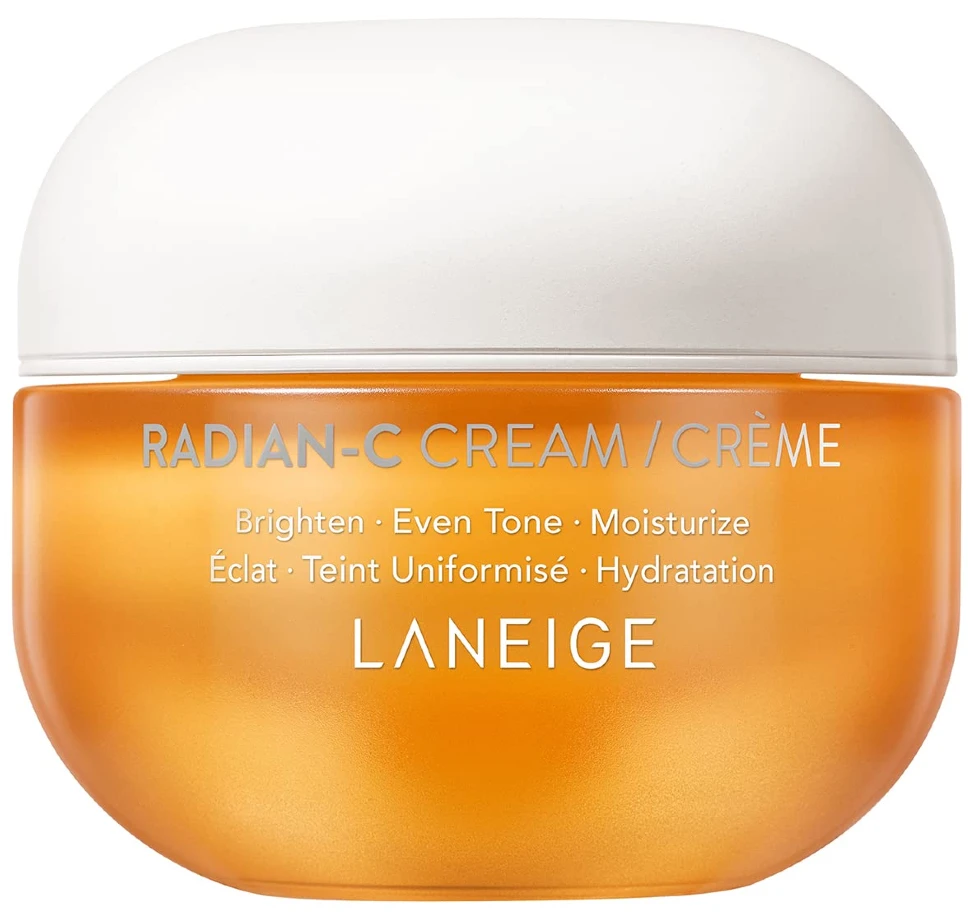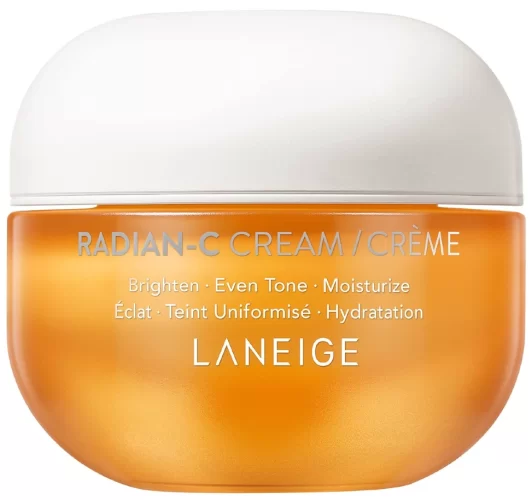 1
Laneige Radian-C Cream
This is a potent moisturizer as it loads 8.5% of a stable and oil-soluble form of vitamin C, meaning it can go beneath the top skin layer to trigger significant changes. Laneige Radian-C Cream has a kind-to-skin formula that is gentle enough for irritated complexions and works to increase moisture levels and repair the skin with each use. Plus, it has a rich yet lightweight texture that feels super pampering to slather on.
---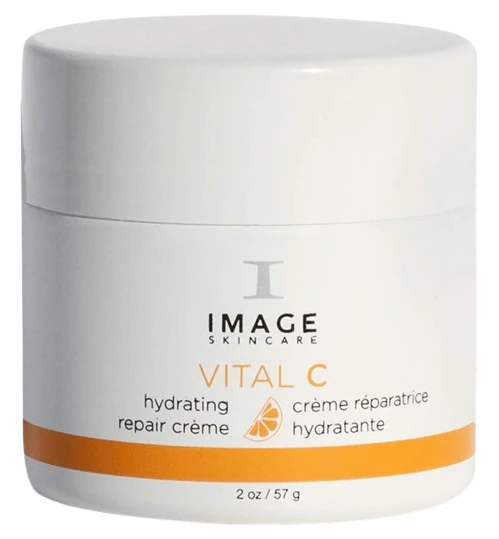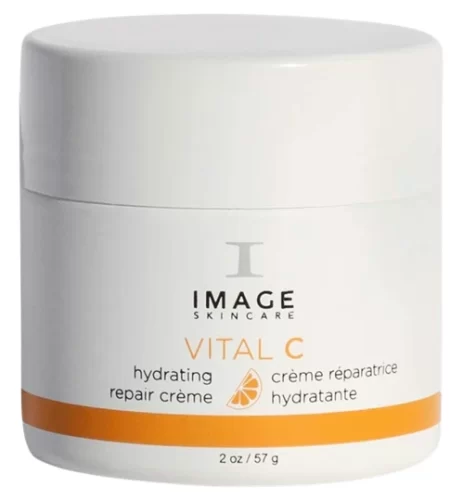 2
Image Skincare Vital C Hydrating Repair Creme
Image Skincare Vital C Hydrating Repair Creme uses two stable versions of vitamin C, which work at high pH (meaning they're gentle) to repair skin and support firmness and elasticity.[3] The ultra-creamy texture feels highly moisturizing and absorbs easily without feeling sticky; plus, the fresh citric scent from orange oil is energizing. Bonus points for the aloe leaf juice base, which gives the cream highly humectant and soothing benefits.
---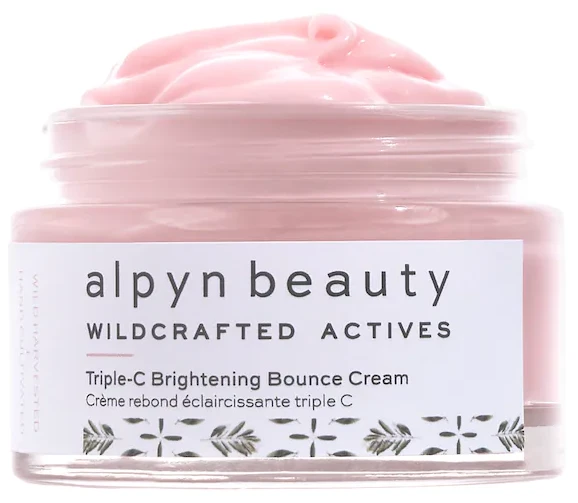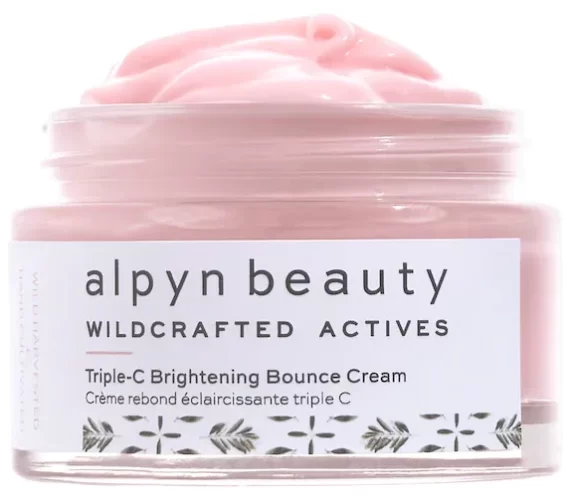 3
Alpyn Beauty Triple Vitamin C Brightening Bounce Cream
This is the perfect vitamin C moisturizer for dehydrated skin because it's made on a 50% aloe leaf juice base, meaning it has an incredibly water-binding ability that leaves the skin visibly quenched and bouncy. Then, it's spiked with three sources of vitamin C for intense skin-replenishing and strengthening benefits, while a slew of oils forms a veil to hinder further water loss. Bonus: the trampoline-like texture feels refreshing and extra hydrating, and the formula skips fragrance.
---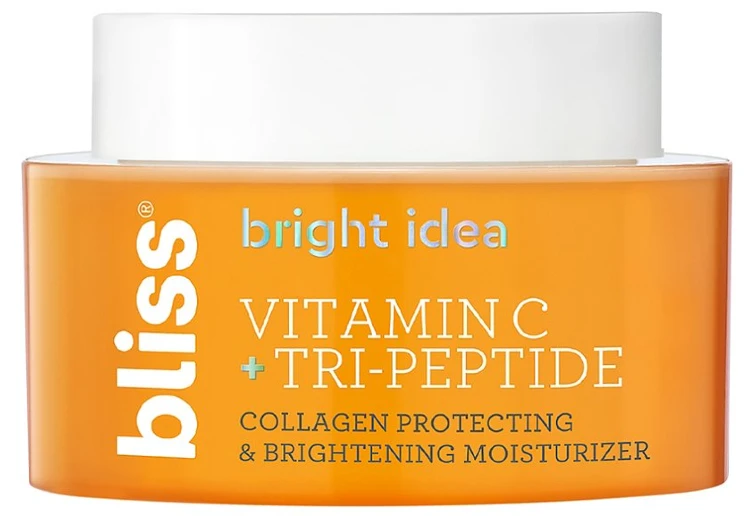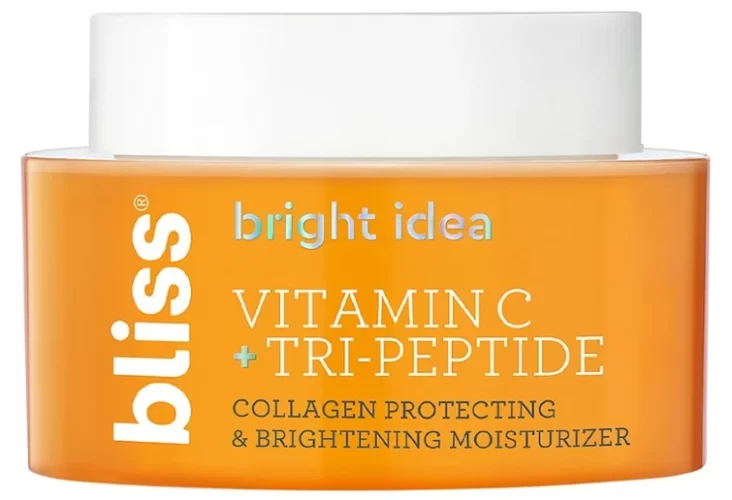 4
Bliss Bright Idea Moisturizer
Although vitamin C is a reliable skin evener on its own, it gets some serious assistance from proven bright-boosting niacinamide and green tea extract in Bliss Bright Idea Moisturizer. Also packed with shea butter, peptides, ceramides, tocopherol, and yeast extract, to name a few, the formula vows to replenish fine lines and wrinkles while reinforcing the complexion. As for the instant results, you get hydrated, luminous skin and a great makeup base. Despite how much we love this formula, it contains avocado and soybean oils which may clog pores, so rethink it if your skin is prone to congestion.
---
5
Ole Henriksen C-Rush™ Brightening Double Crème
Looking for a concentrated vitamin C formula that literally melts into your face? As one of the best moisturizers with vitamin C moisturizers, Ole Henriksen C-Rush™ Brightening Double Crème contains three of the most potent and stable forms of vitamin C that work in the deeper layers to boost collagen and increase firmness. Also, the cream intensely hydrates the skin due to the humectants (glycerin, panthenol, sodium hyaluronate, and hyaluronic acid), making fine lines and wrinkles less noticeable.
---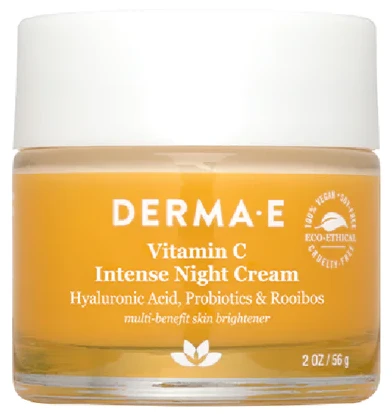 6
Derma-E Vitamin C Intense Night Cream
Vitamin C works incredibly at boosting collagen while you sleep, teaming up with the skin's natural repairing process. In this moisturizer, 5% vitamin C, plus retinol and bakuchiol (retinol alternative), make an anti-aging trio that promises to bring back bounciness and evenness while you Zzz. Everybody lauds the formula for its brightening and softening benefits, and the thick consistency is perfect to veil your face before hitting the hay, so no moisture is lost during sleep.
---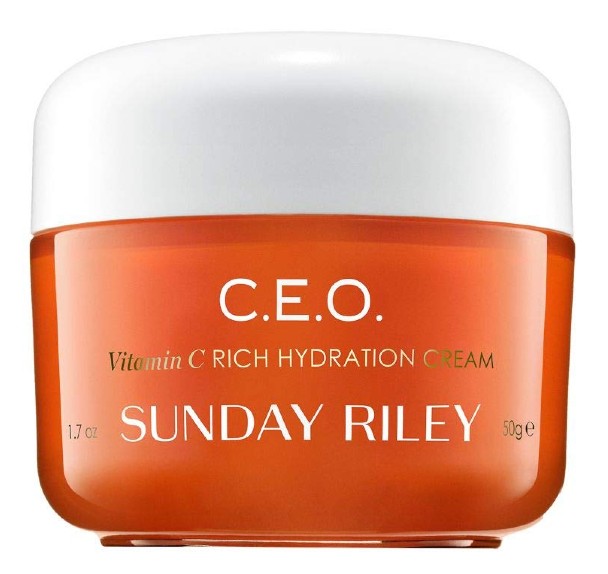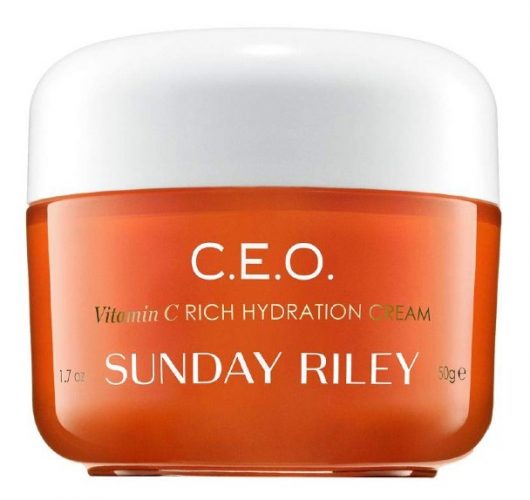 7
Sunday Riley C.E.O. Vitamin C Moisturizer
Sunday Riley's is infused with a 5% oil-soluble form of vitamin C to prevent and repair premature skin aging signs. Additionally, squalane and vitamin E act as emollients, preventing irritation and softening, making this formula a must-have for anyone who wants to address unevenness without aggravating their skin.
---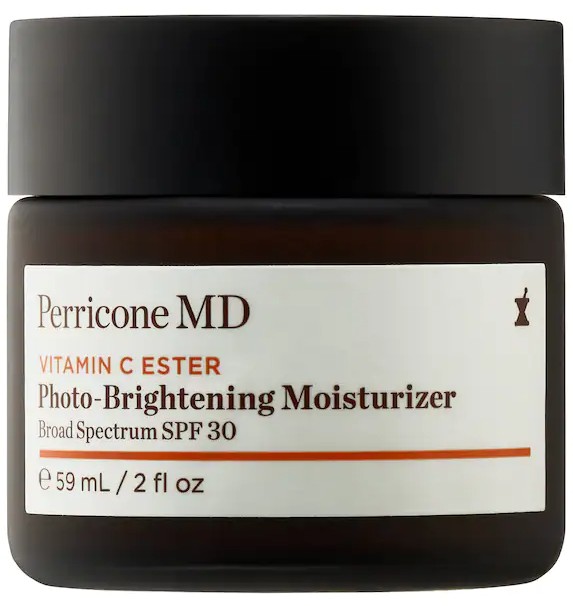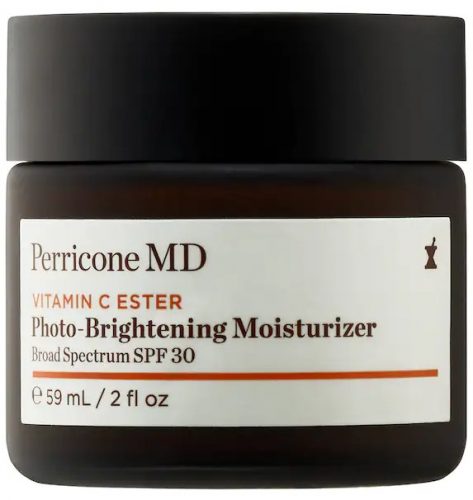 8
Perricone MD Vitamin C Ester Photo Brightening Moisturizer
Perricone MD created the best vitamin C moisturizer with SPF that works fantastic for reactive skin. The formula fusions a stable vitamin C with fatty acids and bisabolol to soften gently, reduce the look of fine lines and refine pores. More than that, the glycerin and dimethicone in it ensure your skin spends the day getting rehydrated and moisturized. This moisturizer is both protective and corrective, promising to defend against sunbeams and free radical damage while improving overall skin condition in time.
---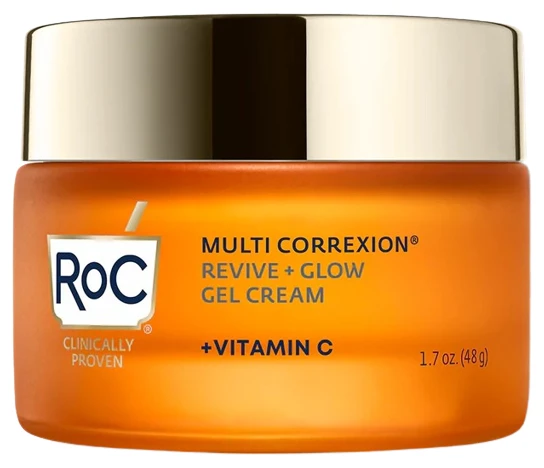 9
Roc Multi Correxion Gel Cream
Roc Multi Correxion Gel Cream focuses on a blend of skin-loving ingredients to enhance hydration, replenish skin and offset free radicals. In addition to vitamin C, the moisturizer contains peptides and shea butter, which soften and make fine lines and wrinkles less visible. It goes on without ever feeling greasy and absorbs instantly, leaving skin dewy but not greasy. Used twice daily over the face, this moisturizing formula means business for a more even, plump complexion.
---
Sources
Women's Concepts uses reliable sources, including dermatologists' insights, clinical trials, and scientific journals, to find accurate information and support all the facts shared in our articles. All statements and claims have clear and legit references. Read our editorial policy to learn more about our sources of information, our process of researching and fact-checking the content, and how our team strives to keep all articles updated, completed, and trustworthy.
References
Neera Nathan, MD, MSHS, Payal Patel, MD, Harvard Health Publishing Why is topical vitamin C important for skin health, November 10, 2021
Pullar JM, Carr AC, Vissers MCM. The Roles of Vitamin C in Skin Health. Nutrients. 2017 Aug 12;9(8):866. doi: 10.3390/nu9080866. PMID: 28805671; PMCID: PMC5579659
Leny, Leny & Karsono, & Harahap, Urip. (2020). Comparison of Vitamin C (Magnesium Ascorbyl Phosphate) Formulation in Nanoemulsion Spray and Cream as Anti-aging. International Journal of PharmTech Research.