Acne can appear at any age due to a reaction to irritants, excess sebum, free radical damage, dehydration, or hormones. Regardless of the cause, pimples are annoying, often being the reason you don't feel good with your skin (or without makeup). So, looking for the best vitamin C serum for acne-prone skin is wise as vitamin C works on multiple fronts to fight breakouts and prevent the apparition of new ones. And it's especially useful in serums as they contain a higher concentration of actives, delivering the benefits straight into the deeper skin layers to trigger transformative results.
Does vitamin C help with acne?
Yes, vitamin C is one of the most sought-after ingredients for acne, helping speed up healing and preventing the apparition of new blemishes. First, as one of the most potent antioxidants, vitamin C has anti-inflammatory properties that address the redness and swelling associated with acne.[1]
Acne can be exacerbated by free radical damage, and dermatologists recommend using antioxidants to hinder pimples' apparition.[2]Applying a vitamin C serum protects against photoaging and helps prevent breakouts from forming while also preventing sebum oxidation, a well-known trigger for acne-causing bacteria.[3]
Another way vitamin C helps with acne is thanks to its collagen-boosting ability, which accelerate pimples' healing. Since collagen is responsible for skin structure, vitamin C also aids in replenishing atrophic acne scars, commonly left by breakouts.
Finally, acne is often the culprit that leads the way to uneven tone, leaving behind red and dark spots. Vitamin C, with its ability to interfere with melanin production, brightens dark spots, helping even tone and leave skin illuminated when used in the long run.
What else you should look for
Other ingredients you should look for in your anti-acne vitamin C serum are salicylic acid, zinc, tea tree oil, willow bark extract, and retinol. Also, dodge products that contain comedogenic oils, synthetic fragrances, dyes, and drying alcohols, as these may exacerbate pimples.
The best vitamin C serums for acne-prone skin
Vitamin C for acne is nothing but a brilliant idea. With this in mind, we've pulled out the best vitamin C serums for acne-prone skin that contain other acne-fighters, too, so you can finally wave goodbye to pimples.
---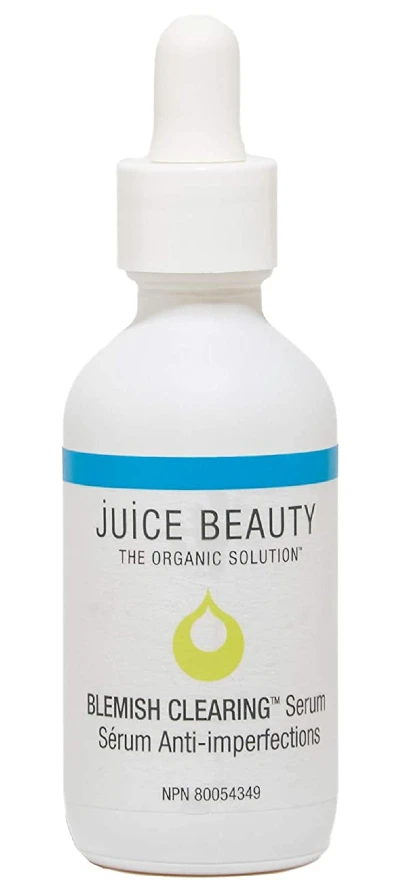 1
Juice Beauty Blemish Clearing Serum
Best for: clogged pores, excess sebum, uneven tone
We like: 0.75% salicylic acid, water-free
What else: organic, vegan, cruelty-free
This serum was made with breakout-prone skin in mind, the reason is boosted with salicylic acid and magnesium ascorbyl phosphate, which is the vitamin C form that works incredibly well for inflamed pimples. More than that, the serum's base is made from organic fruit juices to calm and nourish the skin, while it boasts a blend of vitamin B5 and E, plus plant extracts to offer antioxidant protection. It clears, hydrates, and protects — trust us when we say it's an absolute must for acne-prone folks.
---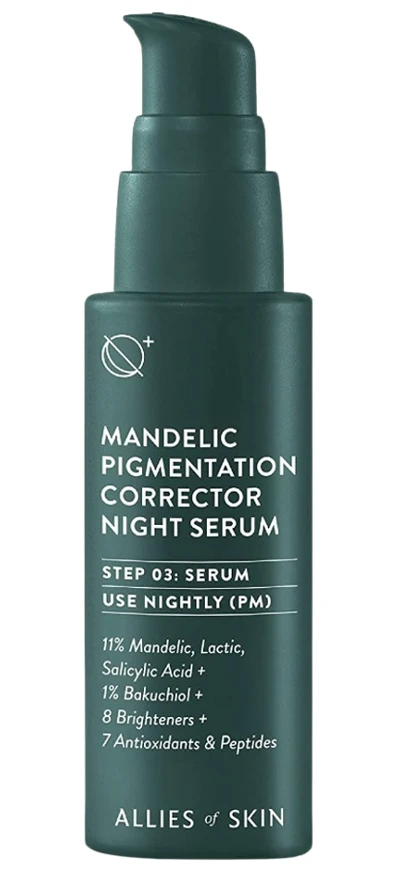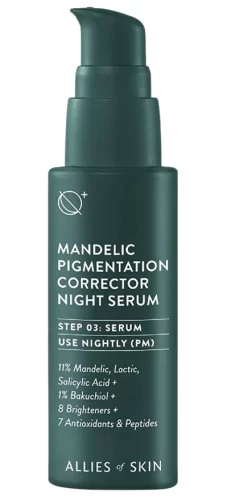 2
Allies Of Skin Mandelic Pigmentation Corrector Night Serum
Best for: dead skin buildup, dark spots, redness
We like: 1% salicylic acid, rich texture
What else: pH: 3.5 – 4, sans fragrance, cruelty-free
This is the best vitamin C serum for acne-prone skin that works while you sleep to shed away dead cells and excess oil that leads to breakouts. It does this helped by a concentration of 11% of mandelic, lactic, and salicylic acids, clearing and minimizing pores while reducing future breakouts' apparition. Additionally, ascorbic acid (a stable form of vitamin C) brightens post-acne marks, supported by niacinamide and resveratrol, while tamanu oil is antimicrobial, meaning it fights breakouts. Allies Of Skin Mandelic Pigmentation Corrector Night Serum is the perfect pick for those looking to prevent new pimples, refine skin texture and fade the look of dark spots left by breakouts.
---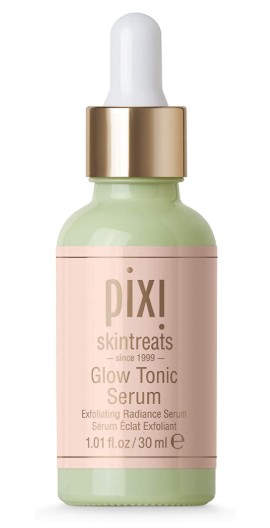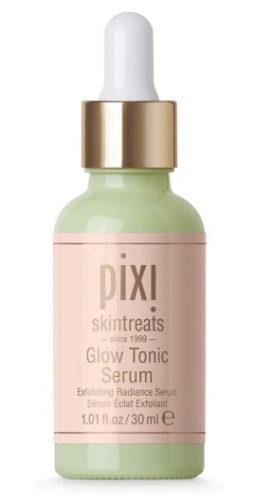 3
Pixi Glow Tonic Serum
Best for: uneven tone and texture, dullness
We like: contains two forms of vitamin C, clean formula
What else: ultra-lightweight, paraben-free, affordable
Pixi Glow Tonic Serum includes a bunch of great ingredients for tackling pimples, besides two forms of stable vitamin C. It's rich in glycolic acid, which aims to remove dead skin and sebum, preventing new breakouts, retinyl palmitate, a gentler form of retinol that unclogs pores and encourages skin renewal, plus cucumber and aloe, to calm and energize skin. You get hydration, exfoliation, and nourishment in one multitasker — can't ask for more.
---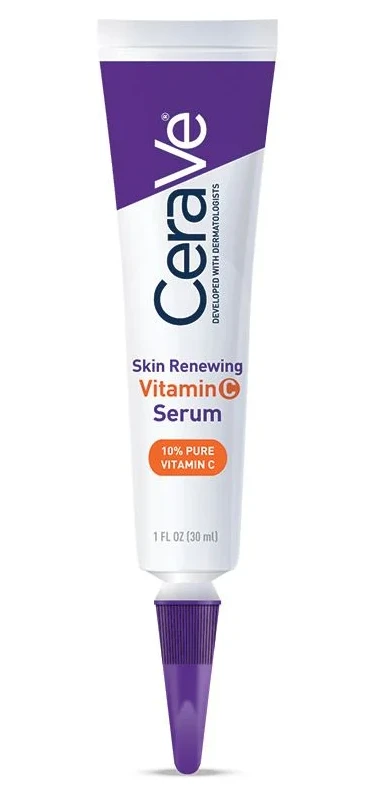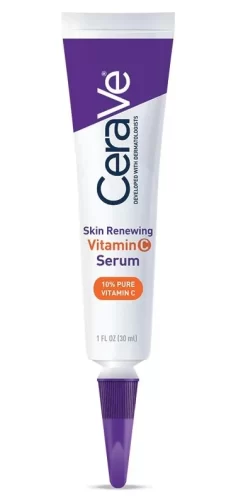 4
CeraVe Skin Renewing Vitamin C Serum
Best for: weak barrier, discoloration, sensitive skin
We like: 10% ascorbic acid, three types of ceramides
What else: non-comedogenic, fragrance-free
Acne flare-ups can be a sign of a damaged barrier, as the bacteria that causes acne is more able to penetrate the skin, so maintaining your barrier integer is prime. With CeraVe Skin Renewing Vitamin C Serum is easy to reinforce your protective barrier as it's filled with ceramides, cholesterol, and phytosphingosine, three great skin-replenishing elements. In plus, the formula boasts 10% ascorbic acid to brighten, induce collagen and protect the skin, while panthenol and sodium hyaluronate increase hydration and balance sebum production. The gel-like texture sinks in immediately, leaving skin hydrated and dewy.
---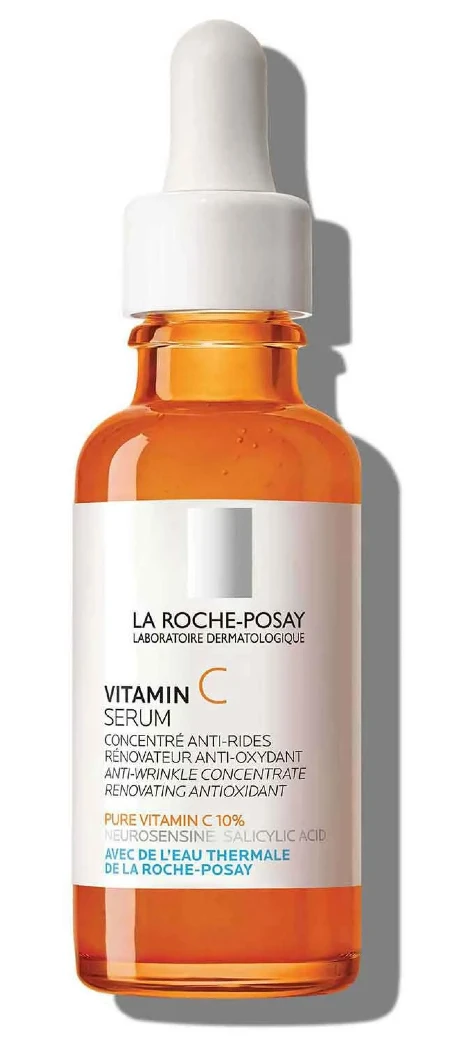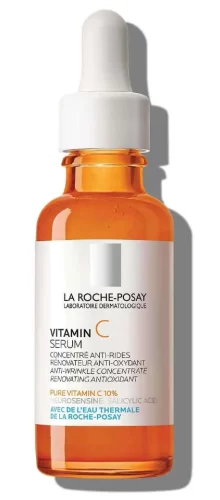 5
La Roche-Posay Vitamin C10 Serum
Best for: clogged pores, dark spots, redness
We like: 10% ascorbic acid, non-comedogenic, oil-free
What else: contains fragrance
With each application of La Roche-Posay Vitamin C10 Serum, skin is left clear, bright, and hydrated. Vitamin C boosts collagen, protects, and illuminates, while the two versions of low molecular hyaluronic acid work beneath the skin's surface to increase hydration and regulate sebum production. What makes this serum suitable for acne-prone skin are the two exfoliants, salicylic acid, and sulfonic acid, that trap and shed away dead skin, unclog pores and control future pimples. The serum has a rich texture that leaves skin radiant, soft, and hydrated as soon as applied and works excellent even for reactive skins.
---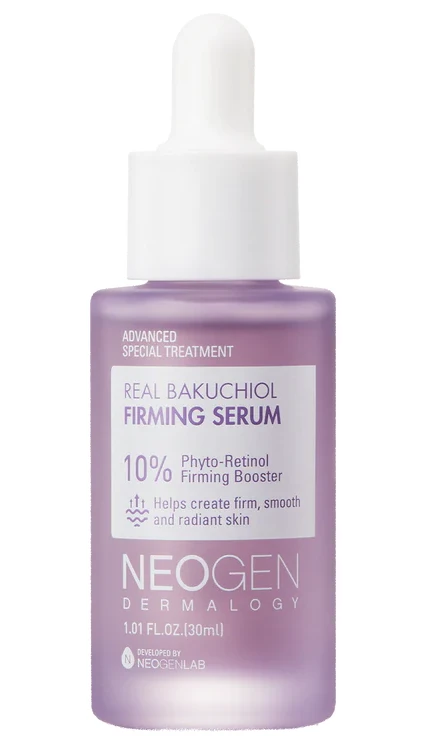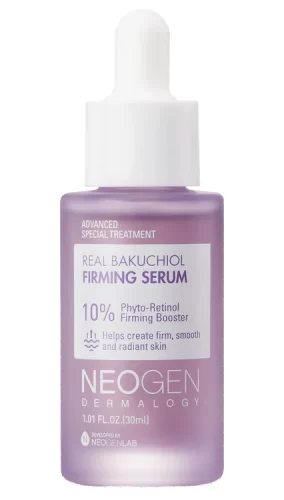 6
Neogen Dermalogy Real Bakuchiol Firming Serum
Best for: uneven tone, loss of firmness, dullness
We like: tea tree, two forms of vitamin C, peptides
What else: fragrance-free
This K-beauty serum is a must for anyone struggling with blemish-prone skin and also wants to prevent aging signs. The star of the formula is bakuchiol (retinol alternative) which encourages cell turnover for smoother, clearer skin. Besides, vitamin C and tea tree oil fight blemishes and congested skin, working to nix breakout-inducing excess oil. Neogen Dermalogy Real Bakuchiol Firming Serum serum will also protect you from future signs of aging and environmental stressors, making it a solid option for all ages.
---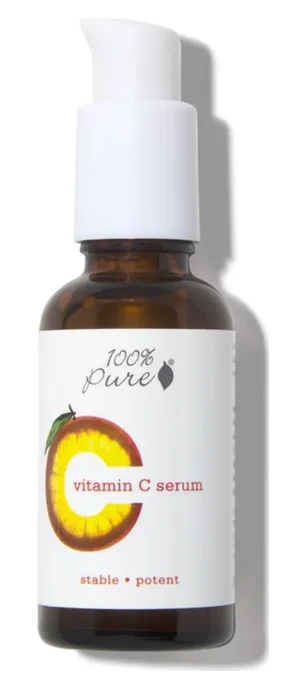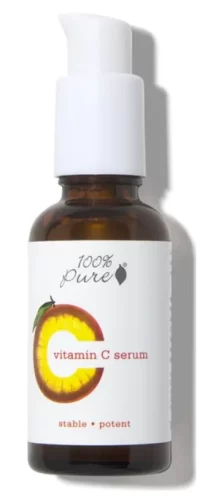 7
100% Pure Vitamin C Serum
Best for: sensitized skin, redness, inflamed pimples
We like: natural, rich in magnesium ascorbyl phosphate
What else: sans fragrance and alcohol, for PM use
Above everything, this serum is rich in magnesium ascorbyl phosphate, an active form of vitamin C that has been shown to improve inflammatory acne.[4] Moreover, it is made on an organic aloe gel base, which has calming and antibacterial properties, making it ideal for pimples. We also like 100% Pure Vitamin C Serum because the formula contains willow bark extract, which reduces excess oil, provides gentle exfoliation, and refines the look of pores. It soaks into the skin in no time, leaving it visibly hydrated, just ready for your nighttime moisturizer.
Disclaimer
How we found the best vitamin C serums for acne-prone skin
There's an endless number of vitamin C serums with different formulations, yet just a few are suitable for acne-prone skin. We did extensive research and found 7 products that work perfectly on any skin that's prone to breakouts. All products featured here meet all our editorial policies and guidelines mentioned on this page. We shut our eyes to marketing claims and made our decisions based on the product's formula, customer reviews, and dermatologists' insights. To find the best vitamin C serums for acne-prone skin, we have looked through products that contain researched-backed ingredients with acne-fighting properties, are not greasy, don't clog pores, and don't trouble the skin. We also made sure that all products are easily accessible across the globe, fit all budgets, come from trusted and renowned brands, and have many positive reviews from people with acne-prone skin.