Disclaimer: Foreo sent us this product in exchange for a review, but all opinions are 100% honest and unbiased. By using the links in this post, we earn a commission at no extra cost to you.
The Foreo Bear is hands down one of the best (and budget-friendly) FDA-approved devices that work with microcurrent to give your facial muscles a serious wake-up call and tighten your skin. Here's what you need to know before you hit that buy button and what the results look like after two months of regular use (with before and after pictures).
Entering my thirties has lengthened my skincare wish list like never before. If I was a gua-sha girl in my 20s, now I'm more eager to explore high-tech gadgets that promise to tighten my skin, contour my jawline, refine pores, and minimize fine lines. And since I'm not quite ready to get into the injectables territory, I'm all about non-invasive devices (hi, LED masks, and radiofrequency machines).
However, amidst my skincare arsenal, one gem I haven't tried so far: A microcurrent device. So, when I was offered the Foreo Bear—which promises to improve firmness and reduce wrinkles in one week—in exchange for my honest review, I took the chance with no second thoughts. The claim was intriguing, and the oh-so-many positive reviews from skincare aficionados only fueled my curiosity further.
Now, the only thing I regret is not having tried it earlier.
What is Foreo Bear?
Foreo Bear is an FDA-cleared device that uses low-level microcurrent to give your skin a little workout (without the sore). It's like a tiny, gentle electric massager that sends electrical signals into the skin. These signals exercise all the facial muscles and stimulate cells to produce more skin-smoothing proteins like collagen and elastin. It's really effective because it sends out a low-level current that is similar to our body's natural current. The result? A more contoured and toned face and less noticeable aging signs.
Moreover, Foreo Bear incorporates an anti-shock mechanism that evaluates your skin's electrical resistance. Aka, it adapts the microcurrent strength to make the treatment both comfortable and safe. It also has a T-Sonic massage function to enhance microcirculation and lymphatic drainage. This cool feature facilitates the delivery of nutrients and oxygen to skin cells, translating into more nourished skin.
The device is wireless, handy, and gives up to 90 treatments with one charge. In short, three key factors that make it the ideal travel buddy.
What it does
The combination of microcurrent technology and T-Sonic massage used by Foreo Bear has proven several skincare benefits:
Stimulates and relax facial muscles
Gives the face a more lifted and contoured appearance
Diminishes fine lines and superficial wrinkles
Produces more collagen and elastin
Enhances skin firmness
Tightens the skin
Boosts blood circulation and lymphatic drainage
Promotes better absorption of topical products
Reduces swelling and encourages scar healing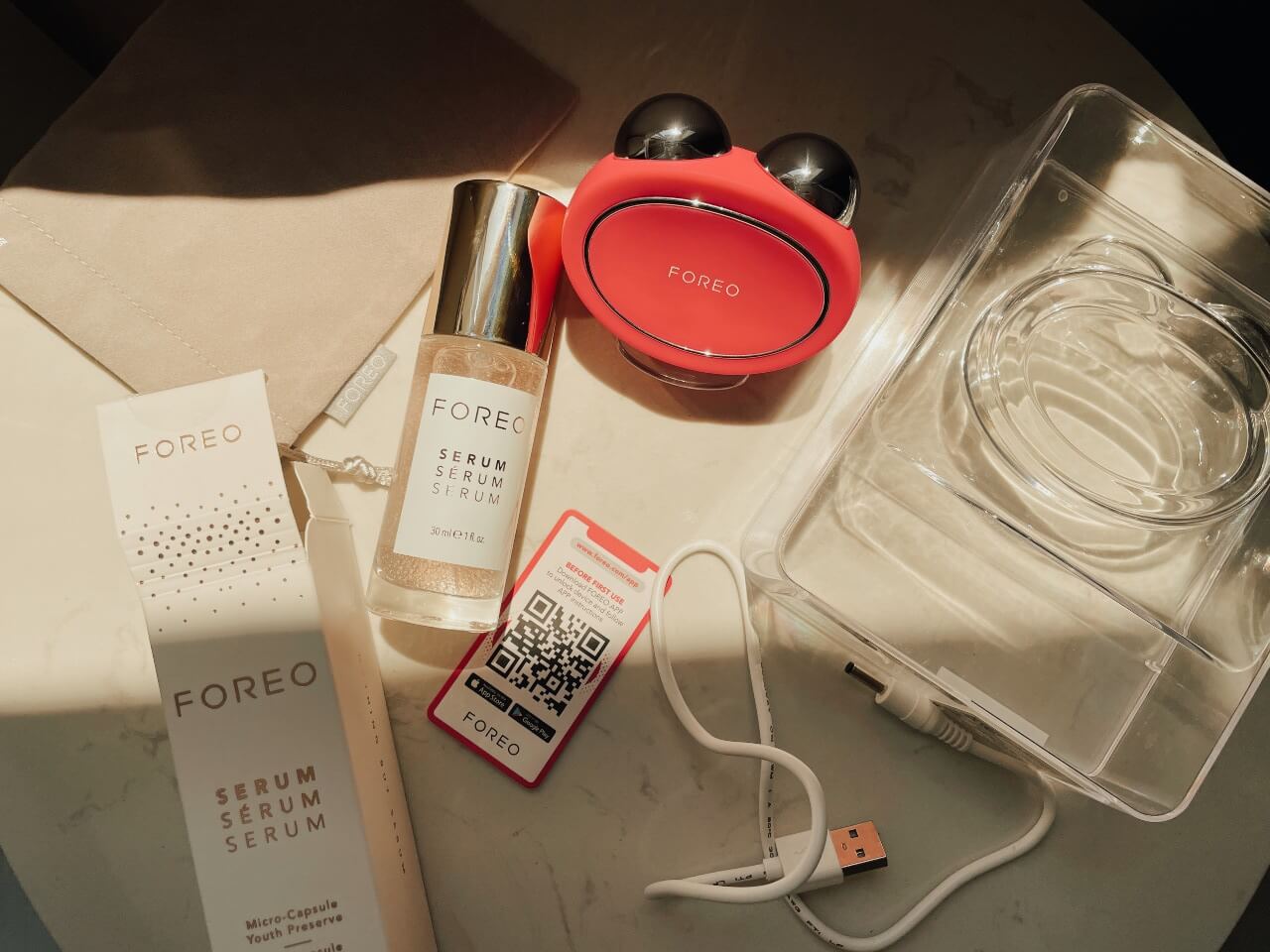 What's included in the purchase
The device comes with a card containing a QR code that gets you all set up with the Foreo app. Once you download it, just connect the device via Bluetooth, and you're good to go. The app guides you through three facial workout tutorials and a relaxing massage treatment.
A cute travel pouch is also in the package, so you can carry your device (safe and sound) wherever you go. And when you're chilling at home, just pop the device on the included stand and have it close by at all times, protected from bacteria and other nasties.
If you're purchasing the Bear Mini Facelift Set, you'll receive the Supercharged Serum 2.0, which makes sessions more enjoyable and offers additional benefits like hydration and smoothness.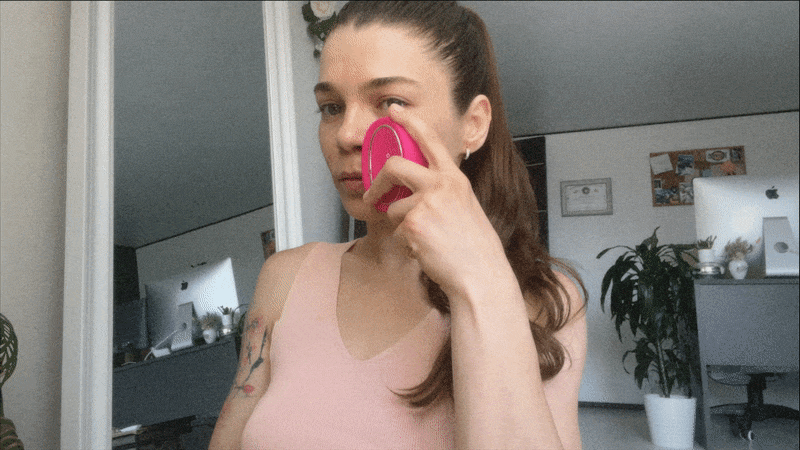 How to use the Foreo Bear device
It all starts with clean skin. You definitely don't want lingering residues on your skin as it can hinder the microcurrent from penetrating properly.
So after cleansing your face with a gentle cleanser (preferably without stripping ingredients like sulfates), apply a generous layer of conductive serum. The serum's role is to make the device glide more easily across your skin without pulling it. To make the process convenient for you, Foreo included a water-based silky serum (Serum Serum Serum) in the package that was specifically made to work with Foreo Bear. Aside from helping the device glide on effortlessly, the serum infuses skin with hyaluronic acid and squalane, which provide a boost of hydration.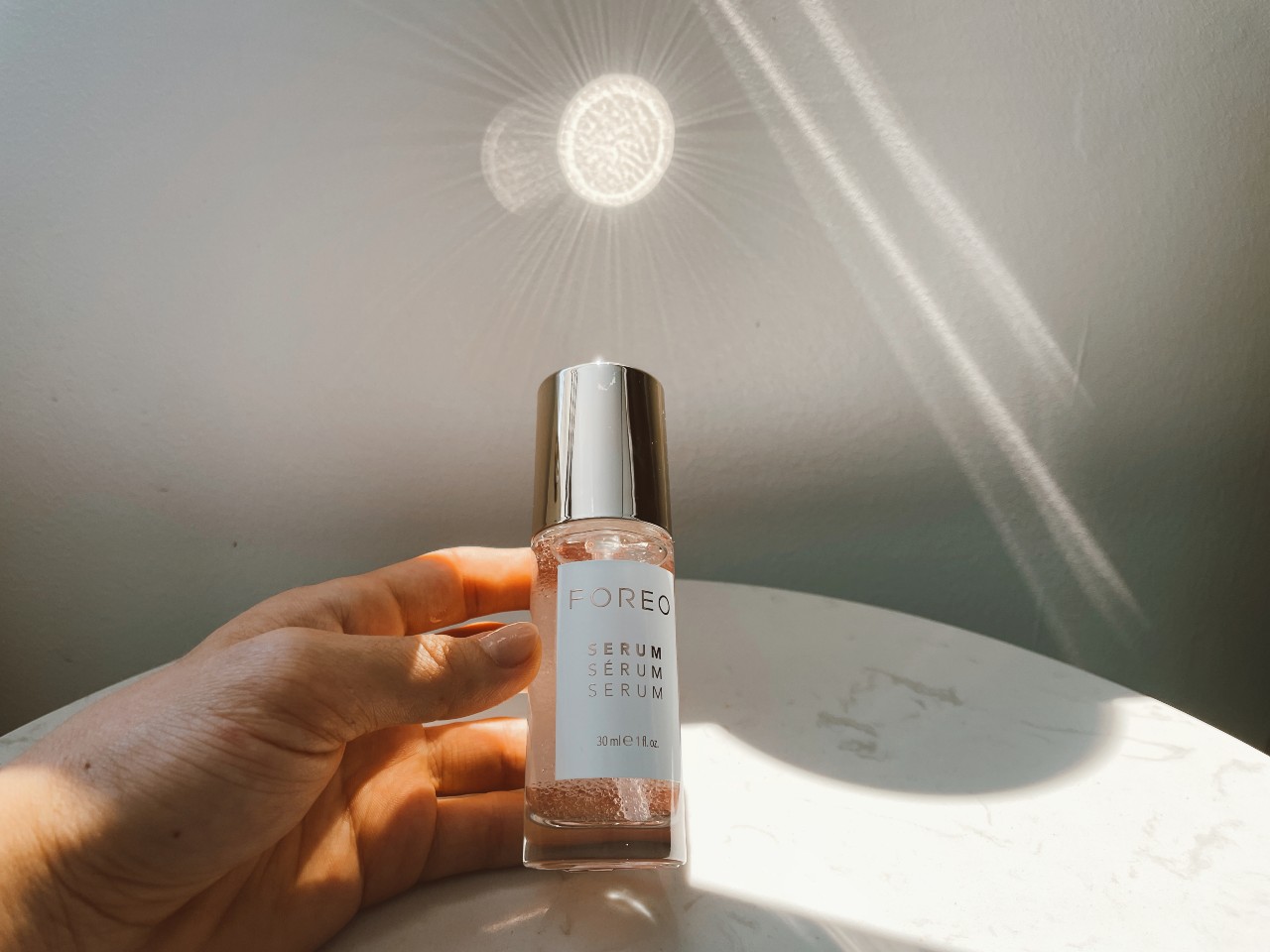 Next, you just have to select one treatment of choice and follow the video from the app. The Foreo Bear has two metal spheres (that generate the microcurrent into the skin) sticking from the top. These globes should touch the skin at the same time as you glide the device slowly in upward motions with gentle pressure—just as shown in the animated video.
My experience with Foreo Bear
For one, I adore the ergonomic design. Its compact size, smaller than the palm of my hand, allows for effortless handling as I glide it across my face and neck. The device is made of waterproof silicone, so I don't have to stress too much about cleansing it after each use.
What sets the Foreo Bear apart from most microcurrent devices is its ten adjustable intensity levels. I started my initial sessions with the fourth level and gradually increased it to the maximum setting as my skin became more accustomed to the microcurrent.
Another feature I endorse is that the device allows me to choose whether to include the T-Sonic pulsations. I always keep it on because it gives a relaxing massage and boosts blood flow, so why not?
Admittedly, I never settle for just one workout but perform two or three in one session. After applying a sufficient amount of Foreo's Serum, I turn the device on and run it slowly on my face, just as the video guides.
The treatment is not painful at all, and I like the relaxing sensation when I glide it along my jawline, over my cheeks, and across my forehead. The only slight discomfort I feel is when I use the device on my upper lip. This is a particularly sensitive area, so I tend to avoid using it there.
I always use my Foreo Bear in the morning to start my day on a high note, aka skin that looks fresh and supple. After giving my 65+ facial muscles the mini workout, I follow up with my regular morning skincare routine, which consists of a serum with vitamin C and tinted sunscreen.
Good to know
Although the device is made of bacteria-resistant silicone, you still have to cleanse it with soap and water after each use. After cleansing, allow the device to air-dry.
The device can sting when you have inflamed acne or open wounds on your skin.
Foreo Bear can be particularly effective for skin prone to acne or scars as it promotes protein production that encourages healing.
The device is safe to use daily.
It can be used to reduce puffiness around the eyes.
Before and after results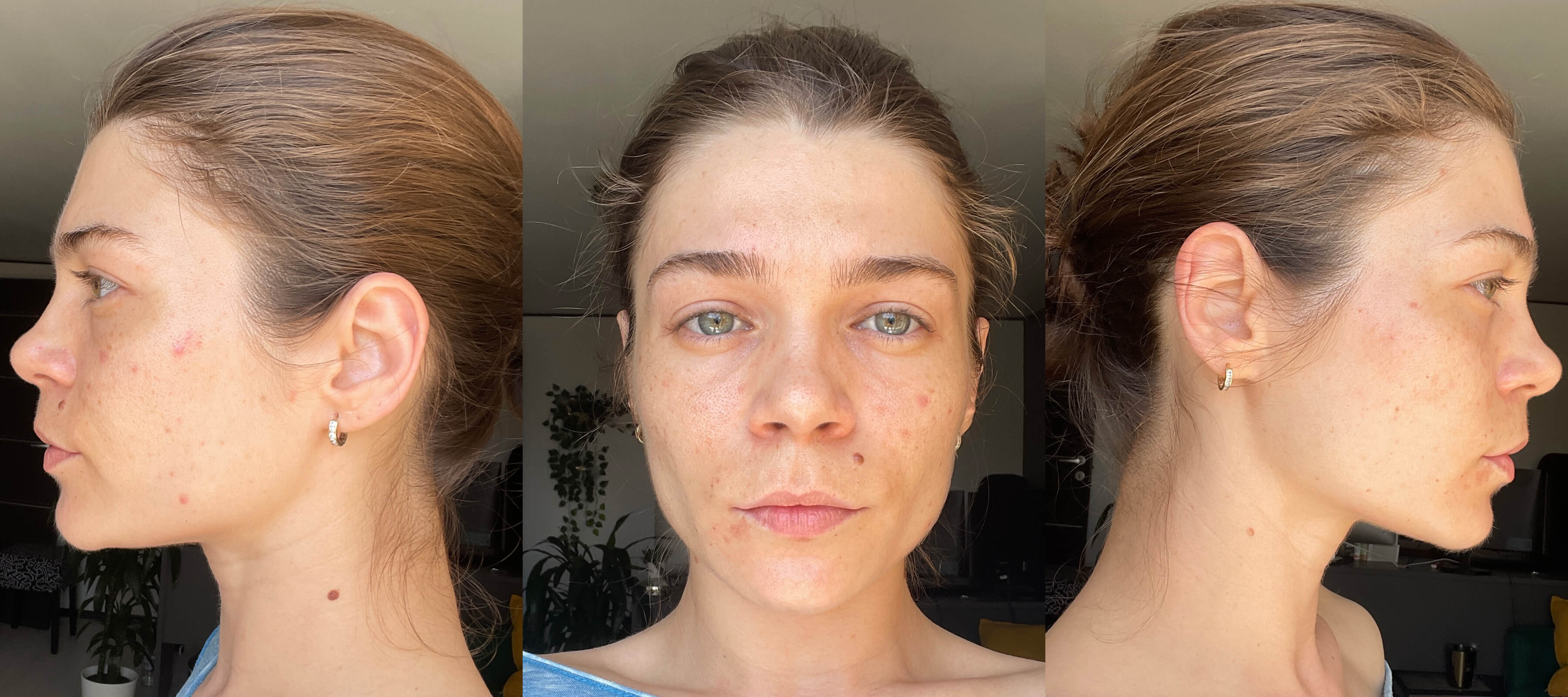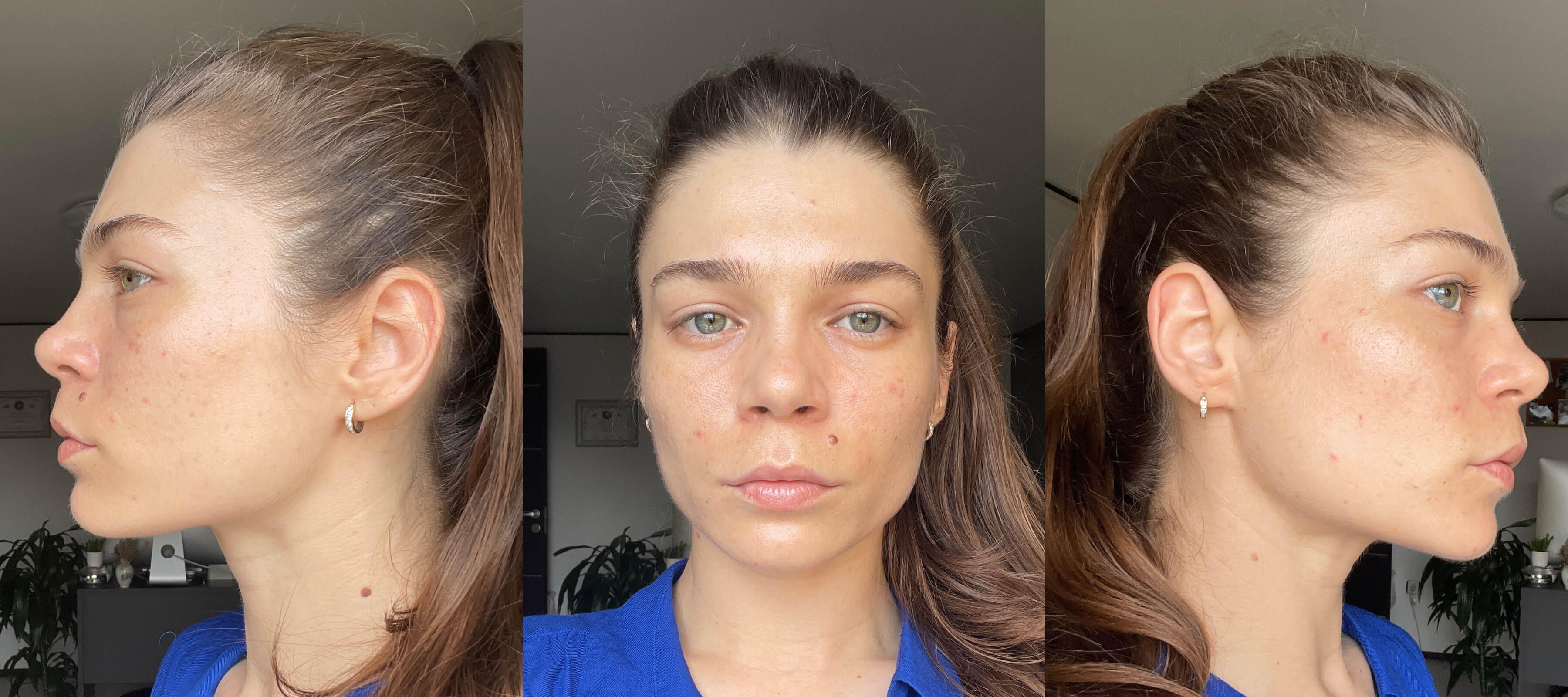 The results
I have been using the Foreo Bear device for two months, about four to five times a week, and I started noticing changes in my overall appearance after the first two weeks. My smile and forehead lines appear less visible, and I also noticed an improvement in my jawline and chin, which seem more defined. I have less puffiness and definitely more glow. In terms of aging signs, it's hard to pinpoint the exact effects of the device alone. My skincare routine is already packed with powerhouse anti-aging ingredients like retinol and glycolic acid, so the Foreo Bear is a valuable tool to work in tandem with those. However, I firmly believe it gives a more contoured overall appearance and helps improve my skin's firmness.
The verdict
The Foreo Bear is the ultimate addition to my routine that perfectly complements other products and treatments. While the device didn't stray me away from my LED mask, I enjoy using them interchangeably to ensure my skin receives a well-rounded boost. What I truly love about this powerhouse performer is its ability to customize the entire experience according to my comfort level. And also the fact that I can throw it in my bag and take it with me whenever I go places.
The Foreo Bear is priced at $329, which is a fair value considering its features. In fact, it stands out as the most affordable option among microcurrent facial devices like NuFace, TheraFace, or Ziip. For a more budget-friendly alternative, you can try Foreo Bear Mini. With six intensity levels instead of ten, it delivers similar benefits, all for $257.
You can check all FOREO products here (discounts up to 52%).
All things considered, I wholeheartedly recommend giving the Foreo Bear a try if you're on the lookout for a non-invasive treatment to enhance your skin. It has become a staple in my routine, and I will continue to use it regularly. At the end of the day, consistency is key.