My current skincare routine revolves around a few products from Project E Beauty—a brand that focuses on non-ablative beauty devices and gentle formulas that promise to improve the skin from the very first use. Namely, I've been using their face wash, toner, moisturizer, and cleansing brush for almost three months, enough time to see what the products can do and how well they perform in the long run. Full disclosure: I was given these products to review, but I want to assure you that my review is completely unbiased, unfiltered, and based solely on my honest experience with them.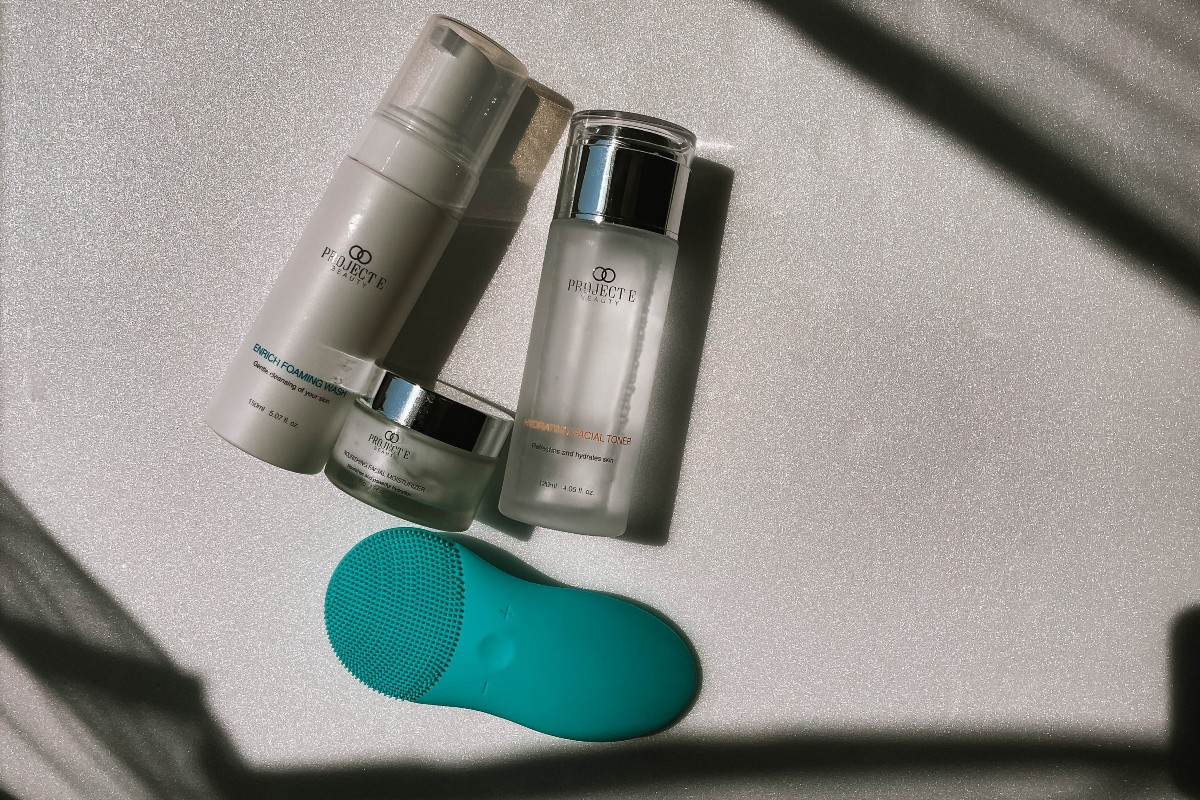 For a little background, my skin tends to be oily with large pores and occasionally prone to breakouts. Since it's not sensitive nor easily reactive, I am a big fan of potent actives, like retinol, glycolic acid, and vitamin C.
Unfortunately, none of the Project E Beauty products contains these powerhouses—what a bummer. As someone who's crazy about skincare, this is a huge drawback because I genuinely believe the skin can't be improved much without using tried and true ingredients. However, instead of going big on potent formulas, the brand takes a different approach with gentle actives and botanical extracts that tackle skin issues head-on. I gotta say, they don't cause any irritation or breakouts, but they leave my skin looking crystal-clear, well-fed, supple, and radiant – just as I like it.
In other news, while Project E Beauty is great for gentle and nourishing skincare that won't compromise your skin's health, it may not be the best solution for addressing specific concerns such as fine lines, wrinkles, dark spots, or acne. For targeted treatments, it's better to remain loyal to medical-grade skincare brands that are backed by clinically proven results.
It is also worth mentioning that all products by Project E Beauty that are currently in my routine have recyclable packaging (mainly glass and recyclable plastic) and are cruelty-free, which aligns with my principles.
---
Project E Beauty Enrich Foaming Wash
I initiate my skincare routine with Project E Beauty Enrich Foaming Wash. My skin is oily, so I favor foaming cleansers as they are better at removing excess oil, grime, and residues. The cleanser is water-based and features SLS, a surfactant responsible for creating a rich lather that cleanses deeply. I must admit I'm not a huge fan of sulfates because they have a bad reputation for irritating the skin, but this one hasn't caused any trouble for me.
Additionally, the formula boasts Cocamidopropyl betaine—a hard-to-read ingredient that is nothing else but coconut-derived synthetic fatty acid. It's hydrating and softening and acts like a surfactant that bonds with dirt, oil, and other impurities, removing them from the skin in no time. I also like that the face wash contains glycerin, a humectant that doesn't allow my skin to get parched. The only thing I don't like about this product, however, is the strong scent, which is a bit too much for me; other than that, it is a great face wash.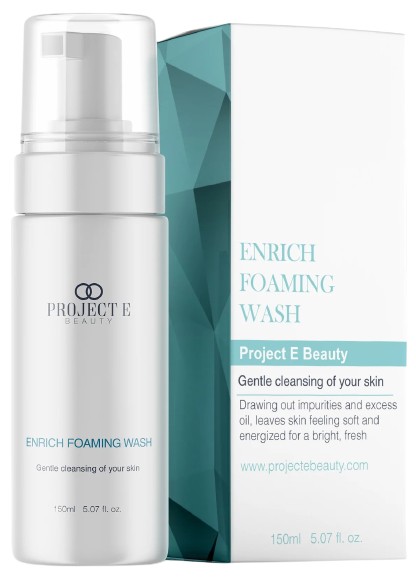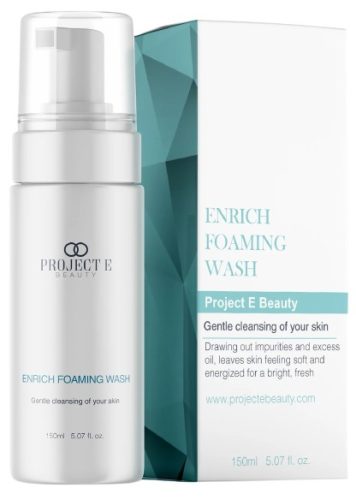 ---
Project E Beauty Hydrating Facial Toner
I use this toner twice daily as a pre-treatment after cleansing my complexion. I like it because it leaves my skin quenched and infuses it with hydration (exactly what I need to balance excess sebum) due to two of the most potent humectants out there, glycerin and sodium hyaluronate. Additionally, the formula has butylene glycol, an alcohol derived from petroleum that acts as a humectant, increasing water levels and balancing skin. Plus, it fusions allantoin, a plant extract that aims to moisturize and soothe, while hydrogenated castor oil seals moisture and softens. Overall, it's a great toner, and I give it extra credit for the glass bottle, which is infinitely recyclable.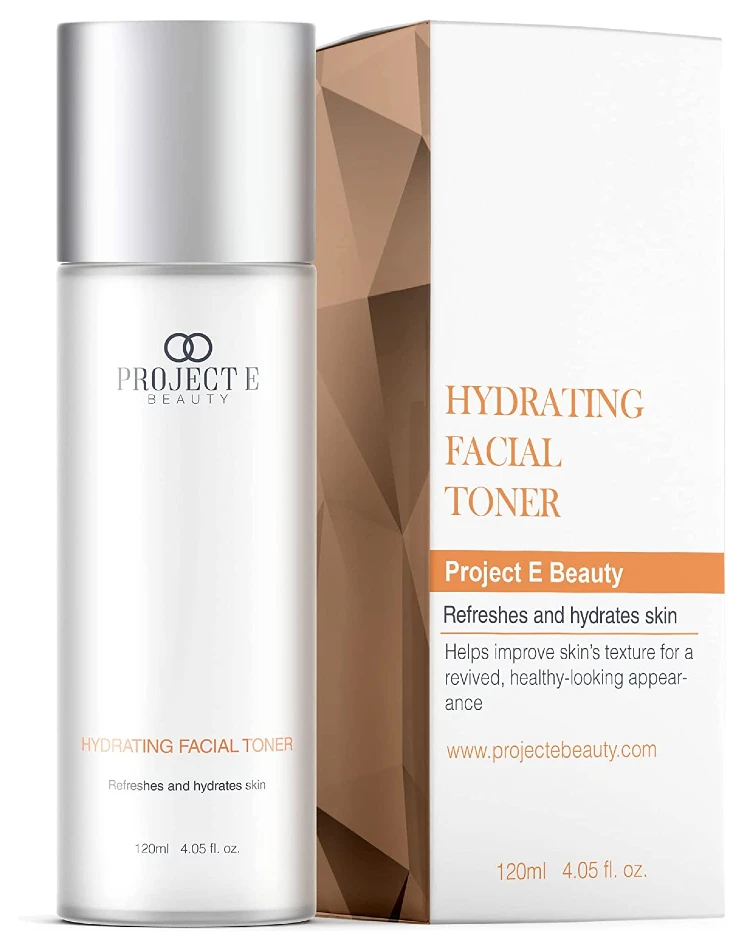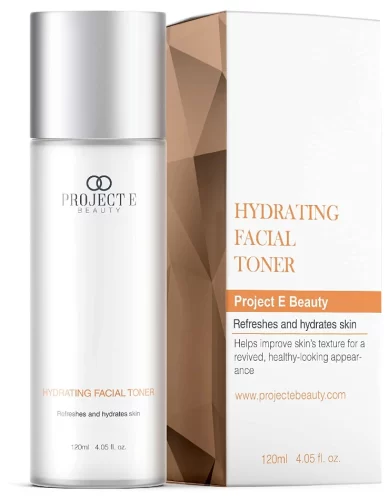 ---
Project E Beauty Nourishing Facial Moisturizer
I'm fond of the texture of this moisturizer: it is light, never feels heavy or sticky, and it's ideal for hot summer months. The formula loads moisture-trapping actives and a blend of botanical extracts that reveal a luminous and plump complexion. Glycerin pulls water into the skin, squalane traps moisture, while Ethylhexyl palmitate (emollient) relieves dryness and reduces moisture loss. This moisturizer also packs Portulaca oleracea extract, a nature-derived anti-ager that acts as an antioxidant and skin softener. Lastly, the slew of fruit and plant extracts give it strengthening, anti-inflammatory, antioxidant, and energizing benefits.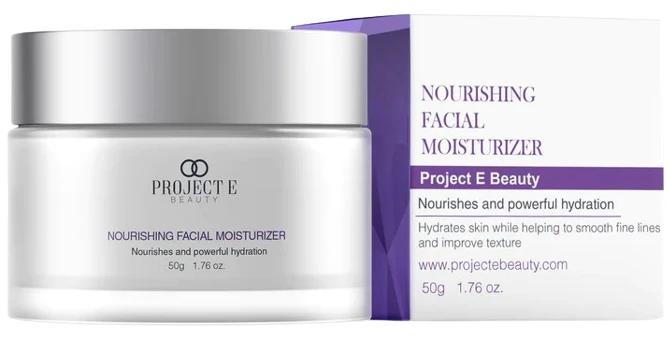 ---
Waterproof Silicon Deep Cleansing Exfoliating Brush
This cleansing brush saved my skin after sauna sessions. What I liked is that the silicone brush is dual-sided, one for gentle daily cleansing, and a surface for weekly exfoliation, both working delicately without causing redness or irritation. Moreover, it has an adjustable intensity, so I can pick the level my skin is comfortable with. Bonus points because the brush is waterproof, so I can use it in the shower when the pores are open. The brush may not unclog stubborn blackheads, but it's excellent at removing oil and debris, massaging the skin, boosting blood flow, and softening the complexion. As a minus, the shape makes it a bit difficult to reach the bridge of the nose.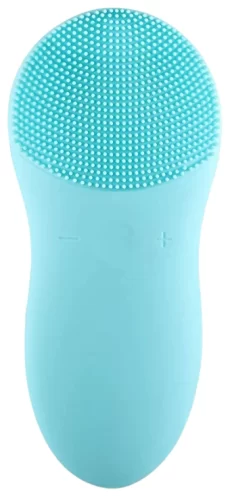 ---
Bottom line
All in all, I'm pretty happy with my Project E Beauty routine. Sure, it doesn't have all the heavy-duty ingredients that some other brands boast, but it does the job for me, and that's what matters most. Plus, it feels good to support a company that values natural and sustainable ingredients and doesn't test its products on our furry friends. If you're looking for a skincare line that offers gentle, affordable, and nourishing care without putting your skin at risk, then Project E Beauty is definitely worth a try.
Read next: I Tested the Project E Beauty Photon Mask for Face and Neck