As a beauty editor, my curiosity about skincare ingredients is never-ending, so when I first spotted purslane extract on one of my skincare products, I scoured the internet to find all about it. Shock and awe. This plant-derived ingredient is chocked-full of essential nutrients needed for healthy skin. Purslane has been used in traditional Eastern medicine due to its anti-inflammatory properties, but recent research has revealed more benefits of this extract, so it keeps popping up in more and more products. Purslane for skin proved endless benefits, and here we share them all, but not before finding out where this extract is coming from.
What is purslane extract?
Purslane extract is derived from Portulaca oleracea, a weed-like succulent plant. Due to its rich content of minerals, vitamins, fatty acids, flavonoids, and proteins, purslane extract is often added to anti-aging and skin-protecting products, addressing sensitive, dry, oily, and mature skin.[1] Purslane extract gives something to everyone while being gentle.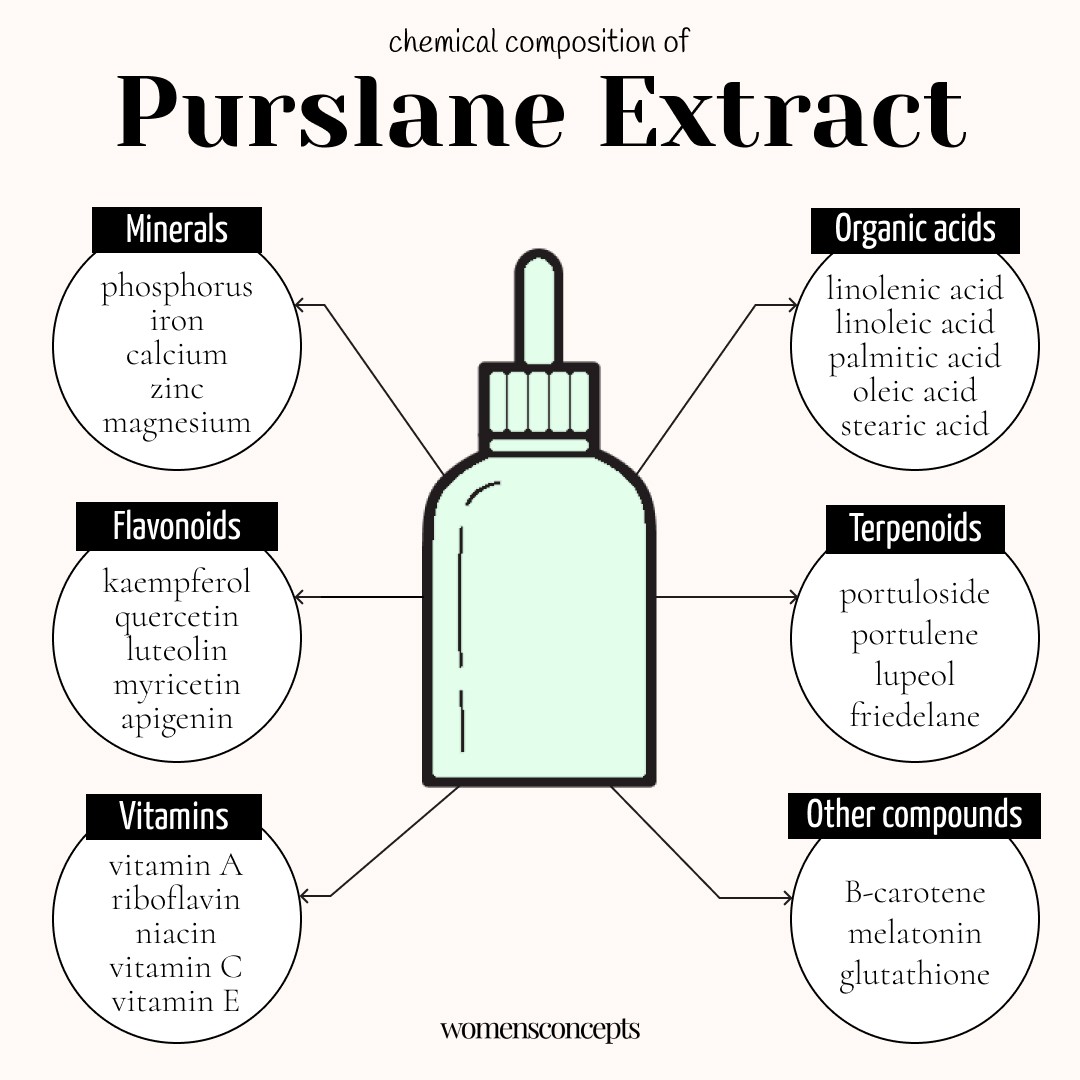 Read on to learn about what purslane extract can do for your skin.
Purslane extract benefits for skin
Antioxidant: due to its high content of vitamins A and C, glutathione, and flavonoids, purslane is a potent antioxidant effective at combating oxidative stress and protecting skin against premature wrinkling.[2]
Increases moisture: purslane is beneficial for those with dry skin as it is rich in tocopherol and omega 3-fatty acids. This also makes it a go-to for whoever wants less visible fine lines and wrinkles and a plump appearance.
Encourages cell turnover: the vitamin A in purslane extract speed up cell turnover, promoting cellular damage repair and helping heal wounds.
Strengthens skin: zinc, magnesium, copper, and iron are all minerals contained by purslane extract. They strengthen the skin's matrix, reinforce the barrier protective function and promote DNA repair.[3]
Anti-inflammatory: purslane extract is packed with a bunch of flavonoids, plus vitamins C and E, giving it anti-inflammatory benefits that make it beneficial for acne and damaged skin.
Protects against UVB damage: UVB rays are responsible for sunburn and skin cancer, and purslane extract was found to protect the skin against UVB-induced damage.[4]
How to use purslane extract for skin?
Purslane is added to various skincare products, but most often in moisturizers and serums. You can also spot it under the name of Portulaca Oleracea — the plant purslane extract comes from.
How to use purslane extract in skincare depends on the product at hand. If it's a serum, use it after cleansing your skin, or if it's a moisturizer, apply it after serum. Due to its gentleness and versatility, purslane extract can be applied twice daily and paired with most skincare actives, including retinol, glycolic acid, salicylic acid, and vitamin C. Purslane also plays well with hydrating and replenishing ingredients like hyaluronic acid, niacinamide, and peptides, boosting each other's benefits.
Is purslane extract safe during pregnancy?
As a natural extract and skin-friendly ingredient, it shouldn't pose any risk to using topical products with purslane extract during pregnancy. However, since no study confirms the safety of using topical purslane extract during pregnancy or breastfeeding, it's best to talk to your dermatologist before adding it to your routine.
---
Citations