Features:
Alcohol-free
Fragrance-, silicon-, oil-free
Cruelty-free
pH: 3.5 – 3.7
Strengths:
Simple and clean formula
Affordable
Good at fading hyperpigmentation and brightening the skin
Works for all skin types, except sensitive skin
Unclog pores
Improve skin texture and fine lines look
Drawbacks:
Not suitable for damaged and sensitive skin
Increase skin's photosensitivity
Ratings:
Amazon: 4.5/5 from 21,626 reviews
The Ordinary: 4.8/5 from 504 reviews
Sephora: 4.3/5 from 2700 reviews
Ulta: 4.3/5 from 2770 reviews
Price: $7.20
I've already said it here that I've built my skincare routine around The Ordinary brand in my struggle with breakouts and scars. One of the products was their peeling solution, the one with the fun red color that's serious though in exfoliating the skin. Also, since it has a pocket-friendly price — it costs less than a coffee at Starbucks — it got my attention in a sec. Anyway, chances are, you've probably seen this bloodred solution on your Instagram feed or in a friend's bathroom cabinet. Because literally, The Ordinary's AHA 30% + BHA 2% Peeling Solution went absolutely viral, and trust me, it worth all the fuzz!
How to use it
I strictly followed their instructions because, honestly, after 15 years of struggle, I'm not planning to play with acids on my skin. So, on cleansed and completely dried skin, I dripped on the solution and massaged it into the skin with gentle circular motions (and a bit on my decolletage too). I definitely dodge the eye area and also when cleansing it off since that's written on the package: "Avoid the eye contour and contact with eyes both during application and rinse off." Yes, sir, yes!
It's crucial for your skin to be completely dry when you apply it and not to have any open wounds or active irritations going on.
The formula feels somewhat stinging for the first minute. But I honestly enjoy the idea that that little pain results from my dead skin cells dissolving and leaving my skin softener, smoother, and brightener.
Leave it on for at most 10 minutes (you could start with 5), then rinse off with lukewarm water and go on with your PM skincare regimen. Since The Ordinary AHA + BHA solution is so rich in acids, it can make your skin photosensitive. Hence, you'd better use it in the evening. And the following day, apply sunscreen, as you do daily (I hope!).
For the first month, I used this peeling solution once weekly until my skin built tolerance, then I started to apply it twice weekly, and I encountered no irritations ever. Never, but never use The Ordinary's AHA 30% + BHA 2% Peeling Solution more than twice a week.
Results
This is definitely a product that gives instant and also long-term results. At first, I noticed my skin is clearer and brightener and also feels smoother. After I'm using it, I layer my hyaluronic acid serum. My skin absorbs it in a split second. I feel how the rest of my skincare products get better absorbed into the skin, doing their magic more effectively. 
It's a fact that dead skin cell buildup hinders the proper absorption of skincare products from doing their job. That's one more reason you need to consider exfoliating your skin regularly.
Some people may experience a bit of redness immediately after rinsing it off, and that's fine if it doesn't last more than 20 minutes. It's a normal reaction if your skin is a bit more sensitive. On the following day, my skin is still glowing, looking toned and firm, and if I layer makeup, it feels like I have the perfect canvas right there, on my face.
I added The Ordinary's AHA + BHA Peeling Solution to my routine four months ago, and I've seen an improvement in my skin tone all this time, and some red spots left by acne began to fade away little by little.
The formula
It's all about the acids it contains, they're the MVPs in this formula. Don't freak out; these are good acids for your skin, working to exfoliate the top's skin layers, aiding in vanishing hyperpigmentation, acne scars, and uneven tone. Since AHAs and BHAs cleanse the pores and unclog them, skin looks glowy and healthy after using such acids, your skincare products soak in better, and you've got a perfect canvas for makeup too.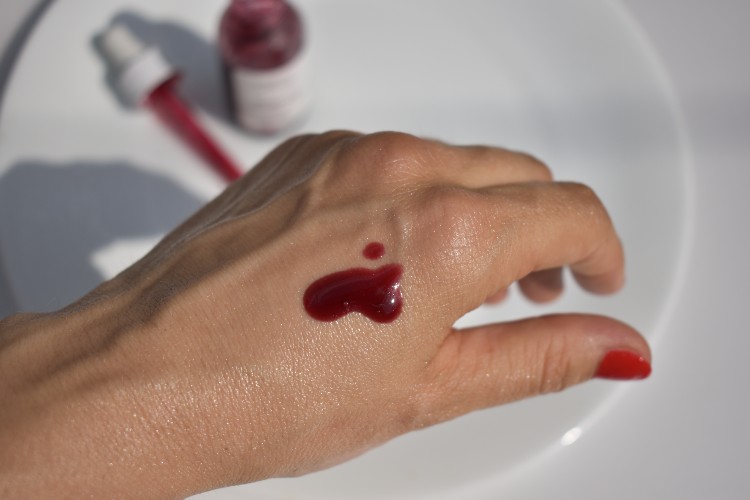 The formula is made with 30% glycolic, lactic, tartaric, and citric acids. These are part of sugary fruits and are water-soluble, meaning they peel away the dead cells on the skin's surface so that new healthy skin cells take their place. Then, it includes 2% salicylic acid, aka a beta-hydroxy acid that's oil-soluble, meaning it has the power to penetrate deeper into the pores, where removes dead cells and excess sebum.
The Ordinary AHA + BHA Peeling Solution also contains hydrating ingredients, like hyaluronic acid and vitamin B5, which aid in moisturizing the skin, strengthening the barrier, and boosting the skin's healing process. The bloodred color is given by Tasmanian pepper berry, which is added to help reduce irritation linked to acid use. Also, the black carrot increases cell turnover, brightens the skin, and gives antioxidant properties, while aloe leaf water soothes the skin.
All these elements work to peel away the skin's surface so more evenly cells generate and replace them without drying your skin due to the hydrating ingredients it contains.
Side effects to consider
Since it has a high acid concentration, the risk for irritation is pretty big. Anyway, as it goes with any other new skincare product, better do a patch test before using The Ordinary AHA + BHA Peeling Solution to see how your skin reacts. Also, don't expect fast results, acids take time to work, and the product must be used regularly for an extended period.
Never/s
Never use the peel on cracked or damaged skin.
Never let it act for more than 10 minutes.
Never use it more than twice a week.
Never apply on damp skin.
Never use retinoids before or after the peel.
The takeaway
The Ordinary Peeling Solution is an excellent add-on to your weekly skincare routine if you want to tackle hyperpigmentation, fade away scars, sop up oil, and cleanse your pores in depth. It's a powerful exfoliating product, a way to achieve your glowy skin goals with potent ingredients that lacks water, alcohol, and oil, has a 3.5 – 3.7 pH, and has an unbeatable price! However, since this is a strong solution, you should apply it cautiously, and sorry but don't use it if your skin is sensitive.