While struggling with acne, I've built my skincare routine around The Ordinary brand and my skin loved me for doing so. Tbh, I've done this besides my trip to the derm, which ended with a prescripted gel with benzoyl peroxide and clindamycin (Duac) and the monthly facials. I'm mentioning this because, above all, acne is a medical-grade skin condition, and it takes more than a skincare routine to get rid of it.
However, The Ordinary has some great products for acne you can build your routine around and is probably one of the best brands you can use in your battle! Why? Because The Ordinary takes a medical-grade approach focusing on simple formulas that deliver targeted results. Besides, nothing costs more than $25. I'm sure if you have never used The Ordinary products before, you'll turn into a fan after reading this!
Why should you use The Ordinary products?
Okay, so why did I choose The Ordinary to fight acne, and I suggest you do it too? Pretty simple, The Ordinary focuses on just a few ingredients per product, having concentrated formulas with lab-made and plant-derived ingredients, no fragrances, no mineral oil, mercury, oxybenzone, parabens, or sulfates. Yay! All their products have simple and effective formulas with high-end ingredients, everything at an affordable price; hence, the hype. Plus, they never test on animals! From A-listers, beauty gurus, influencers, estheticians, everyone praises The Ordinary products for good reason.
Another convincing reason to use The Ordinary is that they have all the arsenal you need to deal with each skin concern, acne-included. They've got targeted anti-acne products from cleansers and toners to serums, masks, and chemical peels, so everything you need in a complete routine. And guess what? These best Ordinary products for acne really work and can help reduce breakouts and improve your overall skin appearance.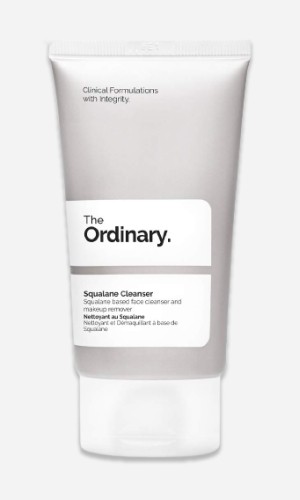 Cleanser for Acne
The Ordinary Squalane Cleanser
Start your routine by removing impurities with this squalane-infused cleanser. While it dissolves makeup and dirt, the squalane-base gives it moisturizing benefits so that your skin won't dry out and produce even more sebum. Squalane is a lightweight oil-derivative that gets easily absorbed in the skin without the greasy feeling. Rest assured, squalane doesn't clog pores, and the product is non-comedogenic anyway. Rub this cleanser between your palms for 10 seconds to help it undergo its textural change and wash your face. Your skin is now ready for the next steps.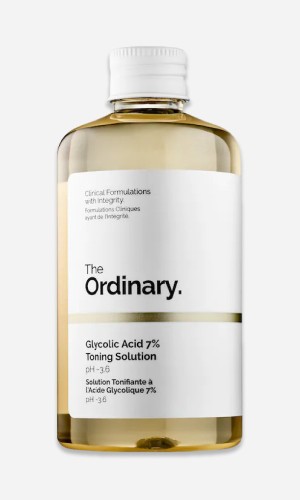 Toner for Acne
The Ordinary Glycolic Acid 7% Toning Solution
Using a toner is not a mandatory step, yet it's much better if you use it — I've talked about what toner does to your skin. The Ordinary toner is spiked with 7% glycolic acid, which is an acne-fighter as it unclogs pores, and removes dead cells buildup that can lead to pimples. Rest assured, to counteract the possible irritations associated with acid use, The Ordinary added to this toner Tasmanian pepperberry, amino acids, ginseng root, aloe vera, and rose water. And it's oil-free!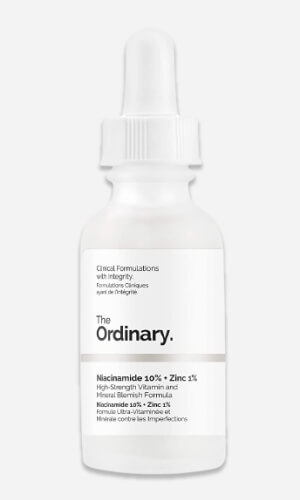 Serum for Acne
The Ordinary Niacinamide + Zinc
Serum time! I literally love this serum, and so does my skin; hence, I found it to be one of the best The Ordinary products for acne. With 10% niacinamide and 1% zinc, it helps regulate excess sebum and diminish acne. Zinc can kill acne-causing bacteria, has antioxidant benefits that hinder free radical damage, reduces inflammation, and helps other ingredients absorb into the skin. At the same time, niacinamide is a boon in treating inflammatory and non-inflammatory acne, while bursting hydration and balancing sebum. P.S.: it does wonder at brightening dark spots left by acne. Show your skin some little extra TLC with this oil-free serum, absolutely fabulous!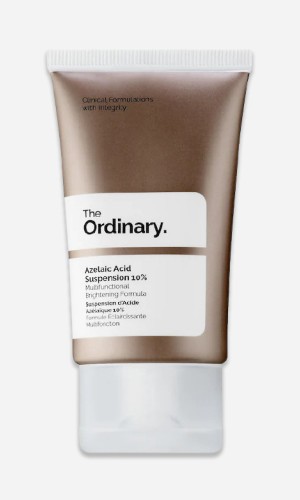 Moisturizer for Acne
The Ordinary Azelaic Acid Suspension 10%
This oil-free moisturizer might be what your acne-prone skin needs since it's made with 10% azelaic acid in a feathery cream-gel formula. It works to diminish blemishes, uneven texture, brighten, and protect the skin. Azelaic is well-known among people who struggle with acne (myself included!) due to its antimicrobial and anti-inflammatory effects. When applied regularly, azelaic acid can clear acne-causing bacteria, preventing future breakouts. More than that, azelaic acid is a gentle element that encourages cell turnover so that your skin heals quicker and minimizes acne scars.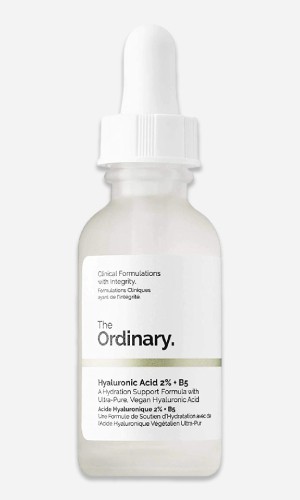 HA Moisturizer
The Ordinary Hyaluronic Acid 2% + B5
The MVP for hydrating the skin is hyaluronic acid. Hyaluronic acid seals in and replenishes moisture, making skin look fresh, plump, and bouncier. Its hydration-boosting benefits counteract the drying effects of acne-fighting ingredients that usually tend to strip the skin moisture. As such, using this serum lessens the chances of irritation. The other hero in this serum is B5, another wonder element for acne. Besides balancing sebum production and strengthening the skin barrier, it reduces the effects of skin irritation and inflammation.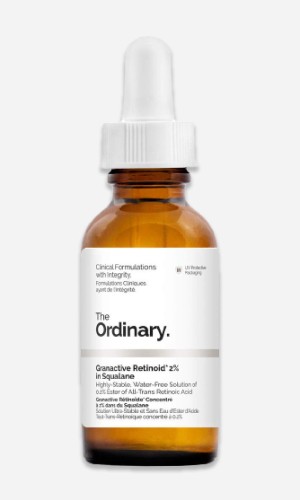 Retinol Serum
The Ordinary Granactive Retinoid 2% in Squalane
Optionally, you can alternate your HA + B5 serum with this one. Infused with granactive retinoid — a highly advanced form of retinoid — and squalane, it works to keep the skin hydrated while renewing the tissue for evener, smoother skin. In plus, the tiny molecules of retinol penetrate the dermis, stimulating collagen and elastin production. In turn, it helps reduce pores' appearance, acne, and scars.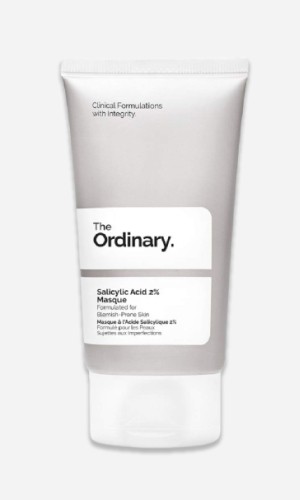 Mask for acne
The Ordinary Salicylic Acid 2% Masque
It's impossible you haven't heard of salicylic acid if you struggle with breakouts. This BHA is oil-soluble, aka it penetrates into the pores, unclogging them. This is how it helps inflamed pimples and pustules go away. Its powers? Exfoliating, revitalizing, healing, and bacteria-fighter. The mask is also infused with charcoal and kaolin — another two key ingredients that fight acne with their deep cleansing abilities. Use this mask once weekly, and you'll notice your skin refreshed and clear in time.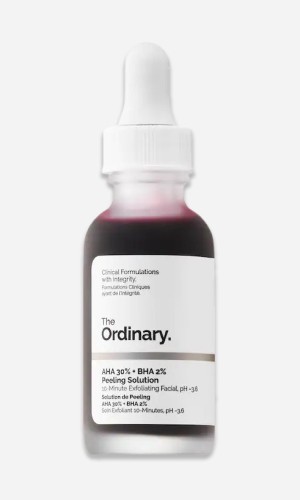 Peeling for Acne
The Ordinary AHA 30% + BHA 2% Peeling Solution
I was a bit skeptical about using this peeling on my skin (afraid of irritation), but with so many people praising it, I turned myself to give it a try. Now, I proudly say: it was one of the best additions to my skincare routine! The Ordinary Peeling Solution is made with the trifecta of acids (glycolic, lactic, and salicylic), all great for acne. Plus, tartaric acid, another AHA that exfoliates the skin, unclogs pores and fights blemishes. Just 10 minutes weekly is enough to get rid of the old skin cells and replace them with fresher, renewed ones. It truly works! Expect to sting and ting a bit, but it's normal, going away within 5 minutes or so. However, if your skin is on the sensitive side, or you just had a professional peeling, or your barrier is compromised, skip it. Otherwise, go for it.
Acne-treating ingredients in The Ordinary products
The Ordinary always counts on these ingredients to fight acne:
Glycolic acid: Studies found that glycolic acid kills acne bacteria, plus it has antibacterial properties that can clear up breakouts and scarring caused by acne.
Salicylic acid: Research has shown that salicylic acid can effectively prevent acne by limiting the proliferation of the P. acnes bacteria.
Niacinamide: It's not only effective in treating inflammatory and non-inflammatory acne but niacinamide also balances sebum. 
Azelaic acid: It does more than just fight acne. Azelaic acid can eliminate bacteria that cause the infection, as well as reduce inflammation and redness. In addition, it can help speed up skin cell turnover rate, which in turn helps even out skin tone while fighting off any unwanted blemishes.
Retinol:  It controls acne by reducing sebum production. Besides, its exfoliation effect promotes clear and radiant skin. 
Zinc: It can decrease oil production and can protect against bacterial infection and inflammation.
Quick question
What are the best The Ordinary products for acne?

If I have to choose, I'd say the best The Ordinary products for acne are Niacinamide + Zinc serum, Azelaic Acid Suspension 10%, Salicylic Acid 2% Masque and AHA 30% + BHA 2% Peeling Solution. You can do your full anti-acne routine with only these four products, and most likely, you'll finally be able to get rid of breakouts.

Are The Ordinary products good for acne?

The Ordinary is good for everything and, in particular, for acne. Their formulas are simple, so they're unlikely to cause irritations or other complications, and focus on just a few key ingredients. Their acne-fighting ingredients include large concentrations of tried-and-true formulas that fight against all forms of this skin condition — and they've got plenty on offer!