While struggling with acne, I've built my skincare routine around The Ordinary products, and my skin loved me for doing so. Along with visits to my dermatologist, a prescription gel with benzoyl peroxide, and monthly facials, these products have been key players in my fight against pimples and blackheads. That said, I'm a firm believer in the power of The Ordinary's simple and effective formulas that tackle acne head-on. The brand's approach to skincare is to deliver targeted results with tried-and-true actives in minimalist and single-ingredient-focused formulas.
After being a fan of this brand for years I can say out loud that The Ordinary has some amazing products for acne and is probably one of the best brands you can use to address clogged pores, inflammation, and breakouts. I highly recommend giving these products a try, especially if you're looking for a cost-effective solution to your acne woes.
Here's a list of the best The Ordinary products for acne:
Why should you use The Ordinary?
From A-listers, beauty gurus, influencers, and estheticians, everyone praises The Ordinary products for a good reason. As for myself, I chose The Ordinary to treat my acne because the brand creates its products with one or two active ingredients, meaning most are highly concentrated and powerful enough to deliver transformative results—exactly what I needed. Salicylic acid, niacinamide, azelaic acid, and retinol are all potent pimple-fighting ingredients any acne sufferer needs, and The Ordinary products load a generous amount of them to get the job done.
Another convincing reason that made me try The Ordinary is that they have all the arsenal I needed to deal with my acne breakouts. They've got targeted products from cleansers and toners to serums, masks, and chemical peels, basically, everything I needed to complete my skincare routine. Plus, The Ordinary is a cruelty-free brand, earning loyalists from all fronts.
Given that I tried almost everything from this brand, I decided to round up the best The Ordinary products for acne that helped me manage breakouts and improve my overall skin appearance without breaking the bank.
The best The Ordinary products for acne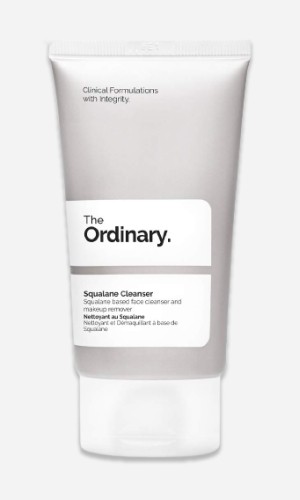 The Ordinary Squalane Cleanser
Start your anti-acne routine by removing impurities from your skin with this squalane-infused cleanser. While it dissolves makeup and dirt, the squalane base hikes up moisture levels so that your skin won't dry out and produce more sebum. If you're not familiar with it, squalane is a lightweight oil-like substance that balances the skin and increases hydration without feeling greasy or clogging pores. Rub this cleanser between your palms for 10 seconds to help it undergo its textural change, and wash your face with lukewarm water.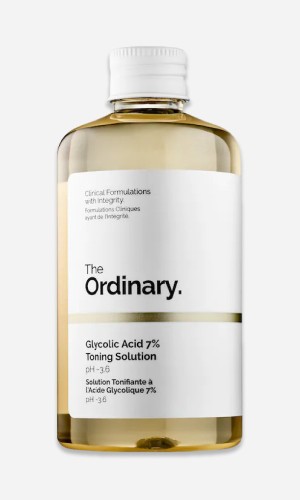 The Ordinary Glycolic Acid 7% Toning Solution
Using a toner is not mandatory, but it can help a lot in clearing acne, especially if it's about a glycolic acid toner like this one. In addition to removing oil and dirt left over your face after cleansing it, The Ordinary Toning Solution helps pores unclog and removes dead cell buildup with 7% glycolic acid—a great exfoliant with acne-fighting properties. Moreover, to counteract the possible irritation and leave the skin soft, the formula packs hydrating and soothing ingredients such as Tasmanian pepperberry, amino acids, aloe vera, and rose water. And it's oil-free, so it doesn't leave skin greasy.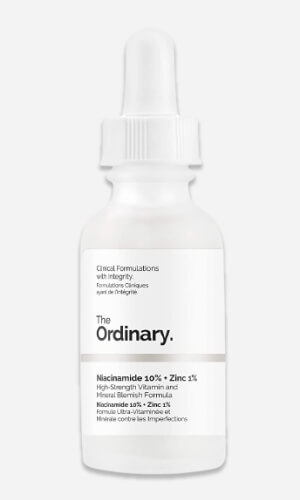 The Ordinary Niacinamide + Zinc
I literally love this serum, and so does my skin, which is why I consider it the best The Ordinary product for acne. Thanks to 10% niacinamide, it balances sebum and repairs the skin, diminishing breakouts and blackheads, while adding an intense dose of hydration. Another key ingredient in the formula is 1% zinc, which not only has anti-inflammatory benefits but can kill acne-causing bacteria and tame redness. P.S.: This serum does wonder at brightening post-acne marks, too, so show your skin some extra TLC with this oil-free serum that fights on multiple fronts to improve your skin.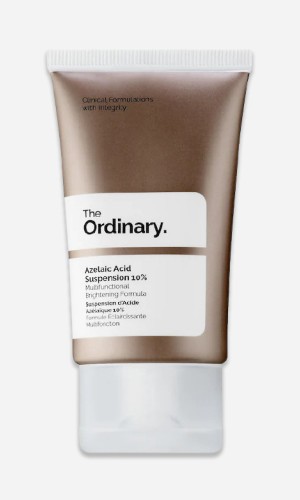 The Ordinary Azelaic Acid Suspension 10%
This oil-free suspension might be what your acne-prone skin needs since it's made with 10% azelaic acid in a cream formula. Azelaic acid is well-known among people who struggle with breakouts due to its antimicrobial and anti-swelling effects. When applied regularly, it can clear acne-causing bacteria while also encouraging cell turnover to speed up pimple healing and minimize acne scars. The cream has a thick texture, so you want to apply it on a thin layer to avoid the heavy feeling. Also, use it before cleansing and seal it with a moisturizer after to get the most out of it.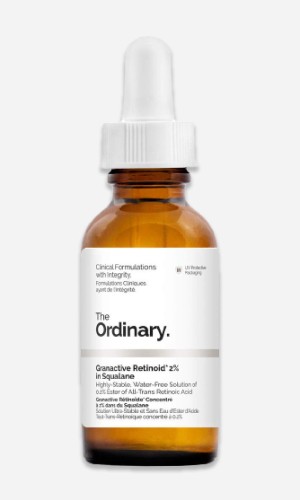 The Ordinary Granactive Retinoid 2% In Squalane 
Retinoids are king for tackling acne, and this The Ordinary's serum is loaded with 2% granactive retinoid—an advanced form of retinoid—to encourage cell turnover and diminish the chances of pores getting clogged with dead skin. There's also a serious amount of squalane to offset possible reactions caused by retinoids and infuse the skin with deep moisture. I've been using this serum for quite some time, and as a result, my texture has become much smoother, tone evener, and the pores refined. I applied it every night along with The Ordinary Niacinamide + Zinc every morning, and the results were terrific.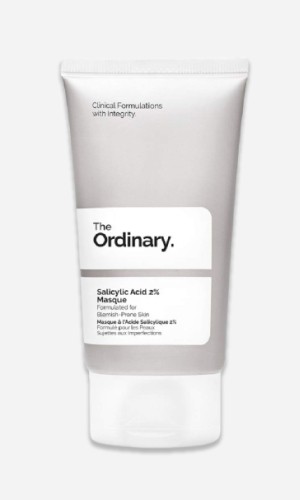 The Ordinary Salicylic Acid 2% Masque
This mask is one of The Ordinary's most demanded products for acne treatment and does wonder in detoxifying skin and purifying congested pores. All the magic comes from 2% salicylic acid, which is an oil-soluble exfoliant with antibacterial properties that penetrate beneath the skin to reach the pores and unclog them. Its powers? Exfoliating, healing, and bacteria-fighting. In addition, the mask contains charcoal and kaolin, two key ingredients that fight acne with their deep cleansing abilities. Use this mask once weekly, and you'll notice how pimples slowly go away and your skin clears over time.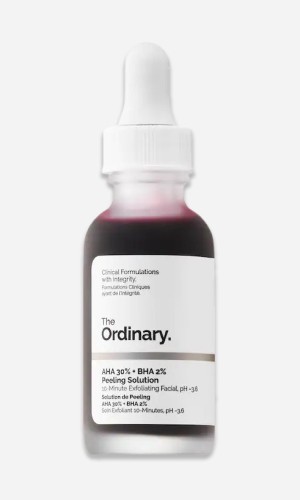 Peeling for Acne
The Ordinary AHA 30% + BHA 2% Peeling Solution
I was a bit skeptical about using this chemical peel on my skin, but with so many people praising it, it was convincing enough to try it. I proudly say it was one of the best additions to my skincare routine ever. The Ordinary Peeling Solution contains the trifecta of chemical acids (glycolic, lactic, and salicylic), all great for acne and dark spots. Just 10 minutes weekly is enough to eliminate old cells and replace them with fresher ones. Some tingling is normal and should go away within a few minutes. However, skip it if your skin is on the sensitive side, or you just had a peeling, or your barrier is compromised.
Quick question
What are the best The Ordinary products for acne?

If I have to choose, I'd say the best The Ordinary products for acne are Niacinamide + Zinc serum, Azelaic Acid Suspension 10%, Salicylic Acid 2% Masque and AHA 30% + BHA 2% Peeling Solution. You can do your full anti-acne routine with only these four products, and most likely, you'll finally be able to get rid of breakouts.

Are The Ordinary products good for acne?

The Ordinary is good for everything and, in particular, for acne. Their formulas are simple, so they're unlikely to cause irritations or other complications, and focus on just a few key ingredients. Their acne-fighting ingredients include large concentrations of tried-and-true formulas that fight against all forms of this skin condition — and they've got plenty on offer!