Last time edited and fact-checked by Ana Vasilescu.
True, serums are your best shot for helping your hair grow thicker if you're not ready to venture into the prescription-strength territory. Their tiny molecules, along with their lightweight and fluid consistency, make them easier to penetrate the scalp and reach follicles to give them an energizing boost. But even if serums can work, temper your expectations. They still won't make your hair grow overnight. It's essential to be consistent with them for at least a few months and, ideally, keep up with a healthy diet and an active lifestyle. For what is worth, we narrowed down a list of serums that pack a potent blend of hair growth stimulators and actually deliver on their promises.
How we researched
As part of our research process, we went through over 300 serums. Our goal was to identify only those that deliver visible results. We employed a multi-step approach that involved a thorough examination of each serum's active ingredients, their concentration, and their clinical efficacy in stimulating hair growth. After the evaluation, we shortlisted only 9 formulas that met our stringent criteria. Here are the ingredients that were on our radar to find the best hair growth serums:
Antioxidants: They reduce the impact of oxidative stress, which can disturb hair follicle cycling and cause hair to break more easily. Vitamin E, green tea, and grape seed extract have high antioxidant activity and are some of the best ingredients to have in your serum.
Vasodilators: Ingredients that enhance blood circulation are called vasodilators, and they help hair follicles receive more nutrients, minerals, and oxygen necessary for hair growth. Peppermint, caffeine, niacin, rosemary, and lavender can do that.
DHT-blockers: DHT is a hormone that often causes the miniaturization of follicles, leading to thinning and fragile hair. Capixyl, saw palmetto, and pumpkin seed oil are DHT blockers that can inhibit the 5-alpha-reductase enzyme responsible for the conversion of DHT. However, keep in mind that these ingredients don't help your hair grow but rather treat hair loss.
Nourishing ingredients: Avocado, coconut, and argan oils are rich in fatty acids that help nourish, hydrate, and reinforce the hair shaft.
Redensyl: It's a complex of compounds that work to reactivate dormant hair follicles. It also has anti-inflammatory and antioxidant properties that help protect hair from further damage.
Procapil: It's a breakthrough formula that targets DHT and stimulates the delivery of nutrients to hair follicles.
The best serums for hair growth
Read on as we scoop on the best serums that can grow your hair back.
---
1
Macadamia Professional Éprouvage Reviving Scalp Serum
Macadamia Professional tops the list with their Éprouvage Reviving Scalp Serum. We love it because it's enhanced with Redensyl, which reactivates inactive follicles and stimulates new hair growth.[1] The serum also uses the hydrating properties of blue waterlily stem cells to moisturize the scalp and the antioxidant activity of oak to neutralize free radicals. And it's free of unforgiving compounds such as sulfates and paraben, too.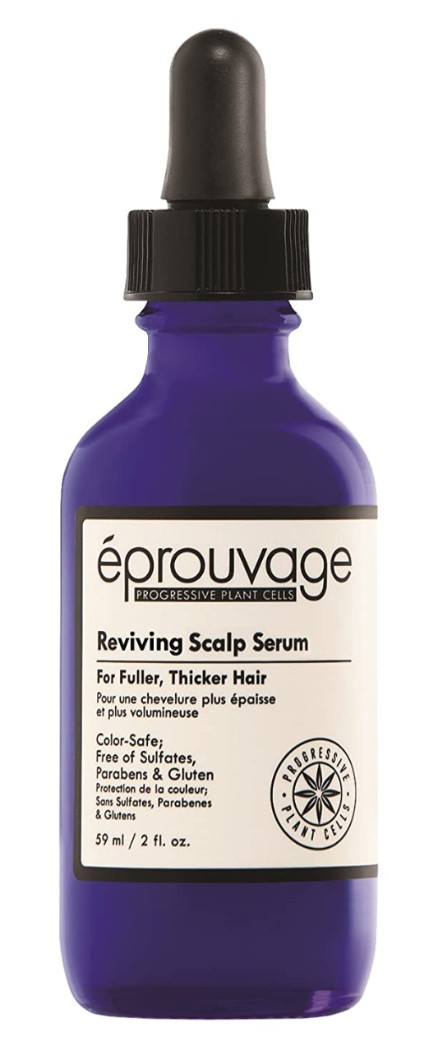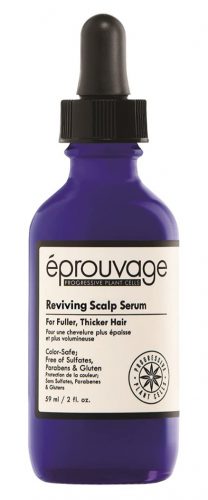 ---
2
Phyto Botanical Revitalizing Serum
Has your hair become thinner after pregnancy or due to medication? Or perhaps you experience seasonal shedding? Believe us when we say these ampoules can regain your hair's fullness. They're made with a generous amount of Ginkgo biloba to boost microcirculation and deliver more nutrients to the scalp and soy proteins that encourage the production of keratin and reinforce the hair shafts. Also, soy extract contains isoflavones, which have estrogen-like activities that help keep your hair in the growing (anagen) phase.[2]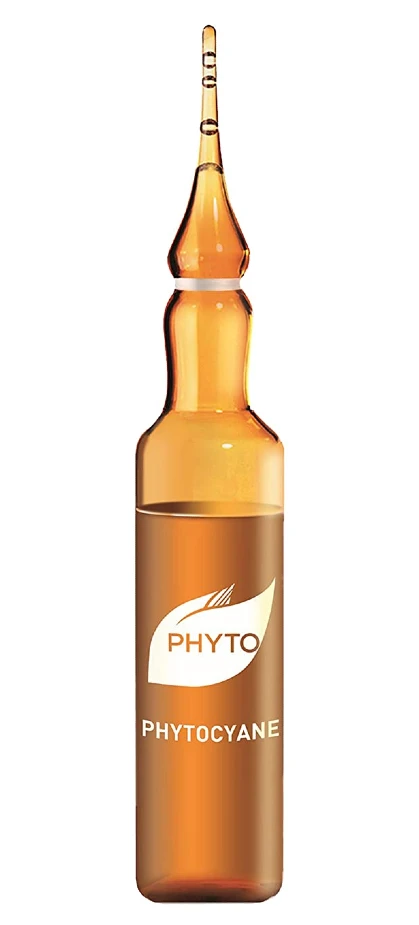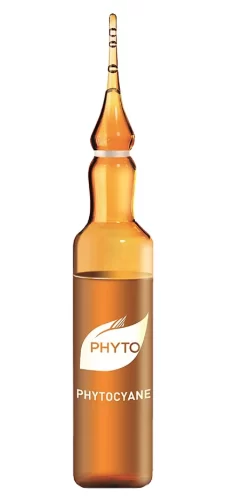 ---
3
Grow Gorgeous Density Serum Intense
This serum is a powerhouse of bioactive compounds that have been clinically proven to increase hair thickness. It contains red clover extract, which blocks DHT from damaging the follicles, biomimetic peptides that improve the hair growth cycle, and green tea with flavonoids that reduce inflammation and oxidative stress in the scalp.[3] Not to mention, the serum has plenty of caffeine in it, which Dr. Andrew Humberman explains is just as effective as minoxidil in stimulating blood circulation and reducing hair loss. We give extra credit to the lightweight texture that hydrates the scalp without leaving it dry or itchy.

---
4
Vegamour GRO Hair Serum
Vegamour GRO is one of our favorites, all thanks to the combination of curcumin, red clover, biotin, and peptides. Both curcumin and red clover double up as free-radical scavengers and inflammation tamers at hair follicles, with red clover going the extra mile to block DHT. Adding to this hair-happy cocktail is biotin, renowned for its hair-boosting abilities, and peptide, serving as cell-signaling agents that spur protein production. Basically, the serum packs everything your hair needs to grow healthy.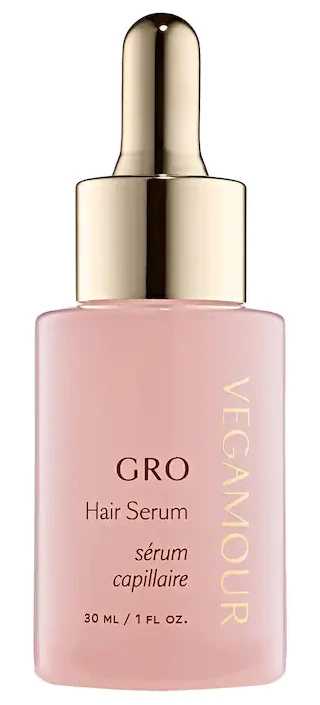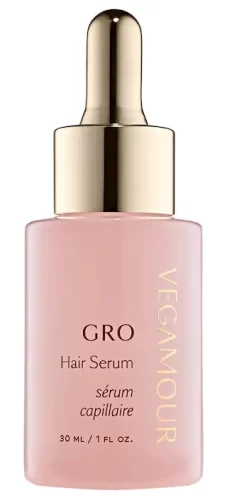 ---
5
The Ordinary Multi-Peptide Serum
This hair growth serum can be on your shelf for a reasonable price. Although affordable, The Ordinary has spared no expense in creating this ultra-concentrated formula that blends some of the most powerful ingredients out there, including Redensyl, Procapil, Baicapil, Capixyl, and caffeine. Together, they increase cellular activity in hair follicles, boost blood flow in the scalp, and inhibit the enzymes that weaken the hair strands. Actually, the combination of active ingredients in this serum was proved to deliver results comparable to those of minoxidil.[1]


---
6
Oribe Hair Alchemy Fortifying Treatment Serum
This fast-absorbing serum might be the answer to all your hair problems. The secret? It energizes the scalp from within with a nourishing complex of chia seed, bio-fermented bamboo leaf, and plant-based proteins while adding a protective seal to every strand to shield hair from damage caused by external woes. It also boasts three forms of hyaluronic acid, lots of antioxidants, plus cotton seed extract to enhance hair elasticity and hinder breakage.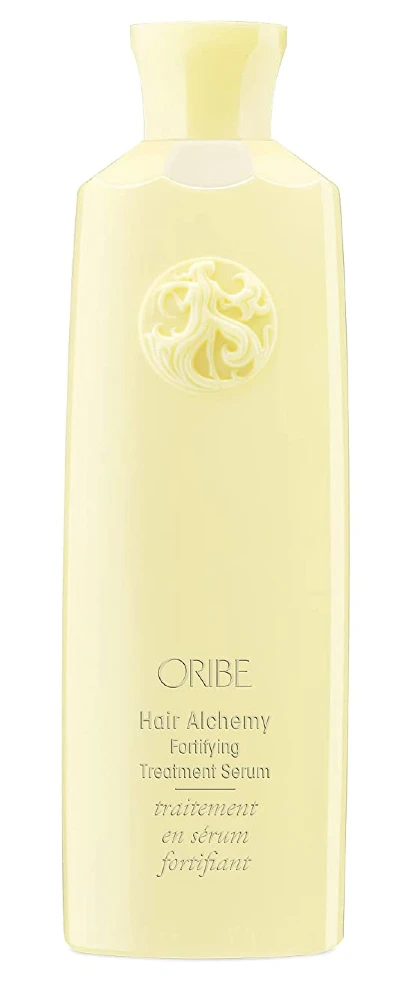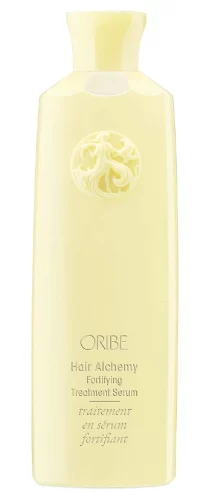 ---
7
The Nue Co. Supa Thick Scalp Serum
This one was built around Redensyl to target the natural hair growth process and a blend of essential oils (rosemary, clary sage, peppermint) to soothe and nourish the follicles. There's also a complex of probiotics, prebiotics, and postbiotics that work together to optimize scalp health. To praise this serum even more, everything inside it is clean and vegan.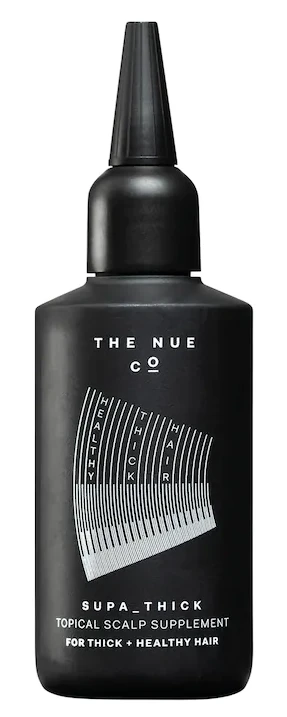 ---
8
Pura D'or Hair Energizing Scalp Revitalizer Serum
This little bottle has more than a dozen of active ingredients that promote healthy hair and condition the scalp. Argan oil, loaded with vitamin E and essential fatty acids, moisturizes and protects your hair shafts, while apple stem cells work to awaken dormant follicles and promote hair thickness. And let's not forget the star ingredient—caffeine extract, a natural stimulant that pumps up scalp blood flow, giving your hair the nourishment it needs to grow thicker, stronger, and healthier.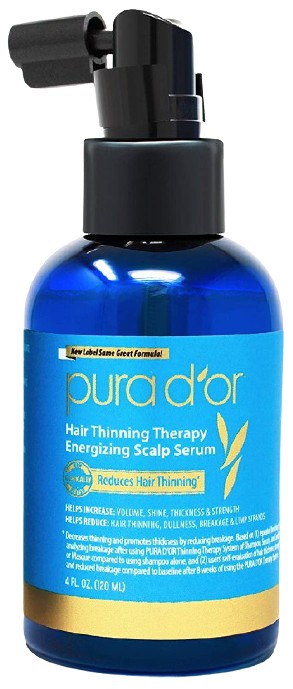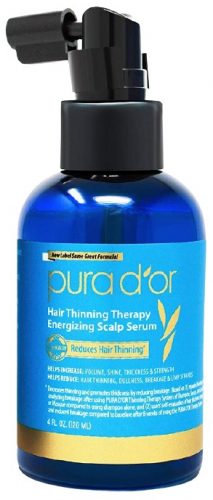 ---
9
SheaMoisture Strengthen & Restore Hair Serum
Thanks to shea butter, which is rich in essential fatty acids and vitamins, this serum does wonders at moisturizing and restoring the scalp, while black castor and peppermint oils increase blood flow for more hair growth. In addition, the coconut oil in the formula not only adds more hydration but provides suppleness to the hair shaft, leaving it soft and nourished. Bonus point for the scent, as this stuff smells amazing.


---
Footnotes
Women's Concepts uses reliable sources, including dermatologists' insights, clinical trials, and scientific journals, to find accurate information and support all the facts shared in our articles. All statements and claims have clear and legit references. Read our editorial policy to learn more about our sources of information, our process of researching and fact-checking the content, and how our team strives to keep all articles updated, completed, and trustworthy.
References
Karaca, N., & Akpolat, N.D. (2019). A Comparative Study between Topical 5 % Minoxidil and Topical Redensyl , Capixyl , and Procapil Combination in Men with Androgenetic Alopecia.
Bensaada S, Raymond I, Breton M, Pellegrin I, Viallard JF, Bennetau-Pelissero C. Development of an Assay for Soy Isoflavones in Women's Hair. Nutrients. 2022 Sep 1;14(17):3619. doi: 10.3390/nu14173619. PMID: 36079877; PMCID: PMC9460668.
Loing E, Lachance R, Ollier V, Hocquaux M. A new strategy to modulate alopecia using a combination of two specific and unique ingredients. J Cosmet Sci. 2013 Jan-Feb;64(1):45-58.