While the market is surrounded by dozens of products unrealistically claimed to promote hair growth and thickness, to find the right products for you all you need is a little bit of guidance. Hence, we uncovered the best hair growth serums formulated with the right active ingredients that stimulate and energize the scalp to support healthy, thicker hair.
But first, let's break down the basics.
How to find the best hair growth serum?
First upfront, the most effective way to encourage healthy hair growth is by optimizing the scalp condition. A well-hydrated and conditioned scalp is more likely to boost the follicles to produce stronger and thicker hair that is less prone to breakage. So the best serums for hair growth should nourish, moisturize, revitalize, and stimulate the scalp.
Briefly, here is what you should look for in a hair growth serum:
Antioxidants — help hair growth by reducing the impact of oxidative stress. Oxidative stress can disturb hair follicle cycling and cause hair to break more easily. Vitamin E, green tea, and grape seed extract have high antioxidant activity, to name a few.
Increases scalp blood flow — enhanced blood circulation makes hair follicles receive more nutrients, minerals, and oxygen necessary for hair growth. Peppermint, rosemary, and lavender essential oils can do that.
DHT-blockers — DHT is a hormone that often causes the miniaturization of hair follicles, ultimately leading to thinning and fragile hair. Ingredients like saw palmetto and pumpkin seed oil are natural DHT blockers that can inhibit the 5-alpha-reductase enzyme responsible for the conversion of DHT.
Nourishing ingredients — elements rich in vitamins, minerals, fatty acids, and proteins are great to nourish the hair from the inside out. They help hydrate and reinforce the hair shaft while reducing further damage and breakage. Look for avocado, coconut, and argan oils.
The best serums for hair growth
These are the best hair growth serums that deliver everything your scalp needs to promote healthy and strong hair.
---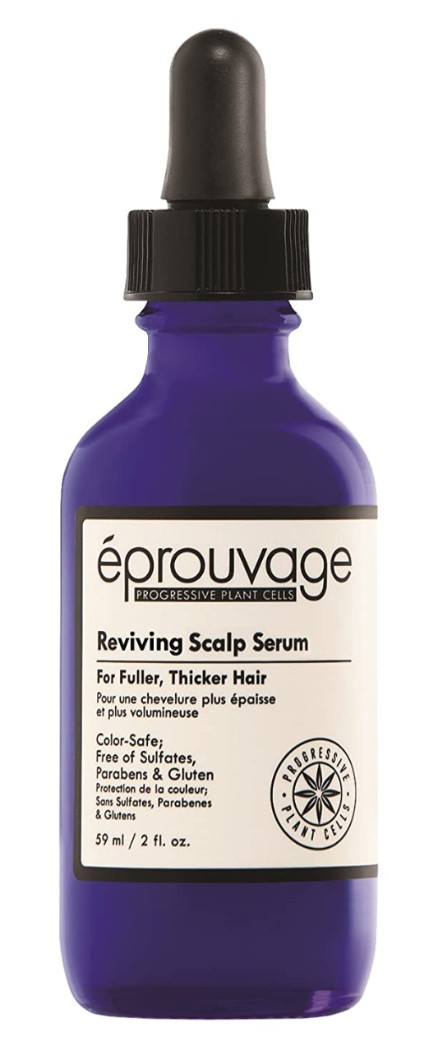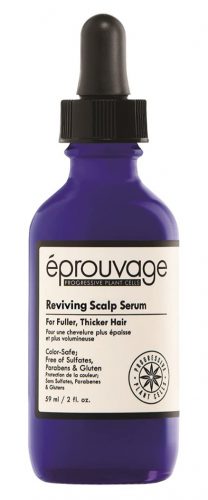 1
Éprouvage Reviving Scalp Serum for Hair Growth
The first spot on the best hair growth serums goes to Éprouvage Reviving Scalp Serum. Without any touch of sulfate, gluten, or paraben, this serum revitalizes the scalp while creating an ideal environment that encourages hair to grow thick and healthy. We love it because it's enhanced with Redensyl, which reactivates dormant follicles and is estimated to bring a 17% increase in hair density. Éprouvage also uses the hydrating properties of blue waterlily stem cells to add moisture while the antioxidant activity of oak neutralizes free radicals and offsets cellular damage.
---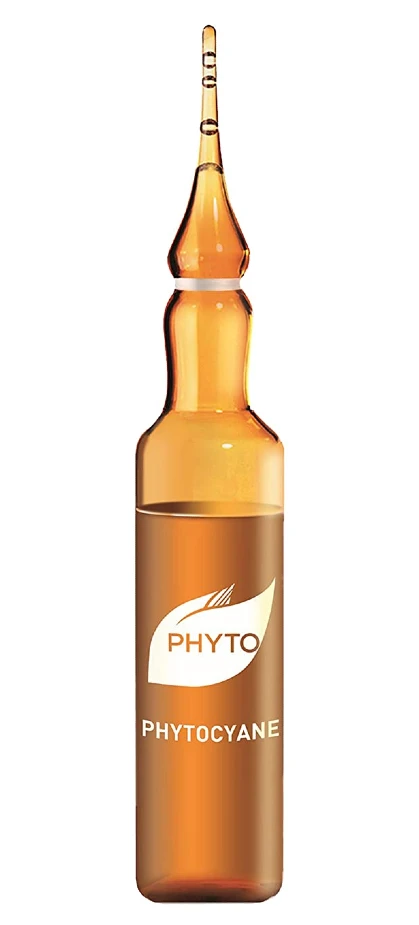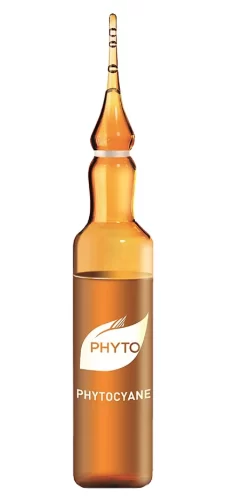 2
PHYTO Phytocyane Botanical Revitalizing Serum
This one presents itself as a revitalizing serum that supports natural hair growth, working to maximize fullness and thickness and make hair look brand new. As one of the best hair growth serums, it's formulated with procyanidins from grapeseeds (flavonoids known to possess stimulating effects), plus Ginkgo bilboa which boosts microcirculation and helps deliver more nutrients to the scalp.
---

3
Grow Gorgeous Density Serum Intense
Grow Gorgeous Density Serum Intense was formulated with fragile, thinning hair in mind. It's powered by a mix of bioactive compounds that promises to increase the thickness of each strand by up to 13%. This includes red clover extract, biomimetic peptide, green tea, caffeine, and other botanical extracts, working to revive the weak hair and re-energize the scalp. On top of that, the serum is lightweight and leaves the scalp hydrated, not dry or itchy, while the hair feels supple and soft.
---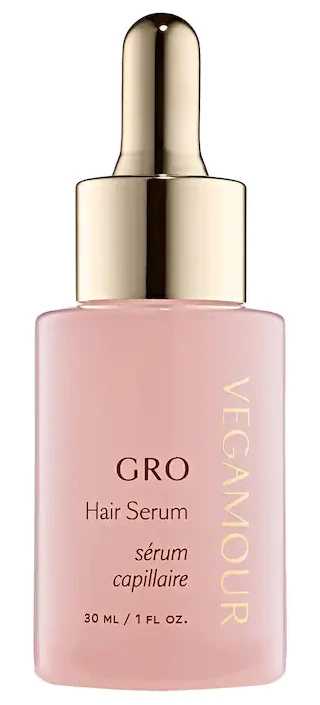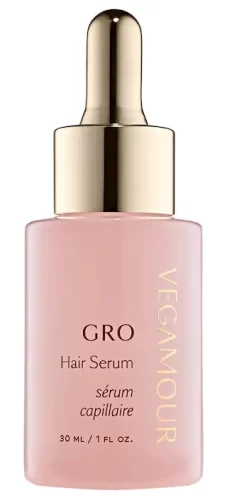 4
Vegamour GRO Hair Serum
The combination of curcumin and red clover with biotin and peptide makes Vegamour GRO one of the very best serums for thinning hair. Both curcumin and red clover are powerful antioxidants that scavenge free radicals, with red clover also being a DHT-blocker that relieves inflammation at hair follicles. Meanwhile, biotin adds fullness and promotes thickness, while peptide acts as cell-signaling agents to support protein production for healthy hair growth.
---


5
The Ordinary Multi-Peptide Serum for Hair Density
The Ordinary Multi-Peptide Serum targets hair density and growth with some of the most potent scalp-stimulating complexes: Redensyl, Procapil, Baicapil, and Capixyl. Together, they minimize DHT damage, increase cellular activity in hair follicles, boost blood flow in the scalp, and nourish the roots from within. In other words, it has what it takes to be one of the best serums for hair growth.
---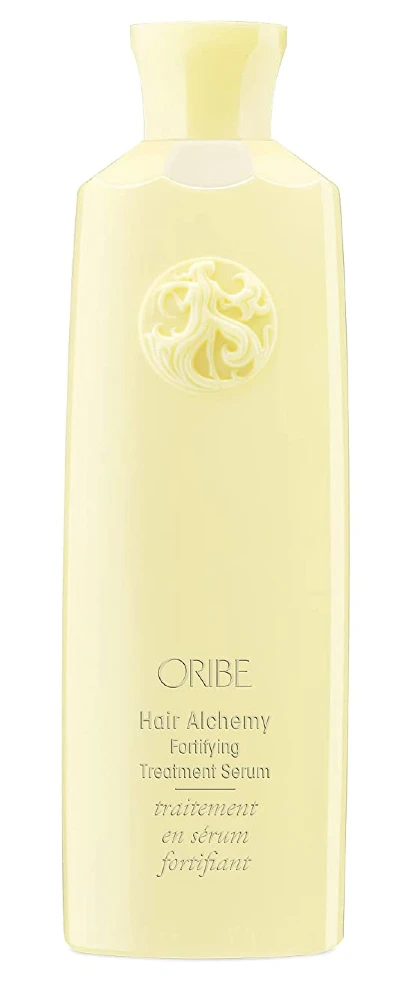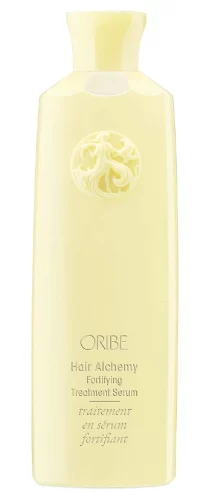 6
Oribe Hair Alchemy Fortifying Treatment Serum
This fast-absorbing, fortifying serum might be the key to all your hair problems. Briefly, it reduces hair loss and energizes the scalp from within with a nourishing complex of chia seed, bio-fermented bamboo leaf, and plant-based proteins while adding a protective seal to every strand to shield hair from damage caused by external aggressors. As one of the best hair growth serums, it also boasts three forms of hyaluronic acid for a burst of hydration, lots of antioxidants, plus cotton seed extract to enhance hair elasticity and hinder breakage.
---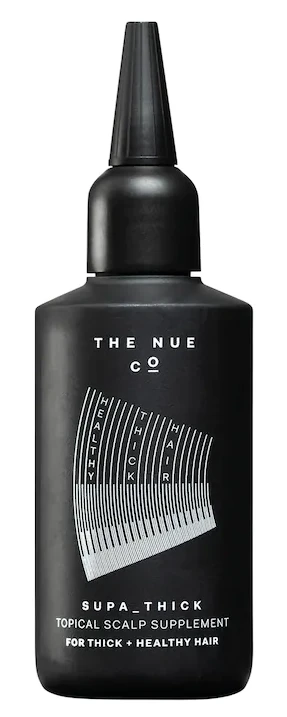 7
The Nue Co. Supa Thick Scalp Serum
The hair-thickening serum by The Nue Co. addresses hair shedding with Redensyl — the game-changing ingredient that reactivates follicles to encourage new hair growth. It also boosts circulation with a blend of essential oils (rosemary, clary sage, peppermint) and reduces dryness thanks to the probiotics in the formula. P.S: everything in this serum is clean and vegan.
---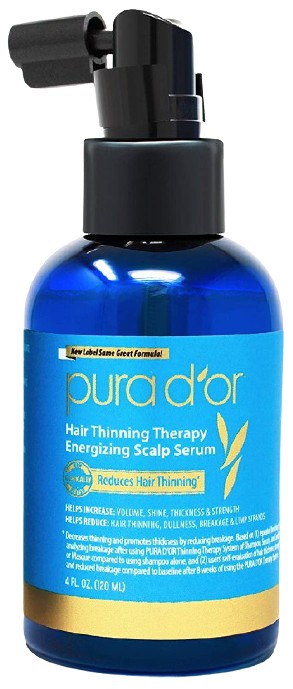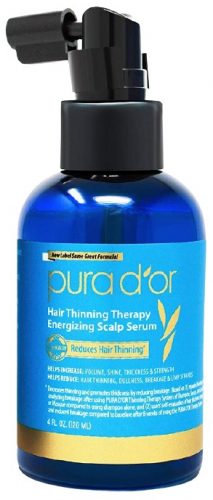 8
Pura D'or Hair Energizing Scalp Revitalizer Serum
Pura D'or Hair Energizing Scalp Revitalizer Serum uses powerful ingredients rich in antioxidants, such as tea tree, to defend the scalp against oxidative stress. Moreover, the formula packs argan oil — full of vitamin E and fatty acids — to keep hair shafts moisturized and protected, plus apple stem cells, known to promote thickness by reactivating the dormant follicles. Finally, the serum is spiked with caffeine extract, a stimulant that boosts scalp blood flow, encouraging new hair to grow thicker.
---


9
SheaMoisture Strengthen & Restore Hair Serum
This strengthening serum loads shea butter, black castor oil, and peppermint to revitalize the scalp and nourish the hair from the roots. Thanks to shea butter, which is rich in essential fatty acids, vitamins A and E, the serum does wonders at moisturizing and restoring the scalp condition, while black castor and peppermint oils increase blood flow for better hair growth. In addition, the coconut oil in the formula not only adds even more hydration but provides suppleness to the hair shaft, leaving hair soft and nourished. Bonus point for the scent, as this stuff smells amazing!
---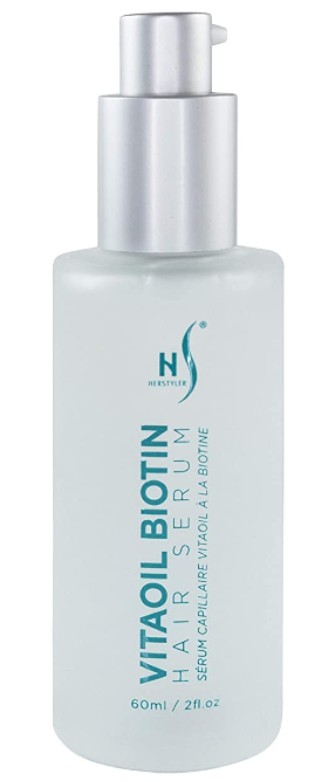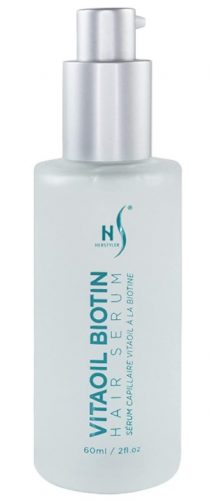 10
HerStyler VitaOil Biotin Hair Growth Serum
HerStyler made one of the best hair growth serums infused with biotin, a water-soluble vitamin that stimulates keratin production and promotes thicker strands. Besides, the formula is boosted with two nourishing ingredients: aloe vera and argan oil. Aloe vera allows a deeper penetration of nutrients in the scalp and helps fortify the hair shafts thanks to its content of vitamins A, C, and E. At the same time, argan oil brings the necessary antioxidants and omega-6 fatty acids to support hair growth. Use it every two or three days and you'll enjoy a much more voluminous and thicker hair.
---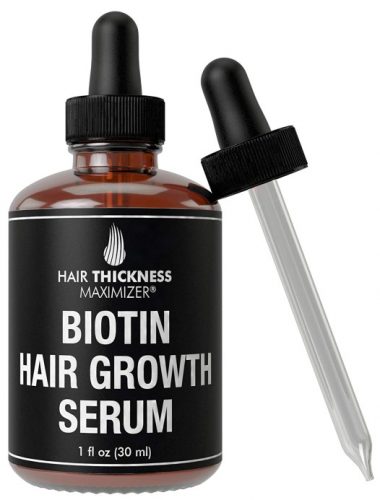 11
Hair Thickness Maximizer Biotin Hair Growth Serum
Are you looking for the best hair growth serum packed with DHT-blockers? This one has all the DHT blockers you could ask for. It's formulated with saw palmetto, pumpkin seed oil, moringa oil, peppermint, and essential oils, which are extracted from plants without the use of solvents or high heat to hold on to their peak potency. All these ingredients coupled with biotin target hair nourishment, block DHT, and improve blood circulation to ensure healthy hair growth.