There's a reason saw palmetto is often praised by dermatologists and trichologists for its benefits in hair growth — it really works. So anyone looking to strengthen thinning hair, the best saw palmetto supplements featured ahead will definitely help. But first, a bit of theory:
What is saw palmetto
Saw palmetto or other called Serenoa repens, is a long-lived palm tree natively coming from West Indies. What's commercially used is the extract of this plant's berries that contains approximately 85-90% fatty acids and sterols. It's often used in dietary supplements, tablets, powder capsules as well as a topical ingredient in hair growth serums and oils.
How saw palmetto supplements reduce hair loss?
Simply put, saw palmetto extract acts as an inhibitor of the 5α-reductase enzyme, which is responsible for the conversion of testosterone to dihydrotestosterone (DHT). When DHT attaches to these receptors, it disturbs the growth cycle and shrinks hair follicles, causing them to produce thinner and less hair. Studies suggest that saw palmetto can decrease DHT binding capacity to androgen receptors by nearly 50%.
How to use saw palmetto supplements?
You can take saw palmetto supplements daily. In fact, saw palmetto delivers the best results when taken in daily doses of 160 – 320 mg — most studies were performed with 100, 200, and 300 mg. Always consult an expert before taking saw palmetto to get an appropriate dosage for you.
Now that you have all your questions answered, below you can find the best saw palmetto supplements for hair growth:
---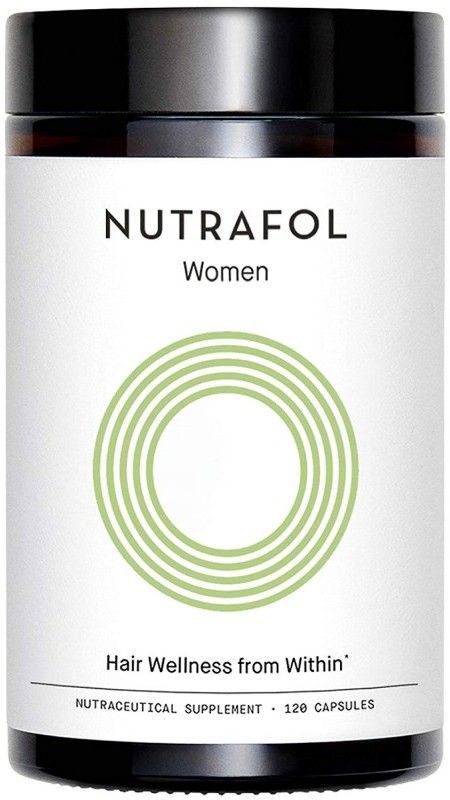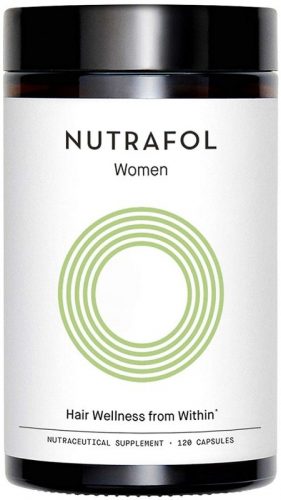 Nutrafol Hair Growth Supplement
Nutrafol is actually a research-backed supplement for hair growth. Recommended by specialists and multiple times award-winner, Nutrafol is the best ally in your battle with thinning hair. They contain saw palmetto extract, hyaluronic acid, vitamins A, C, D, black pepper extract, biotin, and zinc to make sure your hair receives all it needs to grow strong.
---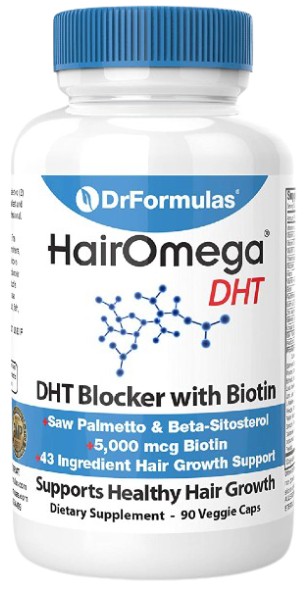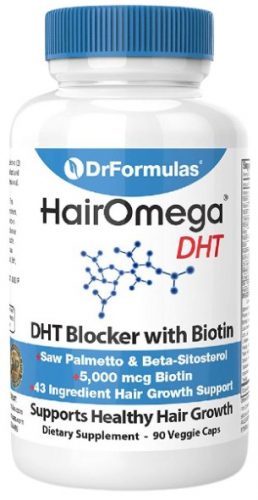 DrFormulas Hair Growth Supplements
These supplements are packed with everything your hair needs to grow healthy. They're formulated with no less than five natural DHT-blockers: 200-mg of saw palmetto, beta-sitosterol, quercetin, pumpkin seed, and pygeum, working to strengthen hair and promote its natural growth. They also provide the essential nutrients for hair, including biotin, vitamins A, C, B, iodine, copper, zinc, silica, and selenium.
---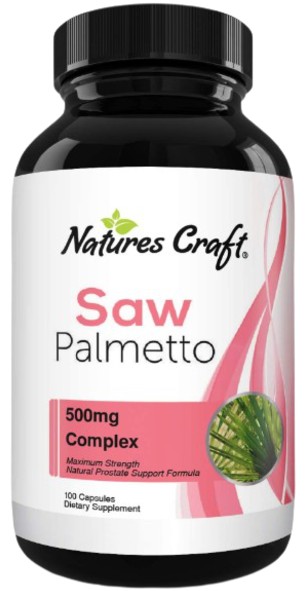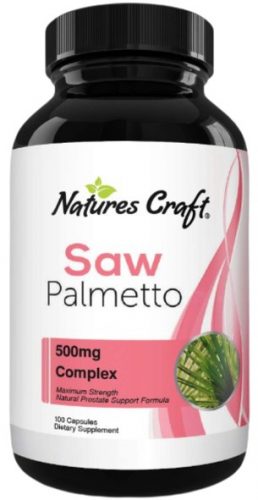 Natures Craft Saw Palmetto Capsules for Hair Loss
Are you looking for something more potent? Natures Craft offers supplements containing 500mg of pure saw palmetto extract. Although it exceeds the recommended daily dose, one capsule per day could be enough to reduce hair loss once forever without getting in the warning zone.
---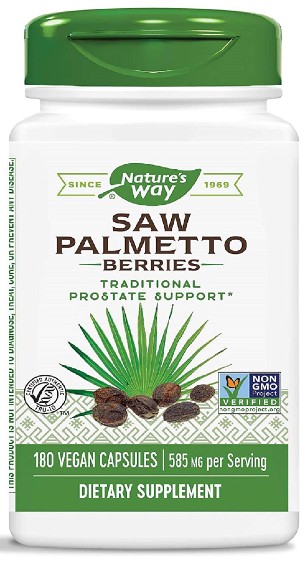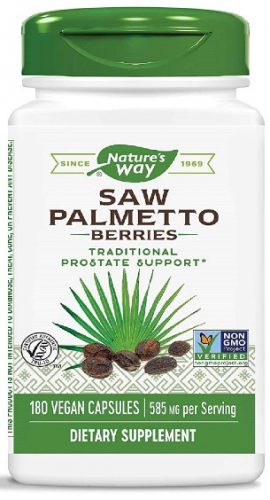 Nature's Way Saw Palmetto Berries
Each serving of Nature's Way supplements contains 585 mg of saw palmetto berry ready to encourage healthy hair to grow. One purchase is enough for six months, so if you want something for the long run, look no further.
---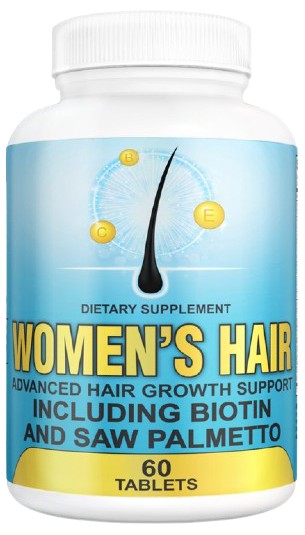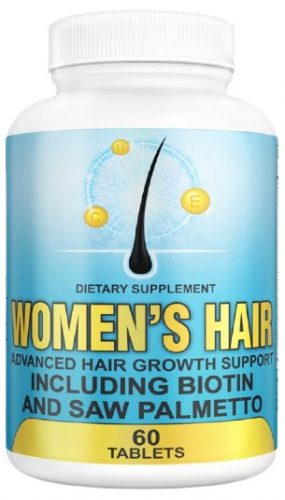 NutraPro Hair Growth Vitamins
Biotin, zinc, saw palmetto, 24 herbs, and lots of vitamins — this is what you get from one capsule. This formula helps transform your thinning hair into one you can't wait to show off. All it takes is two tablets a day to enjoy long, shiny, and healthy hair, being one of the best saw palmetto supplements out there.
---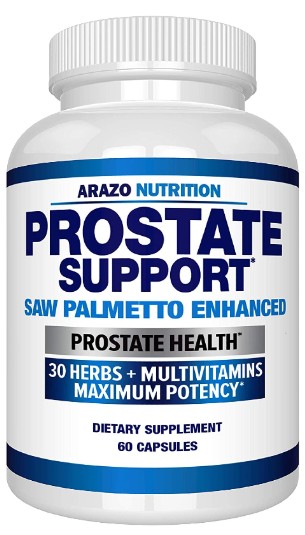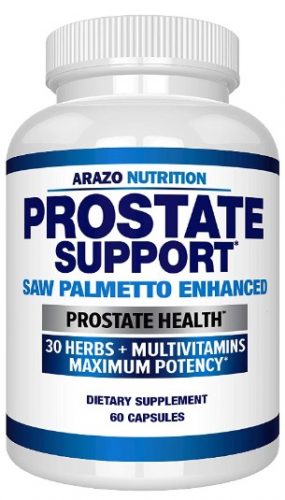 Arazo Nutrition Store Saw Palmetto Supplements
Or you can go with Arazo's supplements. They contain 200 mg of saw palmetto, 30 herbs, plus vitamins and minerals that support natural hair growth. Take 2 capsules once per day for maximum results!