Makeup trends come and go, but a feline flick is a timeless classic that suits each and every one of us. Even on the most bare-faced of days, you better believe an eyeliner makes you look put-together, whether you go for the delicate cat eyes or insouciant rock'n'roll look. And if you decided to switch to natural makeup, starting with that beauty item that comes so close to your sensitive eye area is nothing but a great call. That's why we whittled down the best natural eyeliners crafted by brands that are committed to clean and organically sourced ingredients, ethical practices, and eco-friendly packaging.
We selected products with a range of different shades and finishes, waterproof, smudge-proof, and ophthalmologist-tested, that deliver long-lasting color in one stroke without flaking. They're the elite class.
---
Editor's choice
Milk Makeup Infinity Long Wear Eyeliner
You don't have to be a makeup pro to create limitless looks—whether it's sharp wings or a smoky-eye look—with Milk Makeup Eyeliner. The retractable design and built-in sharpener and smudger let you create infinite looks in three simple steps. The effect? Defined eyes with intense color that won't budge for up to 12 hours. Waterproof and opthalmologist-tested, the formula is long-lasting and waterline-safe, loaded with made with avocado oil, aloe extract, and ceramides, providing a healthy, tug-free application.


---
Biggest range of colors
Haus Labs Optic Intensity Eco Gel Eyeliner Pencil
This eyeliner is made in an insane range of 18 shades that lend matte and shimmery finishes for flattering, sultry effects. The gel-like texture glides like a liquid, depositing intense color that's also clean and safe for the eye area and the brush helps you blend it up for effort- and mess-free looks. You can use it for flicks, in the waterline, or even buffed in as an eyeshadow. Oh, and it's waterproof, cruelty-free, and as clean as possible.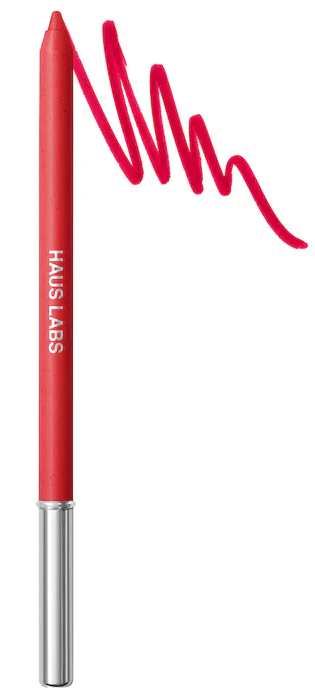 ---
Best organic formula
Au Naturale Organic Eye Liner Pencil
This natural eyeliner got its hues from mineral COSMOS- and ECOCERT-approved pigments and delivers rich, vibrant long-lasting color that won't smudge, budge or flake all day. Available in eight shades, Au Naturale Organic Eye Liner Pencil gives you endless possibilities to define your eyes without appearing grungy—a huge draw. The soft tip formula allows you to effortlessly glide on without pulling your delicate skin but actually infusing it with jojoba and castor oils. Plus, this eye pencil comes with a built-in blending tool, allowing you to create seductive smudges


---
Most popular
Jane Iredale Mystikol Powdered Eyeliner
This water-resistant eyeliner can be your go-to for long days and nights. A powder-creamy formula and a built-in brush make it easy to create perfect lines or long-lasting smokey eyes that won't crease or smear. And it's all-vegan, without any trace of paraben, fragrance, or other toxic ingredients. Plus, it has an amazing payoff and wears fantastic throughout the day. Speaking of color, this natural eyeliner comes in four shades, from royal purple to chocolate brown and deep black, and you can use it as an eyeshadow, too.


---
Best liquid formula
100% Pure Long Last Liquid Eye Liner
How does the idea of using an eyeliner infused with aloe vera, cocoa butter, rosemary, and honeysuckle sound to you? Welp, this eyeliner has all of that. The clean (and water-resistant) formula proudly got its pigments from organic black tea leaves, guaranteeing a deep shade that won't fade throughout the day. The brush tip is tiny, which is ideal for precision looks, and reviewers laud it for how seamlessly it glides on the lid. Moreover, the eyeliner is vegan, natural, free of fragrances, and cruelty-free. The only minus is the low range of colors.

---
Best gel-like formula
Ilia Natural Clean Line Gel Liner
Ilia nailed it with this clean gel eyeliner that's still there at the end of the day and glides with ease and precision. Its high-intensity pigments are given by charcoal powder, a natural alternative to carbon black, an ingredient often found in conventional eyeliners that has been linked to eye problems, according to Harvard Public Health. Most reviewers laud it for how easy it is to apply and that it stays put throughout the day. However, if a sharp liner is the look you're going for, this liner may not be the one for you as it can be too blendable.


---
Best for long wear
Bare Minerals Lasting Eyeliner
Creators of clean beauty, Bare Minerals used avocado oil and aloe vera extract to nourish and allow for effortless application. The pencil-like applicator lets you easily create any look, from precise lines to diffused smokey eyes that don't crease. Not only is its formula waterproof and smudge-proof, but this product is also designed to offer 12-hour wear. And it comes in eight shades meaning the fun look opportunities are endless.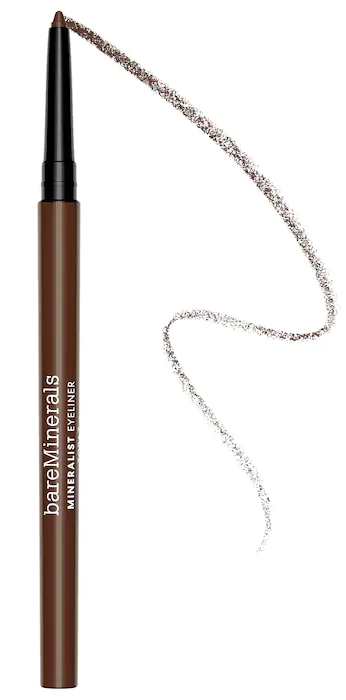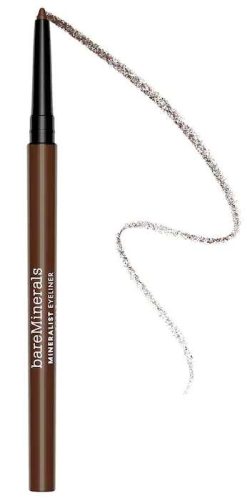 ---
Read next: The 10 Best Natural Mascaras Of 2023