Makeup can do more than cover and beautify, especially when organic makeup is on the rise. If you have dry skin, you can take advantage of what a creamy or liquid natural foundation has to offer since they use moisturizing and clean ingredients that your thirsty skin needs, skipping chemicals and drying elements. So if you are looking for the best natural, organic and clean foundations for dry skin, you are in the right spot!
How to choose the best natural foundation for dry skin
Each skin type needs a different type of foundation, it's impossible to have one go-to pick for everyone. As you can imagine, dry skin needs liquid, creamy, or mousse formulas, and please say no to powder foundations. And since you don't want to compromise your skin, you want a plant-based, natural formula, that includes moisturizing ingredients and oils plus pigments from plants or minerals. Also, the best organic foundation for dry skin should contain ingredients that help lock moisture in. Think squalane, vitamin E, essential oils, and waxes.
The best organic foundations for dry skin
Rest assured, you just need one of these best organic foundations for dry skin that'll keep your complexion bouncy and hydrated. Your skin will literally love you for using them. Scroll on to find the best natural foundation for your dry skin!
---
bareMinerals Barepro Performance Wear Foundation
Are you striving for moisture, coverage, healthy formula, plus SPF? This one's got it all! It was created with bamboo extract to help blur imperfections, papaya enzymes to even skin, and mineral pigments that last all day while assuring 20 SPF with titanium dioxide mineral. The versatile formula dries with a matte finish, instantly smoothing imperfections while highlighting your skin due to the light-reflecting mineral pearls. And with so many shades with diverse undertones, it's easy to find your best match!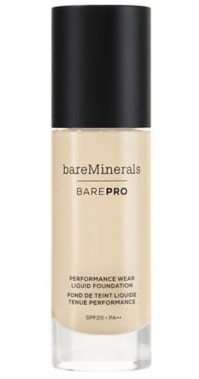 ---
Jane Iredale Beyond Matte 3-in-1 Liquid Foundation
If you want a hydrating foundation with a matte finish and a clean formula, look no further. With a feathery moisturizing texture and infused with skin-loving ingredients (like antioxidant-filled seeds and flower extracts), this foundation keeps skin flawless, moisturized, and protected throughout the day. Plus, the addition of glycerin and jojoba oil help enhance skin elasticity, giving it back that moisture with each wear. Primer, concealer, foundation, all in a multitasker that's vegan, healthy, and cruelty-free — one of the best natural foundations for dry skin for all ages!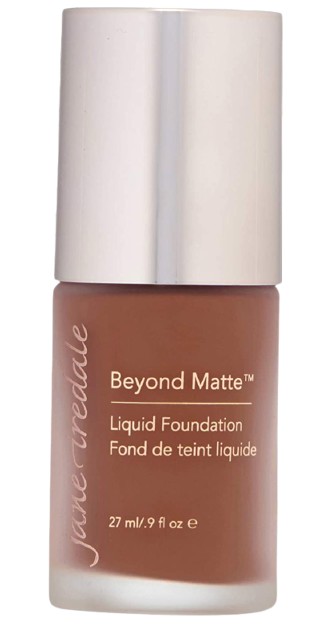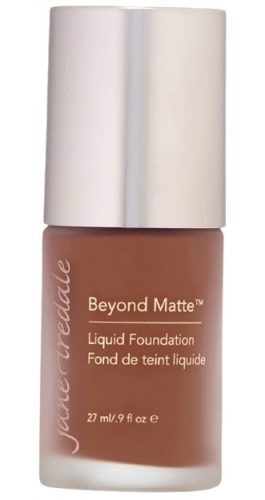 ---
Chantecaille Future Skin
If you have dry skin yet prefer oil-free formulas, this one can't be beaten. The gel-like formula, water-based, infused with light-reflecting pigments, rosemary, aloe, chamomile, camellia, and rice extracts, take care of your skin each time you wear it covering it nicely. It has a refreshing, lightweight texture that you don't even feel like wearing and a matte finish for velvety-looking skin. It's a hydrating natural foundation that goes on like a cream yet has a light, non-greasy touch — just perfect!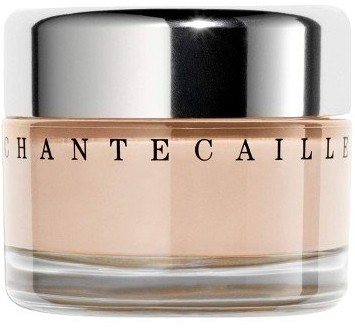 ---
100% PURE Fruit Pigmented Healthy Foundation
With a rich, creamy formula, this one is one of the best organic foundations for dry skin because not only covers but infuses skin with antioxidants from fruits and plants. Thus, it keeps the complexion shielded against free radical damage. Its rich pigments come from fruits like peach and apricot, easily concealing dark circles and spots for an even appearance. Everything is in a formula with full coverage and a matte finish that never lets your skin dehydrate, keeping it bouncy and nourished. No preservatives, no synthetic dyes, or any potential drying ingredients.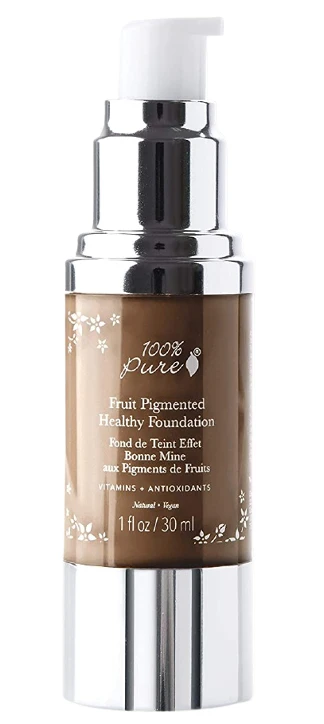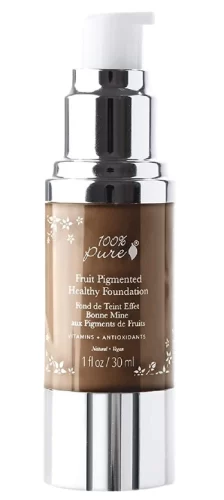 ---
ILIA Natural True Skin Serum Foundation
This hydrating foundation has an aloe vera juice base and also contains rose water aiming to quench your thirsty skin whenever you wear it. Its lightweight, serum-like texture nourishes the skin with a powerful mingle of botanical oils, including rosa seed oil, marula seed oil, and jojoba seed oil. But what makes it one of the best natural foundations for dry skin is the formula's coconut alkanes, squalane, and vitamin E that act as emollients creating a veil on the skin surface, helping prevent transepidermal water loss, soothe irritations, and tame redness.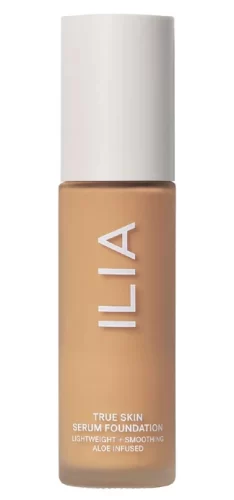 ---
W3LL PEOPLE Natural Narcissist Foundation
Another of the best clean foundations for dry skin was created by W3ll People, a fan-favorite organic makeup brand. The creamy formula instantly melts on the skin with a naturally healthy, dewy finish, hydrating it in depth. Beeswax, natural oils, plant extracts, and pearl powder make out of this foundation a hydrating, breathable, organic one, amazing for dry skin. Just paint some stripes on your face with the stick, blend it nicely until you get the desired coverage, and set it with an organic setting powder.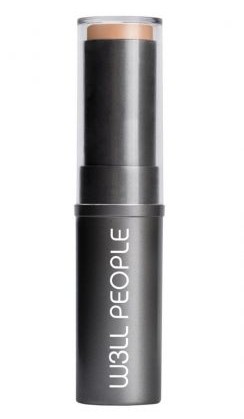 ---
Au Naturale Zero Gravity C2P Foundation
C2P Foundation is a clean, vegan product, addressing women with dry or sensitive skin, feeling more like a moisturizer than a foundation. The key ingredients are aloe leaf, rosehip, jojoba, lavender, and marula oils, going on the skin like a nourishing cream and finishing like a weightless powder (hence, the name) without the oily feeling. Since it's pretty thick, let it melt a bit on your skin before blending. You will actually notice that it blends really quickly, and you don't have to worry about not lasting throughout the day.

---
RMS Beauty "Un" Cover-Up Cream Foundation
Hydrating oils (coconut, jojoba, castor, buriti), beeswax, and a blend of plant extracts meet in a natural, creamy foundation formula, ideal for dry skin. It blurs imperfections with buildable full coverage and feels lightweight on the skin while hydrating it deeply. The rich-creamy texture layers like a dream and stays put for the entire day for a natural appearance, like your skin, but better. Don't forget to moisturize and prime before applying it as it's pretty thick.