Using the best natural moisturizer for acne is ideal since it skips potential irritating ingredients. Natural moisturizers that address acne-prone skin focus their formulas on healing and anti-bacterial ingredients, lack potential clogging oils, and are non-comedogenic.
Welp, needless to say, twice-daily moisturizer is non-negotiable. Their beauty stays in the ability to moisturize skin, making it look plump, dewy, and healthy. Without moisturizers, skin dries out, fine lines and wrinkles appear more visible, and sebaceous glands secrete more sebum in an attempt to replenish the moisture loss. And yes, that leads to more breakouts. As an acne-prone skin type, that's the last thing you want.
The idea of using an organic moisturizer for acne is just brilliant. But with vague cosmetic regulation, and common misuse of "organic," "natural," "non-toxic" labels, it gets quite confusing to figure out whether or not the product is actually natural. And time-consuming.
Luckily, I've done the research and found the best natural moisturizers for acne-prone skin. These formulas are spiked with acne-fighting and skin-soothing ingredients, such as tea tree oil, naturally-sourced salicylic acid, willow bark, aloe vera, green tea, and charcoal. But first.
What to look for the best natural moisturizer for acne
Whether you're looking to heal existing pimples and soothe redness, reduce sebum production, or eliminate blackheads, there's a moisturizer for that. Here is what you have to look for in a natural moisturizer for acne.
Opt for humectants
Humectant moisturizers are the best for acne-prone skin. They have lightweight formulas, are never thick, and are infused with hyaluronic acid and glycerin, the two greatest humectants, ideal for balancing sebum.
Humectants draw water into the skin to keep it moisturized, compared to occlusives that form a protective film on the skin surface which can clog pores and worsen acne. Also, most emollient moisturizers contain heavy ingredients that can clog pores, so stay away from those, too.
Non-comedogenic
If the moisturizer is non-comedogenic, it means it's less likely to clog pores and, as such, less likely to cause breakouts. Stay away from heavy ingredients that may congest pores, such as some oils (coconut, corn, soybean) or emollients like beeswax, algae extracts, shea, or mango butter.
Soothing and healing
The best moisturizer for acne should also include skin-loving and soothing ingredients. You definitely don't want your skin to get irritated or even worse, inflamed. Oil-balancing and restorative elements are a big plus as well since they target the causes of acne. Last but not least, avoid moisturizers with artificial dyes or fragrances as they may irritate your skin.
The best natural moisturizers for acne
You don't need to sacrifice results, formula, or texture to get the most from your moisturizer. Using one of the best natural moisturizers for acne listed here will give you just what your skin needs.
---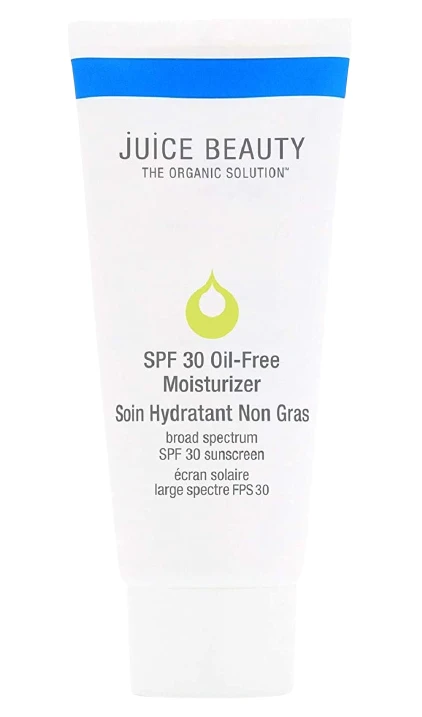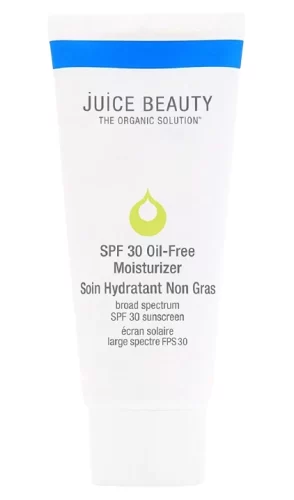 Juice Beauty SPF 30 Oil-Free Moisturizer
Juice Beauty creates organic, clean solutions for all skin concerns, and this moisturizer is no exception. It's made with an aloe juice base, plus it packs apple, grape, and pomegranate organic juices to nourish and give skin that antioxidant protection it needs. As one of the best natural moisturizers for acne-prone skin, the formula includes plant-derived hyaluronic acid to hydrate and balance sebum, while the 20% zinc has anti-inflammatory and sun-shielding properties.
---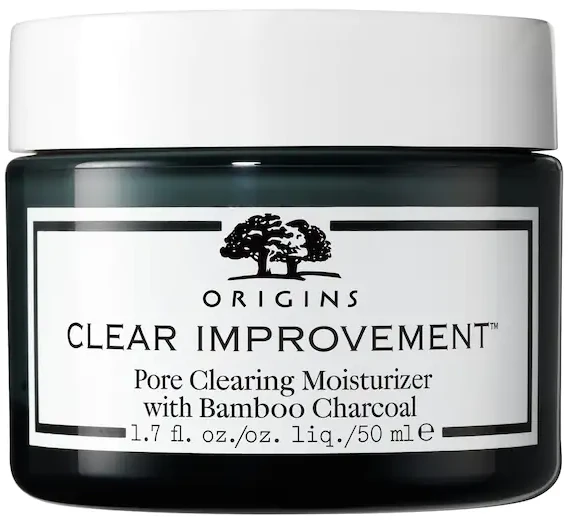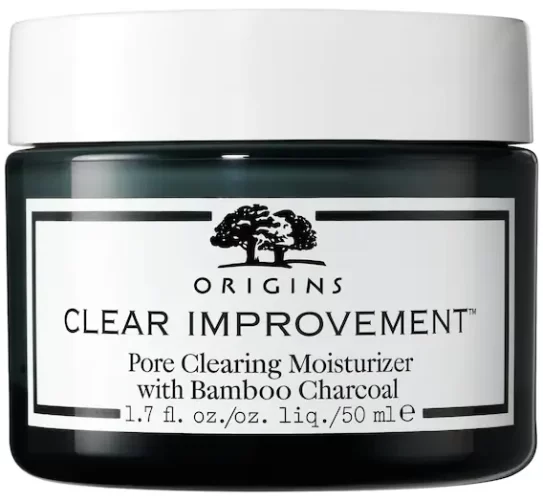 Origins Clear Improvement Pore Clearing Moisturizer
With 1% salicylic acid and bamboo charcoal, the Origins Clearing Moisturizer is a pro for acne-prone skin. Salicylic acid unclogs pores to prevent breakouts apparition, while the charcoal removes bacteria and impurities. Their drying effects are counteracted by hydrating agents like botanical oils that never clog the pores, plus hyaluronic acid. This purifying moisturizer has a delightful, lightweight texture that your skin immediately drinks up, leaving it feeling soft and smooth.
---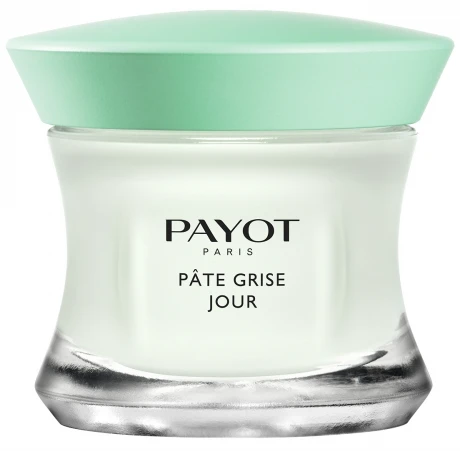 Payot Day Care Mattifying & Spot Treatment
Payot Pâte Grise Jour has a gel-cream texture, plus a super clean formula, reason is touted as one of the best natural moisturizers for acne. It's infused with oil-balancing ingredients like Cannabis sativa seed extract, zinc, bamboo powder, and boldo leaf extract, making the formula no bumbler when it comes to fighting breakouts. On top of everything, it leaves a velvety matte finish, ideal for those who struggle with excess oil and large pores.
---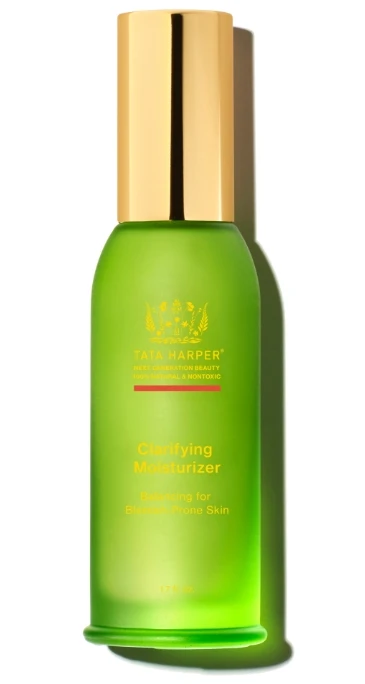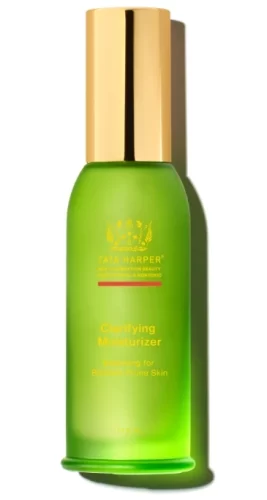 Tata Harper Clarifying Moisturizer
If you're willing to drop some more coin on a moisturizer that targets blemishes and controls oil, this is the one for you and your generous budget. It's infused with sebum-balancing zinc and saw palmetto for a matte finish, a botanical-derived BHA blend to encourage exfoliation, and two sources of hyaluronic acid to boost hydration. Give your skin a quick massage by working the moisturizer into the complexion and neck, and call it a day.
---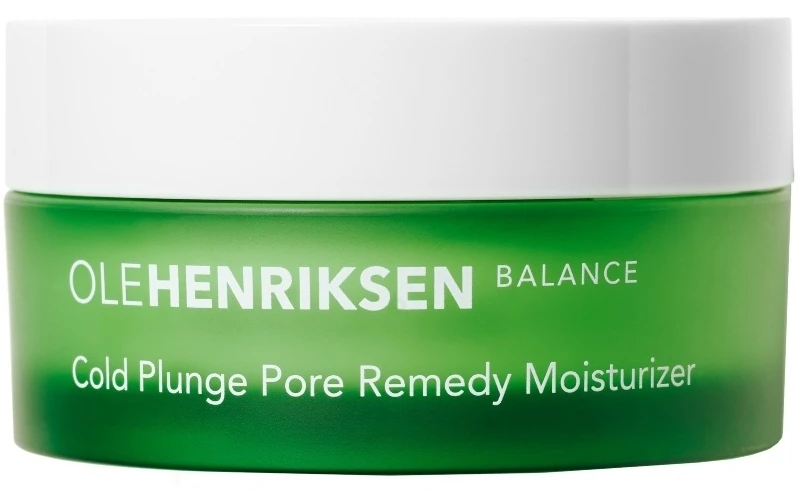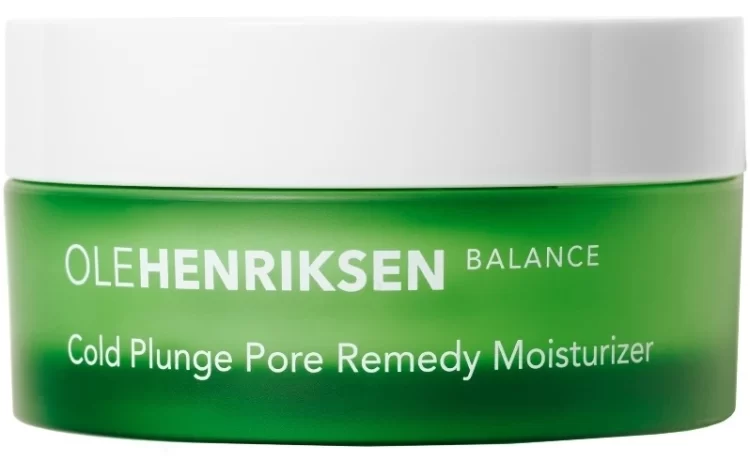 Ole Henriksen Cold Plunge Pore Remedy Moisturizer
Another of the best natural moisturizers for acne, Ole Henriksen Cold Plunge Pore Remedy, instantly hydrates the skin, reduces pores look, and controls excess oil. The salicylic and lipohydroxy acids make it great at targeting sebum, whiteheads, and blackheads. Plus, it's enriched with a mix of potent active botanicals (green tea, eucalyptus, kelp) filled with antioxidants to nourish and protect the skin. And everything is in a non-comedogenic formula.
---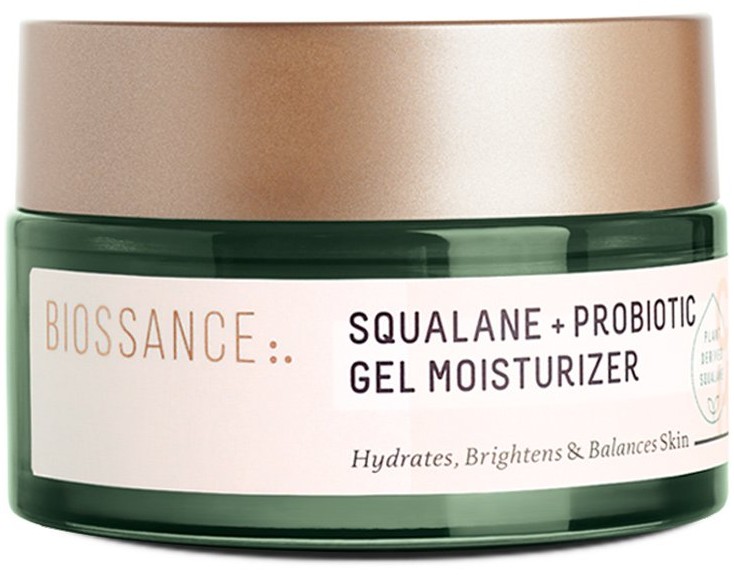 Biossance Squalane + Probiotic Gel Moisturizer
Biossance Squalane + Probiotic Gel Moisturizer leaves the skin deeply hydrated thanks to the high content of sugarcane-derived squalane. Soothing bisabolol blends with moisture-trapping humectants — hyaluronic and lactic acids — that work to balance moisture and control sebum. Besides, the formula fusions probiotics, red seaweed, ginger, and swiss garden cress extracts, reducing redness, irritations, and fading dark spots look.
---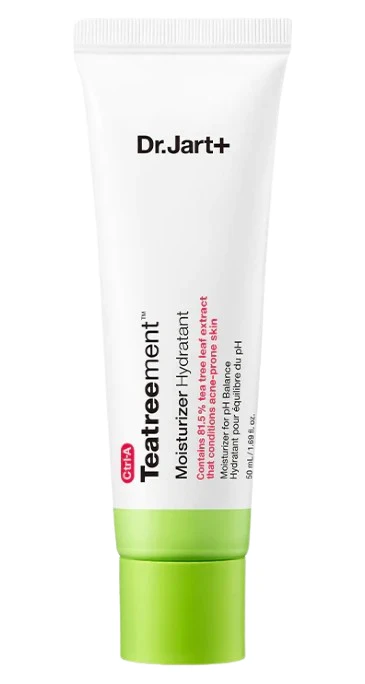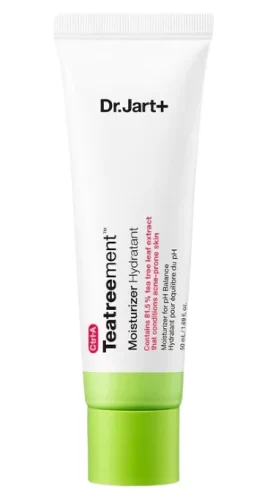 Dr. Jart+ Teatreement Moisturizer
Dr. Jart+ Teatreement Moisturizer is among the best natural face moisturizers for acne since it's created on a base of tea tree leaf extract — the MVP for breakouts. Additionally, niacinamide, cica, and green tea balance skin pH and moisturize without irritations. Its extremely lightweight texture sinks into the skin in no time, soothing breakouts without clogging pores. Dr. Jart Teatreement Moisturizer takes the cake in terms of no-fuss treatment that targets blemishes, excess oil, and lack of hydration.
---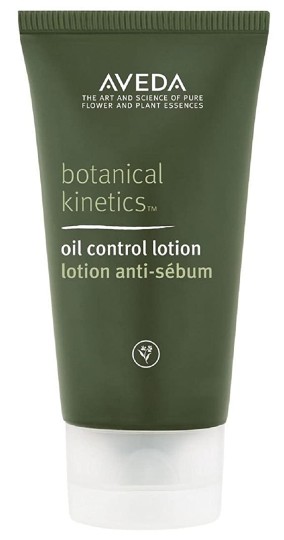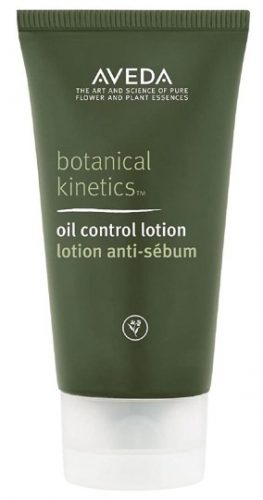 Aveda Botanical Kinetics Oil Control Lotion
If you're on the hunt for a lightweight oil control lotion that'll immediately sink into the skin without a trace, Aveda Botanical Kinetics can be your perfect match. It hydrates the skin without ever feeling greasy, and it's made with oily skin in mind, aiming to minimize sebum production. It does that thanks to salicylic acid and saw palmetto, while tamanu seed oil helps speed up the acne healing process. Besides, it's non-acnegenic, making it one of the best natural moisturizers for acne-prone skin caused by excess sebum.