Well, you know how it goes—usually when we hit our mid-20s, we look in the mirror and think, "Where did those undereye wrinkles come from?" The skin beneath our eyes is often the first to spill the beans about our age. It's just one of those things that comes with the territory of getting a little wiser every year. Other than aging, things like sun exposure, poor diet, dehydration, and even stress can fast-track those pesky crow's feet. Here's what you need to do to get rid of under-eye wrinkles and promote firmer skin.
What causes under-eye wrinkles?
The skin around our eyes is particularly vulnerable to the early signs of aging due to its fragile and thin texture, which lacks the foundational support of fat, muscles, and fibers. As we age, our skin produces less collagen, elastin, and other essential components like hyaluronic acid. This, combined with factors such as prolonged sun exposure, frequent facial expressions, lifestyle habits, and genetic predispositions, exacerbates the loss of elasticity in the eye region. However, there's hope. By dedicating a bit of care and refining your skincare regimen, you can combat these challenges and maintain the youthful glow of your eyes.
Treatments for under-eye wrinkles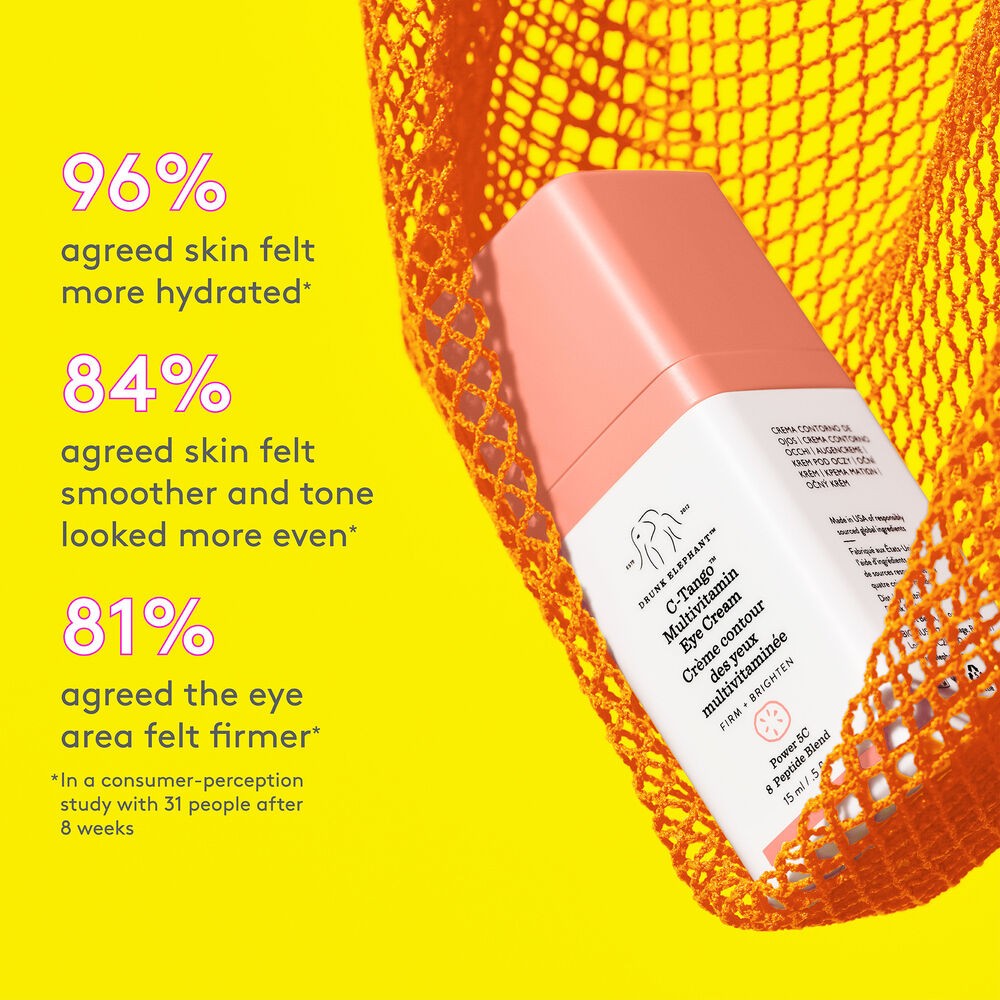 Use vitamin C during the day
Our skin is exposed to environmental stressors day in and day out. Free radicals from sources like UV, pollution, and smoke weaken the collagen and elastin fibers and make wrinkles more noticeable. For this reason, daytime is all about protection. Consider using an eye cream rich in vitamin C in the morning to protect your skin from free radical damage.
As an antioxidant, vitamin C neutralizes free radicals while supporting collagen growth and brightening dark circles—the trifecta for reviving the eye area.[1] We love Drunk Elephant C-Tango Multivitamin Eye Cream because it's loaded with five forms of vitamin C plus an eight-peptide blend to rebuild, strengthen and minimize crow's feet appearance.
Just so you know, other great antioxidants to have in your eye cream are vitamin E, niacinamide, and green tea.[2]
Apply SPF every morning
Sun damage is responsible for 80% of facial wrinkles.[3] That said, sun protection is an all-year-round commitment, so you want to apply sunscreen every day. Even though most sunscreens are safe to use around the eyelids, it's essential to give labels a close read and avoid the ones that contain synthetic fragrances, as these may cause irritation. Instead, look out for sunscreens made with mineral sunblockers like zinc and titanium. A good example is La Roche-Posay Anthelios Mineral Tinted Sunscreen, which is fragrance-free and tested for sensitive skin.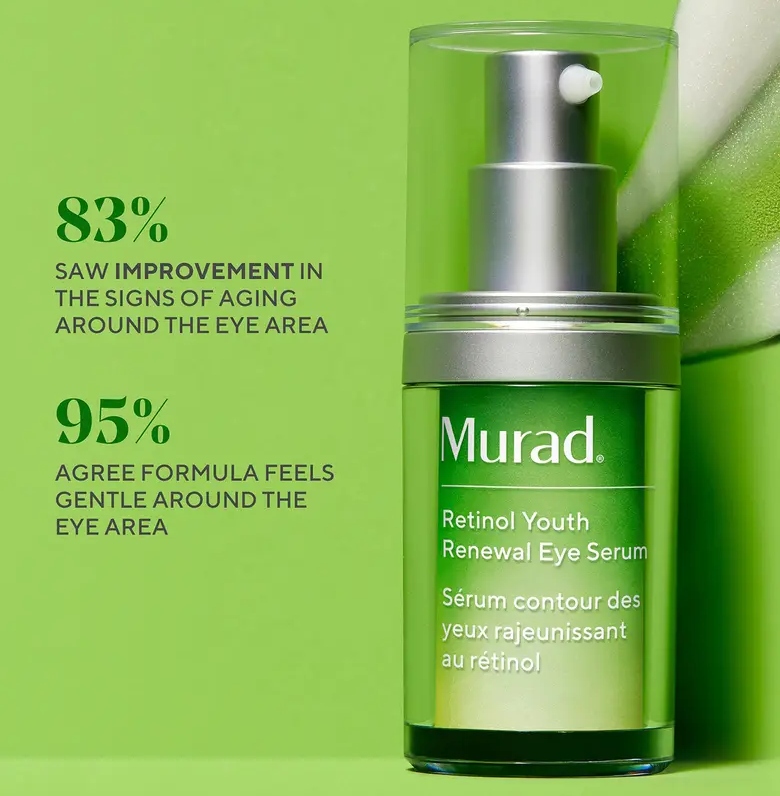 Apply retinol at night
There's no room for ifs or buts—retinol is the most effective ingredient to support younger-looking, smooth, and radiant skin. Retinol is a derivative of vitamin A that encourages cell turnover and renews the skin, minimizing crow's feet and dark circles over time. Also, due to its ability to increase collagen production, retinol thickens the skin.
However, since retinol is a powerful molecule, some people might find it difficult to tolerate. If retinol is too harsh for your under-eye skin, you can switch to a gentler alternative, like retinol esters. Retinyl propionate and retinyl palmitate are retinol derivates that are blended with nourishing fatty acids, making them a more soothing option for sensitive skin.[2]
We recommend Murad Retinol Youth Renewal Eye Serum to those who want an effective option that minimizes fine lines and wrinkles. And Neutrogena Rapid Wrinkle Repair Retinol Eye Cream to those who're looking for a budget-friendly alternative.
Exfoliate
The skin beneath our eyes accumulates dead cells just like the rest of our face, resulting in a tired and dull appearance. Exfoliating not only removes dead cells but also promotes collagen production, adding a natural lift and glow to your under-eye skin. It's crucial to remember that this area is delicate, so avoid using harsh scrubs or concentrated chemical acids. Instead, opt for eye creams that contain mild concentrations of alpha-hydroxy acids, like lactic and glycolic acids.
You can restore a glow to your eyes with Mario Badescu Glycolic Eye Cream. In addition to glycolic acid, it's packed with cocoa seed butter and cholesterol to soften and seal moisture. Using an exfoliating eye cream 2 to 3 times per week works great to retexturize your skin.
Apply products with gentleness
Because the skin around the eyes is so thin and fragile, you want to be extra careful when applying skincare products. Apply small dots of eye cream starting at the inner corner underneath up to your brow bone and gently tap with your ring finger (as it naturally exerts the lightest touch) until the cream is fully absorbed. And don't mishandle, rub, or aggressively remove eye makeup. The takeaway? Be as gentle as possible with your eye area.
Pamper the skin with a gentle massage
You can give the skin around the eyes a gentle massage to bring blood flood to that area and help relieve puffiness. Use gentle tapping motions using your index and middle fingers and tap out a circle around the eyes.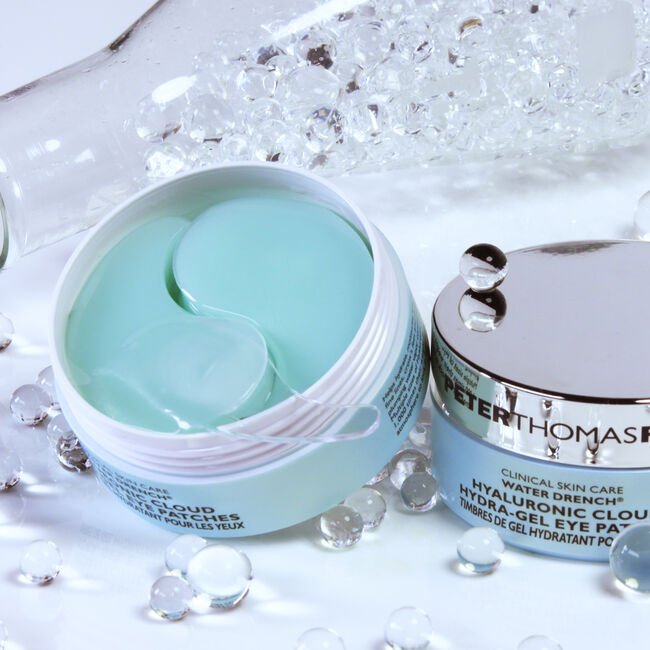 Give it extra TLC with eye patches
Who doesn't love eye patches? Not only do they make the perfect item for a #selfcare Insta post, but they're perfect for a quick pick-me-up whenever your eyes feel tired. These little patches fusion a bunch of good-for-skin actives that address puffiness, lack of moisture, and dark circles.
Some ingredients you should look for in your eye patches to make the skin around the eyes appear plumper, bouncier, and less puffy are hyaluronic acid, squalane, nourishing oils, vitamin C, peptides, and ceramides. We (and other thousands of people) like Peter Thomas Roth Hydra-Gel Eye Patches because they hydrate intensely, moisturize and instantly make crow's feet and dark circles appear less noticeable.
Try microneedling
Also known as collagen-induction treatment, micro-needling involves using a pen wand stuffed with tiny needles to create controlled micro-injuries in the skin. In turn, this stimulates the skin's repairing process, inducing collagen production, retexturizing the skin, and softening fine lines and crow's feet.[4] While there are some microneedling tools that offer heads for the eye area—like GloPRO EYE MicroTip Microneedling Tool—we recommend getting this procedure in-office by a professional.
Have a healthy lifestyle
Unsurprisingly, diet and daily habits affect how your eye area looks and ages. For instance, eating salt-rich snacking and drinking excessive amounts of alcohol lead to inflammation and dehydration, translating into more visible wrinkles and puffiness. Smoking is another bad habit that gets you early under-eye wrinkles, so quit it ASAP if you smoke.
Instead, eat foods rich in fatty acids, such as salmon, avocados, flaxseed, and walnuts, and drink eight glasses of water daily to provide your eye area with the necessary nutrients to stay nourished and hydrated.[5] Moreover, getting enough sleep—between 7 to 9 hours a night—makes the eye area appear more awake and firm.
Consider dermal fillers, like Botox
Dermal fillers, such as Botox, are among the most effective methods for diminishing under-eye wrinkles. When you smile or squint, certain muscles become more prominent, contributing to these wrinkles. Botox injections target these muscles. By introducing a neurotoxin into the lower eyelid using a fine needle, the procedure relaxes these muscles, making wrinkles less pronounced.[6] With Botox injections, the results are visible within a few days, and recovery time is relatively short—you should be able to resume your normal activities after 24 hours. However, botox injections should be repeated once every four to six months to maintain the results.
Summary
Regardless of your age or how affected your under-eye skin is, follow these treatments every day to max your skincare routine and banish crow's feet, puffiness, and tired eyes once and forever:
Protect from sun damage by wearing sunglasses and applying SPF.
Avoid rubbing and squinting your eyes, as this can worsen wrinkles.
Stay hydrated and nourish your skin with a healthy diet.
Get enough sleep and manage stress levels.
Apply eye cream containing retinol, vitamin C, or hyaluronic acid.
Use a cool compress to soothe and reduce puffiness.
Gently massage the eye area when applying eye cream.
Avoid smoking and excessive alcohol.
Try microneedling.
Apply eye patches to revitalize and refreshen your skin.
Use a humidifier in your home to increase skin hydration.
Apply products containing caffeine to reduce swelling.
---
We answer all your questions
What causes under-eye wrinkles and crow's feet?

Under-eye wrinkles and crow's feet are caused by a combination of internal and external factors, including aging, sun exposure, lack of sleep, poor diet, genetics, and repetitive facial expressions.

Can under-eye wrinkles be prevented?

Yes, under-eye wrinkles can be prevented by protecting the skin from sun exposure, staying hydrated, eating antioxidant-rich foods, and avoiding excessive pulling and rubbing of the skin in the under-eye area.

What are the best products for under-eye wrinkles?

Products with retinoids, hyaluronic acid, antioxidants (vitamin C, green tea, resveratrol, caffeine), and peptides are proven to help reduce the appearance of under-eye wrinkles and crow's feet.

What home remedies are effective for under-eye wrinkles?

Using a cold compress, massaging the under-eye area with coconut oil or vitamin E, and applying aloe vera gel or coffee mask are some of the most effective home remedies that can help diminish under-eye wrinkles.

How long does it take to see results?

It depends on the depth of the wrinkles, the treatment used, and the individual's skin condition. On average, it can take several weeks to several months to see visible improvements in under-eye wrinkles.
Footnotes
Women's Concepts uses reliable sources, including dermatologists' insights, clinical trials, and scientific journals, to find accurate information and support all the facts shared in our articles. All statements and claims have clear and legit references. Read our editorial policy to learn more about our sources of information, our process of researching and fact-checking the content, and how our team strives to keep all articles updated, completed, and trustworthy.