Look, I know what you're thinking, first snail mucin, and now bee venom? Stick with us for a moment here. We know some of these exotic-sounding ingredients can be intimidating, but the theory is actually pretty simple: bee venom contains a plethora of proteins, peptides, and amino acids, which imbue the skin with myriad benefits, from anti-aging and healing to protecting and soothing.[1] In other words, it's an all-in-one multi-tasker that can fight most of your skin concerns, working to promote collagen production, provide antioxidant protection, reduce acne, soften fine lines and wrinkles, and even diminish hyperpigmentation.[2][3] And contrary to expectations, bee venom is entirely safe for the skin when applied topically, except if you're allergic or sensitive to bee stings. Even better, the extraction process doesn't harm the bees, so the venom used in skincare has a minimal impact on the environment.
With all of the above in mind, we've decided to narrow down the best bee venom skincare products everyone can use to nourish, hydrate, and revitalize their complexion. Scroll on and pick your favorite:
The best bee venom skincare products
---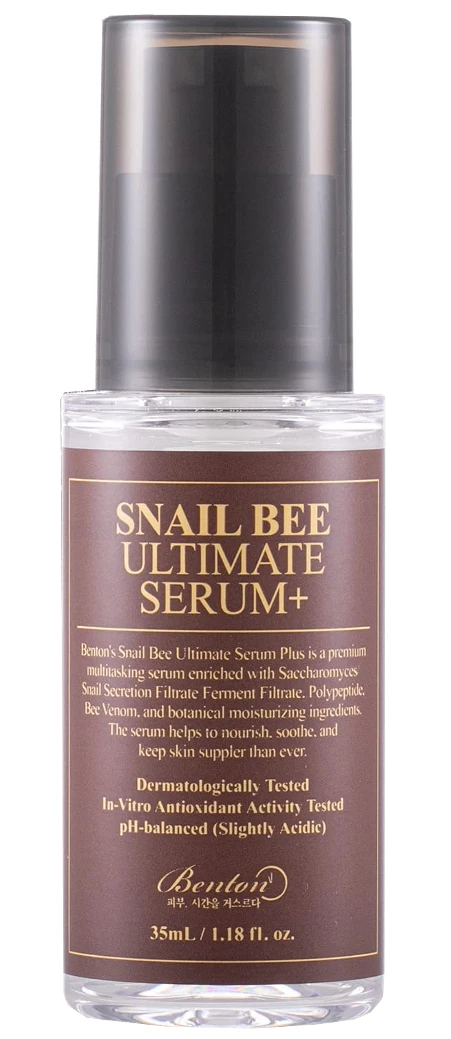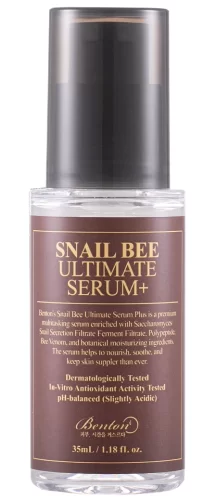 1
Benton Snail Bee Ultimate Serum
Benton Snail Bee Ultimate Serum is the best bee venom serum you can use to target whatever concern you have. From increasing hydration, boosting radiance, and plumping fine lines to soothing and minimizing breakouts, this one does it all and then some more. The reason? It's made in a base of snail mucin, known for its moisturizing and reparative powers, and contains an amalgam of skin-loving ingredients, including four plant-fermented extracts, niacinamide, six peptides, bee venom, and adenosine. All these work deep into the skin to boost collagen levels and promote cell renewal. Besides, the serum is fragrance-free, oil-free, and lightweight, so it won't leave you feeling greasy but with a smooth, dewy finish.
---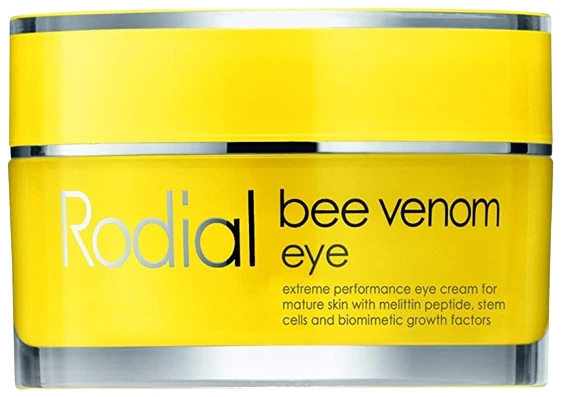 2
Rodial Bee Venom Eye
Perhaps you are hunting for a new eye cream infused with bee venom? Then look no further than Rodial Bee Venom Eye. It loads a breakthrough complex of peptides (called Haloxyl) coupled with growth factors, bee venom, and plant stem cells to reinforce firmness and tone the eye area while mitigating the pigment responsible for dark circles. Even more, the formula packs softening and hydrating ingredients like shea butter, sodium hyaluronate, and vitamin E to leave the skin velvety soft upon application. Plus, you'll love the rich, buttery texture that glides effortlessly to instantly comfort and nourish.
---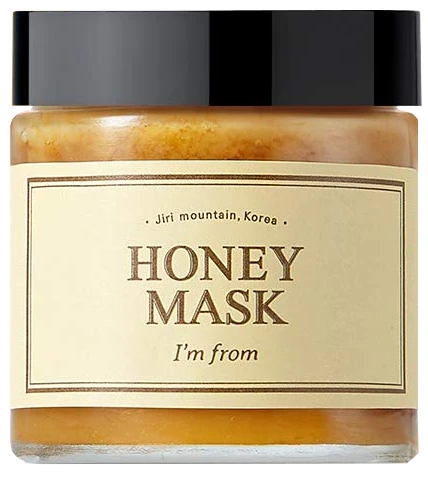 3
I'm From Honey Mask
This K-beauty mask turns out to be one of the best bee venom skincare products since it's made in a base of natural honey alongside snail mucin and other bee products, including propolis, bee venom, and beeswax. All these work in tandem to provide deep moisture and plump fine lines look without leaving greasy or sticky residues (the application is much smoother than simply putting honey on your face). Use it in your nighttime routine, once or twice weekly, to wake up to soft and glowing skin.
---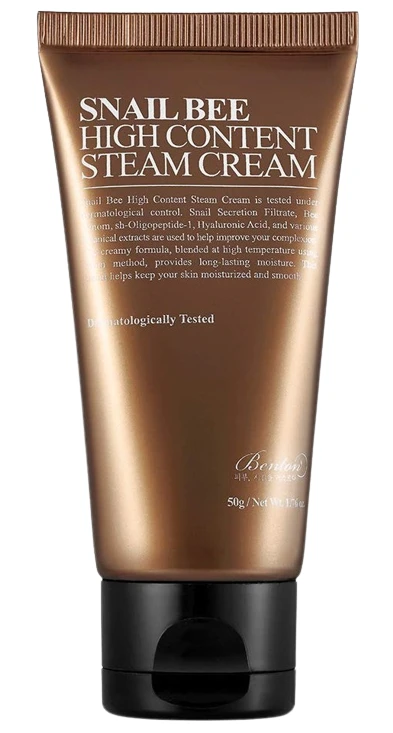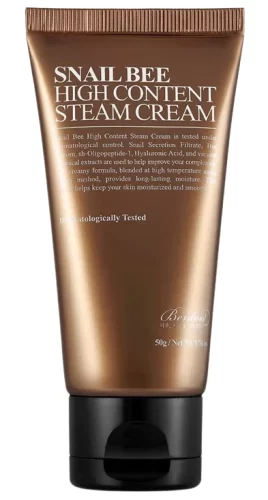 4
Benton Snail Bee High Content Steam Cream
As winter is coming, this bee venom cream might be your new holy grail to face plummeting temperatures. The hyaluronic acid, snail filtrate, and bee venom work synergistically to protect, heal, and hydrate, while niacinamide and peptides increase the skin's resilience to external foes. And the best part: all these actives are blended using steam technologies to keep them at their peak potency. The formula performs amazingly to diminish fine lines, lock moisture in, repair a broken barrier, and relieve dehydration, and it's suitable even for sensitive and acne-prone skin. P.S: This is a heavier cream, so it's best to use it at night.
---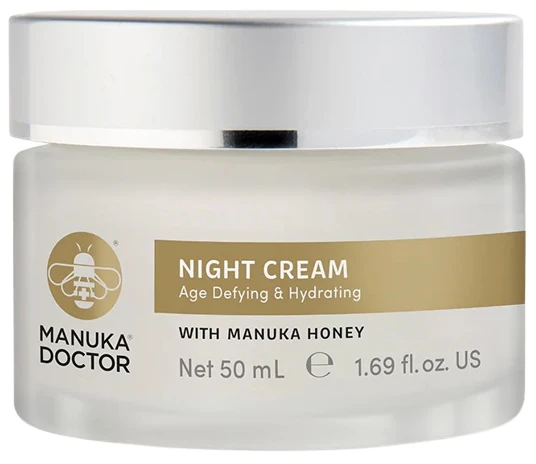 5
Manuka Doctor Night Cream
Along with bee venom, this night cream uses regenerative ingredients like royal jelly, rosehip oil, and honey to boost the repairing process and hike up collagen production, translating into a firmer, bouncier, and more resilient complexion. Besides, the addition of shea butter and avocado gives the cream a rich, emollient texture that feels like heaven (and leaves the skin baby-soft by morning). And what we love the most is that Manuka Doctor is a sustainable beauty brand, so you get the added plus of great skin while being environmentally conscious by picking this cream.
---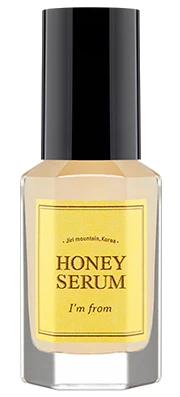 6
I'm From Honey Serum
No doubt, I'm From Honey Serum is one of the best bee venom skincare products you could possibly crave. It's made in a base of glycerin (a humectant that draws moisture from the environment) and contains a complex of bee products, including honey, pollen, royal jelly, propolis, and bee venom, to target all aging signs, from lack of firmness to wrinkles to dark spots. The serum also comes to rescue parched, dehydrated skin by adding a heavy dose of hydration and fortifying the moisture barrier thanks to niacinamide and Centella asiatica.
---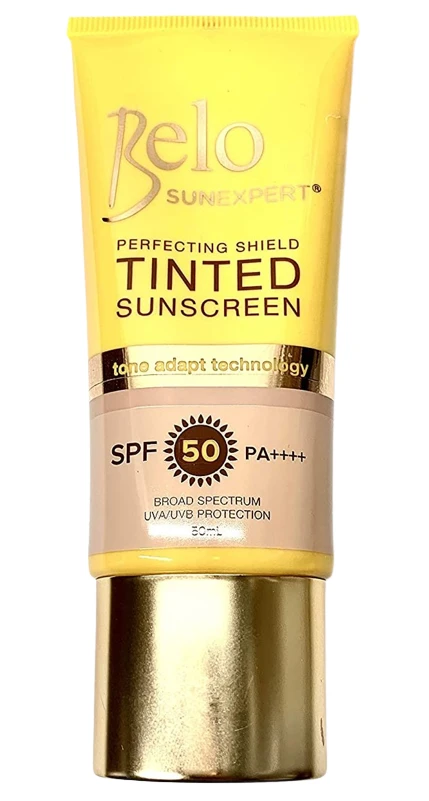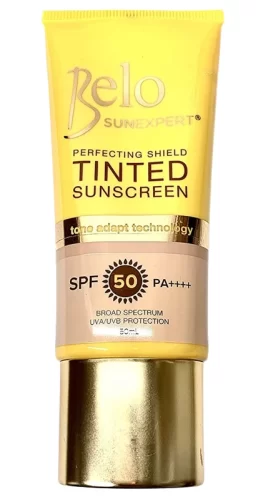 7
Belo SunExpert Perfecting Shield Tinted Sunscreen
If you're looking for a no-makeup look, this tinted sunscreen infused with bee venom will even out your complexion, conceal fine lines, and cover up any imperfection while providing the best-in-class UVA and UVB protection. It dries and absorbs quickly and doesn't feel sticky but pampering and barely there. It's like a BB cream in sunscreen, so it actually cuts an extra step in your beauty routine by combining makeup and skincare.
---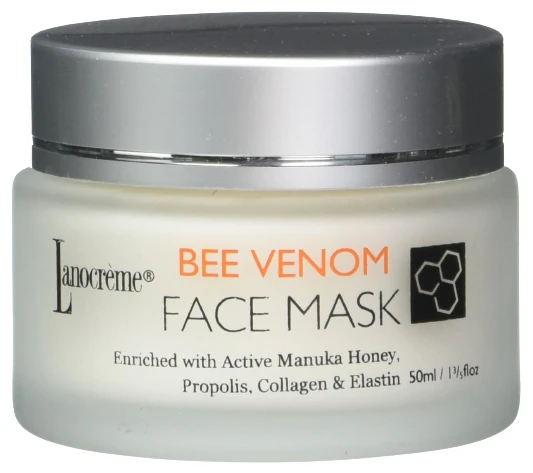 8
Lanocreme Bee Venom Face Mask
This face mask has everything it takes to give you plump, dewy skin. It's chocked full of emollients and moisturizers, meaning it's highly softening and hydrating, and packs bee venom, manuka honey, and propolis for added antioxidant and anti-aging benefits. Whether you're stressed with dehydrated skin, uneven tone, or wrinkles, this is one of the very best bee venom skincare products to fight your skin concerns.
---
What else
Are bee venom skincare products safe for skin?

Yes, bee venom is a safe ingredient in skincare products and is fairly tolerated by most skin types, sensitive included. However, you should avoid bee venom-containing skincare products if you're allergic to bee stings.

How often should you use bee venom skincare products?

Depending on the formula, you can use bee venom skincare products twice daily in your morning and nighttime routine.
References
Women's Concepts uses reliable sources, including dermatologists' insights, clinical trials, and scientific journals, to find accurate information and support all the facts shared in our articles. All statements and claims have clear and legit references. Read our editorial policy to learn more about our sources of information, our process of researching and fact-checking the content, and how our team strives to keep all articles updated, completed, and trustworthy.
Pucca MB and other authors. Bee Updated: Current Knowledge on Bee Venom and Bee Envenoming Therapy. Frontiers in Immunology. 2019.
Haejoong Kim, Soo-Yeon Park and Gihyun Lee. Potential Therapeutic Applications of Bee Venom on Skin Disease and Its Mechanisms: A Literature Review. Toxins (Basel).
Parente ME, Gámbaro A, Roselli T, et al. Clinical evaluation of the efficacy of bee venom as cosmetic active. J Dermat Cosmetol, https://doi.org/10.15406/jdc.2020.04.00167