Have you ever seen that episode of Sex And The City, where Samantha has a chemical peel, and her face turns into a red-based, wince-inducing nightmare? If you haven't, don't Google it. If you have, we'll forgive you if you decided to steer clear of chemical peels… until now.
The chemical peels we're talking about won't cause you nightmares even if you have the most dehydrated skin. Besides, they address most skin-based concerns. From blemishes to fine lines, chemical peels can equal glow-giving, marshmallow-cloud-soft, and even skin. And nobody's excluded from the party. Skincare advancements mean that the driest skins out there can still get some exfoliation on the go.
So, what's the best chemical peel for dry skin?
Which peel is best for dry skin?
You can split chemical peels up by looking at the acid types. Acids are usually grouped as either alpha hydroxy acids (AHAs) or beta-hydroxy acids (BHAs). AHAs work on the skin's surface level, while BHAs go deeper inside pores since they're oil-soluble. Deciding which acid to use on your dry skin depends on the potency and penetration you need.
First thing first, dry skin should steer away from BHAs as they can be drying. Instead, the most suitable chemical peels for dry skin are AHAs, namely, glycolic, lactic, and mandelic acids. All AHAs are humectants, so besides exfoliating effectively, they pull water from the envirorment into the skin to boost hydration, which is perfect for a dry complexion.
Are chemical peels good for dry skin?
Chemical peels can definitely be good for dry skin. The whole point of a chemical peel is to remove dead and dry cells and let new cells take their place. This reduces dry skin because you're exfoliating that build-up away and dry patches with it. Once your new cells are up and running at the skin's surface, your skincare products have more effect because they can penetrate the layers of your skin better, allowing more hydration, more moisture, and, fingers crossed, less dryness.
However, although all the products featured ahead are suitable for thirsty skin, they're still highly concentrated in peeling solutions that tend to dry out the skin. Hence, you should prepare a moisturizer containing occlusives after the chemical peel to reduce the chances of irritations and prevent transepidermal water loss — like these.
The best chemical peels for dry skin
It turns out these are the best chemical peels for dry skin that work to boost the skin's renewing power while maintaining hydration on track.
---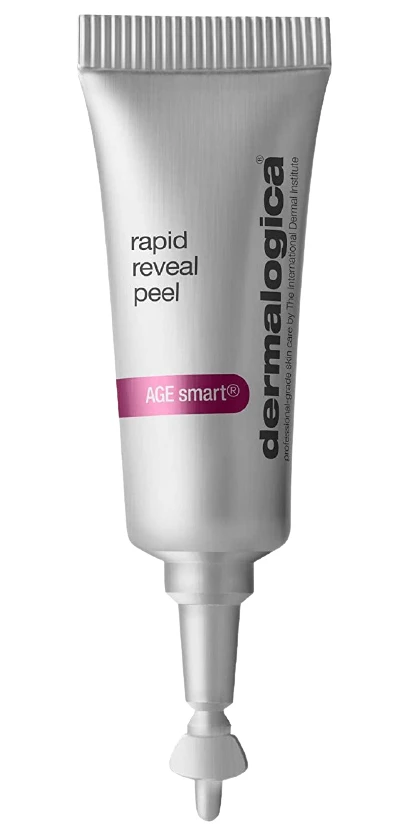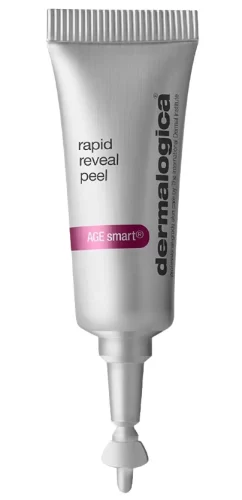 1
Dermalogica Rapid Reveal Peel
Most people with dry skin feel they can't dive into the territory of potent chemical peels — as so many dries out the skin. But this actually leaves the complexion smoother and brighter, not irritated and dehydrated. This is because the peel is made with 10% lactic acid, which is the perfect balance between replenishing and exfoliation. There's also pumpkin fruit enzyme, which is loaded with natural alpha hydroxy acids to accelerate cell turnover and antioxidant vitamin E for increased skin defense. Since it's packed with even more natural brighteners, including caviar lime extract and lemon essential oil, the peel vows to enhance radiance and visibly reduce aging marks without causing dryness.
---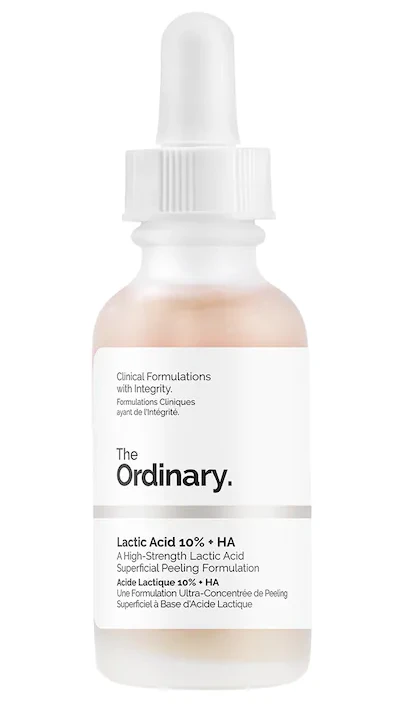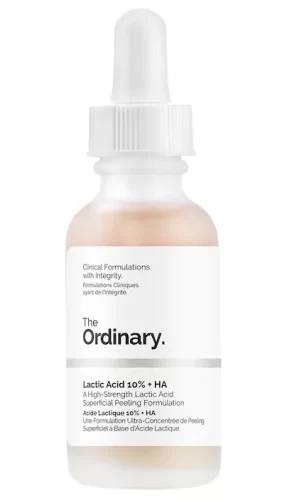 2
The Ordinary Lactic Acid 10% + HA 2% Exfoliating Serum
This is a great budget-friendly chemical peel for dry skin. The lactic acid stimulates skin regeneration to reduce pigmentation, scarring, and age spots. If your texture needs a lesson in smoothness, look no further! To counteract the irritation acids can cause, there's purified pepper berry to reduce inflammation and soothe skin. Plus, you've got 2% hyaluronic acid which adds more water to your skin. If your skin is super dry and a little worried about acids, you could dilute this product with The Ordinary's Hyaluronic Acid Serum to reduce strength. As this product is an exfoliating serum, you've no need to wash it off. Ideally, you'll use this in the evening and leave it to do some good hard work while you're asleep.
---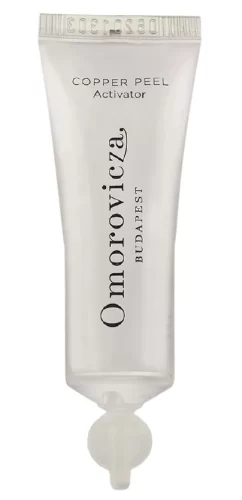 3
Omorovicza Copper Peel
Here's another spa-quality chemical peel for your dry skin. Omorovicza's peel is two-stage. The first stage is a copper peel paste, and the second stage is a copper peel activator. You apply stage one and then immediately apply stage two over the top. The products foam up to a lather on application, and you massage skin for two minutes before rinsing off. This peel is formulated with copper gluconate to regulate sebum and detoxify. It's also got lactic acid and bicarbonate of soda to help reduce signs of aging, boost brightness, and create a more even tone. Dry skin needn't worry because there's glycerine, apple, and chamomile, to help soothe and hydrate, plus squalane and beeswax to improve moisture retention.
---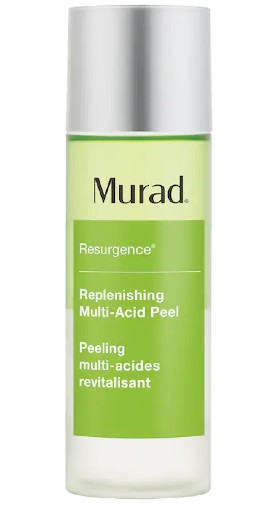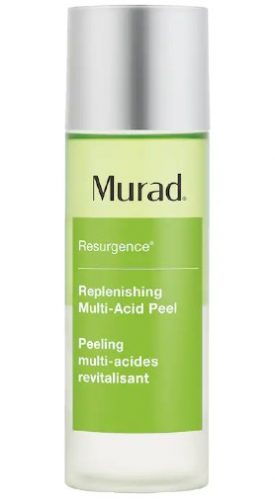 4
Murad Replenishing Multi-Acid Peel
Dry skin can breathe a sigh of relief, as Murad's chemical peel helps you get some major glow without the sensitizing effects of peeling. Their chemical peel contains an acid cocktail (think a-z) to get rid of dead cells, purge pores of impurities, and brighten dark spots. To counteract the unwanted peeling side effects, you've got adaptogenic holy basil and omega-rich oils to replenish and support the protective barrier function. Be sure to use this in the evening, and don't rinse it off after applying.
---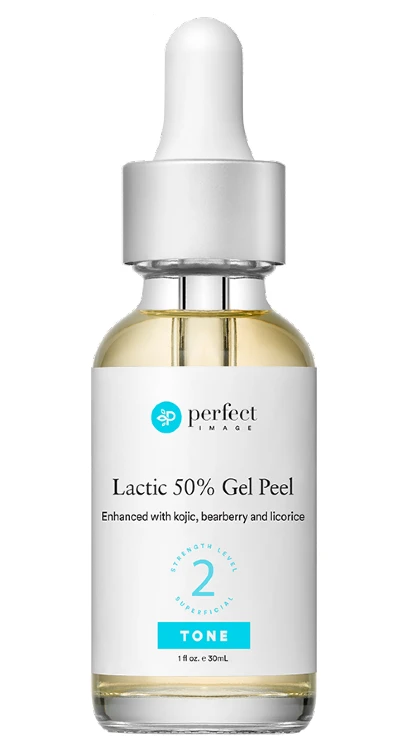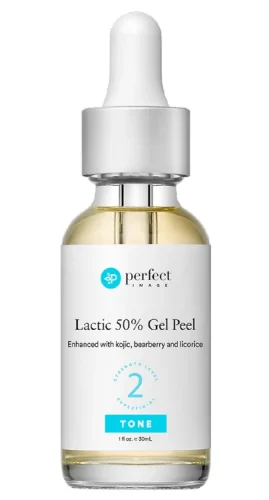 5
Perfect Image Lactic 50% Gel Peel for Face
This chemical peel is best if your skin's a little more used to acids. It's classed as a level-2 peel, which can give more dramatic results by going a little deeper. This peel has 50% lactic acid to truly stimulate faster cell turnover and give you firmer, smoother skin. But there's also a host of brightening ingredients too. Kojic acid, bearberry, and licorice root work together to target hyperpigmentation, scarring, and dark spots. In the meanwhile, green tea and cucumber help soothe the skin and aid in healing post-peel irritations. You can use a cotton pad to apply this product and allow it to work for up to one minute. Make sure you rinse off afterward.
---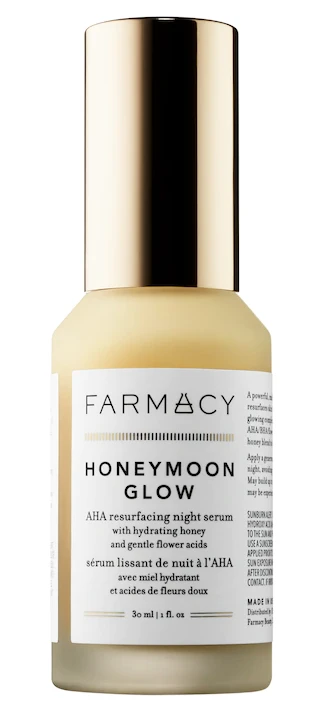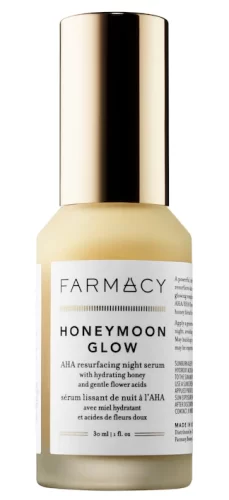 6
Farmacy Honeymoon Glow AHA Resurfacing Night Serum
Farmacy holds nothing back with this 3-in-1 multitasking night treatment. It comes with a whole host of ingredients to clarify, exfoliate, and hydrate your skin as you catch some z's. You've got a 10% AHA acid blend to reduce signs of aging and bring baby softness and a gorgeous glow. Salicylic acid and hibiscus extract clarify and help clear your pores, while hyaluronic acid and a blend of honey balance the AHAs, soothe, and encourage extra hydration. For us, this is the best chemical exfoliant for dry skin.
---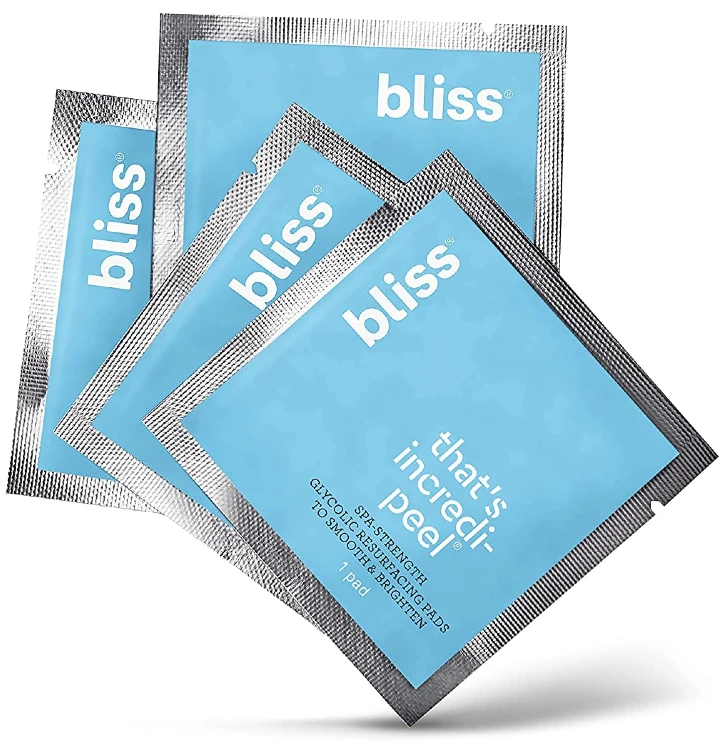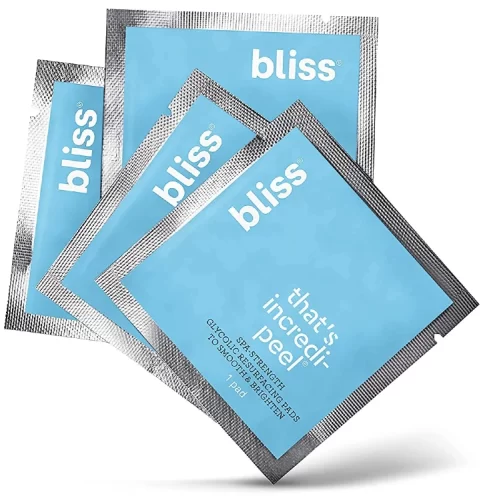 7
Bliss That's Incredi-peel Glycolic Resurfacing Pads
Bliss aims to give a spa-quality peel through these super-saturated, convenient little glycolic acid pads. We already know that glycolic acid is a must-use for aging skins needing a boost in the radiance department, but Bliss makes sure their chemical peel pads are suitable for dry skin too. Glycerin draws moisture into the skin, and witch hazel, licorice, vitamin E, and calendula flower soothe. Incorporate these pads into your PM routine. There's no need to rinse off after use. Let the glycolic goodness work overnight!
---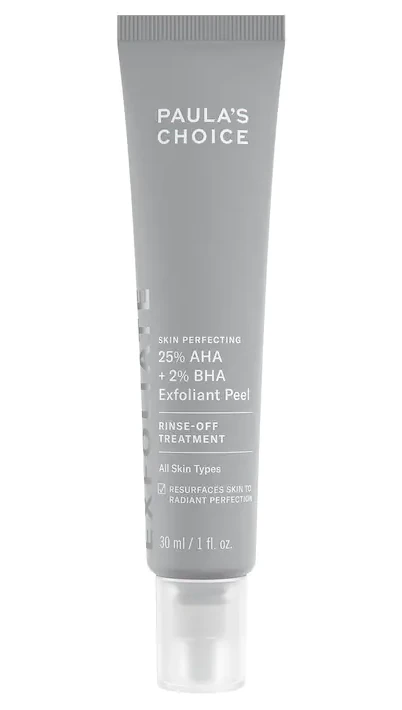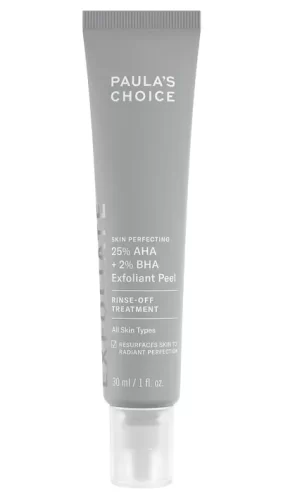 8
Paula's Choice Skin Perfecting 25% AHA + 2% BHA Exfoliant Peel
When this chemical peel launched as a limited edition, it sold out in a month. It was so raved over that Paula's Choice brought it back permanently. Why? Well, it's a chemical peel that gives strong exfoliation without irritations. AHAs and BHAs combine to exfoliate both the surface and the deeper skin levels. Think reduced fine lines, texture, and hyperpigmentation, along with fewer blemishes and blackheads. Paula didn't want any potential for irritation, so she included soothing botanical ingredients like chamomile, licorice, allantoin, and butterfly pea flower extract. Leave this on the skin for 10-15 minutes, then wash off and complement with other hydrating products.
---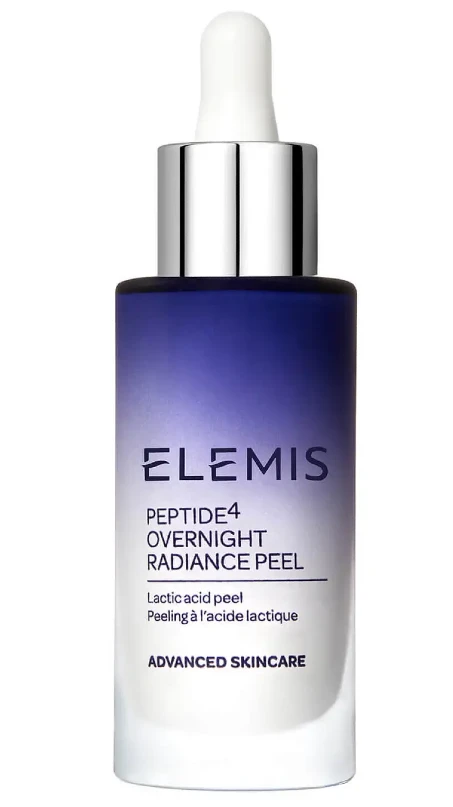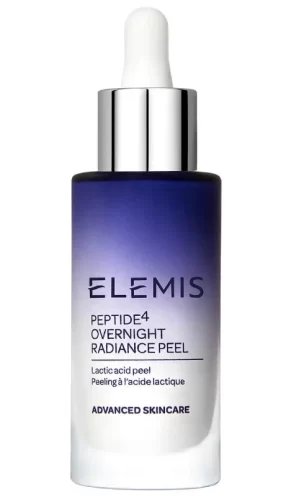 9
Elemis Peptide4 Overnight Radiance Peel
Elemis is not holding back with the effectiveness of their chemical peel, stating that 98% of people in their user trials agreed that this product left their complexion brighter. You've got a formulation of skin smoothing AHAs mixed with nourishing botanical oils to create a daily chemical peel treatment that halts congestion and dullness. The peel also contains night-scented stock oil, which is high in essential fatty acids and vitamin E, making this chemical peel great for people with dry skin. The term 'beauty sleep' has never been more applicable!
---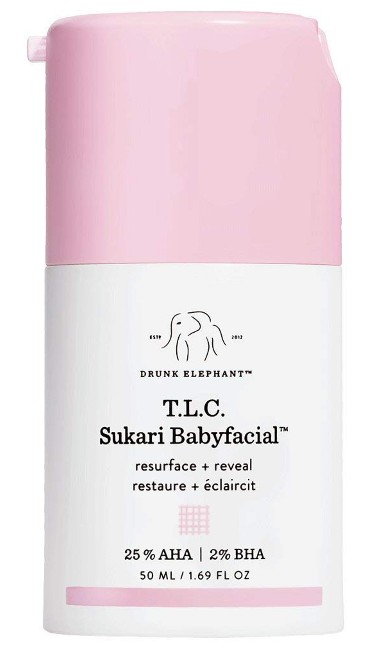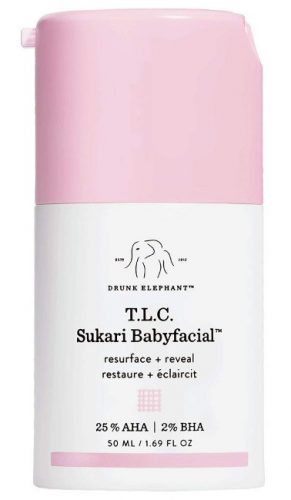 10
Drunk Elephant T.L.C. Sukari Babyfacial AHA + BHA Mask
This chemical peel gives you that home-based spa-facial treatment. It's packed full with a blend of 25% AHAs and 2% BHAs, a cocktail that's going to give both surface-level and deeper exfoliation to smooth, unclog pores, and reduce fine lines. Drunk Elephant really does want you to feel baby-faced! This is definitely one of the best chemical peels for dry skin, as you've got a soothing and hydrating blend of matcha tea, aloe, glycerin, apple, grape, and milk thistle. Because this product is a mask, you can apply it and leave it on for 20 minutes. Rinse off and complement with hydration-based skincare.
---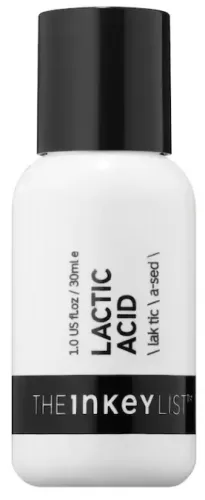 11
The Inkey List 10% Lactic Acid
An alternative to The Ordinary Lactic Acid 10%, The Inkey List also made a gentle chemical exfoliator with dry skin in mind. It combines 10% lactic acid with 1% hyaluronic acid for an intense exfoliation, yet delicate enough for daily use. There's no clear-cut way of deciding which one is better between The Ordinary and The Inkey List, as it's more a matter of personal preference.
---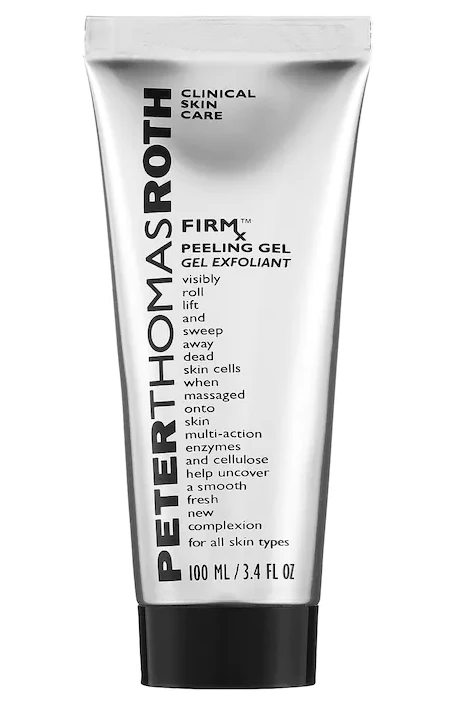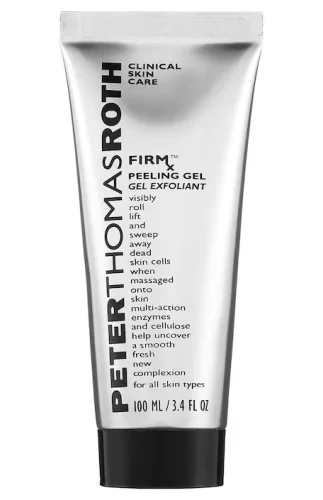 12
Peter Thomas Roth FIRMx Peeling Gel
Okay, so while this isn't a chemical peel (no acids involved), it's an enzymatic peel. This peeling gel uses fruit enzymes found in pineapple, pomegranate, and keratinase to remove dead cell build-up and unclog pores. It's a super-gentle formula, which is why we've placed it on our list. This could be ideal if you have extra dry skin but want a peel that will help you gain radiance and smooth texture. Apply this and gently massage your skin. Depending on your skin's sensitivity, you can either wash it off straight away or leave it on for up to five minutes.
---
Which chemical peel will you choose?
It's honestly so great that there are so many exfoliating options out there for people with dry or dehydrated skins. The benefits of incorporating chemical peels and acids into our skincare routines can be huge, with practically miraculous effects on our faces. While we believe that Dermalogica Rapid Reveal Peel and Murad Replenishing Multi-Acid Peel are the best chemical peels for dry skin, they got strong contenders, whether you're buying on a budget or feeling a little more spendy.