I'm obsessed with multitaskers in skincare, and the new super-hero that found its place on my vanity countertop is copper peptides. Amazed at what it does to the skin, I decided to spare you some time and list the best serums with copper peptides. The good news is that everyone can add them to their beauty arsenal to promote firmer and more elastic skin and enhance skin repair. Because serums shoot actives in the deeper layers, they are the perfect way to get your dose of copper peptide and trigger restoration and regeneration of the skin. But before we go the good bit, here is some theory for the uninitiated about what copper peptides are and how they help the skin.
What are copper peptides?
Copper is a mineral naturally found in the body, essential for the skin, that has a key role in creating red blood cells and maintaining a strong immune system. On the other hand, peptides are chains of amino acids that act like building blocks of proteins (think collagen and elastin) responsible for skin texture, strength, and elasticity. Predictably, copper peptides are created by mixing copper with three amino acids (glycyl-histidyl-lysine), and in skincare formulas, you can find it under the name of GHK-Cu.[1]
Why should I use copper peptide?
Applying copper peptides to the skin has multiple benefits. As an antioxidant, it helps to reduce the appearance of fine lines and wrinkles, while also encouraging collagen and elastin production. Furthermore, it has been clinically proven to be effective in skin repair and restoration, reducing photodamage and tightening loose skin.[1] A study conducted on 40 women aged 40-65 found that copper peptides considerably increased collagen levels in cells and supported tissue growth over a period of eight weeks.
Copper peptides also serve as a cofactor of superoxide dismutase, an antioxidant enzyme in the skin needed for protection from free radical damage.[2] They've been found effective in preventing oxidative stress, a process that speeds up skin aging and causes hyperpigmentation. Moreover, thanks to their antibacterial and anti-inflammatory properties, copper peptides can promote breakout healing and minimize scars look — just what acne-prone skin needs.
Hint: Vitamin C, retinol, and alpha-hydroxy acids may render copper peptides ineffective, so don't use them on the same day.
The best copper peptide serums
Without further ado, below are the best copper peptide serums. Pick your favorite and use it every day to support healthy skin aging.
---
Clinical Skin Polypeptide Firming Serum
When you pay for Clinical Skin Polypeptide Firming Serum, you pay for results. In addition to copper peptides, this serum loads three other peptides, plus four ceramides and cholesterol, all needed for firmer, elastic, and resilient skin. Plus, it packs the active form of vitamin C (ascorbic acid) to induce some more collagen production and defend against free radical damage. The rich yet lightweight formula feels intensely hydrating, leaves skin plump without feeling tacky, and skips fragrances and alcohol. Bonus: once you purchase this serum, you get a massage roller to help you add definition and tighten your skin.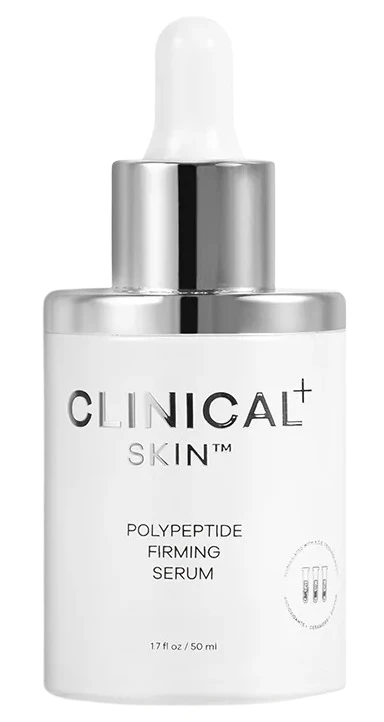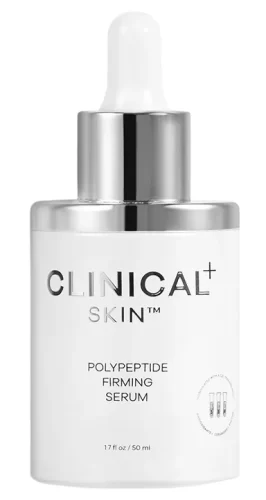 Read review: Clinical Skin PolyPeptide Firming Serum Review
---
The Ordinary Buffet + Copper Peptides Serum
This serum targets multiple signs of aging and is a great preventative and corrective product all skin types can use. In addition to 1% copper peptides, the formula loads Matrixyl (an anti-aging peptide), a probiotic complex, and a blend of amino acids to repair damaged skin and improve moisture retention. There are also two forms of hyaluronic acid to plump skin and support a vibrant appearance. The formula is lightweight and absorbs fast in the skin, leaving a healthy glow with no residue or tacky feeling. According to most reviewers, The Ordinary Buffet Serum delivers noticeable results in terms of firmness and evenness after four to five weeks.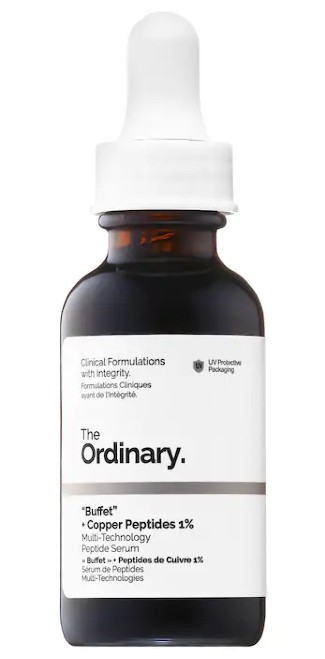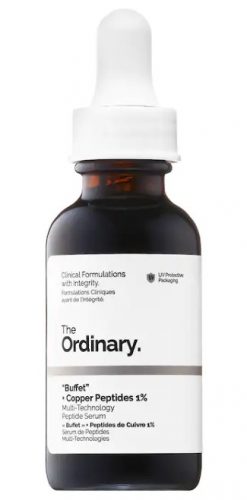 ---
Biossance Squalane + Copper Peptide Rapid Plumping Serum
This one is for those who want a top-rated copper peptide serum that's also clean, vegan, and sustainable. It has a kick-ass formula powered by a blend of humectants (glycerin, polyglutamic acid, hyaluronic acid, and panthenol) that attract water into the skin, plus squalane to lock moisture. The addition of collagen-supporting copper peptides, along with two other peptides, enhance the production of proteins needed for firm and elastic skin. The result? Bouncy, plump, and firm skin. Better still, everyone can use this serum.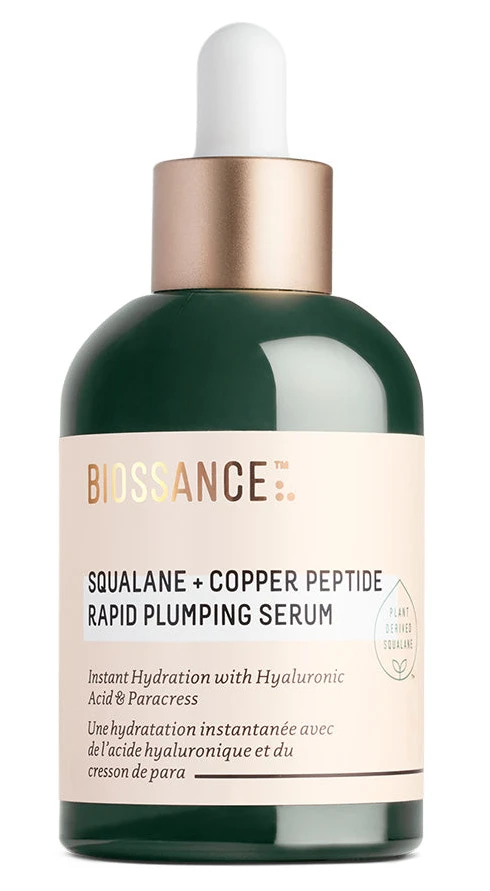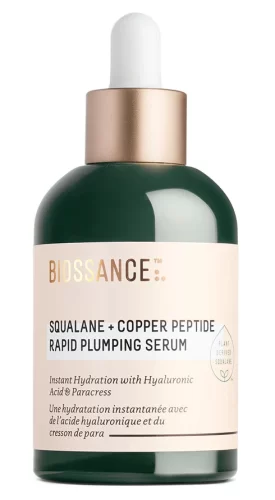 ---
Perricone MD Cold Plasma Plus Serum Concentrate
Perricone MD products are constantly on the rise, and this copper peptide serum concentrate is no exception. It may look like a moisturizer, but it actually is a lightweight, fast-absorbing serum concentrate that tackles the most visible aging signs. Copper peptide, helped by another three peptides, works hard to spur collagen growth and repair damaged skin, visibly smoothing and softening wrinkles. What's more, the formula loads a stable, oil-soluble form of vitamin C to brighten dark spots and defend against free radical damage. Most reviewers laud its ability to support a youthful and supple appearance, and we give it extra credit for being formulated sans fragrance or drying alcohol.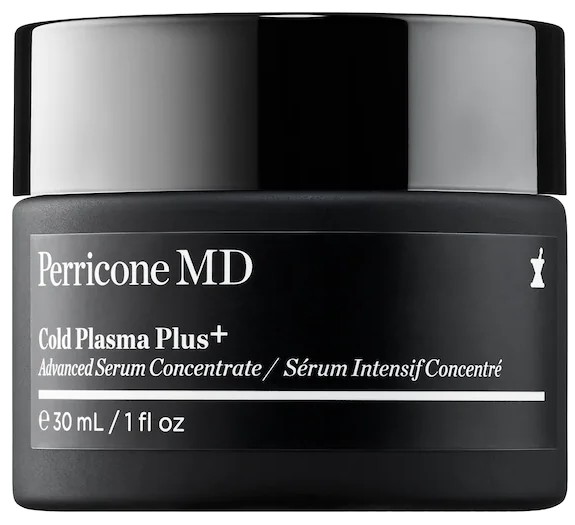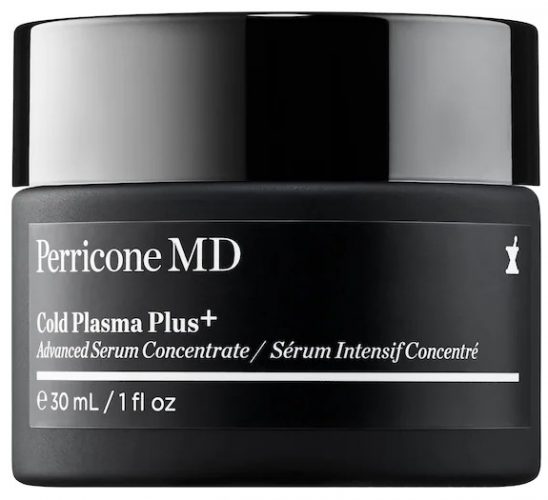 ---
Alpha-H Vitamin B Serum with Copper Tripeptide
Every morning support your skin with Alpha-H serum that's fortified with 5% niacinamide, hyaluronic acid, vitamin B, and copper tripeptide. All these tried-and-true actives work to hydrate, even tone, and minimize sun damage. Better still, this serum loads a good amount of antioxidants, including ferulic acid, sage, and gardenia florida extracts, to defend against external foes. The light texture absorbs quickly into the skin, and most people observe their tone improving after the first weeks of daily use.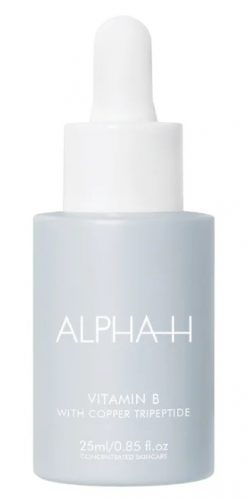 ---
Medik8 Copper PCA Peptides Serum
Who doesn't want a strong antioxidant defense system to keep photoaging at bay? We all want it, and Medik8 Copper PCA Peptides Serum gives just that and then some. It's powered by copper peptides to offset free radicals, plus a medley of peptides to induce collagen production and niacinamide to hydrate and brighten. Alongside its age-defying properties, it helps to boost a radiant complexion by adding more antioxidants to the formula — superoxide dismutase, Centella asiatica, and vitamin E. Now you know why this is one of the best copper peptide-infused serums out there.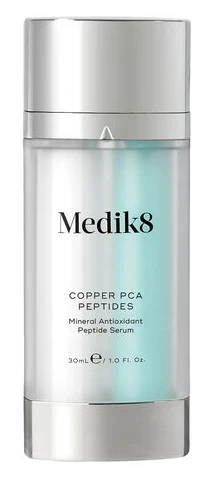 ---
Purito DermHA-3 Serum
If loss of firmness and elasticity bothers you, this serum has your back. Not only because it's infused with copper peptides, but it also contains three molecular sizes of hyaluronic acid for instant and long-term hydration and plumpness. The lightweight yet rich texture sinks into the skin in a flash without ever feeling sticky and leaves your complexion luminous and radiant all day long. In other words, a K-beauty winner.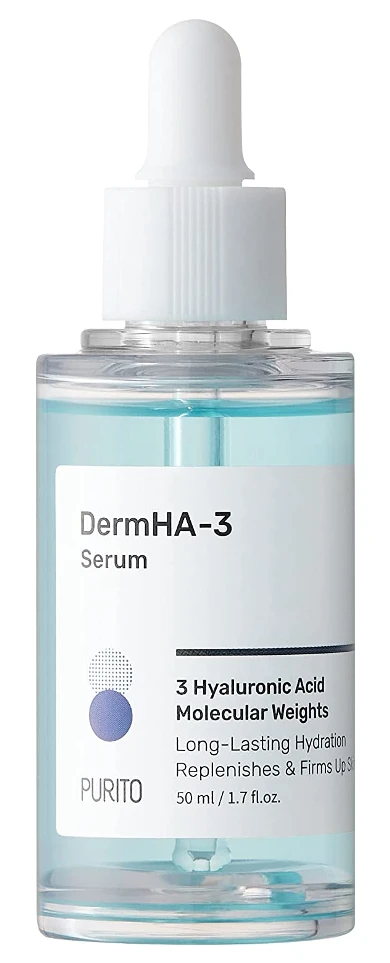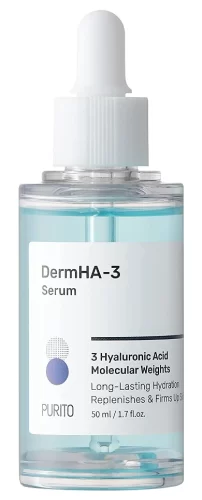 ---
Drunk Elephant Shaba Complex Eye Serum
Drunk Elephant has a great copper peptide serum for the eye area! It's a milky satiny serum made to help you combat fine lines, dryness, and loss of firmness. It does it all supported by copper peptides, copper lysinate, niacinamide, hyaluronic acid, vitamins C and E, plus black tea ferment, all known to improve aging signs. The formula is clean, lacking fragrances or alcohol, making it a treat for the thin skin around the eyes.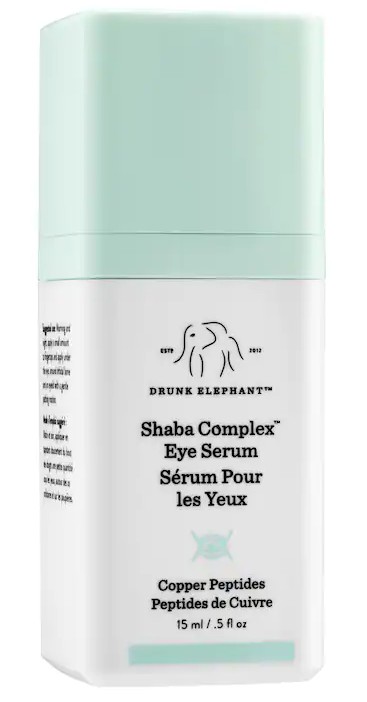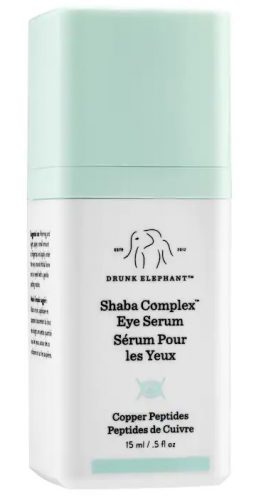 ---
Neova SmartSkincare Power Defense
Neova SmartSkincare Power Defense packs a Copper Peptide Complex® among the first ingredients, so you can bet it works hard to repair skin and boost collagen. Aside from this, the formula is filled with more peptides to boost resilient skin, sodium hyaluronate to hydrate, vitamin E to soften, and retinyl palmitate to encourage cell renewal. Use it regularly and say hello to firmer, bouncier skin.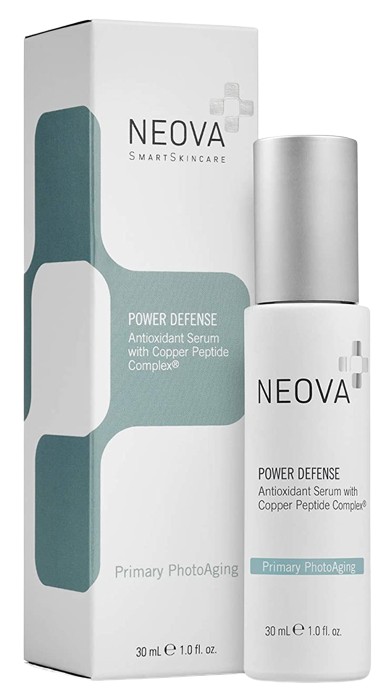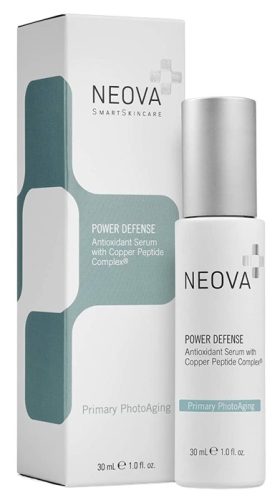 ---
iS CLINICAL Super Serum Advance
This one is a wrinkle-fighter that combines 15% L-ascorbic acid (active form of vitamin C) with copper tripeptide to deliver a high dose of reparative and brightening benefits. The powerful serum also has alpha-arbutin and mushroom extract to correct dark spots, plus Centella asiatica to encourage skin healing. All in all, iS Clinical Super Serum has the perfect combination of ingredients to deliver protection against environmental aggressors and improve the overall skin texture. Aka, if you want to reduce scarring and stretch marks, this serum is for you.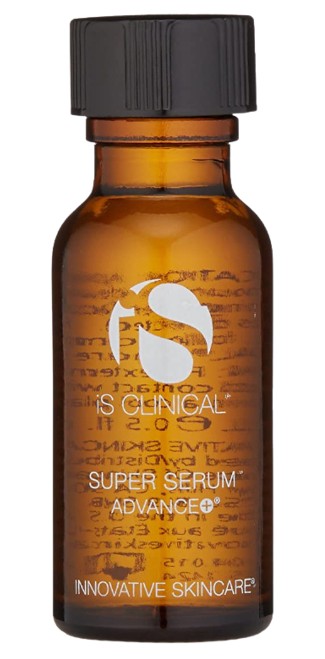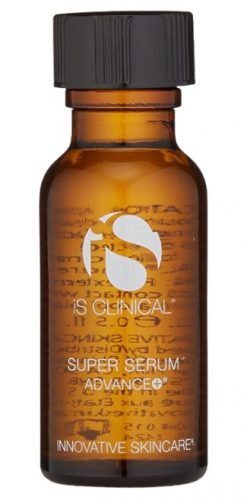 ---
Skin Perfection Copper Peptide Serum Booster
If you have a favorite skincare product you wish contained copper peptide, now you can make your wish true. This booster supercharges your serum, moisturizer, or mask by adding extra copper peptides for more benefits. Just pour 1% into your favorite product to boost its anti-aging and antioxidant effects, and you're ready to go!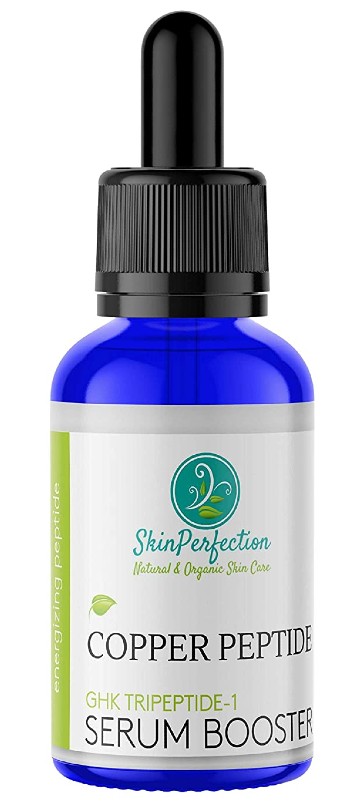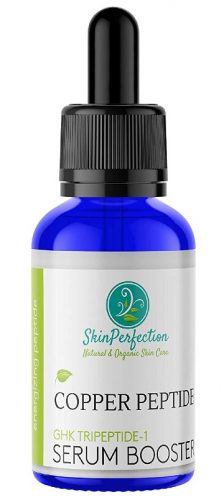 ---
The bottom line
Copper peptides are here to stay. While they haven't yet reached the fame of retinol and vitamin C on the skincare scene, they certainly have something to offer that any skin would love to drink up. Anti-aging, repairing, and protecting, copper peptides check them all, which is why your skin will thank you for slathering one of these serums on it.
---
References:
Pickart L, Vasquez-Soltero JM, Margolina A. GHK Peptide as a Natural Modulator of Multiple Cellular Pathways in Skin Regeneration. Biomed Res Int. 2015.
Travis Badenhorst, Darren Svirskis, Mervyn Merrilees, Liane Bolke and Zimei Wu, School of Pharmacy, Faculty of Medical and Health Sciences, New Zealand, Effects of GHK-Cu on MMP and TIMP Expression, Collagen and Elastin Production, and Facial Wrinkle Parameters, Published date: December 2016.