If you have hard times finding a chemical peel your sensitive skin can tolerate, this post will help you a lot. Not only does it reveal the best products that deliver skin-transforming results without irritations, but it also comes with practical tips that'll help you control the sensitivities caused by chemical peels. That being said, before going into the best chemical peels for sensitive skin, let's first talk about the tips.
How to use chemical peels on sensitive skin
It turns out that a gentle peeling solution in the right concentration and used at the right time is the perfect recipe for problematic skin.
Choose a peeling solution that suits your sensitive skin
By gentle solutions, I mean lactic acid, malic acid, and polyhydroxy acids, which work by exfoliating dead skin cells in a delicate fashion. They aren't that aggressive compared to other harsh peels such as glycolic acid, hence they're less likely to cause irritations. Of course, you can use any other peeling solution as long as it is at a concentration your skin can tolerate.
Start with baby steps
How often you use the chemical peel is as important as avoiding over-exfoliation and compromising the skin.
If you are a chemical peel-virgin is better to start off with a low-concentrated product (less than 10%) with every two weeks applications. Slowly increase the frequency and concentration as your skin builds tolerance. You should also use the chemical peel at night since the peel increases the skin's photosensitivity, but also because the skin recovers most while you sleep.
Remember that although it's normal to feel a slight tingling sensation while the peel is on your skin, if anything becomes too uncomfortable, rinse off the solution with cold water, as the water acts as a neutralizer deactivating the solution.
Use skin-replenishing products after the treatment
How your sensitive skin responds to chemical peels doesn't entirely depend on the peeling solution, concentration, and frequency, but your aftercare routine too. What you do and the products you apply after the chemical peel are crucial for reducing the chances of side effects.
Chemical peels work by causing controlled damage in the skin to trigger the skin-renewing process, which leads to a thicker complexion with enhanced firmness and radiance. However, this also results in weakening the skin's protective barrier. The moment the skin can't recover on its own is where you start experiencing dryness, itchiness, and redness.
As such, by applying a cell-regenerating moisturizer reach in replenishing ingredients (think hyaluronic acid, fatty acids, peptides, ceramides) that aim to consolidate the skin barrier after the chemical peel, you'll have much more chances to offset irritations. The more you moisturize, the faster your skin recovers. P.S.: We found these moisturizers to be the best to use after a chemical peel.
Besides, since chemical peels have the instant effect of increasing the skin's power absorption, you really want to avoid harsh actives such as retinol, vitamin C, or other exfoliants after the chemical peel. Opt for hydrating and soothing serums instead that target the skin's barrier healing process — like the ones right over here.
The best chemical peels for sensitive skin
Without further ado, these are the best chemical peels for sensitive skin that can help you make your way to a glowing and healthy complexion without worrying about irritations.
---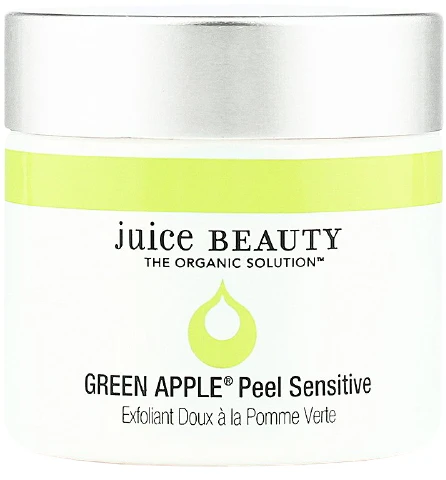 Juice Beauty Green Apple Peel Sensitive
I've been recommending Juice Beauty Green Apple Peel Sensitive a lot lately, and that's because I'm honestly in love with its formula.
The best part is that it features organic apple juice as a base (hence the name), a rich source of malic acid — the gentlest of alpha-hydroxy acids (AHAs) often recommended as a peel for easily reactive skin. It's also made with glycolic and lactic acids that support cell turnover to reveal the radiant complexion of your dreams. Don't worry. This cocktail of acids is tolerable for sensitive skin as the peel is packed with antioxidants vitamins C and E, plus aloe juice and glycerin to calm and hydrate the skin.
---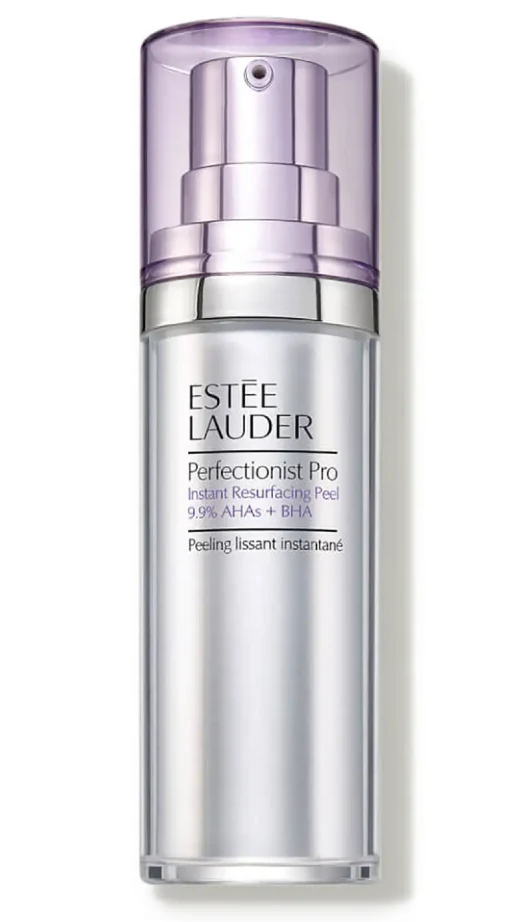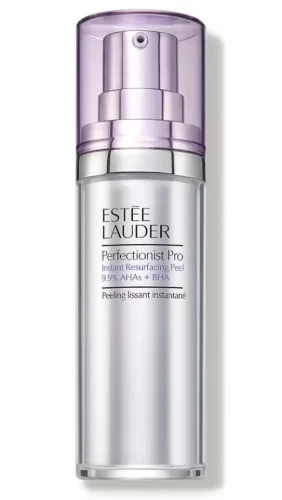 Estée Lauder Perfectionist Pro Peel
Estée Lauder Perfectionist Pro Peel definitely got the right formula for a gentle but still potent chemical peel all skin types can use, including sensitive and acne-prone ones. It combines 9.9% AHAs (glycolic, tartaric, and citric acids) with salicylic acid to eliminate dead cells buildup and accelerate skin renewal so that the lack of radiance and firmness become things of the past. This killer combo is just as good at improving the appearance of uneven skin tone, discolorations, and acne scars.
In addition, the peel uses sodium hyaluronate, algae extract, and squalane for hydrating and revitalizing the skin, while resveratrol and vitamin E add extra antioxidant protection. It actually leaves the skin soft and plumped, not irritated and dried.
---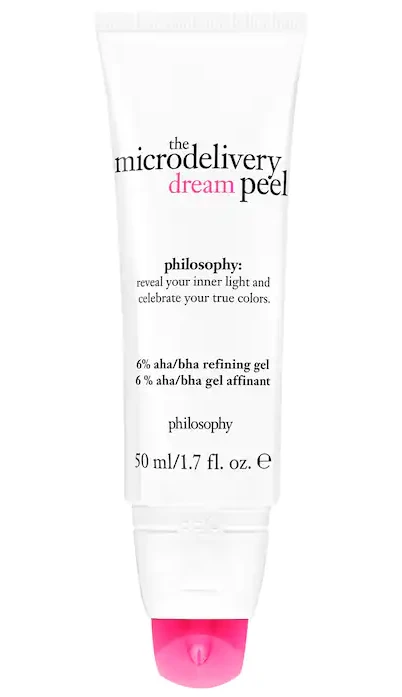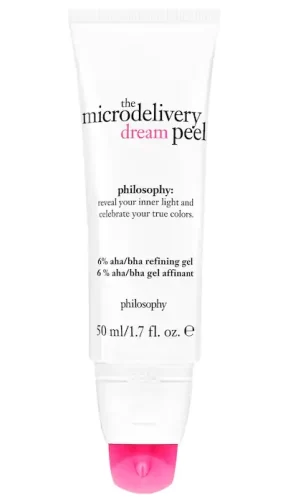 Philosophy The Microdelivery Dream Peel
This light, fresh-scented, leave-on peel is the perfect balance between exfoliation and replenishing. It works overnight to reduce dark spots and wrinkles look, refine skin texture, and shrink large pores by fueling your skin with a blend of glycolic, lactic, and salicylic acids. And since it's infused with plenty of restorative ingredients such as niacinamide, sodium hyaluronate, Centella asiatica, and hyaluronic acid, it's unlikely to disturb the skin. Although it burns a little bit at first, it's definitely worth it because it makes you wake up to velvety, renewed skin.
---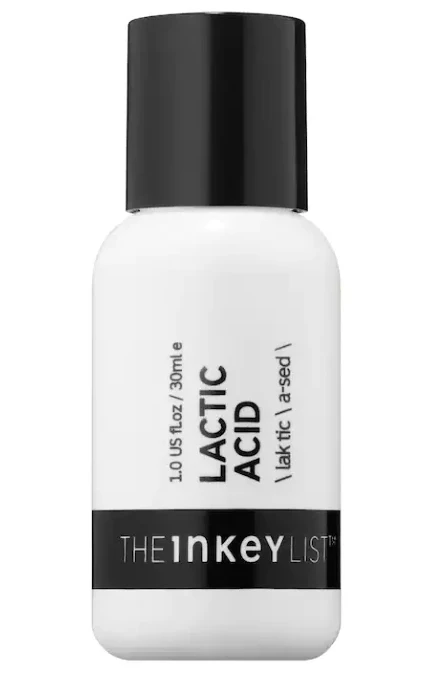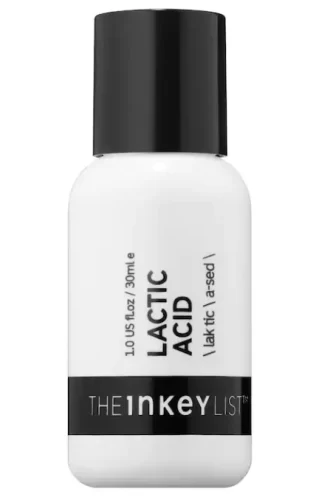 The Inkey List 10% Lactic Acid
One of the best chemical peels for sensitive skin comes from The Inkey List, powered by 10% lactic acid to deliver an intense yet delicate exfoliation without causing too much trouble to the skin. In fact, lactic acid is often touted as the gold-standard peel for problematic, sensitive skin because it both exfoliates and hydrates, so it won't dry out nor burn your complexion. This peel also contains hyaluronic acid and glycerin for extra hydration and fewer irritation risks
---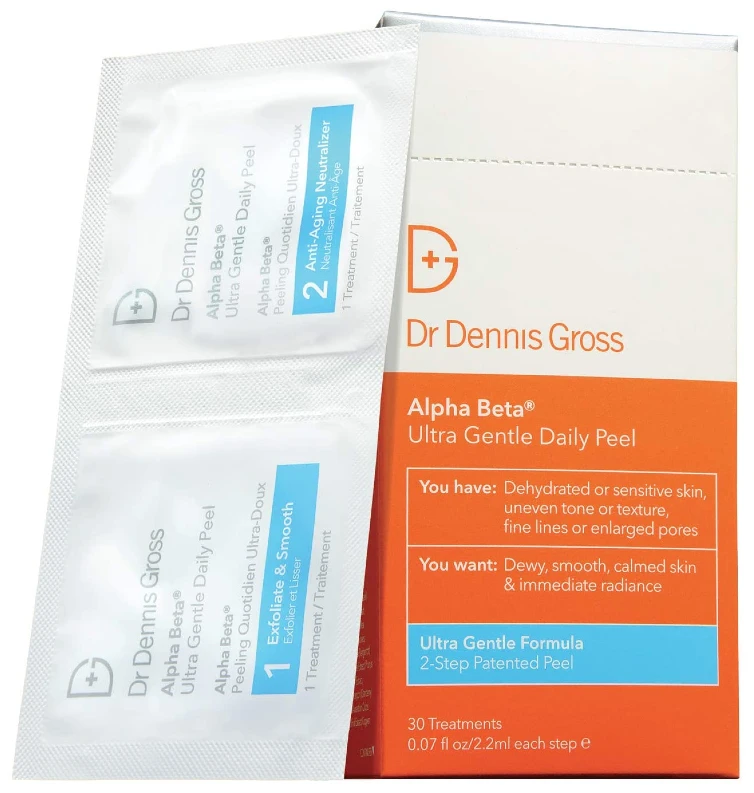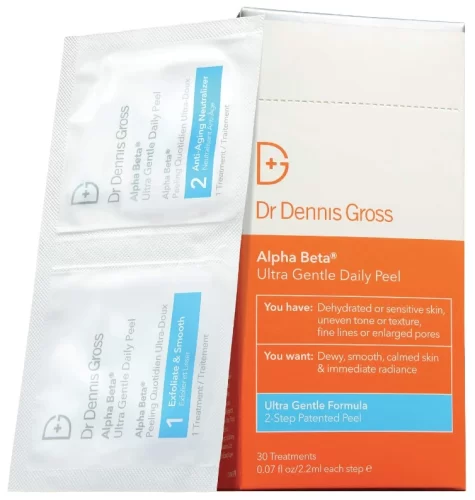 Dr. Dennis Gross Ultra Gentle Daily Peel for Sensitive Skin
This fast-acting two-step chemical peel was formulated with sensitive skin in mind. The pads in the first step are soaked in an ultra-gentle solution of lactic and mandelic acids mixed with skin-soothers such as green tea and copper peptide to leave behind a smooth, glowing skin without causing damage. If you have never heard of copper peptide, it's actually a great ingredient to have in your peel since it helps prevent collagen loss, promotes wound healing, and supports tissue repair.
On the other hand, the second step delivers anti-aging benefits while acting as a neutralizer for the peel. The calming effects are given by sodium hyaluronate, Centella asiatica (cica), adenosine, and colloidal oatmeal, which all are real goodies for irritated, inflamed, or eczema-prone skin. Softly swiping it across your complexion and letting it dry for about two minutes will result in more radiant, perfectly even, and smooth skin with less visible wrinkles and fine lines.
---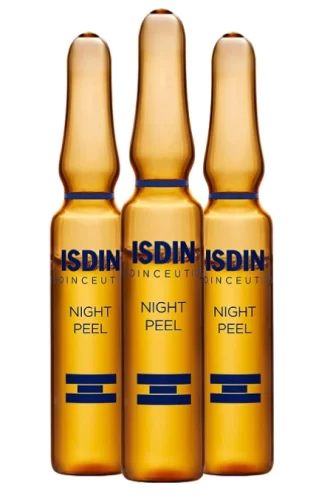 Isdinceutics Night Peel
Even though this formula contains ingredients like glycolic acid and a complex of acids (malic and tartaric) to fight dullness and aging marks, it's gentle enough to use daily and suitable for all skin types, which is a bit atypical among chemical peels. That's thanks to the plant-derived complex containing saccharide Isomerate, a natural moisturizer that works as a humectant (water-binding agent) and skin replenisher. Shake it, open it and apply it before sleep to start on your path to clearer, robust and rejuvenated skin.
---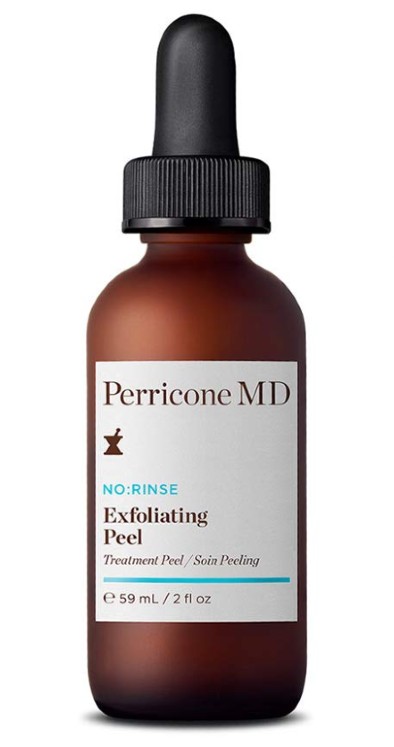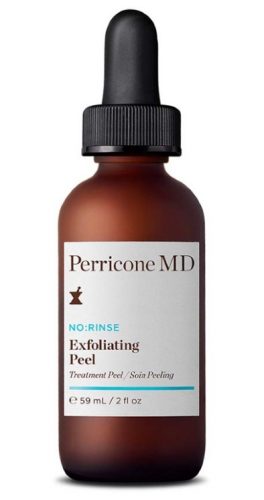 Perricone MD No Rinse Exfoliating Peel
Consider Perricone MD No Rinse Peel if your skin is super sensitive or can't tolerate other exfoliants. It's a leave-on daily peel, non-irritating, that gently exfoliates the skin, smooths texture, and enhances radiance thanks to gluconolactone. If you are not familiar with it, gluconolactone is a polyhydroxy acid (PHA) known as the next-generation of acids that deliver both exfoliating and moisturizing benefits. The big deal about polyhydroxy acids is that even the most sensitive skin can tolerate them, yet they are serious skin changers with potent renewing power.
P.S: There's also plenty of hyaluronic acid, urea, and aloe vera in this peel all great for hydrating the skin and counteracting irritations.
---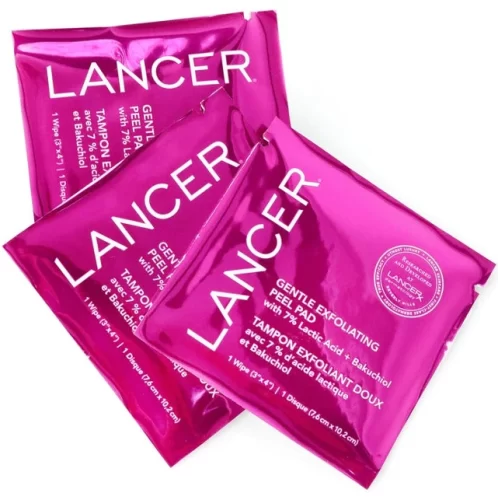 Lancer Gentle Exfoliating Peel Pads
Imagine Lancer Gentle Exfoliating Peel Pads as a cell turnover-booster on steroids that's acting gently on the skin. Though these pads are soft thanks to betaine, niacinamide, and oatmeal, they're soaked with a 7% lactic acid solution to wipe out all dead cells from the skin's surface. Moreover, the peel is packed with papaya fruit extract to support lactic acid in promoting cell turnover and bakuchiol (a natural retinol alternative) to minimize the look of fine lines and wrinkles. Exfoliators, hydrators, anti-irritants, it has them all — no wonder it's one of the best chemical peels for sensitive skin.
---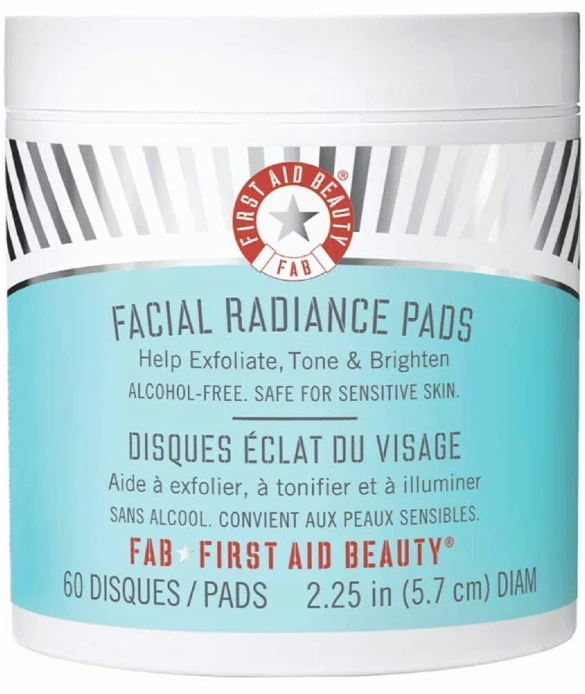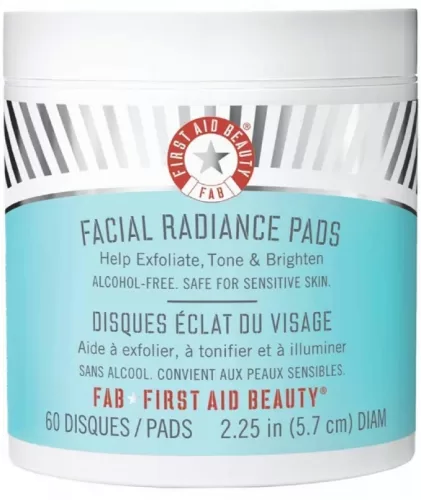 First Aid Beauty Facial Radiance Pads
First Aid Beauty Facial Radiance is another chemical peel gentle for sensitive skin, and without question, a cult favorite. The ingredient list is at least promising: with glycolic and lactic acids fighting rough skin, dullness, and uneven skin tone, while hyaluronic acid, aloe vera, and green tea maintain moisture and relieve stressed skin. There's also lemon peel, a natural brightener that fades dark spots and helps improve skin tone. Simply put, the formula is effective, clean, fragrance-free, and it lives up to all expectations. Skin looks revitalized, softer, brighter, and healthier using First Aid Beauty Facial Radiance.
---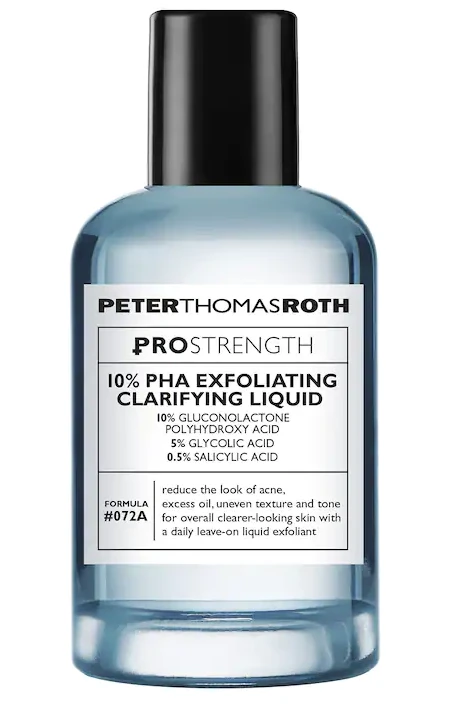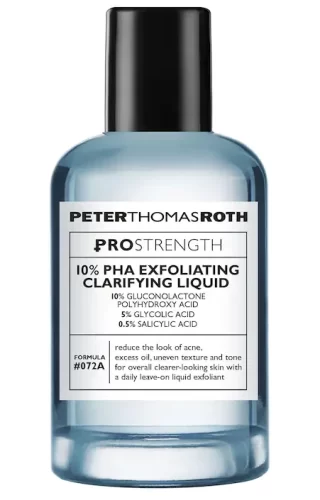 Peter Thomas Roth PRO Strength 10% PHA Exfoliating Liquid
Combining 10% gluconolactone (the PHA I mentioned earlier, possessing gentle yet powerful exfoliating power) with 5% glycolic acid and 0.5% salicylic acid, Peter Thomas Roth promises to leave the skin smooth, refined, and firmed. It's not irritating while it delivers transformative results, making it one of the best chemical peels for sensitive skin out there.
---