Because at maturity skin tends to be more dehydrated and wrinkled, hydrating and lightweight concealers that don't settle into fine lines or crease is where we're at. Simply put, you need a concealer that not only hides but infuses your skin with benefits from hydrating and repairing ingredients. Ideally, it should also add an extra dose of protection from free radicals with antioxidants. The world of concealers is vast, so we handpicked some of the best concealers that work great for mature skin while caring for it, are long-lasting, never crease, and wake your face like a big cup of coffee in the early morning.
How to choose a concealer that's good for your mature skin
First of all, look for liquid or creamy formulas, as they blend easier and moisturize more intensely, which is exactly what mature skin needs: rich moisture. Liquid formulas also reflect light better, a boon for drawing attention from dark circles.
A good concealer for mature skin should feel light yet must cover dark circles and correct spots without making fine lines and crow's feet more noticeable. Also, look out for ingredients like hyaluronic acid, peptides, ceramides, squalane, and vitamin C because they help seal moisture and protect the skin. If you're struggling with puffiness, consider a concealer made with green tea or caffeine, as they're great at helping shrink blood vessels and reduce puffy eyes. For age spots, discoloration, or uneven skin tone, look for additional coverage or color-correcting properties.
What shade you pick also plays an essential role. The golden rule for mature skin is to get a slightly paler shade—one or two shades lighter than your natural skin tone will do.
Our top picks
Whether you wear a full-face or a no-makeup makeup look, these concealers are key to achieving a flawless complexion and covering up imperfections like dark circles and age spots without flaking.
---
Kosas Revealer Super Creamy + Brightening Concealer
This concealer is a cult favorite for a few reasons. As the name suggests, it is super creamy, so you can rely on it to moisturize the skin and act like an eye cream. What makes it the go-to for people with mature skin is the addition of peptides, squalane, and algae that provide moisture-sealing benefits and make the eye area appear plumper. In terms of coverage, Kosas's concealer camouflages dark circles, sun spots, and acne marks without congesting the pores or feeling heavy.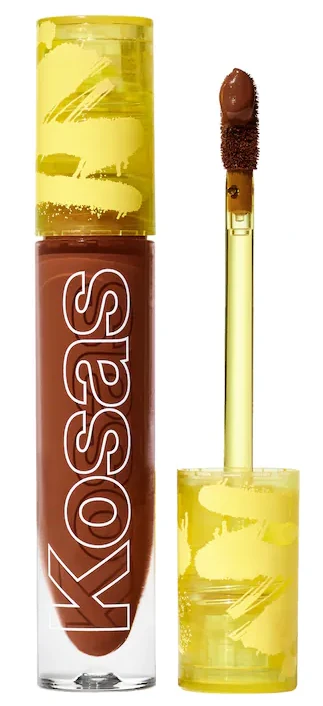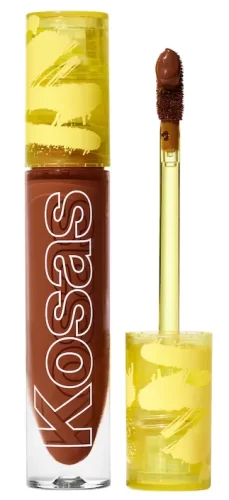 ---
Urban Decay Stay Naked Correcting Concealer
Praised by folks with mature skin, this concealer covers dark circles, blemishes, and dark spots left by the sun with just a swipe. The formula includes green tea to minimize puffiness, hyaluronic acid to hydrate, vitamins C and E to protect from free radicals, and two types of peptides to help minimize crow's feet. Although it has a lightweight texture, the hyperpigmented and super-creamy formula covers and moisturizes deeply without creasing, caking, or settling into fine lines. It's available in 25 shades with various mastertones and undertones, and the online Shade finder tool makes it easy to find your perfect match in no time.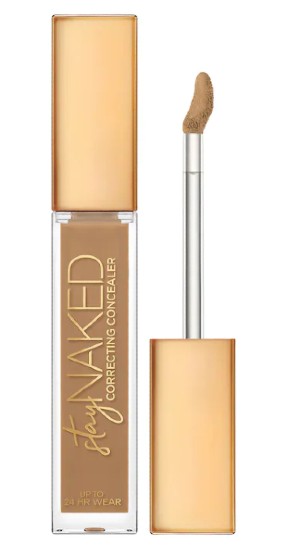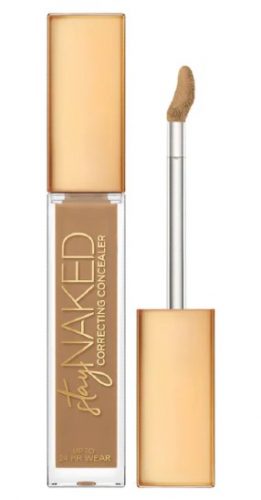 ---
Maybelline Instant Age Rewind Eraser Concealer
At just $10 a tube, this do-it-all formula conceals, hydrates, and corrects while it ensures full crease-free coverage. Plus, the sponge-tip applicator makes it super easy to use—just apply, click, cover, and you're ready to go. Its incredible staying power (up to 12 hours of wear, according to the brand) means you won't have to touch up in the middle of the day. More than 175,000 gave this concealer 5-star reviews, so you know it lives up to the hype.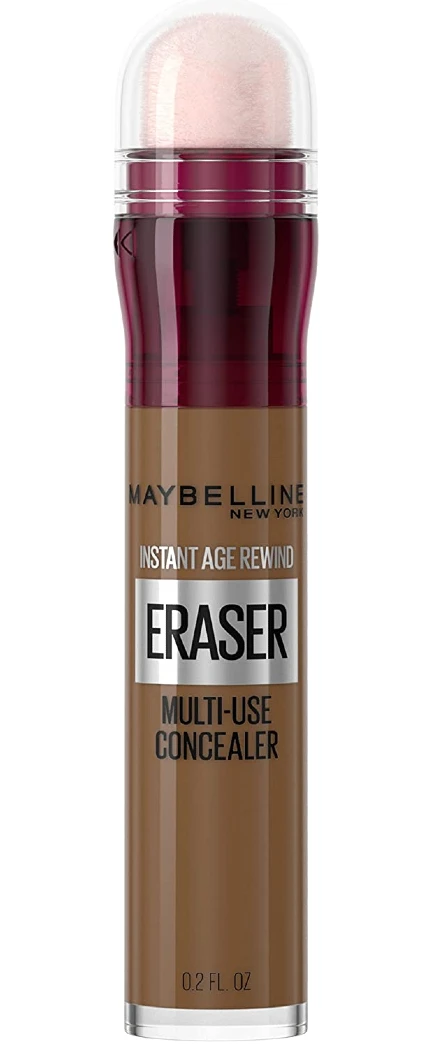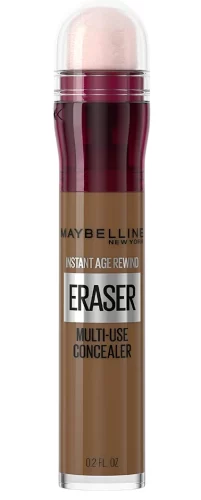 ---
100% Pure Fruit Pigmented Concealer
This is the best concealer for those who want only nature-derived ingredients near their eyes. It delivers rich pigments that ensure medium coverage, rescuing you from pesky dark circles, and has a silky texture and a satin finish that looks and feels like your second skin. Because it's made on a squalane base, it is intensely moisturizing and softening, and it's loaded with black tea and coffee to shrink blood vessels and minimize eye bags and puffiness.


---
Estée Lauder Flawless Wear Concealer
If you want your concealer to resist throughout the day without the need for touch-ups, this is the one to grab. It's a champ at covering thanks to its high-coverage formula and blurring effect, and the matte finish promises to leave you with a barely-there look. We give it extra credit for being infused with minerals, emollients, and hyaluronic acid, which, in addition to making it blend easily, conditions and softens the thin skin around the eyes. It's fragrance-free and available in 22 true-to-skin shades.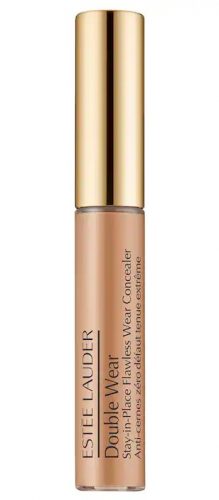 ---
Clé de Peau Beauté Concealer
Many makeup artists swear by Clé de Peau Beauté Concealer Stick for covering nicely and blending seamlessly, and we consider it a solid option for mature skin for quite a few reasons. First, it has impeccable staying power and a creamy texture that effectively adheres to the skin and leaves a natural, airbrushed look. Secondly, it's packed with hyaluronic acid and argan oil to increase moisture, chestnut extract to defend against oxidation, and zingiber to soothe and minimize dark circles. Lastly, this concealer stick diffuses light and creates a more luminous eye area while giving some sun protection.


---
PÜR 4-in-1 Sculpting Concealer
This is a clean, skincare-infused concealer that fits mature skin like a glove because it's hydrating and revitalizing. It ensures medium to full yet never cakey coverage, and it effectively brightens the tired eye area and minimizes puffy eyes with green tea, caffeine, and ginseng. The feeling is lightweight with a second-skin natural finish, and it comes in 16 shades, from deep dark to fair light. We also like that it layers easily and stays put throughout the day, and it doesn't have the thickness of most concealers.


---
Make Up For Ever Full Cover Concealer
Check this one if you want intense full coverage and a matte finish. It's great at concealing the most extreme flaws, such as dark circles, hyperpigmentation, and scars. Plus, it's waterproof and long-lasting, holding on even under extreme weather conditions due to its stable formula and rich pigments. This one right here will obliterate your dark circles in seconds with just a drop, trust us.

---
Sisley Phyto Cernes Eclat Eye Concealer
Sisley Phyto Cernes Eclat is expensive, but it doubles as skincare, so it might be worth the splurge if you wear it daily. Formulated with extracts of red vine leaves, arnica, and ginkgo biloba, this concealer helps minimize fatigue signs, smoothening crow's feet, while caffeine, soy peptide, and horsetail extracts help reduce under-eye bags and give antioxidant protection. The creamy formula covers well, never looks cakey, and stays put, masking dark circles all day long. You'll also love the metal massage tip that creates an immediate cooling effect and the included brush that allows for fast and effortless application.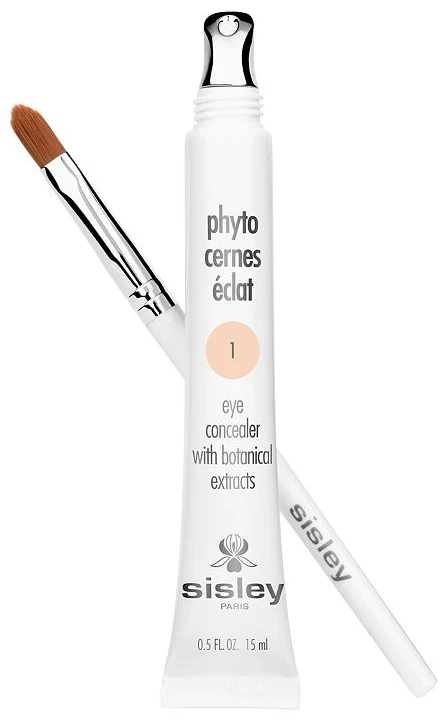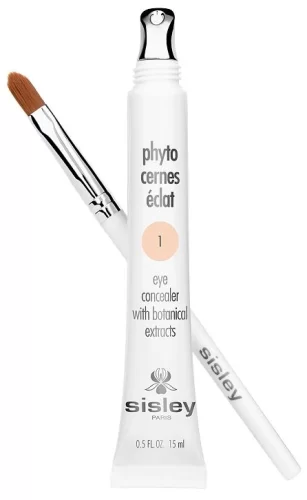 ---
How to apply concealer
Having a hydrated canvas is essential for those with mature skin because it makes the skin appear plumper, smoother, and with less noticeable crow's feet while helping the concealer adhere better to the skin. So, gently apply your anti-wrinkle eye cream, let it absorb for a few minutes, then follow up with concealer. If you're also using foundation, this goes before concealer in a thin, light layer. 
When you apply concealer, always start with a tiny amount, and tap gently across the eye area using your ring finger. If you strive for full coverage, apply your concealer in multiple layers to avoid a cakey look. It may take a bit longer, but a natural, radiant finish is worth it. Using too much product at once can make eye wrinkles appear more prominent and also gives a heavy feeling and an unnatural look.