The importance of exfoliating your complexion cannot be overstated, regardless of whether you are a skincare minimalist or a devotee of a 10-step routine. By using exfoliants, you are encouraging your skin to shed its dead cell buildup, which in turn creates space for new, healthier cells to grow. The benefits of this are far-reaching, resulting in an evener skin tone, less visible fine lines, diminished hyperpigmentation, fewer pimples, and an overall healthy glow.
Now, who better to turn to for advice on achieving glass-like, flawless, and illuminated skin than those who have elevated it to an art form? K-beauty has taken the beauty world by storm, setting a new standard for effective skincare and powerful exfoliation by creating products that are impossible not to love. Today, we will be focusing on the best Korean exfoliators that will help you achieve bright, infallible skin over time, meeting your stringent pinnacle in terms of formula, texture, and effectiveness.
What type of exfoliator is best for you?
There is a range of steps you can take to exfoliate your skin, and it all starts with a good exfoliating cleanser or toner. These products are designed to gently remove dead cells and unclog pores, leaving your skin looking smoother and more radiant. They're great for surface-level exfoliation and are most suitable for newcomers or people with sensitive skin.
For something stronger, but still gentle, exfoliating masks are perfect. They're formulated with exfoliants like fruit enzymes and alpha hydroxy acids that work to remove the top layer of skin and purify pores without bothering the complexion. And the best part? Most of them are infused with nourishing and soothing ingredients and can be used once or twice a week as part of your regular skincare routine.
Finally, for those looking for a more intense exfoliation, a facial peel is the way to go. Peels are more concentrated and go deeper into the skin to trigger cell renewal and retexturize the surface.
In an effort to cater to everyone's different needs, we have carefully curated a selection of Korean exfoliators that vary in intensity. We understand that some may have sensitive skin or may be new to exfoliation, and for this reason, we have included gentler options. Additionally, for those who are accustomed to exfoliating and are seeking more intense products, we have also handpicked options that will meet their needs.
The best Korean exfoliators
---
1
Amore Pacific Enzyme Peel Cleansing Powder
If you'd like to try a chemical exfoliator but are just too scared, start here. This powder-to-foam cleanser is an ideal pick for sensitive and dry skin because it works gently to reveal a face that's smoother and more radiant without stripping moisture. Credit a combination of green tea probiotic-derived enzymes and corn starch that delicately lift impurities and unclog pores while hyaluronic acid and cotton extract soothe the skin. We also love the soft lather that comes up when you mix the powder with water, transforming the daunting task into a pampering experience.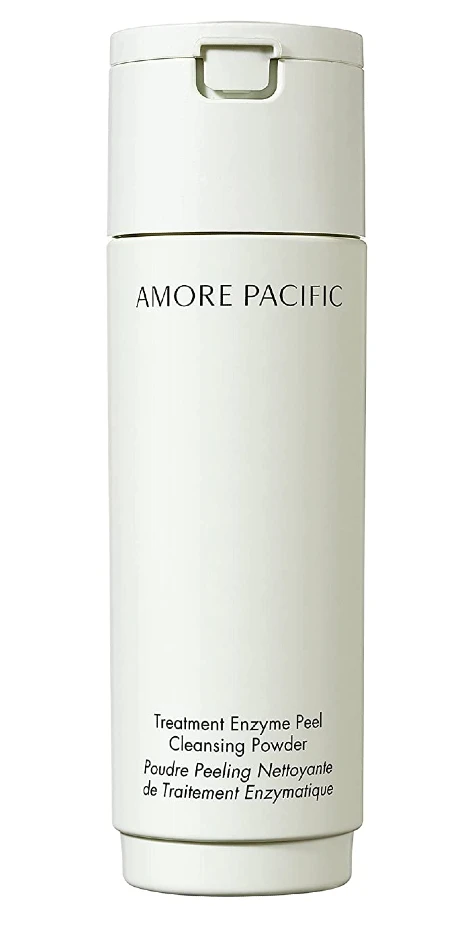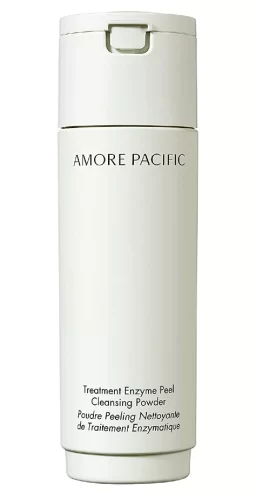 ---
2
Krave Beauty Kale-Lalu-y AHA Face Exfoliator
While exfoliating can potentially leave your skin feeling dry, this shouldn't discourage you from incorporating this essential step into your skincare routine. The key is to opt for an exfoliant with added calming ingredients—like Krave Beauty Kale-Lalu-y AHA Face Exfoliator. This exfoliating liquid uses 5.25% glycolic acid to unglue and dissolve dead skin, as well as kale, spinach, and parsley (hence the green color) to energize the skin and infuse it with vitamins. Soak a cotton pad with a few dabs of product and sweep across the face, avoiding the eye area and lips. No need to rinse.
While it's normal to experience a tingling sensation at first, it's essential to start slowly and gradually build use as needed. As an added bonus, this exfoliating liquid works on body parts, too; we all know bacne can be particularly vexing.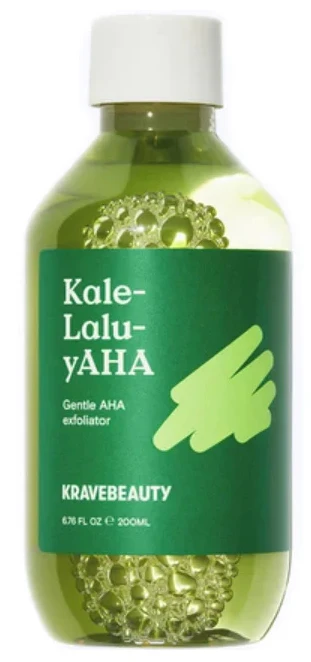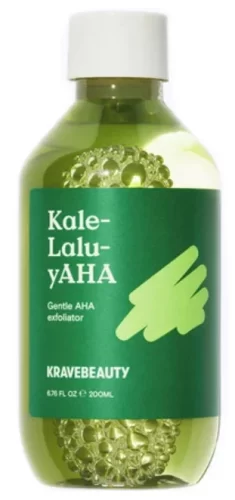 ---
3
Neogen Dermatology Bio Peel Gauze Peeling
For those seeking a quick and convenient method of exfoliation, nothing beats pads. With no need for water, simply swipe and you're good to go. These pads are pre-dosed with a blend of alpha-hydroxy acids (tartaric, glycolic, and lactic) that both fade dark spots and help soften fine lines and wrinkles. There are also a plethora of antioxidants from wine extract, grapeseed, and berries to reinforce the skin's defense against free radical damage. Plus, the lattice woven texture of the first gauze layer aids in gentle manual exfoliation that delicately removes dirt, impurities, and pollutants. Use two-three times a week, preferably in the evening, and apply sunscreen in the morning.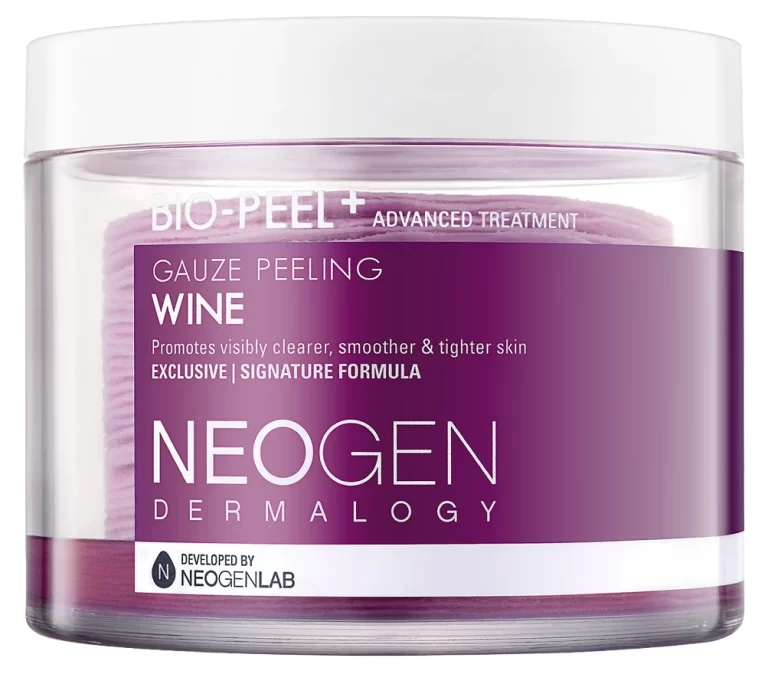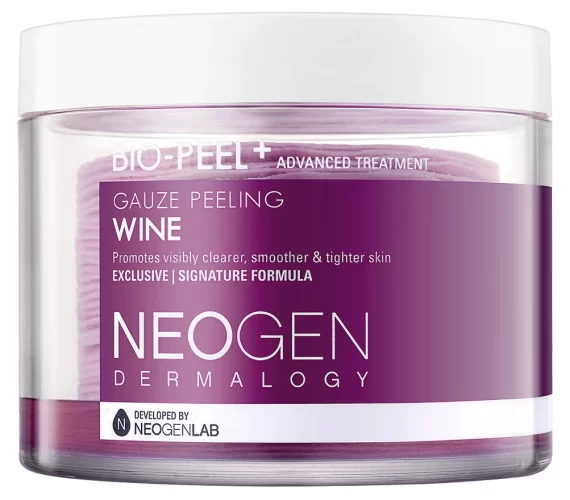 ---
4
Cosrx BHA Blackhead Power Liquid
This K-beauty staple is a game-changer exfoliant for acne-prone skin that struggle with excess oil, large pores, and blackheads. It uses 4% betaine salicylate (a mix of salicylic acid and betaine), which is as effective as 2% salicylic acid but more gentle and less drying. This means you can expect a serious level of exfoliation from it that removes even the most stubborn blackheads. The liquid toner is also made on a willow bark water base, so it provides regenerating and smoothing benefits, and contains niacinamide, hyaluronic acid, and panthenol to add moisture.
Because the product is specially formulated to have a pH of pH 4.85, it's extra effective without the risk of sensitivity. However, we suggest starting with 2-3 times a week use and gradually building up according to your skin condition.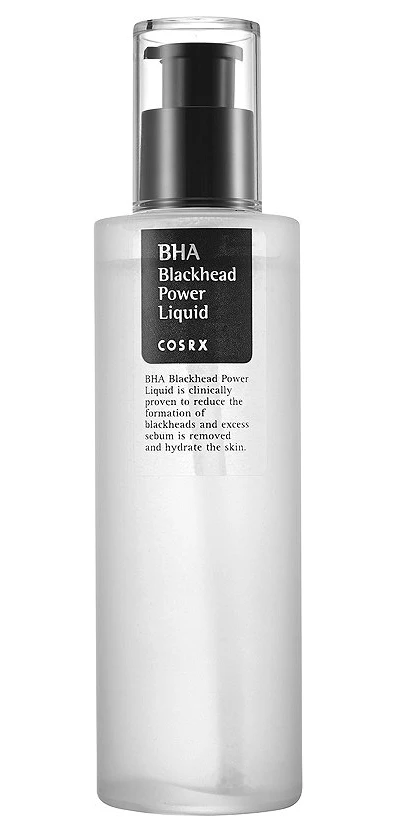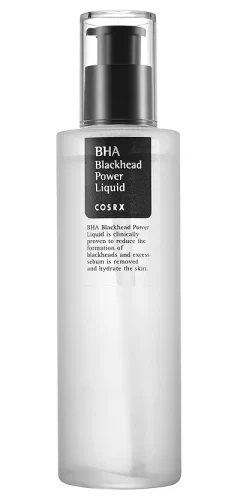 ---
5
Peach & Lily Super Reboot Resurfacing Mask
Helped by a blend of 10% glycolic acid, 0.5% salicylic acid, and blue agave (hence, the color), this face mask exfoliate, resurface, and retexturize your skin all at once. Meanwhile, the addition of hyaluronic acid, cica, aloe, and panthenol soothes possible redness and irritation, leaving your complexion radiant and glowy. Apply an even layer of the mask and leave it on for 20 minutes, then rinse off and apply moisturizer for extra nourishment. Repeat twice a week, and you'll enjoy velvety soft skin.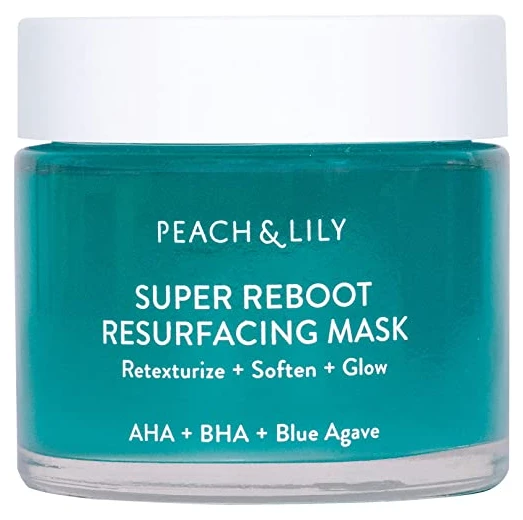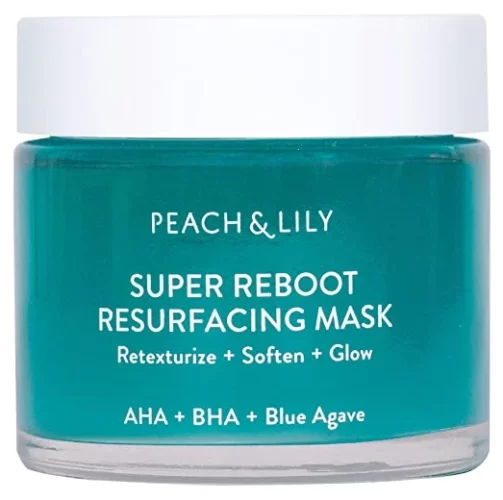 ---
6
Saturday Skin Rub-A-Dub Refining Peel Gel
Among exfoliants, enzymatic ones are the gentlest because they work on the skin's surface instead of going into the skin. Rub-A-Dub Refining Peel Gel uses enzymes from pineapple and papaya to delicately remove dead skin, excess oil, and debris, which is why it's ideal for problematic complexions. Additionally, the peeling gel loads a slew of botanical oils that make it glide effortlessly across the face, and seven types of peptides for restoring the skin's strength. Apply on cleansed and dry skin with gentle circular motions and rinse with warm water. Repeat twice weekly.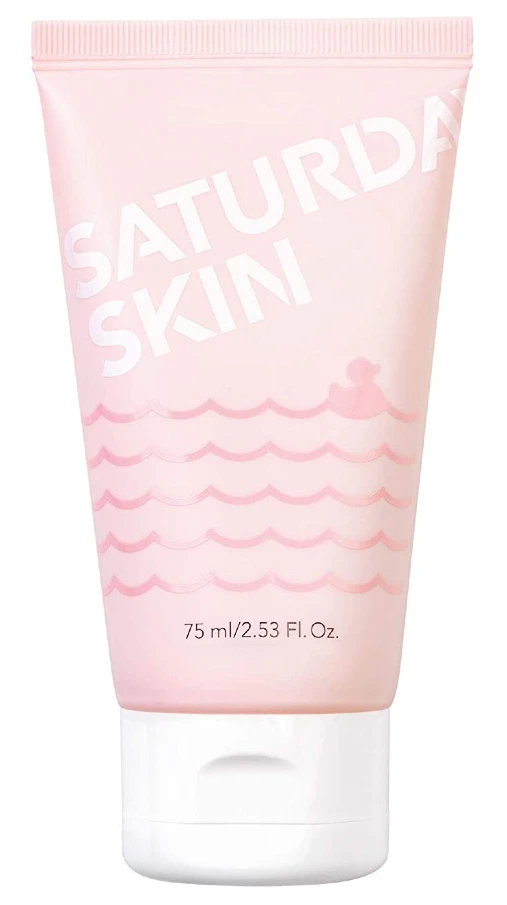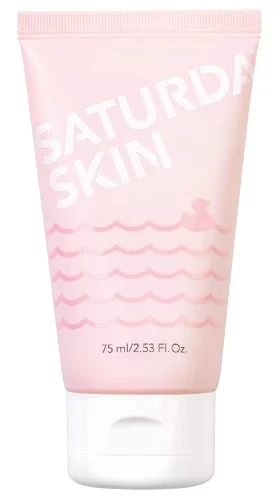 ---
7
Some By Mi Miracle Toner
For folks with sensitive and acne-prone skin, this toner does the job of exfoliating and detoxifying without side effects. Despite the potent formula enriched with three different types of exfoliants—AHAs, BHAs, and PHAs—that work on multiple layers to provide surface and deep cleansing, it does not bother the skin at all. Precisely, it's made with papaya enzyme, salicylic acid, and lactobionic acid, packing serious results when it comes to minimizing pore look, sloughing off dead cells, and brightening dark spots. Not just a one-trick pony, it's also spiked with green tea, sodium hyaluronate, allantoin, and adenosine to enhance moisture and hydration. Plus, the toner works at a 5.5 pH to minimize the risk of redness and irritation.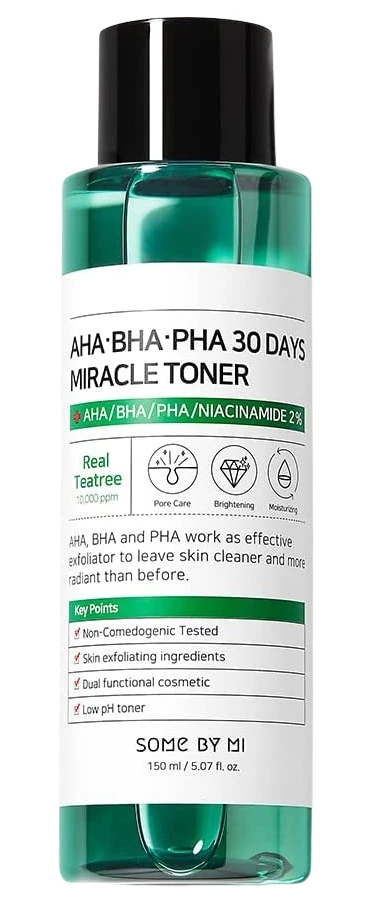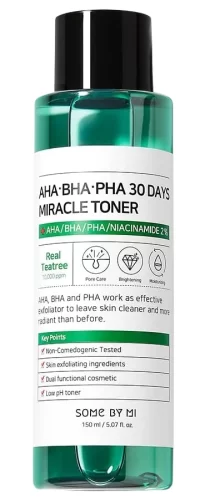 ---
8
Hanskin Pore Cleansing Oil
A little bit of Hanskin Pore Cleansing Oil—which is gentle enough that you can use it daily—goes a long way. Two of the AHAs that get the biggest hype (glycolic and lactic) meet in this sulfate-free formula to dissolve dead skin and grime and prevent pore clogging. It's the ideal first step for those who indulge in double cleansing: massage a small amount onto a dry face and add some warm water as makeup begins to melt to emulsify the oil and then remove it with a splash of tepid water. You'll also love the pump applicator that dispenses the right amount of product, mess-free.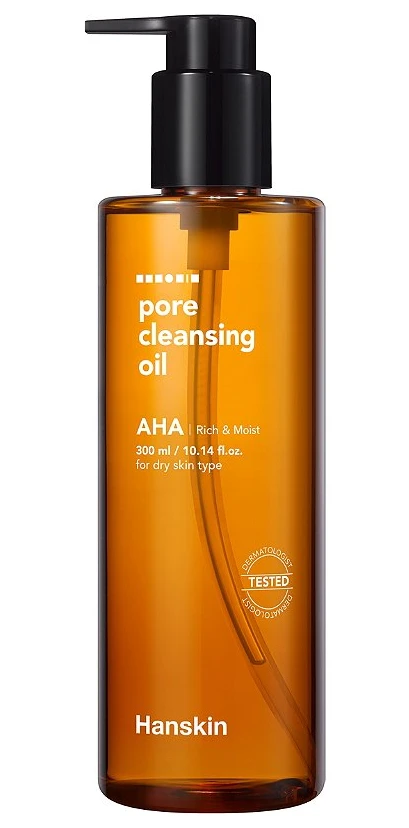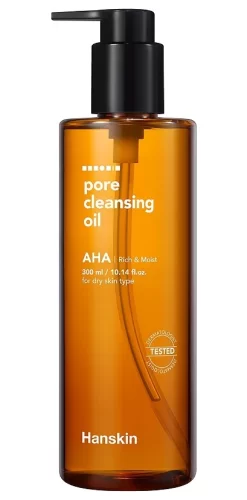 ---
9
Skinfood Black Sugar Wash-Off Face Mask
A great exfoliator doesn't have to cost the earth. Skinfood Black Sugar Wash-Off Face Mask is made with black sugar (sucrose) to gently buff away dull and dead cells, whilst macadamia seed oil and shea butter leave your complexion softer and smoother than ever. As an added bonus, the exfoliant mask smells amazing, besides being super effective at polishing and clearing skin. It costs no more than 11 bucks, and over 5,000 Amazon shoppers gave it 5-star reviews.