Do your goals currently revolve around finding the best lactic peels that are both gentle and effective? Then you're in the right spot as we've whittled down those lactic acid-infused peels that work hard to lift dead cells buildup, dirt, and pollution, without irritating skin. Peels containing lactic acid strike a balance between exfoliation and hydration and are usually the most sought-after by people with dry, sensitive skin, but not only. Before we go into our favs, let's break down the basics for starters.
How lactic acid peels improve your skin
Lactic acid is an alpha-hydroxy acid (AHAs) that works to remove dead cells from the skin's surface. It's often used in chemical peels in concentrations above 10% to boost cell turnover and enhance firmness and radiance.[1] Now buckle up because there are a lot of reasons to use lactic acid peels.
Firstly, compared to other chemical peels such as glycolic acid, lactic acid is gentler. The reason is its large molecular size which makes the acid sit on the epidermis — the top layer of the skin.[2] Secondly, lactic acid acts as a humectant, meaning it attracts water and binds it to the skin, increasing moisture retention. Finally, lactic acid promotes ceramides synthesis, mimicking the skin's own natural moisturizing systems and helping consolidate the protective barrier.[3]
Who can use lactic acid peels?
Anyone who struggles with dark spots, clogged pores, dullness, and uneven tone can use lactic acid peels. Due to its gentle and hydrating nature, lactic acid is especially preferred by chemical peels virgins, people with dry and sensitive skin, and those who cannot tolerate other harsh peels.
How to use lactic acid peels
First thing first, use the lactic acid peel in your PM routine since it can make your skin susceptible to sun damage.
Always apply the peel on cleansed and completely dry skin.
Layer the peel evenly across your face, avoiding the eye area.
Leave on for about ten minutes and rinse off. Notably, you may experience mild tingling, redness, and dryness. These reactions are expected at the beginning, as this is how chemical peels work: by causing controlled damage to the skin tissue in order to accelerate cell turnover.
After you rinse off the peel, smear on your face a hydrating serum which you can lock in with a moisturizer to calm the skin — like these ones.
In the morning, apply sunscreen.
The best lactic acid peels
Now that all your questions have been answered, scroll on to find the best lactic acid peels for a smooth, even, and radiant complexion.
---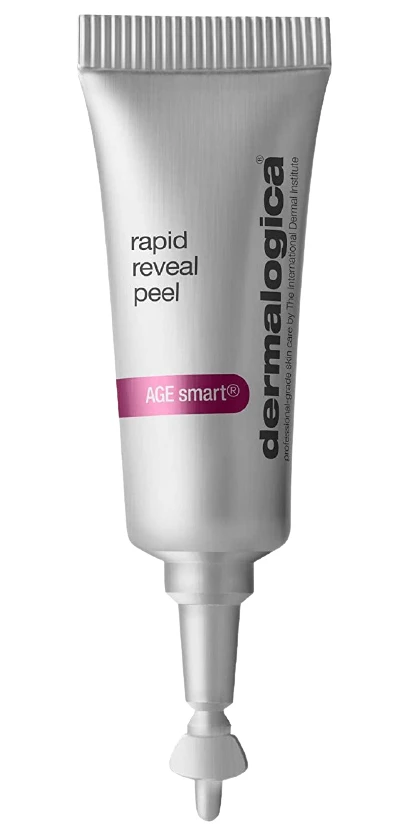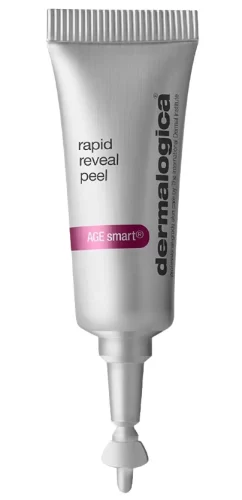 Dermalogica Rapid Reveal Peel
It turns out one of the best lactic acid peels for dry, problematic skin comes from Dermalogica. Here's where all its magic comes from. The peel uses 10% lactic acid to soften wrinkles and resurface skin texture without causing dryness. In plus, the formula packs antioxidant-rich pumpkin fruit enzymes to further support the skin's renewal process. Dermalogica Rapid Reveal Peel is also spiked with glycerin, botanical oils, and vitamin E to hydrate, nourish and soften — and it does it all in an instant.
---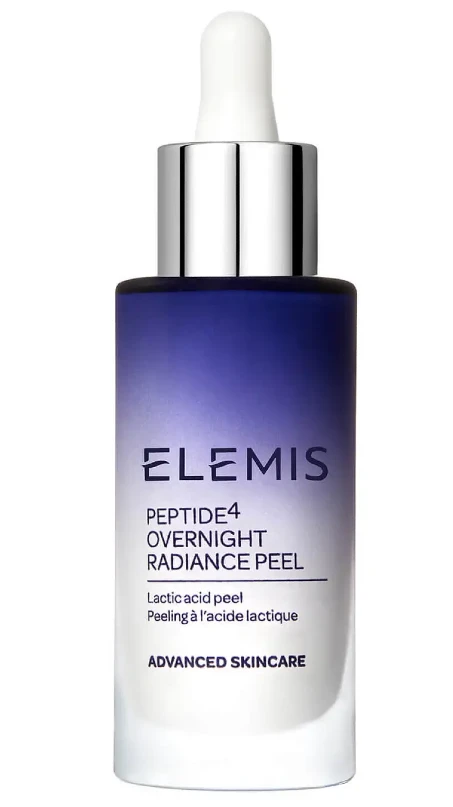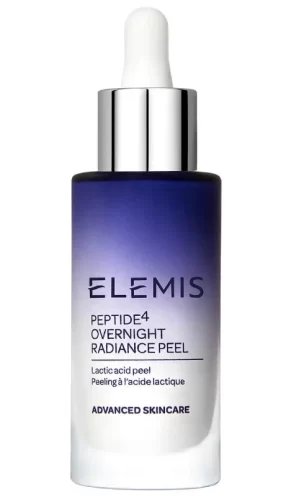 Elemis Peptide4 Overnight Lactic Acid Peel
This overnight peel combines the renewing power of lactic acid with a complex of four amino acids and other AHAs derived from the hibiscus flower to purify and remove surface pollutants. Bonus: squalane, yeast extract, and a mingle of naturally-derived oils work the night shift so you wake up to smoothened, revitalized, and brightened skin. It's that gentle leave-on peel you can use nightly.
---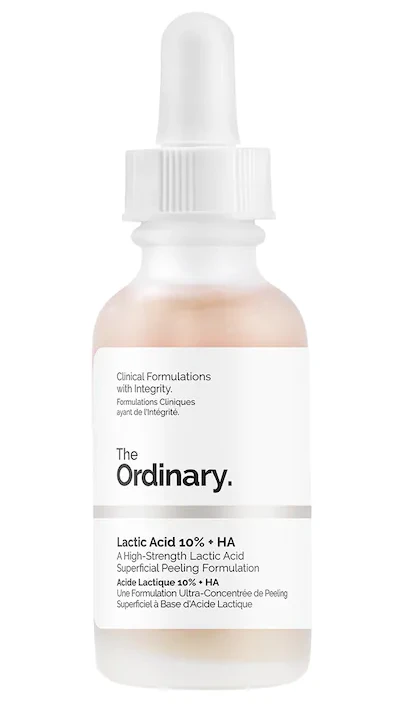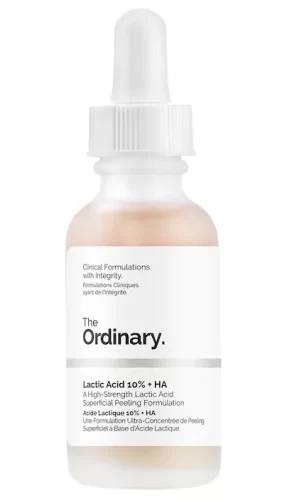 The Ordinary Lactic Acid 10%
If you don't want to splurge on the best lactic acid peel, there's always a pocket-friendly product by The Ordinary that delivers skin-changing results at an affordable price. The formula contains 10% lactic acid to deliver an intense yet soft exfoliation that won't mess up with your skin, while hyaluronic acid and Tasmanian pepperberry calm post-treatment inflammations, reduce redness, and enhance moisture. Use it twice weekly and observe how wrinkles, acne spots, dull skin, and uneven texture start to fade little by little.
---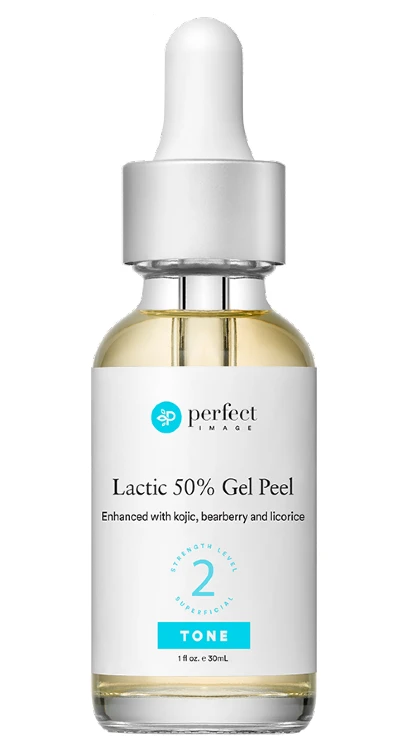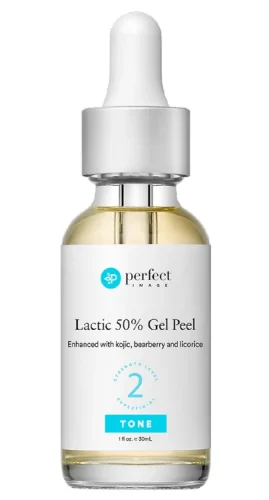 Perfect Image Lactic 50% Gel Peel
Perfect Image Lactic 50% Gel Peel is your best ally for improving the look of skin clarity, tone, and blemishes. It's a high-strength peel packed with 50% lactic acid and tons of natural brighteners, including bearberry, kojic acid, licorice, and green tea extract. This combination improves the skin's appearance on all fronts, balancing texture and reducing discolorations, sunspots, and acne scars. Anyway, if your skin is easily reactive, you might want to skip this one.
---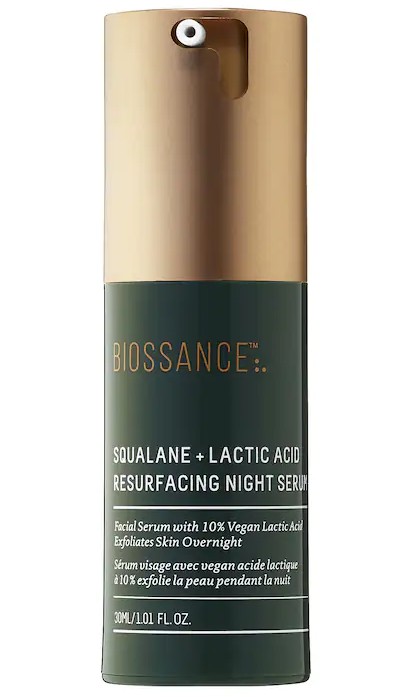 Biossance Squalane + Lactic Acid Resurfacing Night Serum
This is the best lactic acid peel for natural skincare enthusiasts. It's a gentle, lightweight serum that works while you sleep to leave your complexion plump, soft, and energized by morning. Even though the serum isn't advertised as a peel, it's formulated with 10% lactic acid, which is strong enough to deliver transformative benefits. The addition of squalane locks in moisture and makes the product just a bit more friendly to the skin. It's ideal for beginners as well as for dry, and sensitive skin.
---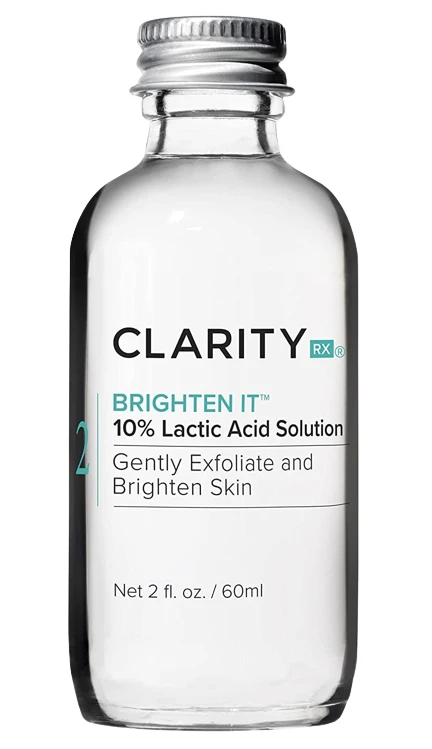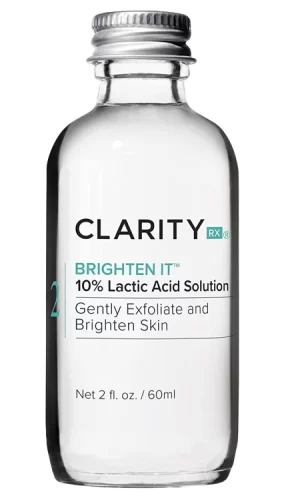 ClarityRx Brighten It 10% Lactic Acid Solution
ClarityRx Brighten It is a light peel that aids in improving uneven skin tone with 10% lactic acid. It doesn't contain fragrances or any other irritants, but only purified water, letting the acid work at its maximum potency.
---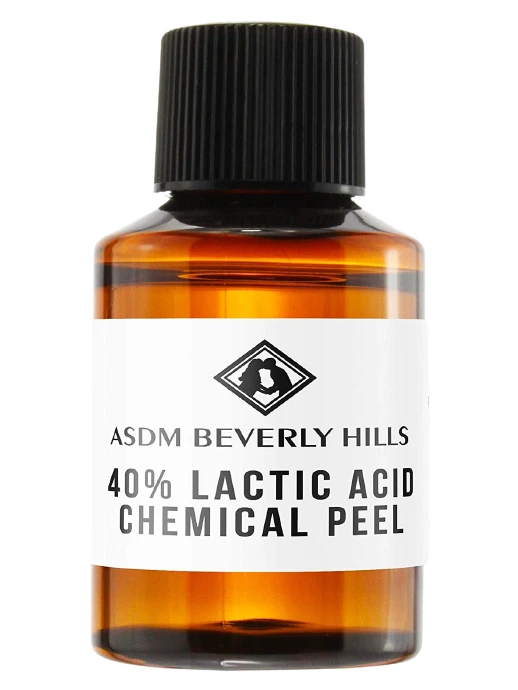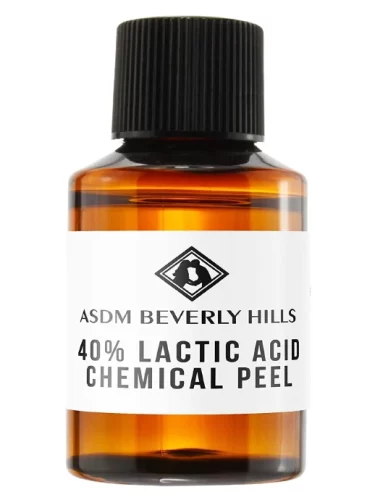 ASDM Beverly Hills Lactic Acid Peel
If you want to step up on the medical-strength territory, reach for ASDM Beverly Hills Peel. It contains pure lactic acid in a concentration as high as 90%, ideal for detoxifying the skin and minimizing hyperpigmentation and age spots. As you'd thought, this lactic acid peel is not joking at this strength and can compromise your skin, causing redness and itchiness if not used correctly. So do yourself a favor and don't leave it for more than five minutes on your face, and don't forget to neutralize the solution with baking soda and water. P.S: It can be used on the body as well.
---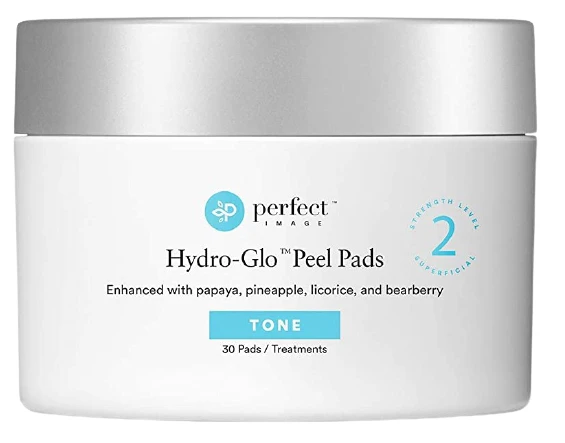 Perfect Image Hydro-Glo 40% Peel Pads
Perfect Image made another of the best lactic acid peels, pads-soaked this time. The ingredient list is at least promising, with 40% acids, among which lactic, mandelic, and kojic acids, followed by papaya and pineapple enzymes to exfoliate some more. Additionally, a mix of natural extracts, such as chamomile and green tea soothe skin, keeping irritations at bay. There's more: the pads are also infused with glutathione, an antioxidant and key component for skin regeneration that not only regulates pigment but boosts skin elasticity and reduces cellular damage.
---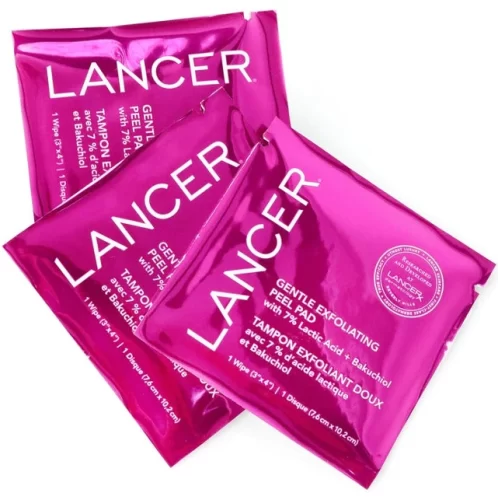 Lancer Gentle Exfoliating Peel Pads
If your skin isn't used to acids yet, Lancer Gentle Exfoliating Peel Pads are a great way to help it build tolerance. Even though these pads are soaked in a powerful solution of 7% lactic acid to wipe out dead cells, they're gentle enough thanks to the addition of betaine, oatmeal, and niacinamide. More than that, the pads contain potent anti-agers such as bakuchiol (a natural retinol alternative) and papaya fruit extract to skyrocket the results.
References
Smith WP. Epidermal and dermal effects of topical lactic acid. J Am Acad Dermatol. 1996 Sep;35(3 Pt 1):388-91. doi: 10.1016/s0190-9622(96)90602-7. PMID: 8784274.
Smith WP. Comparative effectiveness of alpha-hydroxy acids on skin properties. Int J Cosmet Sci. 1996 Apr;18(2):75-83. doi: 10.1111/j.1467-2494.1996.tb00137.x. PMID: 19245467.
Rawlings AV, Davies A, Carlomusto M, Pillai S, Zhang K, Kosturko R, Verdejo P, Feinberg C, Nguyen L, Chandar P. Effect of lactic acid isomers on keratinocyte ceramide synthesis, stratum corneum lipid levels and stratum corneum barrier function. Arch Dermatol Res. 1996 Jun;288(7):383-90. doi: 10.1007/BF02507107. PMID: 8818186.