By no means is microneedling a new technique. Dermatologists and cosmeticians have used it for years. And now, with the advent of microneedling pens, everyone can undergo this procedure without in-office visits. If you're not familiar with microneedling, here's the gist: It's a collagen-boosting treatment that involves using pens loaded with teeny tiny needles to create controlled injuries in the skin. It prompts the skin to produce more proteins to regenerate itself, which over time results in an improvement in its overall texture and tone. Just like the so-much-adored LED masks and high-frequency devices, these beauty tools have made their way into our homes and bring professional-grade treatments to our fingertips. Continue reading to explore our top picks for the best microneedling pens for home use and learn more about this procedure.
What is microneedling?
At its core, microneedling is a technique that creates itty-bitty punctures in the skin to trigger the production of collagen and elastin. By kickstarting the growth of fresh tissues and regenerating cells with these little punctures, the skin renews and becomes tighter and smoother. This is why microneedling is a go-to treatment for reducing acne scars, hyperpigmentation, and wrinkles and promoting a much healthier complexion.
Is it safe to do it at home?
Microneedling at home is considered a safe procedure as long as you follow some basic instructions. In the end, the technique involves creating tiny holes in your skin, so it's hard to ignore some possible risks. However, provided that you follow a few rules, the chances of infections or scarring are null. As you would have probably guessed, the most important thing is to work sterile, have cleansed and dry skin, and a disinfected tool. Pick the right needle length and never reuse a cartridge!
Another possible risk can occur if your skin is not ready to use a microneedling pen. What does this mean? I'll start with my own experience. It took me one year of monthly facials to get rid of the acne I had until the cosmetologist could even consider microneedling my face. The conclusion is never to do the microneedling if you have active acne. You actually risk spreading the bacteria and getting even more breakouts. The same goes if you have sun-damaged skin, eczema, rosacea, infections, or a damaged barrier. Also, if you're pregnant, nursing, or have recently undergone a surgical procedure, you should avoid the treatment.
How to use microneedling pens?
Using a microneedling pen wrong can cause micro-tears in the skin, which can lead to scarring and hyperpigmentation. To avoid these issues while using a derma pen at home, it's crucial to handle the pen gently when applying the needles to your skin and use a back-and-forth motion.
The goal of the treatment is not to draw blood but rather to induce precise and deliberate micro-injuries that serve as stimuli for cell regeneration. So, your skin will likely turn red, which is ok. If you're bleeding, it means you're putting too much pressure and risk compromising your skin barrier.
Moreover, if desired, you can apply a numbing cream beforehand to reduce the pain and discomfort. And always clean your microneedling pen after each use with an alcohol solution to prevent the buildup of bacteria and other microorganisms.
Which microneedling cartridge is best?
Another key factor in getting the most out of microneedling is using the correct cartridge and needle length. Choosing the wrong microneedling cartridge or needle length for your skin can lead to side effects such as bleeding, redness, slight bruising, dryness, irritations, or skin flakiness. These are the standard options for home use:
The nano pin cartridges: Are small and fine needles typically designed to be used as often as twice a week and create tiny channels in the skin without causing visible trauma. This makes them ideal for newcomers. Also, they're effective for delivering ingredients like vitamins, antioxidants, and peptides deep into the skin's layers to promote faster and more effective absorption.
Twelve-pin cartridges: These are usually used to address superficial fine lines, hyperpigmentation, and dullness. You shouldn't use them more often than once every four weeks.
Twenty-four pins cartridges: These are a bit more aggressive and should be used cautiously. They help improve deeper wrinkles, acne scars, and loss of firmness.
Thirty-six pins cartridges: You should leave these ones for the body to address stretch marks, scars, and cellulite.
Which needle length is safe and effective for home use?
There is no universal guideline for determining the ideal needle length for microneedling treatments. To achieve optimal results, it's necessary to frequently adjust the depth of needle penetration by manipulating the device's dial in response to the treatment area and your skin condition.
Most of the time, starting with the lowest needle length and gradually increasing it over the following weeks is the best approach when using a microneedling pen at home.
Additionally, pay close attention to how your skin reacts to the microneedling, as this will allow you to adapt the needle length as needed. However, here is a helpful table that outlines the various needle lengths and their corresponding applications.
For the forehead: 0.25-0.5mm
For nose and eye area: 0.25-0.5mm
Cheek and chin: 0.5-1.0mm
For facial scaring: 1.0-1.25mm
For stretch marks: 1.5-2.0mm
What to apply to the skin after using a microneedling pen?
After the treatment, your skin is primed to absorb topical products more effectively because they go straight into the opened pores. So after microneedling is ideal to reach for hydrating, calming, and regenerating ingredients to work with the skin's renewing process, such as hyaluronic acid, vitamin C, squalane, peptides, and niacinamide. Here I talked more about what you can apply after microneedling.
One of my favorites is a growth factor serum. Why? Well, growth factors are a type of peptides naturally found in the skin that send signals to cells to repair, which is ideal after microneedling. Plus, they spur collagen growth for boosted benefits. For instance, I apply Clinical Skin PolyPeptide Firming Serum after every microneedling session and I can see my skin heals faster than when I don't use it.
How frequently can I undergo microneedling at home?
One answer doesn't fit all. The frequency depends on the pen needle's size and your skin sensitivity. However, you shouldn't use it too often since the skin needs time to boost collagen and some time for recovery. Once a fortnight will do just fine for most people.
The best microneedling pens to try
Assuming you've solved the puzzle of how to do this technique yourself safely, you can now explore the best microneedling pens to use at home.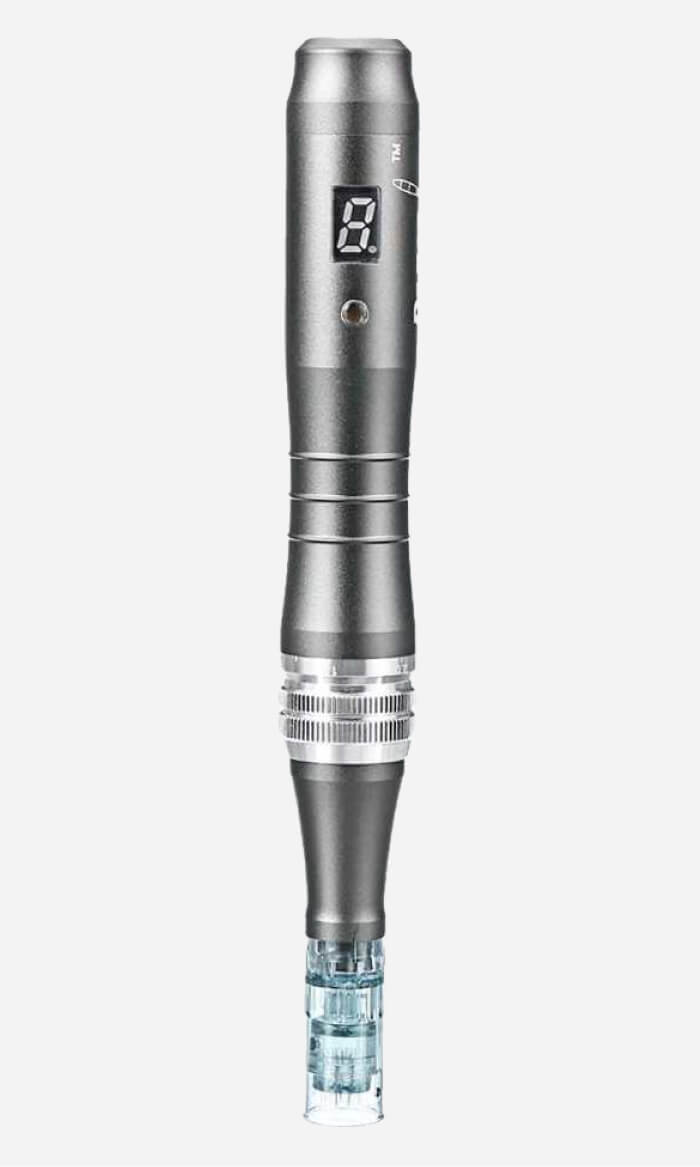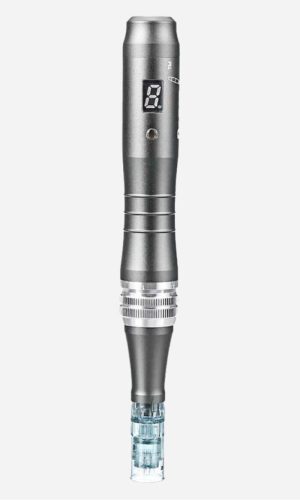 Most popular
Dr. Pen M8 Microneedling Pen
Everyone praises Dr. Pen since it's one of the best brands when it comes to microneedling tools, and this one truly stands out. With four types of cartridges and six speed levels, it's an ideal option for tackling multiple concerns, be it wrinkles, acne scars, discoloration, or dullness. The kit includes eight easy-to-swap heads, ranging from 16 to 42 pins, giving you the flexibility to customize your microneedling sessions. However, to err on the side of caution, start with the smallest type and gradually work your way up to allow your skin to adjust.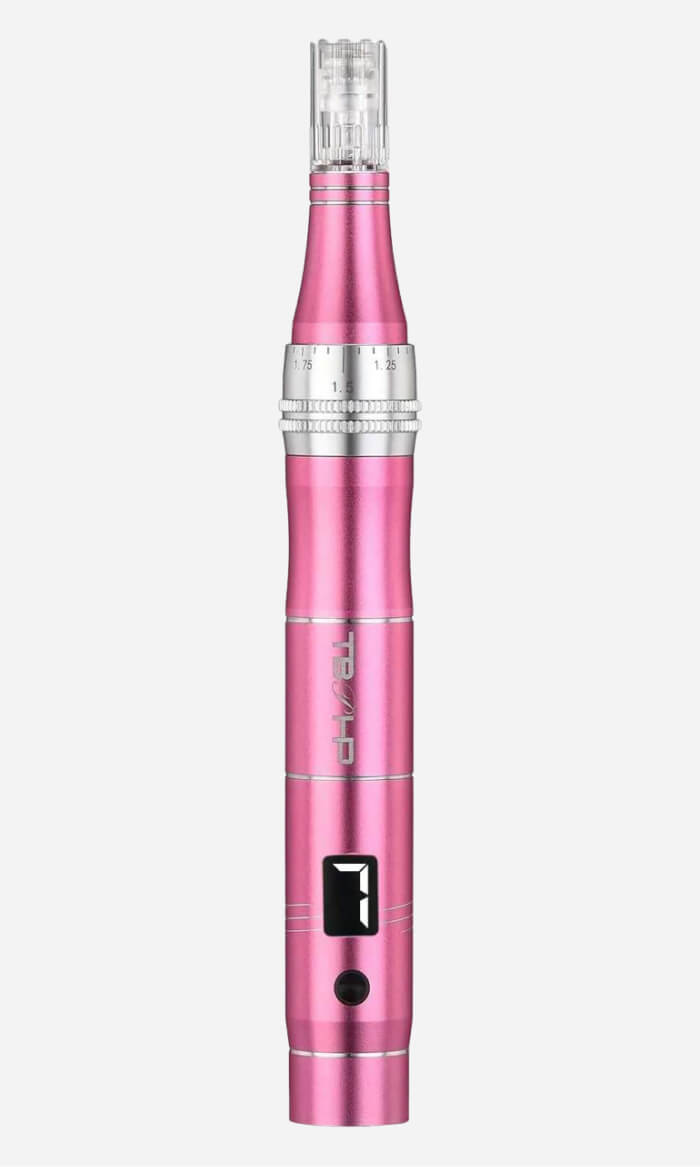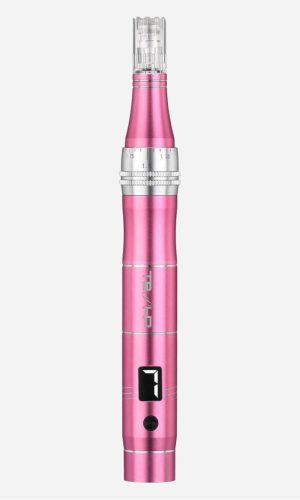 Most afforable
TBPHP M1 Electric Derma Beauty Pen
If you don't want to spend $130 on a microneedling pen, this option will get the job done for a price that won't break the bank. It comes with a total of twelve pieces, divided into two halves, each with a different mission. The first half, equipped with 12 pins, is ready to take on any minor qualms on your skin's surface, while the other half, armed with 36 pins, is geared to tackle more stubborn imperfections such as uneven texture or stretch marks. One awesome thing about this gadget is that it works without no wireless, making it super easy to use.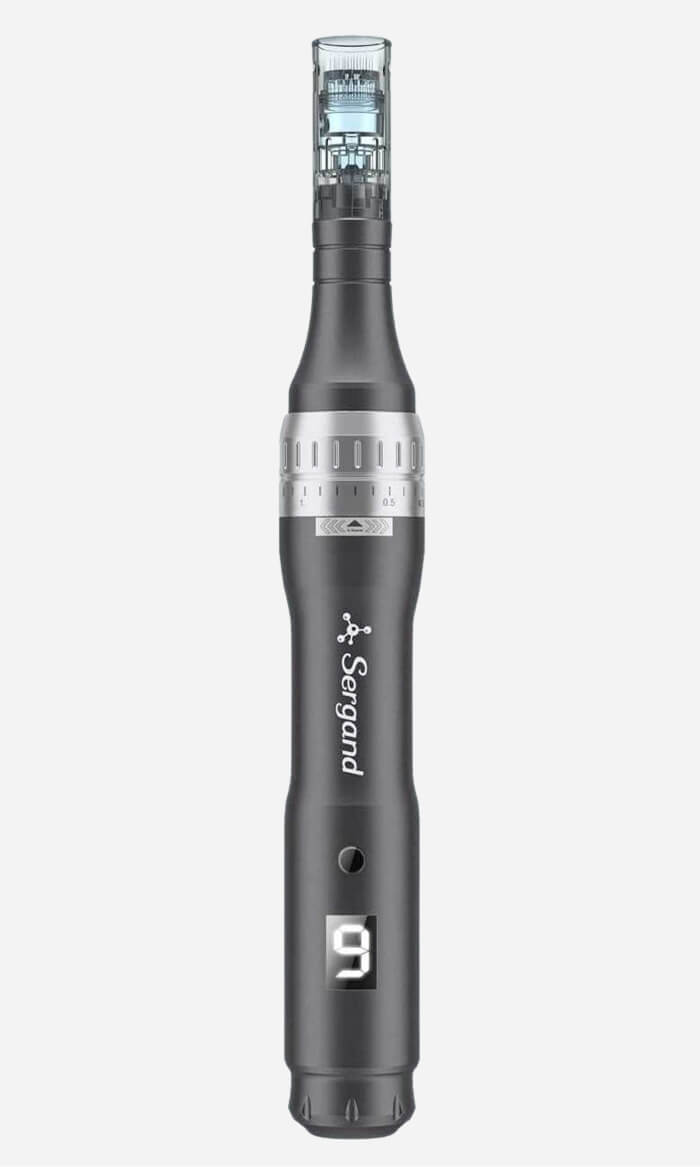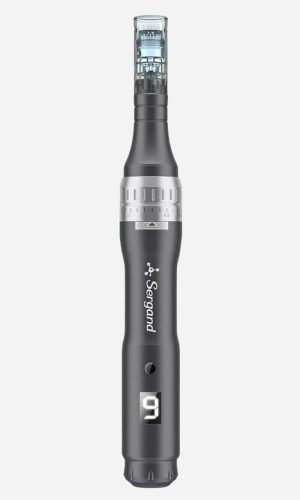 Best for beginners
Sergand Professional Wireless Microneedling Pen
Sergand created a great at-home microneedling pen for beginners that gives salon-like results without putting skin at risk. It features 0.18mm nano-needles that are painless and can be used twice a week for maintaining a healthily-looking appearance and improving product absorption to maximize their effectiveness. Additionally, the kit contains three other types of cartridges to target various skin concerns, like large pores, unevenness, and wrinkles. You're gonna love the locking mechanism that makes the process all safe and sound, plus the digital display and six speeds make this bad boy a breeze to use.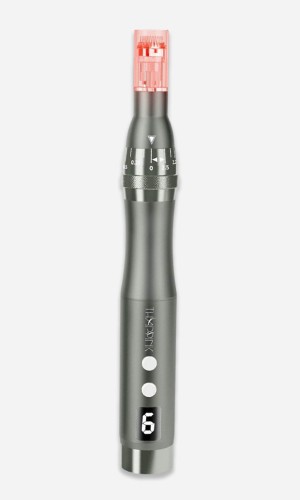 Best with LEDs
Thappink Microneedling Pen
This one comes with two types of cartridges, a slender one with 12 pins for hyperpigmentation and acne scars and a denser one with 36 pins for skin rejuvenation and collagen boost. Not only that, but it's cordless and equipped with 6-speed levels so that you can treat different areas of the face and body with ease. And now, the best of it: This derma pen features four LED lights—red, blue, green, and yellow—to soothe your skin, zap redness, and give your collagen levels a much-needed boost.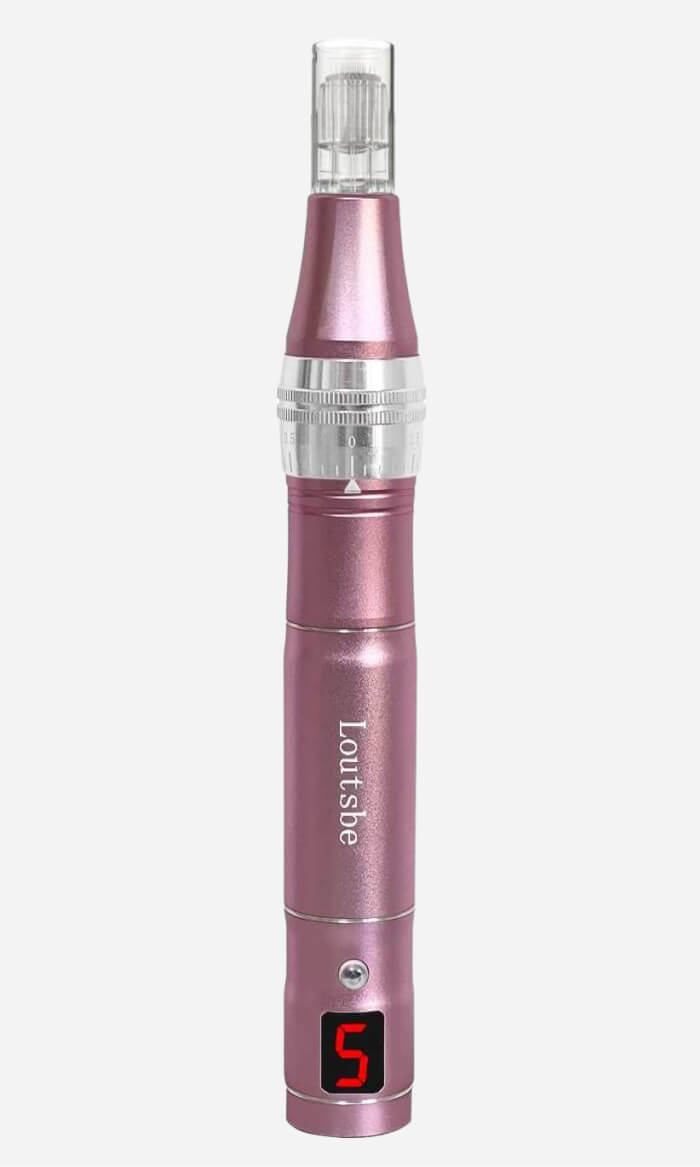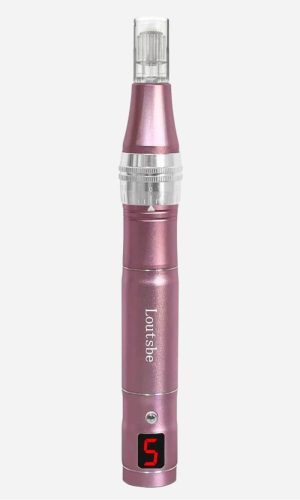 Estheticians-favorite
Loutsbe Cordless Electric Microneedling Pen
This one makes it effortless to control the length of the needle, as it can go anywhere from 0 to 0.25mm, giving you a ton of flexibility to address your skin's challenges. Keep in mind, though, it's wise to start with a shallower needle length to sidestep angry skin. Whether you're chasing brighter, firmer, or more even-toned skin, this microneedling pen promises to do the trick every time without putting a dent in your wallet. "It is as good as the 1500$ pen that the med spas use," claims one happy reviewer.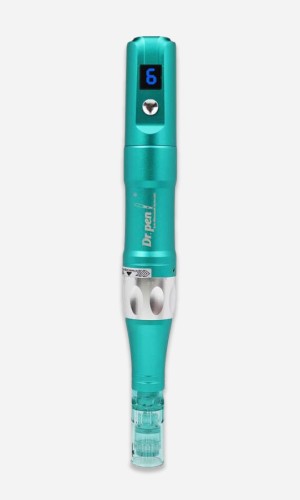 Best for professional-grade results
Dr. Pen Ultima A6S Microneedling Pen
Yep, that's another Dr. Pen product on the list. The A6 model is armed with 16 ultra-fine 0.18 mm pins and is designed to work delicately with your skin to provide professional-grade results without causing damage or downtime. What sets this smart microneedling tool apart from the pack is its ability to memorize your unique pattern and execute it automatically, tailoring the experience to your personal preferences. It's like having your own personal microneedling assistant. And with a higher RPM rate than most pens out there, the Dr. Pen A6 gets the job done faster and covers more area, leaving your skin looking and feeling amazing in no time.
How to take care of your skin before and after microneedling
Taking proper care of your skin before and after using a microneedling pen not only minimizes side effects but also enhances the benefits and makes the experience more enjoyable. While using a gentle cleanser and moisturizer post-treatment is a good start, there are more things you can do to improve the microneedling treatment.
Always perform the treatment on clean skin and never on active breakouts, sun-damaged skin, or a broken barrier.
Use a conductive gel before microneedling to create a protective film between your skin and the device. These include a numbing cream, a hyaluronic acid serum, or aloe vera gel. Make sure that the product you apply skips irritating compounds, such as synthetic fragrances and dyes, and drying alcohol.
Apply a reparative serum with peptides, niacinamide, or hyaluronic acid right after the treatment to speed up skin recovery.
Apply sunscreen with at least 30 SPF if you need to go out.
Avoid prolonged sun exposure after microneedling.
Avoid using self-tanning products for a week after the treatment.
Bypass products that contain chemical acids, retinoids, benzoyl peroxide, and high concentrations of vitamin C.
Don't apply makeup for the next 48 hours.
Avoid sweating or exercising vigorously for at least 24 hours after the treatment—the sweat can clog the pores and trigger breakouts.
Drink plenty of water and eat a healthy diet to support skin healing.
Now you have everything set up: you found the best microneedling pen for you, you know what cartridge and needle length to use and you know how to prepare your skin before and after microneedling. If you still have questions about derma pens, take a look below:
FAQ about microneedling pens
Is microneedling effective and safe for acne scars?

Microneedling is a popular technique used to minimize acne scarring. While you shouldn't perform micro-needling on active breakouts, it's truly helpful for scarring due to its ability to stimulate collagen and elastin production.

Can microneedling ruin your skin?

If you take all the precautionary measures, microneedling won't ruin your skin. The secret lies in working sterile, starting with low-length needles and following all precautions measures.

Can microneedling make pores bigger?

No, that's a fallacy. You may have heard microneedling creates tiny wounds in the dermis. That can possibly make your pores look enlarged and skin rough. But, once the repairing process is over, the newly formed skin cells replace the old, damaged ones, resulting in less visible pores and a smoother complexion.

Why does my skin look worse after microneedling?

Don't panic if your skin becomes dry and thirsty. After microneedling, you might experience water loss due to pricking from needles that damage the cells. It's all normal. The first few days following microneedling can feel rough, but if you notice anything severe, like prolonged redness or irritation that lasts longer than 48 hours, go back down one needle size or lessen the frequency of microneedling.

Do I need a numbing cream when using a derma pen?

Not necessarily. If you know your skin is sensitive, you can purchase such a numbing cream, but most people don't need it.

Do at-home microneedling pens have in-office-like treatment results?

Not really. Microneedling pens used by professionals have longer needles to penetrate deeper into the dermis, somewhere between 1.5 to 2.0 mm. The ones intended for home use shouldn't be longer than 0.5mm. Now, you can assume why microneedling at home doesn't have the same results as in-office treatments. Still, the effects are visible, just not as dramatic.