Dry skin is inconvenient. Flakiness, redness, roughness, and itchiness come along with it, making it hard to believe there is a fix. But a serum made to target dryness and reinforce the barrier that works in tandem with the skin's natural repairing process while you Zzz definitely helps. This is where the best night serums for dry skin come in and rescue your skin, so you wake up to a more hydrated, relaxed complexion and with an increased ability to hinder further water loss.
Generally, dry skin needs humectants to add water to the skin, occlusives to prevent further moisture evaporation, and skin-replenishing agents to rebuild itself. So applying a night serum spiked with plenty of hydrators and replenishers before you hit the hay will get your parched skin moisturized, restored, and protected. And if you trap it with an occlusive moisturizer, you've got the recipe for a quenched complexion. Besides, equally important is that a night serum for dry skin lacks fragrances, alcohol denat, silicones, retinol, or exfoliators. All these elements can dehydrate the skin, so you should steer clear of them.
The best night serums for dry skin
Perhaps it sounds difficult finding a suitable night serum for your dry skin — as so many formulas can dehydrate and irritate. But we have done the hard work and pulled out the best of them, containing just enough to make a difference and get back your plump, resilient skin.
---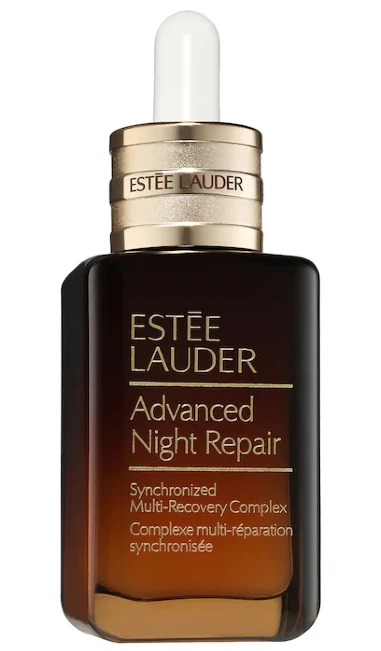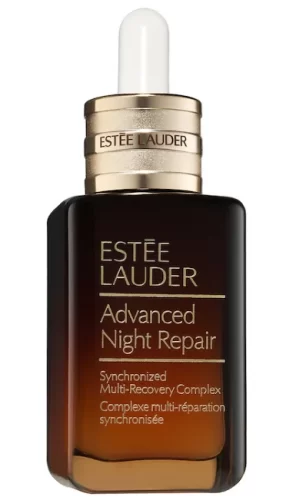 1
Estée Lauder Advanced Night Repair Serum
Addresses: anti-aging and dryness
Key ingredients: probiotics, peptides, sodium hyaluronate, squalane
We like: made without fragrances, and alcohol
Estée Lauder Advanced Night Repair Serum is the best bet for those wanting to relieve dryness while targeting aging signs. The authentic multi-duty serum is super rich in Bifida ferment lysate, a probiotic-derived element that reinforces the skin's microbiome and encourages repair. Besides, it fights dryness with peptides, sodium hyaluronate, yeast extract, and squalane so that you wake up to quenched skin. Oh, and you can use it during the day, too, as it boasts a bunch of antioxidants to offset free radical damage.
---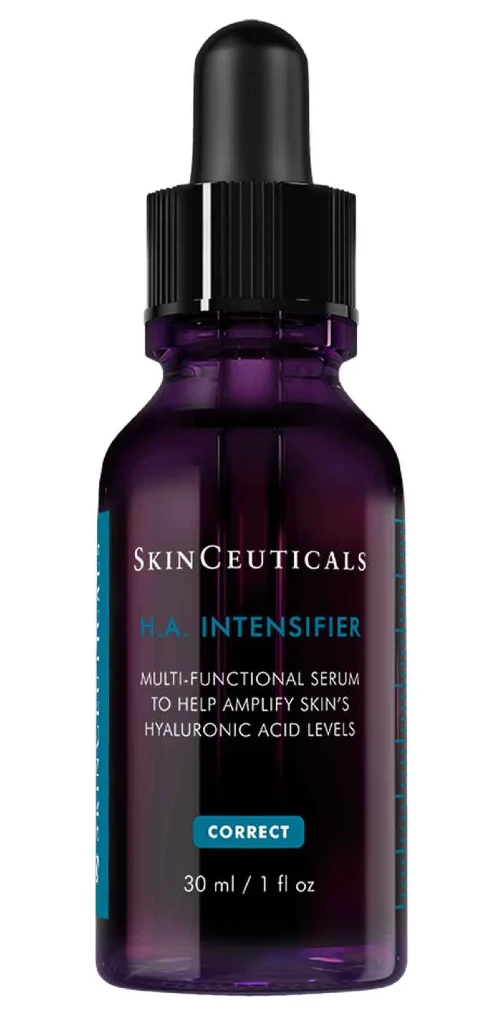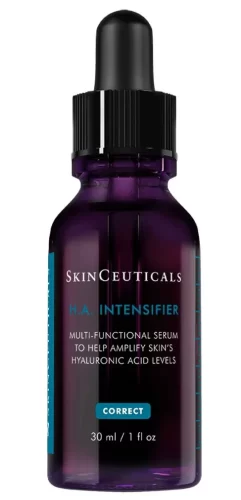 2
SkinCeuticals Hyaluronic Acid Intensifier
Addresses: lack of firmness and moisture, aging signs
Key ingredients: sodium hyaluronate, proxylane
We like: a little goes a long way
As one of the best night serums for dry skin, this one promises to support and boost the natural hyaluronic acid levels by up to 30%. Meaning hydration that lasts (forever). This is possible due to the formula enriched with 10% proxylane, a sugar molecule that can boost the production of natural moisturizing factors, translating into firmer and bouncier skin. You'll also find sodium hyaluronate, glycerin, and a slew of soothing ingredients in SkinCeuticals HA Intensifier, targeting both aging signs and dehydration.
---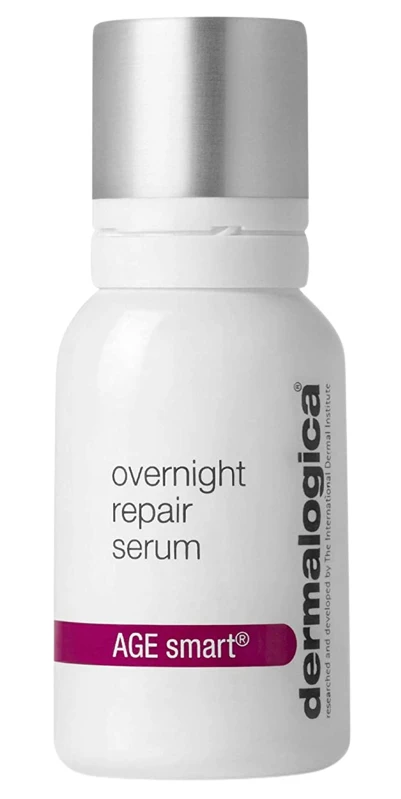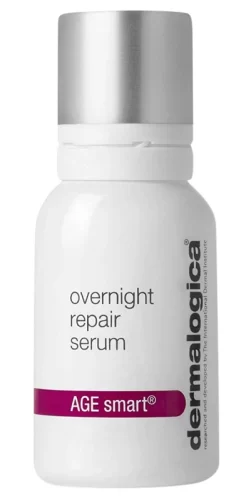 3
Dermalogica Age Smart Overnight Repair Serum
Addresses: cell renewal, hydration, and repair
Key ingredients: peptides, sunflower and jasmine oils
We like: made without fragrances, and alcohol
Nature-derived oils are excellent for dryness as they form a veil to prevent water evaporation while infusing skin with regenerative and softening benefits. Welp, this serum boasts a medley of botanical oils to calm skin and relieve dryness, plus it's made on a sunflower seed oil base, rich in vitamin E, a known emollient and skin softener.[1] Despite the high concentration of oils, its texture is smoothing and not heavy, pairing amazingly with your nighttime moisturizer.
---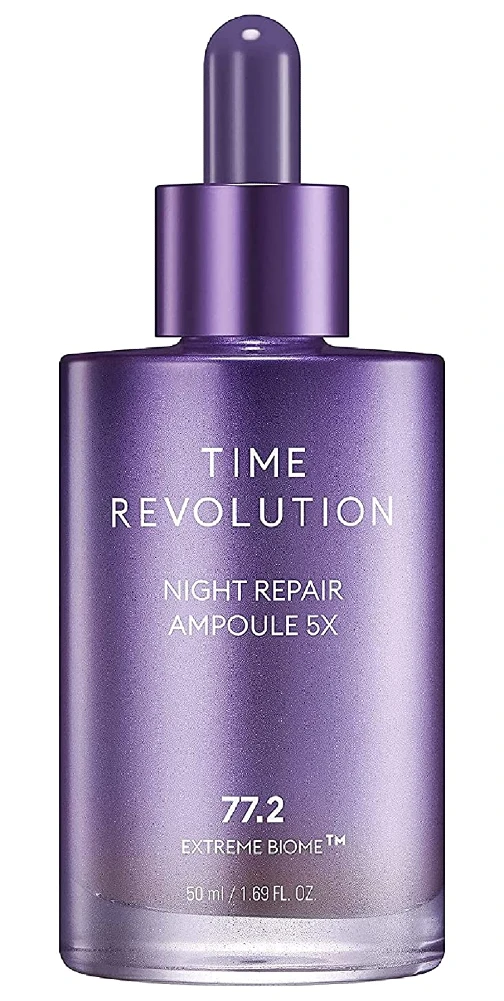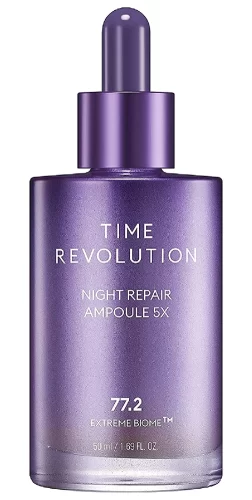 4
Missha Time Revolution Night Repair Ampoule 5X
Addresses: skin repair, dullness, and a weakened barrier
Key ingredients: probiotics, squalane, panthenol
We like: made without fragrances, and alcohol
K-beauty lovers, this is the best night serum for your dry complexion. The skin-loving formula packs ten different probiotics (77.2%) for intense calming and repairing effects. As the rich texture layers on, you sense how it calms and restores dry, cracked skin, giving an instant relieving and hydrating feeling. Some people grumble about the sticky texture, but it goes away as soon as it sinks in, leaving behind soft, plump skin.
---


5
Allies of Skin Multi Hyaluronic Antioxidant Hydration Serum
Addresses: dehydration, loss of volume, dryness
Key ingredients: hyaluronic acid, EGCG, peptides
We like: creamy texture, fragrance-free, pH: 4.3 – 5.2
Three words describe this serum best: hydration, plumpness, and repair – the trifecta your dry skin needs immediately. Low and high molecular weight hyaluronic acid adds hydration and retains moisture, 5% resveratrol ferment encourages collagen production, while peptides speed up repair and induce some more collagen, helping relieve dryness. Bonus points for the texture that feels like a lightweight moisturizer, it gets absorbed like a serum, soothing skin instantly.
---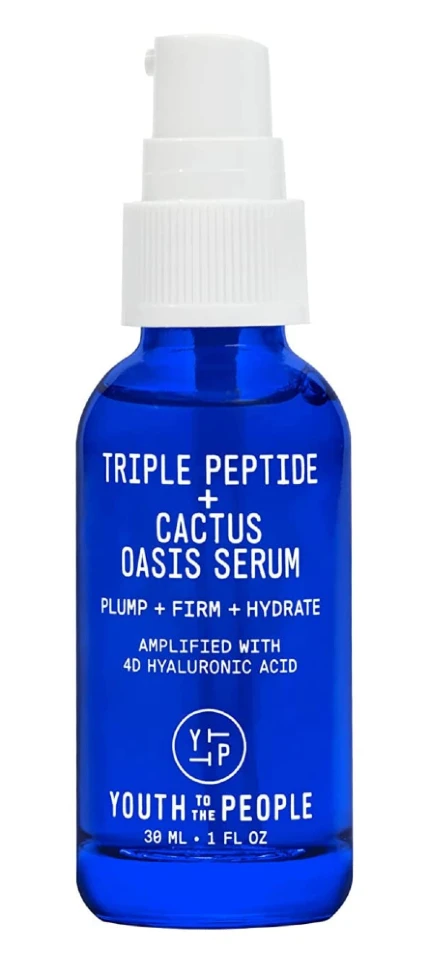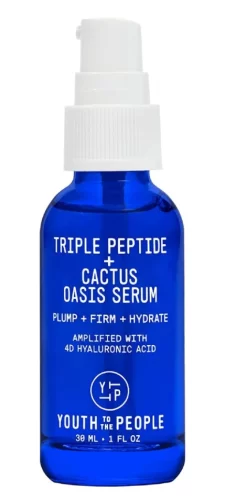 6
Youth To The People Triple Peptide + Cactus Oasis Face Serum
Addresses: lackluster skin, lack of firmness, hydration loss
Key ingredients: peptides, sodium hyaluronate, cactus extract
We like: fragrance-free, it can be used on the eye area, vegan
0k, you'll love this one. It includes four types of hyaluronic acid for instant plumpness and long-term hydration, a mix of three peptides that support collagen production and relieve dryness, and organic cactus and rambutan peel, known for their moisture-binding properties. While some products scream you can't sit with us (if you're a sensitive skin type), this one is actually super gentle and suits even the most reactive complexions. P.S.: According to the brand's consumer perception study, 95% of people said their skin feels less dry after one use.
---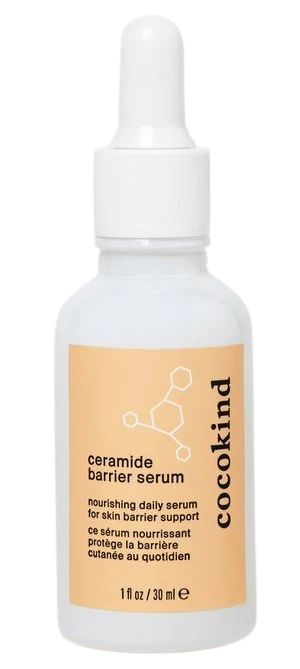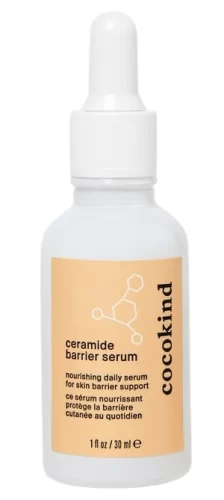 7
Cocokind Ceramide Barrier Serum
Addresses: broken barrier, rough texture, dryness
Key ingredients: ceramides, squalane, cholesterol
We like: clean formula, fragrance-free, oil-free
Ceramides help create a barrier to prevent moisture loss and aid in repairing dry, cracked skin, and this serum contains five types of ceramides, plus two lipids, that encourage ceramide production in the skin and boost moisture retention.[2] And it's all made on a soothing base of aloe leaf juice that aids in reducing irritation and calming stressed skin. The 0.6% lactic acid is added to support ingredients delivery deep into the skin layers and support ceramide production in the skin.[3] Call it your holy grail.
---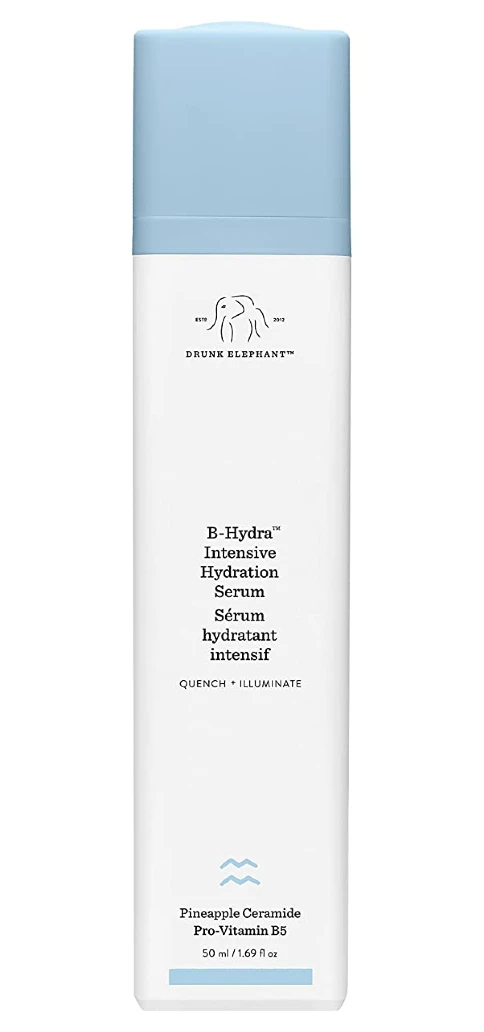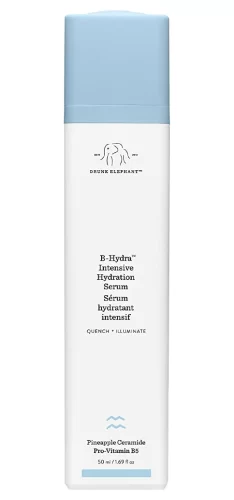 8
Drunk Elephant B-Hydra Intensive Hydration Serum
Addresses: dehydration, dryness, dullness
Key ingredients: hyaluronic acid, niacinamide
We like: fragrance-free, pH of 5.7, vegan
This serum gives your skin a serious dose of hydration whenever you apply it, morning and night. The formula relies on a medley of hydrators, among which niacinamide and hyaluronic acid, skin replenishers, such as wheat amino acids and pineapple ceramides, plus a mix of fruit-derived antioxidants that protect and improve moisture retention. Layer it every night to up your chances of a radiant glow when you look in the mirror in the morning.
---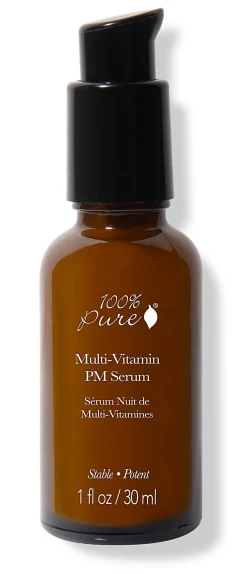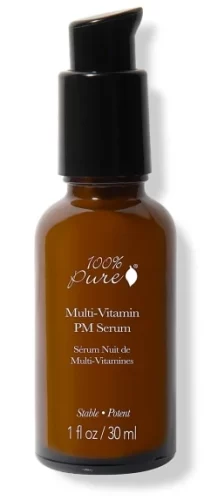 9
100% Pure Multi-Vitamin + Antioxidants Potent PM Serum
Addresses: antioxidant protection and skin firmness
Key ingredients: vitamins C and E, retinol, niacinamide, hyaluronic acid, coenzyme Q10
We like: potent, organic, non-drying formula
Folks with dry skin may feel challenging to dive into the world of potent products since so many can dehydrate and disrupt the barrier. But this one actually nourishes, protects, and restores while correcting most of your skin concerns without ever feeling drying. And it's as organic and clean as possible. As the name suggests, the serum is chocked full of vitamins (10% of the most potent form of vitamin C coupled with 10% vitamin E), 10% niacinamide, retinol, hyaluronic acid, and coenzyme Q10. All these antioxidants replenish collagen and hydrate the skin during the night shift, so you wake up with a plumped, baby-like complexion. It also mitigates sun damage and targets aging signs so you can wave goodbye to dark spots, fine lines, and wrinkles.
---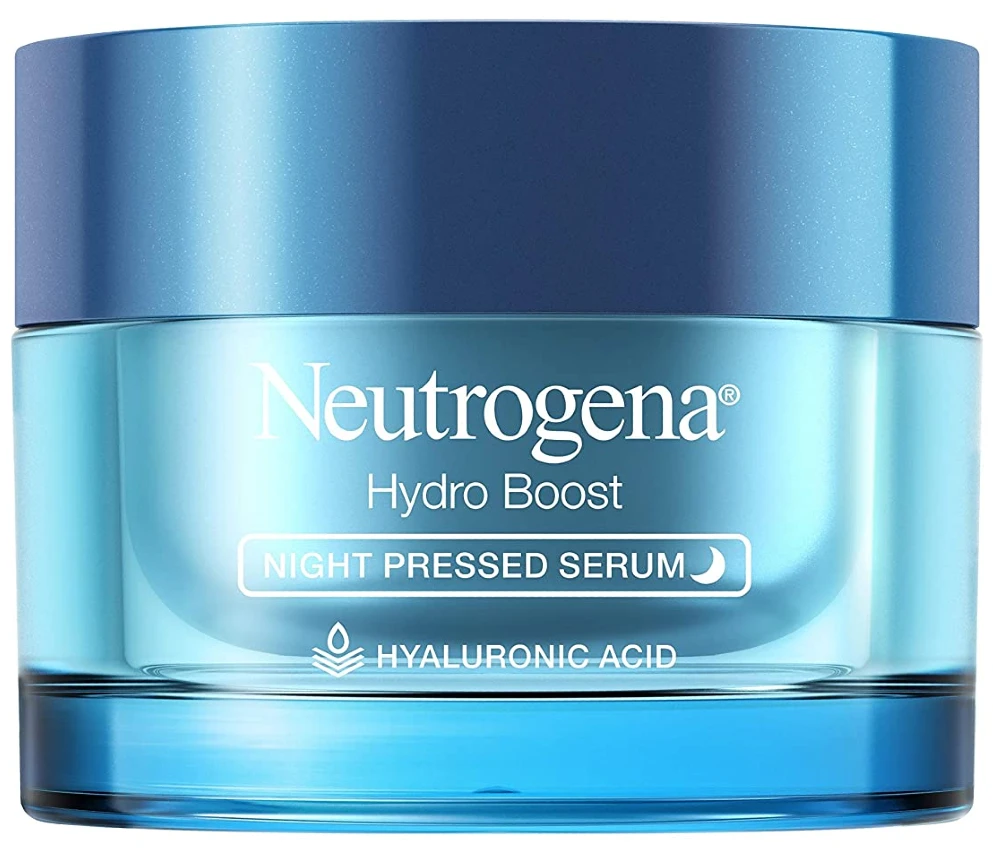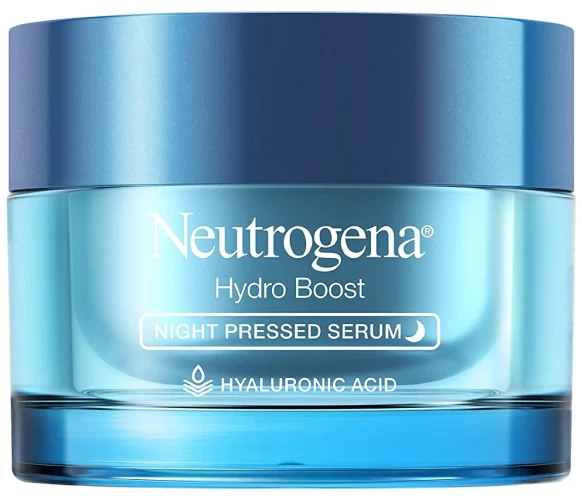 10
Neutrogena Hydro Boost Night Pressed Face Serum
Addresses: broken barrier, dullness
Key ingredients: glycerin, hyaluronic acid, synthetic beeswax
We like: oil-free, alcohol-free, affordable
Despite the look, this is a pressed serum, meaning it has a spongy texture that becomes liquid and absorbs instantly as massaged into the skin. It works hard while you sleep to restore and revitalize while strengthening the barrier moisture due to sodium hyaluronate, yeast extract, and trehalose. And this is how you wake up to a reinforced moisture barrier, more resilient, and a dewy-looking bounce-back skin.
---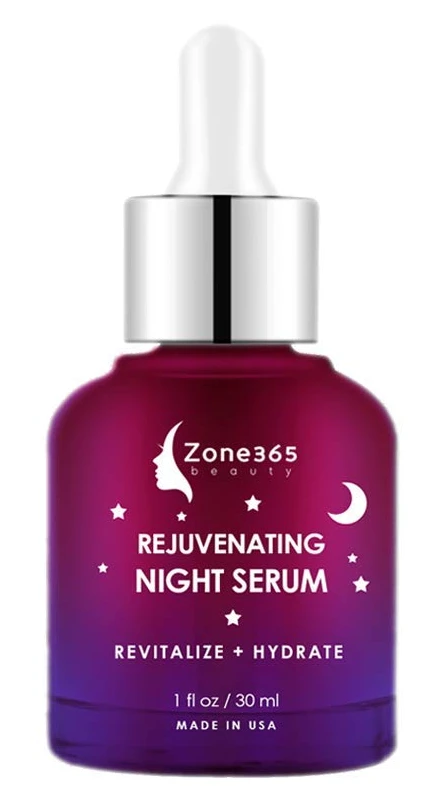 11
Zone – 365 Advanced Night Facial Serum
Addresses: dryness, skin repair, aging signs
Key ingredients: vitamins A, C, and E, sodium hyaluronate
We like: clean formula, affordable
Let your skin restore and moisturize while you sleep with Zone – 365 Advanced Night Facial Serum, which costs less than a coffee at Starbucks. The formula is rich in vitamin C, which helps with collagen production, relieving dryness, plus sodium hyaluronate for hydration that lasts. More than that, it contains vitamin E to soften and trap hydration in addition to wheat proteins and avocado oil, two natural moisturizing elements. Apply it by night and enjoy plump skin by morning.
Read next: 8 Best Cleansing Oils for Dry Skin with Hydrating Formulas
---
References
Jay S. Trivedi, Steven L. Krill, James J. Fort, Vitamin E as a human skin penetration enhancer, European Journal of Pharmaceutical Sciences, Volume 3, Issue 4, 1995
Coderch L, López O, de la Maza A, Parra JL. Ceramides and skin function. Am J Clin Dermatol. 2003;4(2):107-29. doi: 10.2165/00128071-200304020-00004. PMID: 12553851
Rawlings AV, Davies A, Carlomusto M, Pillai S, Zhang K, Kosturko R, Verdejo P, Feinberg C, Nguyen L, Chandar P. Effect of lactic acid isomers on keratinocyte ceramide synthesis, stratum corneum lipid levels and stratum corneum barrier function. Arch Dermatol Res. 1996 Jun;288(7):383-90. doi: 10.1007/BF02507107. PMID: 8818186.