Hydrated skin functions at its best. Conversely, dry skin is vulnerable to damage, is red and itchy, and appears duller and more aged. Worst of all, dry skin makes it incredibly difficult to maintain moisture, resulting in even more cracking and flaking if not properly addressed. While a good moisturizer can help seal in moisture and mask dryness for temporary relief, to really get to the root of the issue, you need a night serum that targets dry skin. Nighttime is when your skin has a chance to recover moisture, and using a hydrating serum before going to sleep can make all the difference. Because they're supercharged with actives, serums are more likely to give your skin an extra boost of hydration. Plus, their lightweight consistency allows them to penetrate deep, delivering those actives where they're needed most. And they work even better when used at night when the skin's restoration process takes place.
What night serum to use when your skin is dry
If during the day, you need a serum with antioxidants to counteract free radical damage, your focus in your nighttime routine should be to restore your skin's moisture barrier. It is this barrier that holds in all moisture in your skin, and its breakdown is often the root cause of dryness and excessive water loss. So when your skin feels dry and rough, look out for a night serum with ingredients that help fortify the barrier and restore moisture, like ceramides, cholesterol, and fatty acids. Additionally, ingredients like hyaluronic acid, lactic acid, and glycerin can provide a boost of hydration to the skin by attracting and retaining water. 
We conducted hours of research to find the best night serums for dry skin, evaluating the products based on their ingredients and how well they were able to hydrate and repair the skin overnight. We left no stone unturned in our research, poring over bestsellers, Redditors' favorites, and dermatologist-recommended products for dry skin. Our selection includes serums that are accessible worldwide and fit all budgets.
The best night serums for dry skin
---
1
Youth To The People Triple Peptide + Cactus Oasis Face Serum
This hydrating serum is the real deal. It uses not one, not two, not three, but four types of hyaluronic acid to quench your skin's thirst on multiple levels. You'll see an instant plumping effect that lasts and lasts. And if that wasn't enough, the formula also boasts three powerful peptides that kickstart collagen production and cactus extract that helps your skin hydrate itself like a pro. While some products may give off the vibe of 'you can't sit with us' (especially if you have sensitive skin), this one is gentle and perfect for even the most reactive complexions. P.S.: According to the brand's consumer perception study, 95% of people said their skin feels less dry after one just use.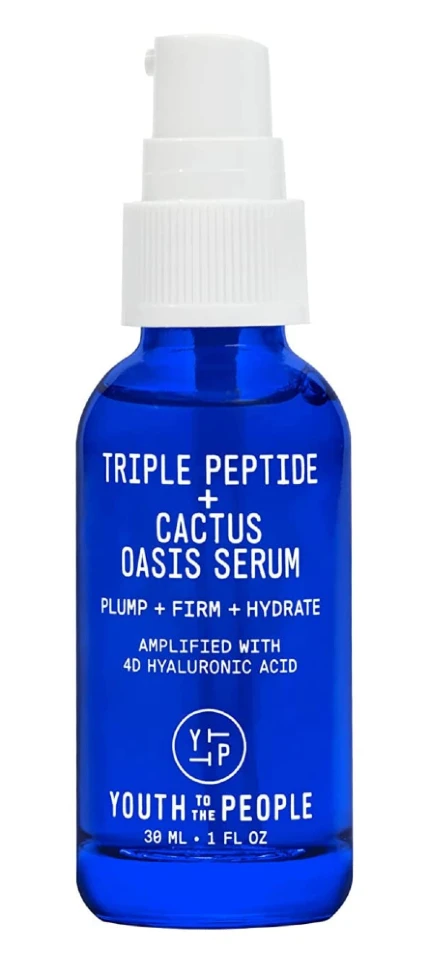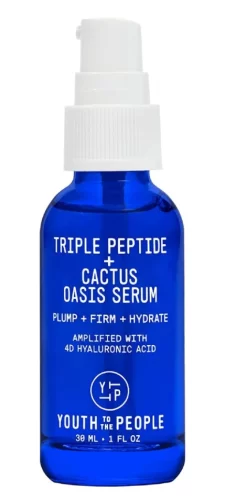 ---
2
Neutrogena Hydro Boost Night Pressed Face Serum
This night serum is game-changer when it comes to overnight hydration. The spongy texture of this innovative formula liquefies on contact and melts into the skin, providing intense hydration that works its magic while you sleep. By morning, you can expect to triple your skin's moisture levels, thanks to the powerful combination of sodium hyaluronate, yeast extract, and trehalose. These ingredients work together to strengthen the protective barrier and alleviate dryness without irritation. Bonus points because the serum is found in every drugstore at a reasonable price.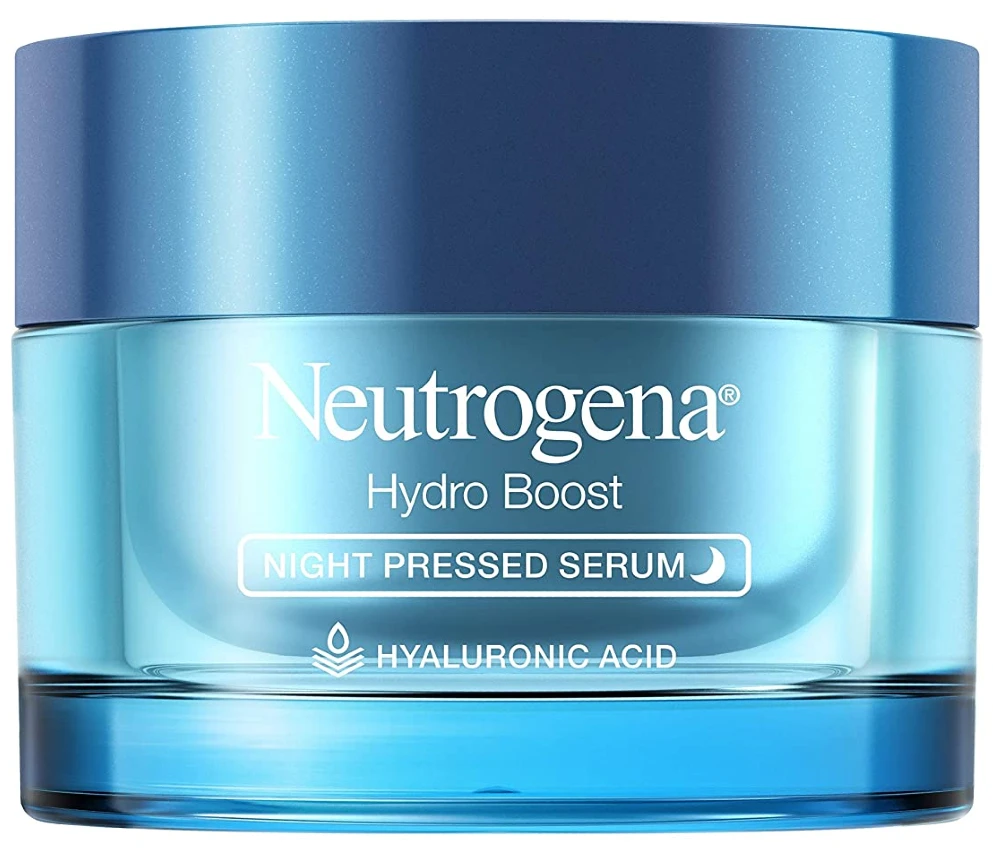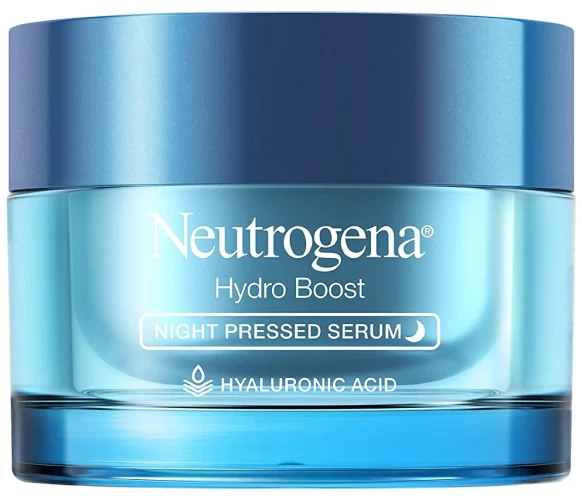 ---
3
The Ordinary Lactic Acid 10% + HA 2% Exfoliating Serum
This serum, which costs less than your morning coffee at Starbucks, is a superhero of dry skin, swooping in to eliminate flakes and rough patches with a powerful 10% lactic acid and 2% hyaluronic acid duo. While lactic acid gently sloughs off dead cells and smooths out skin texture through its mild exfoliating properties, hyaluronic acid attracts moisture and plumps the complexion. But here's the catch: this serum is a bit of a moisture magnet, pulling all the hydration to the surface of your skin, but it's not the best at keeping it there. That's why after applying it, you should seal in all that hydration with a layer of occlusives.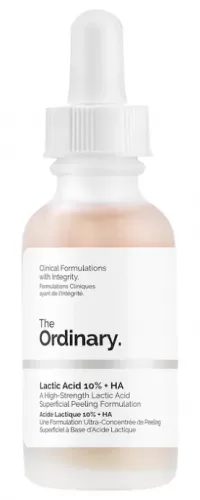 ---
4
Missha Time Revolution Night Repair Ampoule 5X
While Estee Lauder Advanced Night Repair Serum remains a cult favorite among the dry skin community, this is a great dupe that does the job for half the price. With a hefty dose of 77.2% probiotics, it works to improve and strengthen your skin over time, eliminating dryness, redness, and flakiness from your skincare worries. As the rich texture layers on, you can feel it soothing and restoring dry, cracked patches, providing an immediate relief and hydration sensation. Some people grumble about the sticky texture, but it goes away as soon as it sinks in.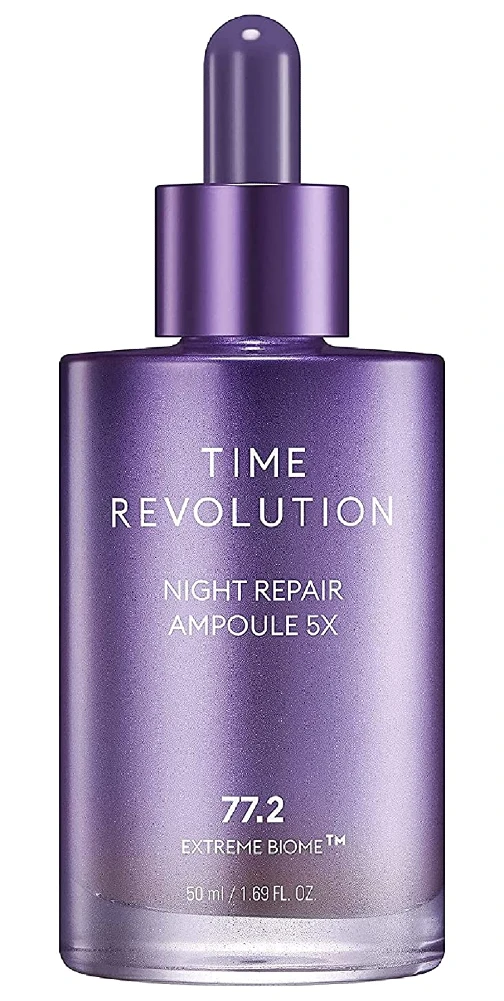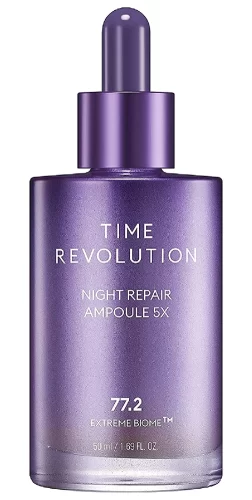 ---
5
SkinCeuticals Hyaluronic Acid Intensifier
The key molecule involved in skin moisture is hyaluronic acid, which has a unique capacity to retain water.[1] This serum was clinically proven to amplify the skin's hyaluronic acid levels by 30% when used diligently twice daily. This is possible due to 10% Proxylane, a sugar molecule that can boost the production of natural moisturizing factors and help restore skin's fullness, and a heavy dose of hyaluronic acid that provides long-lasting hydration. Although we really love the product, we cannot ignore the fact that it features a drying type of alcohol at the top of the list, and some reviewers with sensitive skin complain about rashes.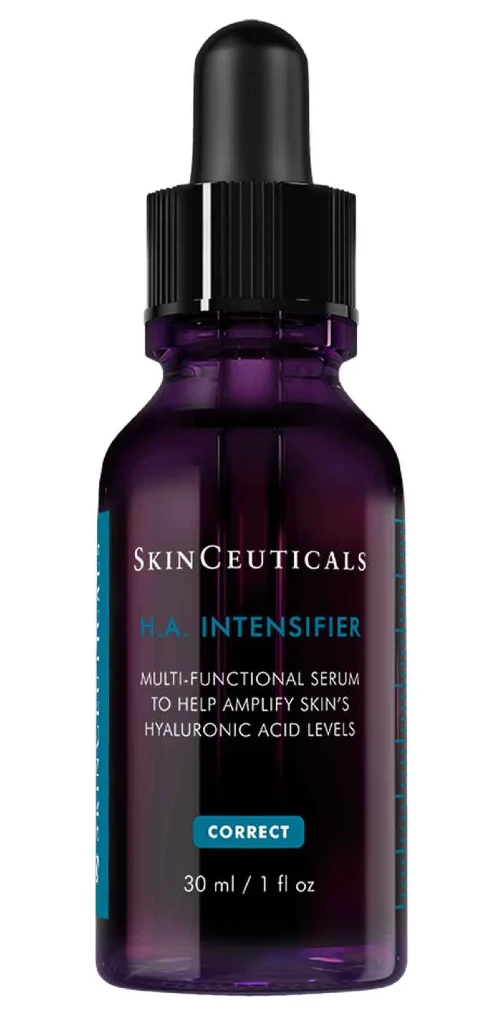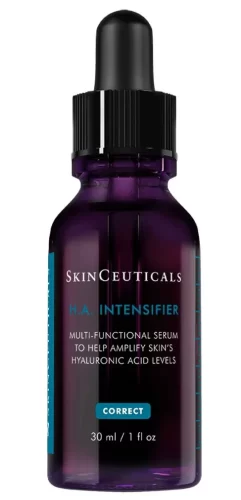 ---
6
Dermalogica Age Smart Overnight Repair Serum
Want overnight transformation? Dermalogica Age Smart works the night shift to encourage skin repair and boost hydration levels with a mix of fatty acids-rich oils. In addition to promoting skin resilience, they form a protective veil that prevents further moisture loss, which is heightened during nighttime.[2] Another key ingredient in this formula is a type of peptide that helps your skin maintain its structure by supporting collagen production. Despite its high concentration of oils, this product has a lightweight consistency and can be used alone or in combination with a nighttime moisturizer.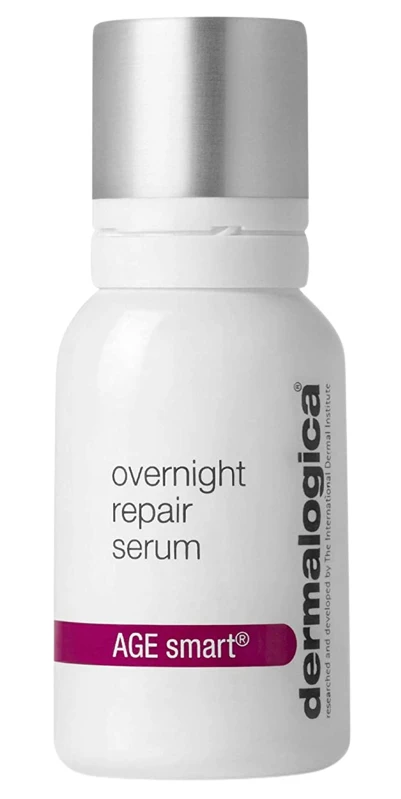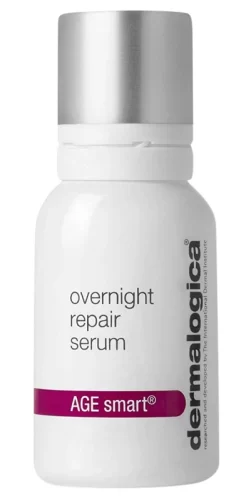 ---
7
PCA Skin Hyaluronic Acid Boosting Face Serum
Three words describe this serum best: hydration, plumpness, and repair—the trifecta your dry skin needs immediately. Low and high molecular weight hyaluronic acid adds hydration and retains moisture, whilst a proprietary blend helps restore the skin's own hyaluronic acid production. Pair it with an occlusive moisturizer at night and an SPF 30 sunscreen during the day, and watch your once-dry skin glow again. And yes, we see the price and still stand behind this pick; the hype is real.


---
8
Cocokind Ceramide Barrier Serum
Cocokind has made one of the best serums for those dealing with dry skin in winter or year-round sufferers. You already know a broken moisture barrier is often the cause of excessive dryness, making ceramides—lipids naturally found in the barrier—a winter savior.[3] Welp, this serum is laced with a blend of five types of ceramides and other ingredients (like squalane and lactic acid) that support lipid production, vowing to seal moisture and repair the barrier with every application. It's as gentle as a serum can be and contains no traces of alcohol or fragrances, which is why it's suitable even for very sensitive complexions. Use it day and night and watch your skin become a hydrated dream.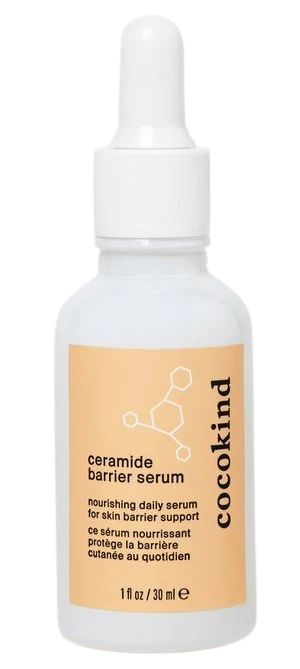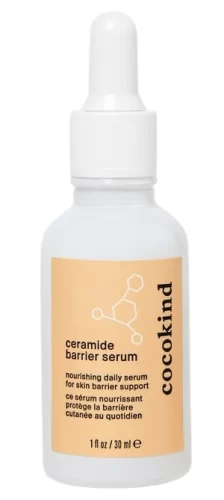 ---
9
Cosrx Propolis Ampoule
Redditors with dry skin have been singing the praises of this serum, hailing its ability to leave their complexion feeling as soft and supple as a newborn babe's bum. We simply couldn't resist giving it a special shoutout ourselves. The formula is powered by 83% propolis extract, which is extremely moisturizing and provides the optimal amount of lightweight hydration without stickiness. It's also known for its antibacterial and anti-inflammatory properties, which can be handy when you have to soothe irritated or sunburned skin. Other ingredients worth mentioning in this formula are glycerin, betaine, and sodium hyaluronate, all humectants that draw moisture for long-lasting hydration.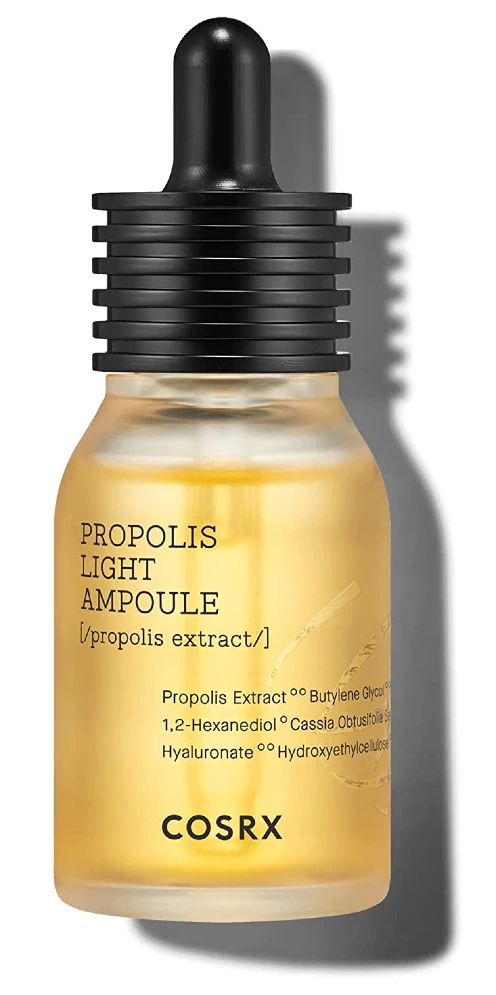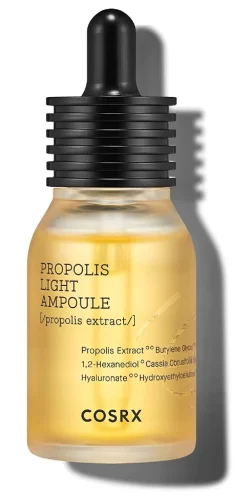 ---
10
Olay Regenerist Regenerating Serum
Take on dryness and aging signs with Olay Regenerist Regenerating Serum, the powerhouse product that lets you fight on multiple fronts. With its innovative formula, you can combat both issues at once. It's all due to a type of peptide created by Sederma that not only has improved skin penetration but it's also super effective at encouraging collagen production.[4] In turn, skin becomes less dry, firmer, and plumper. And the best part? It's lightweight and absorbs quickly without leaving any sticky or greasy residue behind.

---
11
Iunik Black Snail Mucin Restore Serum
We have big hopes for this dermatologist-tested serum, and that's because it's infused with a whopping 70% black snail mucin extract. This natural wonder is already great on its own for addressing aging signs, lack of moisture, and a damaged skin barrier. Still, the serum provides even more benefits for dehydrated skin with a whole host of moisturizing and nourishing ingredients like Centella asiatica, niacinamide, probiotics, hyaluronic acid, and a complex of antioxidant-rich superfoods. There's nothing in this formula that can dry out your skin or irritate it, and the fact that it's EWG-approved means it meets all green-grade standards for all ingredients.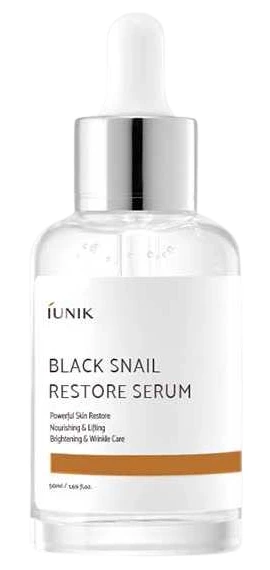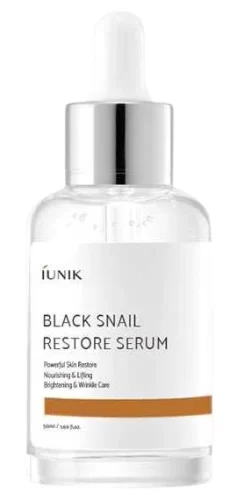 ---
12
Drunk Elephant B-Hydra Intensive Hydration Serum
This serum is loaded with key ingredients like glycerin, panthenol, and low molecular weight hyaluronic acid—a winning trio of humectants that work together to draw moisture into your skin from the air. Additionally, it packs a punch of skin replenishers, including wheat amino acids and pineapple ceramides, to encourage the skin to become more resilient. The formula is free of drying alcohol, fragrances, parabens, or other ingredients that may worsen dryness. Call it your holy grail.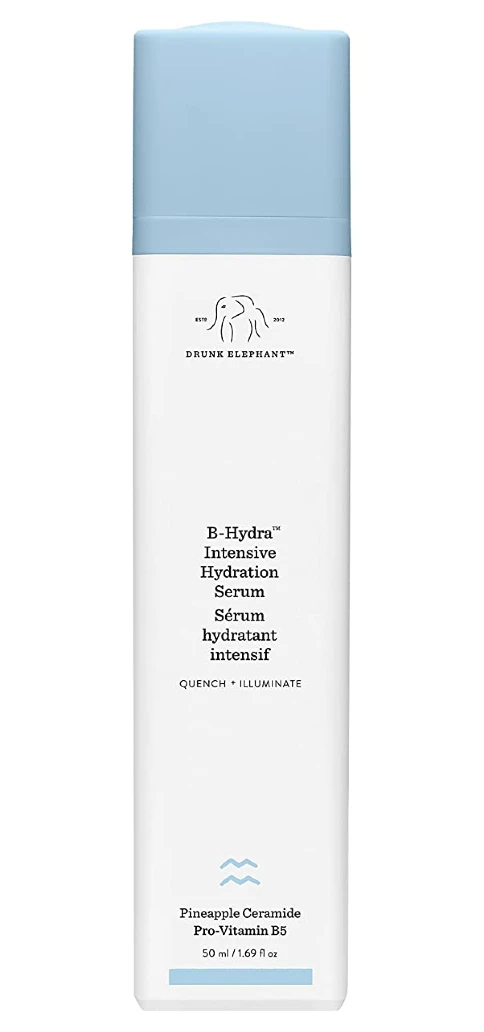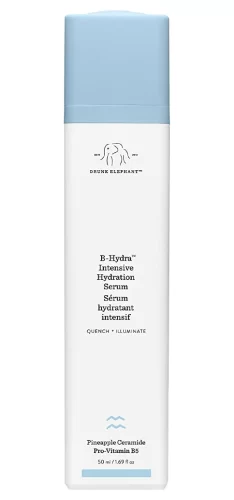 ---
How to use your night serum to get the most out of its moisturizing benefits
To get the most out of your night serum, start by cleansing your skin thoroughly and patting it dry. Then, apply a few drops of the serum onto your face and neck and give yourself a nice little massage. Allow it to fully absorb into your skin before following up with a moisturizer. When your skin is dry, it's especially important to finish with an occlusive moisturizer to lock in all that moisture. You can also try a technique called slugging, where you apply a layer of petroleum jelly or another heavy occlusive over your moisturizer to create an extra barrier and seal in all the hydration.
---
Read next: 8 Best Cleansing Oils for Dry Skin
---
Footnotes
At Women's Concepts, we're committed to bringing you the best advice for your skincare needs. Our team spends quality time vetting products, from bestsellers to up-and-comers, to find the most effective solutions. And while we may receive a commission on some products, we want to be clear that our product selections are independent, and not influenced by any marketing claims or commissions. We rely on reliable sources such as dermatologists' insights, clinical trials, and scientific journals to ensure that our recommendations are based on facts, not hype. Our editorial policy ensures that all statements and claims have clear and legitimate references. So you can trust us when we say that the night serums we've recommended will help you achieve hydrated, glowing skin. Read our editorial policy to learn more about our sources of information, our process of researching and fact-checking the content, and how our team strives to keep all articles updated, completed, and trustworthy.