If you're on the hunt for an acne-fighting skincare routine, then you know that salicylic acid is the holy grail ingredient you need. And while most use it in a serum, salicylic acid moisturizers deserve just as much attention.
Despite popular belief, skipping moisturizing is not the solution to oily or acne-prone skin. In fact, when your skin lacks moisture, it compensates by producing even more oil, leading to a vicious cycle of pimples and excess sebum production.
So to maintain your skin balanced, never skip moisturizing and choose a targeted moisturizer that not only hydrates but also diminishes breakouts and prevents future ones from popping up. And that's where salicylic acid-powered moisturizers come in handy. They provide the necessary hydration to keep your complexion plump and healthy while helping clear up existing blemishes and reduce acne formation. In other words, they're multi-tasking products that strike the perfect balance between moisture and treatment.
To help you find the best salicylic acid moisturizer that will actually make a difference, we've rounded up our favorite products along with the top sellers. They're all non-comedogenic, non-greasy, lightweight, and oil-free and will help you make your way to breakout-free skin.
The best salicylic acid moisturizers
---
Aveeno Clear Complexion Daily Face Moisturizer
We've some great news for you: our top pick is readily available at your local drugstore for a mere $15. It's not just affordable but super effective too. The secret lies in 0.5% salicylic acid, which works to slough away dead skin cells and reduces oil production. But that's not all—this moisturizer is fortified with soybean seed extract, a potent source of antioxidants that work to fade those stubborn post-acne marks. Moreover, the formula is free of oils and non-comedogenic, meaning it won't block your pores, and is as light as air, so your skin can breathe while you wear it without feeling greasy.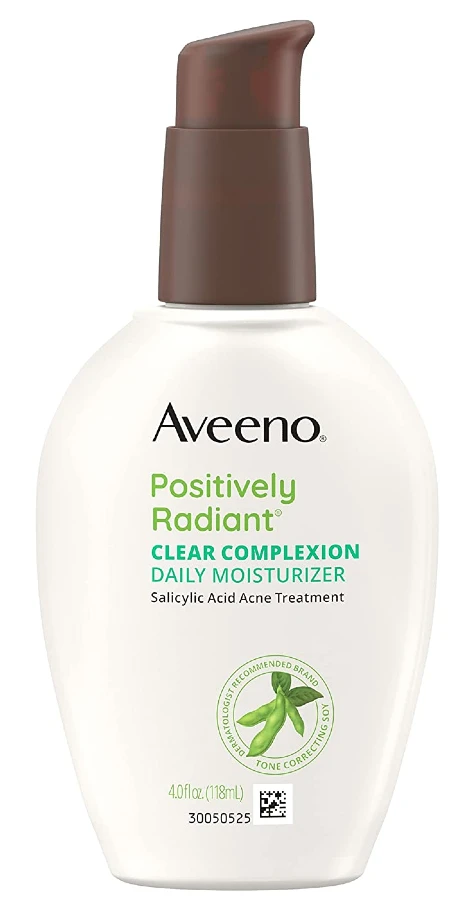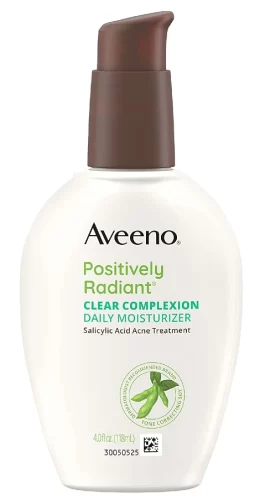 ---
La Roche-Posay Effaclar Mat Oil-Free Moisturizer
In addition to salicylic acid, Roche-Posay Effaclar Mat is packed with lipo-hydroxy acid, a derivate of salicylic acid that shares the same renewing, exfoliating, and acne-treating benefits. Together, they are twice more effective at clearing breakouts, unclogging pores, and regulating sebum production. Plus, this moisturizer uses perlite and silica powders that, due to their oil-absorbing ability, leave skin looking matte. Oil-free? Check. Mattifying? Check. Sebum-controlling? Check.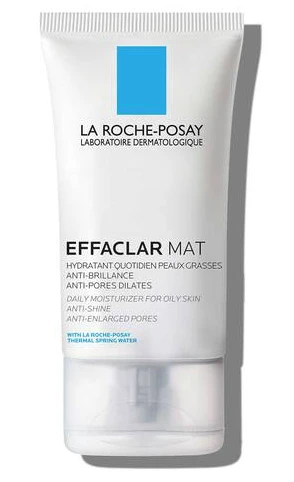 ---
Perricone MD Acne Relief Treatment & Moisturizer
Combining the trifecta for fighting blemishes—salicylic acid, retinol, and niacinamide—Perricone MD Acne Relief Moisturizer promises to balance excess oil and handle breakouts without drying the skin. And it clearly does it quite well; after all, if there's one winning duo that can fight blackheads is retinol and salicylic acid. They both exfoliate the skin and work on multiple layers to remove dead cell buildup and decongest pores. In turn, this reduces the chances of new breakouts while speeding up the healing of existing ones. Plus, niacinamide and two amino acids will hydrate your skin and help it retain moisture, counteracting the drying effects of the two acne fighters.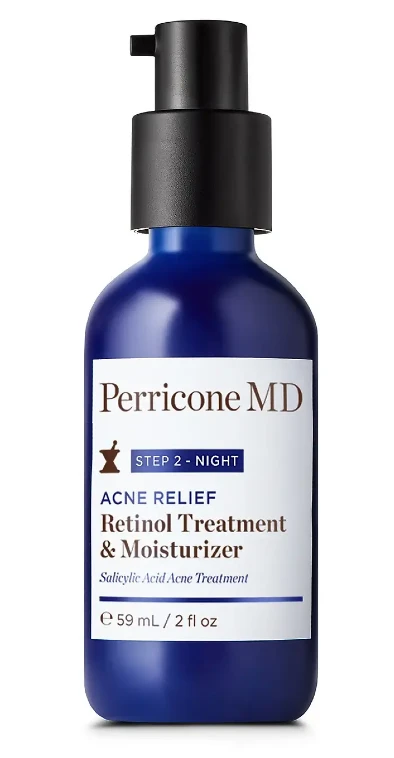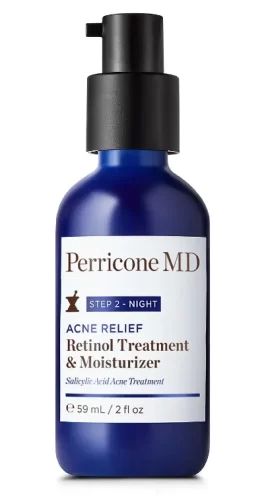 ---
Ole Henriksen Cold Plunge Pore Remedy Moisturizer
This moisturizer detoxifies skin and helps decongest pores with salicylic acid and lipohydroxy acid, both working to lift and loosen dead cells that block pores. The formula also packs a blend of botanical extracts, including green tea, eucalyptus, and Irish moss that aim to refine the pores' look and defend against oxidative stress, which can often trigger breakouts. It moisturizes intensely, feels extra light and it doesn't add any oil to your already oily skin, is non-comedogenic, vegan, and cruelty-free.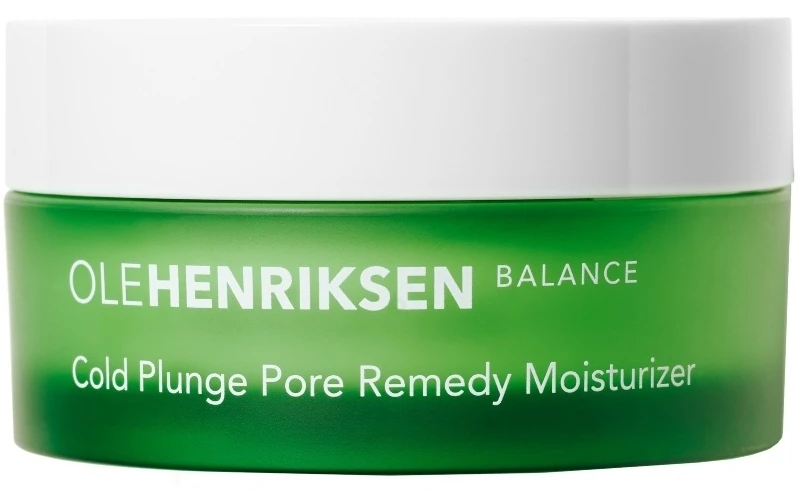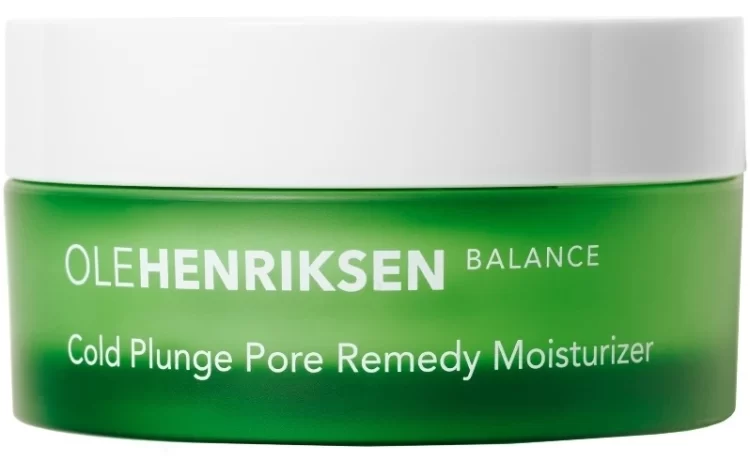 ---
Neutrogena Oil-Free Acne Moisturizer
Hands down, Neutrogena made one of the most affordable salicylic acid moisturizers, non-greasy and oil-free. The quick-absorbing and lightweight formula maintains skin moisture without clogging pores while it regulates sebum and clears pimples thanks to 0.5% active salicylic acid. In case your complexion is on the sensitive side, start with three days a week application and gradually work up to daily use to help your skin build tolerance.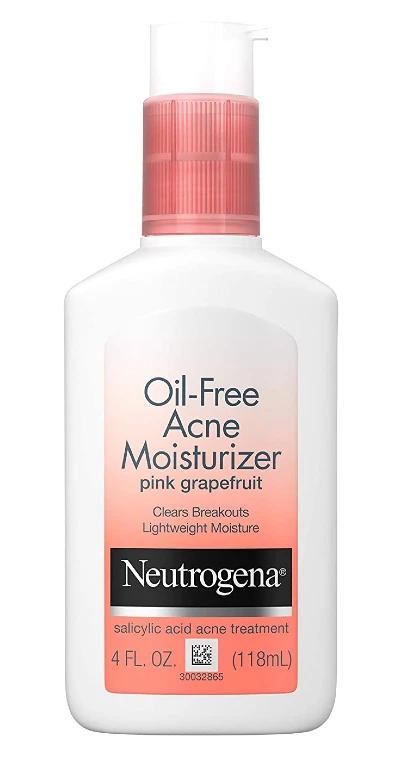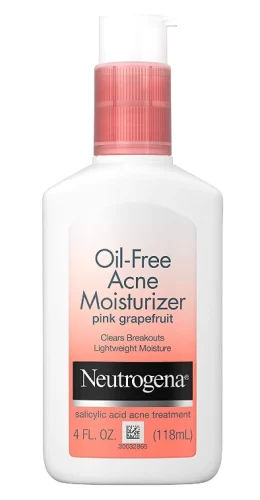 ---
Philosophy Clear Days Ahead Salicylic Acid Moisturizer
This moisturizer acts like a treatment that clears breakouts with 1.0% salicylic acid—the highest amount compared to other moisturizers in this list. The formula is also loaded with oligopeptide-10, a type of peptide that inhibits acne-causing bacteria and is known to work in synergy with salicylic acid to clear blackheads. There's also squalane to regulate sebum production and leave the skin soft. The silky formula provides oil control for a beautiful matte finish, absorbs immediately without ever feeling heavy, and makes an excellent primer. Meanwhile, it's free of fragrance, alcohol, and oil.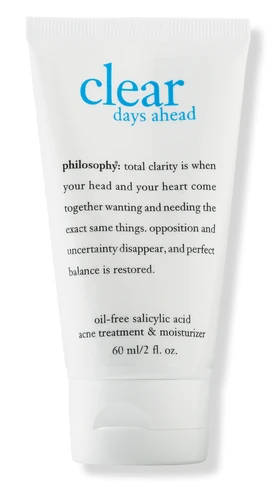 ---
Vichy Aqualia Thermal Mineral Water Gel Moisturizer
Breakouts can often be a cause of excessive skin dryness and this is exactly what this moisturizer targets. The soothing water-gel formula leans on two great humectants—sodium PCA and hyaluronic acid—that attract water into the skin to increase hydration, while meadowfoam seed oil seals that moisture. Then, salicylic acid fights bacteria, helps pores unclog, and regulates oil for skin that appears clear and balanced. And all is in a light-as-air formula that never feels sticky and gives an instant soothing sensation during and after use.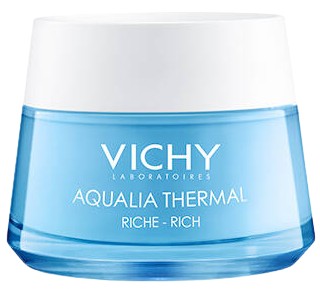 ---
Cetaphil Gentle Clear Mattifying Acne Moisturizer
This salicylic acid-infused moisturizer is clinically proven to clear acne and shrink the appearance of large pores without disrupting the skin's barrier. The magic? A juicy concentration of salicylic acid (0.5%) coupled with prebiotics and squalane, along with other skin-soothing ingredients such as allantoin and bisabolol. Add the fact that it suits all skin types, including sensitive and dry, it has a mattifying finish and costs no more than $10, and you've got a winning product.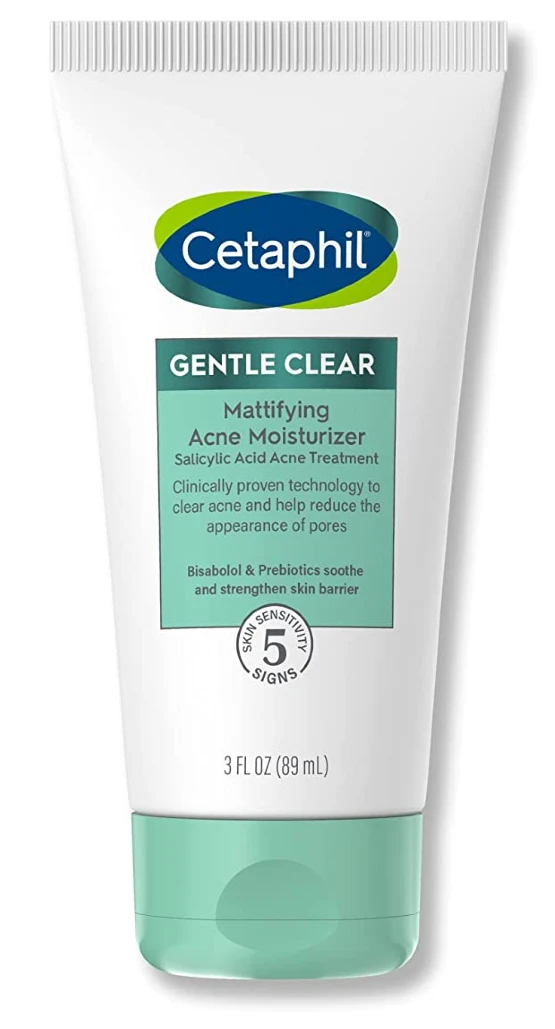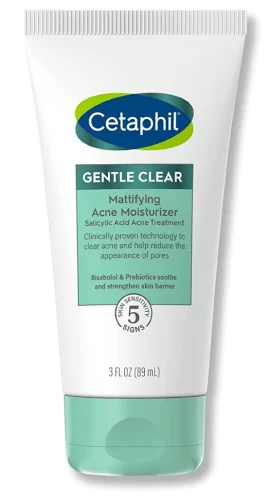 ---
Lancôme Hydra Zen Salicylic Acid Moisturizer
Lancôme Hydra Zen is the epitome of hydration, calm, and radiance. It's a lightweight, non-comedogenic moisturizer that has everything acne-prone skin needs to stay soft and clear, including salicylic acid and madecassoside, a compound derived from the cica plant that repairs, hydrates, and delivers anti-inflammatory benefits. Peony root and moringa seed extracts give this cream the ability to scavenge free radicals so that they won't wreak havoc on your complexion. Massage it on damp skin AM and PM and let the zen occur.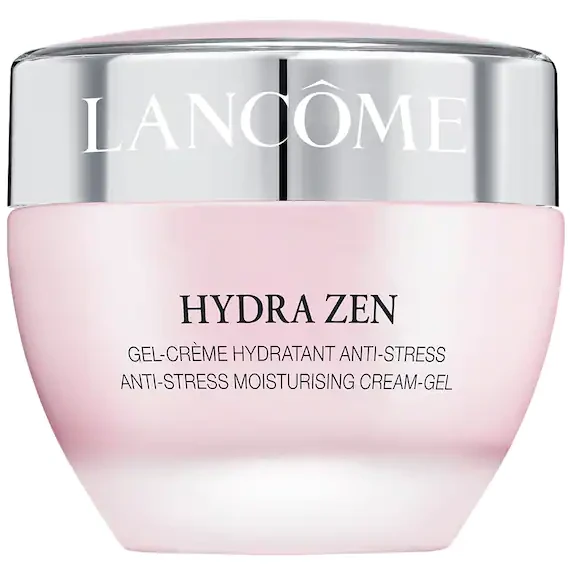 ---
SkinMedica AHA/BHA Brightening Cream
This is a really good one to tackle post-acne blemishes and fade sun spots. The secret? A blend of lactic, glycolic, malic, and salicylic acids. The combination of acids gently sloughs off dead cell buildup and dislodges oil and debris that block pores, ensuring your skin becomes more clear, luminous, and smooth with each application. At the same time, squalane, soy protein, and bisabolol soothe and reinforce the complexion without letting it dry. If you're a fan of multitaskers, this formula should be front and center on your vanity.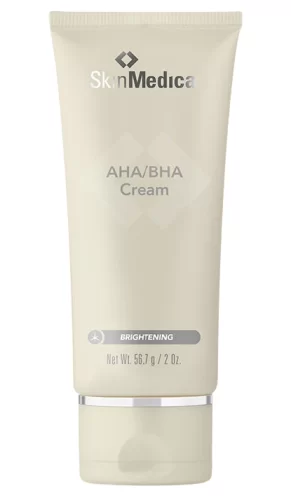 ---
Bioderma Sébium Pore Refiner Cream
If you are looking for the best salicylic acid moisturizer with mattifying and pore-refining properties, this is it. Bioderma Sébium Cream is doing really well at keeping shine at bay and tightening pores look with silica powder and mushroom-derived agaric acid, a natural astringent and sebum regulator. The cream also exfoliates gently, prevents pores clogging, and improves skin texture thanks to salicylic acid. Most people praise its gel and velvety-to-the-touch texture that absorbs in no time and leaves skin feeling silky smooth.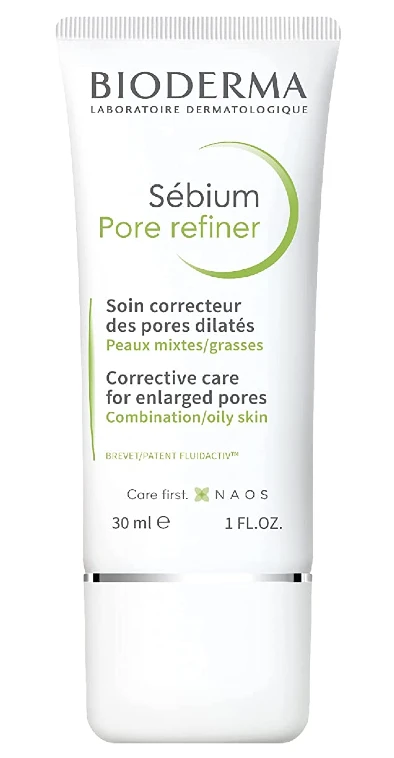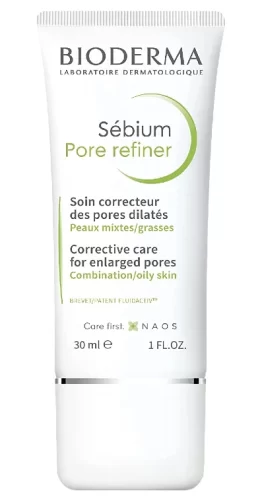 ---