The best salicylic acid moisturizers are always on the stage when it comes to tackling acne. Contrary to popular belief, acne-prone skin needs moisturizer too. You might think leaving your skin thirsty will make it less greasy, but what's happening is actually the opposite. When the skin lacks moisture, the sebaceous glands go into overdrive and end up producing even more oil in an attempt to replenish the loss. The moral of the story? Never skip moisturizing.
At the bare minimum, your moisturizer should at least ensure your skin won't over-dry. You can be happy with that, or you can pick a targeted moisturizer that also helps speed up acne healing and prevent future breakouts. Here's where the best salicylic acid moisturizers come in handy.
The benefits of salicylic acid moisturizers
A moisturizer infused with salicylic acid is the perfect balance between replenishing and treating. The reason to use a salicylic acid-infused moisturizer is that while it traps moisture onto the skin, preventing transepidermal water loss, it also targets the causes of acne. Thanks to the exfoliating powers of salicylic acid, a moisturizer can help regulate sebum production and unclog pores, which eventually reduces breakouts.
The best salicylic acid moisturizers also contain hydrating and skin-loving ingredients such as niacinamide, ceramide, hyaluronic acid, and squalane. Their role is to provide hydration, soothe and protect the skin as well as relieve irritations and inflammations. Besides, since salicylic acid-infused moisturizers are generally made with acne-prone skin in mind, most are non-comedogenic, lightweight, and oil-free.
The best salicylic acid moisturizers
Any of the best salicylic acid moisturizers featured ahead balance sebum, fight acne, and make way to a breakouts-free complexion.
---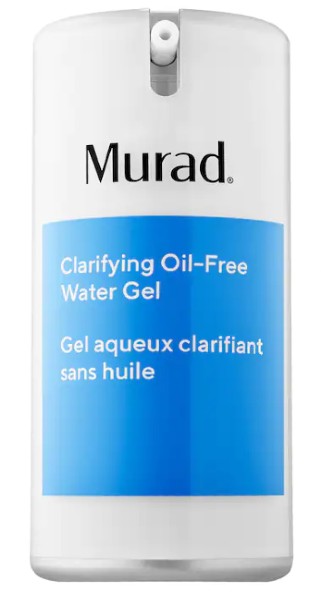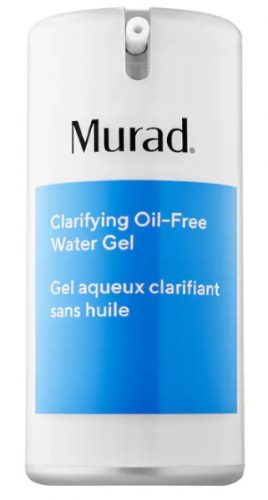 Murad Clarifying Oil-Free Water Gel
This non-comedogenic moisturizer is one of Murad's most-loved products by people with oily skin and acne. The secret lies in the key ingredients, where salicylic acid and hyaluronic acid take the spotlight. Salicylic acid's role is to exfoliate dead cells and reduce oil, while hyaluronic acid ensures long-lasting hydration. Skin is balanced, pores are cleared, and breakouts are diminished. Besides these two powerhouses, Murad Clarifying Water Gel also contains witch hazel water, Korean red pine, and ginger root extracts with anti-inflammatory and soothing properties — great for blemishes.
---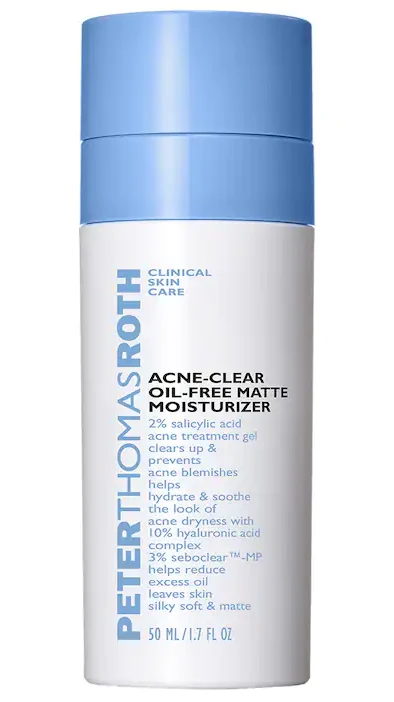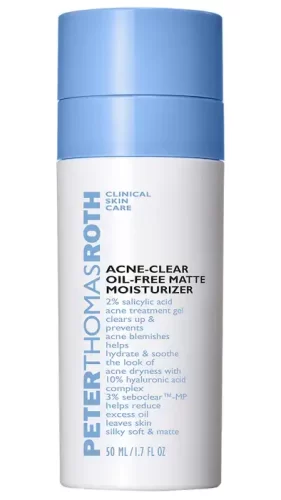 Peter Thomas Roth Acne-Clear Moisturizer
This oil-free moisturizer by Peter Thomas Roth presents itself as an acne treatment vowing to clear pimples and prevent their further apparition. Since it's formulated with 2% active salicylic acid, this moisturizer is greatly effective in eliminating the root causes of acne. Additionally, it packs Seboclear-MP, a natural compound derived from Maclura cochinchinensis leaves, praised for its sebum-fighting and pore-shrinking properties. Finally, Peter Thomas Roth Acne-Clear Moisturizer knows dryness won't do any good, thus, it's spiked with 10% hyaluronic acid and aloe vera to counteract dehydration.
---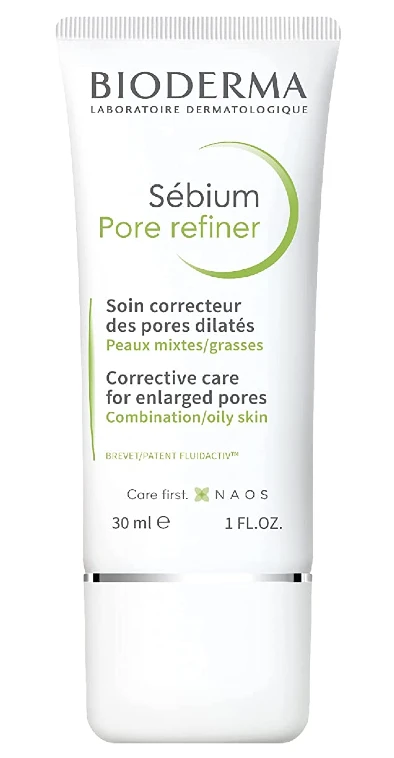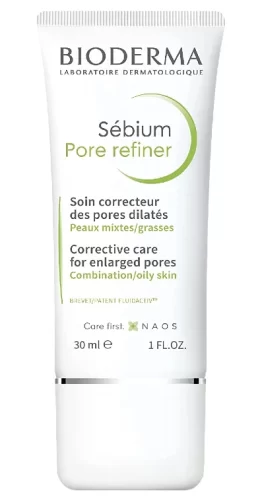 Bioderma Sébium Pore Refiner Cream
If you are looking for the best mattifying salicylic acid moisturizer, this is it. Bioderma Sébium Cream is doing really well at keeping shine at bay and tightening pores look with silica powder and agaric acid, a natural astringent and sebum regulator. The cream also exfoliates, prevents pores clogging, and improves skin texture thanks to salicylic acid. Not to mention it's free of alcohol, which often dries out the skin.
---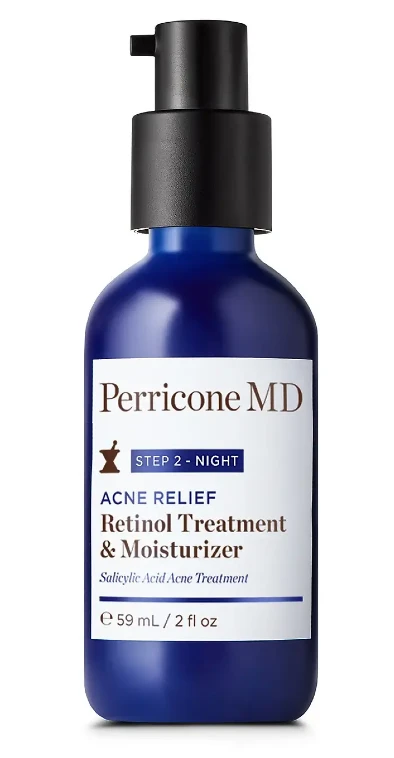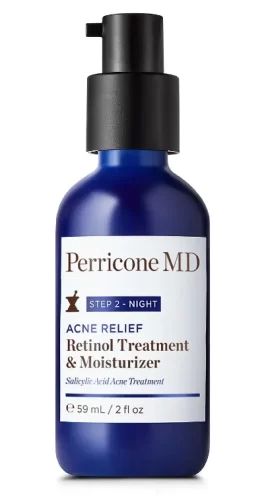 Perricone MD Acne Relief Treatment & Moisturizer
Combining salicylic acid, retinol, and niacinamide, Perricone MD's moisturizer promises to balance excess oil and handle breakouts without over-drying the skin. And it's clearly able to do just that! After all, if there's one winning duo that can fight acne is definitely retinol and salicylic acid. They both exfoliate the skin and work on the top skin layer and at deeper levels to remove dead cells buildup and unclog pores. In turn, this reduces the chances of breakouts and reveals that flawless skin you've always wanted. Don't worry about irritations, niacinamide and arginine will hydrate your skin and help it retain moisture.
---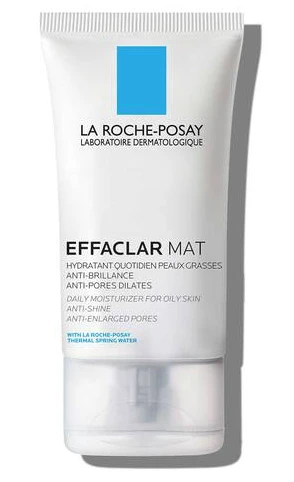 La Roche-Posay Effaclar Oil-Free Moisturizer
Roche-Posay Effaclar Mat is definitely among the best salicylic acid moisturizers since it also includes lipo-hydroxy acid, a derivate of salicylic acid sharing the same skin renewing, exfoliating, and acne-treating benefits. You've guessed it right: together, they are twice more effective at clearing breakouts, unclogging pores, and reducing oil levels. In addition, this moisturizer uses perlite and silica powders to mattify the skin by absorbing sebum. Oil-free? Check. Mattifying? Check. Sebum-controlling? Check.
---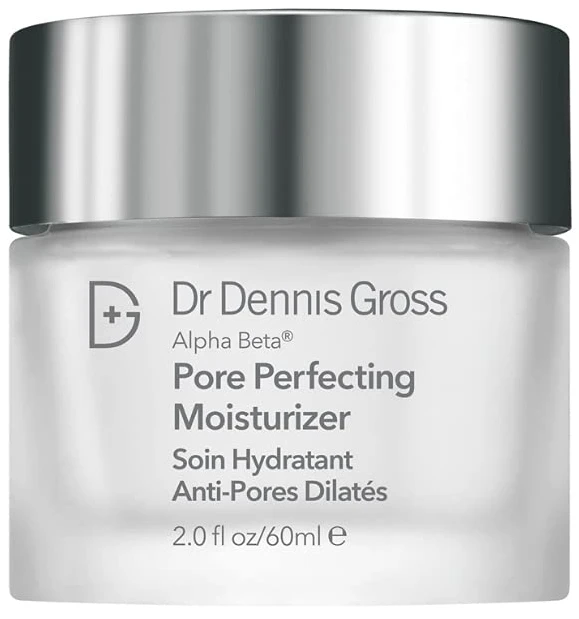 Dr. Dennis Gross Alpha Beta Pore Perfecting Moisturizer
Dr. Dennis Gross Exfoliating Moisturizer is your ticket for a complexion without breakouts. It's infused with a cocktail of six alpha- and beta-hydroxy acids (lactic, glycolic, malic, mandelic, salicylic, and tartaric acids) that go straight into skin layers, where it accelerates cell turnover and unclogs pores. At the same time, the formula promises to deliver moisture for up to 72 hours and strengthen the skin's protective barrier with squalane, ceramide, and vitamin E. Whether it's about acne, wrinkles, scars, or dark spots, this moisturizer can fight them all.
---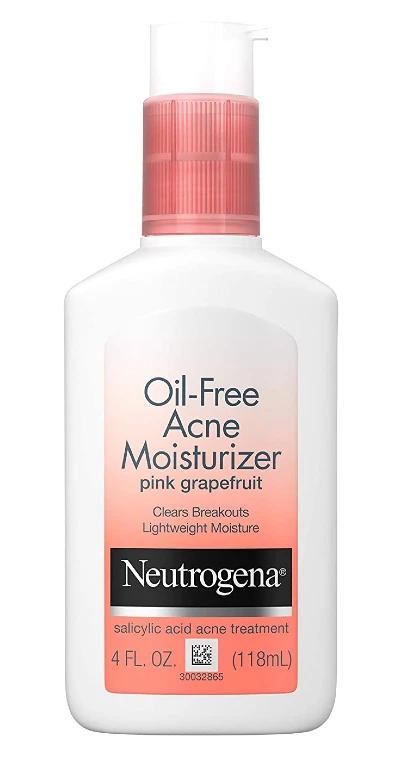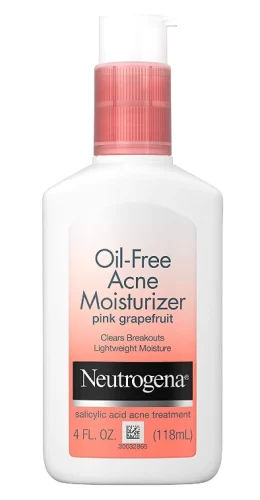 Neutrogena Oil-Free Acne Moisturizer with Salicylic Acid
Neutrogena made one of the best salicylic acid moisturizers for acne, non-greasy and oil-free. It has a quick-absorbing formula that keeps the skin moisturized without clogging the pores while regulating sebum production and clear pimples with 0,5% active salicylic acid. In case your skin is on the sensitive side, start with three days a week application and gradually work up to daily use to help your skin build tolerance.
---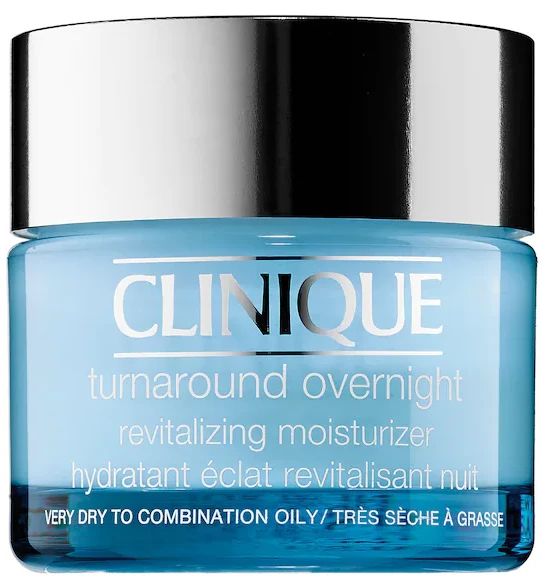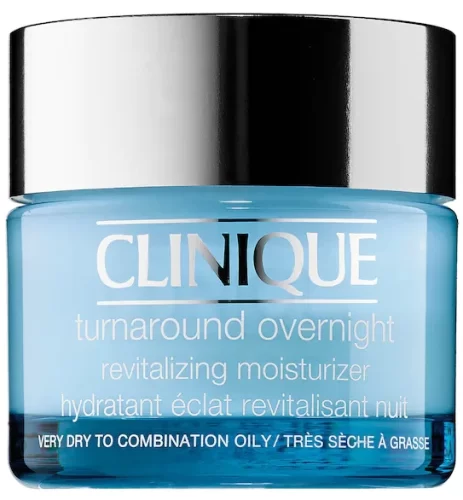 Clinique Turnaround Overnight Revitalizing Moisturizer
If your skin dries so and it starts to get itchy, then you should pamper it with Clinique Turnaround Moisturizer. It's a super-rich hydrator that plumps and smooths the skin working to restore its radiant glow. Squalane, cucumber, and rosemary extracts are blended with salicylic acid to nourish and moisture without giving up on exfoliation. It also doesn't leave a cast or oiliness behind and its lightweight formula gets absorbed in the blink of an eye.
---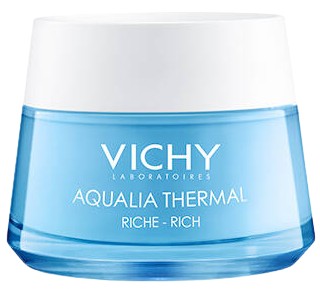 Vichy Aqualia Thermal Mineral Water Gel Moisturizer
We all know that lightweight water-gel moisturizers are what acne-prone skin needs the most. With this in mind, Vichy made the Aqualia Thermal Mineral Water Gel Moisturizer that aids in creating the perfect balance between skin hydration and oiliness. It contains 97% natural ingredients, including hyaluronic acid, plant sugar, and essential minerals that fortify the moisture barrier and enhance plumpness. In the meanwhile, salicylic acid slightly exfoliates and prevents pimples from bursting out.
---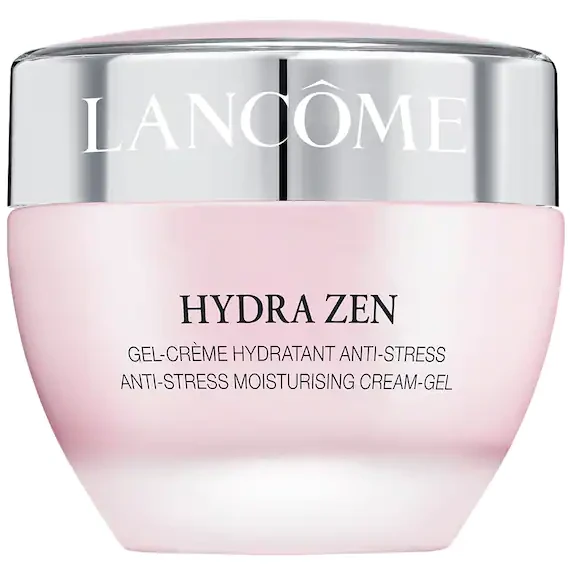 Lancôme Hydra Zen Salicylic Acid Moisturizer
Hydration, soothing, and radiance — the trifecta where Lancôme Hydra Zen truly stands out. It's a lightweight moisturizer with a gel-like texture that has everything acne-prone skin needs to stay soft and pimples-free. As one of the best salicylic acid moisturizers, not only does it contain salicylic acid, but it's also rich in antioxidant sources to protect the skin against oxidative stress. Next, glycerin hydrates and soothes, supported by the rose extract which calms skin. There's more: the moisturizer won't leave skin feeling sticky or greasy, and it's non-comedogenic. Pretty convincing!
---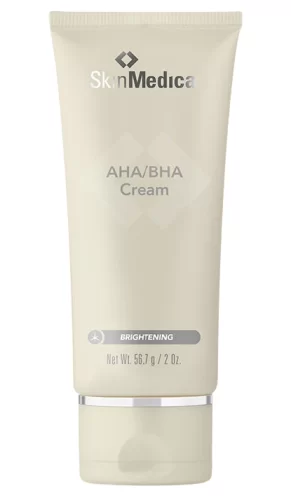 SkinMedica AHA/BHA Brightening Cream
Lactic, glycolic, malic, and salicylic acids meet in this pore-unclogging moisturizer with one purpose: to get your skin in its prime condition. The powerful combination of AHAs and BHAs target breakouts, skin dullness, discoloration, and aging spots, bringing out luminous and glowing complexion. Likewise, vitamins E and B5 ensure skin stays hydrated. While there are other better options for acne-prone skin, this one it's on the stage for being a multitasker that tackles also wrinkles, and dark patches.
---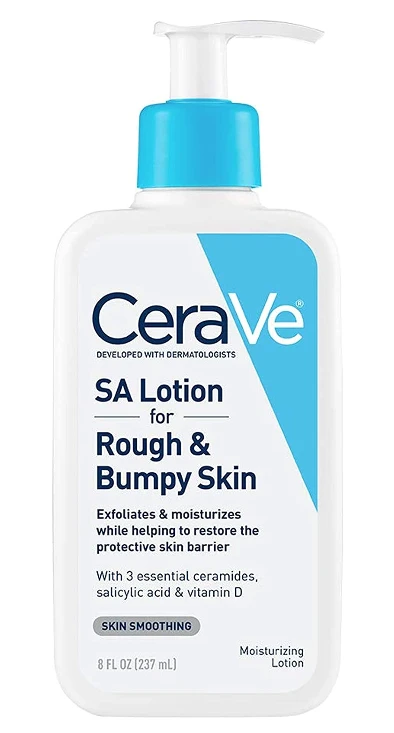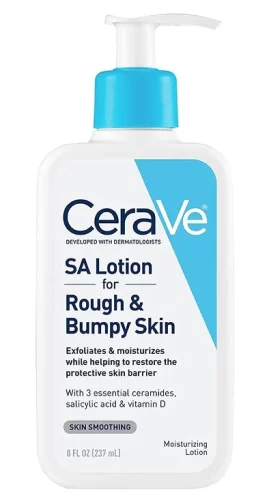 CeraVe SA Lotion
By all means, CeraVe SA Lotion is a cult-favorite product for those who struggle with body acne for good reasons. It combines lactic acid and salicylic acid for an intense exfoliating effect, hyaluronic acid to maintain moisture levels, and vitamin D for skin repairing and protecting. More than that, it's infused with three essential ceramides, strengthening the skin.