In a world of skincare cocktails, where mixing ingredients is a daily thing, combining the right ones can be quite challenging. A wrong approach to mixing skincare actives can turn into a fiasco, causing irritation or canceling each other out, rendering your products ineffective. Considering salicylic acid and retinol are two of the most potent ingredients in skincare, it's fair to assume you can't use them on the same day, but guess what? You can, and this post reveals the how-to so you can tackle your blackheads and pimples without redness or irritation.
Retinol vs. salicylic acid
Retinol is a type of retinoid, a vitamin A derivative. Retinol works by encouraging cell turnover, meaning it sloughs off dead cells, making room for new, healthy cells to replace them. Consequently, it helps pores unclog, balances sebum, evens tone, and supports pimples healing. Moreover, retinol supports collagen production, which aids in diminishing scar look and induces hyaluronic acid, which in turn regulates excess sebum.[1] For these reasons, but also for its anti-inflammatory and antimicrobial activities, retinol is touted as one of the best acne treatments.[2]
On the other hand, salicylic acid is a beta-hydroxy acid (BHA), also popular for its acne-fighting abilities. Due to its small molecules, salicylic acid penetrates the outermost skin layer, where it dissolves the debris and oil that clog pores. At the same time, salicylic acid exfoliates dead cells from the surface of the skin, speeding up pimples' healing and preventing the formation of new ones.[3]
At a closer look, it's crystal clear retinol and salicylic acid have some things in common: they shed away dead cells, unclog pores, have anti-inflammatory benefits, and encourage exfoliation. Also, both salicylic acid and retinol have small molecular weights, meaning they penetrate beneath the epidermis. That takes us to the next question:
Can you use salicylic acid and retinol together?
Yes, you can use salicylic acid and retinol together as long as your skin tolerates them. However, to make sure you're avoiding any skincare pitfalls, don't use salicylic acid and retinol together by layering one after another as it may damage the protective barrier. As both actives exfoliate, they can make the skin sensitive or even lead to irritations if layered together. Don't quit yet. There is still a way to use salicylic acid and retinol together
How to use salicylic acid and retinol on the same day?
You can use salicylic acid and retinol on the same day by alternating them. And since the sun breaks retinol down and makes the skin more prone to sun damage, leave it for your PM routine. As such, use your salicylic acid product in the morning. Voilà! You get double benefits by using salicylic acid and retinol on the same day, but separately: salicylic acid in the morning and retinol at night.
There's an exception, though. If you use a salicylic acid cleanser or salicylic acid toner, you can apply your retinol treatment afterward. Cleansers and toners usually contain small concentrations of active ingredients, thus it's unlikely to interfere with retinol and cause irritations.
Since both salicylic acid and retinol tend to dry the skin, ensure you don't let your skin parched. Pick one of these moisturizers to use after retinoids. And apply sunscreen daily!
Yet, there's another way you can safely use salicylic acid and retinol together: use them compounded in one product. We love these ones:
---
Dermalogica Multivitamin Thermafoliant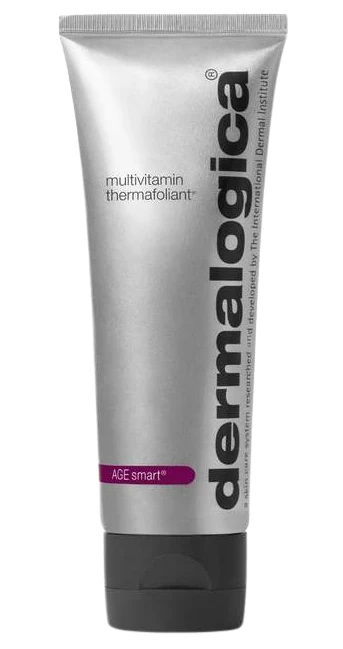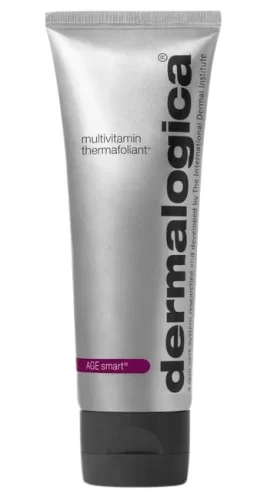 This skin polisher is pretty potent as it features salicylic acid and retinol among the first ingredients and promises to refine texture, decongest pores and enhance product absorption. Dermalogica Multivitamin Thermafoliant also uses resurfacing micro granules to help shed away dead skin buildup, oil, and dirt, helping prevent pimple formation. Two or three times a week, layer this exfoliant on damp skin and massage in gentle circular motions for 2 minutes, then rinse with water.
---
Murad Intensive Age Diffusing Serum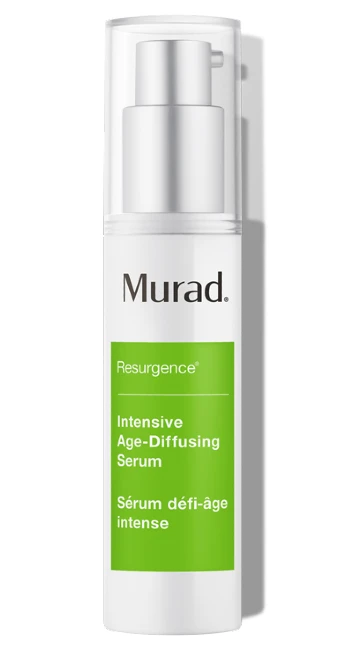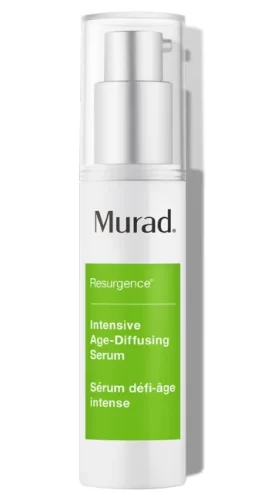 This serum is ideal for helping skin regain thickness and combat dehydration which ironically may lead to excess sebum. The mix of alpha-hydroxy acids, salicylic acid, and retinol aid in smoothing and retexturizing skin while unclogging pores, and humectants replenish water levels, balancing oil. Its texture is lightweight and absorbs fast, never leaving skin greasy but hydrated and plump.
---
Dr. Dennis Gross Extra Strength Daily Peel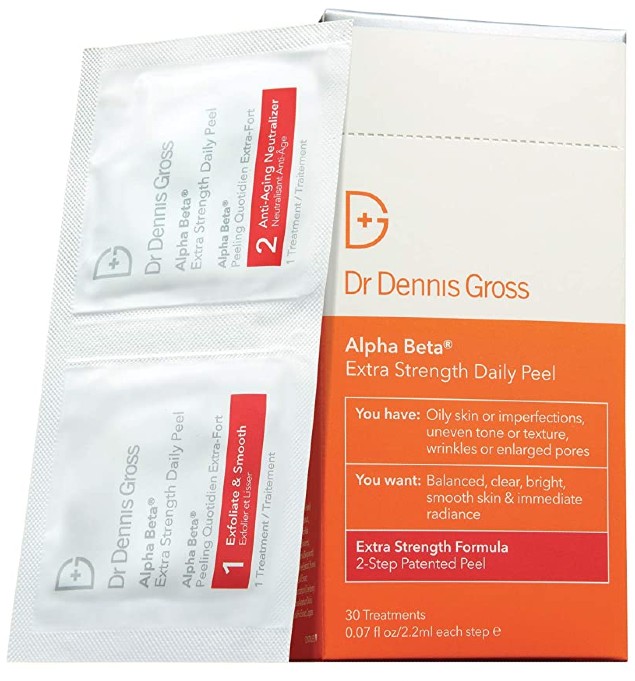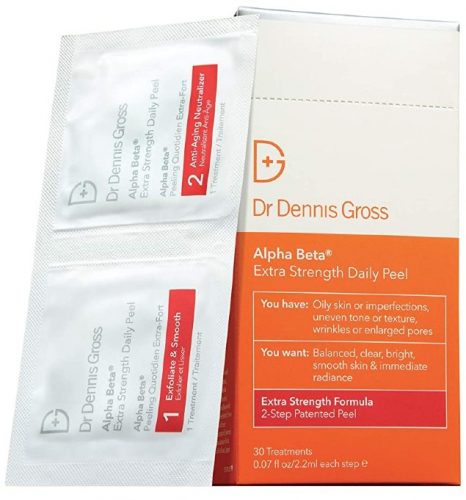 Dr. Dennis Gross's two-step daily peel pads are soaked in actives that reveal a smooth, hydrated, and youthful complexion — one of the best ways to use salicylic acid and retinol together. The first step infuses the skin with glycolic, salicylic, mandelic, and lactic acids to reduce the acne scars and pores look, while the second step is pre-dosed with retinol, resveratrol, adenosine, and copper for anti-aging benefits.
---
Clinique Fresh Pressed Overnight Booster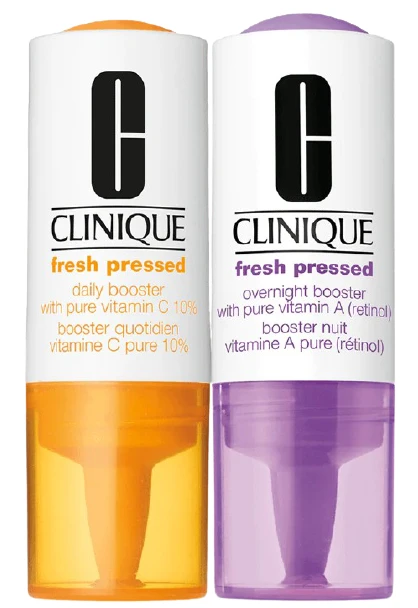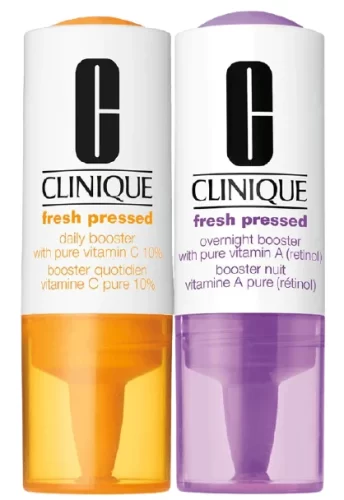 Salicylic acid and retinol meet in this booster to resurface your skin and get it in its best condition while you sleep. The formula is also supported by plant extracts that have anti-inflammatory properties, plus cholesterol and peptide to reinforce the barrier — a weakened barrier is often a host for excess sebum and breakouts.
---
Sources
Women's Concepts uses reliable sources, including dermatologists' insights, clinical trials, and scientific journals, to find accurate information and support all the facts shared in our articles. All statements and claims have clear and legit references. Read our editorial policy to learn more about our sources of information, our process of researching and fact-checking the content, and how our team strives to keep all articles updated, completed, and trustworthy.
References
Li WH, Wong HK, Serrano J, Randhawa M, Kaur S, Southall MD, Parsa R. Topical stabilized retinol treatment induces the expression of HAS genes and HA production in human skin in vitro and in vivo. Arch Dermatol Res. 2017 May, https://pubmed.ncbi.nlm.nih.gov/28247017/
Leyden J, Stein-Gold L, Weiss J. Why Topical Retinoids Are Mainstay of Therapy for Acne. Dermatol Ther (Heidelb). 2017 Sep, https://www.ncbi.nlm.nih.gov/pmc/articles/PMC5574737/
Journal of the American Academy of Dermatology, A double-blind, placebo-controlled evaluation of a 2% salicylic acid cleanser for improvement of acne vulgaris, https://www.jaad.org/article/S0190-9622(12)01331-X/fulltext