When it comes to addressing dark spots, vitamin C and niacinamide are the ones that take the spotlight, dominating skin enthusiasts' shelves. Yet, a lesser-known ingredient started to rise as the new way to address skin discoloration. Case in point: tranexamic acid. This promising ingredient pops up in more and more skincare products to target hyperpigmentation, and its gentleness makes it suitable for every skin type. With this in mind, we made a list of the best serums with tranexamic acid to help combat dark spots, post-acne marks, and other blemishes.
What is tranexamic acid?
In case you've missed our guide about tranexamic acid, here is the recap. Tranexamic acid is a synthetic derivative of lysine amino acid used in the medicinal field to control major bleeding by helping blood to clot. When topically applied, tranexamic acid interferes with melanin production, reducing dark spots and improving hyperpigmentation. Interestingly, tranexamic acid was shown to be more effective than hydroquinone (one of the most potent skin-brightening agents) in treating melasma.[1]
What to look for in tranexamic acid serums?
To fade hyperpigmentation and leave behind sun damage and post-acne marks, researchers recommend products that fusion tranexamic acid with other skin brighteners, like vitamin C, kojic acid, retinol, and niacinamide.[2] This is because tranexamic acid works synergically with brightening and depigmenting agents to promote radiant and even-looking skin.
Also, because the sun is the main culprit for causing dark spots, prevention should always be top of mind. So, in addition to using a tranexamic acid serum, apply sunscreen with broad-spectrum SPF 30 every morning as the last step of your skincare routine.
The best tranexamic acid serums
To make it as easy as possible for you to find a tranexamic acid serum that works for your skin, we rounded the best ones here lest you don't abide by that uneven tone forever. Ready to greet your new glowy skin?
---
SkinCeuticals Discoloration Defense Serum
If you're dealing with stubborn hyperpigmentation, SkinCeuticals Discoloration Defense Serum will become your new BFF. The formula is made with a juicy concentration of 3% tranexamic acid, 1% kojic acid, and 5% niacinamide, all of which fight discolorations and dark patches. Meanwhile, 5% HEPES, an enzyme that encourages exfoliation, leaves skin more even, smooth, and luminous. The brand claims that after 12 weeks of regular use, it improved the look of brown patches in 60% of cases. Color us impressed.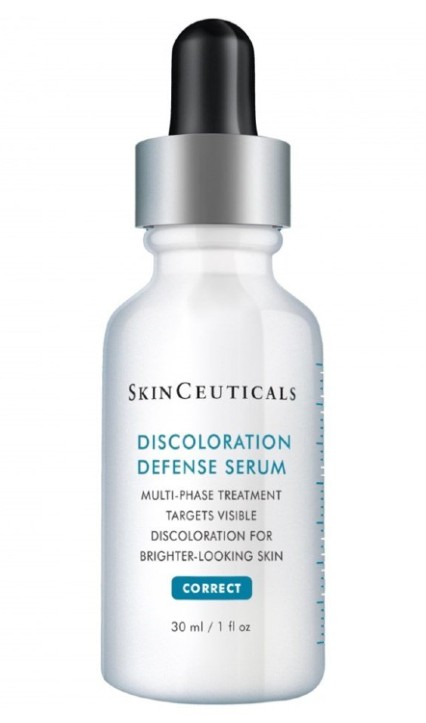 ---
Sesderma Hidraderm Trx Facial Serum
True to its name, Sesderma Hidraderm Trx Facial Serum hydrates with hyaluronic acid and fades dark spots with tranexamic acid. In order to boost the brightening effects, the formula is also loaded with niacinamide and resorcinol, an effective inhibitor of tyrosinase — the key enzyme in pigment production.[3] It is an ideal serum to address any kind of discoloration and can be used by all skin types, including dry and sensitive complexions.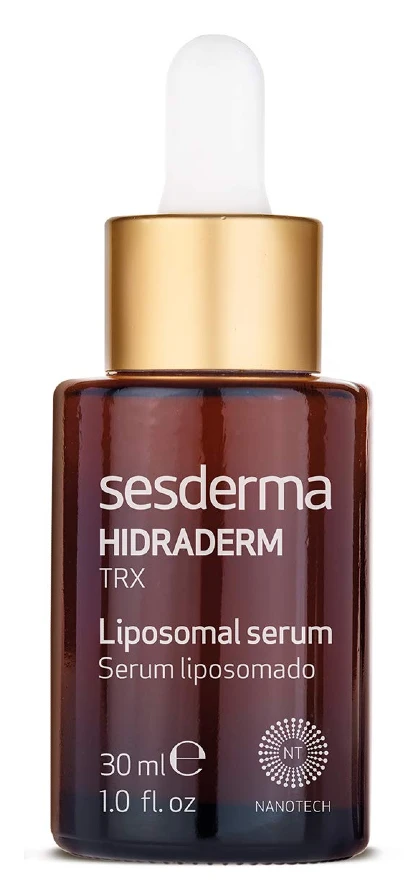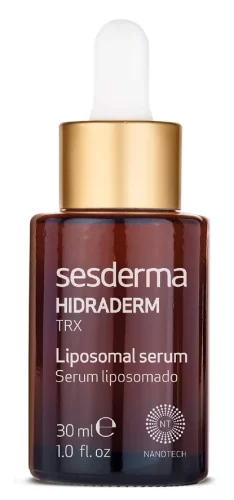 ---
Good Molecules Discoloration Correcting Serum
Don't get deceived by the price tag—Good Molecules Discoloration Correcting Serum is just as good as the pricier options on this list. Credit is due to the two heavy-hitting skin brighteners — 3% tranexamic acid and 4% niacinamide — that promote a clear skin tone and fade dark spots. There's also a complex of 15% humectants to increase hydration and leave the skin plump-looking. More good news, the newly upgraded formula is void of fragrance, making it a solid option for pretty much anyone and everyone.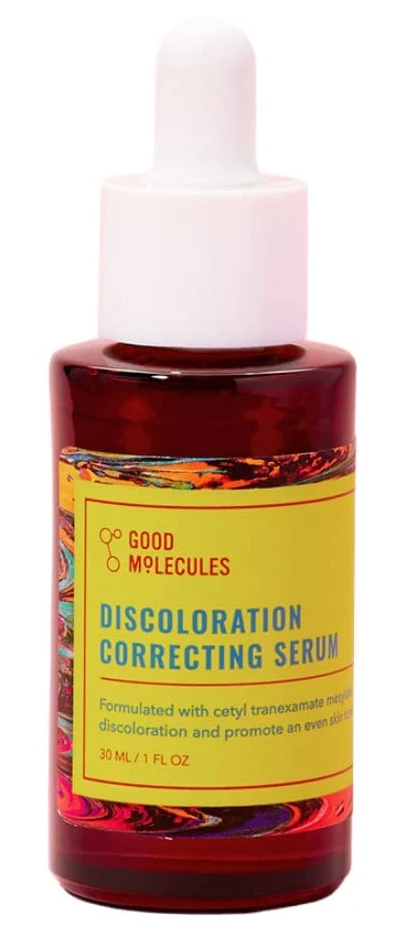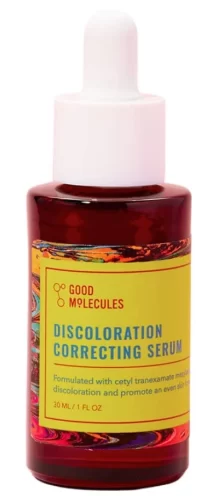 ---
Murad Rapid Dark Spot Correcting Serum
This dark spot-correcting serum relies on the power of glycolic acid to gently exfoliate pigmented cells, plus tranexamic acid and resorcinol to reduce the melanin content in the skin. As a bonus, the extra dose of amino acids and peptides increases moisture retention and leaves behind that plump look. What I like about Murad Rapid Dark Spot Correcting Serum is that it's a multi-acting product that suits everybody and has a lightweight consistency that absorbs quickly without feeling sticky.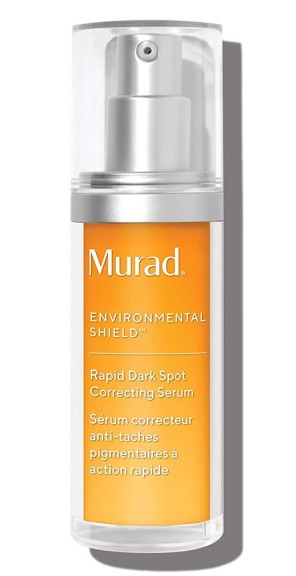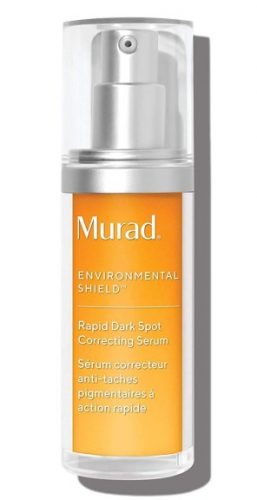 ---
Peter Thomas Roth Pro Strength Discoloration Treatment
Peter Thomas Roth Pro Strength Discoloration Treatment stands out for those who crave clinical-grade skincare. In addition to a 15% brightening complex that blends tranexamic acid, niacinamide, kojic acid, and alpha arbutin, this treatment also packs a high dose of antioxidants. This means it prevents new dark spots from forming while correcting the existing ones. Even though technically it's not a serum, it's a great corrective and preventative treatment everybody can use to address age spots, acne blemishes, and sun spots. Apply it in the morning and evening on a cleansed face once every two days and gradually increase the frequency as the skin adjusts to it.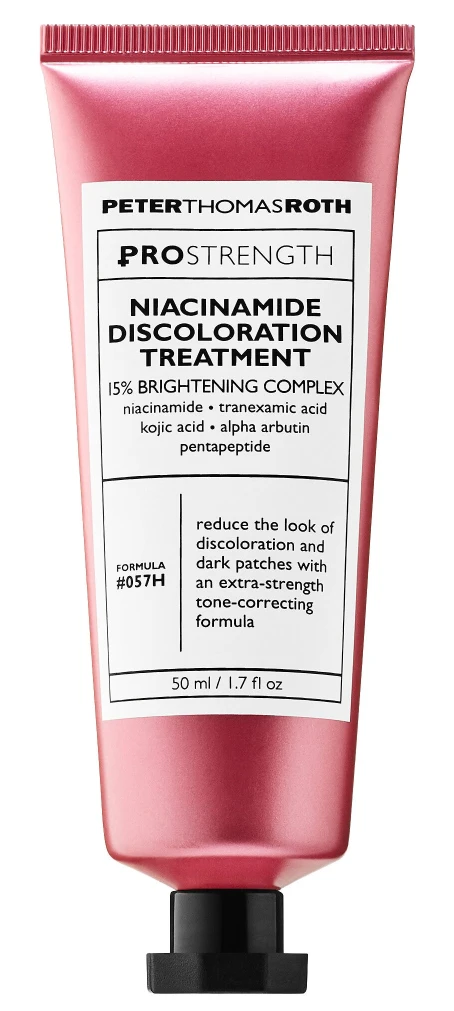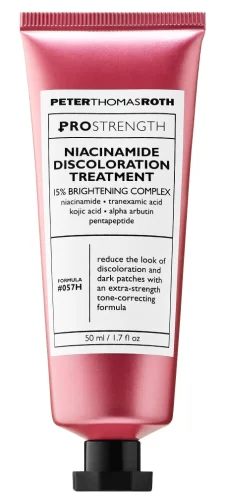 ---
SkinMedica Lytera 2.0 Pigment Correcting Serum
Even though the price of this serum may make you think twice, it's actually similar to the rest of the products on this list, considering it has 2 Oz, aka 60 ml. In addition to tranexamic acid, this favorite cult serum contains resorcinol, niacinamide, phytic acid, and tetrapeptide, all working to banish hyperpigmentation and improve tone. Additionally, the formula includes a particular type of ferment that helps regenerate skin and another ferment to soothe. Despite the potent formula, SkinMedica Lytera 2.0 is gentle and non-irritating.


---
The Inkey List Tranexamic Acid Serum
On a budget? You really can't go wrong with The Inkey List Tranexamic Acid Treatment. It's loaded with 2% tranexamic acid to improve overall tone and brighten skin a little more with each use. The formula also packs 2% vitamin C and 2% acai berry extract, which is a source chocked full of antioxidants and vitamins. Its gel-like texture spreads easily over the skin and leaves behind a nice glow.


---
Glow Recipe Guava Vitamin C Dark Spot Serum
Vitamin C is a godsend for brightening dark spots and defending against further dark spots. Welp, this serum packs five forms of vitamin C and tranexamic acid to eliminate dark patches, and a mingle of fruit-derived antioxidants to defend against external damage. Aside from looking delicious, the Glow Recipe Guava Vitamin C Dark Spot Serum has a silky, water-gel texture that absorbs in a sec, with no sticky after-feel.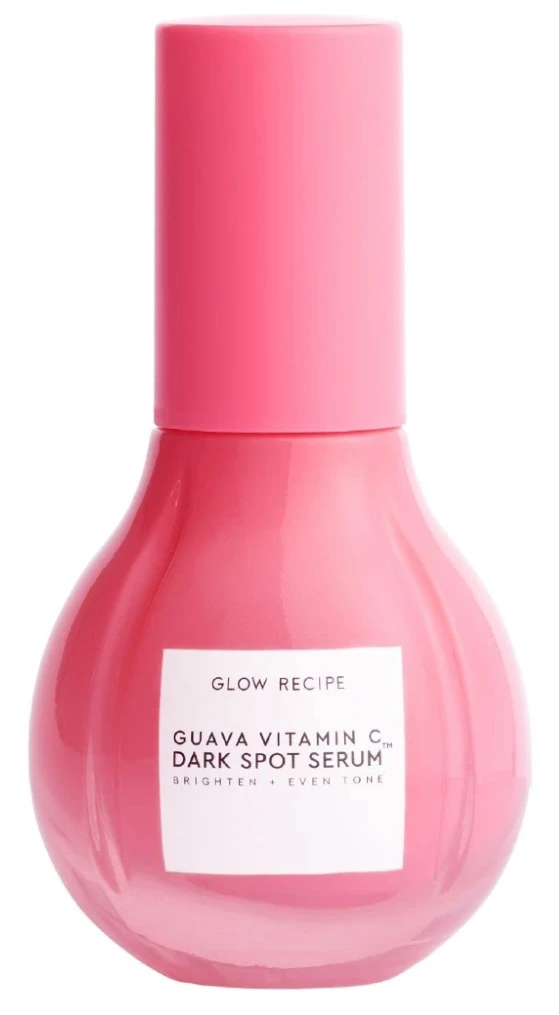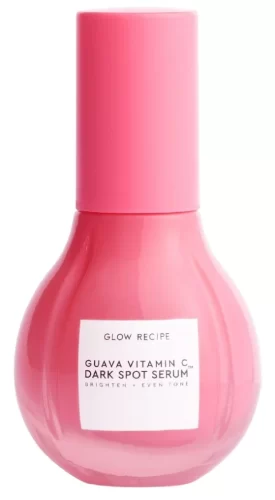 ---
Vichy LiftActiv B3 Serum
Vichy LiftActiv B3 Serum blends tranexamic acid, 13% niacinamide, and glycolic acid to act at a cellular level against hyperpigmentation. This combo is also effective for diminishing fine lines and combatting a dull look. The addition of glycerin, urea, and allantoin ensures your skin won't be left dry but moist and radiant. Not to mention the serum lacks fragrances and alcohol, two potential drying agents.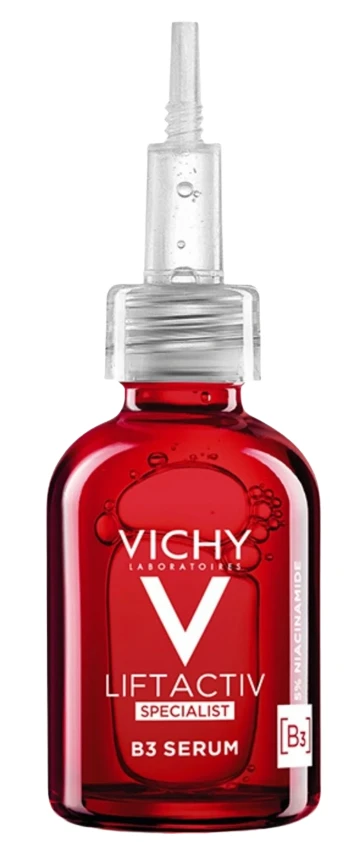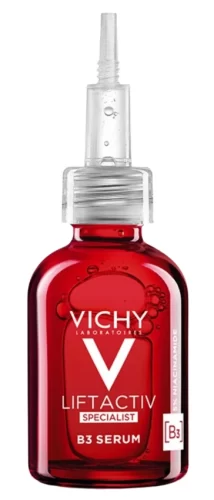 ---
Cle de Peau Beauté Concentrated Brightening Serum
This luxurious silky serum features a serious amount of tranexamic acid and vitamin C to make your skin look dangerously bright. Besides being excellent at restoring clarity, Cle de Peau Beauté Concentrated Brightening Serum vows to hydrate and firm the skin with hyaluronic acid, amino acids, mangosteen, and chai hu. We recommend this serum to those who want to splurge. Despite being a great product, other serums mentioned here can do the job without breaking the bank.


---
Paula's Choice Discoloration Repair Serum
If you're looking for a drugstore alternative to address your uneven skin tone, you just found it. Paula's Choice Discoloration Repair Serum is made with 3% tranexamic acid, 5% niacinamide, and 0.5% bakuchiol (retinol alternative) to tackle hyperpigmentation through various pathways. While niacinamide and tranexamic acid interfere with pigment production, bakuchiol stimulates cell growth to remove the cells that have already been affected by melanin. The light lotion-like texture sinks in fast and leaves skin luminous, soft, and ready for your sunscreen.


---
The bottom line
Whatever has caused your dark spots, achieving a perfectly even skin tone begins with the application of one of the best tranexamic acid serums featured above. Use the serum consistently and apply sunscreen every day to ward off hyperpigmentation and stay protected against sun damage.
---
Footnotes
Women's Concepts uses reliable sources, including dermatologists' insights, clinical trials, and scientific journals, to find accurate information and support all the facts shared in our articles. All statements and claims have clear and legit references. Read our editorial policy to learn more about our sources of information, our process of researching and fact-checking the content, and how our team strives to keep all articles updated, completed, and trustworthy.
References
Atefi N, Dalvand B, Ghassemi M, Mehran G, Heydarian A. Therapeutic Effects of Topical Tranexamic Acid in Comparison with Hydroquinone in Treatment of Women with Melasma. Dermatol Ther (Heidelb). 2017 Sep;7(3):417-424.
University of Texas Southwestern Medical Center, Dallas, Effect of a Tranexamic Acid, Kojic Acid, and Niacinamide Containing Serum on Facial Dyschromia: A Clinical Evaluation, May 2019 | Volume 18 | Issue 5 | Original Article | 454 | Copyright © May 2019
Kolbe L, Mann T, Gerwat W, Batzer J, Ahlheit S, Scherner C, Wenck H, Stäb F. 4-n-butylresorcinol, a highly effective tyrosinase inhibitor for the topical treatment of hyperpigmentation. J Eur Acad Dermatol Venereol. 2013 Jan;27 Suppl 1:19-23.